Attending or hosting a party while you're on the ketogenic diet can be hard. Traditional party staples include things like potato chips, pretzels, and other starchy finger foods that can kick you out of ketosis just by "looking" at them!
Most parties tend to cater to the masses by offering foods that are crowd pleasers and not necessarily healthy.
One way to ensure that there is something you can eat at the next party you're invited to is to bring your own low-carb dish. Not sure what to bring? We've got plenty of ideas to give you inspiration!
Here's what to serve or bring to your next party that will support your low-carb diet and keep you in fat-burning mode! You might just inspire other party guests to give low-carb eating a try.
#1. Keto Fried Mozzarella Bites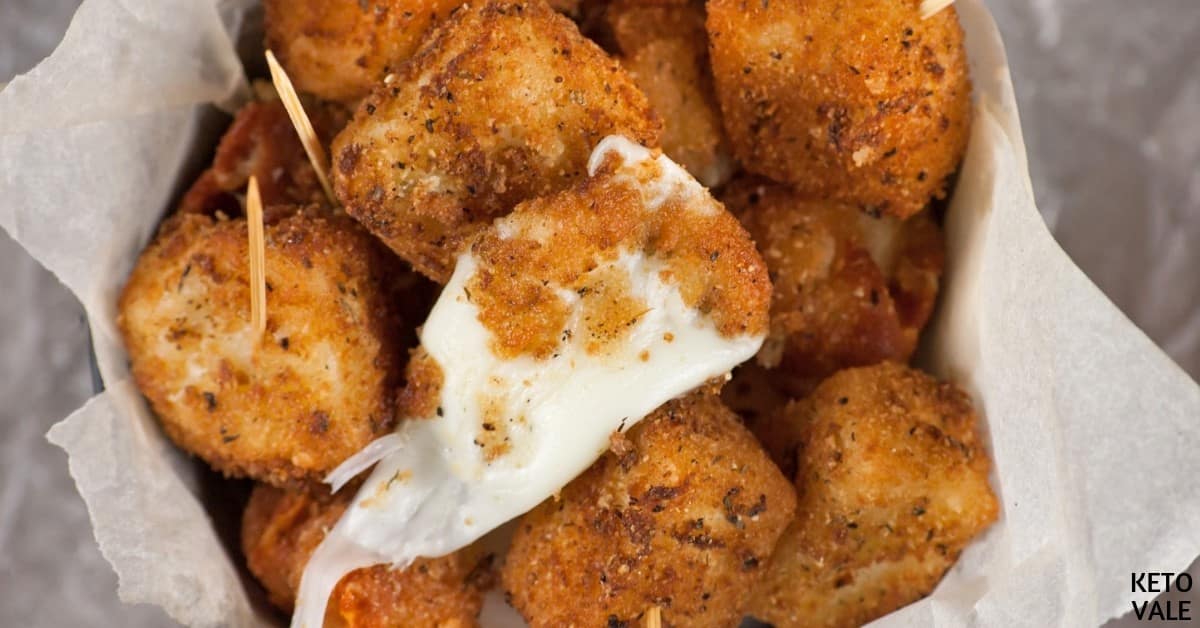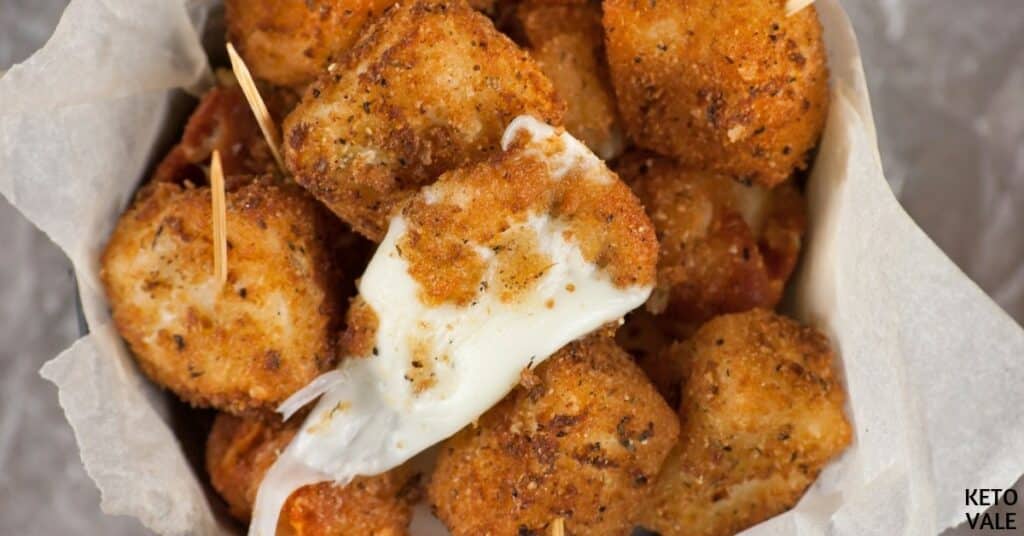 Cheese sticks or cheese bites are a great appetizer to bring to a party. They're great finger foods and are perfect for sharing.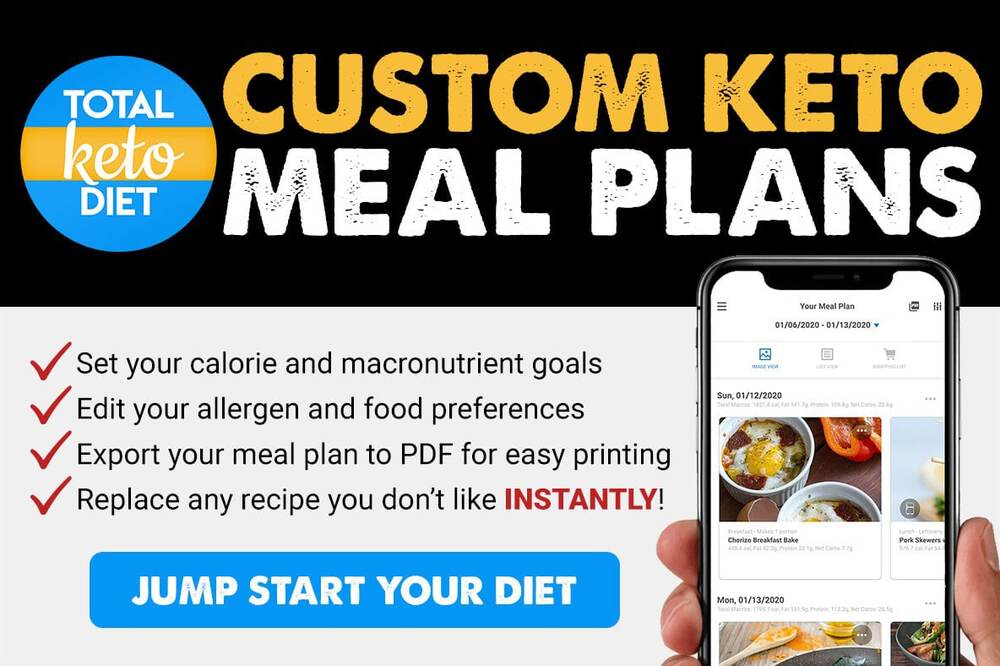 The problem is that most recipes are made with breading that is not keto-friendly. Not to mention, they tend to be deep fried in cheap vegetable oils that are highly inflammatory.

These keto fried mozzarella bites are made with mozzarella cheese, heavy cream, coconut flour, Italian seasoning, and eggs. Then they are fried in olive oil and dipped in marinara sauce for the perfect low-carb appetizer.

Here is what you'll need:

6 ounces of Mozzarella cheese
2 eggs, lightly beaten
1 tablespoon of heavy cream
1/2 cup of coconut flour
¼ teaspoon of garlic powder
1 teaspoon of Italian seasoning
½ teaspoon of sea salt
¼ teaspoon of black pepper
Olive oil for frying
Marinara sauce for serving
You can view the full recipe and directions here.

#2. Keto Collagen Walnut Energy Balls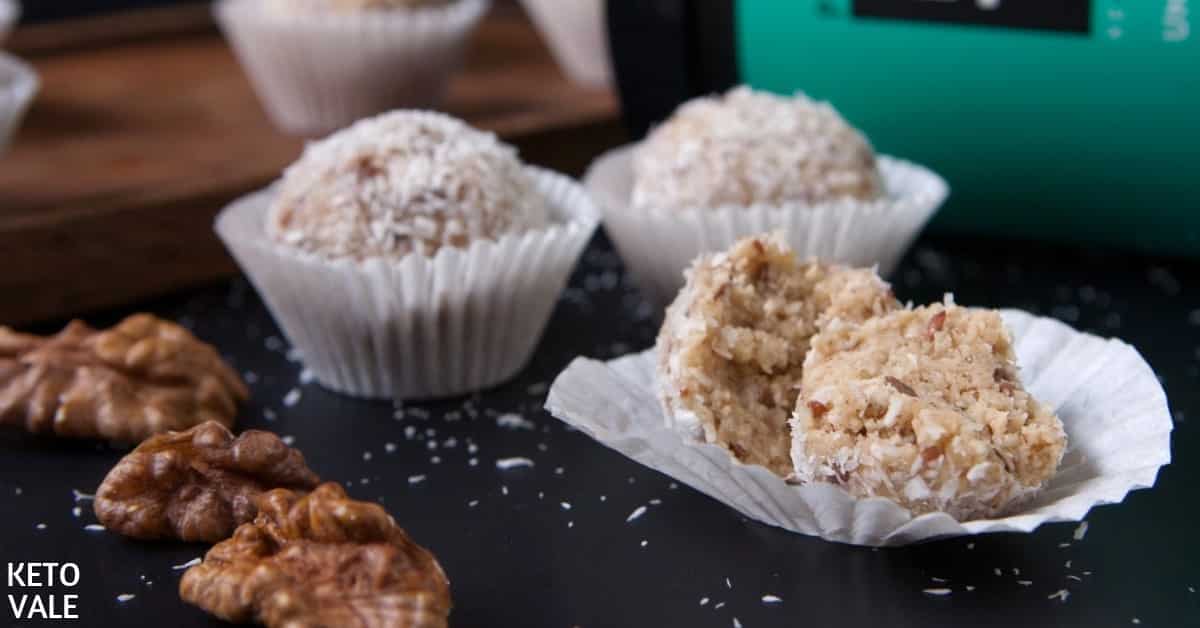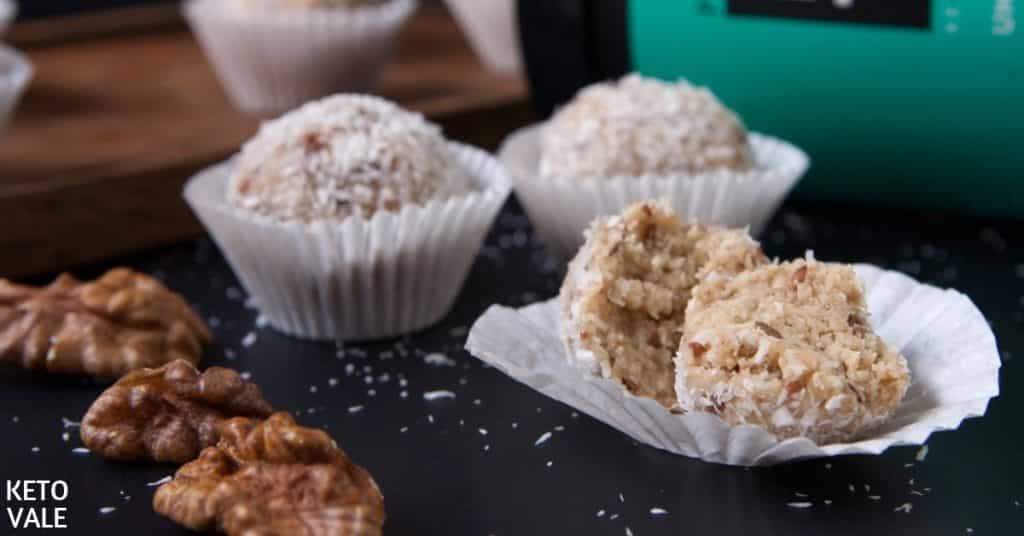 Here's a fun game you can play the next time you're invited to a party. Bring these keto collagen walnut energy balls to your next party and don't tell anyone what they are at first.

When everyone tries them (and loves them!), you can inform them that they just enjoyed their first keto snack! You might even recruit some unhealthy eaters to the low-carb ketogenic team!

You can leave out the collagen powder if you're making these for a large crowd because collagen tends to be expensive! They will taste just as good as walnut energy balls without the collagen.

You can also replace the collagen with raw cacao powder for a chocolate finish.

Here's what you'll need:
1 cup walnuts
1 tablespoon flaxseed
1/3 cup shredded coconut (unsweetened, more for garnish, optional)
1 1/2 scoops collagen powder (this is optional!)
1 tbsp coconut oil, melted
2 tbsp peanut butter
1/4 tsp sea salt
Note: you'll want to double this recipe if you're making it for a lot of people!
Get the full recipe and directions here.
#3. Coconut Chocolate Peanut Butter Balls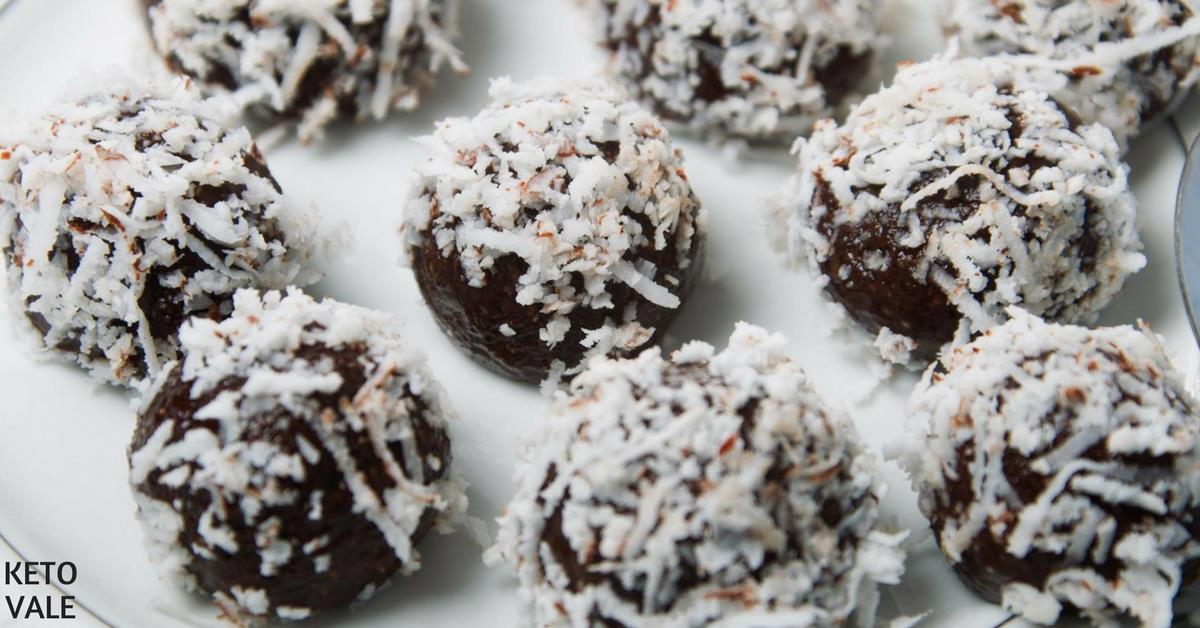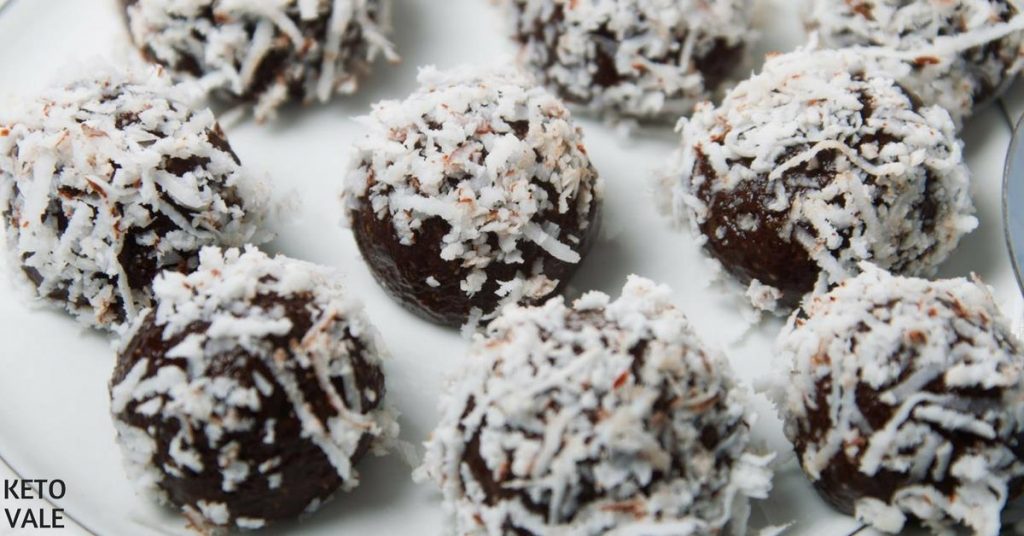 You can't lose with a winning combination like coconut, peanut butter, and chocolate. If walnuts aren't your thing, then try bringing these coconut chocolate peanut butter balls instead.
They're a great low-carb dessert that won't leave you feeling heavy and bloated after eating.
Here's what you'll need:
1/4 cup peanut butter pure and natural
1/4 cup raw cacao powder
1 tablespoon almond flour
1/3 teaspoon cinnamon
1/3 teaspoon nutmeg
3 tablespoon keto sweetener
1/2 cup shredded coconut
Check out the full recipe here.
#4. Keto Flaxseed Chips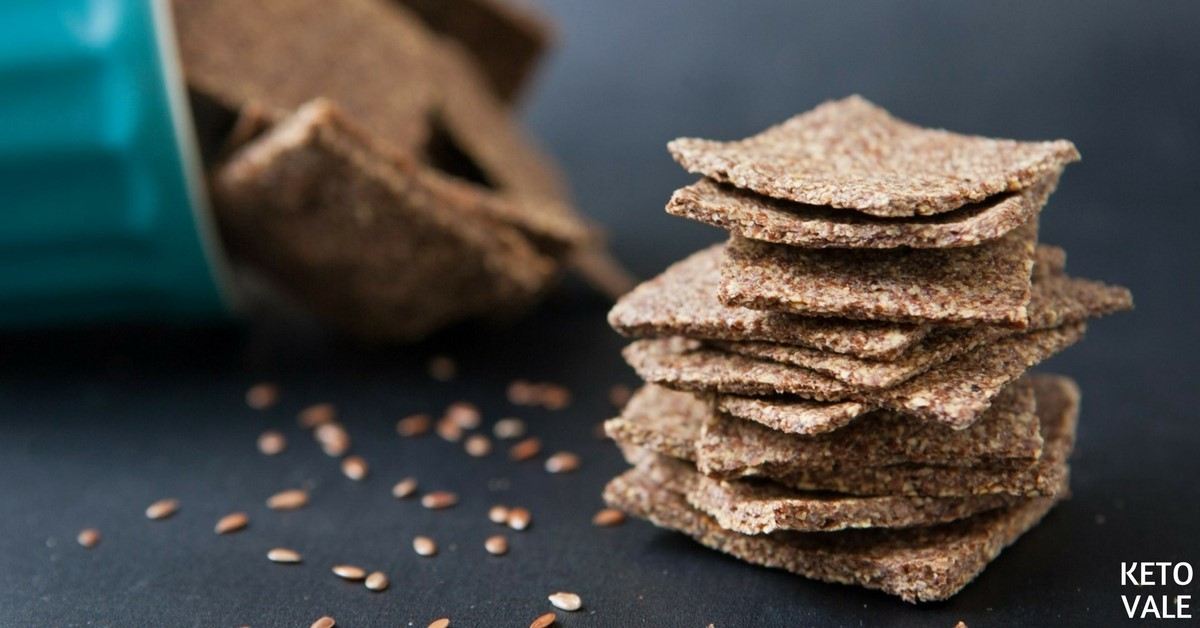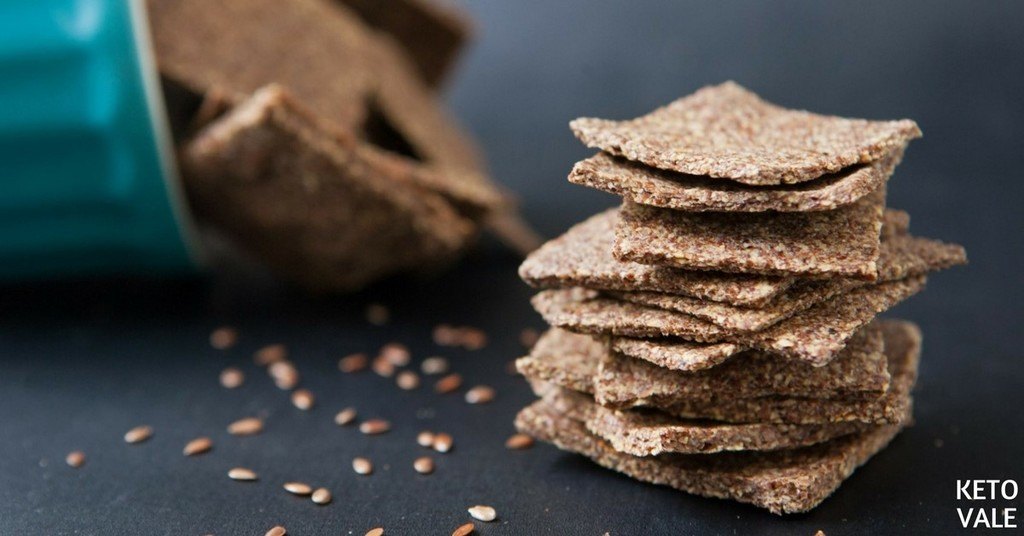 The next time someone asks you to bring potato or tortilla chips to a party, bring these keto flaxseed chips instead. They're made with flaxseed flour instead of potatoes or corn, which means they're much lower in carbs.
Here's what you'll need:
1 cup flaxseed meal
1/2 cup water
1 teaspoon onion powder
1 teaspoon garlic powder
1/2 teaspoon paprika
1/2 teaspoon cayenne pepper
You can check out the full recipe here.
#5. Pork Rinds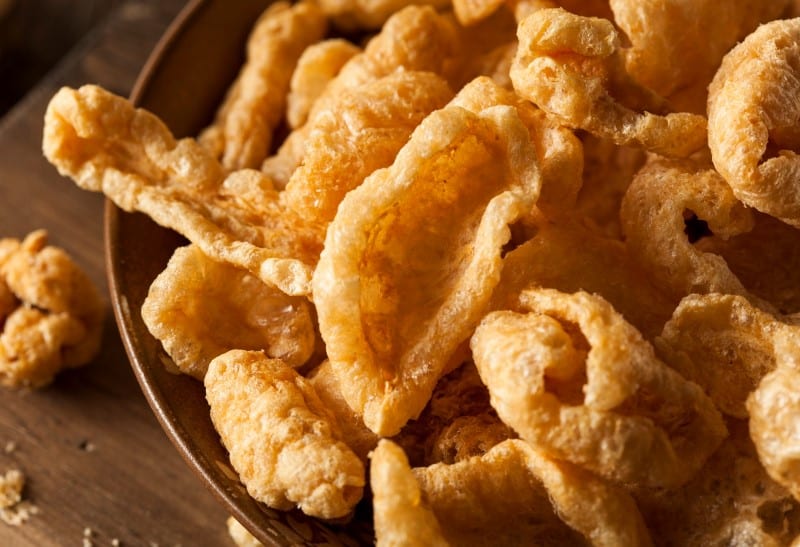 Pork rinds are a great low-carb snack that would make an excellent addition to any party. They're crunchy, salty, and hard to resist. It can be used as a keto movie snack too.
You can buy pork rinds just about anywhere, but we recommend going with a brand that does not contain antibiotics or hormones. You can also make your own pork rinds by following the recipe using this article.
#6. Guacamole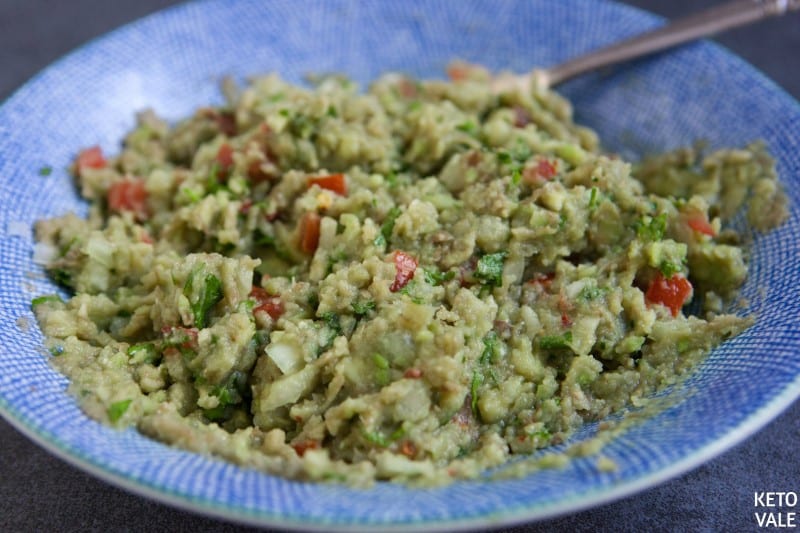 Here's a dip that everyone will love, no matter what diet they follow! Guacamole is a must-have at any social gathering.
Instead of dipping your chips in them, try dipping low-carb vegetable sticks, such as cucumber, carrots, and celery.
Don't settle for store-bought guacamole. You can easily make your own at home using this recipe.
#7. Sushi rolls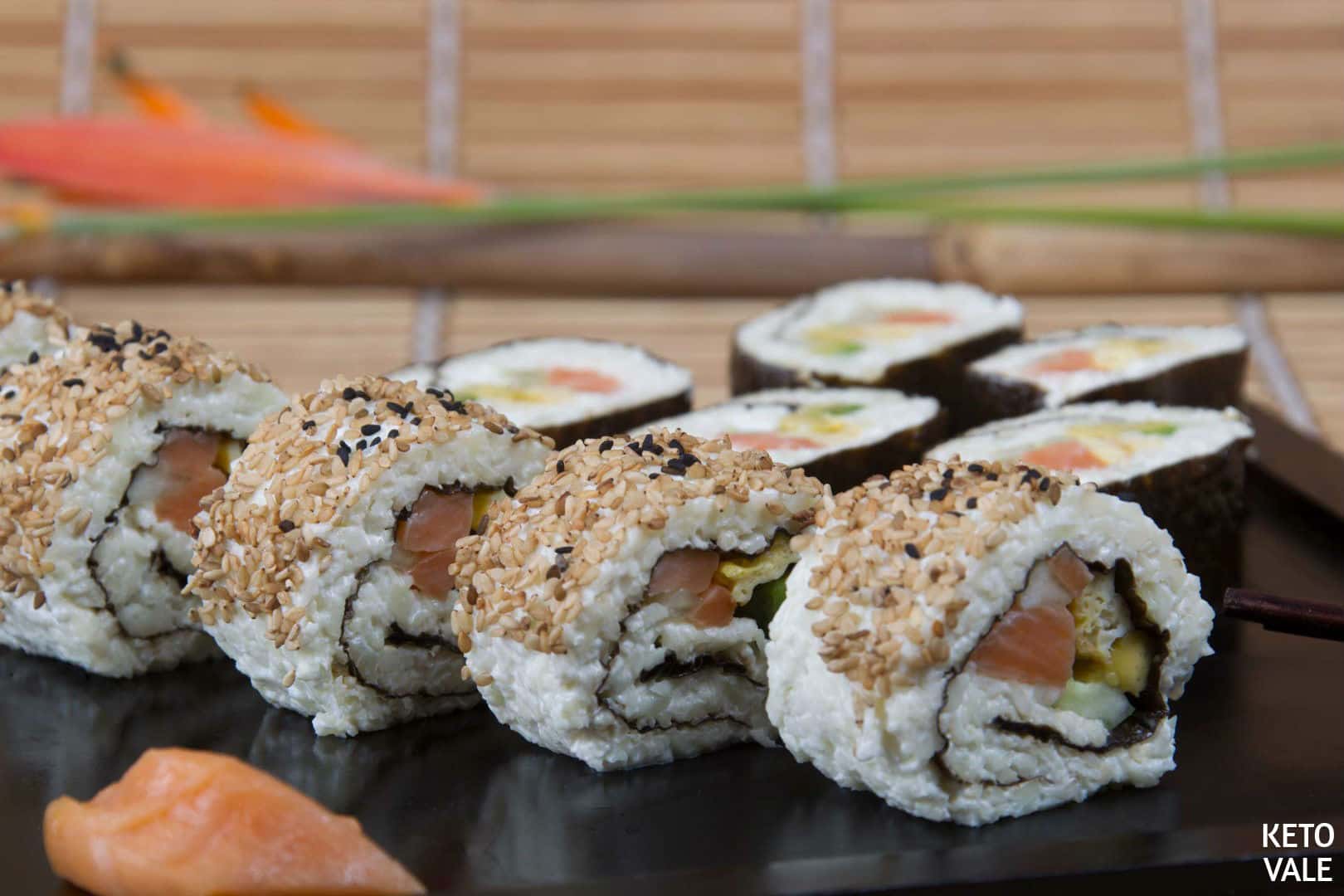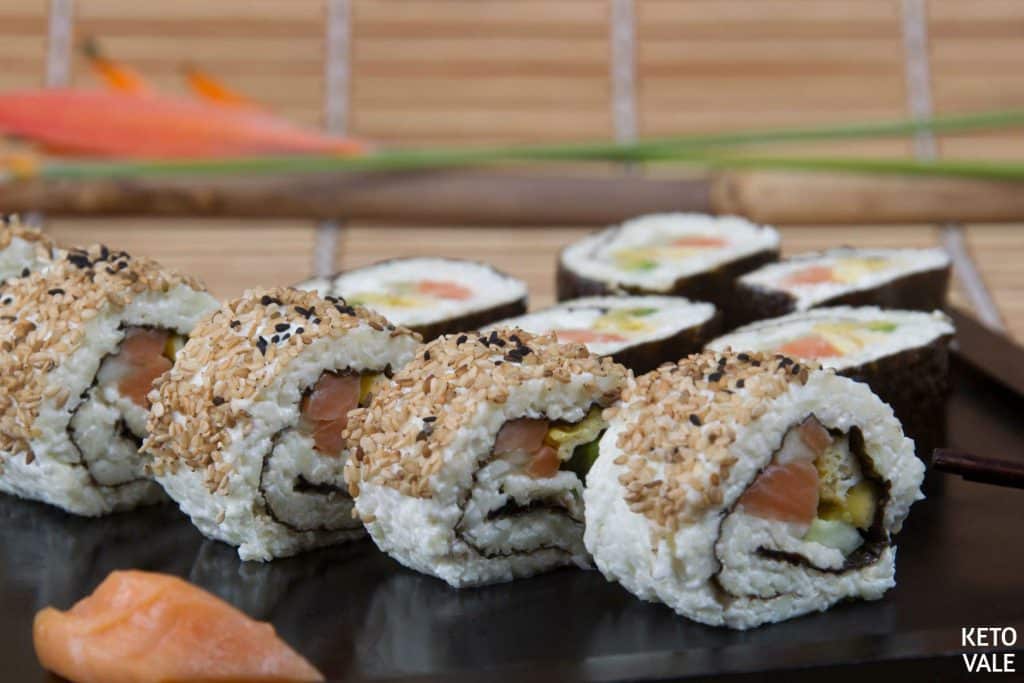 Who says sushi has to contain rice, soy, and other ingredients that aren't keto-friendly? Make your own low-carb version of sushi and you'll be the hit of any party.
In place of traditional rice, try using cauliflower rice in your recipe. You can also wrap your sushi in cucumber or carrot slices and roll them in sesame seeds for a nice touching finish.
Bring a side of coconut aminos for guests to dip their sushi in instead of regular soy, which often contains gluten.
You can check our keto sushi recipe here.
#8. A cheese tray
Were you just invited to a party and don't have time to cook? No problem!
Stop at your local grocery store and pick up a gourmet cheese tray. Hard cheeses tend to be lower in carbs that soft cheeses, but any cheese will work if you're in a pinch!
Some cheese trays come with fruit, crackers or vegetables. To keep it low-carb, skip the crackers and fruit. Stick with cheese and low-carb vegetables if you can.
#9. Mixed nuts
Stopping off for a party-sized container of mixed nuts is another great option if you're in need of snacking foods for a large group.
Make sure you don't buy nuts that have added sugars or cheap oils, such as vegetable, canola, or soybean oil.
#10. Chicken wings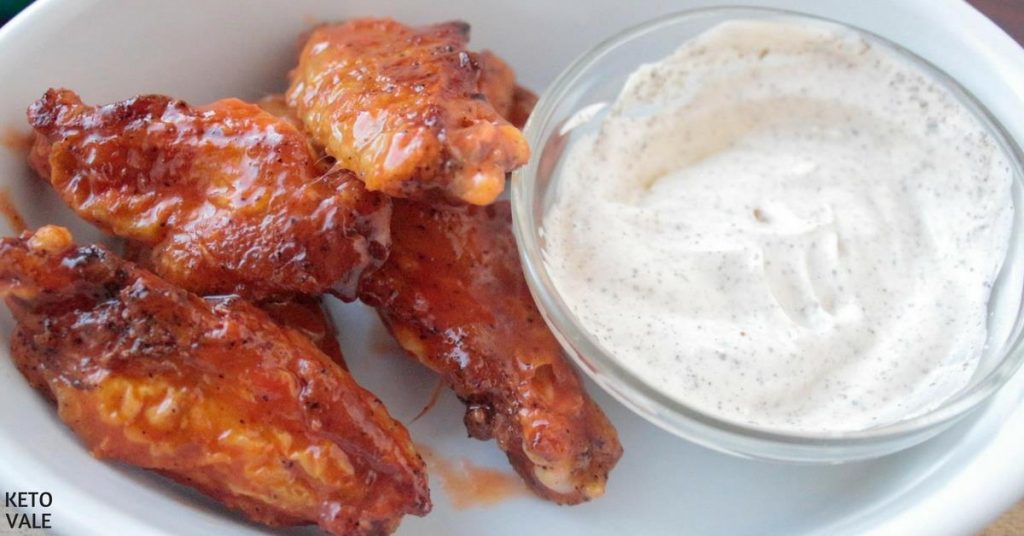 Chicken wings are the perfect party food. You can eat them with your fingers and they are easy to serve.
The problem with most chicken wing recipes is that they contain breading. They are also deep fried in vegetable oils and tossed in sugary sauce.
Check out our easy, low-carb baked chicken wings recipe here. Your guests won't miss the unhealthy, breaded version of this classic party food at all!
#11. Mini Low Carb Cheesecake With Blackberries
Who doesn't love cheesecake? Bring these to your next party and everyone will love you for bringing a low-carb dessert that they can feel good about eating.
These cheesecakes are bite-size, which makes them the perfect finger food to bring to a social gathering.
Get the recipe here.
#12. A Really Big Salad
Were you invited to a party and asked to bring a dish to pass? Bring a really big salad!
Salads are great because they are often eaten before meals like an appetizer and you can top them with lots of low-carb ingredients.
Pick up a few party size bags of your favorite salad mix and choose from the following low-carb toppings:
Sunflower seeds
Chopped nuts
Grilled chicken, beef, or fish
Bacon
Avocado
Shredded cheese
Olives
Berries
Cucumbers
Tomatoes
Make your own low-carb dressing by combining olive oil with lemon juice or vinegar. Add sea salt and pepper to taste. Serve your dressing on the side.
#13. Shrimp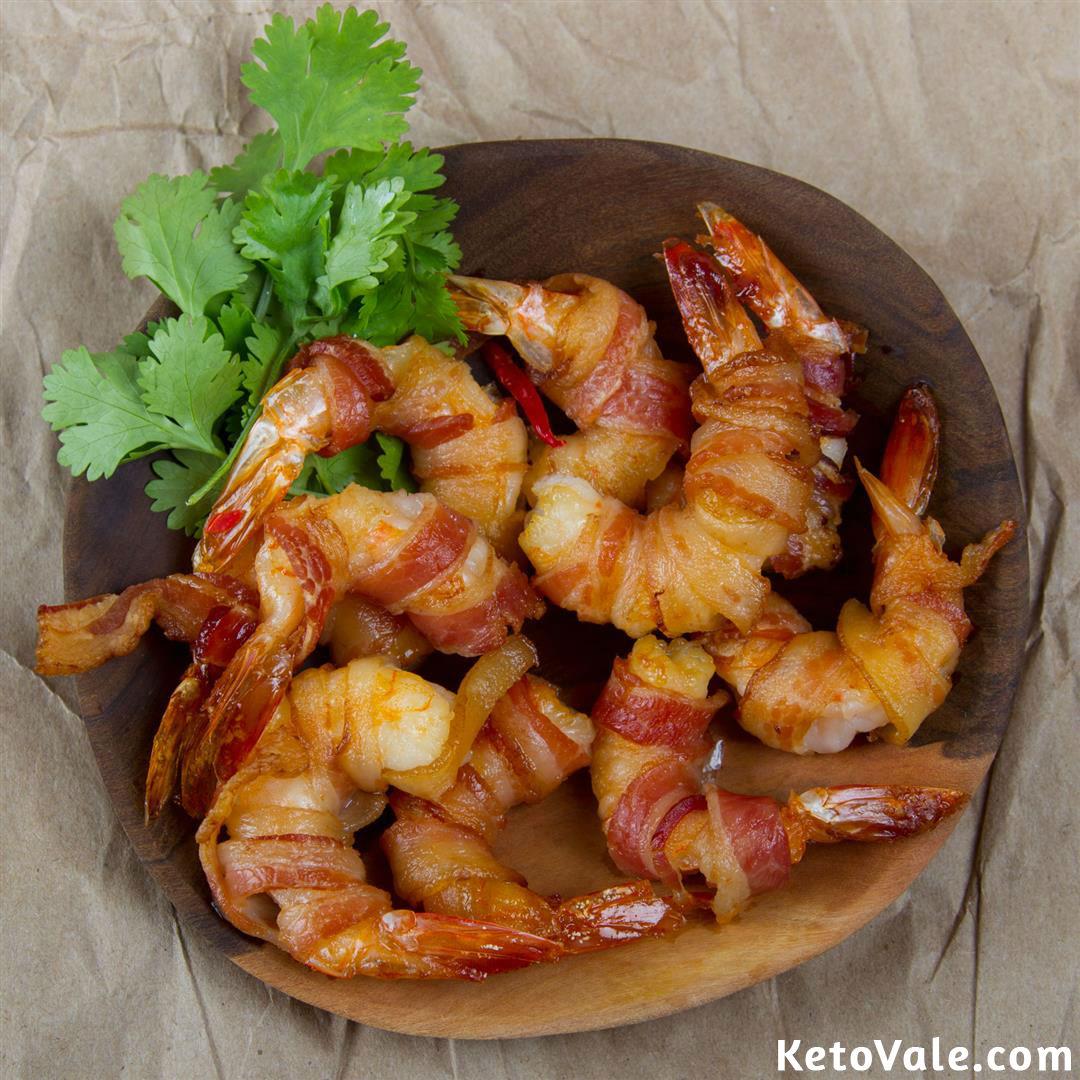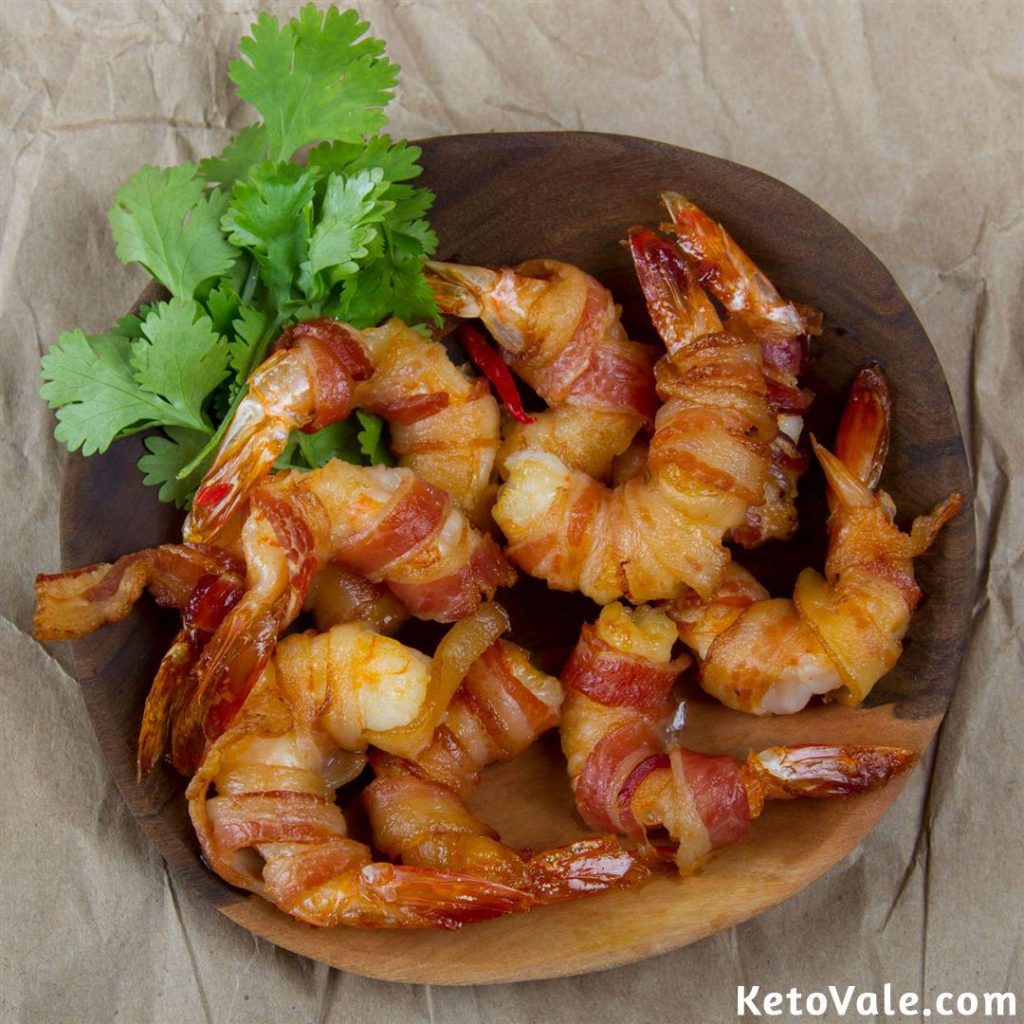 Shrimp is a great party appetizer. If you're on a low-carb diet, then make sure you don't ruin it by dipping your shrimp in sugary sauce.
You can always bring a side of cocktail sauce for others to dip their shrimp in, but resist the temptation for yourself if you're a ketogenic dieters. You can also try to dip your shrimp in keto-friendly sauces, such as cheese dips, guacamole, or marinara sauce.
If you really want to impress your party guests, try our bacon-wrapped shrimp. You can get the recipe here.
#14. Bacon
Speaking of bacon, there's no reason why you can't just bring bacon and have that be your dish to pass! We doubt anyone will complain.
Look for a brand of bacon that does not contain antibiotics, growth hormones, or nitrates. Cook up the bacon yourself at home and chop into two-inch pieces. You can serve the bacon with cubes of cheese to make a complete appetizer.
#15. Cheesy Bacon Chicken Caesar Casserole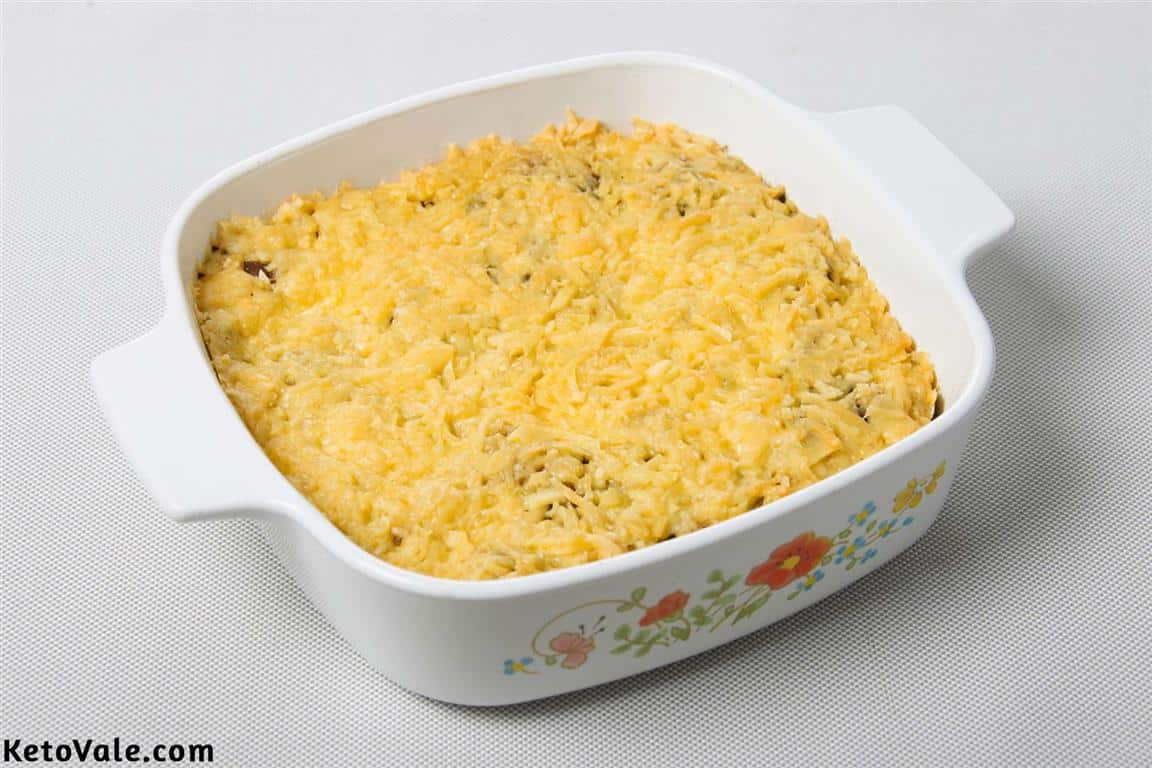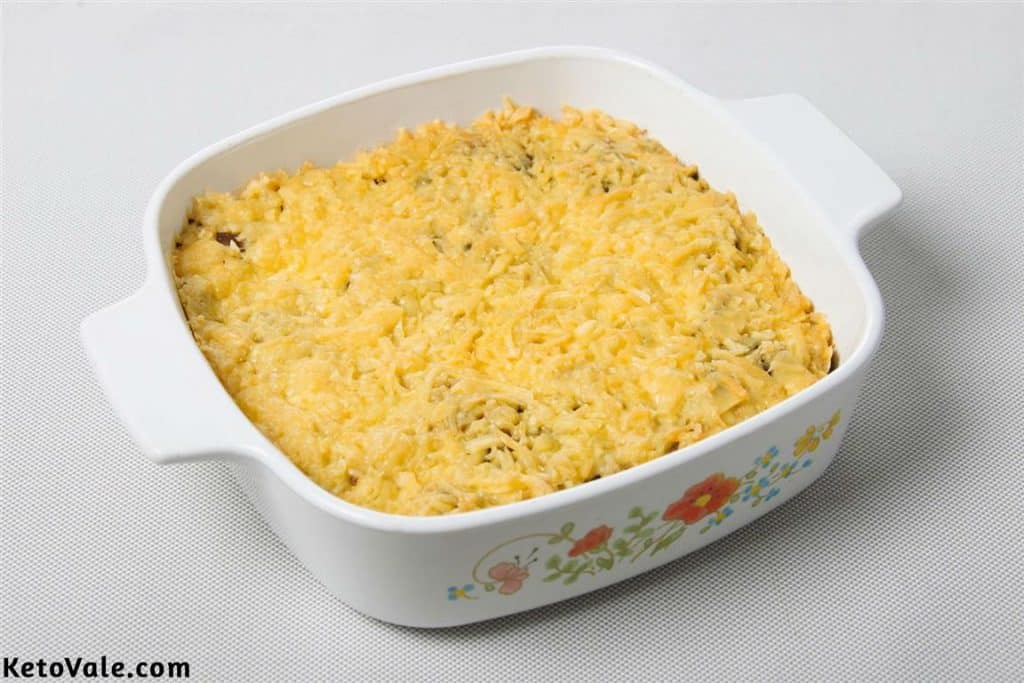 Casseroles are a great dish to bring to a party because they are easy to share. The problem is that most casseroles are made with noodles or rice, which are off limits on a low-carb diet.

The next time you're invited to a party and asked to bring a dish, try are cheesy bacon chicken caesar casserole. You can get the recipe here.
#16. Mini Pizzas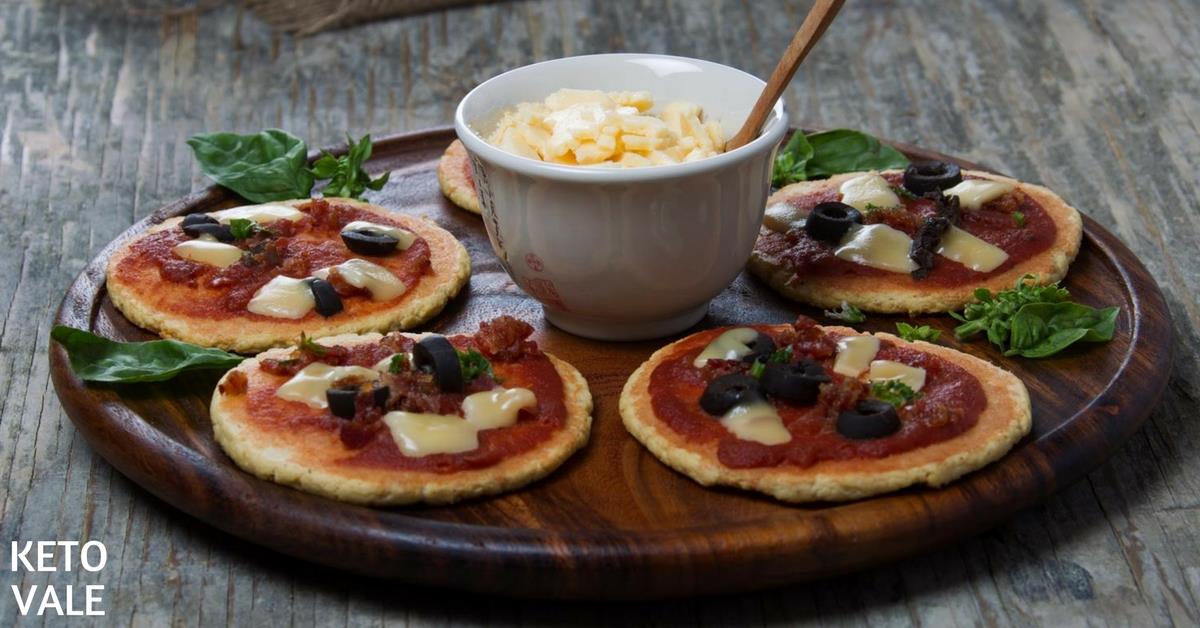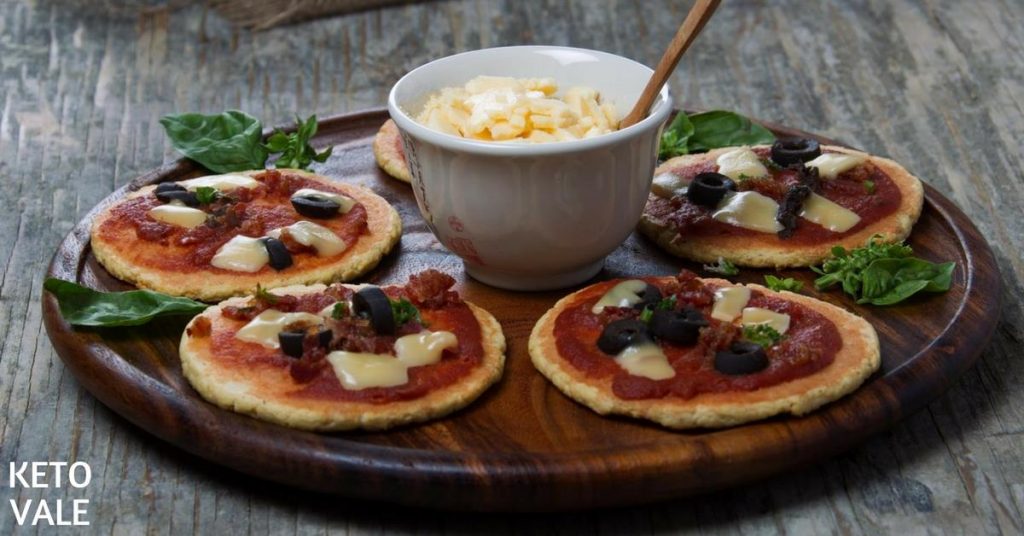 Did you know that you can make a mini pizza using only three-ingredient? Try tapping a slice of pepperoni with a bit of shredded cheese and marinara sauce.
Bake in the oven until all ingredients are cooked. You can also serve with an olive on top if you want to be extra fancy. These are the perfect finger foods for your next party. You can try this mini pizza recipe here!
#17. Chilli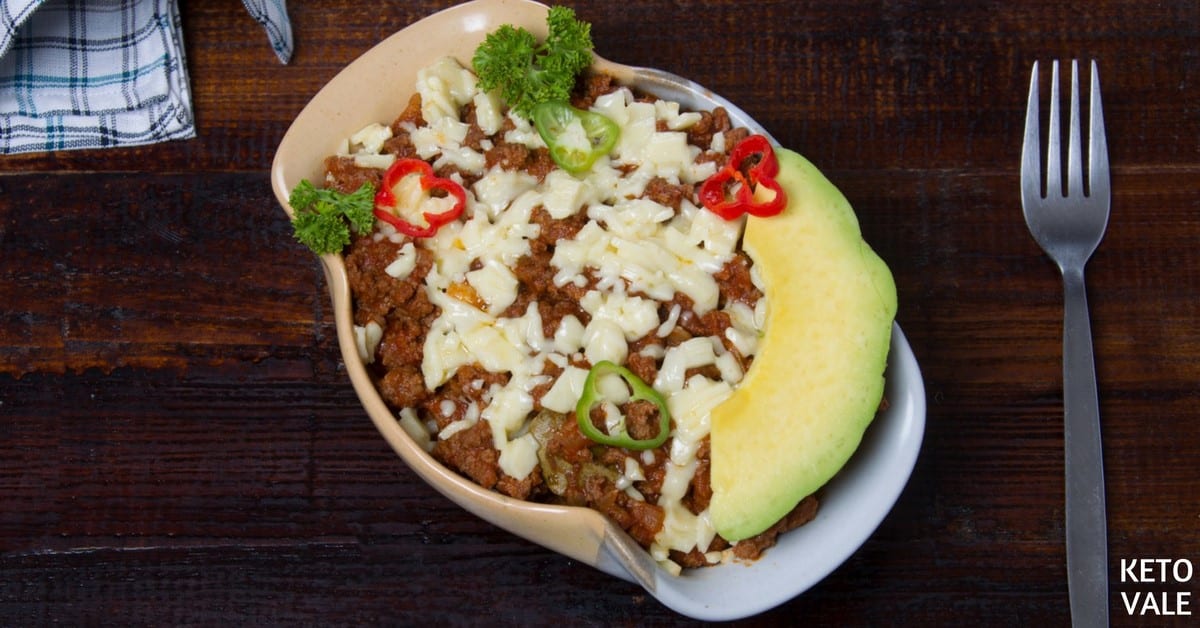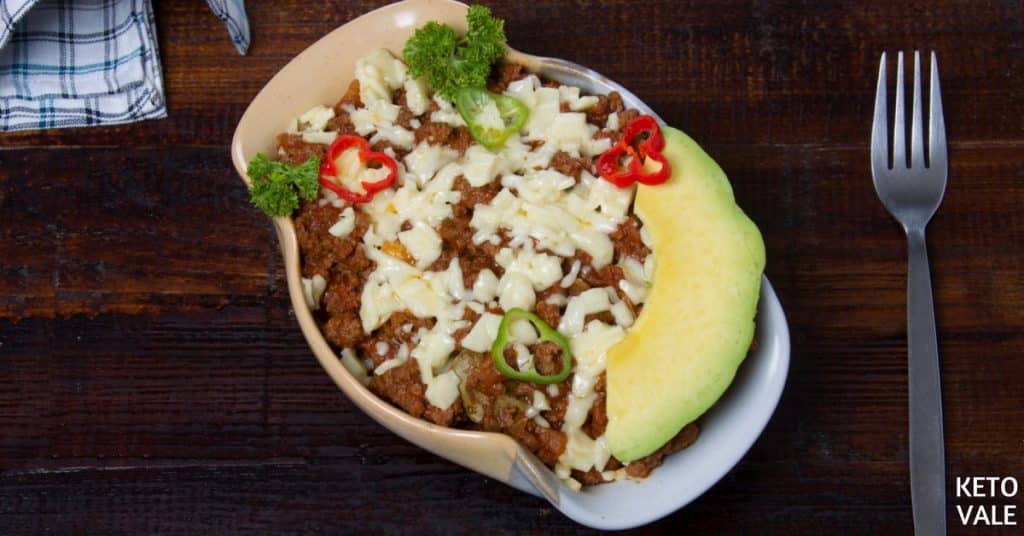 You can't go wrong when you bring chili to a party. Most chili's contain beans, which are not allowed on the ketogenic diet
Luckily, we have a version of the traditional favorite using low carb ingredients. You can use beef, chicken, or ground turkey. Get the recipe here.
#18. Chicken and Cheese Quesadillas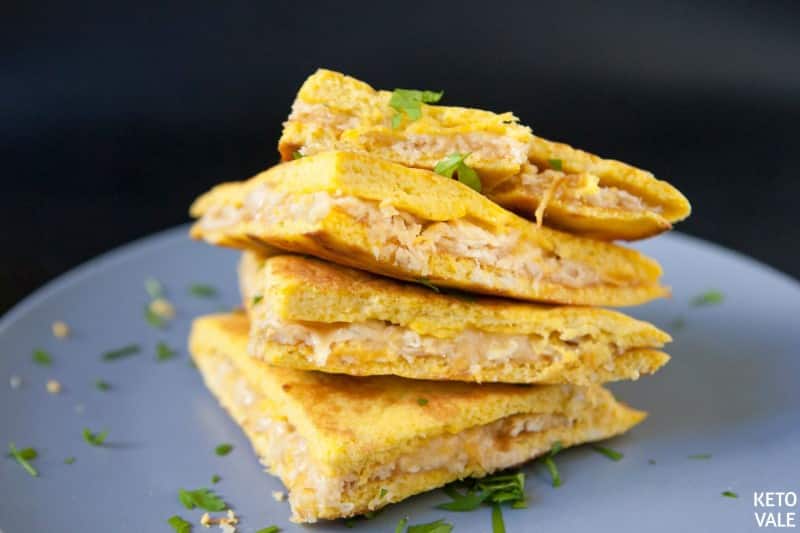 Quesadillas are a good finger food to eat as an appetizer at a party. If you were to order these at a restaurant, then you'd get the kind that comes with tortillas. You wouldn't be able to eat them on a keto diet!
We've made a keto version that you can make using coconut flour instead of traditional quesadilla bread. You can get the recipe here.
#19. Keto Flaxseed Tortillas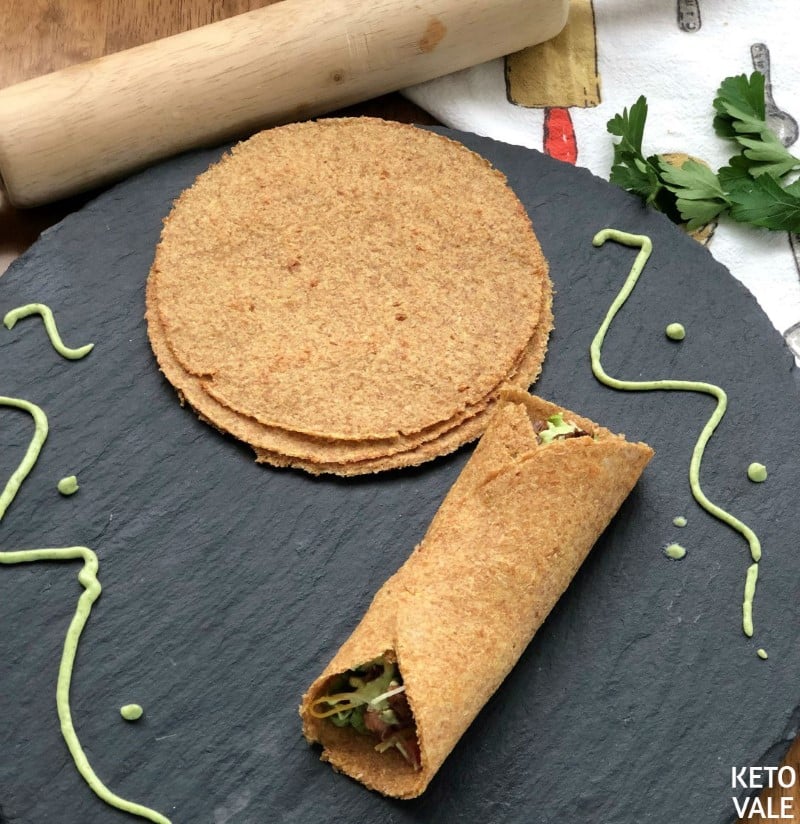 Bringing some make-your-own tortillas is a great way to allow your guests to customize their food. Instead of using traditional tortillas that contain gluten, you can make these keto flaxseed tortillas instead using this recipe here.

Bring some toppings and fillings to serve with tortillas, such as shredded cheese, grilled meat, sour cream, guacamole, and salsa.
#20. Cheese Shell Tacos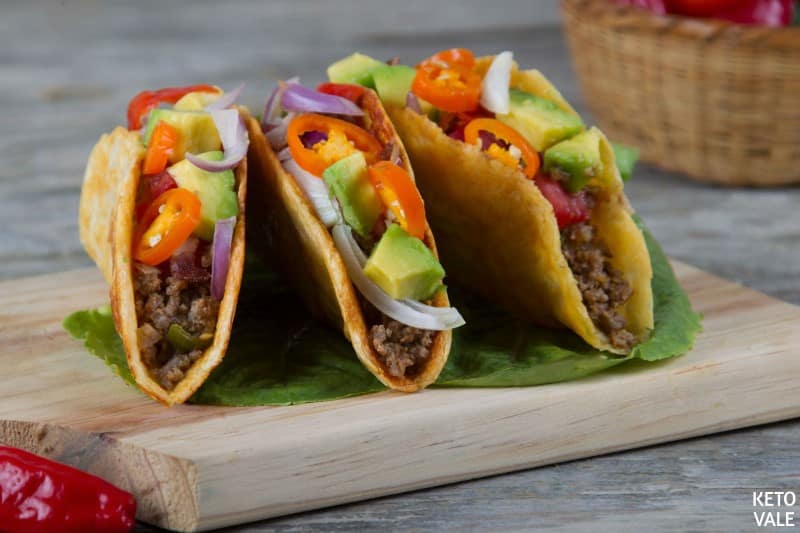 Traditional taco shells are either corn or flour based. You can't eat these on a keto diet. But you can make your own keto taco shells using cheese!
From there, you can fill your taco shells with lots of keto-friendly traditional taco ingredients, like ground beef, shredded cheese, sour cream, and guacamole.
Get the recipe here.
#21. Caprese Salad Crackers
Cheese makes a great base for these Caprese salad crackers.
Stack a slice of brie or mozzarella cheese with a slice of tomato and drizzle with olive oil and balsamic vinegar.
Serve these at your next party and no one will even know they are low-carb! They'll be too busy asking for more.
#22. Keto Cheese Stuffed Bacon Wrapped Hot Dogs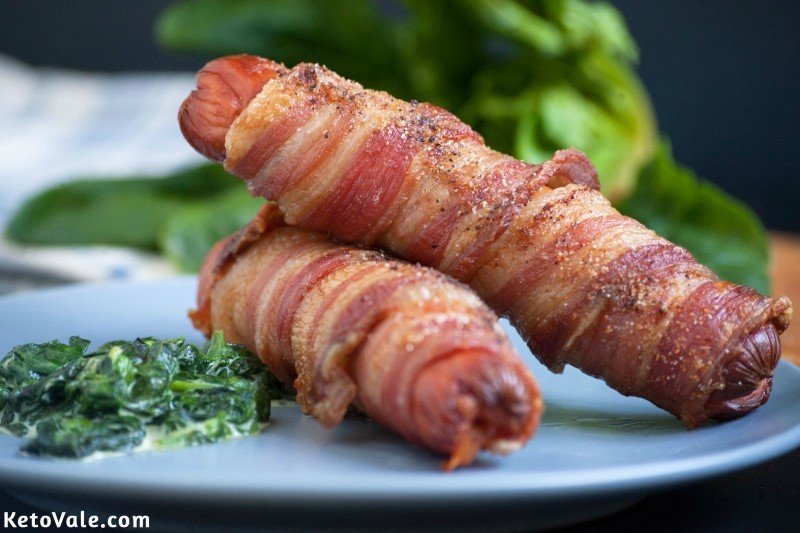 Instead of serving the traditional pigs in a blanket, which uses a puff pastry as its shell, try this low-carb version using cheese and bacon instead.

Make sure you buy hot dogs that are organic, minimally processed, and do not contain antibiotics, hormones, or added sugars. You can even use mini sausages for a more finger-friendly appetizer.

Get the recipe here.

#23. Keto Cabbage Dumplings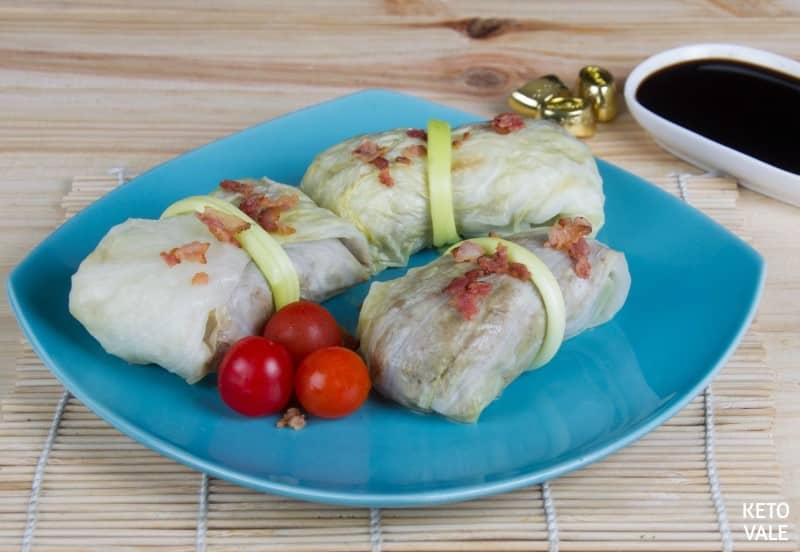 Potstickers are often served at parties as an appetizer, but they usually contain flour in some form. These keto cabbage dumplings are similar to potstickers but without the starchy base.

Instead, they use cabbage to wrap the ingredients in. You can find the recipe here.

#24. Beef Taquitos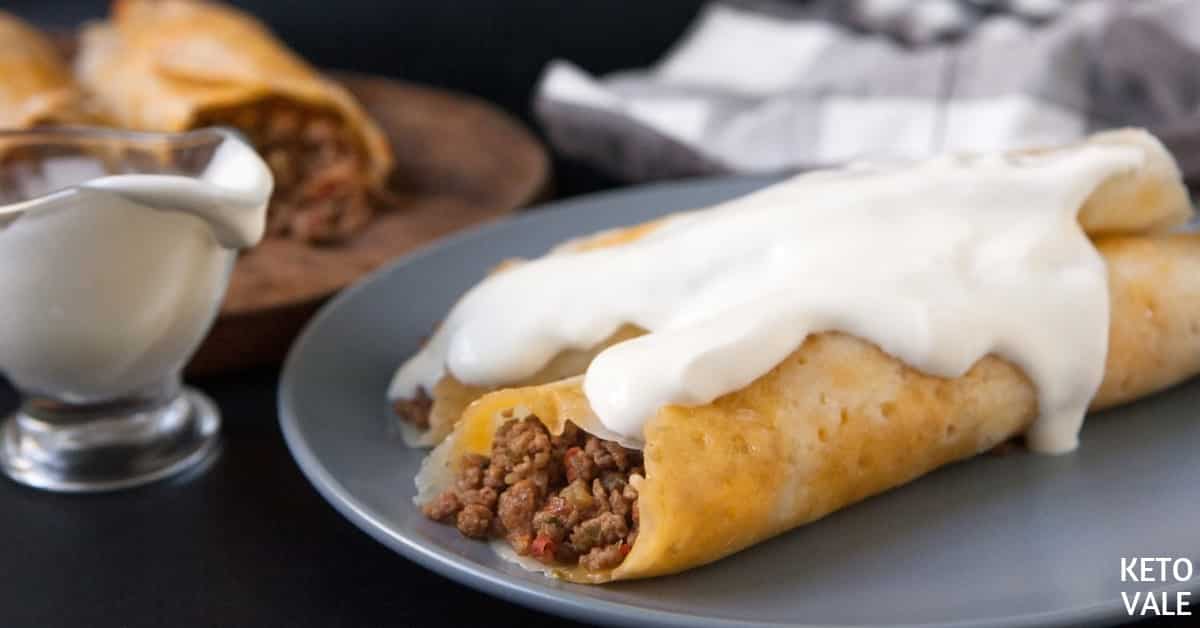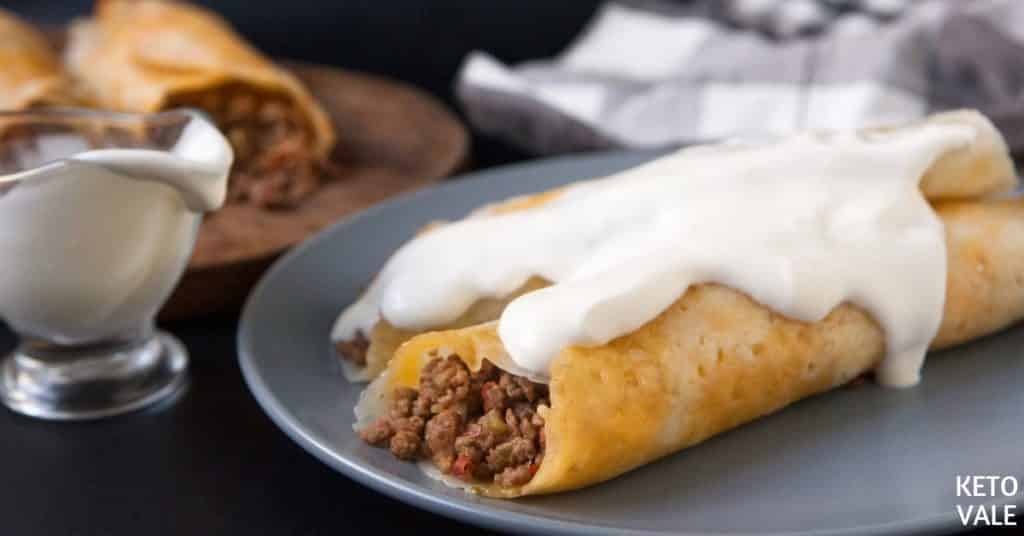 If you're looking for an authentic Mexican dish without the carbs, then you can try making beef taquitos by using this recipe here.
These taquitos also use a cheese shell just like the mini tacos we showed you above. After you make the shell, you can fill it with all sorts of keto-friendly ingredients!
#25. Roasted Vegetable Salad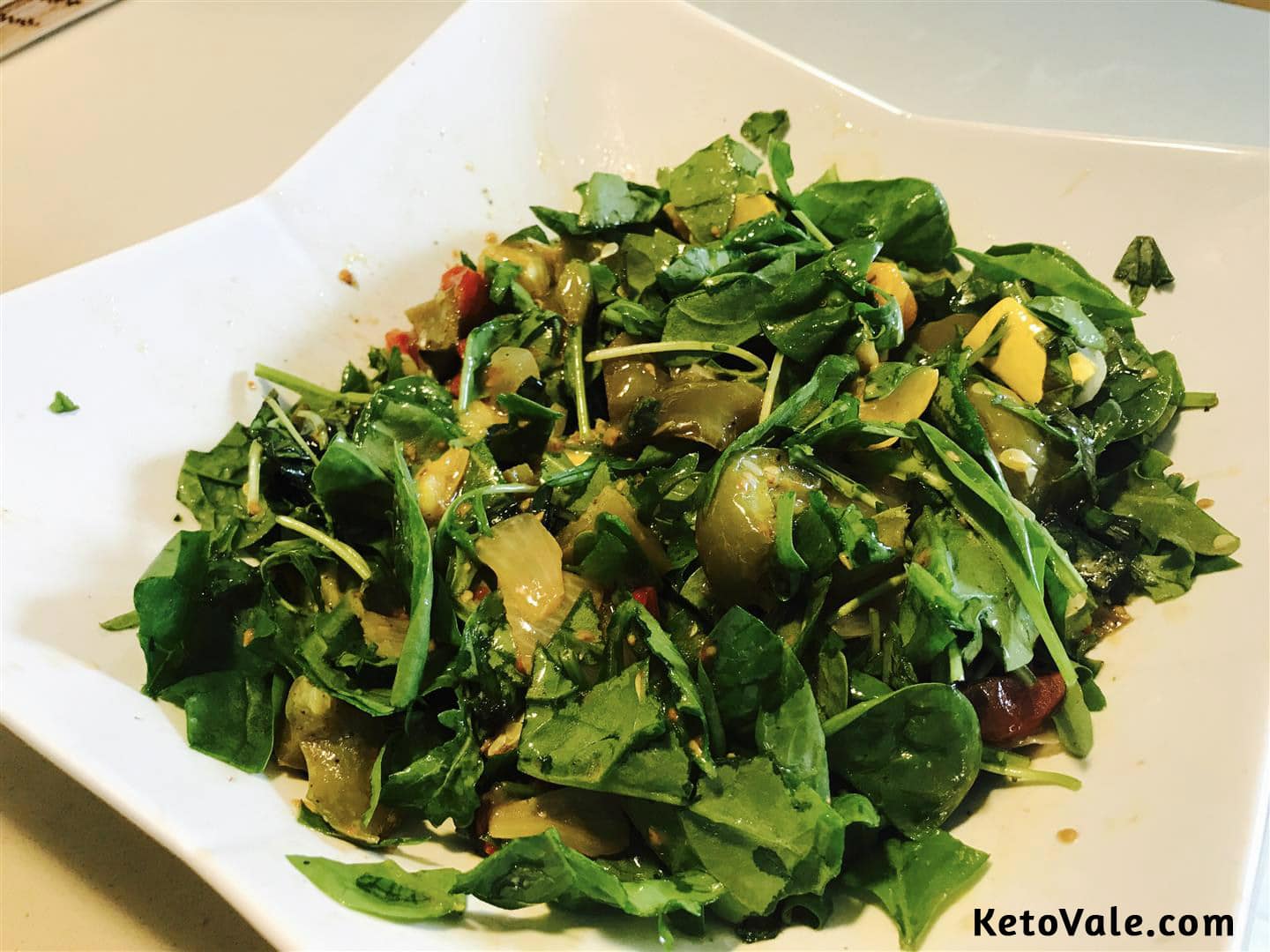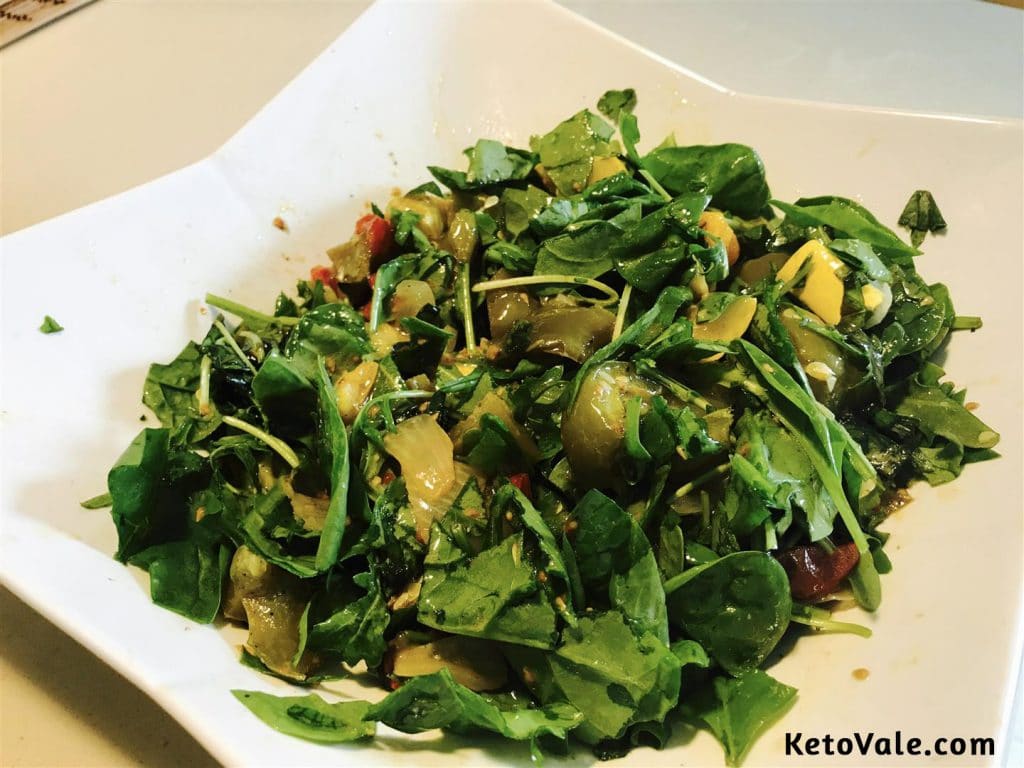 Most people focus on meat and cheese and not enough vegetables when they take on a low-carb diet. The truth is that you can still enjoy vegetables, and you should! They just have to be low-carb veggies.
Bring this roasted vegetable salad to your next party and enjoy some fiber, antioxidants, and vitamins. Notice that the dressing only contains olive oil and spices. Get the recipe here.
#26. Tuna Salad on Cucumbers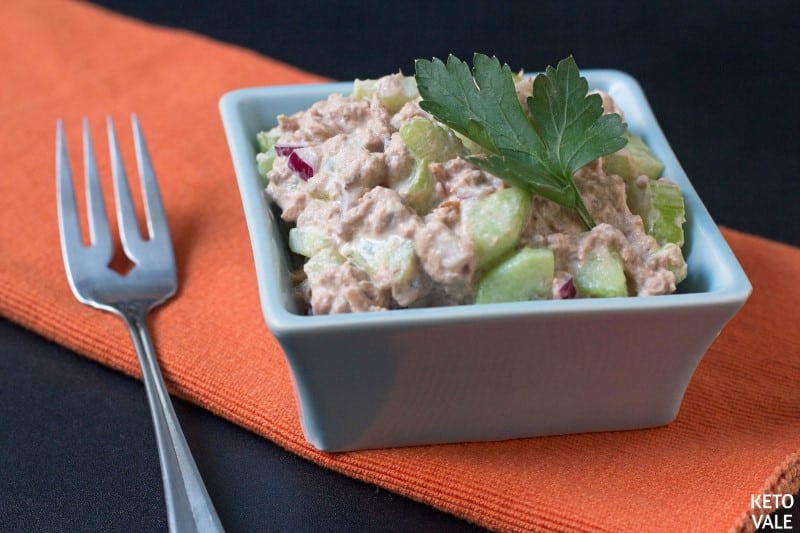 Tuna salad is not always guaranteed to be a low-carb dish. Sometimes it can contain mayonnaise that uses sugar and vegetable oil.
We recommend making your own low-carb tuna salad using a guaranteed low-carb recipe, like this one here.
Cut up some celery slices and serve the tuna on top as a crowd-pleasing appetizer at your next party.
#27. Meat and Cheese Deli Roll Up
There is nothing fancy about this recipe! Take a few slices of your favorite deli meat and cheese, roll them together, and slice them into bite-sized pieces.
We recommend trying to find deli meat that does not contain added sugars, antibiotics, or growth hormones. Deli meats and cheeses tend to be highly processed, so we don't recommend making this dish often, but it's a good low-carb option when you need it!
#28. Deviled Eggs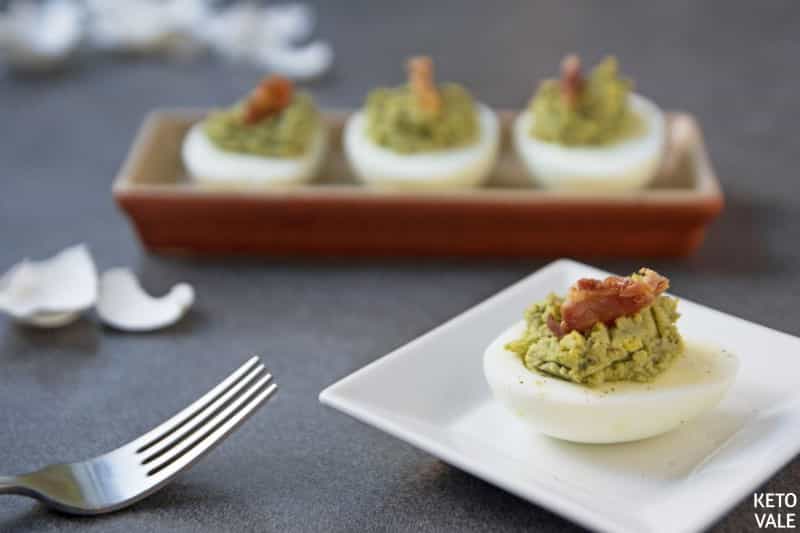 Deviled eggs aren't always low carb. Sometimes they contain sugar and refined oils in their recipe.
To ensure that the deviled eggs you're making are truly a low carb dish, we recommend using our recipe here. They're easy to pass and everyone at your party will love them!
#29. Keto Beef Nachos

Nachos are offered as an appetizer on almost any menu in an American restaurant. The problem is that you can't eat tortilla or corn chips on a low-carb diet.
Bring these keto beef nachos with you to your next party and we guarantee they'll be a hit. The chips are made with a combination of butter, cream cheese, and almond flour. Then they are topped with guacamole and other tasty nachos favorites.
Get the recipe here.
#30. Keto Rolls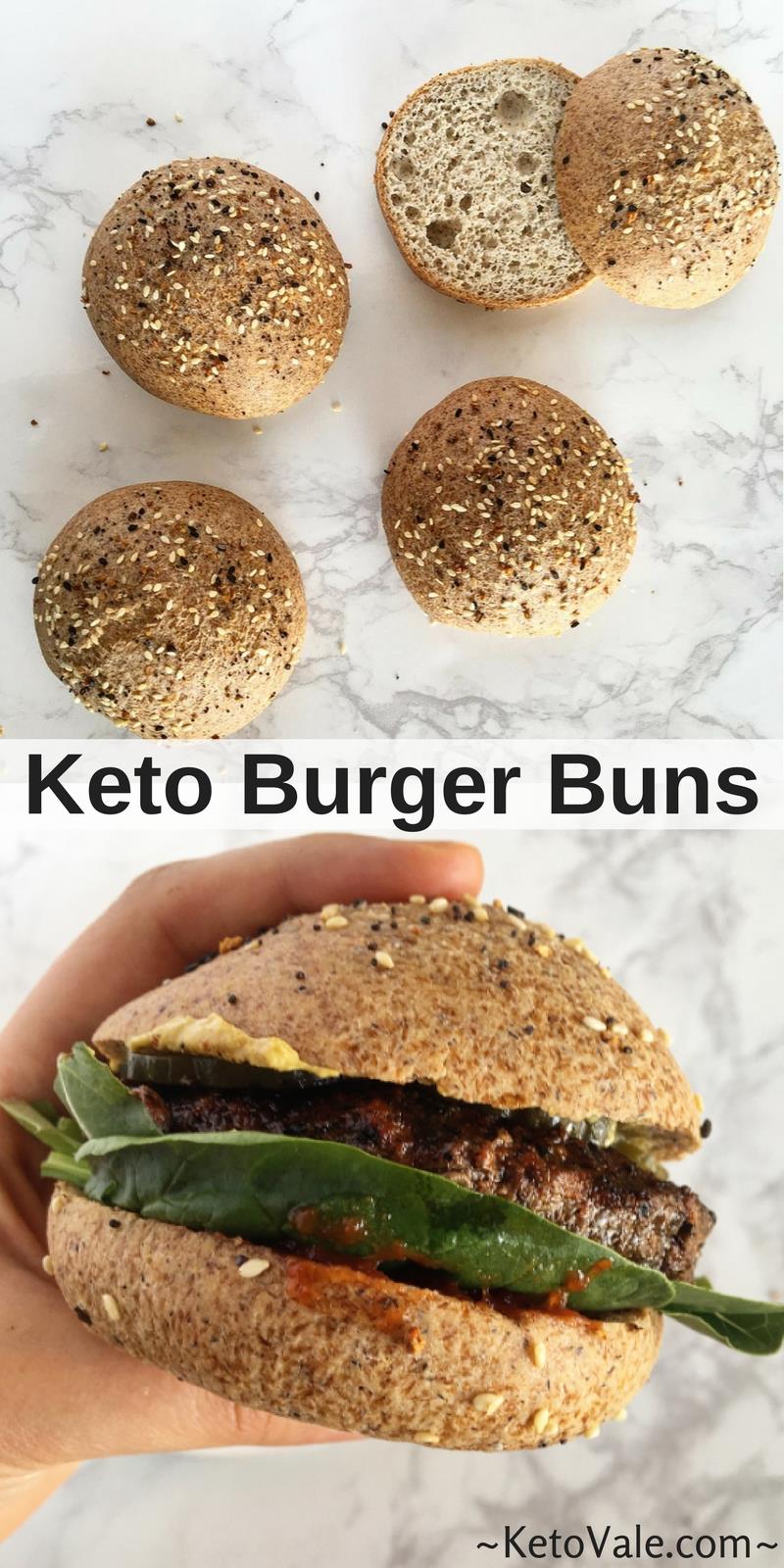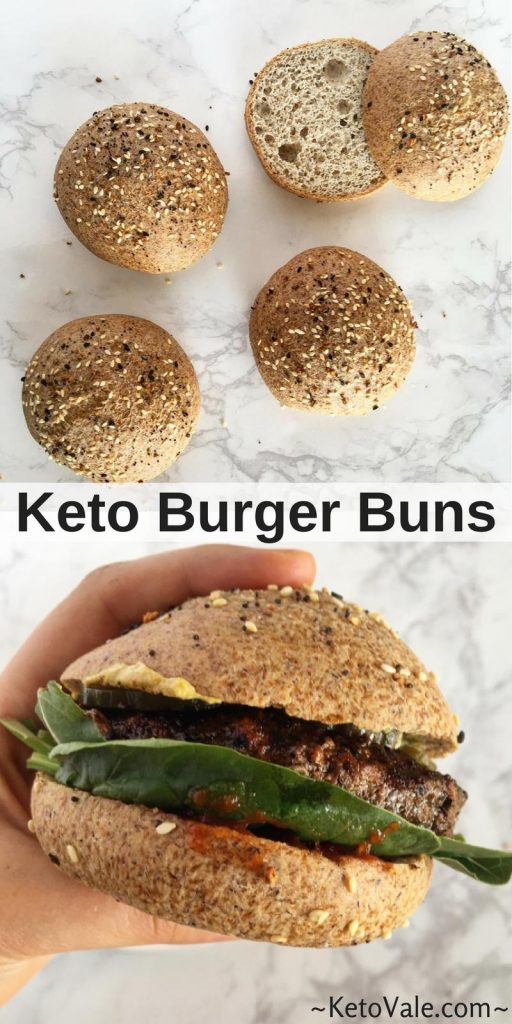 If you're invited to a party, then your host may request that you bring the rolls. For most people on a low-carb diet, rolls are a major no-no.
However, you can make your own low-carb rolls from home using our recipe here.
This recipe calls for psyllium husk and almond flour in place of traditional wheat gluten. It's also sweetened with apple cider vinegar instead of regular sugar to keep the carbs down.
---
Conclusion
Party foods and appetizers are not known to be keto-friendly foods. They often consist of starchy finger foods that are tasty to eat but leave you feeling bloated and weighed down after indulging in just a few.

The best way to ensure that you have something to eat at your next party is to bring a dish yourself. We recommend choosing from one of are keto friendly appetizer and snack recipes the next time you are invited to a party or plan on hosting one yourself.

You can't go wrong when you bring a simple meat and cheese roll up as an appetizer. You can also make a really big salad, baked chicken wings, keto-friendly quesadillas, and tacos, or even a low-carb pizza. Once you know what you can eat, the possibilities are endless!
Enjoy this post? Share to save for later!