Wouldn't it be nice to improve the appearance of your skin, hair, nails and body shape while also enjoying better joint and digestive health? If that interests you, then you'll want to check out the best collagen peptides we have found.
We have tried some products below, and spent hours to research and read the customer reviews to find out the best collagen powder brands, so you can pick the one that best fits your personal needs and situation. Let's dive in!
As you probably already know, collagen protein can deliver such life-enhancing benefits, and if not, you can read our evidence-based collagen benefits article to learn more.
What Is Collagen and Why Do We Need It?
​Collagen is the most plentiful protein in your body and is found in nearly every tissue, including your muscles, bones, tendons, and skin. Therefore, getting enough of it is crucial for your health and well-being.
In total, there are at least 16 types of collagen. Collagen type I, however, is the most abundant one, along with type II, and III making up around 90% of all bodily collagen (1).
This type of collagen plays a crucial role in the structure and strength of skin, teeth, fibrous cartilage, tendons, and connective tissues. Think of it ​as the glue that holds your body together.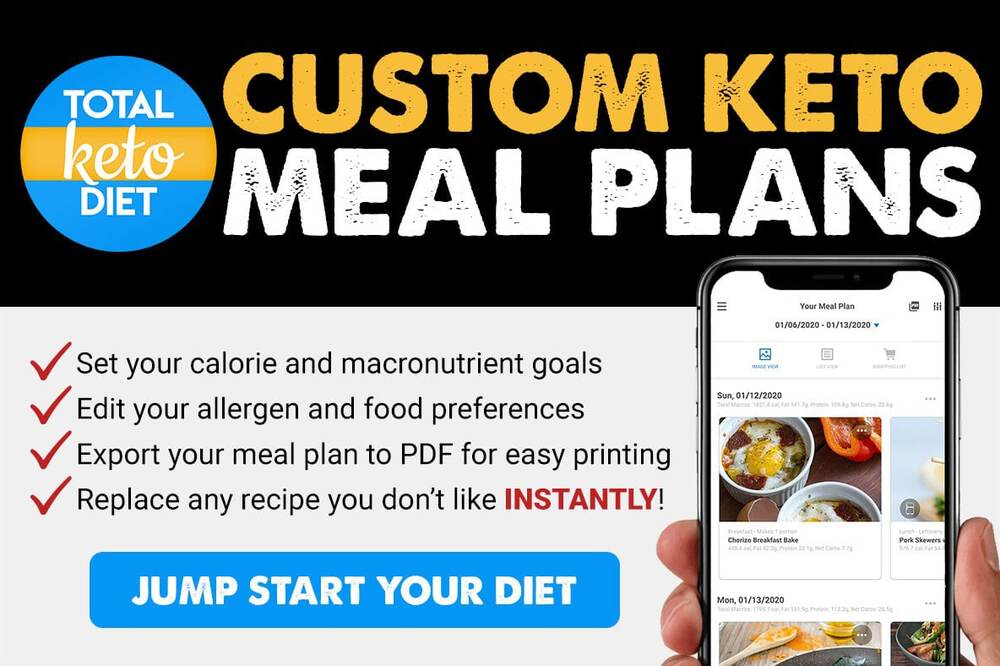 How can you make sure you get enough collagen? Well, the best way is by consuming organ meats and connective tissues, as those are the richest dietary sources of collagen. But since most of us rarely eat these parts of the animal, we tend to under consume collagen, which can impair health and well-being.
The Benefits of Consuming Collagen
Since collagen is the most plentiful protein in our body, it's obvious it plays a crucial role in health and well-being. Here are just a few of the many benefits of consuming ​collagen:
Collagen is made up of roughly 90% protein. And since protein is highly satiating, adding extra collagen to your diet can satisfy hunger, decrease total calorie intake, and thereby aid weight loss.
For example, one study found that when subjects raised their protein consumption from 15% to 30% of their daily calorie intake, they unconsciously consumed, on average, 441 fewer calories per day. This led to an average weight loss of 11 pounds in just 12 weeks! (2).
And while "regular" protein effectively curbs hunger, collagen protein is even more satiating. Thereby, collagen protein should be even better at helping you obtain and maintain your ideal body weight (3).
Improved Skin Tone and Reduction of Cellulite:
Consuming collagen can improve the radiance of your skin by increasing skin moisture and collagen density.
The overall collagen content of the skin surface declines 1% per year (4).
When the main collagen in your skin (type I collagen) declines, your skin becomes wrinkled, saggy, and you start to develop cellulite. Supplying your body the collagen it needs can help reduce the appearance of cellulite.
Collagen can prevent intestinal damage, improve gastric acid secretions, and enhance the lining of your digestive tract. As a result, you'll enjoy better digestion and nutrient absorption and decrease your likelihood of suffering leaky gut and digestive problems such as acid reflux, indigestion, and bloating.
Because collagen is one of the best sources of the amino acid proline, which is crucial for the stability of collagen in your joints, adding it to your diet can aid joint health. So, if you currently suffer from achy joints, increasing your collagen consumption may alleviate your discomfort.
Research published in the Journal of Applied Cosmetology found collagen supplementation improved hair growth and thickness (5).
Enhanced Muscle Growth and Recovery
The importance of collagen in aiding the recovery and growth of muscles is well-known among athletes. And since collagen consists of nearly 90% protein, adding it to your diet can support muscle growth and recovery as well as improve athletic performance (6, 7).
Collagen is loaded with the amino acid glycine, which reduces anxiety, promotes calmness, and improves sleep quality. Besides, one study published in the Journal of Cell Biology found collagen can promote the formation of neural synapses, and thereby potentially protect you from schizophrenia (8).
The Causes of Collagen Loss
Collagen loss can occur because of internal and external circumstances.
​Internal and natural causes include ​aging, eating a high-sugar diet, nutrient deficiency or genetic susceptibility (9, 10, 11, 12).
Therefore, to maintain our collagen level and optimal health, we need to supply our body the collagen it requires by eating collagen-rich foods and adding collagen supplements to our diet.
The easiest and most convenient way is to supplement with collagen protein powder supplements.
The Different Types of Collagen Protein Supplements
There are three main variations of collagen protein supplements you can choose from:
Unhydrolyzed collagen protein is the non-processed form of collagen. The amino acids in this collagen protein are in their full-length form and tightly twisted into each other. This makes unhydrolyzed collagen protein very strong and durable. After all, this form acts as the glue that holds your body together. But since unhydrolyzed collagen is so tough, we can't effectively break it down and use it. That's why this form is ineffective as an oral supplement.
Collagen peptides, also known as collagen hydrolysate, have a higher bioavailability compared to both unhydrolyzed collagen protein and gelatin. The reason is that collagen peptides have undergone hydrolyzation, a process that breaks down the amino acids into smaller molecules. As a result, collagen peptides are better absorbed into your bloodstream and are better able to provide you with a myriad of health benefits. If you're looking for a collagen supplement, it's best to choose a product that contains 100% collagen peptides.
Gelatin is a collagen protein that has undergone partial hydrolysis, leaving a gel that only dissolves in hot water (so it's not optimal to use in smoothies). Because gelatin has undergone partial hydrolysis, the peptides aren't entirely broken down and thereby not as well absorbed as collagen peptides. Since the chains of the amino acids in gelatin are only partially hydrolyzed, this product can cause water retention. That's why consuming gelatin can lead to intestinal discomfort and bloating.
Bottom line: When choosing a collagen product, choose one that contains collagen peptides (collagen hydrolysate). This variation has a superior absorption rate and can best provide all the fantastic health benefits collagen has to offer.
The Problem with Most Collagen Peptide Protein Powders
Most collagen protein powders on the market are of terrible quality and contain compounds that can actually hamper your health and well-being. Why?
One of the main reasons is that most powders are derived from grain-fed chickens. These high-stress environments impair collagen quality and integrity. Besides, many products are loaded with sugar, fillers, binders, sweeteners, and coloring agents that impair ketosis and health.
How to Select the Best Collagen Peptide Protein Powder
Collagen peptide protein powder must meet a few criteria to optimally supply you with the fantastic health benefits this nutrient can provide.
Look for bovine collagen peptides.
First off, when it comes to buying collagen supplements, the product should be derived from cattle (not chickens!). Why? Because cattle have a superior amino acid profile. It contains significantly higher amounts of the amino acid glycine, which promotes calmness, improves sleep, and reduces anxiety along with many other health benefits (13, 14, 15, 16).
Besides, cattle collagen contains a lot more proline, an amino acid that aids the production of hydroxyproline, which your body needs to make collagen, tendons, ligaments, other connective tissues and heart muscle.
Choose grass-fed or pasture-raised sources.
Secondly, the collagen must come from grass-fed or pasture-raised cattle. Not only does this mean the animals live in better conditions, but it also improves the quality of the collagen.
Make sure your product does not contain harmful additives.
Thirdly, the product must be free of soy, binders, sweeteners, and coloring agents.
If you are following a low carb ketogenic diet, your collagen supplements need to be keto-friendly and made with real ingredients and flavored with real foods, not cheap artificial flavors.
---
​Top Q​uality Collagen ​Products and Brands
The following ​products are the best of the best when it comes to collagen peptide protein powders. They are all derived from cattle that are grass-fed (and partly pasture-raised), are additive-free, are keto friendly, and are made up of 100% pure collagen peptides.
Below you will find the best collagen supplement brands we have researched and selected for you.
---
​Vital Proteins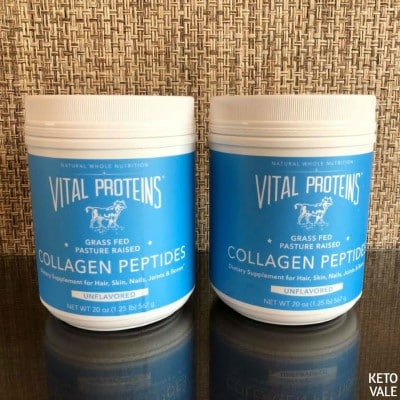 Vital Proteins offers a high-quality, non-GMO collagen peptide protein powder.
It's the best collagen powder because it's derived from cattle that are pasture-raised and grass-fed, which gives the product its excellent amino acid profile.
With its high glycine content – each serving delivers you a whopping 3,719 mg of this amino acid – this product is excellent for supporting joint and digestive health.
Another fantastic feature of this product is that it's soluble in both hot and cold liquids. It also contains 100% of the RDV of vitamin C per serving to support immunity.
That means you can use it in smoothies, coffee, hot cocoa, soups, and even when making ice cream. (We recommend using it to create coconut jelly; it's delicious.)
Pros:
Comes from grass-fed, pasture-raised bovine
100% pure collagen protein
Keto-friendly
Contains 20 grams of collagen per serving
Delivers 3,719 milligrams of natural glycine per serving
Non-GMO and free of preservatives and hormones
Mixes easily in both hot and cold liquids
Contains 100% RDV vitamin C
Cons:
Vital Proteins collagen peptides go great in coffee, smoothies, protein shakes or really any drinks recipe with no added flavor.
---
​Bulletproof​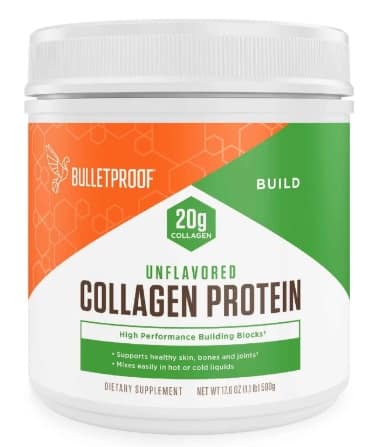 We love just about any Bulletproof product because the company uses only high-quality ingredients and the most precise formulas with active ingredients.
We especially love their collagen protein because it comes from pasture-raised cows and does not contain added hormones.
According to the website, Bulletproof's collagen formula is enzymatically processed several times. This means that it leaves its peptides intact instead of killing them off in harsh chemical processes.
This process also allows the collagen to be very bioavailable, which means that you're able to absorb it better than other brands. It comes in a powder form that is odorless, easy to use, and tastes great.
We had the pleasure of trying Bulletproof Collagen Protein and we love that it mixes easily into smoothies and coffee. Other products we have tried are chalky and don't mix well.
A two-scoop serving of the unflavored powder contains ​70 calories, 2​0 grams of hydrolyzed collagen. Because the protein is unflavored, we found it easy to use in a variety of recipes without altering the taste.
Pros:
​Mixes into hot and cold beverages easily
Comes from pasture-raised cows without the use of hormones
Unflavored so it can be used in a variety of recipes
Contains 2​0+ grams of hydrolyzed collagen per serving
Provides 18 amino acids
Supports hair, skin, and nails as well as joint and bone health
Helps stimulate the body to produce more collagen
Vanilla and chocolate flavors available
Cons:
​Might be hard to get if you live outside the United States
---
​Natural Force​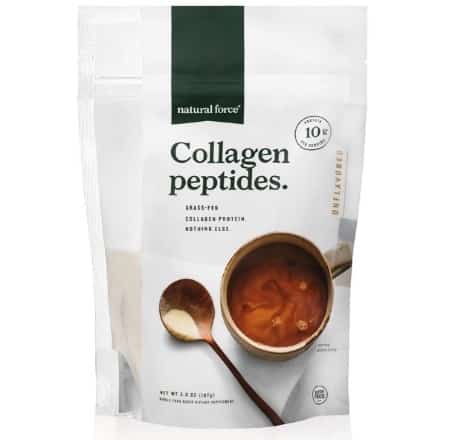 Natural Force Grass-Fed Collagen Peptides are sustainably sourced from 100% grass-fed bovine hides that roam free in South America. They contain type I and type III collagen protein powder for the best joint and skin support.
It's important to supplement with collagen because your production naturally declines with age. Natural Force Grass-Fed Collagen Peptides helps your body naturally produce more collagen to support hair, skin, and nail health.
A one scoop serving of Natural Force Grass-Fed Collagen Peptides contains the following:
40 calories
0 grams of fat
0 grams of carbs
10 grams of protein
11.1 grams of 100% bovine hide collagen peptides
Natural Force Grass-Fed Collagen Peptides contains 18 different peptides. These peptides are hydrolyzed, which makes them easier to digest and better absorbed than other collagen powders.
Like their MCT oil, the collagen powder is tasteless and odorless. It mixes well into anything you add it to without tasting chalky.
According to the website, each bag is fully recyclable and uses 70% less plastic than other bagged products. All collagen is free from synthetic colors, fillers, and other artificial additives. Their products are also third-party tested, manufactured in a cGMP, and are measured by weight and not volume.
Pros:
​Provides 11 grams of collagen and 18 different collagen peptides
Sourced from 100% grass-fed bovine hide and nothing else
Contains type I and type III collagen protein for ultimate skin, joint, and hair health
Comes in a recyclable bag that contains 70% less plastic than other brands
Tasteless and odorless
Mixes well into hot and cold foods and drinks
Cons:
​It comes in a bag, not a bottle container
---
K Nutri Collagen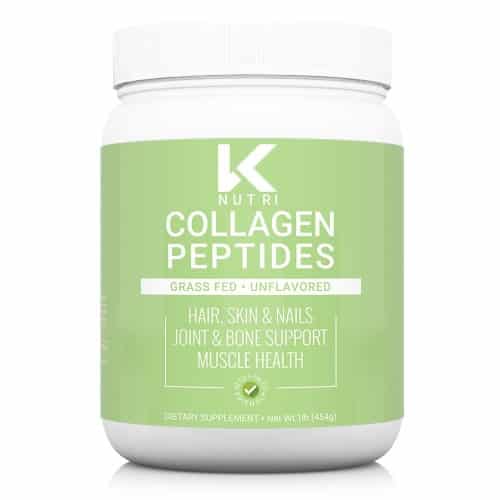 K Nutri collagen is sourced from grass-fed bovine. It's unflavored so that it can be added to anything you want, including coffee or baked goods, without altering the flavor.
This collagen is a good source of collagen types I and III, which tend to be the easiest to absorb and digest. They are also necessary for better looking hair, skin, and nail, as well as improved joint health. It provides 18 amino acids for strong cartilage, ligaments, and tendons.
We tried K Nutri collagen in our coffee and found that it was fast dissolving and quickly absorbed without digestive issues. We also liked that it was tasteless and did not make our coffee taste differently. However, you may want to blend this collagen into your coffee to prevent it from separating or creating a chalky texture.
Pros
Provides 18 amino acids per serving
Helps support hair, skin, nails, gut, and joint health
Sourced from grass-fed bovine
Provides a good source of types I and III collagen
Does not have an aftertaste or odor
Fast dissolving and quickly absorbed
Comes in a resealable container
Cons
May need to be blended into coffee or other beverages
---
Perfect Keto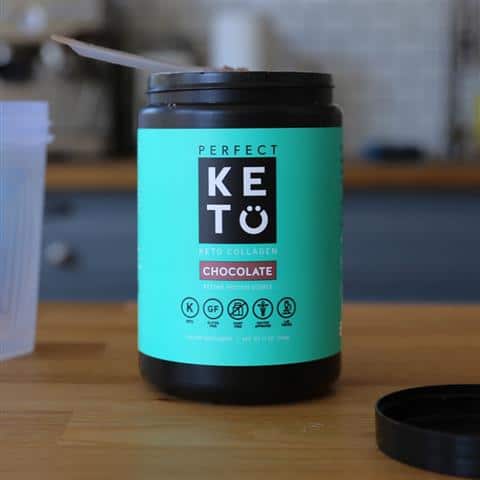 The ​products outlined above fit a ketogenic diet perfectly. They are made of 100% pure collagen peptides and contain no sugar or other additives. However, if you're ready to kill two birds with one stone, then you may want to consider getting the protein powder by Perfect Keto.
Why? Because it not only contains collagen peptides of the highest quality, but each serving also delivers 5 grams of pure MCT oil powder. It is easily digestible and supplies your body with instant energy.
Besides, the MCTs slow protein's absorption rate, which reduces the rise of blood sugar levels associated with the macronutrient. As a result, you'll be better able to obtain and maintain a state of ketosis, and you'll enjoy more stable energy levels.
And when it comes to taste, this product by Perfect Keto definitely ticks the boxes. It's flavored with cocoa and stevia leaf powder, which makes the product taste like a delicious drink of chocolate milk.
Don't forget to use our coupon KETOVALE at checkout for a 15% discount!
Pros:
​Delicious ​3 flavor choices including chocolate and vanilla
Each serving contains 5 grams of pure MCT oil powder
Each serving contains 1.5 grams acacia fiber to support gut health
Collagen comes from 100% grass-fed cattle living in the USA
Explicitly designed for the ketogenic diet
Non-GMO and free of preservatives and hormones
Fast delivery and free ​delivery within USA
Cons:
​​​Relatively expensive because of the unique formula for keto.
---
​MAV Nutrition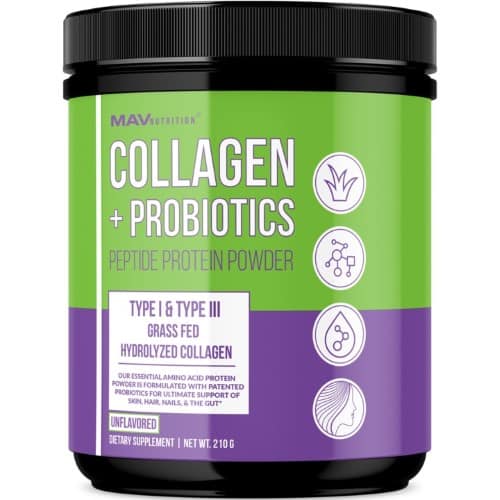 MAV Nutrition offers collagen peptides of the highest quality. It also contains probiotics for digestive health and immunity.
Their product is non-GMO, all natural, made in the USA, water-soluble, and derived from cattle that are grass-fed and pasture-raised.
Especially if you're new to collagen protein powder, then the protein collagen peptides by MAV Nutrition are an excellent choice.
It keeps you feeling full by acting as a natural appetite suppressant. You can take it before a workout to maintain healthy, strong, lean muscle.
The great news is that they offer you a 60-day money-back guarantee allowing you to try collagen peptides risk-free to see how they benefit you.
Pros:
​Comes from grass-fed, pasture-raised bovine
Keto-friendly
Backed by a 60-day money-back guarantee
Non-GMO
Made in the USA
Flavorless
Mixes easily in both hot and cold liquids
Contains 15 billion CFUs of probiotics per serving

Cons:
​​Some customers complain about ​poorly designed scoop
---
​Sports Research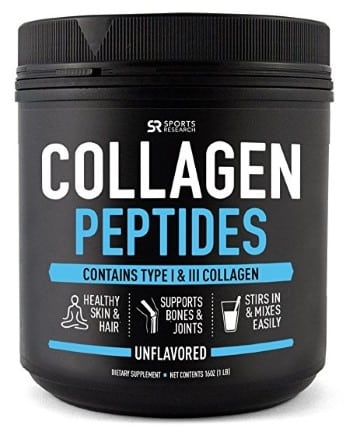 You can't go wrong with the collagen peptides by Sports Research.
The product contains collagen peptides of the highest quality that easily mix in both hot and cold liquids. So you can add them to soups, sauces, yogurt, oatmeal, smoothies, or any of your favorite meals.
What sets this product apart is that – contrary to nearly all products on the market – this one is non-GMO verified by the IGEN program and 3rd party certified by the Paleo and Keto Foundation.
Besides, the manufacturers back you with a 90-day satisfaction guarantee. So, if you don't see results within 90 days, you can claim a refund.
Pros:
​Comes from grass-fed, pasture-raised bovine
Keto-friendly
90-day money-back guarantee
3rd party certified by the Paleo and Keto Foundation
Non-GMO verified by the IGEN program
Mixes easily with both hot and cold liquids​
Cons:
​​It's less tasty compared to the alternatives
​Some customers complain about lousy delivery
---
Collagen For Her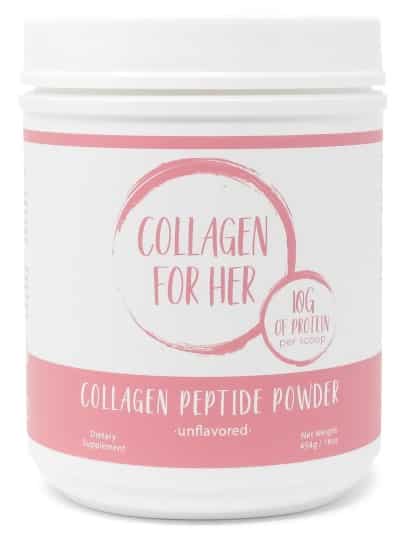 Collagen For Her is an unflavored gluten-free collagen product designed for women.
It contains hydrolyzed bovine collagen peptides as the only ingredient. It has 11g of collagen per scoop.
The products are manufactured and tested in a GMP certified facility in the United States.
Furthermore, this brand is women-owned and a portion of your order supports charities that empower women.
Pros:
​Natural & Non-GMO and sourced from grass fed, pasture raised bovine
NO sugar, gluten, dairy or soy
Both Paleo and keto-friendly
Tasteless, odorless and dissolves easily in both hot or cold liquids
Cons:
​​​Only ​available in the US
---
Amandean Marine Collagen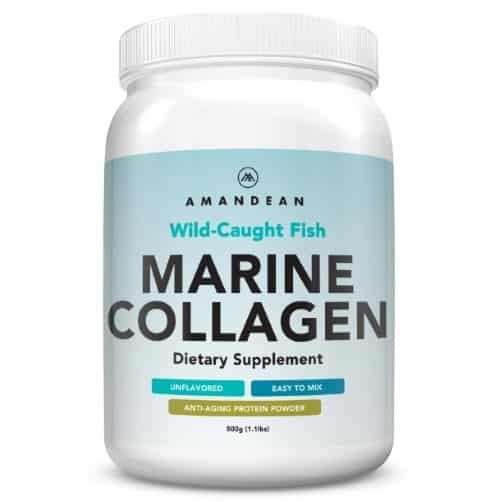 If you're a ​pescatarian and do not want to get your collagen from chicken or bovine, then you may want to consider marine collagen. Amandean makes a marine collagen from wild-caught fish in North Atlantic waters through sustainable practices.
This means that it comes from clean sources that have not been treated with antibiotics or other chemicals. This powder is unflavored, mixes easily, and is enzymatically processed to help make sure the peptides are intact.
According to the product description, this marine collagen powder is hydrolyzed to a low 3000 Dalton molecular weight. This ensures that the product has maximum absorbency.
Pros:
​Provides a good source of protein if you don't want to eat chicken, whey or bovine
Collagen is sourced from wild-caught fish from sustainable practices in North Atlantic waters
90-day money back guarantee provided
Unflavored and easy to mix
​
Cons:
​​​Marine collagen is an inferior source of collagen compared to bovine
---
How and When to Use Collagen Protein For Your Diet
You can replace your existing protein powder with collagen protein in your drinks and recipes. It can be added to your hot/cold coffee, water, smoothies, soups, protein shakes, and low carb cereals.
You can also use these collagen powder to make keto-friendly protein bars. Adding extra flavors such as coconut flour, shredded coconut, chocolate, nut butter, etc… The options are endless.
What's the best time to take collagen powder? You can use it anytime throughout the day to feel full and focused all day. You can add it to your lunch/afternoon snack to maintain a healthy energy level. It can also be used before you exercise as a pre-workout supplement, during, or after your workouts for an energy boost and fast recovery.
---
The Bottom Line on Collagen Protein Products
If you want more radiant skin, better digestion, less joint pain, stronger hair and nails, and a more appealing body shape, then you want to supplement with collagen protein.
The problem? Most collagen products on the market are not absorbed efficiently because they contain unhealthy chemicals and are derived from animals living in terrible conditions.
Fortunately, not all products are of such low quality. There are excellent options you can choose from to enjoy the myriad life-enhancing benefits of collagen protein.
Which one do we recommend? Well, if you're looking for a 100% pure collagen peptide product of the highest standard – meaning it's non-GMO, free of fillers and harmful chemicals, and is derived from grass-fed, pasture-raised cattle.