Is pizza a national dish? Maybe. Is pizza an international dish? Perhaps. Can pizza be a Keto diet dish? Sure! How about making keto fathead pizza?
The key to a good low carb pizza crust is to get the dough right. It takes practice to knead the dough properly. I recommend that you practice as much as possible by making this recipe several times a week!
But first…
What is Fathead Dough Exactly?
Fathead dough is a low-carb, gluten-free dough primarily made from melted cheese, cream cheese, almond flour (or coconut flour), and eggs, often used as a keto-friendly alternative for traditional pizza crusts and bread recipes.
The term Fat Head dough is named after the documentary "Fat Head," directed by Tom Naughton, a film that debunked many nutritional myths. The dough gained popularity within the low-carb community on Reddit and other social media sites after being featured on the movie's associated blog as a low-carb alternative to traditional pizza crust.
Fathead dough has a rich, cheesy flavor with a slightly nutty undertone from the almond flour, offering a texture and taste reminiscent of traditional dough but with a more pronounced savory profile.
Fathead dough is primarily used as a low-carb and keto-friendly alternative for making pizza crusts, breadsticks, pastries, and other baked goods that typically contain high-carb ingredients. I used it in many keto recipes including fathead bread, calzone, stromboli, nachos, morning hot pockets, chicken empanadas and many more…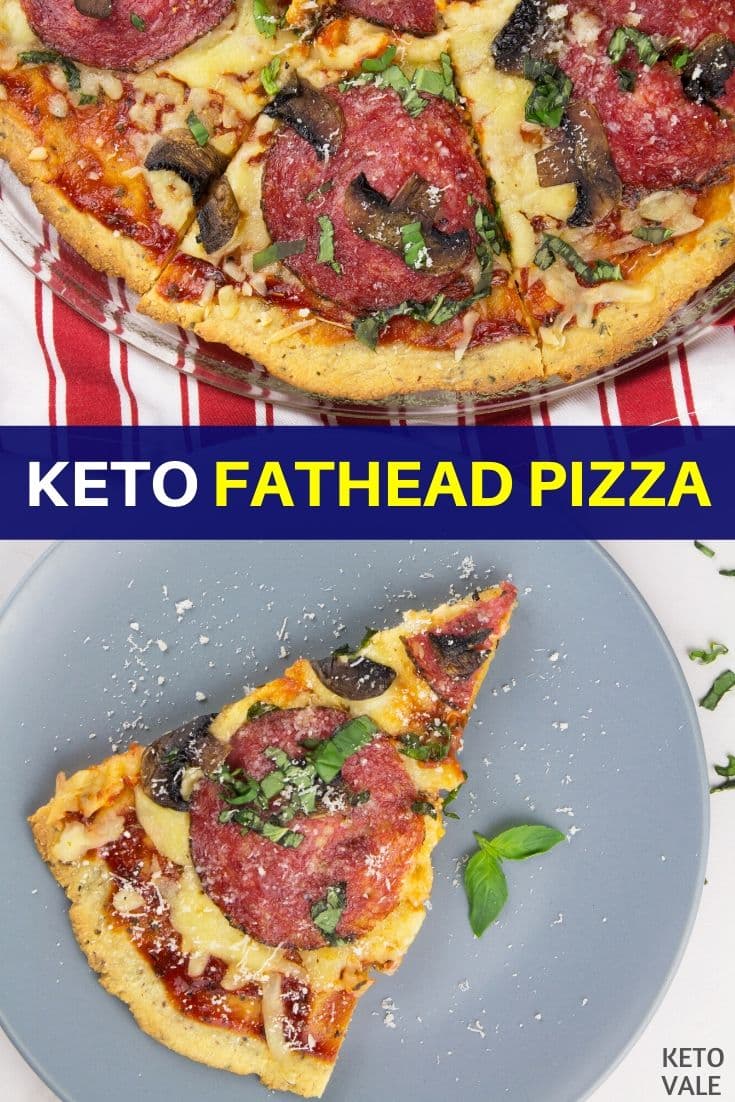 Compared to keto chicken pizza crust, fathead dough has a better keto macros profile because a pizza crust made from chicken breast is very high in protein.
How Do You Make Keto Pizza Crust Low Carb?
Keto pizza crust can be made low carb using various methods, including fathead dough, cauliflower crust, almond or coconut flour bases, chicken crust, cheese-only crust, and egg-based or psyllium husk crusts. Each crust recipe offers a unique texture and flavor.
My keto pizza crust recipe uses high-quality keto-approved ingredients such as shredded Mozzarella cheese, cream cheese, eggs, and coconut flour (instead of almond flour).
You can also add oregano and flaxseed flour. In fact, we recommend it! Oregano helps give your pizza an authentic Italian flavor. It contains antibacterial properties that can help keep you healthy.
Research shows that oregano essential oil enhances the healing process of bacterial infections. It also helps prevent the development of antibiotic-resistance in certain strains (1).
The flaxseed flour provides an excellent source of omega 3 fatty acids and fiber. Both of these nutrients are effective for weight loss. Flaxseeds can also help support heart health, brain health, energy levels, and blood sugar control.
Not to mention, flaxseed pairs well with coconut flour, which further contributes to the dough's anti-inflammatory ingredients. Coconut is high in fiber and healthy fats to keep you full and improve digestion.
Eggs help act as a binding agent for your dough ingredients, but they also protein a good source of vitamin D, protein, B vitamins, and healthy fats.
You can top your pizza dough with any keto-approved ingredients. We like to use fresh basil leaves, Salami, Bocconcini, pepperoni, marinara sauce and, of course, Mozzarella.
You may want to store an extra batch of dough in your fridge for easy preparation because you'll want to make this recipe as often as possible!
---
How to Make Fathead Pizza Dough
Start by preparing the dough. Melt the mozzarella and cream cheese in a bowl in the microwave. Stir often to prevent burning. Once melted, add the spices and egg. Fold all ingredients together.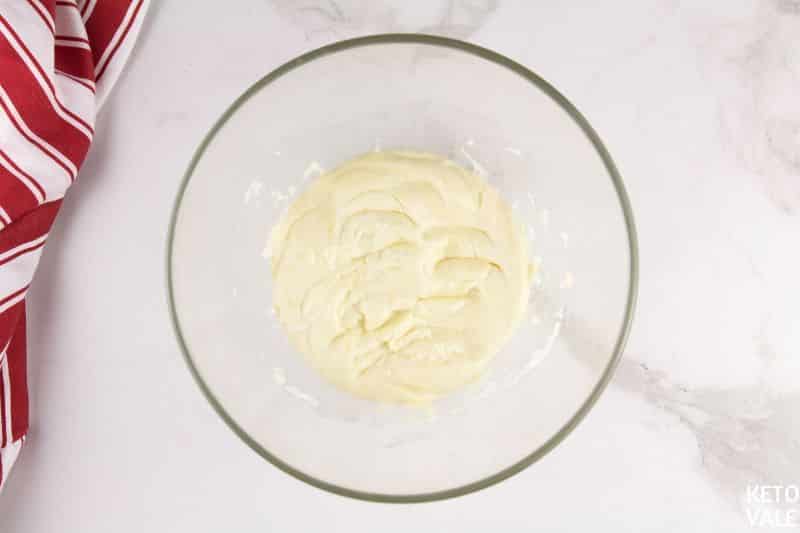 Add the coconut flour and flaxseed flour (optional) and knead until a dough forms. Do not over knead the dough or you may have to reheat it.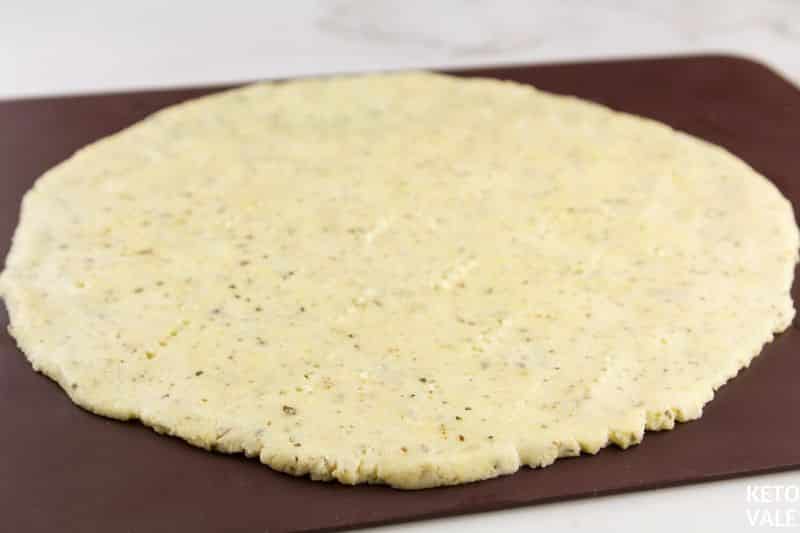 Line a pan with parchment paper and roll the dough out on it. Poke the dough with a fork to prevent bubbling. Bake for 12-15 minutes. Remove the dough from the oven and pop any bubbles.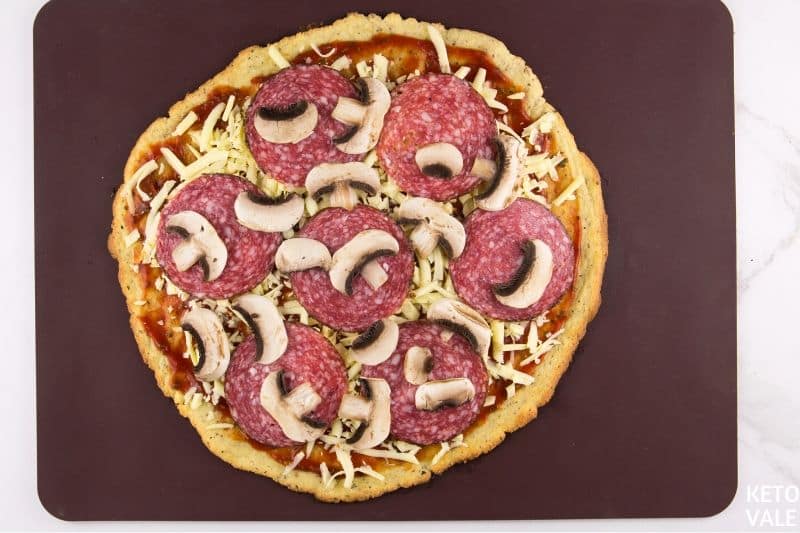 Add your favorite toppings, Italian seasoning and low carb pizza sauce and bake another 5 minutes until the ingredients are combined and the cheese is melted. Serve hot.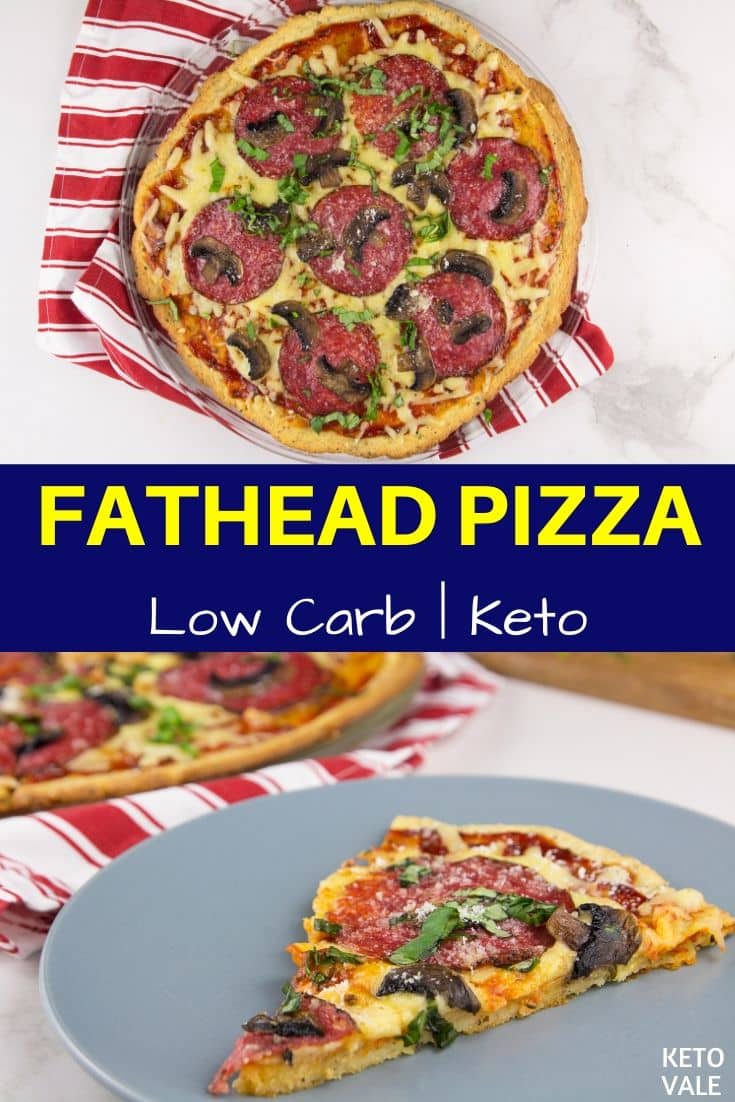 More Keto Pizza Recipes You Can Try:
Keto Fathead Pizza
The ultimate low-carb and keto-friendly pizza crust recipe that you need to satisfy your pizza cravings!
Ingredients
Suggested Topping
10

leaves

fresh basil

chopped

7

slices

salami

1

oz

button mushrooms

sliced

3

tbsp

marinara sauce

any low carb tomato sauce you choose

1/2

cup

Mozzarella cheese

shredded

1

tbsp

Parmesan

grated
Instructions
Preheat oven to 400F.

Microwave the cream cheese and mozzarella in a bowl together for 50 seconds. Then stir the mixture occasionally so as not to burn it. Put back in the microwave and repeat until fully melted.

Add the spices to the melted cheese. Lessen the amount of salt you add since the other ingredients already contain enough salt. Or skip the salt altogether.

Crack the eggs into the cheese as well. Fold altogether with a spoon or a spatula to combine.

Add in the coconut flour into the mixture. Knead to consistency. If you knead too much, the dough will harden and you may have to replace it in the microwave to warm it up.

Prepare a pan or pizza pan layered with parchment paper, or you can use silicone mat. Cover the entire surface of the pan with the dough or form a dough circle on silicone mat. Spread it with your hands and push holes in the dough with a fork to prevent the formation of bubbles.

Make sure the oven is preheated at 400°F before baking the pizza in it for 12-15 minutes until brown. Baking time depends upon the thickness and size of the dough.

Observe the dough carefully since it bakes faster than regular crust. Burst out any bubbles that form.

When the dough is cooked enough, spread the tomato sauce and your favorite toppings on the surface. Bake again for 5 minutes to cook the toppings.

Transfer to a flat plate, sprinkle with Parmesan and chopped basil. Slice with a sharp knife or pizza cutter to make 8 triangles. Best enjoyed with loved ones.
Notes
This pizza makes 8 servings (8 pieces). You can use the favorite fillings of your choice.
Nutrition/Macros
Nutrition Facts
Keto Fathead Pizza
Amount Per Serving
Calories 177
Calories from Fat 117
% Daily Value*
Fat 13g20%
Cholesterol 56mg19%
Sodium 431mg18%
Potassium 104mg3%
Carbohydrates 5g2%
Protein 10g20%
Vitamin A 381IU8%
Vitamin C 1mg1%
Calcium 166mg17%
Iron 1mg6%
* Percent Daily Values are based on a 2000 calorie diet.
Pin To Save This Recipe
FAQ and Cooking Tips
How to substitute almond flour for coconut flour in low carb dough recipes?
When substituting almond flour for coconut flour, use about 3 times more almond flour. For example, if a recipe calls for 1/4 cup of coconut flour, you can replace it with approximately 3/4 cup of almond flour. Additionally, coconut flour absorbs more liquid than almond flour, so you may need to adjust the liquid ingredients in the recipe accordingly.
How many carbs are there in fathead dough?
The carb content in fathead dough can vary based on specific ingredients and their quantities. My whole fathead pizza dough has 936 calories, 52g protein, 65g fat, 31.2g carbs or 13.2g net carbs. This pizza crust makes 8 slices or 1.6 grams of net carb per slice.
What else can you make with fathead dough on keto?
On keto, fathead dough can be used to make low-carb versions of pizza crusts, bagels, pretzels, crackers, calzones, garlic knots, cinnamon rolls, danishes, breadsticks, pie crusts, tarts, and sandwich wraps.
How do you store fathead dough?
Fathead dough can be stored in the refrigerator, wrapped tightly in plastic wrap or placed in an airtight container, for up to a week. If you wish to store it longer, you can freeze the dough, wrapped securely, for up to a month. Before using frozen dough, thaw it in the refrigerator overnight.
Can you freeze cooked fathead dough?
Yes, you can freeze cooked fathead dough. After baking and allowing it to cool completely, wrap the cooked dough tightly in plastic wrap or aluminum foil, then place it in a freezer-safe bag or container. It can be stored in the freezer for up to 3 months. When ready to use, reheat it in the oven or microwave until warmed through.
How to reheat fathead pizza?
To reheat fathead pizza, preheat your oven or toaster oven to 375°F (190°C). Place the pizza on a baking sheet or directly on the oven rack for a crispier crust. Heat for 5-7 minutes or until the pizza is warmed through and the cheese is melted. If you have an air fryer, you can reheat fathead pizza by preheating the air fryer to 350°F (175°C) then place the pizza slice in the air fryer basket in a single layer and heat up for 3-4 minutes or until the pizza is warmed through. I like the air fryer method because it can help maintain the crispiness of the crust while reheating.
Why does my fathead dough get greasy?
Your fathead dough gets greasy primarily because of its high fat content, especially from the mozzarella cheese and cream cheese. If the dough is overworked or overcooked, it can cause the fats to separate more, leading to a greasier texture. As the dough bakes, the cheese releases its natural oils. I suggest using full-fat cheeses and ensuring even mixing without overworking the dough can help in achieving the desired consistency.
Where to buy fathead pizza dough?
Fathead pizza dough is typically homemade, but some specialty grocery stores, health food stores, or keto-friendly bakeries might offer pre-made fathead pizza dough or crusts. It's also worth checking online retailers or keto-specific websites for purchase options. I always suggest people read the product labels to ensure it has keto-approved ingredients. Just because something says keto doesn't mean it is.