Fat head pizza is the best low-carb pizza we have tried so far. It is not only keto-friendly but also yummy and super easy to make. It would be a regular meal for your keto lifestyle. Your family would love it!
Here's a tip: prepare this pizza and don't tell your family members that this is keto. Give it to them to try and ask them what they think. Chances are they wouldn't know this is a keto pizza.
For the crust, we used mozzarella, coconut flour, cream cheese and eggs.
For the toppings, we used salami, pepperoni, shredded mozzarella, bocconcini and some fresh basil. You can choose whichever topping you like such as mushroom, tomato, jalapeño, bacon, ground beef, chicken, etc… Be creative and try different topping every time you make this. The world is yours.
We put in a lot of time to perfect this recipe for you. We hope you will enjoy making it as we did.
---
Let's Do It!
Preheat oven to 400F.
Put mozzarella and cream cheese in a bowl and melt them using a microwave. Start with 50 seconds, remove and stir it to make sure edges are not burning. Return to microwave. Repeat the process for a few more times until the cheese is fully melted.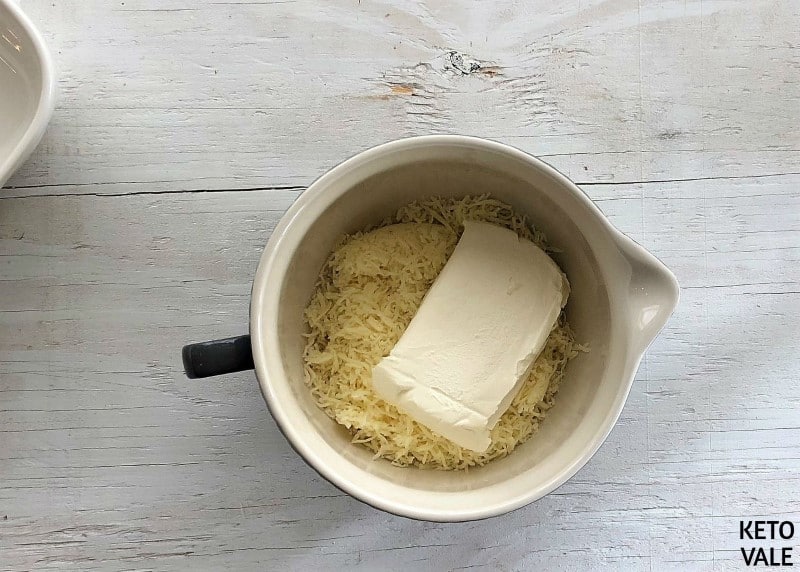 Once the cheese fully melted, add coconut flour, eggs, oregano and a little bit of grounded flaxseed. Incorporate it all together with a spoon or spatula since cheese could be still hot. Because cheese already has salt in it so you don't need to add salt. It is good to skip it all together since the toppings such as tomato sauce, cheese and meat also already have salt added.
Mix everything well. Don't over knead it because it may become hard. If it happened, put the dough back in a microwave to warm it up.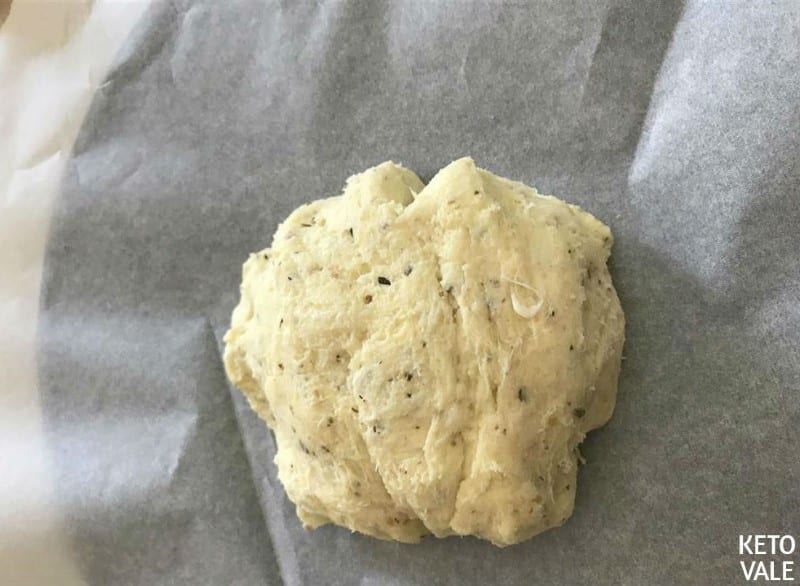 Cover a pan or pizza pan with parchment paper and spread the dough with your hand. Poke it with a fork to avoid bubbles.
Put it in a pre-heated 400F oven and bake until brown. Baking time depends on the thickness of your crust, usually between for 10-15 minutes. Keep an eye on your crust, it bakes faster than a regular crust, poke any bubbles if you see any.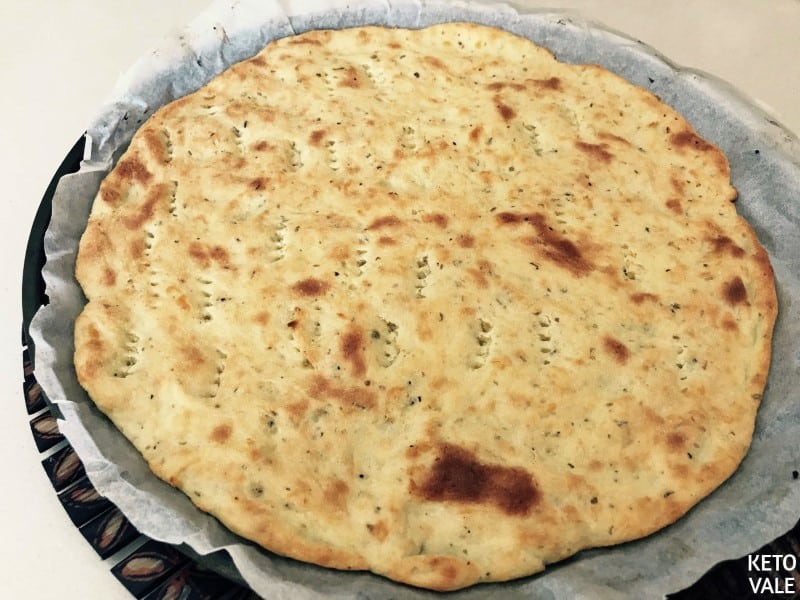 Once done, remove and top with marinara sauce, cheese and your favorite meat choice. Bake again for 5 minutes to melt the cheese.
Slice the pizza and enjoy it!
Save this recipe by pinning this picture to your Pinterest board for later use!
Related:
Fat Head Pizza
The ultimate low-carb and keto-friendly pizza recipe that you need to satisfy your pizza cravings!
Print Recipe
Pin Recipe
Ingredients
Suggested Topping
10

leaves

fresh basil

4

slices

Salami

1 3/4

oz

Bocconcini

(1 ball)

5

g

pepperoni

3

tbsp

marinara sauce

any low carb tomato sauce you choose

1/2

cup

Mozzarella

shredded
Instructions
Preheat oven to 400F.

Microwave the cream cheese and mozzarella in a bowl together. Begin with 50 seconds, then stir the mixture occasionally so as not to burn it. Replace in the microwave and repeat until fully melted.

Combine the spices in the melted cheese. Lessen the amount of salt you add since the other ingredients already contain enough salt. Ideally, skip adding the salt in the mixture.

Crack the eggs into the cheese as well. Fold altogether with a spoon or a spatula to combine.

Throw in the coconut flour into the mixture. Knead to consistency. If you knead too much, the dough will harden and you may have to replace it in the microwave to warm it up.

Prepare a pan or pizza pan layered with parchment paper. Cover the entire surface of the pan with the dough. Spread it with your hands and push holes in the dough with a fork to prevent the formation of bubbles.

Make sure the oven is preheated at 400°F before baking the pizza in it for 12-15 minutes until brown. Baking time depends upon the thickness and size of the dough.

Observe the dough carefully since it bakes faster than regular crust. Burst out any bubbles that form.

When the dough is cooked enough, spread the tomato sauce and your favorite toppings on the surface. Bake again for 5 minutes to cook the toppings.

Transfer to a flat plate and enjoy. Slice with a sharp knife or pizza cutter to make 8 triangles. Best enjoyed with loved ones.
Notes
This pizza makes 8 servings (8 pieces).
Macros
Nutrition Facts
Fat Head Pizza
Amount Per Serving
Calories 186
Calories from Fat 126
% Daily Value*
Fat 14g22%
Cholesterol 77mg26%
Sodium 371mg15%
Potassium 82mg2%
Carbohydrates 4g1%
Protein 11g22%
Vitamin A 401IU8%
Vitamin C 1mg1%
Calcium 179mg18%
Iron 1mg6%
* Percent Daily Values are based on a 2000 calorie diet.