Do you love bread? It's probably the number one food that people miss the most when it comes to following a low carb diet.
There are many keto bread recipes, but in our opinion, this is probably the best keto bread substitute ever.
Here's why: This one is simply amazing. It's delicious and it doesn't taste eggy like other bread recipes. It is light and fluffy and tastes almost flavorless. You can top it with sesame seeds. It can absorb egg yolk without tasting gritty. This is probably the closest to a normal bread you can get.
Although you can always eat a cheeseburger without the bun, it loses its effect when you have to eat your meal with a fork and knife. Wouldn't it be great if you could still eat the bun with your burger or enjoy a butter roll at dinner?
You can use this recipe to make normal bread or Subway bread with ham, bacon, or meat balls. It uses almond flour and psyllium husks as a base, which are both excellent sources of fiber.
Fiber helps improve regularity and boosts the health of your microbiome to keep your immune system functioning properly, among other health benefits (1).
Sprinkle some seeds and toppings, such as some salt flakes and herbs, on the bread before you put it into the oven. If you slice this recipe into six pieces of bread, they will each contain about 3 grams of net carbs.
With this recipe, you have room for creative filling ideas, such as chicken pate, smoked chicken, salt and pepper grilled chicken, tuna or meat balls, or ham and bacon like a Subway sandwich.
You can also use this recipe to make the perfect keto hamburger buns like what our friend Hannah from HealyEatsReal.com did here. You definitely want to follow Hannah on Instagram @healyeatsreal for more amazing original real food recipes as well as healthy living tips.
Feel free to save this recipe by pinning this picture to your Pinterest board for later use!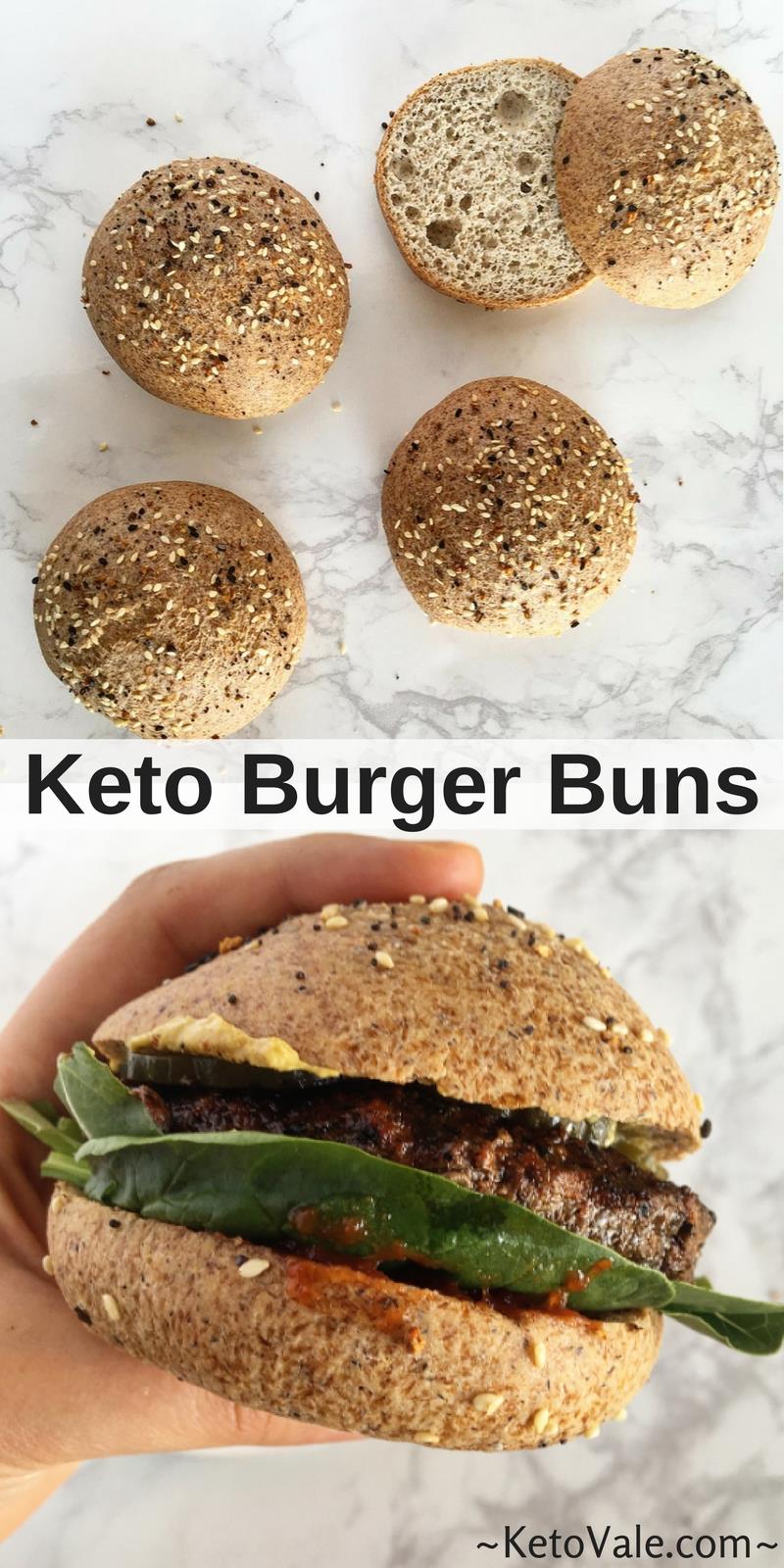 ---
Updates:
Our friend Emma from @lowcarbmalta just shared with us her version of homemade gluten-free hamburger buns.
Her recipe is slightly different from our recipe below. However, we'd love to share her version here so you can also give it a try:
Ingredients for 6 buns:
1 cup of almond flour
3 egg whites
300 ml hot water
5 tablespoons psyllium husk
2 teaspoons apple cider vinegar
2 teaspoons baking powder
1 teaspoon salt
Sesame seeds
Instruction:
Mix all ingredients and divide into six pieces. Shape each into a ball. Flatten the ball so it's about 1 centimeter thick.
Glaze with egg yolk and sprinkle sesame seeds on top of the bun.
Bake for 30-40 minutes at 175C (350F) degrees. Enjoy!
If you follow Emma's recipe, the result will look like this: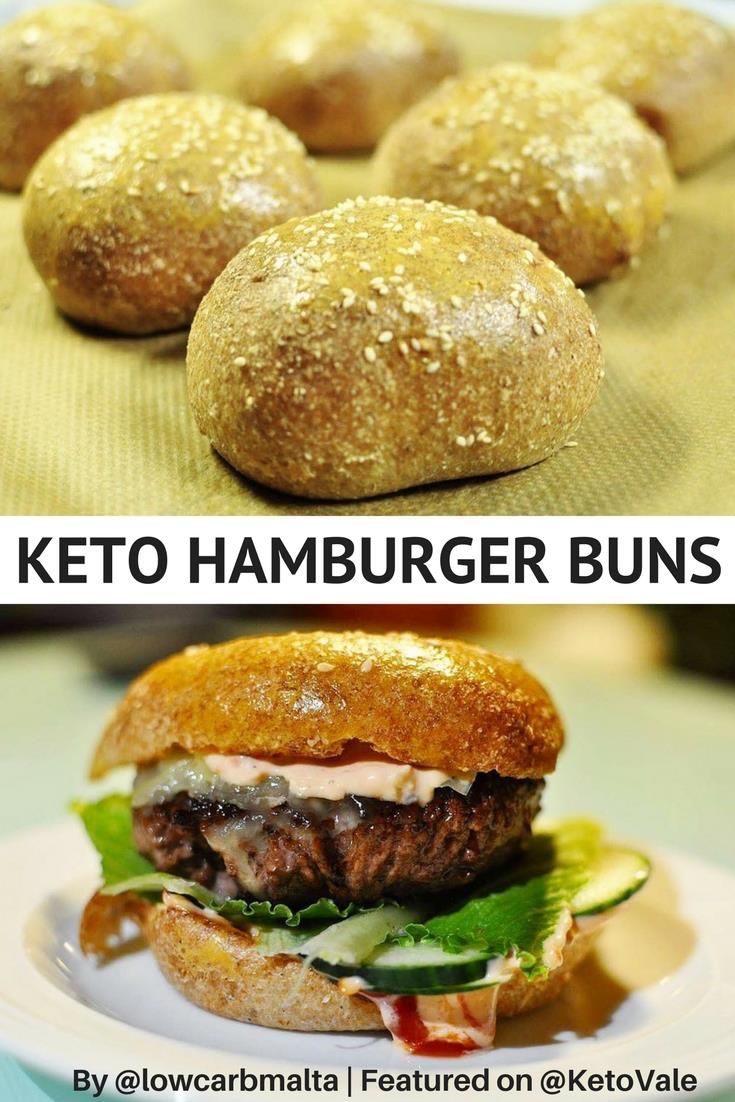 Note: Some psyllium husk powder brands might make the dough turn purple when baked. It also depends on the order and method you use to combine the ingredients. However, it doesn't affect the taste.
If you don't want to use psyllium husk, you can try xanthan gum instead, like these Keto Hamburgers.
Make this bread on the weekend, get a cup of coffee, sit outside in the sun and enjoy your morning. What a lovely way to relax!
Other related recipes from our blog:
Keto Buns – The Best Low Carb Bread
A low-carb bread that looks and tastes very close to regular bread for keto dieters.
Instructions
Preheat the oven to 350°F. Start combining the dry ingredients in a bowl.

Boil the cup of water and pour this into the bowl. Mix in the egg whites and vinegar as well. Beat the ingredients together with a hand mixer for around 30 seconds. Avoid overmixing. The outcome should have a Play Doh-like consistency.

Moisten your hands and shape the dough into 4-8 pieces. You can mold them into hamburger or hot dog buns, depending on your preference. Lay the formed dough on a baking sheet greased with oil.

Place the sheet on the lower rack of the oven and bake for 50-60 minutes. The time depends on the size of the bread you make. Check if done by tapping the base of the bun. If you hear a hollow sound, remove from the oven.

Serve together with some butter or your favorite toppings. Keep the bread in the fridge or freezer.
Nutrition/Macros
Nutrition Facts
Keto Buns – The Best Low Carb Bread
Amount Per Serving
Calories 167
Calories from Fat 108
% Daily Value*
Fat 12g18%
Sodium 416mg17%
Potassium 193mg6%
Carbohydrates 13g4%
Protein 7g14%
Calcium 121mg12%
Iron 1mg6%
* Percent Daily Values are based on a 2000 calorie diet.
Pin To Save This Recipe