Pork rinds and the keto diet go together like bacon and eggs (another great keto combination). They're practically carb-free and contain a good amount of fat and protein.

Plus, they make the perfect replacement for crackers, chips, and any other starchy snack food you can think of.

Sneak them into the movies when you need a low-carb substitute for popcorn and munch away. You can even use them as a replacement for traditional bread crumbs!

They're salty, crunchy, and finger-lickin' good. But not everyone knows that they are or where to find them.

Here is why you'll want to add pork rinds to your low-carb diet immediately. We'll also show you how to make your own at home and what brands are the best to buy.
What Are Pork Rinds?
Pork rinds are the American term for pork skins. In other English-speaking parts of the world, they are known as pork cracklings, scratchings, or greaves.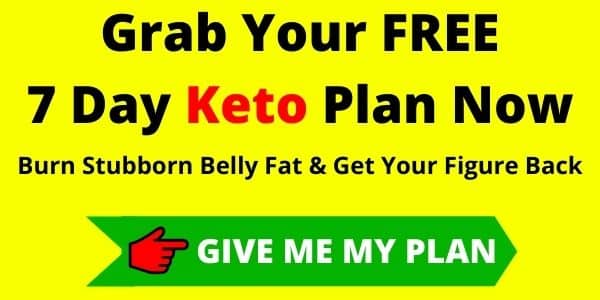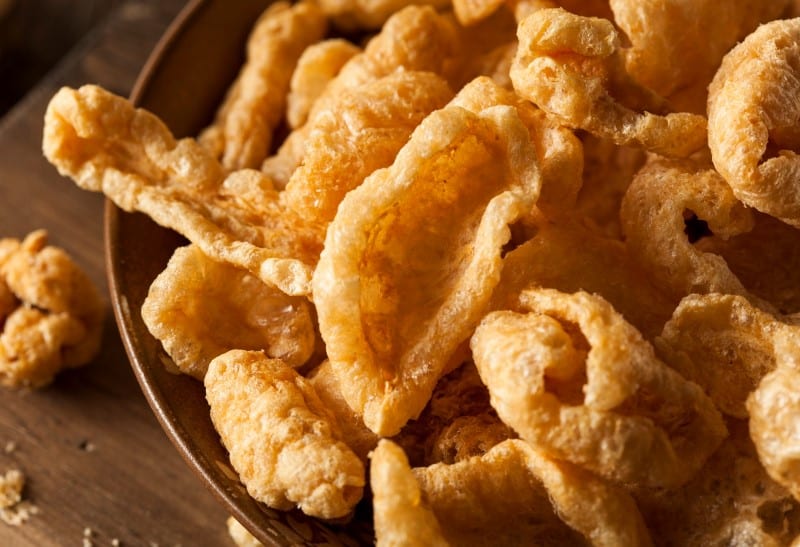 Pork rinds are usually prepared by baking or frying them in pork fat and eat them as a snack. You can also add them to many dishes or sprinkle them on food for a crunchy finish.

The pork rinds that come in a snack bag have a puffy, crunchy appearance and texture, which is partly due to the fat that they are fried in.

Most people eat fried pork rinds as a snack, but they can also be crumbled up and used as a low-carb breading for meats. It's a perfect food to be on your shopping list.
How Are They Made?
Pork rinds are made by frying or baking pork skin in oil. There are a couple of steps required to make them properly.
First, the pork skin needs to simmer in boiling water. From here, they are divided into bite-sized pellets before chilling in the refrigerator. The chilling process allows the fat from the skin to solidify.
After the layer of fat solidifies, it is cut off and thrown out. Then these pellets are dried so that all of the moisture is removed.
The drying process requires placing the pellets on a tray over a drip pan and cooking them on low heat for about eight hours.

Once the pellets are dry and stripped of most of their moisture content, they are ready to be fried. Pork rinds can be fried in oil or lard at about 360 degrees. The rinds tend to sink when they are first submerged in the oil, but then they pop up and expand.
The pork rinds are then removed from the oil and set to dry. This allows the rinds to inherit their crunchy texture. They are often salted, too.
Nutrition and Net Carbs in Pork Rinds
One of the best things about pork rinds is that they contain no carbs and they are high in fat and protein. This makes them the perfect keto or low-carb food.
It also contains a surprising amount of vitamins and minerals, which makes them a nutritious snack option!
Here is the nutritional breakdown of a 100-gram serving of pork rinds (1):
544 calories
31.3 grams of fat
0 gram of carbs
0 gram of sugar
0 gram of fiber
61.3 grams of protein
Vitamins:
Vitamin A: 40 IU (1% RDV)
Vitamin C: 0.5 mg (1% RDV)
Vitamin E: 0.5 mg (35 RDV)
Thiamin: 0.1 mg (7% RDV)
Riboflavin: 0.3 mg (17% RDV)
Niacin: 1.5 mg (8% RDV)
Vitamin B12: 0.64 mcg (4% RDV)
Pantothenic acid: 0.43 mg (4% RDV)
Minerals:
Calcium: 30 mg (3% RDV)
Iron: 0.9 mg (5% RDV)
Magnesium: 11 mg (3% RDV)
Phosphorus: 85 mg (9% RDV)
Potassium: 127 mg (4% RDV)
Sodium: 1818 mg (77% RDV)
Zinc: 0.56 mg (4% RDV)
Copper: 0.1 mg (5% RDV)
Manganese: 0.069 mg (3% RDV)
Selenium: 41 mcg (59% RDV)
Are Pork Rinds Keto-Friendly?
Pork rinds are very keto-friendly because they contain no carbs and are high in fat. This helps propel you into ketosis. They're also a good source of protein, too.

If you're buying store-bought brands of pork rinds, then there are a few things you'll want to keep in mind. Sometimes store-bought brands of pork rinds contain cheap vegetable oils and added sugars.

Some manufacturers use canola, soybean, or other vegetable oils to keep the price of their product down. These oils are highly inflammatory and should be avoided.

Other products add breading, preservatives, and added sugar to further enhance the shelf life and flavor of the rinds. You'll want to make sure to avoid these cheaper versions of pork rinds and find a brand that uses high-quality oils, sea salt, maybe some spices, and nothing else.

Because you're dealing with pork, you will also want to make sure your pork rinds come from clean sources of pigs that are not treated with antibiotics.

Studies show that eating animal products treated with antibiotics increases your risk of antibiotic resistance (2, 3, 4).

Other additives that you'll want to avoid include nitrates and growth hormones. We recommend making your own pork rinds at home using high-quality oils and clean sources of pig skins.
How to Eat Pork Rinds
Most pork rinds can be purchased from the store in bag or box form and eaten right out of the container as a snack. They make a great keto snack because they are portable and you can store them in your gym bag, purse, or desk.

You can even keep a bag in your car for when you're stuck in traffic and need a quick bite to eat.

Pork rinds make a great addition to many of your favorite keto dishes because they are salty and crunchy. Use them in your fattoush salad in place of fried pita chips or sprinkle some over your tacos.

You can even use them as a substitute for traditional bread crumbs when deep frying meat and other foods. To learn how, check out our article on keto bread crumb alternatives here.

Here are some other recipes that you can use pork rinds in:
How to Make Pork Rinds From Home
You can make your own pork rinds from home, and it doesn't take very long at all. The first thing you want to do is pick up some pig skins from your local butcher or organic farm. Make sure that these come from clean sources that do not contain antibiotics, added sugars, or growth hormones.

If you can't find pigskin at one of these locations, then ask your local grocery store where to get some. Some markets sell pork belly with the skin intact. If this is the case, then you can purchase the pork belly and remove the skin for your homemade pork rinds.

After you obtain the pigskin, the first thing you want to do is remove the layer of fat. You can do this by cutting it off with a sharp knife.

The next thing you want to do is cut the skin into pieces. Ideally, you want these pieces to be pellet sized. You can do this by cutting them into two-inch pieces. This allows them to puff up into bite-sized pieces in the oil when you fry them.

Then, you will need to dry out the pellets. You can do this by placing the pellets or two-inch pieces in the oven on low heat for up to eight hours.
The idea behind this is that you want to get rid of most of the moisture associated with the skin. This will allow the pellets to puff up nicely and avoid oil splatter when frying.

Note, some people skip this step and don't dry out pellets. You can leave the moisture intact and your pig skins, but plan on cooking them longer to dry them out so that they puff up nicely.

Finally, once the pellets are dried out, you can try them in the oil of your choice. We recommend olive oil or coconut oil because they contain good, healthy fats. You can also season them to your liking. Many people like to put spicy pepper flakes and sea salt on them.
Best Keto-Friendly Pork Rinds Brands You Can Buy?
If you are not in the mood to make your own pork rinds from home, then you can buy some at the store.

Pork rinds are easy to find at most stores, but we recommend the following top three brands from Amazon. These products come from clean sources and don't use cheap additives, such as preservatives and sugar.
#1. Epic Artisanal Oven Baked Pork Rinds
Epic is a good name brand company that provides a wide range of clean sources of meat-based keto products. We were pleased to see that they also offer pork rinds.
According to the website, these pork rinds are the only ones on the market that are made from antibiotic-free pork. They are flavored with sea salt, pepper and garlic and onion powder only and contain zero carbs to fuel your diet.
Here is the nutritional information of a 14-gram serving:
80 calories
5 grams of fat
0 grams of carbs
0 grams of sugar
0 grams of fiber
8 grams of protein
Ingredients include antibiotic-free fried pork skins, salt, pepper, garlic powder, and onion powder.
Where to buy: show now!

These Pork Panko bread crumbs are the perfect alternative to traditional bread comes for all your deep frying needs. They contain no carbohydrates, gluten, or preservatives.

The only ingredients found in these pork rind breadcrumbs are pork rinds and sea salt. They are mashed into a fine crumb consistency that is perfect for breading meat before deep frying it.
Here is the nutritional information for a 14-gram serving:
80 calories
5 grams of fat
0 grams of carbs
0 grams of sugar
0 grams of fiber
8 grams of protein
You don't need to buy pork skin bread crumbs if you plan on deep frying your food. You can buy regular pork rinds and crush them using a rolling pin or a high-speed blender until they reach a fine consistency.
However, we like the convenience of buying these Panko bread crumbs that are ready to go to make your cooking experience easier.
Where to buy: shop now!
#3. Chef Piggy Tail Microwave Pork Puffies Pork Rinds
These Chef Piggy Tail Microcare Pork Puffies are the perfect replacement for popcorn. You can even microwave them like you would do with regular popcorn!

Unlike regular pork rinds, these pork rinds come in pellet form. But they puff right up to give you a nice, crunchy consistency when you heat them in the microwave. This product would be perfect for a low-carb date night.
A 14-gram serving contains the following:

60 calories
2 grams of fat
0 grams of carbs
0 grams of sugar
0 grams of fiber
9 grams of protein
The only ingredients in these pork rinds are pork skin and salt.
Where to buy: shop now!
---
Conclusion
By definition, pork rinds are fried pig skins. They are made by separating the skin from pork belly fat and then deep frying them until they become nice and crunchy. They make the perfect replacement for crackers, popcorn, and potato chips.

Pork rinds are the perfect ketogenic snack. They can even be added to your favorite dishes as a crunchy topping or to enhance the flavor of anything you cook. We recommend eating pork rinds as a no-carb snack or using them as a bread crumb alternative for your deep frying needs.

You can make them at home after visiting your local butcher shop to pick up some fresh pig skins. Or you can choose from a variety of options online. We like the brand of pork skins from Epic, which is a company that sells the only antibiotic-free pork skins on the market.
Enjoy this post? Share to save for later!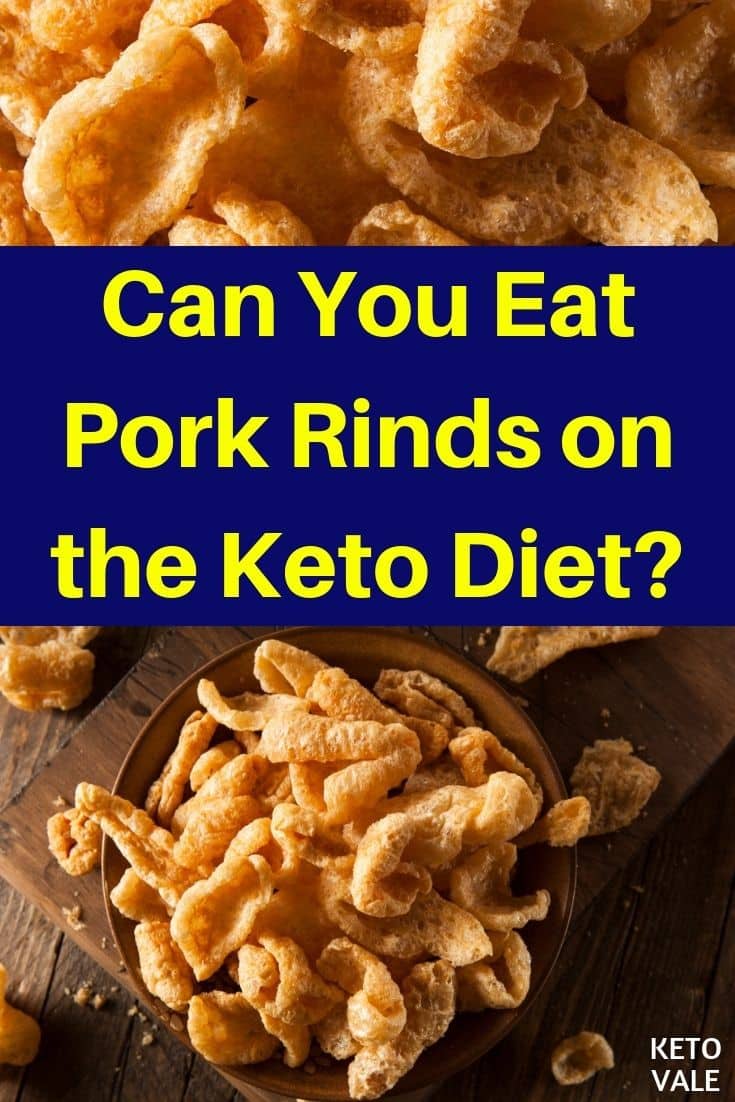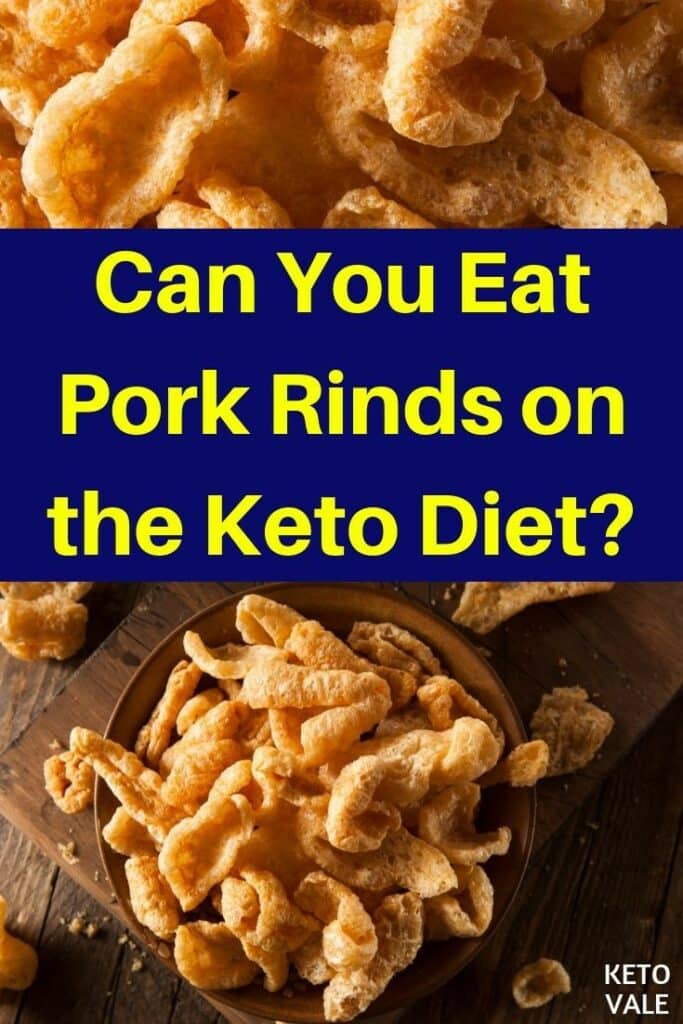 Photo credit: bhofack2/ depositphotos.com