If you love traditional cheeseburgers, then you'll love my Keto Cheeseburger Soup recipe. It contains all of the flavors you know and love from a rich, juicy cheeseburger, only in soup form and minus the carbs.
What do you know about beef? It is a nutrient-rich food that contains 14 essential nutrients – protein, iron, zinc, selenium thiamine, riboflavin, niacin, vitamin B6, vitamin B12, vitamin D, phosphorus, pantothenate, magnesium and potassium – making beef a welcome food in any diet.
Red meat provides taste and energy, supports a growing body, and maintains normal blood cholesterol levels. It is glycemic friendly and can help you with your weight management goals, especially when added to a keto diet.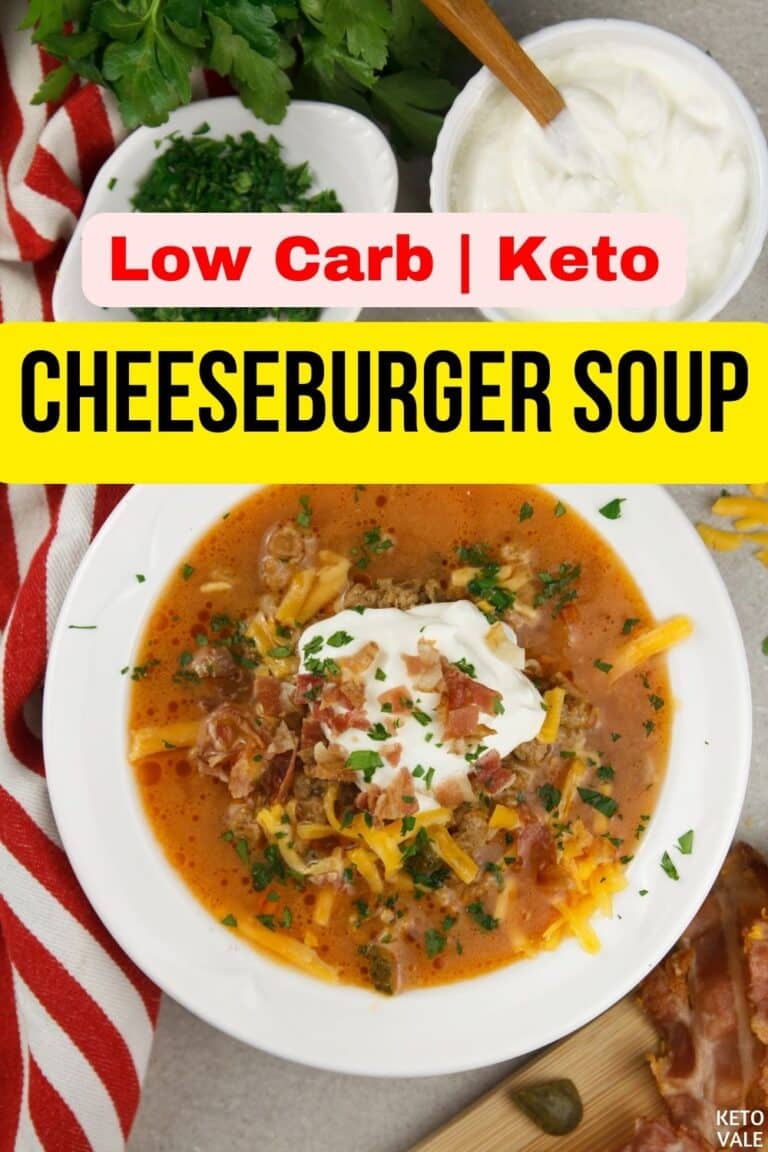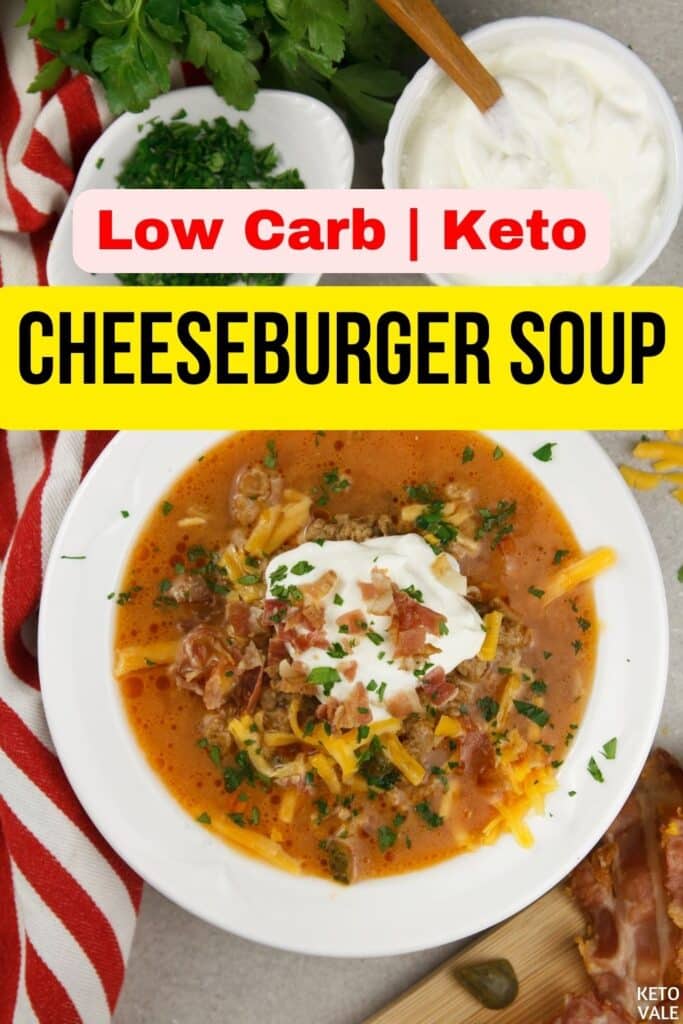 Moderate consumption of beef fits an overall healthy pattern of eating. Let's be honest – beef is a superfood, especially if you buy grass-fed meat, which contains higher levels of antioxidants and omega 3 fatty acids.
Red vegetables and tomatoes help make red meat taste better. Plus, they provide antioxidant support to counteract any negative side effects of eating red meat. Tomatoes are the major dietary source of the antioxidant lycopene. As such, they reduce risk of heart disease and cancer (*)(*). Plus, they are so delicious!
I guarantee you'll love the secret ingredient in this recipe – pickles! You can't have a cheeseburger without them. They provide amazing flavor and pack a potent antioxidant punch to reduce bloating and inflammation.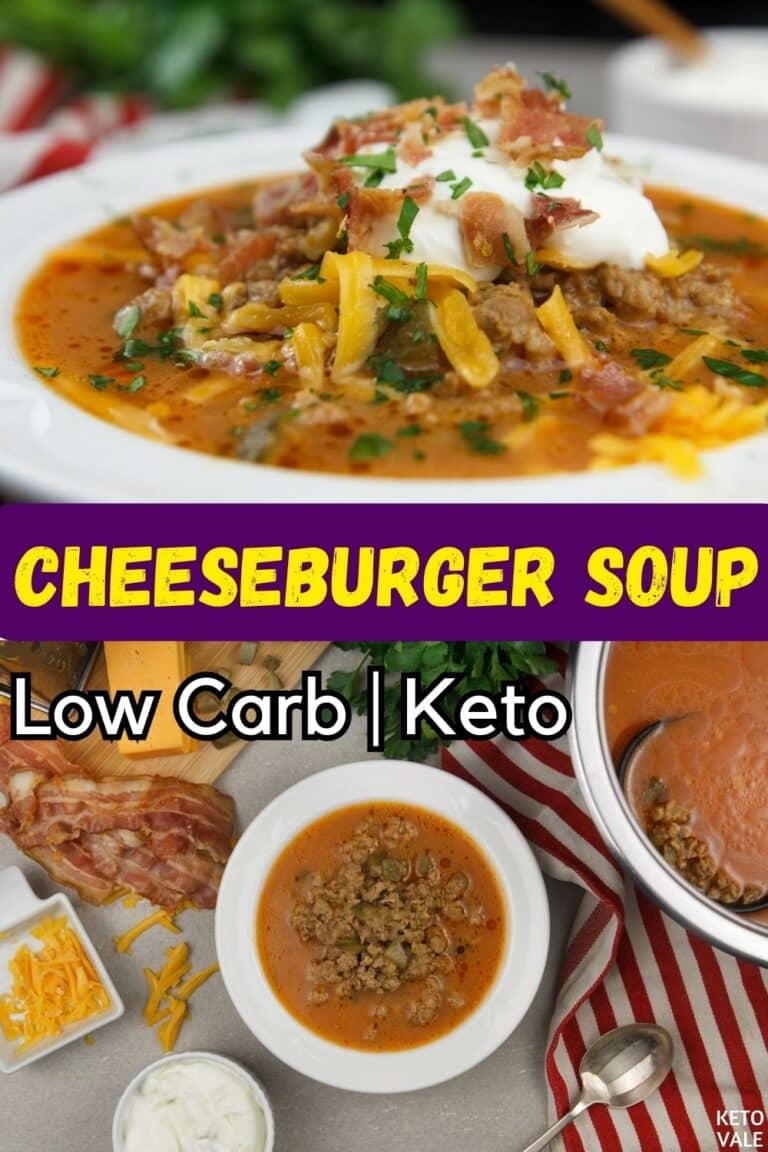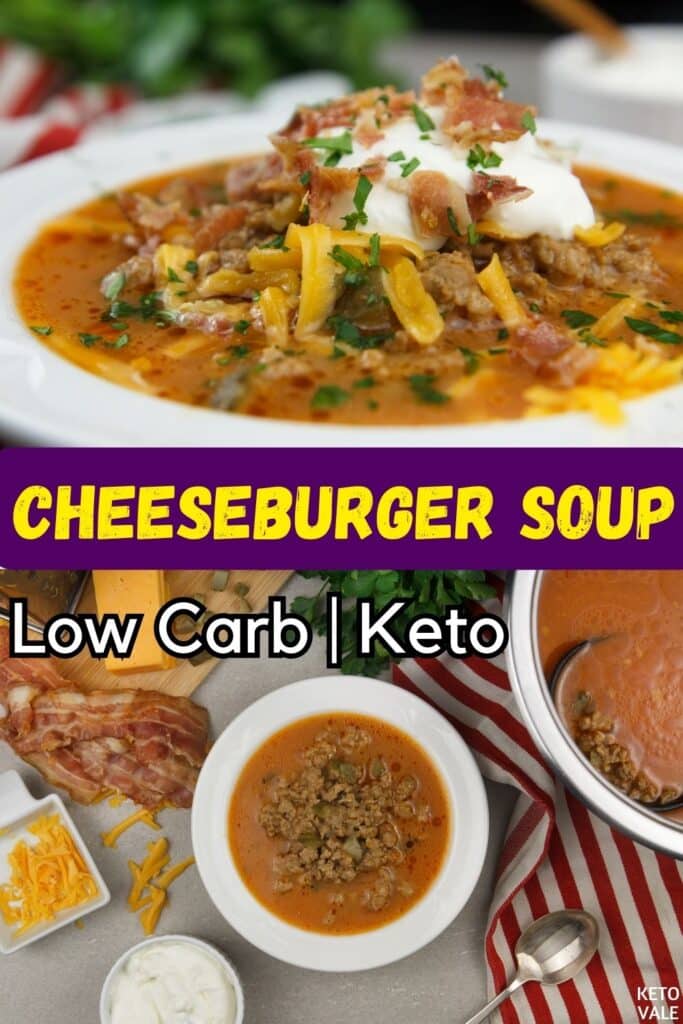 Other notable ingredients in this low carb cheeseburger soup include mustard, bacon, onions, sour cream, and cheddar cheese. I recommend enjoying this soup hot and sprinkling your favorite low-carb toppings in for extra flavor, such as more bacon, parsley, and cheese.
How to Make Low Carb Bacon Cheeseburger Soup
This lazy low carb hamburger soup with cream cheese and bacon is very easy to make.
Start by adding olive oil to a heavy pot. Add the garlic and onion and cook until soft.
Then add ground beef and cook until the meat is brown. Season with salt and pepper.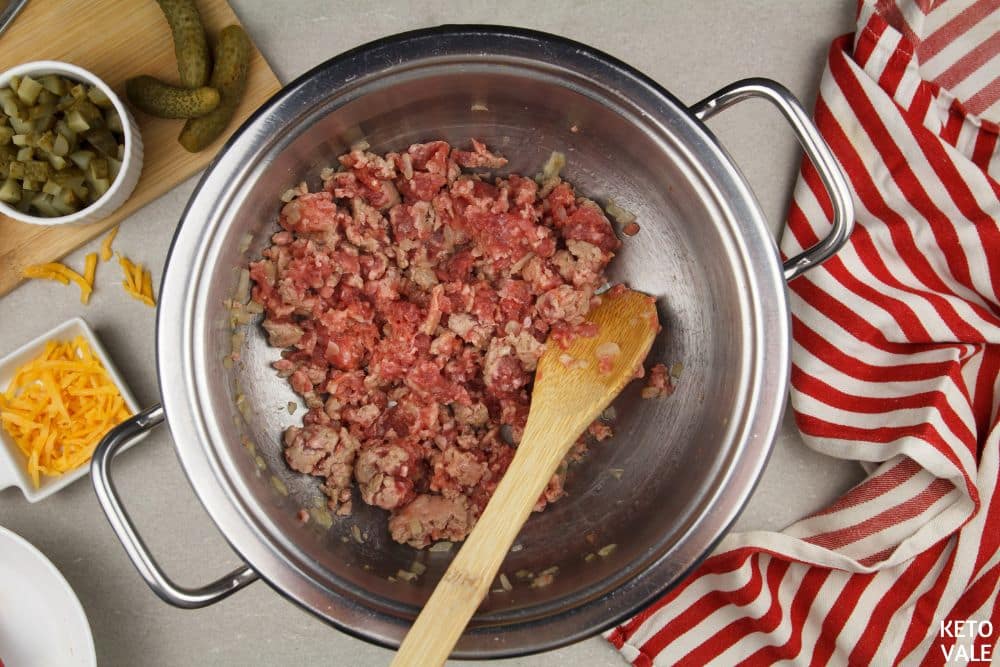 Add mustard and cumin. Saute for one minute and then stir in the cream cheese.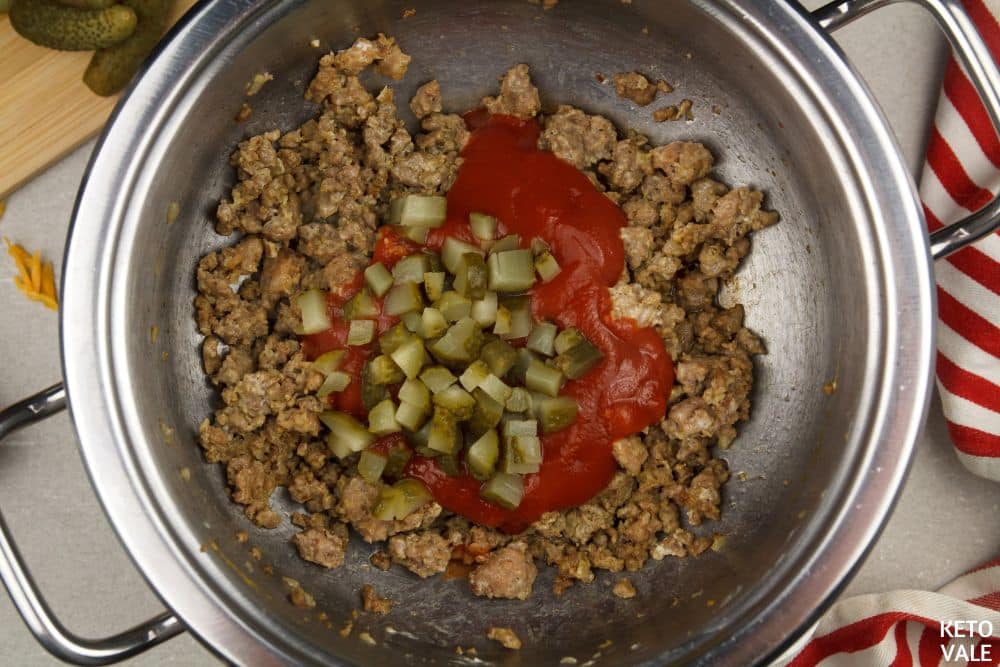 When the cheese melts, add the pickles, tomato puree, and beef broth. Stir.
Bring the soup to a boil and then simmer for 25 to 30 minutes.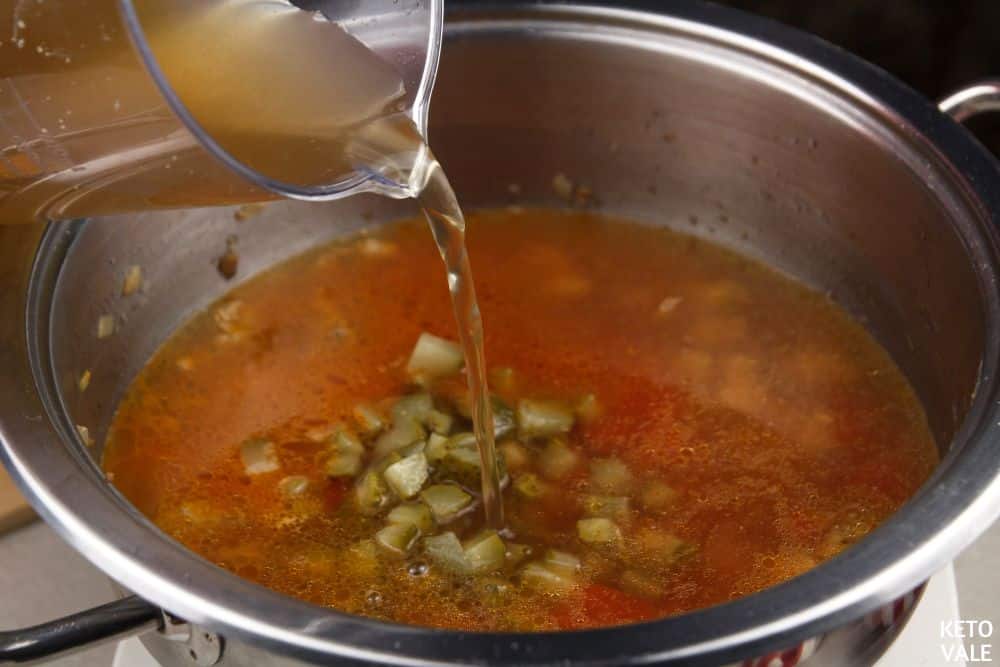 Turn the heat off and stir in the cheddar cheese, stirring constantly until well incorporated.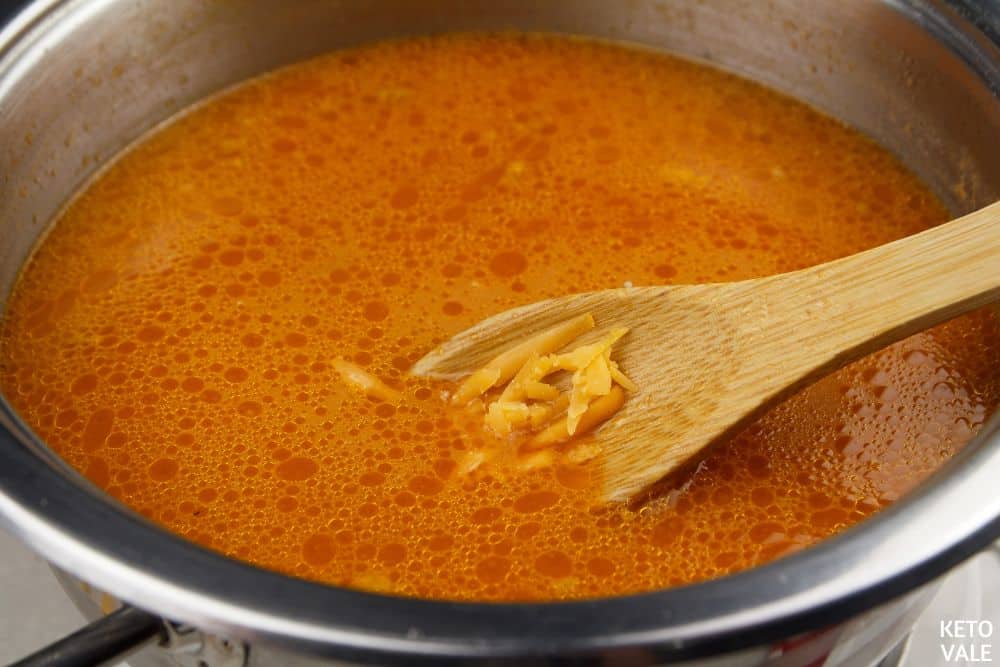 Serve hot with your favorite low-carb toppings!
More Keto Soup Recipes You Can Try:
Keto Cheeseburger Soup with Bacon
Indulge in this Keto Bacon Cheeseburger Soup, a sumptuous fusion of ground beef, cheddar, and a hint of mustard, simmered to perfection in a rich beef broth and tomato base. Topped with crispy bacon, fresh parsley, and an optional dollop of sour cream, this low-carb delight promises a comforting and delectable taste of a classic cheeseburger in every spoonful.
Instructions
Heat olive oil in a heavy bottom pot over medium heat. Add onion and garlic and cook just until fragrant. Add ground beef and continue to cook until browned. Season with salt and pepper.

Add cumin and mustard to the pan. Saute for 1 minute and stir in the cream cheese.

When cream cheese melts, add tomato puree, chopped pickles, and beef broth. Mix well.

Bring to a boil then reduce the heat to low, cover with a lid, and let simmer for 25-30 minutes.

Turn the heat off. Add shredded cheddar gradually to the pot, stirring constantly, and continue to stir until melted.

Ladle into bowls and top with a spoonful of sour cream, bacon pieces, cheddar cheese and chopped parsley. Serve hot.
Nutrition/Macros
Nutrition Facts
Keto Cheeseburger Soup with Bacon
Amount Per Serving
Calories 437
Calories from Fat 306
% Daily Value*
Fat 34g52%
Cholesterol 101mg34%
Sodium 1381mg58%
Potassium 610mg17%
Carbohydrates 6g2%
Protein 28g56%
Vitamin A 615IU12%
Vitamin C 4mg5%
Calcium 256mg26%
Iron 3mg17%
* Percent Daily Values are based on a 2000 calorie diet.
Pin To Save This Recipe
How to Make Instant Pot Keto Cheeseburger Soup
You can use my recipe above to make the soup using an Instant Pot instead of the stove. Here's how:
Turn on the Instant Pot and select the "Sauté" function. Add olive oil, followed by onion and garlic. Sauté until fragrant.
Add ground beef to the pot and cook until browned. Season with salt, pepper, cumin, and mustard.
Stir in the cream cheese until melted and well combined.
Add tomato puree, chopped pickles, and beef broth to the pot. Mix well.
Secure the Instant Pot lid and set the valve to "Sealing." Select the "Manual" or "Pressure Cook" setting and adjust the time to 15 minutes.
Once the cooking cycle is complete, release the pressure manually by turning the valve to "Venting."
Open the lid and stir in the shredded cheddar cheese gradually, ensuring it melts into the soup.
Serve the soup in bowls, garnishing with crispy bacon, fresh parsley, and an optional dollop of sour cream. Enjoy your comforting Keto Instant Pot Cheeseburger Soup with Bacon!