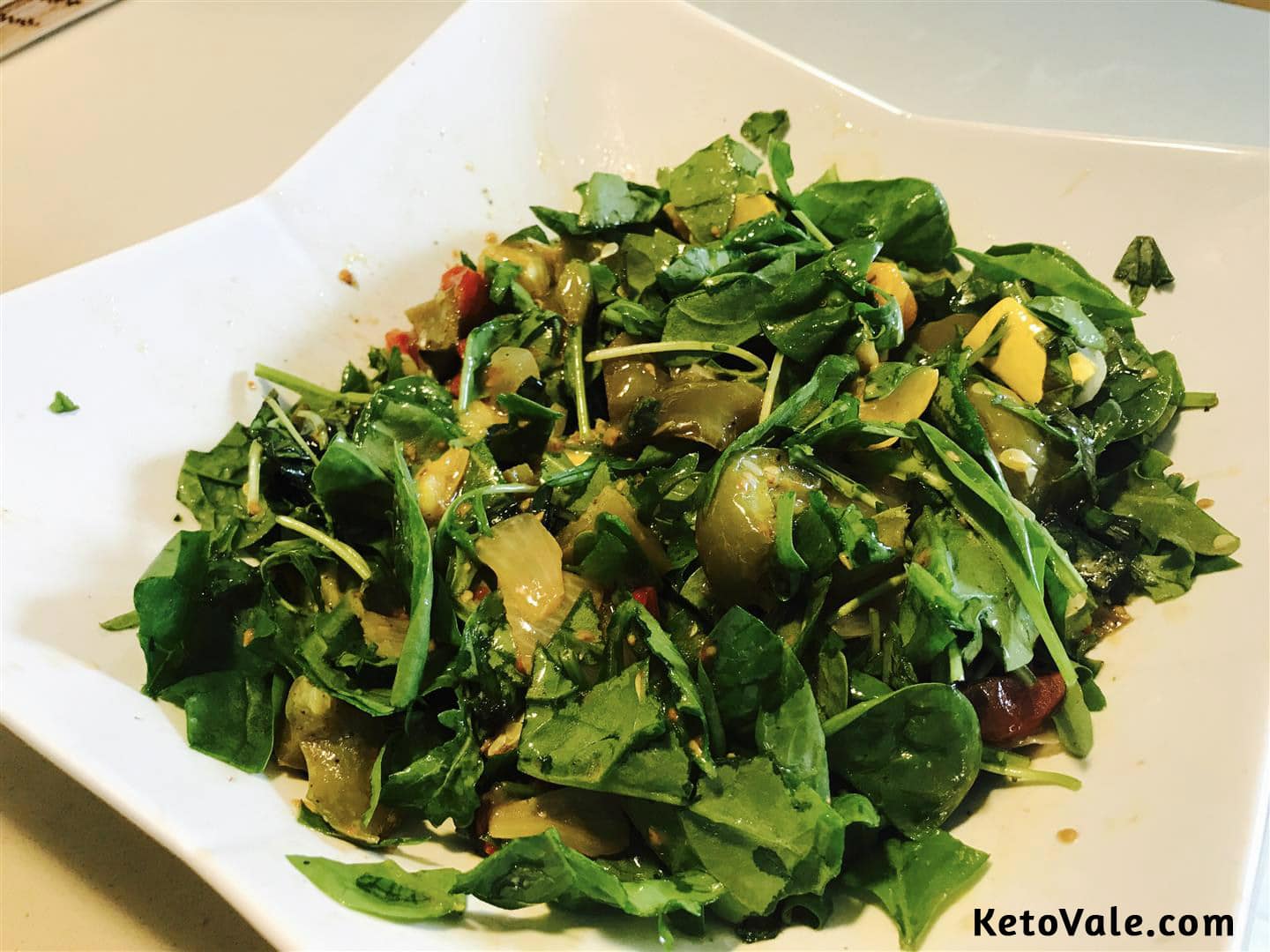 Roasted Vegetables Salad
If you have a busy schedule and don't want to spend all your free time on cooking then this is for you. Roasted vegetables salad! Easy to make, not messy, and could be served in a few ways or saved for later use. You can serve this salad with baked salmon or any type of meat you like.
Receive Our Free 7-Day Keto Meal Plans + Weekly Recipes
Roasted Vegetables Salad
Ingredients
300

g

zucchini

200

g

cherry tomatoes

200

g

green pepper

100

g

chopped arugula

100

g

chopped spinach

10

basil leaves

fresh, optional

100

g

onion

optional, could be substituted with asparagus

10

cloves

garlic

3

tbsp

extra virgin olive oil

Salt and Pepper

to taste
Instructions
Dice the vegetables and arrange them neatly on a tray. Drizzle with a generous amount of olive oil and flavor with salt and pepper.

Wrap the garlic in a foil.

Roast the veggies and garlic in the preheated 400°F oven for 20-25 minutes.

While roasting, cut the greens to pieces.

Remove the veggies and garlic from the oven and let stand to cool.

Peel off the shell of the roasted garlic. Squeeze the garlic with a garlic press to make a finer texture.

Combine all of the ingredients together. Drizzle more olive oil on the vegetables.

Serve and enjoy!

Best eaten with your favorite fish or meat.
Notes
Macros (per serving): Calories: 144kcal – Fat: 11.1g – Net carbs: 7.7g (total carbs: 11.1g, fiber: 3.4g) – Protein: 3.6g
Here are some tips when making this dish:
mixing hot vegetables with greens would make greens to wilt. Not something you want to end up with
while roasting tomatoes release some juice so mixed with olive oil you get ready dressing, no need to add anything else (in my humble opinion)
mix veggies and greens before immediate consumption,  veggies juice would make greens soggy if stay too long
you can also roast eggplant, jalapeño, asparagus, mushrooms.
Serving options:  it could be served with strips of bacon on a side or fish filet (I go with salmon ). It could be a great topping for burger patty. It could also be mixed with zucchini noodles. Roasted vegetables could be stored in the fridge and added to your dishes at any time.