Anyone who has ever stepped foot inside a Target knows just how magical it can be. We bet you've walked in there before with one thing on your shopping list, only to leave with a cart full of stuff that you somehow can't live without.

No one can deny the draw of Target. It's just so versatile! Need a power tool to fix something in your house? Target has it. Need a pet stroller for your cat, a leotard for your daughter's dance class at the last minute, or a set of tiki torches for your patio party tonight? Target is your savior.

A couple of years back, Target decided to expand its magnifying powers by offering food and fresh/frozen produce. They call these stores Super Centers or Super Targets.

They even carry a lot of low-carb and ketogenic items, which means that you don't have to make a special trip for those things when you do your weekly shopping.

Of course, no two Targets are alike. Some may not offer a produce section yet. So keep this in mind when shopping at your local Target the next time you plan in stocking up on toilet paper and keto bombs!

In this article you'll find a list of our top picks of low-carb and keto foods and items to buy at Target.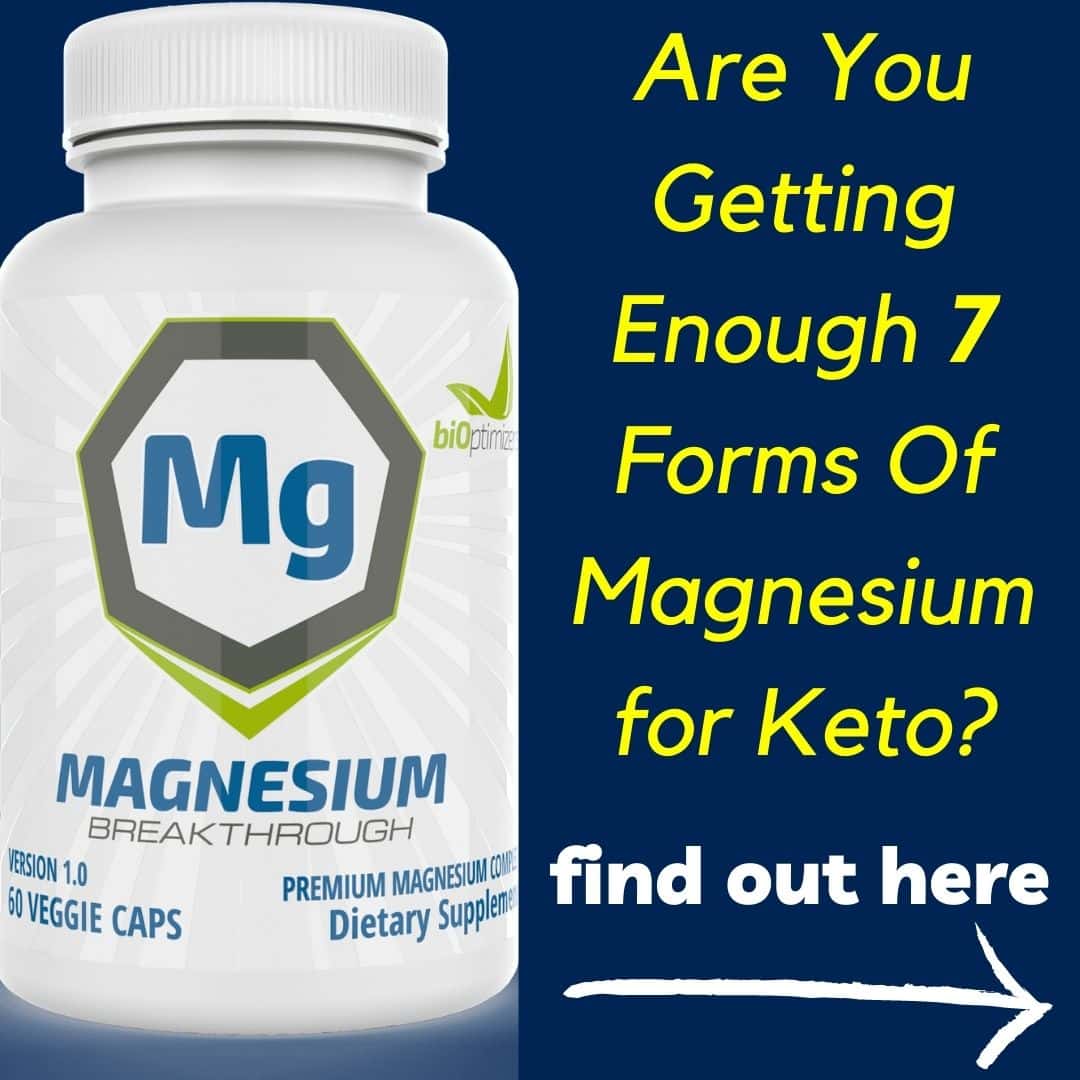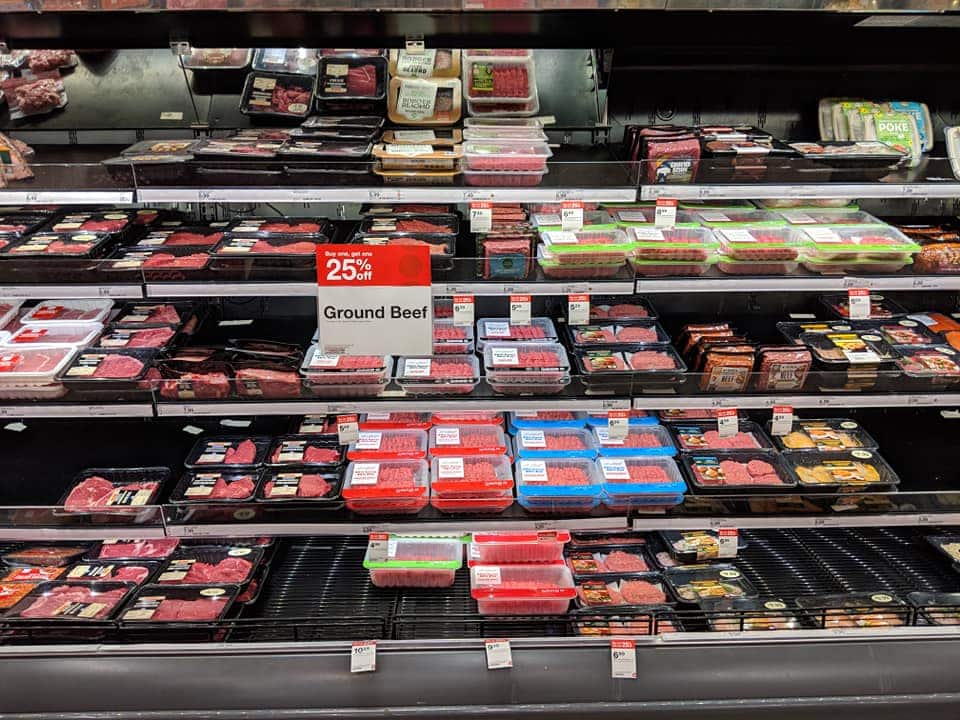 Why Shop At Target?
Target might not be your first choice for keto foods, but it helps to know that you have some options if you have to go there anyway. We noticed that many of the keto products that Target offers aren't true keto products.

This includes their keto shakes, bars, and meal replacement options. Many of them contain 5 net carbs or more and contain some questionable ingredients, like starch, corn fiber and lots of preservatives.

You'd be better off going with a cleaner source of keto supplements, but many of the higher end keto products aren't offered at Target yet. We understand that they are doing the best they can, and we appreciate the effort!

If you're a serious keto dieter, then you might be disappointed by Target's supplement line. However, you can always find meat, cheese, and low-carb veggies at most Targets. This can help you out if you're in a pinch!

If you're shopping online at Target, you might have better luck. Target tends to offer a bigger selection online than it does in stores.

If you sign up for the Target RedCard, then you'll get 5% off your purchases, free two-day shipping, and free shipping in general. Download the Target Cartwheel app to your phone and you can save more by browsing deals.

Target will refresh their deals weekly, so you could luck out and score big when you shop online or in store. Just use the app to scan your items and it will tell you whether or not they are on sale.

Target also has a service called Shipt where they will deliver your goods right to your door for a fee. Shop online and you can have these items delivered in as soon as one hour!
A List of Low Carb Products You Can Buy at Target
Disclaimer: Depending on which version of the low carb/keto diets you follow and how strict you are with your eating, some of the items below might not be ideal for your situation. So make sure to be selective with your choice if you do strict keto.

Target won't ship food items to your house (unless you use Shipt), so keep this in mind when you're shopping online. However, they will ship things like keto supplements and powdered meal replacements.

If you're shopping in store, then you can always pick up some meat, cheese, eggs, and other grocery staples. Here is what to buy at Target to keep it low-carb!
Bacon
There are several different types of bacon you can buy at Target. We recommend going with the Applegate Natural No Sugar Added Uncured bacon because it has no sugar added. It also has no antibiotics, hormones, nitrates or other harmful chemicals. All other brands of bacon offered at Target appear to have added sugars or are raised with antibiotics.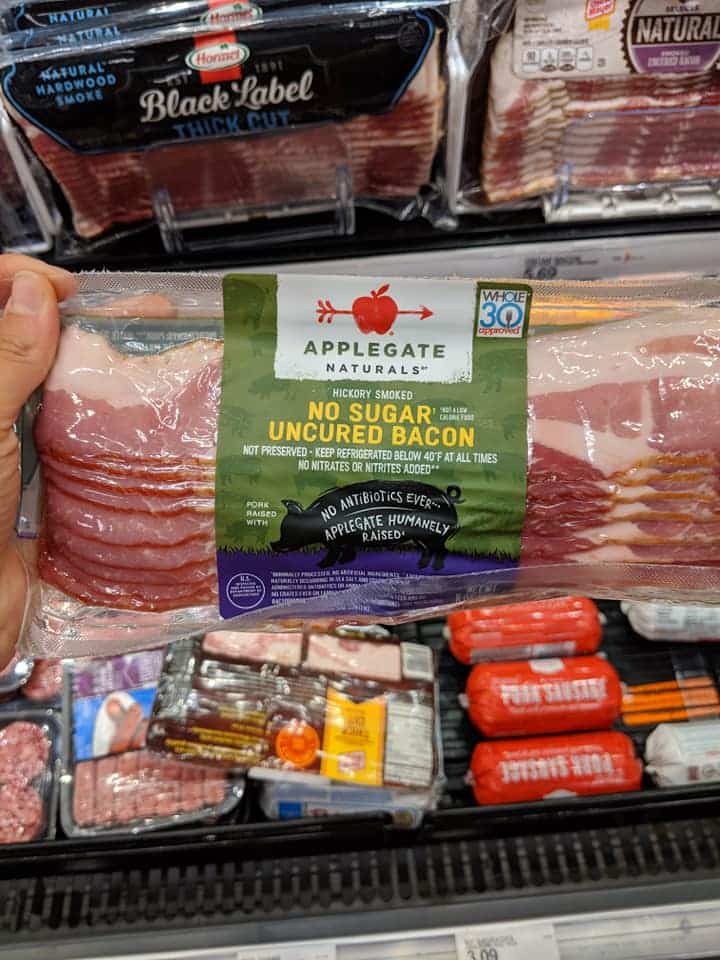 Here is a complete list of the different brands of bacon that Target offers:

Market Pantry Hardwood Smoked Classic Cut Bacon
Market Pantry Hardwood Smoked Thick Cut Bacon
Market Pantry Pre-Cooked Bacon
Market Pantry Applewood Smoked Classic Cut Bacon
Oscar Mayer Smoked Cured Turkey Bacon with Sea Salt
Hormel Black Label Original Bacon
Oscar Mayer Hardwood Smoked Bacon
Market Pantry Hardwood Smoked Center Cut Bacon
Oscar Mayer Turkey Bacon
Oscar Mayer Center Cut Original Bacon
Oscar Mayer Fully Cooked Bacon
Oscar Mayer Hardwood Smoked Thick Cut Bacon
Hormel Black Label Thick Cut Bacon Slices
Simply Balanced Applewood Smoked Turkey Bacon
Applegate Natural No Sugar Uncured Bacon
Hormel Black Label Center Cut Bacon
Oscar Mayer Mega Pack Hardwood Smoked Bacon
Oscar Mayer Natural Smoked Uncured Bacon
Chicken and Turkey
Target has an excellent selection of both fresh and frozen chicken and turkey. The trick is to find a brand that contains no antibiotics. You'll also want to stay away from chicken nuggets or tenders that are breaded.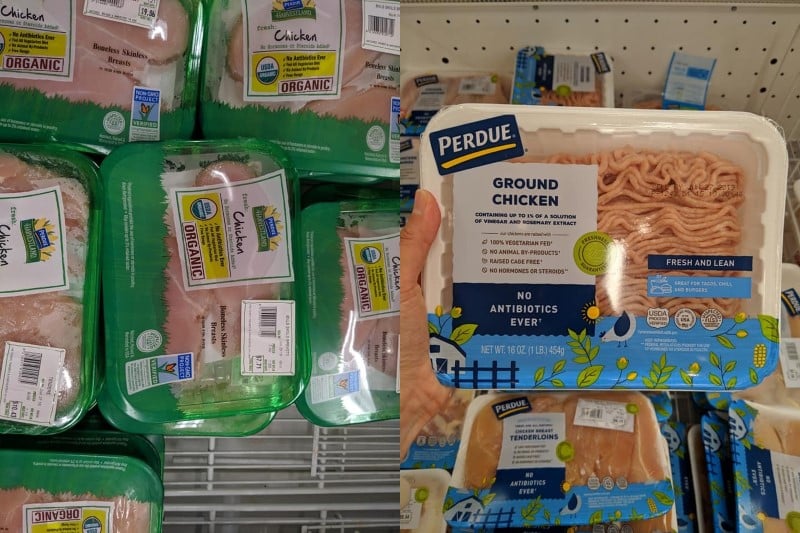 Target carries an organic line of chicken that is antibiotic-free. They also have a brand of chicken from Perdue that contains no antibiotics.

Here is a full list of the different brands of keto-friendly chicken and turkey offered at Target:

Perdue Chicken Breast Tenderloins Antibiotic Free
Market Pantry Boneless Skinless Chicken Breast
Perdue Fresh Cuts Thin Sliced Antibiotic Free Chicken Breast
Perdue Harvestland Organic Chicken Breast
Tyson Grilled & Ready Oven Roasted Diced Chicken Breast
Archer Farms All Natural Boneless & Skinless Chicken Breast
Perdue Fresh Cuts Chicken Strips
Perdue Harvestland Organic Thin Sliced Chicken Breast
Perdue No Antibiotics Ever Ground Chicken
Perdue Antibiotic Free Chicken Drumsticks
Perdue Boneless & Skinless Antibiotic Free Chicken Thigh Filets
Market Pantry Bone-in Skin-On Chicken Thighs
Archer Farms All Natural Chicken Wings
Archer Farms Spinach & Feta Cream Cheese Stuffed Chicken Breasts
Archer Farms Grilled Chicken Breasts Strips
Tyson Naturals Grilled Chicken Nugget
Archer Farms Garlic Herb Seasoned Boneless-Skinless Chicken Breast
Tyson Thin Sliced Trimmed & Ready Boneless Skinless Chicken Breast
Tru Grill 100% All Natural Grilled Chicken Breasts
Simply Balanced Organic Grilled Chicken Breast
Tyson® All Natural Chicken Tenderloins
Nature Raised Farms Organic Grilled Chicken Breast Strips
Jennie-O All-Natural Ground Turkey
Simply Balanced Frozen Turkey Patties
Jennie-O All-Natural Turkey Burgers
Simply Balanced Anti-Biotic Free Ground Turkey
Butterball Seasoned Turkey Burger
Market Pantry Frozen Turkey Breast
Archer Farms Cook-in-bag Homestyle Boneless Turkey Breast
Butterball All Natural Turkey
Applegate Organic The Great Organic Blend Burger with Turkey & Mushrooms
Beef and Pork
Target offers a decent selection of fresh and frozen beef and pork. Just like with the chicken, you'll want to look for a brand of meat that contains no added sugars, nitrates, growth hormones, or antibiotics.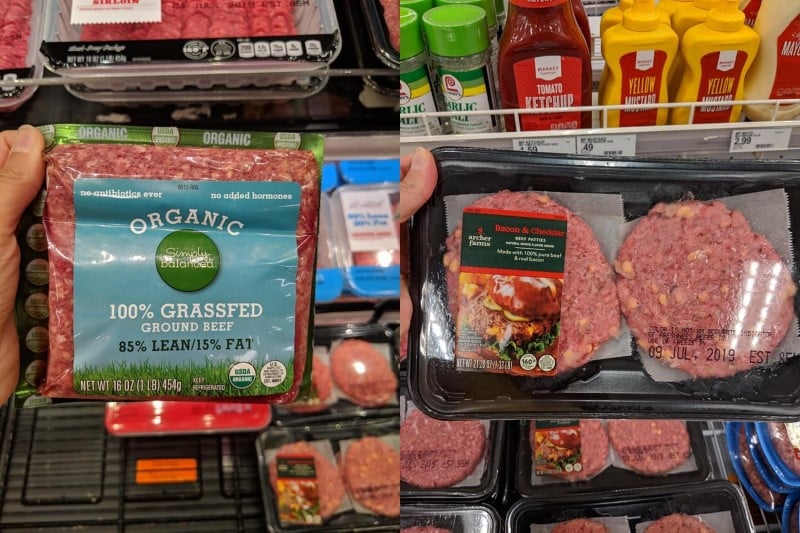 Target even has some grass-fed meats. Our top choice is the Simply Balanced Organic Grass Fed 85/15 Ground Beef. We like that this product is both grass-fed AND organic.

These would be perfect for your next grill out or when you want to enjoy a hamburger patty at home. You can read more about grass-fed meat and its health benefits here.

Here are some keto-friendly brands of beef and pork to buy:

Market Pantry All-Natural Ground Beef
Archer Farms Steakhouse Seasoned Tavern Beef Patties
Simply Balanced Organic Grass Fed 85/15 Ground Beef
Market Pantry Lean Ground Beef Patties
Organic Grass Fed 90/10 Ground Beef
Laura's Lean Beef 96/4 Ground Beef
Today's Kitchen Bacon Cheddar Beef Patties
USDA Choice Angus Beef Steak
Archer Farms Bacon Wrapped Petite Sirloin Steaks
Old Neighborhood Shaved Beef Steak
Market Pantry All Natural Beef Patties
Bubba Burger Angus Beef Chuck Patties
Market Pantry Seasoned Beef Patties
Bubba Burger with Sweet Onions
Bacon Cheddar Bubba Burger
Thomas Farms Kitchen Caramelized Onion Seasoned Ground Beef
Mighty Spark Food Co. Sirloin, Brisket, Short Rib Premium Ground Beef
Market Pantry Hickory Smoked Ham
Smithfield Extra Tender Extra Meaty Pork Back Ribs
Market Pantry Ground Pork
Market Pantry Boneless Pork Chops and Diced Pork
Hormel Lemon Garlic Pork Loin Filet
Market Pantry Boneless Shoulder Butt Roast
Johnsonville Sweet Italian Ground Sausage
Custom Made Meals Bacon Wrapped Cajun Style Pork Tenderloin
Dairy
When buying cheese, butter or dairy products, we recommend looking for a brand that is organic and does not contain any antibiotics, hormones or other harmful chemicals. It also helps if the cheese or dairy comes from grass-fed cows.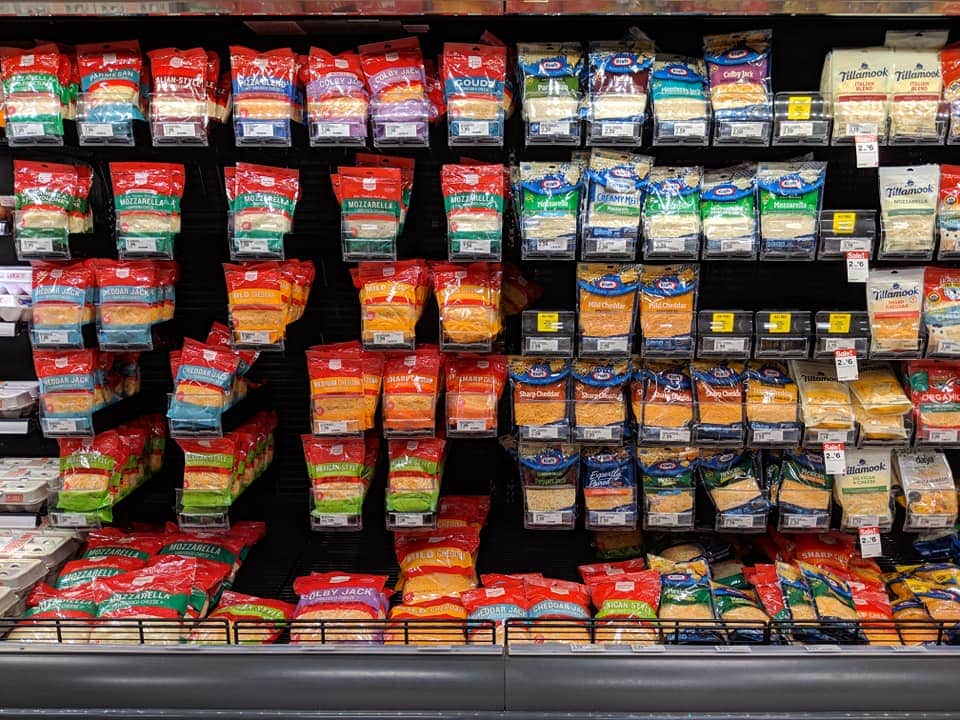 Target offers organic cheese from Horizon, but they don't sell products from grass-fed cows. You can also buy sour cream and butter at Target. The best butter brand available is the Market Pantry Organic Butter.

Here are the best dairy products to buy at Target:
Tillamook Cheese
Kraft Cheese
Market Pantry Cheese
Kraft Singles American Cheese
Mini Babybel Original Semi Soft Cheeses
Market Pantry Grated Parmesan Cheese
Frigo String Cheese
Sargento Cheeses
Market Pantry Ricotta Cheese
Athenos Feta Cheese
The Laughing Cow Swiss Cheese
Archer Farms Cheeses
Frigo Snack Sharp Cheddar & Beef Sticks
Belgioioso Fresh Mozzarella All-Natural Cheese
Alouette Garlic Herb Spread Cheese
Horizon Organic Cheeses
Cracker Barrel Cheese
Salemville Amish Blue Cheese Crumbles
Kerry Gold Cheese
Boursin Garlic And Herb Puck Cheese
Galbani Cheese
Montchevre Goat Cheese
Alouette Baby Brie Cheese
Van Kaas Gouda Cheese Wedge
Rondele President Authentic Pub Cheese Sharp Cheddar Spreadable Cheese
Black Creek Extra Sharp White Cheddar Cheese Aged 3 Years
Classico® Grated Parmesan Cheese
La Bottega Artigiano Vino Rosso Cheese
Grand Suisse Gruyere Cheese
Smokey Park Smoked Cheddar Cheese Wedge
Belgioioso Asiago, Romano, Parmesan Shaved Salad Blend
Jarlsberg Swiss Style Cheese Wedge
Van Kaas Mediterranean Gouda Cheese Wedge
Satori Balsamic Bellavinto Cheese
Philadelphia Cream Cheese
Market Pantry Butter
Land O Lakes Butter
Simply Balanced Organic Butter
Augason Farms Gluten Free Butter Powder Emergency Food
Daisy Sour Cream
Seafood
Most Target stores do not offer fresh fish or seafood, but they have a decent selection of frozen items. Again, this may vary between stores.

Ideally, you want fish or seafood that comes from wild-caught and sustainable sources. This ensures that the fish is cleaner than farm-raised fish, which may have chemicals or even food dyes added to it.

Stay away from shrimp or fish that has been battered. This means that it is coated with breaded before being cooked.

Here is the list of seafood offered at Target:

Market Pantry Raw or Cooked Shrimp
Simply Balanced Farm Raised Tilapia
Simply Balanced Frozen Alaskan Sockeye Salmon
Simply Balanced Atlantic Salmon
Simply Balanced Frozen Cod Fillets
Simply Balanced Swai Fillets
Simply Balanced Keta Salmon Fillets
Simply Balanced Flounder Fillets
Sea Pak Shrimp Scampi
Gorton's Classic Grilled Salmon
Encore Seafoods Farmed Salmon
Gorton's Simply Bake Signature Seasoning Tilapia
Simply Balanced Wild Caught Yellowfin Tuna Steaks
Encore Seafoods Stuffed Alaskan Salmon
Sea Cuisine Fire Roasted Applewood Smoked Salmon
Encore Seafoods Farmed Salmon
Simply Balanced Wild Caught Sea Scallops
Gorton's Signature Grilled Tilapia
Sea Cuisine Cracked Peppercorn Tilapia
Sea Cuisine Blackened Cajun Salmon
C. Wirthy & Co. Blackened Salmon
Eggs
Your two primary choices for eggs at Target are Market Pantry eggs and organic, cage-free Simply Balanced Eggs. We recommend going with the organic, cage-free eggs.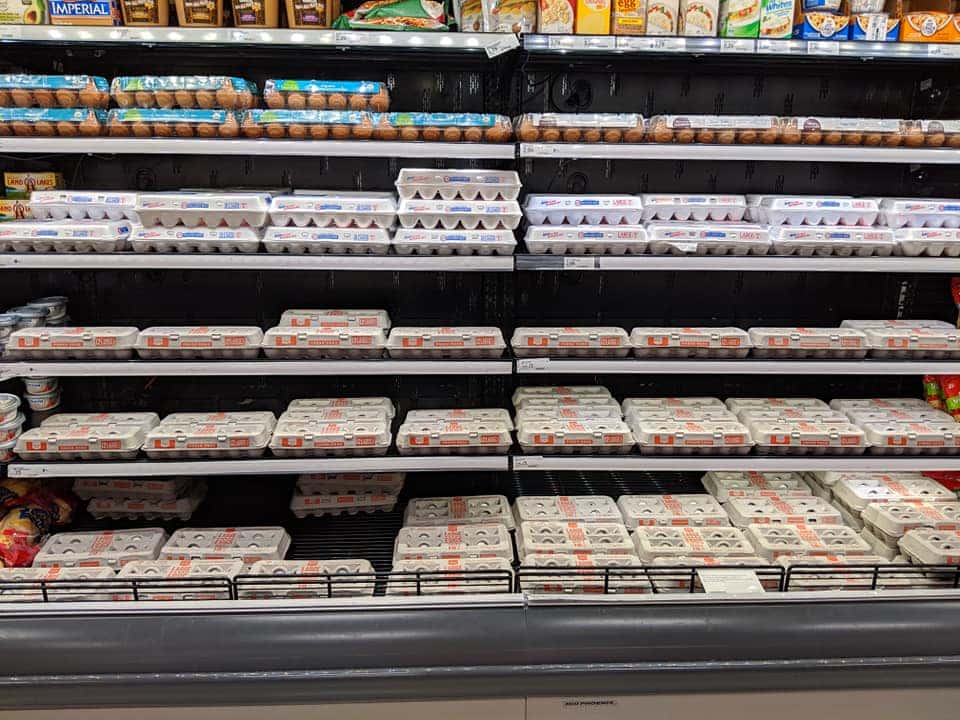 Ideally, you want a brand of eggs that comes from pasture-raised hens, but Target has yet to offer these. They also offer Eggland's Best eggs, but these are not organic or antibiotic-free.

Here are the best keto-friendly eggs offered at Target:

Market Pantry Grade A Large Eggs
Simply Balanced Organic Cage-Free Grade A Large Brown Fresh Eggs
Eggland's Best Grade A Large Eggs
Eggland's Best Cage-Free Grade A Large Brown Eggs
Eggland's Best Cage-Free Grade A Large Brown Eggs
Market Pantry 100% Egg Whites
Crystal Farms All Whites 100% Egg Whites
Archer Farms Hard Boiled Eggs
Egg Beaters
Market Pantry Yellow Egg Substitute
Deli Meat
We don't recommend eating lunch meat or processed meats often because they contribute to inflammation in the body. However, there are some good options available at Target that are minimally processed and do not contain as many added sugars as other brands.

You'll want to look for brands of meat that do not contain antibiotics, hormones, nitrates, or Carrageenan. Applegate offers a lot of deli meats that do not contain antibiotics, but they may still contain some added sugars or Carrageenan. Be sure to check the package before buying.

Here are some that Target offers. We also added hot dogs and sausages to this category.

Applegate Lunch Meat and Cheeses
Archer Farms Prosciutto
Columbus Deli Meats and Cheeses
Applegate Hot Dogs
Hillshire Farms Beef Lit'l Smokies
Ballpark Hot Dogs
Johnsonville Beddar with Cheddar Smoked Sausage
Oscar Mayer Bun Lengths Angus Beef Franks
Applegate Natural Chicken & Sage Breakfast Sausage
Aidells Chicken and Apple Burgers
Aidells Caramelized Onion Chicken Meatballs
Market Pantry Original Breakfast Sausage Patties
Applegate Frozen Natural Savory Turkey Breakfast Sausage
Jimmy Dean Fully Cooked Turkey Sausage Patties
Fresh and Frozen Produce (Fruits and Vegetables)
Target has a surprisingly good selection of fresh produce, including lots of fresh bags of different kinds of lettuce. You can also find lots of different low-carb fruits and vegetables for cheap there. They come in both fresh and frozen form.

Here are our top choices for low-carb produce at Target:

Avocado (technically a seed, but sold in the produce area)
Tomatoes
Cauliflower head
Baby bella sliced mushrooms
Organic baby carrots
Onions
Iceberg lettuce head
Taylor Farms Organic Baby Spinach
Archer Farms brussels sprouts
Taylor Farms Chopped Kale Juicing Greens
Archer Farms Green Beans
Archer Farms Broccoli and Cauliflower
Archer Farms Asparagus
Green Giant Hearts of Romaine Vegan Lettuce
English Cucumber
Cucumbers
Broccoli florets
Dandy Celery sticks
Cilantro bunch
Taylor Farms Organic Baby Spring Mix
Bell Peppers
Green Giant Fresh Green Onions
Dole Shredded Lettuce
Organic Girl Baby Spinach
Earthbound Farm Organic Romaine Hearts
Dole Baby Spinach
Green Cabbage
Organic Zucchini
Organic Basil
Dole Classic Iceberg lettuce
Guacamole
Cece's Veggie Co. Noodled Organic Zucchini
Taylor Farms Organic Baby Kale
Spice World Organic Garlic
Driscoll's Strawberries, Blackberries, Raspberries, and Blueberries
Lemons and limes
Market Pantry Frozen Berry Blend
Simply Balanced Frozen Berry Blend
Simply Balanced Frozen Spinach and Kale
Market Pantry Frozen Spinach and Kale
Non-Dairy Milk
When buying low-carb milk, make sure it contains no added sugars or carrageenan.
Go with unsweetened almond, flaxseed, coconut milk and other nut milks.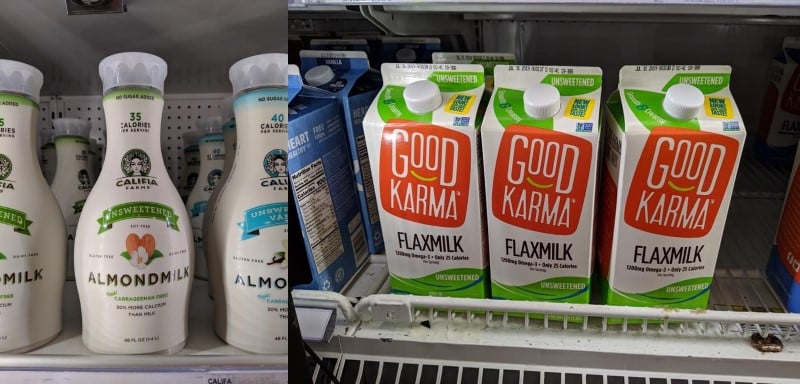 Here are some brands you can try:
Blue Diamond Almond Breeze Unsweetened Original Almond Coconut Milk Blend
Silk Unsweetened Original Almond Milk
Organic Unsweetened Coconut Milk Non-Dairy Beverage
Good Karma Unsweetened Flax Milk
Califia Farms Unsweetened Pure AlmondMilk
So Delicious Dairy-Free Organic Unsweetened Almond Milk
Snacks
Target has some low-carb snacks, but not a lot. You're better off snacking on cheese or nuts in between meals. Make sure you keep your portion sizes down when snacking on the following:

Moon Cheese® Cheddar Natural & Crunchy Cheese Snack
Moon Cheese® Gouda Natural & Crunchy Cheese Snack
Archer Farms Unsalted Raw Deluxe Nuts
Quest Nutrition Supreme Frozen Thin Crust Pizza
Rhythm Super Foods Ranch Vegetable Chips
Market Pantry String Cheese
Simply Balanced Almond Butter
Market Pantry No-Sugar Added Peanut Butter
Smucker's® Natural Peanut Butter
Mrs. Cubbison's Cheddar Baked Cheese Crisps
David Seeds Sunflower seeds
Note: when buying nut butter at Target, check to make sure it contains no added sugar. Target carries more brands that contain sugar than without!
Pantry Items
Pantry items are handy to have because they last longer than fresh food. We recommend stocking your pantry with healthy oils, wild-caught canned fish and organic chicken, healthy condiments, and canned olives.

You can also buy flavor enhancers and baking items for your favorite low-carb recipes at Target and keep them in your pantry. We recommend taking advantage of the lower prices at Target compared to most health food stores and stocking up on coconut oil and flour. You can also buy flaxseed flour and stevia at Target.

Here are some of the best low-carb pantry items at Target divided into subcategories:

Baking Items
Birch Benders Keto Pancake Mix: This product is interesting because it uses almond flour, coconut flour, cassava (yuca), and tigernut flour, which is a type of root vegetable that is high in fiber. The pancake mix contains 5 grams of net carbs per serving and no sweetener of any kind. All you have to do is add water! This would be ideal for a low-carb diet, but not necessarily a strict keto dieter.
Bob's Red Mill Xanthan Gum
Bob's Red Mill Almond Flour
Bob's Red Mill Coconut Flour
Bob's Red Mill Tapioca Flour
Bob's Red Mill Flaxseed Flour
Market Pantry Coconut and Almond Flours
Simply Balanced Coconut and Almond Flours
Pure Via Stevia
Stevia in the Raw
Truvia
Market Pantry Stevia
Navitas Raw Cacao Powder
Market Pantry Chia Seeds
Canned Goods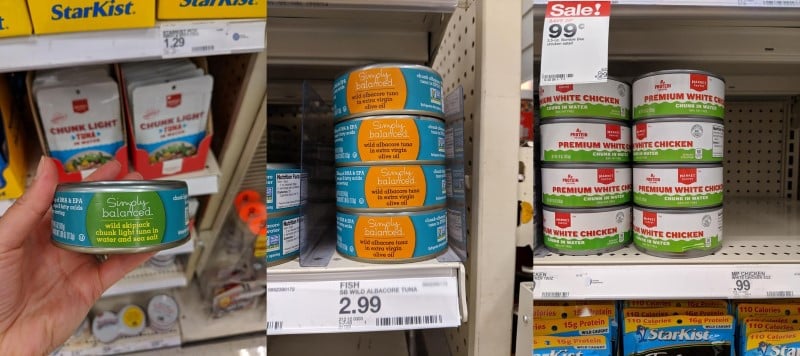 Simply Balanced Wild Sardines In Extra Virgin Olive Oil
Wild Planet Wild Alaskan Pink Salmon
Wild Albacore Tuna in Extra Virgin Olive Oil
Bumblebee Canned Fish and Chicken
Chunk of the Sea Canned Fish and Chicken
Wild Skipjack Chunk Light Tuna in Water and Sea Salt
Swanson Canned Chicken
Starkist Packaged Chicken
Valley Fresh White & Dark Chunk Chicken
Simply Balanced and Market Pantry Canned Chicken
Market Pantry Canned Olives
Simply Balanced Canned Organic Unsweetened Coconut Milk
Healthy Oils

Coconut oil: Target has a wide selection of coconut oil brands, including Simply Balanced, Vita Coco Organic non-GMO, Spectrum, and Nutiva.
Olive Oil brands: Market Pantry, Spectrum, Pompeian, Simply Balanced, Bertolli, Filippo, Carapelli Organic First Cold Press Extra Virgin Olive Oil, and many more!
Avocado Oil: Target offers the following brands: Simply Balanced Cold Pressed Avocado Oil, Chosen Foods 100% Pure Avocado Oil, California Olive Ranch Avocado Blend Extra Virgin Oil Olive, and Spectrum Refined Avocado Oil.
Condiments

Various Market Pantry and Simply Balanced Spices and Herbs
French's Yellow Mustard
Market Pantry Mustard
Sir Kensington's Yellow Mustard
Heinz Yellow Mustard
Market Pantry Red Wine Vinegar
Market Pantry Apple Cider Vinegar
Simply Balanced Red Wine Vinegar
Simply Balanced Apple Cider Vinegar
Bragg's Apple Cider Vinegar
Various other brands of vinegar, including Pompeian, Nakano, Monari, Alessi, and more!
Primal Kitchen Mayo with Avocado Oil
Sir Kensington's Classic Mayo
Stocks and Broth

Swanson Beef Stock and Broth
Swanson Vegetable Stock and Broth
Market Pantry Chicken, Vegetable and Beef Broth and Stock
Simply Balanced Chicken, Vegetable and Beef Broth and Stock
Better Than Bouillon® Chicken Base
Pacific Bone Broth
Swanson Bone Broth
Simply Balanced Bone Broth
Pacific Beef, Chicken and Vegetable Stock and Broth
Keto Supplements, Bars and Shakes
Your Target may offer different types of low-carb bars, shakes, and supplements. Check online for more details.

Here are some commonly sold low-carb and keto supplements at Target:

Zone Perfect Keto Shakes: Zone makes a white chocolate coconut keto shake that contains 3 grams of carbs and 17 grams of fat, but it contains more preservatives than we'd like to see in a shake. Other flavors include butter coffee and pineapple coconut.
SlimQuick Pure Keto Protein Powder: Target sells a SlimQuick keto protein powder online only, but it doesn't list the ingredients so we can't tell if it's a good product! According to Amazon, this product has 4 grams of carbs per serving. It also contains 10 grams of MCT per serving, according to the container.
KetoLogic: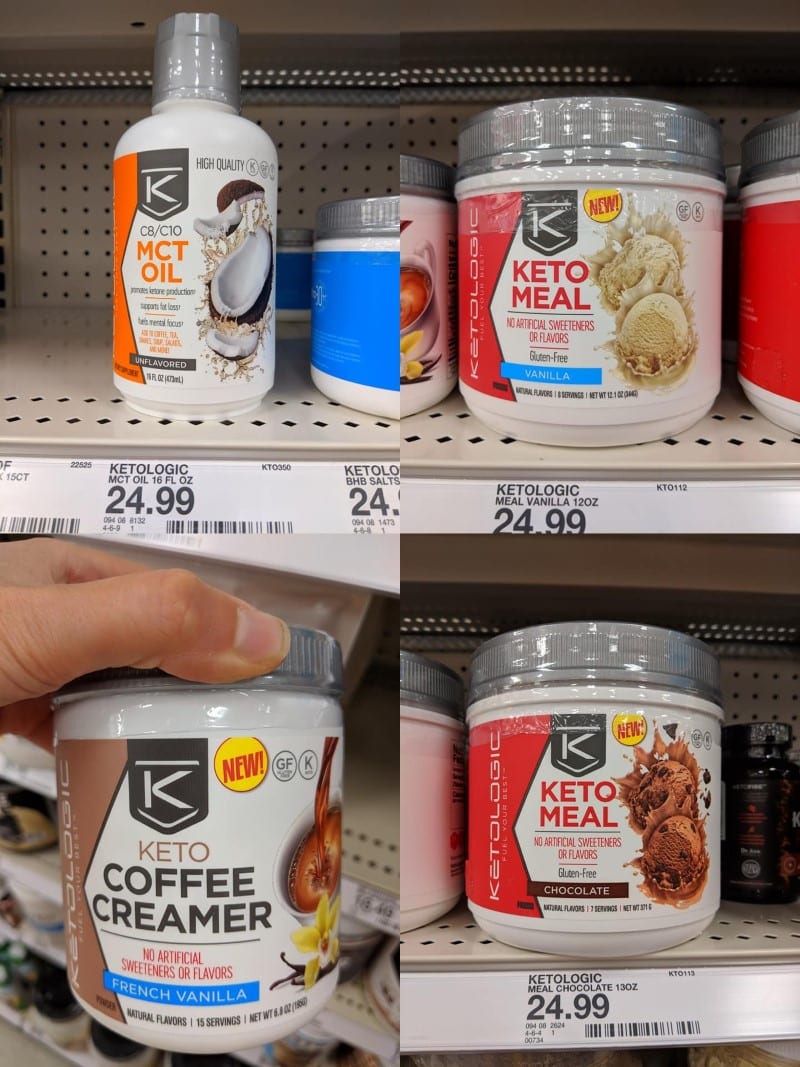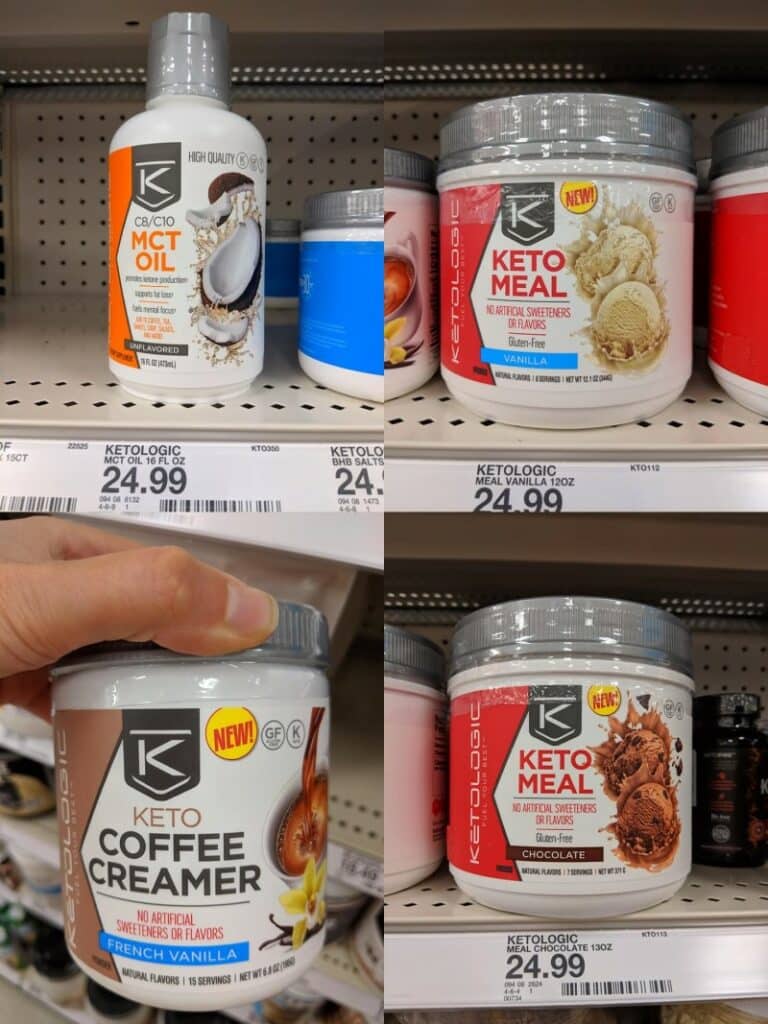 KetoLogic meal powder: KetoLogic offers a chocolate flavored meal replacement powder with 5 grams of net carbs per serving and a whole bunch of vitamins and minerals. However, we don't like that it contains carrageenan and soluble corn fiber. This product would be suitable for a low-carb diet but not a strict keto dieter. It also comes in a vanilla flavor, but you may have to order it online.
KetoLogic Energy Vegan BHB Salts: KetoLogic also makes a BHB salt product in two different flavors: orange and grape. The grape flavor also caffeine while the orange flavor does not. You can read about the benefits of BHB here.
KetoLogic Coffee Creamer – French Vanilla: This is a coconut-based coffee creamer that contains about 1 gram of net carbs per serving. We don't like the use of corn fiber in this product, but it will work if you're in need while at Target!
Ancient Nutrition:
Ancient Nutrition is a line of supplements formulated by Doctor Josh Axe. We like that they use clean ingredients and have precise formulas.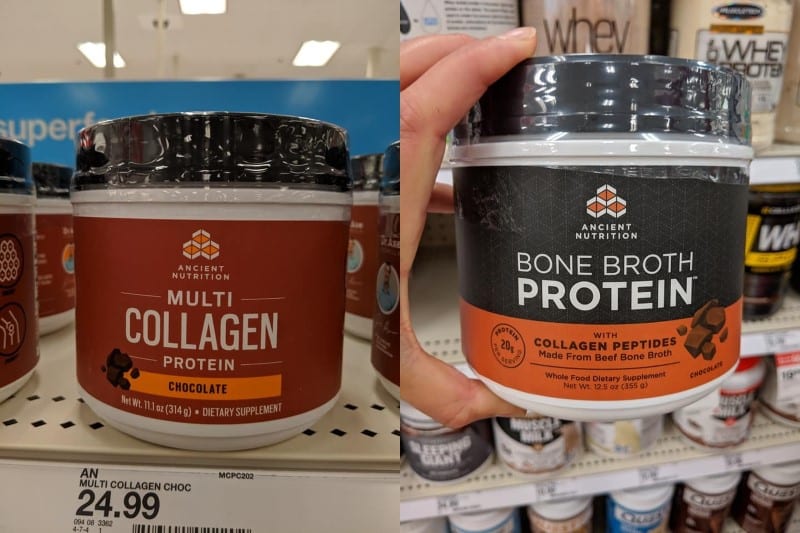 Here are a couple of products that they sell at Target.
Ancient Nutrition KetoFEAST Protein Powder: This product is also only offered online. It contains 20 grams of fat, 17 grams of protein, and 5 grams of carbohydrates per serving. Plus, it has 21 vitamins and minerals from whole fermented food sources. There are two flavors available. The vanilla flavor contains 50 grams of caffeine from organic coffee cherry extract and the maple flavor is caffeine free.
Ancient Nutrition MultiCollagen Protein Powder: Ancient Nutrition makes a pretty good collagen powder if you're at Target and need to pick some up. It does not appear that this collagen is from grass-fed sources, so keep this in mind. You can find a better quality product elsewhere.
Ancient Nutrition KetoFIRE Weight Loss Supplement Capsules: Ancient Nutrition makes a weight loss supplement/keto activator that was formulated by Doctor Axe and can help you lose weight on the keto diet. It also comes in powder form. The original recipe includes caffeine, but you can buy the powder version without caffeine.
Ancient Nutrition KetoPROTEIN Protein Powder: We like this protein powder because it contains bone broth and MCTs from coconut. Plus, it has coffee from organic coffee fruit extract and a lot of fermented herbs. This protein powder also comes in vanilla and maple flavors, too.
Atkins:
Target is a huge supplier of Atkins products. Most bars and shakes contain around 2 or 3 grams of net carbs, but they are also loaded with a lot of preservatives and ingredients that aren't keto-friendly. They are ok to eat on a general low carb diet.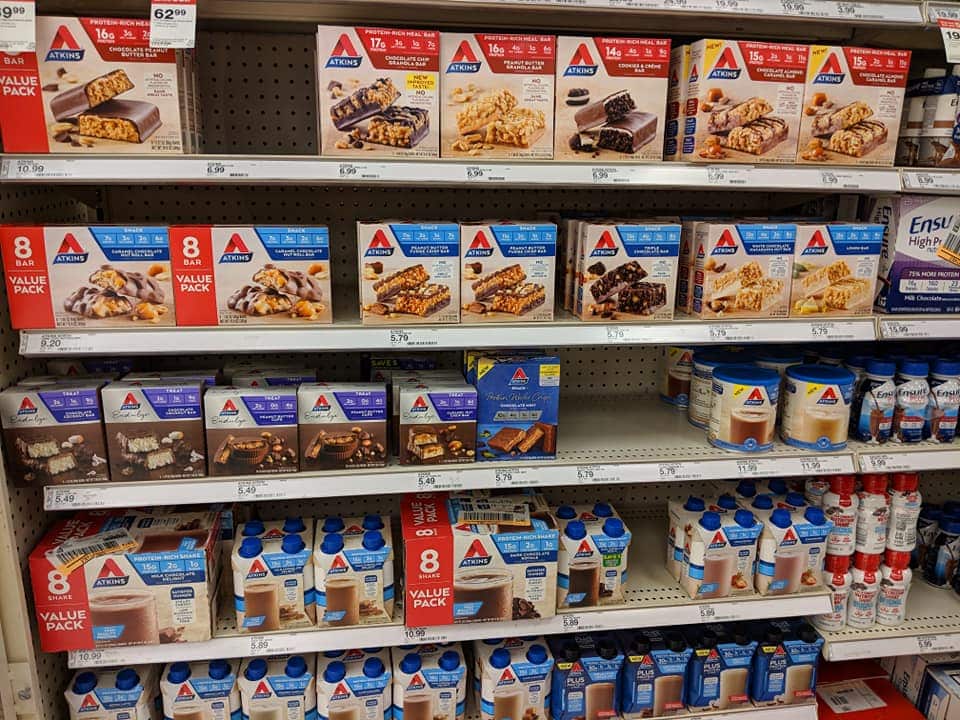 Some people might eat these on a keto diet but we don't recommend them, and definitely don't make them a habit!
Atkins Endulge Treats – Peanut Butter Cup
Atkins Protein Shakes Chocolate, Strawberry and Vanilla
Atkins Nutrition Bar – Caramel Chocolate Nut Roll
Atkins Endulge Chew Bar – Caramel Nut
Atkins Protein Wafer Crisps – Peanut Butter
Atkins Meal Bar – Chocolate Peanut Butter Pretzel
Atkins Granola Meal Bar – Peanut Butter
Atkins Snack Bars – Lemon
Atkins Nutrition Bars – Cookies & Cream
Atkins Endulge Chocolate Coconut Bar
Quest:
Target sells a lot of different Quest products. These are ideal for a low-carb diet but not necessarily a keto diet because most products contain at least 5 grams of net carbs. They also contain some questionable ingredients that we wouldn't recommend you eat on a consistent basis!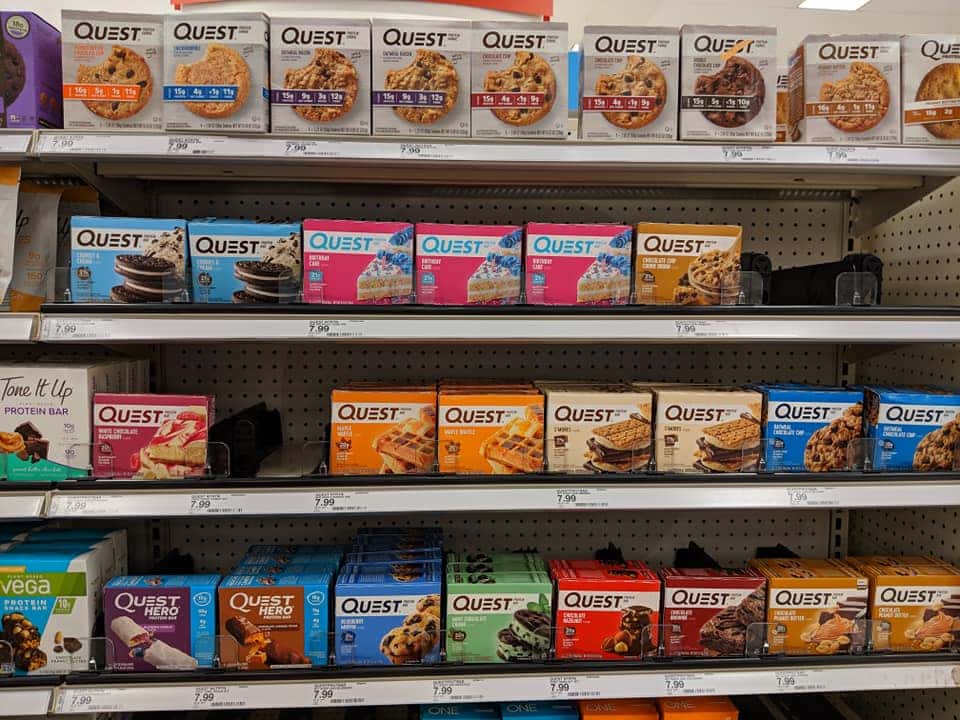 Check out their online selection for more flavors.
Quest Protein Cookie – Chocolate Chip
Quest Protein Cookie – Peanut Butte
Quest Protein Cookie – Double Chocolate Chip
Quest Protein Cookie – Chocolate Chip Peanut Butter
Quest Hero Protein Bar – Various Flavors
Quest Protein Bar – Various Flavors
Miscellaneous
Target has tons of books on the keto diet. These include recipe books, how to books, and basically everything you ever wanted to know about the keto diet.

They also sell just about any appliance you could ever want to make your keto diet easier, like blenders for smoothies, baking sheets, pots and pans, etc.

---
Conclusion
We're convinced that there isn't anything Target can't do. Ever since Target started offering food and grocery items at its stores, we can't help but fall even more in love with the store.

If you're a die-hard Target shopper, then we recommend downloading the Cartwheel app to your phone. You'll get to browse thousands of deals that change weekly. You also might consider registering for the Target RedCard, which links to your bank account and saves you 5% on all purchases.

We provided a list of the best low-carb items to buy at Target. Your store's selection may vary depending on selection, but you can always order some of the shelf-stable items online. Target has a same-day delivery service called Shipt that brings your items to you for a fee.

Our top pick for low-carb groceries at Target are meats, cheese, and low-carb produce, such as avocado, spinach, and fresh berries. They also have eggs, almond milk, and lots of pantry items that you can stock up on as well. Always look for organic, wild-caught, and grass-fed meat whenever you can. Animal products should have no added sugars, antibiotics, hormones or other chemicals.
Featured image credit: SundryPhotography/ depositphotos.com