Cauliflower rice, similar to broccoli rice, is your saviors during your Keto journey. Cauliflower is so versatile that you can make so many amazing low carb, vegan and gluten-free dishes with it. This veggie is such a blessing.
Having the crust made from cauliflower allows you to enjoy your favorite fast food and getting that feeling of eating something crunchy and crispy without a damage to your keto lifestyle or your waist size.
Since keto is more of a lifestyle than one week deal, with time, you will find joy in cooking and spend more time browsing for interesting recipes that also will unleash your inner chef, since lots of recipes can be escalated or changed to your taste.
The main rule is to keep everything fresh, ecological, non-artificial and find ways to your local farmer's markets. If you buy frozen cauliflower pizza crust in the store, make sure to read the label carefully for keto-friendly ingredients.
The main ingredient for your pizza crust is cauliflower rice. Nowadays, it can be found in many shops but read the ingredients list carefully to avoid unwanted substances.
If you prefer your crust without cheese, you can replace cheese with flaxmeal or almond meal. You might need to adjust the amount to make it work. A little bit of xanthan gum or psyllium husk powder will help as it acts as binding agent to prevent ingredients from separating.
Also if you want the best result, try making your own riced cauliflower. All you need is just 10 minutes and a blender. You'll be rewarded with a big bowl of homemade rice that can be kept in the fridge for days or in the freezer for weeks, always ready for your culinary experiments.
[page_section color='#2c3e50′ textstyle='light' position='default'] [/page_section]
[thrive_headline_focus title="Let's Ketofy It!" orientation="center"]
How to Make Cauliflower Pizza Crust
Preheat the oven to 450 F. If you use raw cauliflower head, process cauliflower using a food processor until it becomes as small as rice grains. You can cook the cauliflower in a microwave or saute it in a hot pan for 1-2 minutes. Let it cool and squeeze out all its liquid. Mix all the crust ingredients in a bowl and season it well.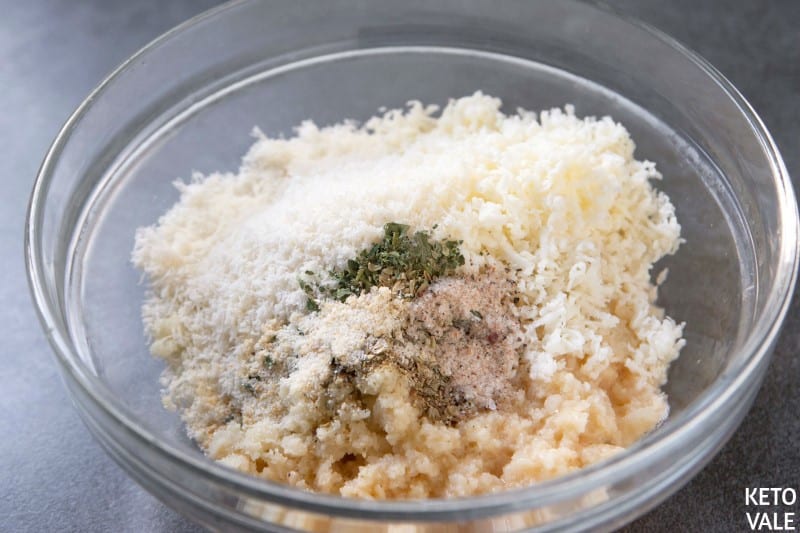 Use your hand to form the dough into a pizza circular shape and place on a baking tray.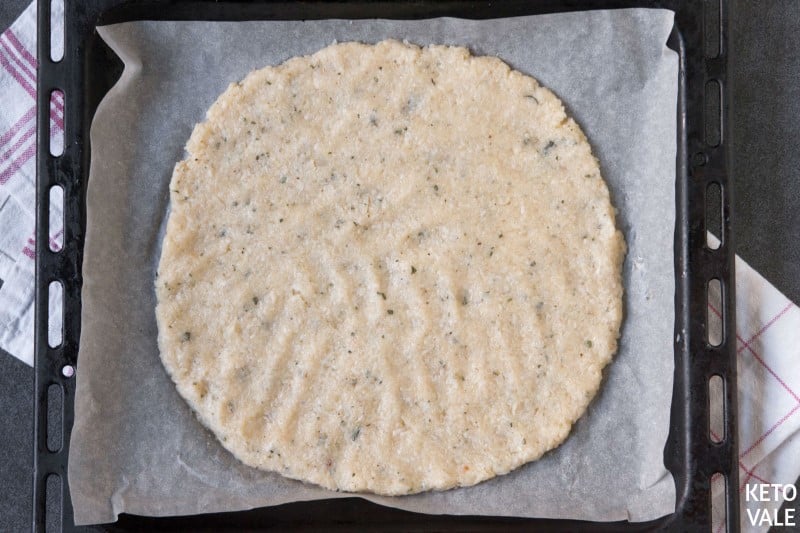 Bake until the crust is firm and golden. This should take about 10-15 minutes. Look how beautiful and firm this is!
Remove the crust and add the topping of your choice then bake again in the oven for approximately 3-5 min. Slice and serve. For this particular recipe, we keep it simple with just cheese and marinara sauce on top.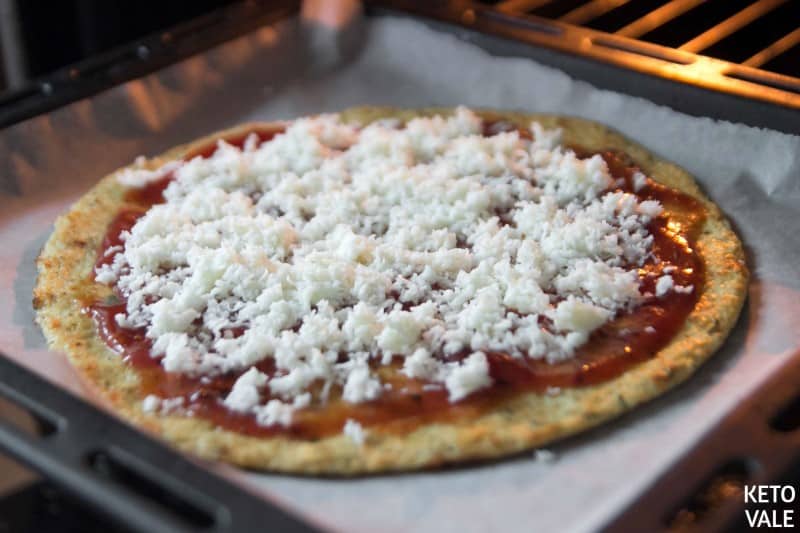 This pizza crust is very versatile. You can add your favorite fillings such as bacon bits, mushroom, chicken, spinach, cheese, shrimp, etc… and turn them into many different pizzas. It's time to unleash your creativity.
For pizza sauce, you can either make it from home or buy it at the store. The most keto-friendly product we found is Rao's Homemade Marinara Sauce. It consists of tomatoes, olive oil, oregano, onions, garlic, basil, salt and black pepper.
Watch how we made this here:
Save this recipe by pinning this picture to your Pinterest board for later use!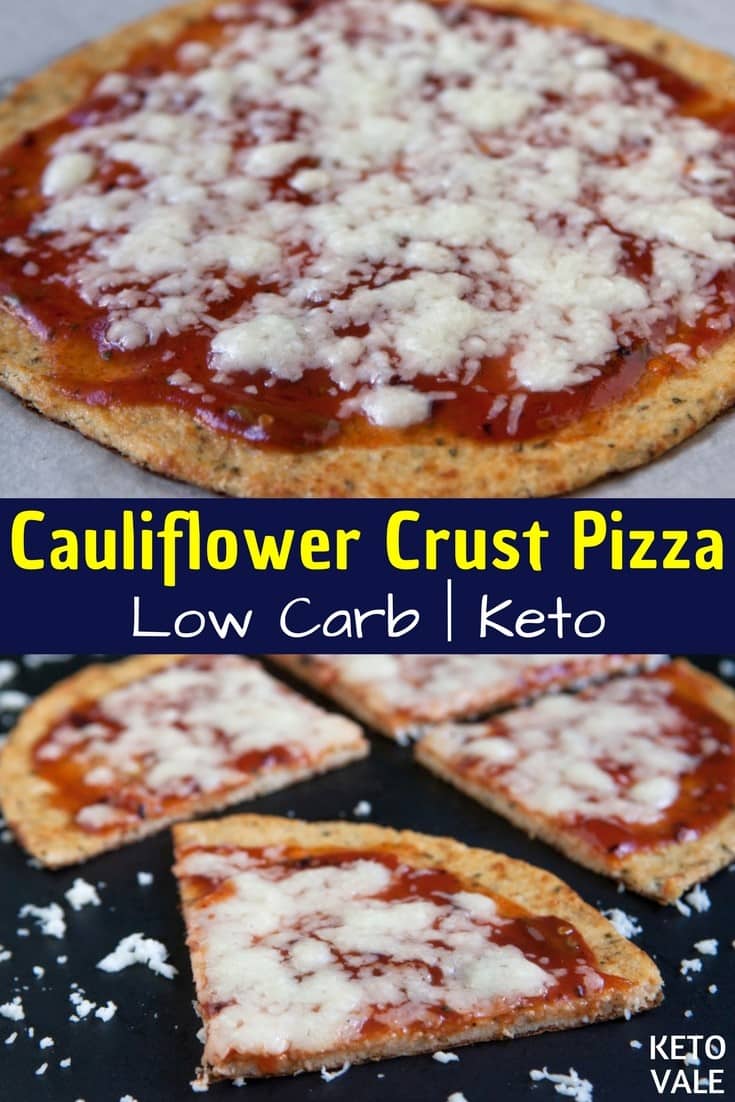 Related:
Cauliflower Crust Pizza
A keto-friendly pizza making from cauliflower crust will satisfy your cravings pizza. You'll surely love it.
Ingredients
Cauliflower Crust:
1

cup

cauliflower rice

cooked

1 1/2

tbsp

parmesan

shredded

1/8

cup

Mozzarella

shredded

1

egg

beaten

1/2

tsp

garlic powder

1/2

tsp

dried basil

1/2

tsp

dried oregano

himalayan salt and pepper to taste
Instructions
Preheat the oven to 450°F.

Cook the cauliflower rice according to instructions, allow to cool and squeeze out all remaining the liquid.

In a bowl combine cauliflower rice, cheese, beaten egg, garlic powder, all seasonings and mix well. Transfer your dough to a baking tray lined with parchment paper and press with your hands to form a circle.

Bake for about 10-15 minutes or until golden. Spread marinara sauce, add mozzarella on top and return back to the oven. Broil until cheese melts, approximately 3-5 min. Slice and serve.
Nutrition/Macros
Nutrition Facts
Cauliflower Crust Pizza
Amount Per Serving
Calories 239
Calories from Fat 126
% Daily Value*
Fat 14g22%
Cholesterol 123mg41%
Sodium 905mg38%
Potassium 606mg17%
Carbohydrates 11g4%
Protein 18g36%
Vitamin A 875IU18%
Vitamin C 45mg55%
Calcium 334mg33%
Iron 2.1mg12%
* Percent Daily Values are based on a 2000 calorie diet.
Pin To Save This Recipe