Are you a gourmand? Never tried to be the one? The easiest way to become one is to make our Keto Calzone with Ham, Cheese and Spinach Fillings. You will enjoy every crumb of it.

Our recipe is a low-carb spin on a traditional calzone which contains too many carbs to be eaten on a low-carb or keto diet.

Typically, a calzone contains a filling of meat, cheese and veggies wrapped in a flour shell and baked in the oven like a pizza.

The problem is that traditional calzone dough is made with enriched wheat or white flour. Our calzone dough contains two simple ingredients: almond flour and mozzarella, which is basically a keto fathead dough.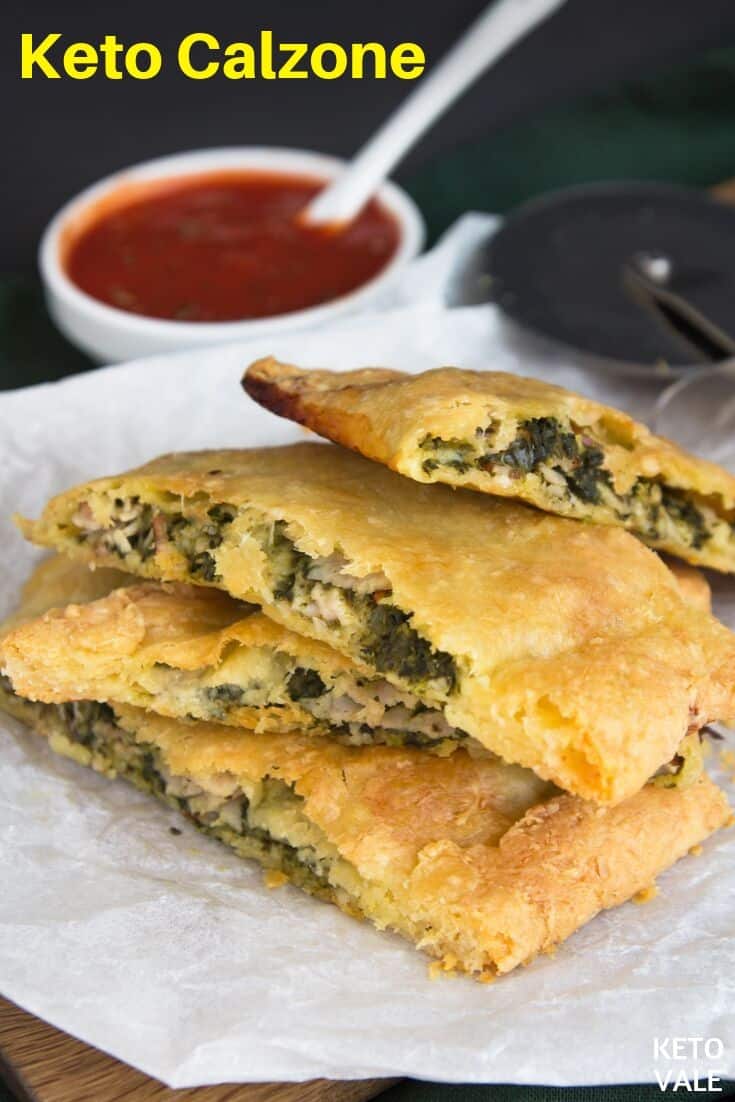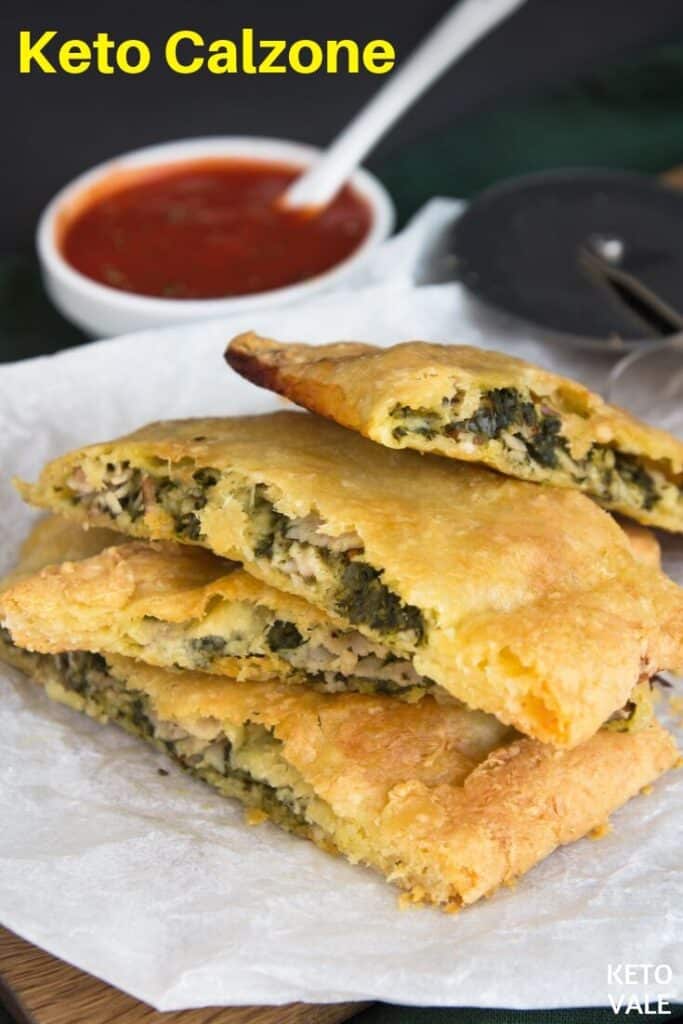 Almond flour is a great source of healthy monounsaturated fats. It's also much lower in carbs that traditional white or wheat flour. When mixed with cheese, it creates a low-carb crust that's both cheesy and nutty.

You can also add the spices of your choice to your dough to enhance the flavor. For the filling, we use spinach, ham, and more cheese!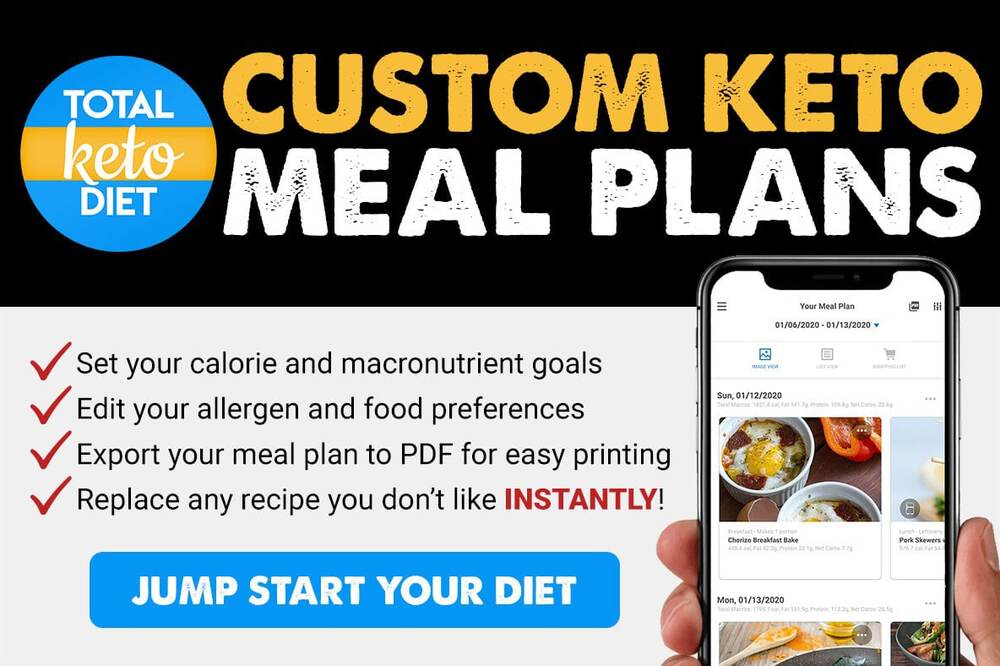 When picking out ham, we recommend going with a high-quality piece of meat that does not contain added antibiotics, hormones or sugar. Ham also tends to be high in sodium and contain nitrates, smoky flavors, and lots of preservatives.

Be sure to watch your sodium content if you've been put on a low-sodium diet. You should be able to find a clean cut of ham at your local butchers or any health food store.

Our filling also calls for spinach, which is a great source of vitamins, fiber, and antioxidants. It goes great when paired with cheese and ham. You'll need to use fresh spinach because frozen spinach will be too watery to work with!

To get that golden shell on your dough, beat an egg and coat the dough with it before putting it in the oven for a great finishing touch!

---
Let's Do It!
First, prepare the filling. Heat the spinach in a microwavable bowl for one minute on high. Drain excess water (you can also boil or quickly saute spinach).
Add mozzarella, high quality ham, and Grana Padano to the bowl with the spinach. Season with dry basil, salt and pepper.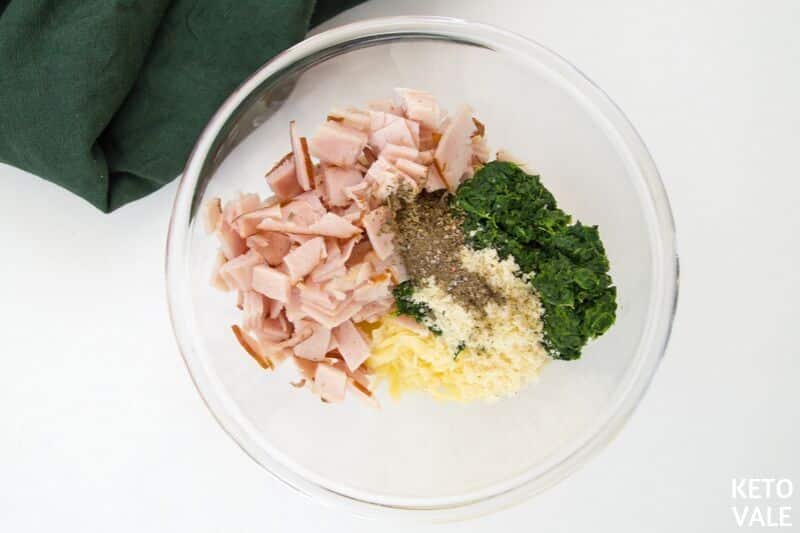 Next, prepare the dough. Combine the almond flour and the mozzarella.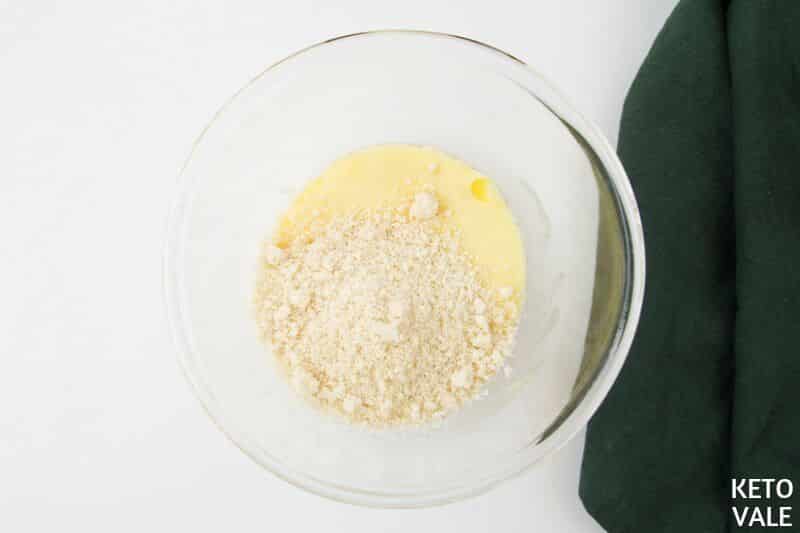 Roll the dough out between two sheets of parchment paper. Place the filling onto one side of the dough, fold over and seal.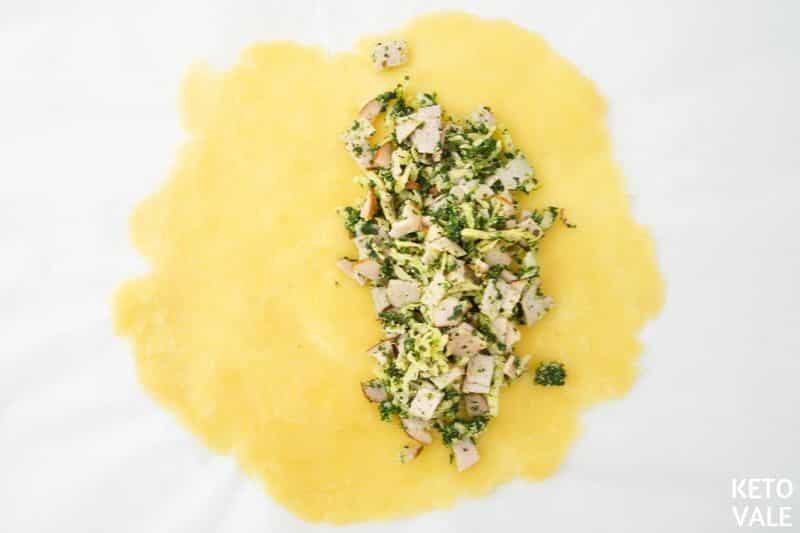 If you want to have a golden sheen, brush the calzone with egg wash (a thoroughly beaten egg with some water).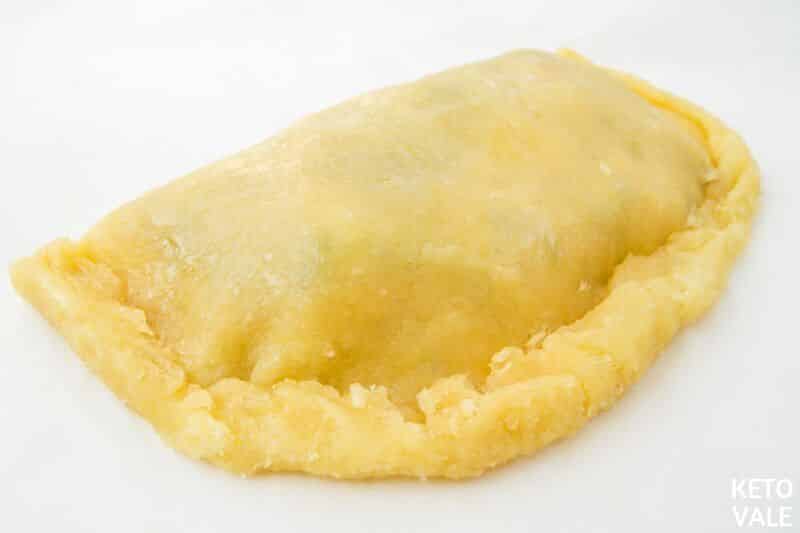 Bake the calzone until golden. You will surely smell gorgeous Italian flavor. Remove from the oven. Buon appetito!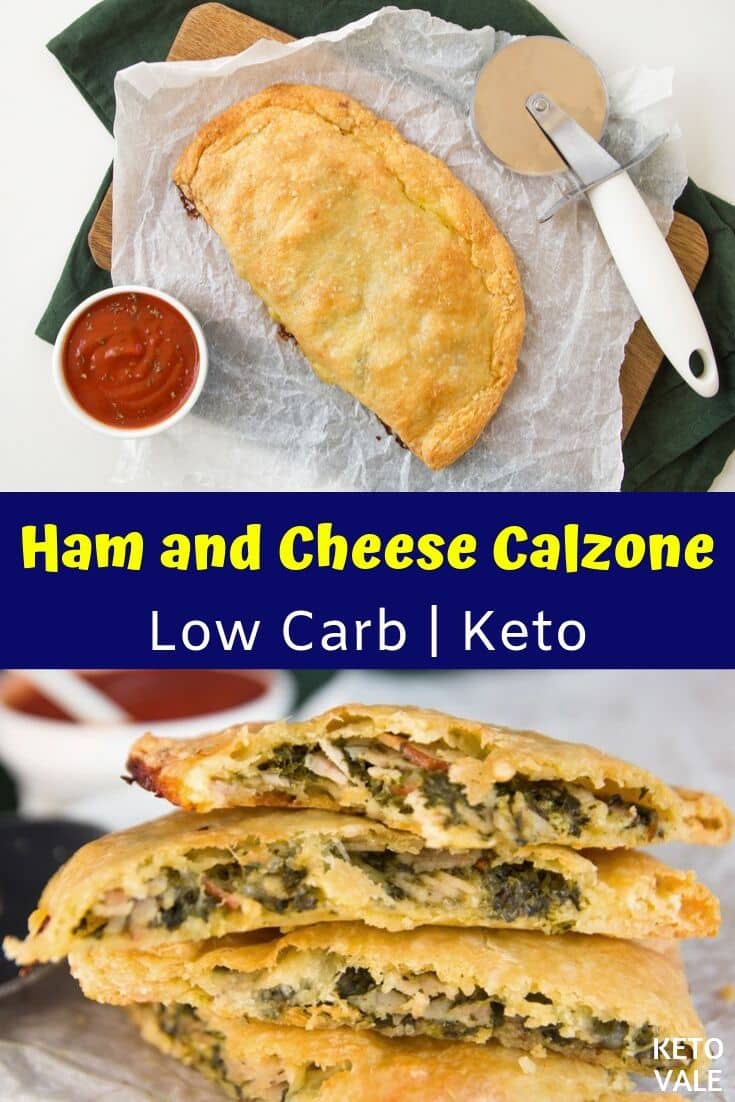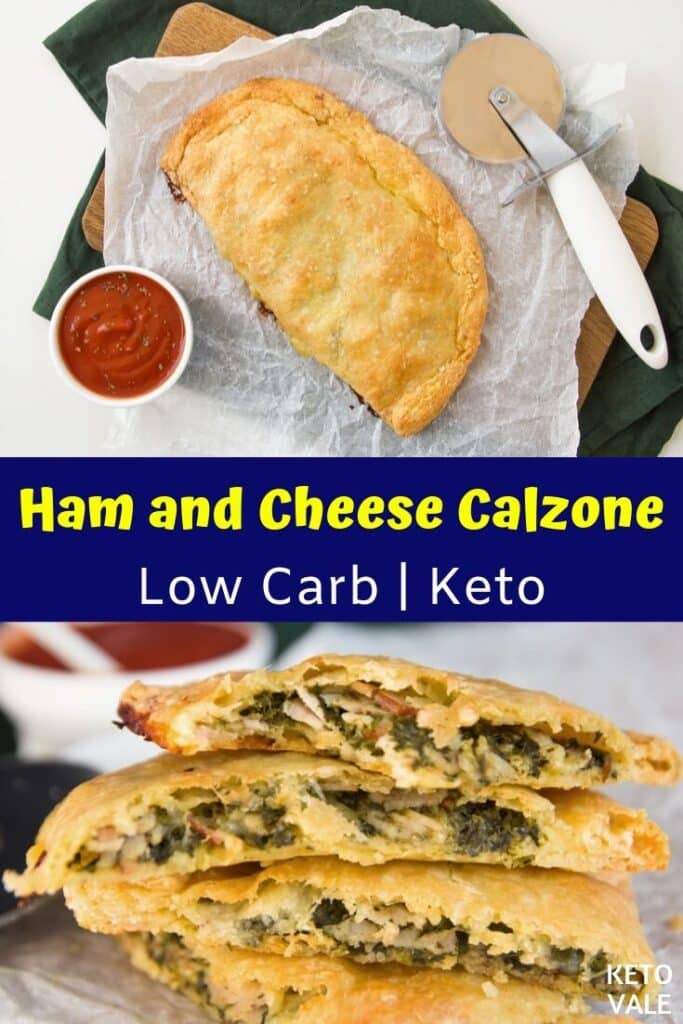 You might also want to try:
Keto Ham and Cheese Calzone
A gluten-free, low-carb and keto-friendly calzone recipe using fathead dough and fillings with spinach, ham and cheese.
Ingredients
Filling:
2

oz

spinach

frozen or fresh

2

oz

ham

high quality, diced

⅓

cup

Mozzarella

shredded

1

tbsp

Grana Padano

grated

½

tsp

dried basil

pinch

salt

¼

tsp

black pepper

1

egg

2

tbsp

water

Egg wash

optional
Instructions
Preheat the oven to 400 F.

Place the spinach in a microwave safe bowl and microwave for one minute on high. If the spinach is not completely reheated, stir it and microwave again for 30 seconds.

Drain the spinach.

In a bowl, combine all filling ingredients and set aside.

Prepare the egg wash: crack an egg into a bowl and beat it thoroughly with a fork, add two tablespoons of water, a pinch of salt and stir until combined. Set aside (optional, for a golden sheen).

Melt the shredded mozzarella & add the almond flour. Stir until well-combined. Roll the dough out between 2 sheets of parchment paper.

Gently add the fillings on to one side of the dough, fold it over and seal the dough. Brush with egg wash if using.

Bake for about 20-25 minutes or until it turns golden and firm to the touch. Remove from oven and enjoy!
Notes
*You can use shredded chicken meat in the place of ham.
Nutrition/Macros
Nutrition Facts
Keto Ham and Cheese Calzone
Amount Per Serving
Calories 405
Calories from Fat 270
% Daily Value*
Fat 30g46%
Cholesterol 149mg50%
Sodium 812mg34%
Potassium 302mg9%
Carbohydrates 7g2%
Protein 28g56%
Vitamin A 3187IU64%
Vitamin C 8mg10%
Calcium 416mg42%
Iron 2mg11%
* Percent Daily Values are based on a 2000 calorie diet.
Pin To Save This Recipe