No matter how strict we are in our keto diet, sometimes, we still crave for pizza. It is the best go-to snack for people who are too busy to prepare a meal. Some pizzas are healthier than others, while most are not at all recommended to be in your diet plans. But today, we will be making a pizza that is equally satisfying and delicious but will help you lose those extra fats.

Today's meal, the Collagen Cloud Bread Pizzas, is your new pizza best friend. You can have this any time of the day as a snack or your main course. The ingredients are pretty easy to find, and the preparation is not much of a hassle either. What makes this pizza stand out from the rest is the form of the dough which looks a lot like clouds, hence its name.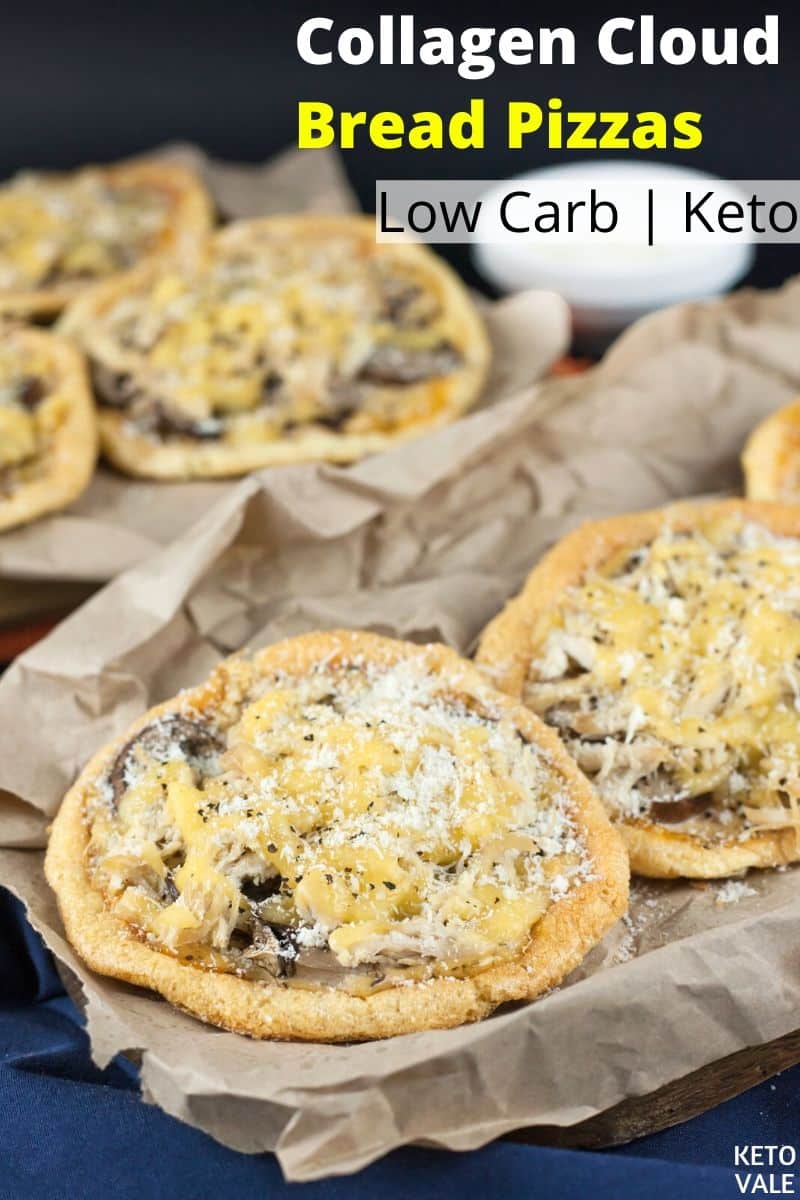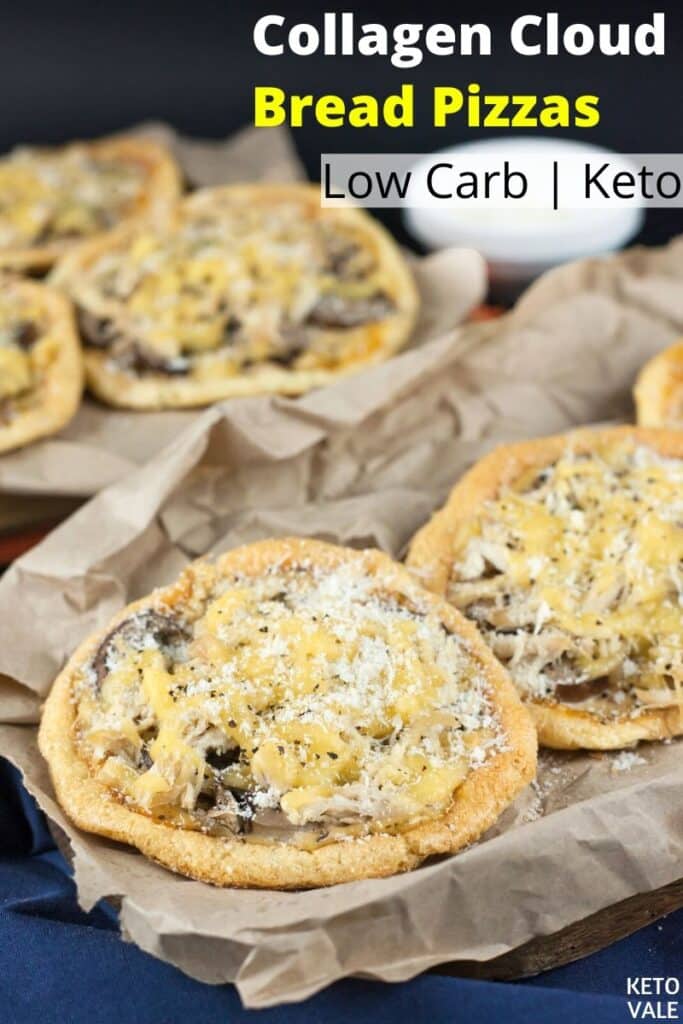 To make the cloudlike dough, we need a couple of eggs. This little ingredient is known as a powerhouse of nutrients. One boiled egg contains 8.3 grams of protein along with other rich nutrients like iron, zinc, copper, vitamin B2, B6, and D, to name a few. One study revealed that consuming eggs help in achieving a healthy height. The vitamin D in eggs also keep the bones strong, preventing rickets and osteoporosis.
Another highlight in our pizza is the use of collagen. Collagen is known as the richest protein in the body, containing 19 amino acids. Among those amino acids, glycine and proline are worth mentioning. Glycine amounts to about a third of the collagen, and this substance helps in keeping the muscles healthy all while boosting energy when you work out. Proline, on the other hand, improves the joints and keep the heart-healthy.
You can top the pizza with any filling you like, but make sure that the ingredients are keto-approved and will not spoil your diet. We highly recommend using cheese like Parmesan and Gouda and avoid processed sauces like purchased mayo.
---
Let's Do It!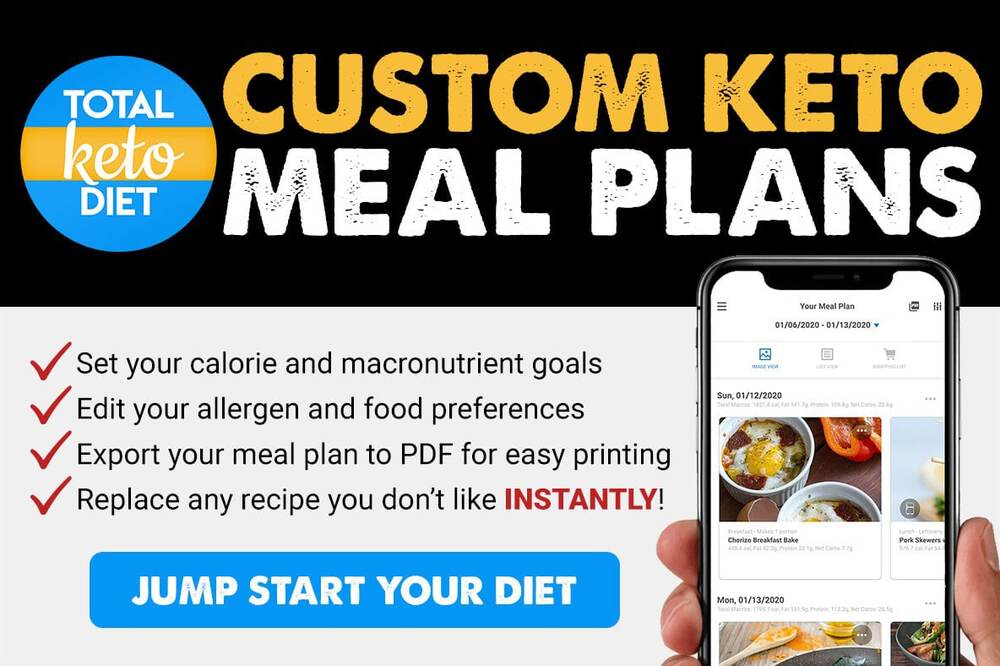 Let the oven preheat to 300F.

Beat the egg yolks in a bowl along with the baking powder, garlic powder, cream cheese, and one scoop of Perfect Keto Unflavored Keto Collagen (or any other brands of collagen). Season with salt.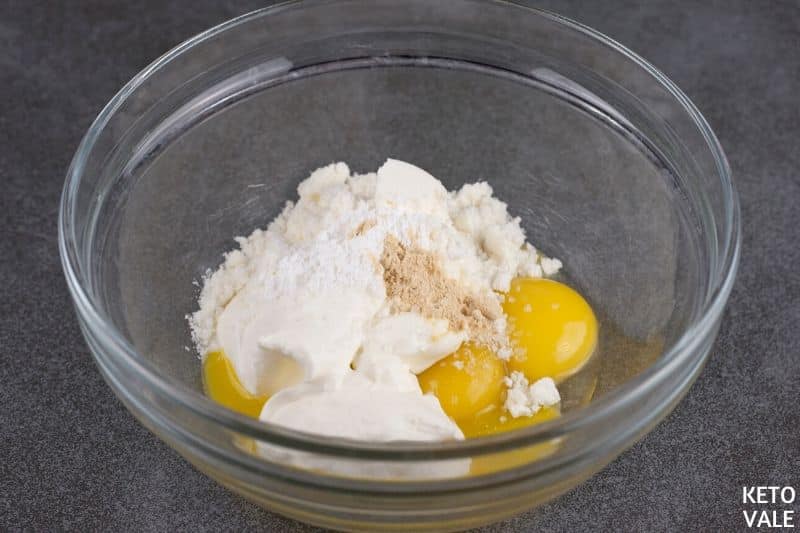 Whip the egg whites in a separate bowl to form stiff peaks.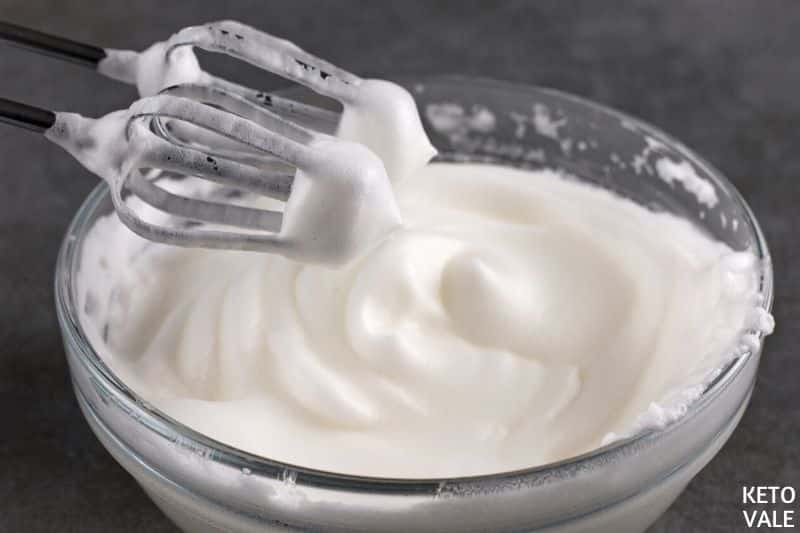 Pour the egg yolk mixture to the egg whites and whip again to combine.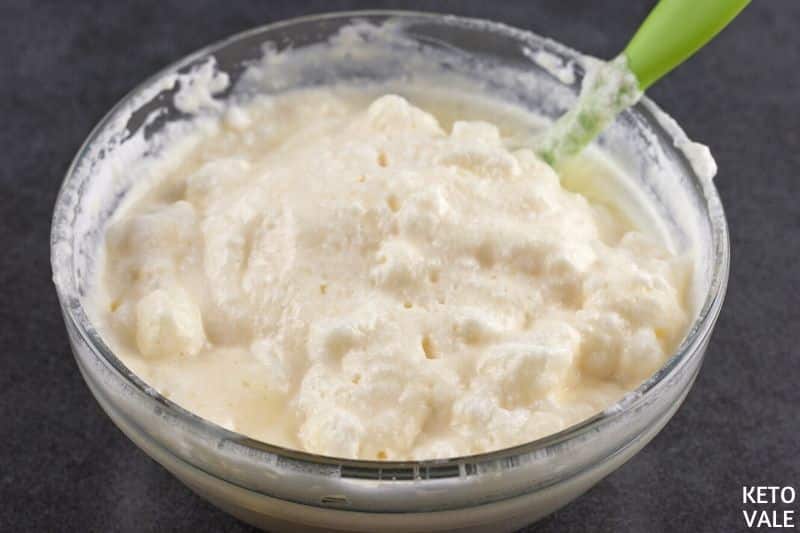 Prepare your baking tray with lined parchment paper.

Scoop the batter and place on the baking tray. Leave in the oven for 25 to 30 minutes to bake until lightly golden. Let sit at room temperature to cool for 5 to 7 minutes.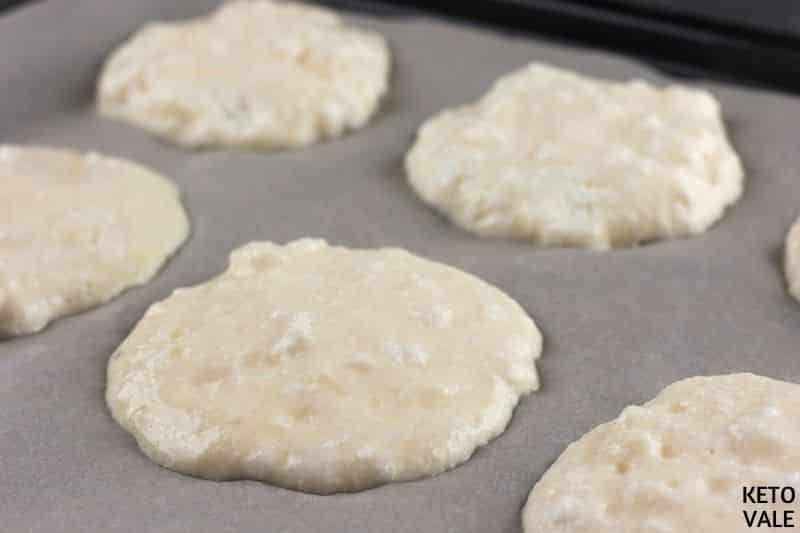 Set the oven to 375F to preheat again.

Prepare the sauce in a small bowl. Mix the mustard, homemade mayo, hot sauce, and Italian seasonings.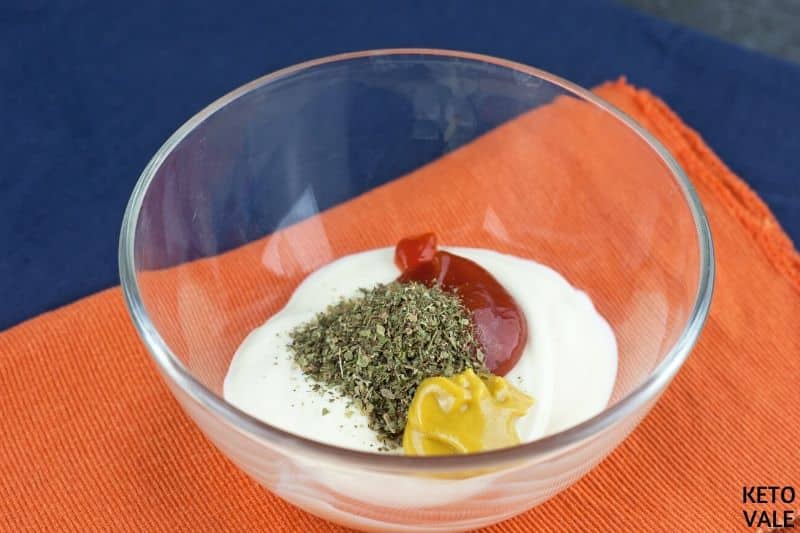 Cover the top of the pizza with the sauce and distribute the sliced button mushrooms.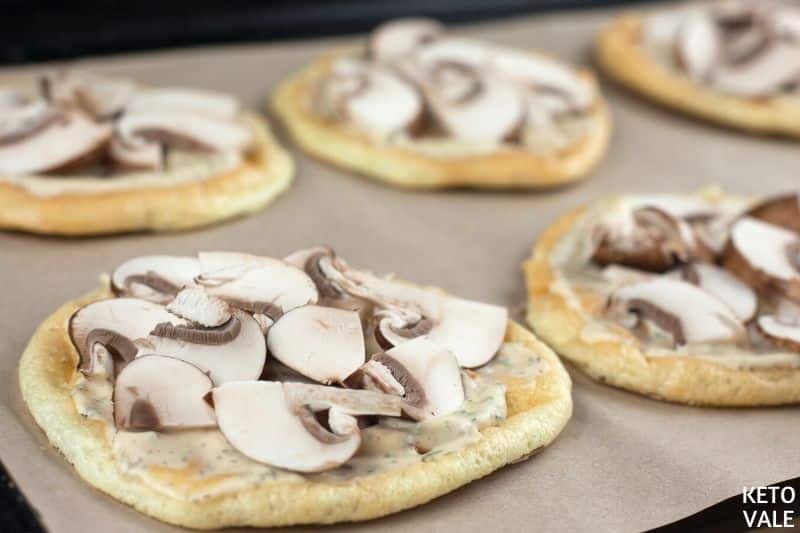 Next, distribute the shredded chicken on top of the mushrooms.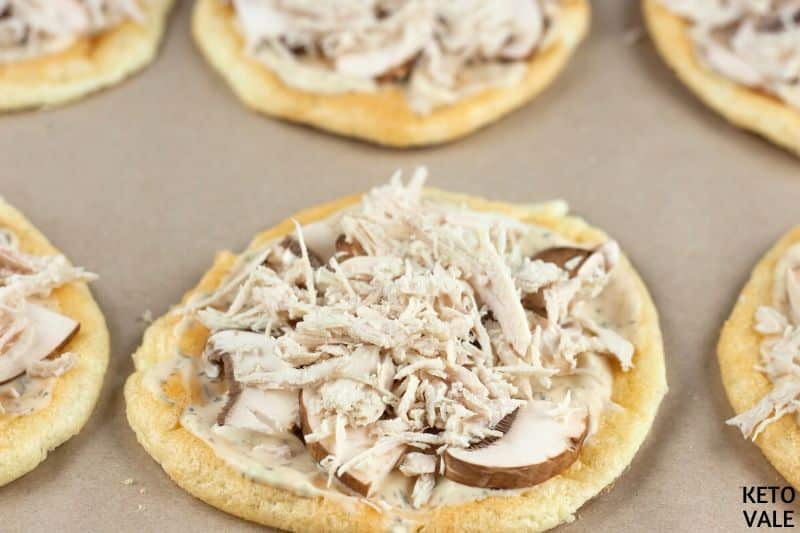 Then distribute the Gouda cheese on top of every pizza.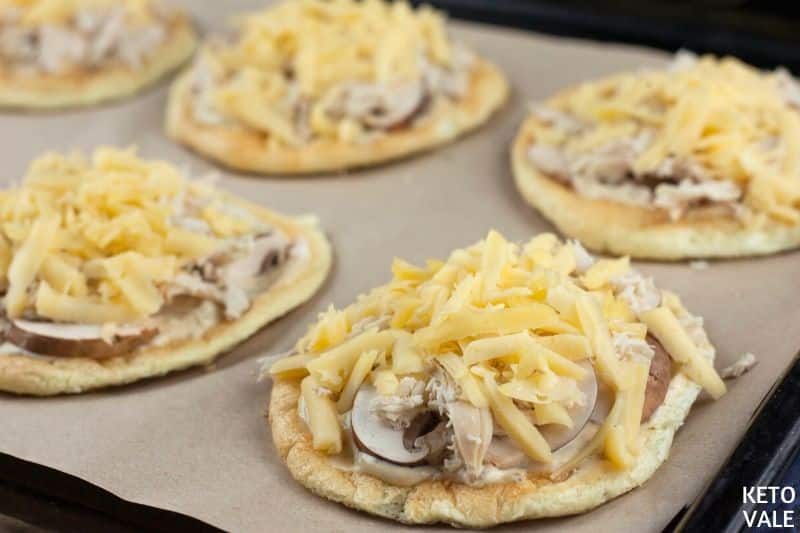 Leave in the oven for 5 to 7 more minutes to melt the cheese. Top with black pepper. Add grated Parmesan for more flavor.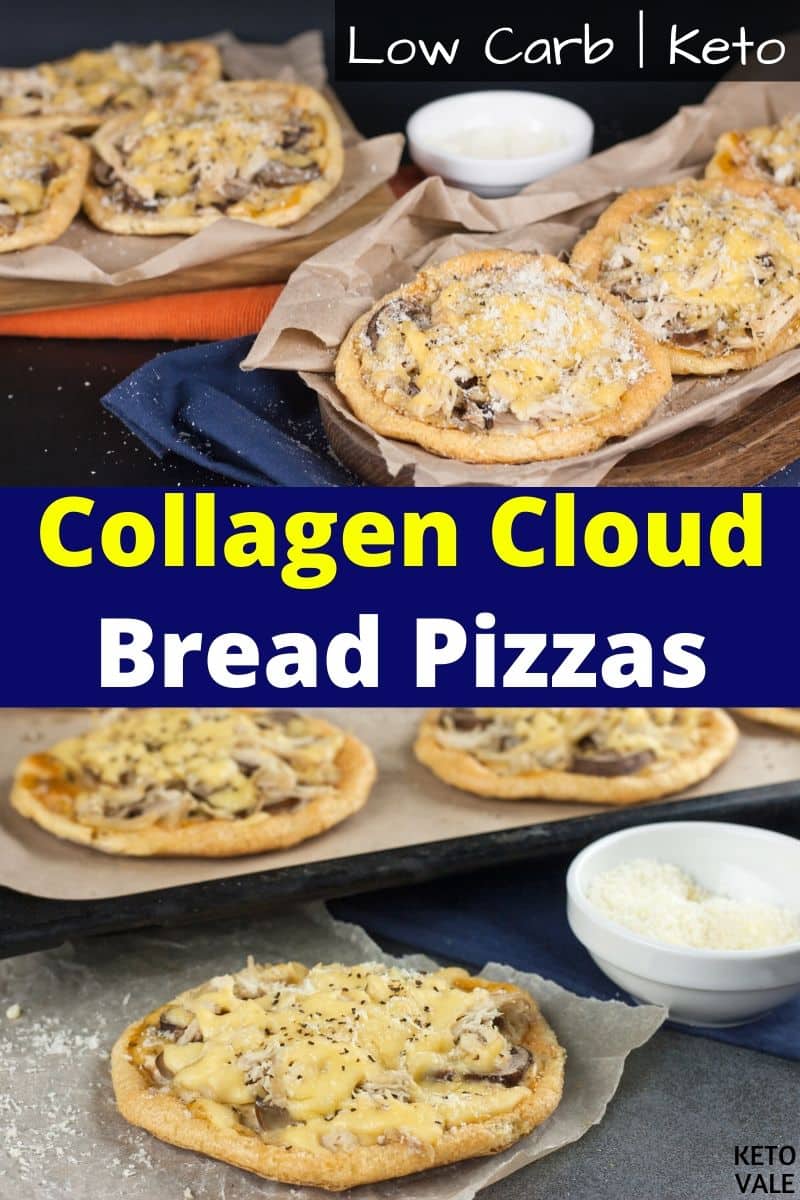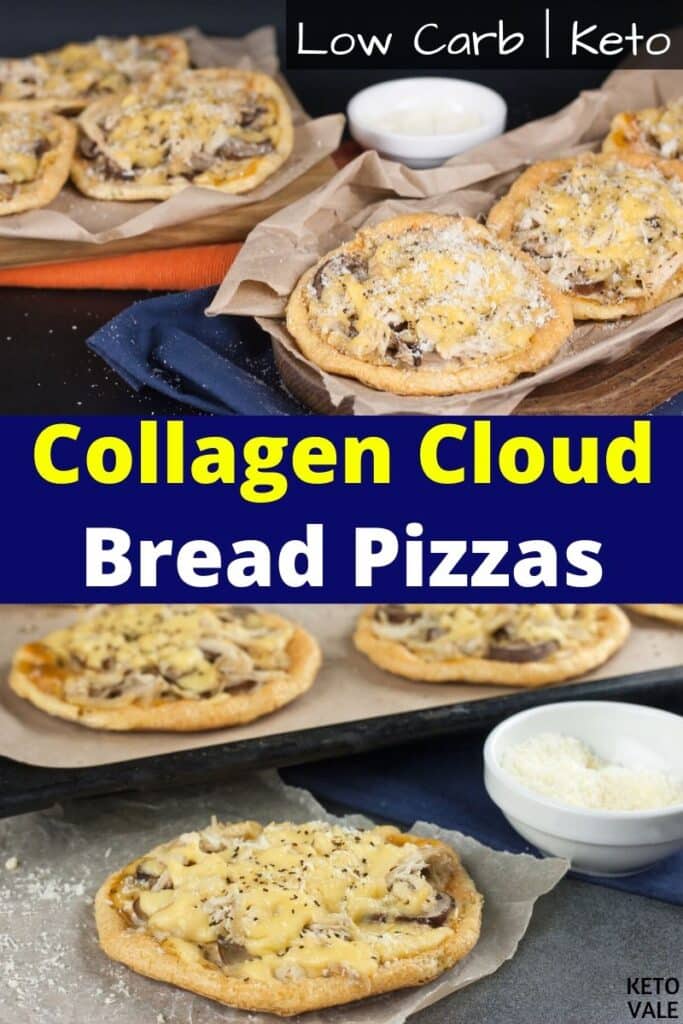 More similar recipes you can try:
Keto Collagen Cloud Bread Pizzas
A low-carb and keto-friendly collagen cloud bread pizzas recipe made with eggs and cream cheese.
Instructions
Preheat the oven to 300 F.

In a bowl beat egg yolks with cream cheese, baking powder, a scoop Perfect Keto Unflavored Keto Collagen, garlic powder and a pinch of salt.

In another bowl beat egg whites until stiff peaks form.

Add egg yolks mixture to the beaten egg whites and mix gently until smooth.

Line a baking tray with parchment paper.

Spoon the batter onto a baking tray and bake 25-30 minutes or until lightly golden. Let to cool 5-7 minutes after baking.

Preheat the oven to 375 F.

In a small bowl, make a sauce: combine homemade mayo, mustard, hot sauce and Italian seasonings.

Spread the sauce over cloud bread. Divide sliced button mushrooms, shredded chicken and Gouda cheese between pizzas.

Bake for 5-7 minutes or until cheese melts.

Sprinkle with black pepper.

Serve garnished with Parmesan (optional).
Nutrition/Macros
Nutrition Facts
Keto Collagen Cloud Bread Pizzas
Amount Per Serving
Calories 254
Calories from Fat 207
% Daily Value*
Fat 23g35%
Cholesterol 141mg47%
Sodium 522mg22%
Potassium 129mg4%
Carbohydrates 2g1%
Protein 12g24%
Vitamin A 346IU7%
Vitamin C 1mg1%
Calcium 148mg15%
Iron 1mg6%
* Percent Daily Values are based on a 2000 calorie diet.
Pin To Save This Recipe