Just like many people, I love bread. The only drawback when it comes to eating bread is the huge amount of carbohydrates it has.
If you're a bread lover, you probably have gone a little bit crazy when you first heard that you have to give up bread if you want to follow the keto diet.
There are many low carb bread recipes online but this newly updated almond flour bread will give you a unique taste.
For this particular almond flour keto bread recipe, I use almond flour and egg as the main base to make the bread dough. Additional ingredients are butter, baking powder, cream of tartar and salt.
What gives this bread a unique flavor and texture is that I added some peanut flour in this mixture for a delicious and nutty taste.
As I mentioned before in this keto peanut butter recipe, peanut falls in the grey area of keto, which means it's a personal choice whether to include it in your ketogenic lifestyle or not.
If you do strict keto or if you have allergies to peanut, you should avoid it.
However, if you don't have any problem with peanut, you can use peanut flour in this recipe, otherwise, swap it with almond flour instead.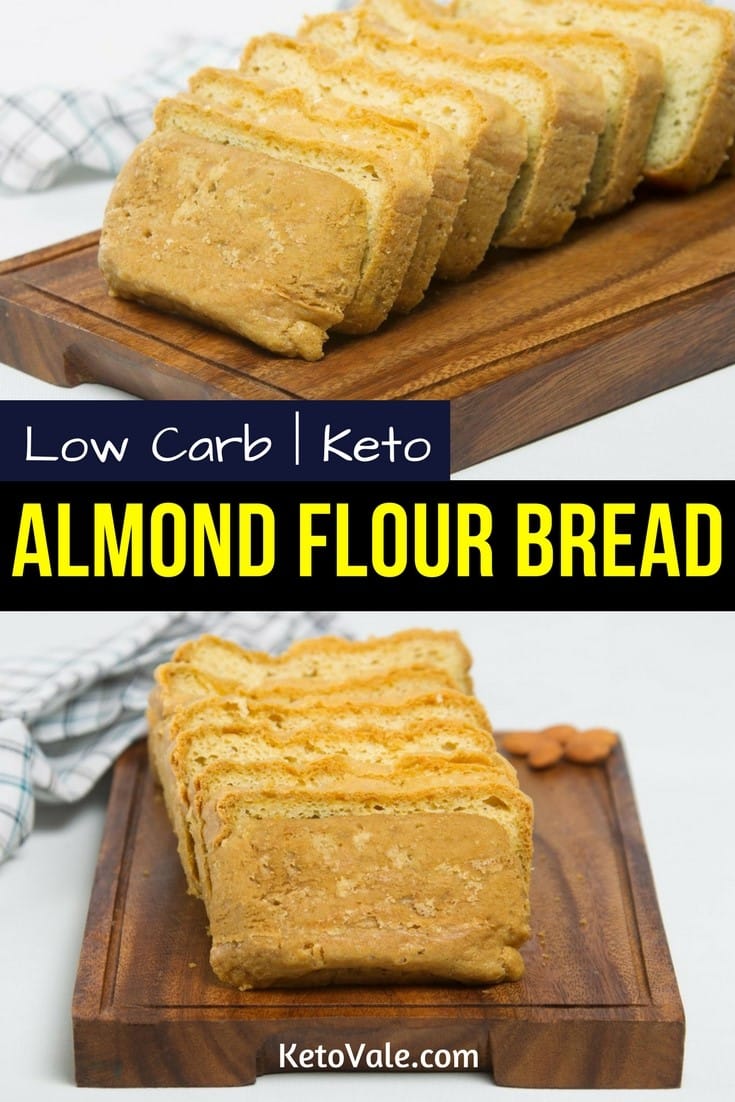 The secret step that turns this recipe bread from good to wonderful it's when separating the eggs. You need to separate the yolks from the whites. The reason for this is that we want to whip the whites until they stand in soft peaks. This will add some volume to a thick bread. Whipping the eggs is what it takes to get a compact consistency that comes when using gluten free flour like the almond flour.
The result of this bread is simply incredible. The presence has nothing less than traditional bread.
Think about the possibilities you can have with this bread. How about sandwiches, french toast, avocado toast, savory bread pudding, or even bread salad?
How to Make Low Carb Almond Flour Bread
Preheat oven to 350F.
Set the egg whites apart from the egg yolks. Transfer to individual bowls.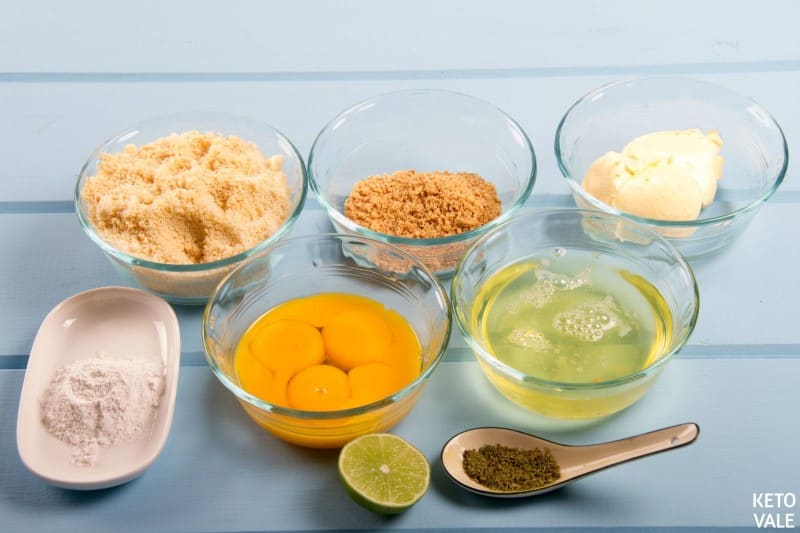 Add the egg whites into the mixer and whisk with the cream of tartar. Whisk continuously to create soft peaks. Egg is an essential ingredient in bread recipes that are made with almond flour.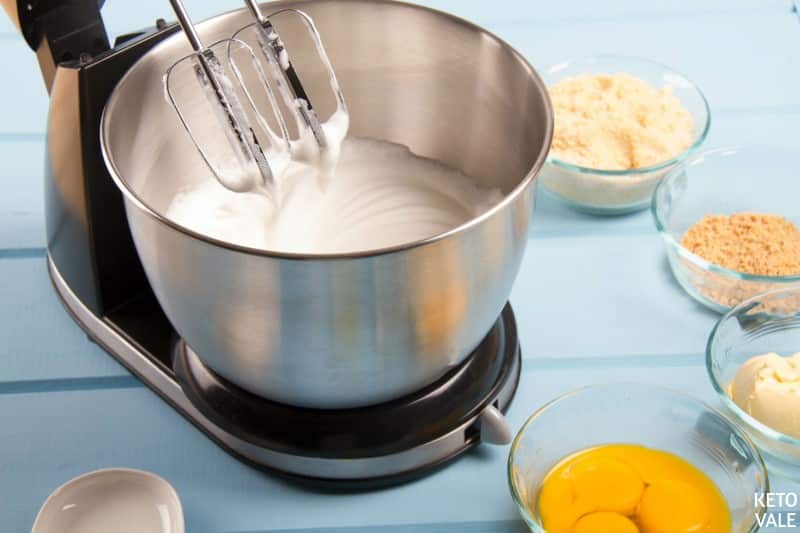 In the mixing bowl, add egg yolks, lemon juice, salt and melted butter. Beat thoroughly then add almond flour, peanut flour (or coconut flour), baking powder, French herbs (if using) then mix into a homogeneous mixture free of lumps. This will give you a very thick consistency.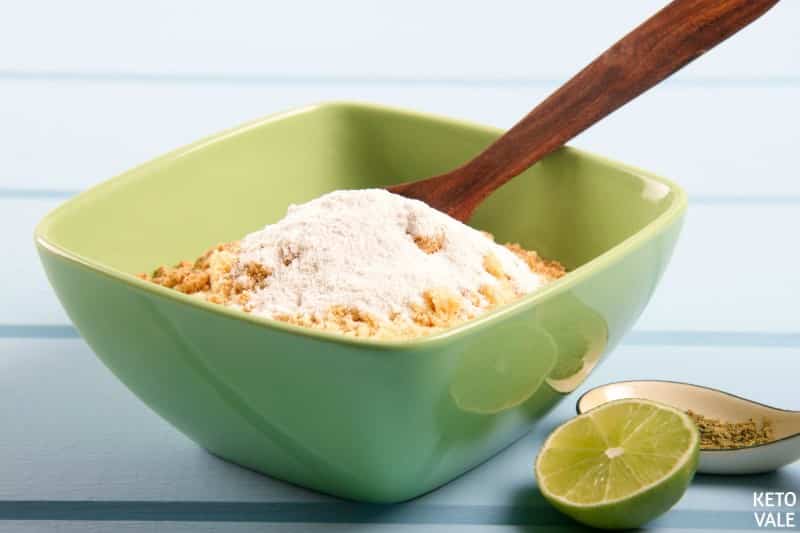 Next, fold 1/3 of the egg white mixture into the egg yolk mixture. Stir to mix well then repeat the process with the remaining egg whites. Remember not to over mix it because you'll lose the volume.
Prepare a standard 8×4 size loaf pan brushed with coconut oil then transfer the batter into the pan.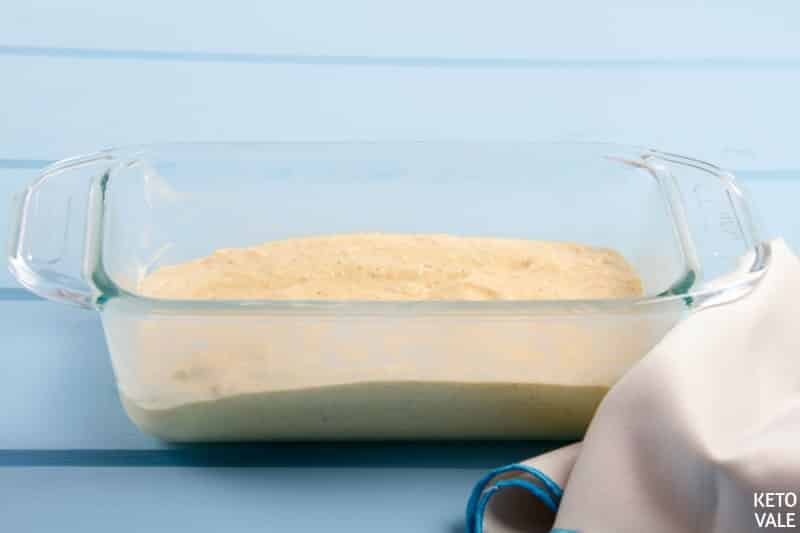 Bake in the oven for about 30-35 minutes, depending on the size of the loaf created. Check to make sure it's cooked in the middle.
Take out the loaf pan from the oven when the bread is finally cooked. Allow cooling for a while. Remove and cut the it into slices and enjoy.
Save this recipe by pinning this picture to your Pinterest board for later use!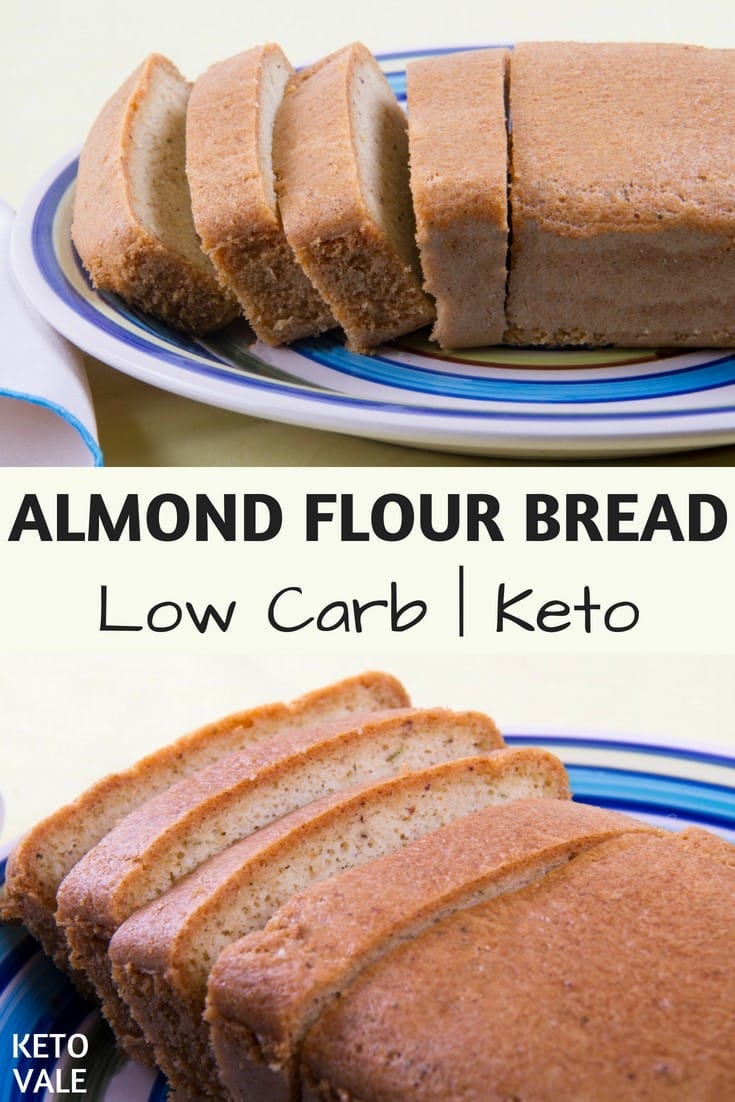 Since this recipe use many eggs, it might taste a little bit eggy. If you want a less eggy taste, try this Best Low Carb Bread Recipe.
If you want a more complex and flavourful recipe, you might want to try this Keto Bread Recipe.
You Might Also Want To Check These Keto Bread Recipes:
Keto Almond Flour Bread
Everyone loves bread but it has lot of carbohydrates, check out this low carb and gluten free almond flour bread perfect on keto diet.
Instructions
Preheat the oven at 180C / 350F

Separate the egg yolks from the whites. Whip the whites and add the cream tartar to let it stand in soft peaks.

In a bowl, combine the egg yolks, melted butter, lemon juice, and salt. Mix thoroughly then add almond flour, peanut flour (or coconut flour), baking powder, and French herbs (if using). Mix until getting a homogeneous consistency. This will be a heavy dough until adding the egg whites

Add 1/3 the egg whites to the dough and mix until obtaining a homogeneous mix.

Add the remaining egg whites and gently mix until everything is well incorporated. Be careful not to overmix because the bread can lose volume.

Oil the 8×4 size loaf pan with coconut oil or butter and pour the bread batter in. Bake for 30 minutes. Check the bread by inserting a toothpick to make sure that it is well cooked in the inside.

Allow to stand for at least half an hour and unmold. Enjoy it hot and buttered.
Notes
*Note: If you don't want to use peanut flour, you can swap 1/4 cup of peanut flour with 1/4 cup of almond flour. I haven't personally swapped it to test the outcome yet but I believe it won't affect the consistency that much since the amount isn't that significant compared to the rest of the base.
Nutrition/Macros
Nutrition Facts
Keto Almond Flour Bread
Amount Per Serving
Calories 109
Calories from Fat 81
% Daily Value*
Fat 9g14%
Cholesterol 59mg20%
Sodium 193mg8%
Potassium 125mg4%
Carbohydrates 3g1%
Protein 4g8%
Vitamin A 163IU3%
Vitamin C 1mg1%
Calcium 59mg6%
Iron 1mg6%
* Percent Daily Values are based on a 2000 calorie diet.
Pin To Save This Recipe
FAQ
Can almond flour be used for bread flour?
Almond flour can be used as a substitute for bread flour in recipes, especially in gluten-free, keto or low-carb baking. However, it won't behave the same way as bread flour. Almond flour lacks gluten, which gives traditional bread its elasticity and rise. When using almond flour, the resulting bread will be denser and have a nuttier flavor. It may also require additional binding agents, like eggs, to hold the dough together.
How much almond flour to replace all purpose flour?
When substituting almond flour for all-purpose flour, a general guideline is to use a 1:1 ratio by volume. However, because almond flour has a higher moisture content and lacks gluten, you may need to adjust the amount of liquid and/or add a binding agent in the recipe. It's also important to note that the texture and flavor of the finished product will be different when using almond flour.
How to substitute peanut flour with almond flour?
To substitute peanut flour with almond flour, use a 1:1 ratio in most recipes. However, since peanut flour is often defatted and finer than almond flour, you may need to adjust the liquid content or add a binding agent. Additionally, consider the flavor profile, as almond flour is milder than peanut flour.
What is 3 ingredient almond flour keto bread?
3-ingredient almond flour keto bread is a simple low-carb bread made primarily from almond flour, eggs, and baking powder, offering a keto-friendly alternative to traditional bread. It's easy to prepare and serves as a versatile base for sandwiches, toast, and other dishes.
How to store almond flour bread
To store almond flour bread, wrap it tightly in plastic wrap or place it in an airtight container. Store at room temperature for up to 2 days, or refrigerate for up to a week. For longer storage, almond flour bread can be frozen; wrap it tightly and place in a freezer-safe bag, then freeze for up to 3 months. Thaw at room temperature before serving.