In short, a Bulletproof Coffee (BPC) or butter coffee is a beverage made by the combination of butter, coconut oil or MCT oil and coffee. It is a high-performance drink that helps improve your energy level and that is packed with healthy fats allowing you to start your day the right way.
Some people drink BPC in the morning and skip breakfast which is fine. You can drink this in the afternoon as well. If you practice intermittent fasting, BPC will break your fast as it contains many calories.
How to make bulletproof coffee? Well, there are many variations of this drink, and basically any drink that has coffee and fat in it with a variety of sources like heavy cream, ghee, coconut oil, brain octane oil, etc…, can be called bulletproof coffee.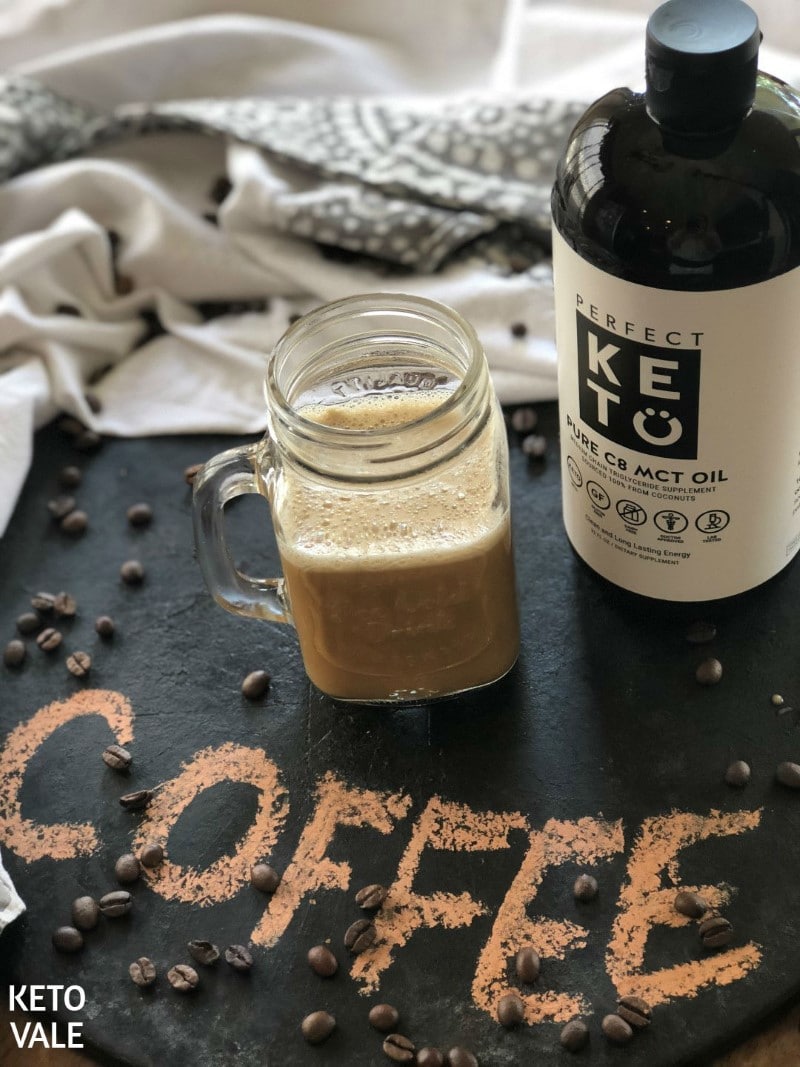 In this recipe, we follow the traditional version which consists of 3 basic ingredients: coffee, butter (from grass-fed cows) and MCT Oil.
Now if you really want to take this recipe to the next level and make the texture much more creamy and flavorful, try the MCT Powder instead of MCT Oil (we explain more below).
Optional ingredients include: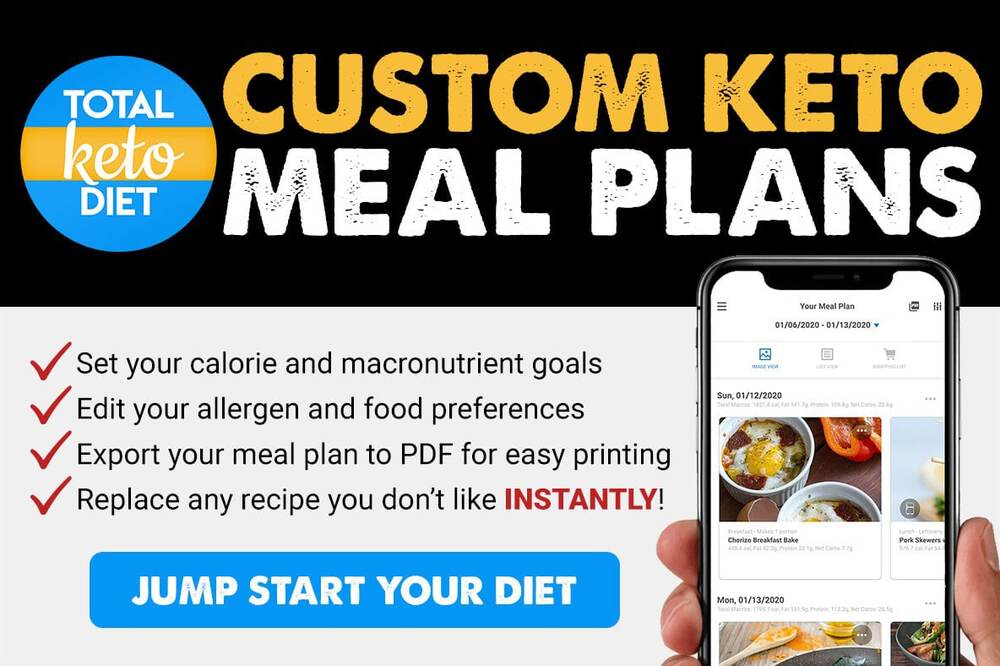 Collagen Protein Powder (to increase protein content and improve taste and texture)
Coconut oil (can be an addition to or replacement of MCT Oil)
1/8 teaspoon of Himalayan salt
Cocoa powder
Stevia or monk fruit for sweetness
1 tbsp of heavy cream (for taste and texture)
A dash of cinnamon
You really need to use a blender when making butter coffee. It will make a huge difference in texture and taste and it will look very appetizing. A simple mix using a spoon will not cut it. You don't want to drink a yellow fat layer on the top of your coffee. You want a cup of coffee that is rich, creamy, frothy and foamy.
The liquid MCT Oil and Powdered MCT we recommend below are from Perfect Keto. Their products have great taste and do NOT contain bad fillers or additives which is why it's our top choice by far.
Click on the product images below for the current best price:
Just in case you are not familiar with MCT Oil and its benefits, here are a few highlights why you want to consume MCT's daily:
Mental focus and clarity
Triggers ketosis
Increased fat-burning
Increases satiety & feeling full
Boost energy for exercise
and many more
Now if you tried MCT Oil before and experienced minor digestive problems like diarrhea, we would strongly suggest you try the MCT Powder instead of oil because:
It's easier to incorporate into your solid foods such as baking recipes as well as liquid drinks such as protein shakes, smoothies and coffee.
It gives a better creamy taste and texture
It's much more tolerable so you can use higher dose without experiencing any gut distress or stomach upset whatsoever.
Also, it's easier and less messy to carry around
This BPC drink is a fast and easy way to start your day with a punch!
---
Let's Do It!
Add the freshly brewed coffee, MCT oil, and butter to a blender. Blend for for 20-30 seconds while the butter melts and combines with the mixture. Best served while hot.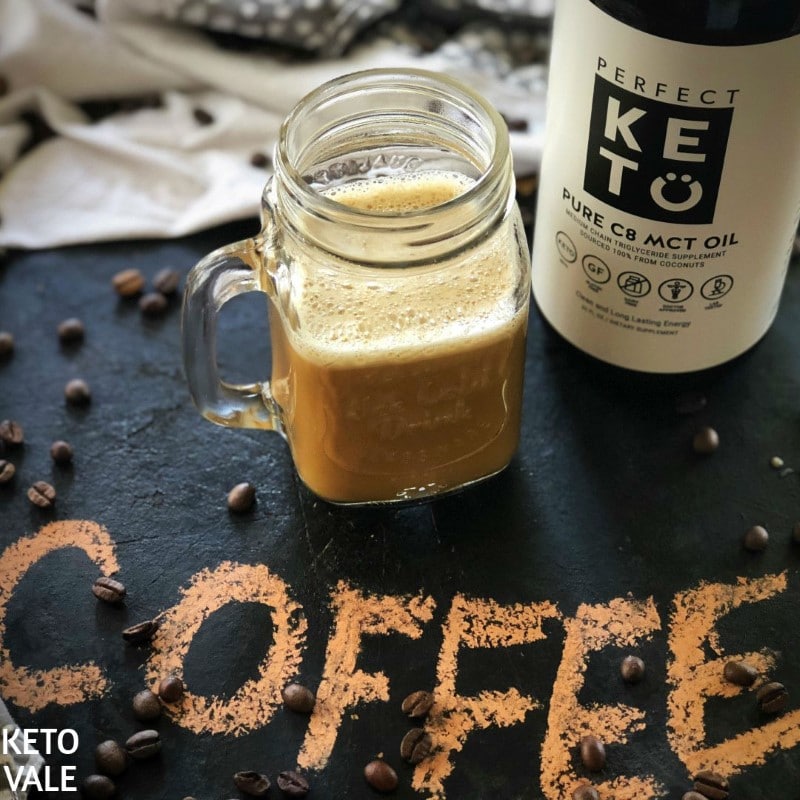 Save this recipe by pinning this picture to your Pinterest board for later use!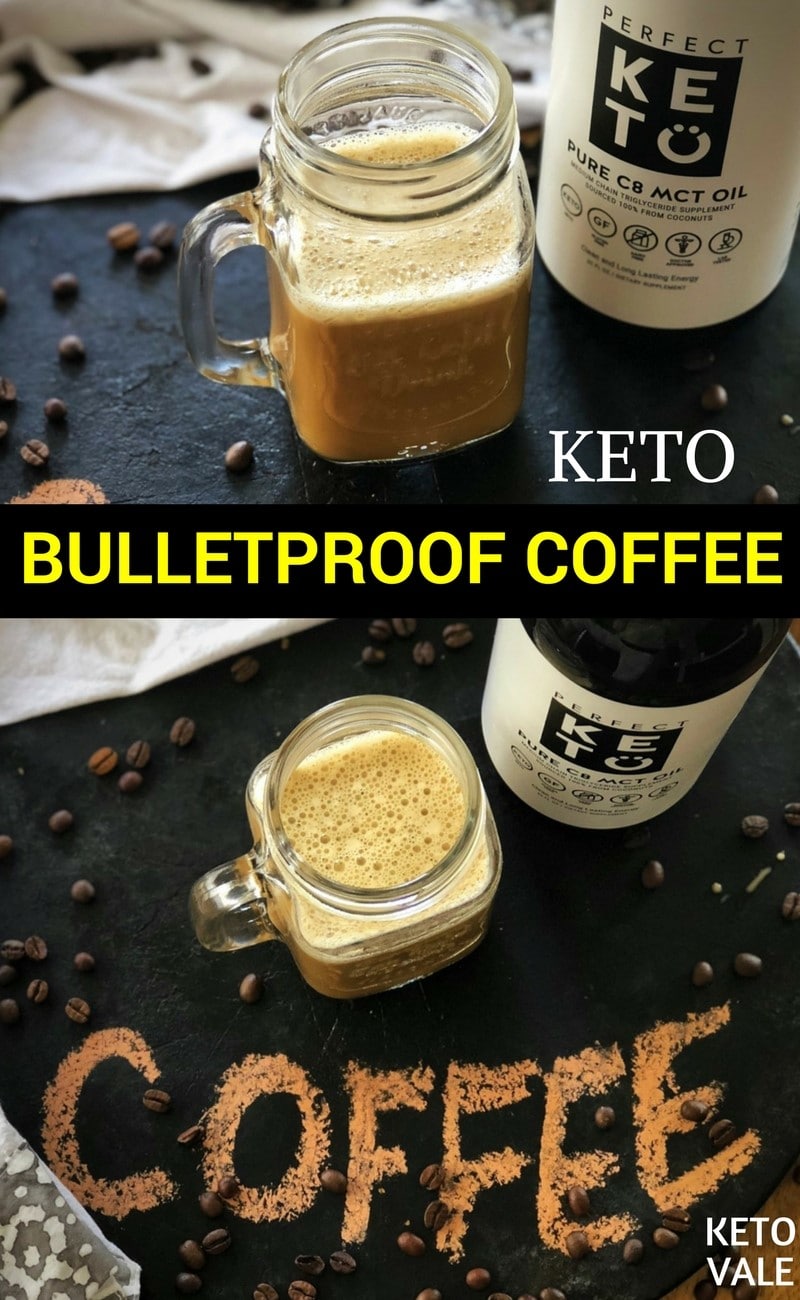 Related:
Keto Bulletproof Coffee with MCT Oil
A good cup of coffee with butter and MCT oil will maintain your keto diet and help you to kick off a new day.
Instructions
Mix the butter and MCT oil with some freshly brewed 2 cups of coffee. Using a blender (either hand blender or regular blender), mix the ingredients for 20-30 seconds until the butter melts and combines with the mixture. Serve in a cup while hot.
Notes
This makes 2 cups of coffee.
Nutrition/Macros
Nutrition Facts
Keto Bulletproof Coffee with MCT Oil
Amount Per Serving
Calories 104
Calories from Fat 108
% Daily Value*
Fat 12g18%
Cholesterol 31mg10%
Sodium 106mg4%
Potassium 116mg3%
Carbohydrates 1g0%
Protein 1g2%
Vitamin A 355IU7%
* Percent Daily Values are based on a 2000 calorie diet.
Pin To Save This Recipe