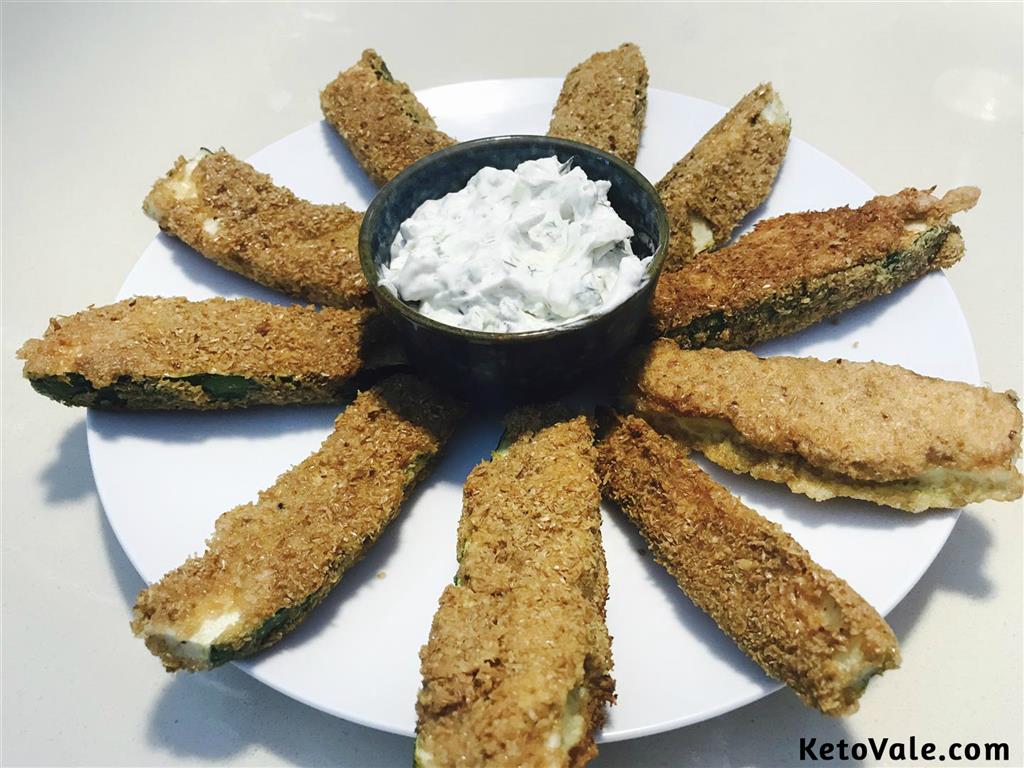 Zucchini Fries With Flaxseed Meal
Another great Keto Snack that you can try is zucchini fries with flax meal. So why flaxseed? The flax seed has a big nutrient payload. It is gluten-free, high-fiber and low-carb which is especially great for ketoers.
A serving of flax seeds (1 ounce or 3 tbsp or 28g) contains:
Total carb 8.1g
Fiber 7.6g
Net carb 0.5g
Protein 5.1g
Fat 11.8g
Omega-3 (ALA) 6,388mg
Ion 9% RDA
Vitamin B1 (Thiamine) 31% RDA
Manganese 35% RDA
Magnesium 27% RDA
Phosphorus 18% RDA
Selenium 10% RDA
Copper 17% RDA
Some of the main health benefits of flaxseed include:
a protective effect against colon cancer, prostate cancer, and breast cancer
help the cardiovascular system thanks to the omega-3s content
reduce inflammation thanks to the ALA and lignans in flaxseed
In the very beginning when you start keto diet, you often feel hungry and wonder what you can eat for snack. So here's an idea for a mid day snack: zucchini breaded in flax meal (grounded flax seeds). Hope you enjoy this recipe and don't forget to give it a try.
Receive Our Free 7-Day Keto Meal Plans + Weekly Recipes
Zucchini Fries With Flax Meal
Instructions
Chop the zucchini to make long sticks. Flavor with smoked paprika, pepper, and salt.

Beat the two eggs in a bowl.

Heat the skillet and pour the olive oil and coconut oil in the pan.

Submerge the zucchini sticks in the beaten eggs and roll them in flaxseed meal crumb. Coat entirely. Brown them in the heated oil.

Serve with your favorite low-carb dip on the side.
Notes
Macros (per serving): Calories: 197 kcal – Fat: 13g – Net carbs: 3.9g (total carbs: 11g, fiber: 7.1g) – Protein: 11.5g When you fry these zucchini sticks don't cook it through, remove it to a plate with paper towel as soon as crust forms on all sides. You don't want to over cook zucchini. You can serve it with some Greek yogurt or sour cream-based low-carb dips. I served it with Greek yogurt mixed with fresh dill, grated fresh cucumber, pinch of cumin and cardamom. Give this recipe a try today and see how you like it.