Another great Keto Snack that you can try is zucchini fries with flax meal. Instead of making zucchini fries with almond flour, I used flaxseed meal.
So why flaxseed? The flax seed has a big nutrient payload. It is gluten-free, high-fiber and low-carb which is especially great for ketoers.
When used as low carb breading, flaxseed provides a nutty, earthy flavor and a slightly crunchy texture. Some people enjoy its unique taste, while others prefer to mix it with almond flour or grated Parmesan to balance the flavor.
In the very beginning when you start keto diet, you often feel hungry and wonder what you can eat for snack. So here's an idea for a mid day snack: zucchini breaded in flax meal (grounded flax seeds). Hope you enjoy this low carb zucchini fries recipe and don't forget to give it a try.
When you fry these zucchini sticks don't cook it through, remove it to a plate with paper towel as soon as crust forms on all sides. You don't want to over cook zucchini. You can serve it with some Greek yogurt or sour cream-based low-carb dips.
I served it with Greek yogurt mixed with fresh dill, grated fresh cucumber, pinch of cumin and cardamom. Give this recipe a try today and see how you like it.
---
How to Make Low Carb Flaxseed Zucchini Fries
After washing the zucchini, cut them into sticks. You can slice them as thin as you prefer. Sprinkle them with salt, smoked paprika, and pepper enough to flavor.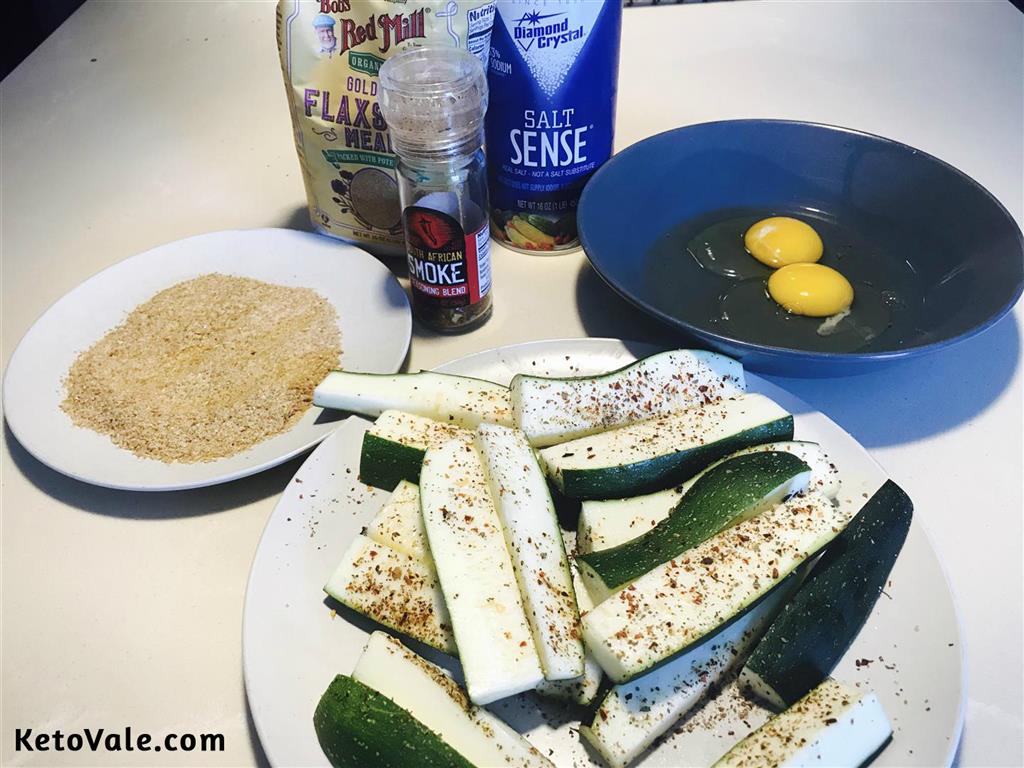 Crack the two eggs in a bowl and beat them until they are nice and bubbly.
Combine the oils in a preheated pan while preparing the zucchini.
Dip the sticks in the beaten egg. Make sure to cover them completely so that the flax meal crumbs will not fall off. Afterwards, roll them in the crumbs and gently place them in the pre-heated oil. Remove from the heat once the fries become nice and golden.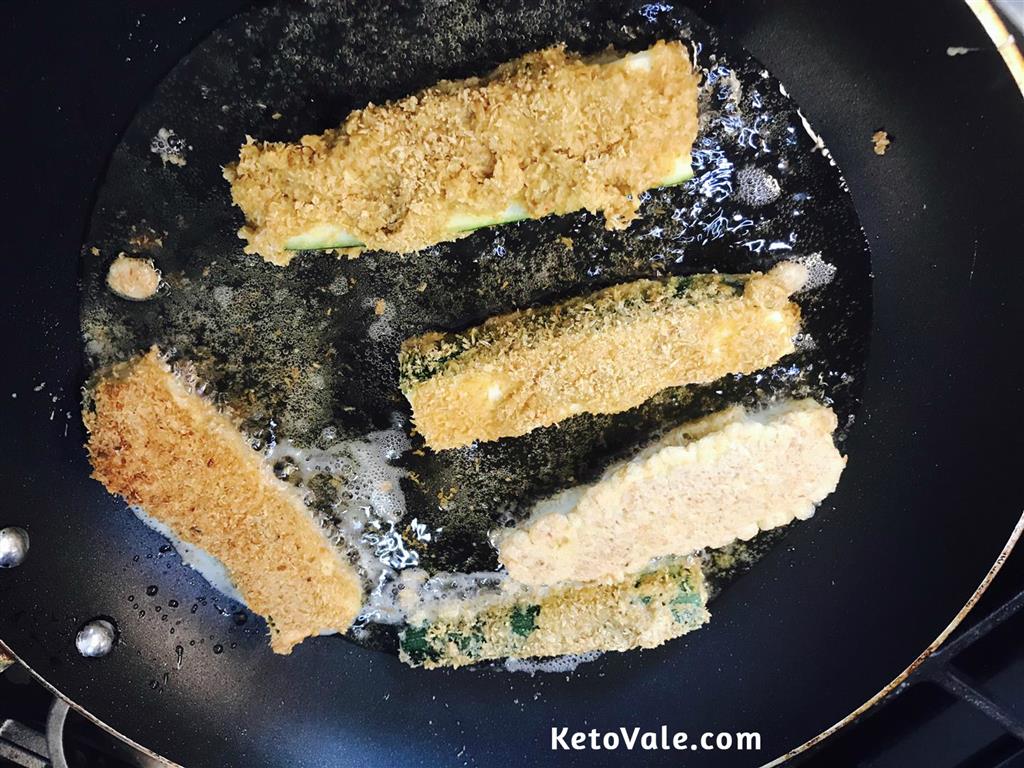 Transfer them to a plate. Best eaten with your preferred dip.
Related:
Keto Zucchini Fries With Flax Meal
If you're on the keto diet and missing fries, these low-carb zucchini fries can be a great substitute.
Instructions
Chop the zucchini to make long sticks. Flavor with smoked paprika, pepper, and salt.

Beat the two eggs in a bowl.

Heat the skillet and pour the olive oil and coconut oil in the pan.

Submerge the zucchini sticks in the beaten eggs and roll them in flaxseed meal crumb. Coat entirely. Brown them in the heated oil.

Serve with your favorite low-carb dip on the side.
Nutrition/Macros
Nutrition Facts
Keto Zucchini Fries With Flax Meal
Amount Per Serving
Calories 326
Calories from Fat 252
% Daily Value*
Fat 28g43%
Cholesterol 55mg18%
Sodium 38mg2%
Potassium 519mg15%
Carbohydrates 14g5%
Protein 10g20%
Vitamin A 215IU4%
Vitamin C 12.2mg15%
Calcium 121mg12%
Iron 2.8mg16%
* Percent Daily Values are based on a 2000 calorie diet.
Pin To Save This Recipe
FAQ
Is zucchini good for keto?
Yes, zucchini is keto-friendly due to its low carb content. Zucchini has approximately 2-3 grams of net carbs per one cup (sliced), making it a low-carb vegetable suitable for keto diets. You can try these zucchini recipes on our website. (*)
Is flaxseed meal keto friendly?
Yes, flaxseed meal is keto-friendly, as it is low in net carbs and high in fiber, making it a suitable option for a ketogenic diet while also providing beneficial omega-3 fatty acids and nutrients.
How many net carbs are in flax seeds?
Flax seeds contain approximately 0.2 grams of net carbs per tablespoon (10 grams), as most of the carbs in flax seeds are in the form of fiber. (*)
How do you keep breading from falling off zucchini?
To keep breading from falling off zucchini, first pat the zucchini slices dry to remove excess moisture. Then, dip them in a beaten egg or egg wash, ensuring they are fully coated, before pressing them into the low-carb breading. The egg acts as a binder, helping the breading adhere better. Cooking at the right temperature and not over-handling them during the cooking process also helps the breading stay intact.
How do you keep zucchini from getting soggy when frying?
To prevent zucchini from getting soggy when frying, salt the zucchini slices to draw out excess moisture, let them sit for 10-15 minutes, and then pat dry before frying in hot oil without overcrowding the pan.