Looking for an affordable and quick dish that will satisfy your cravings for French fries or an equally delicious snack? We've got what you're looking for right here.
There are no limits as to what zucchini can do on the keto diet. It's incredibly nutritious, low in carbs, and provides a great source of fiber. You can enjoy this dish as a snack or as a side for your favorite meat-based dishes.
There are many low carb chips substitutes to the regular potato chips, and zucchini is one of the very few low-carb vegetables you can use to make fries.
Zucchini is high in vitamin C, vitamin A, vitamin B6, folate, riboflavin, and thiamin, and the minerals manganese, potassium, and small amounts of magnesium and phosphorus.
Vitamin B6 plays an important role in neurotransmitter synthesis to help boost your mood and keep your mind sharp. B vitamins also aid in energy metabolism.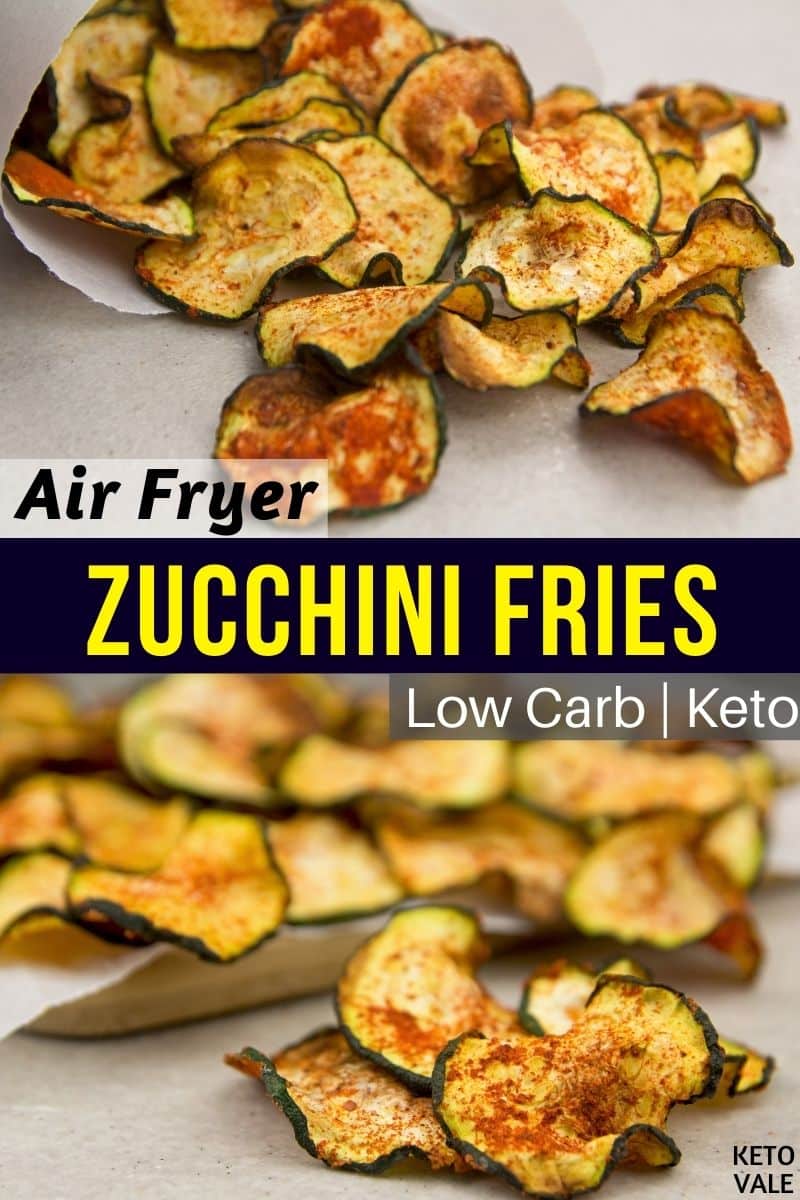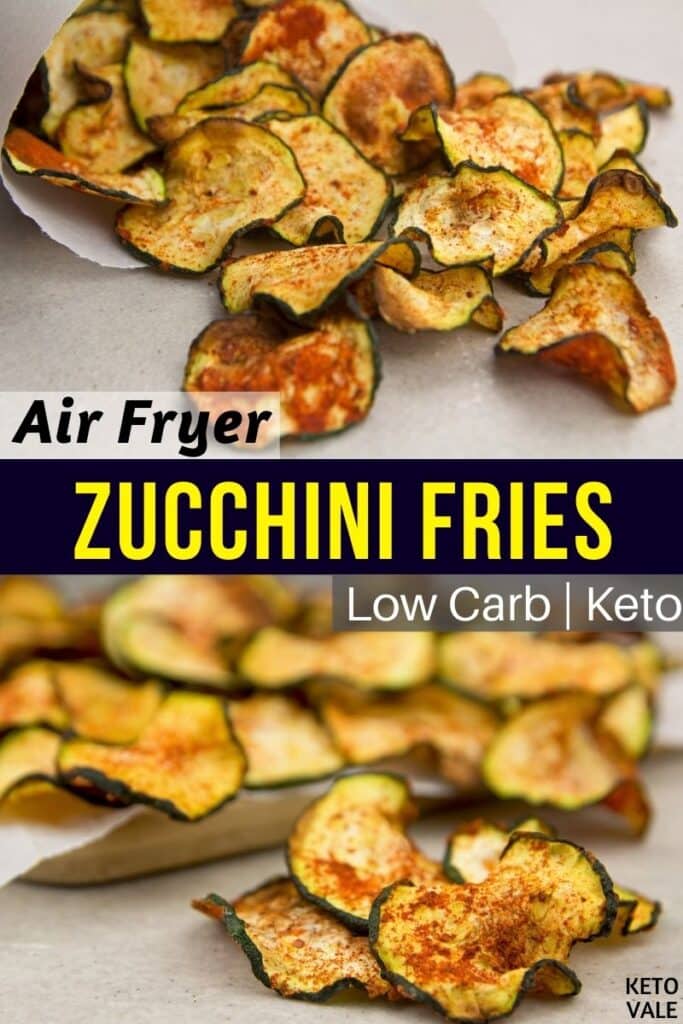 Additionally, zucchini and other green vegetables are a good source of the antioxidant pigment chlorophyll, which has been shown to contain antiproliferative properties in pancreatic cancer cells (*).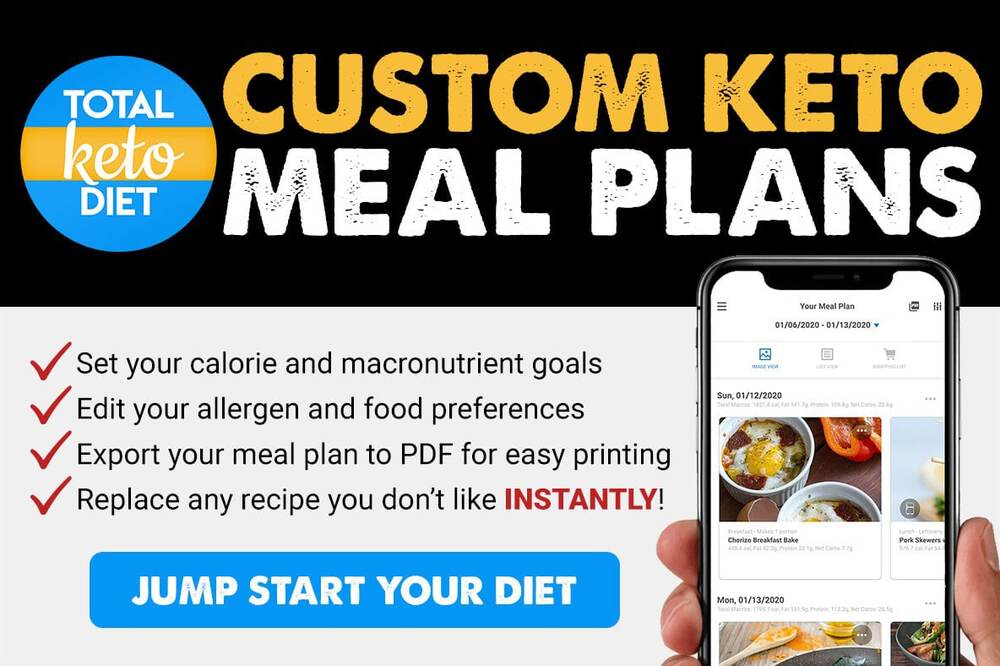 Research shows that zucchini provides a good source of the antioxidants lutein and zeaxanthin, which are well known for their ability to improve eye health (*).
Zucchini is also a good source of B carotene, which turns into vitamin A in the body. Vitamin A is needed for the synthesis of a pigment called rhodopsin, which is used to enhance vision during lowlight levels (*).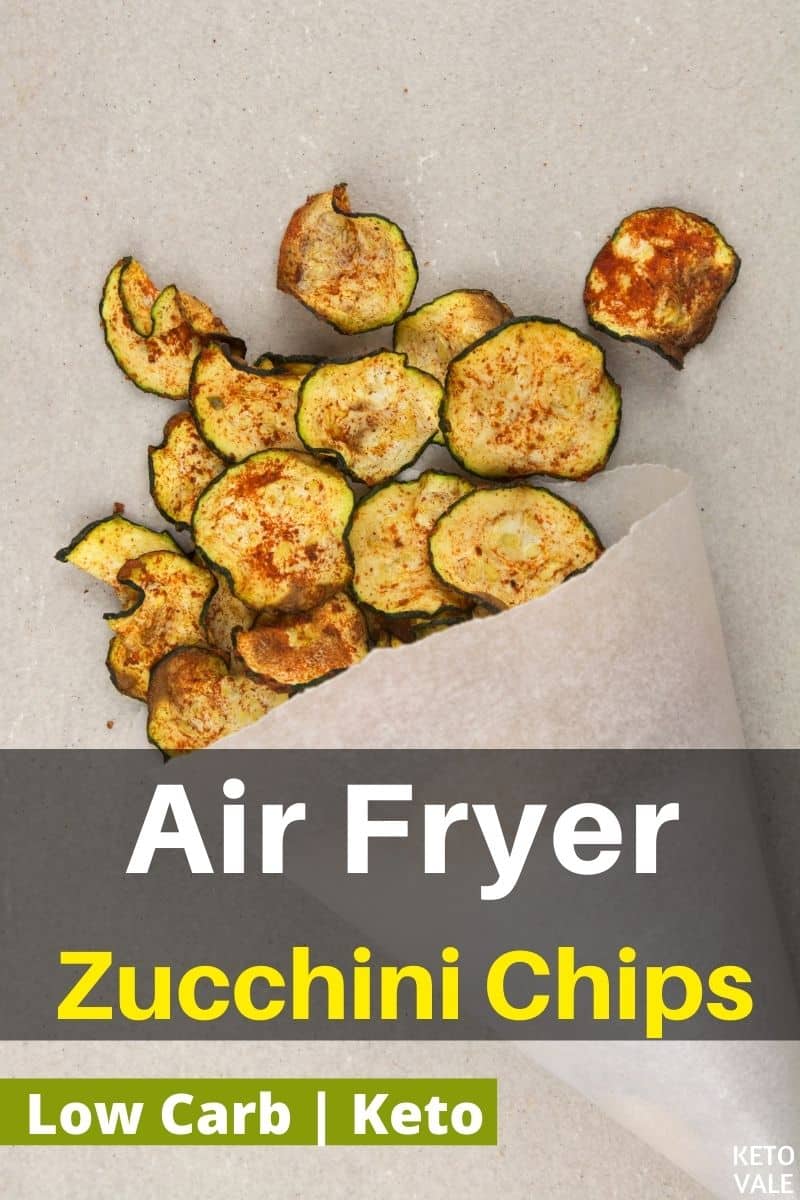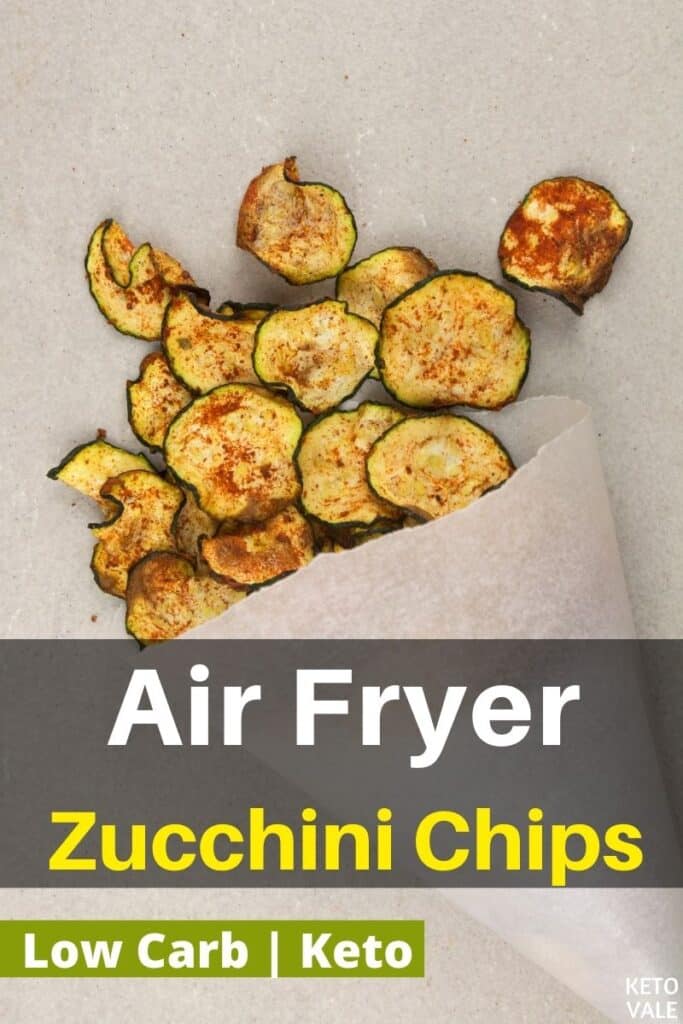 We use olive oil and a blend of spices to flavor our zucchini chips. You'll need garlic powder, paprika, oregano, cumin, and chili powder. In addition to enhancing the flavor, these spices help make your zucchini chips more visually appealing.
The best part is that these chips crisp up nicely in the air fryer, and they are done in less than 10 minutes!
There are many keto-friendly zucchini recipes you can try, so give this air fried zucchini chips recipe a go!
---
Let's Do It!
Preheat the air fryer to 375 degrees F.
Slice the zucchini into ⅛ inch slices. Alternatively, you can also cut it lengthwise to make air fryer zucchini sticks. Combine the olive oil and spices in a bowl. Stir.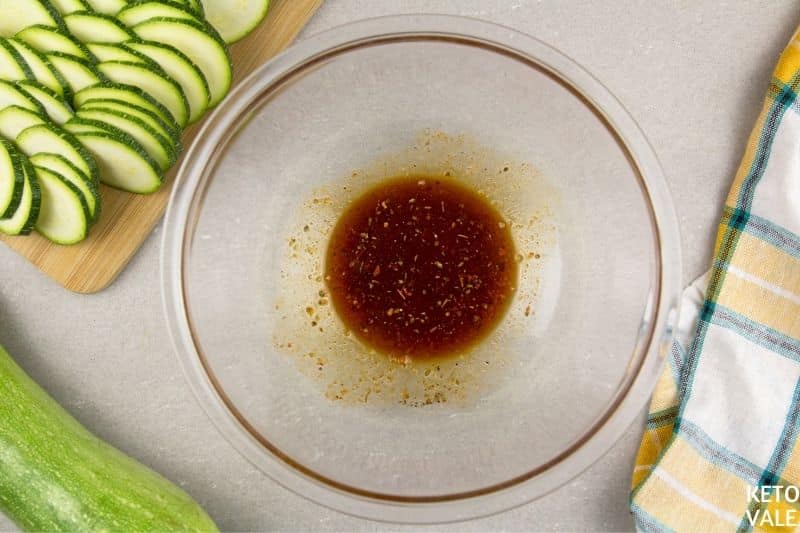 Add the zucchini slices to the bowl and toss to coat.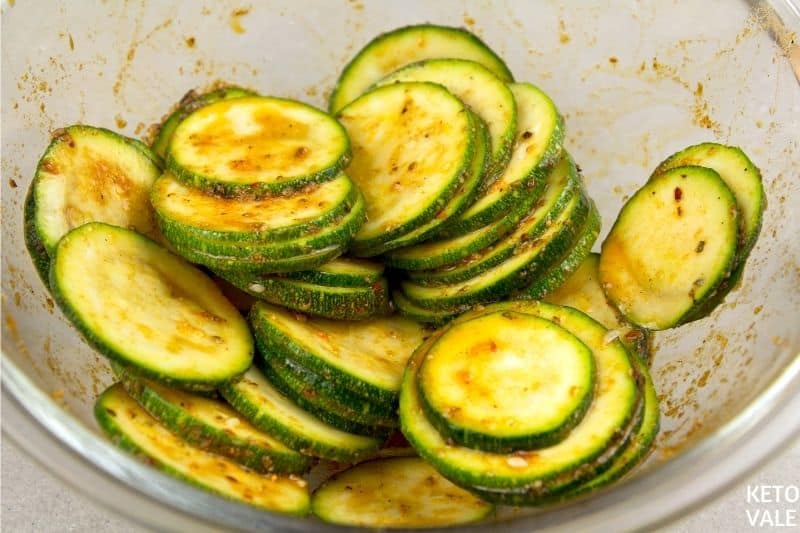 Grease the air fryer basket with olive oil and put the zucchini slices in, forming a single layer.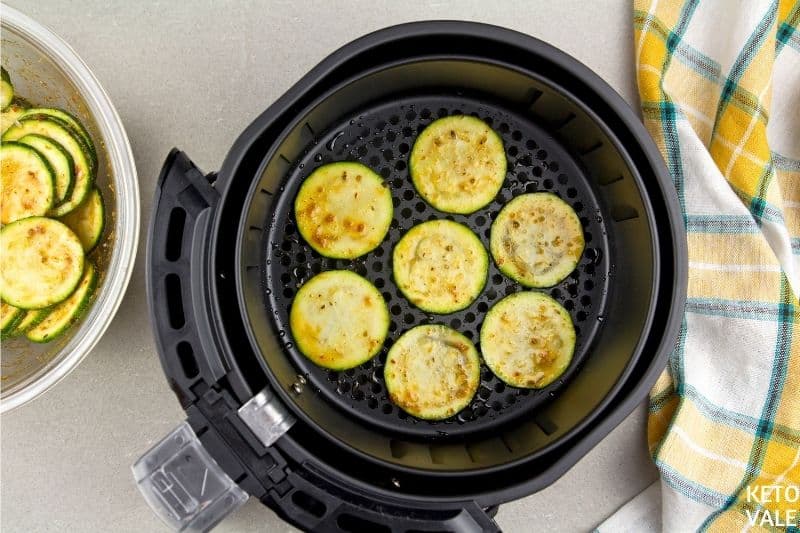 Cook for approximately eight minutes, tossing halfway through. You may need to cook the zucchini in batches. Serve warm!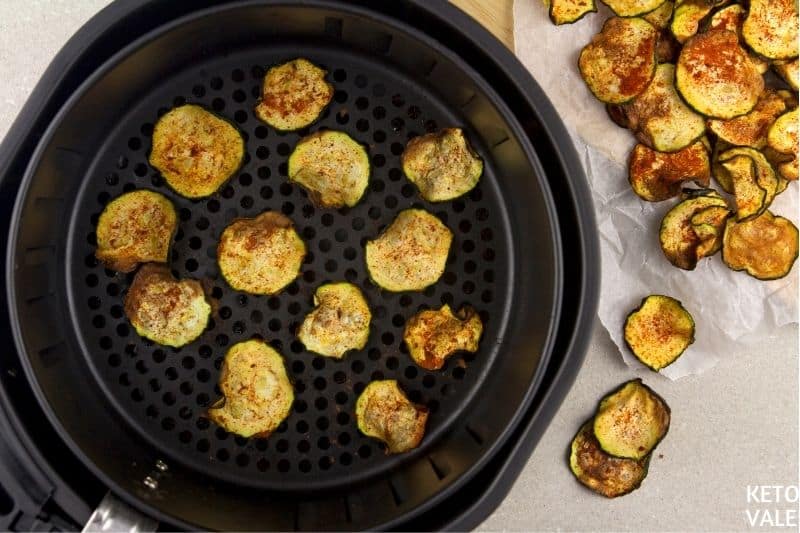 More Low Carb Chips and Fries Recipes You Can Try:
Air Fryer Zucchini Fries
Try these low-carb and keto-friendly air fried zucchini chips – perfect as a snack or a side dish for your meat.
Instructions
Preheat your air fryer to 375F.

Slice zucchini into ⅛ inch slices using a knife or mandoline slicer.

Combine the oil and spices in a large bowl and stir.

Add zucchini slices and toss well. Make sure that each slice is coated with seasoned oil.

Grease or spray an air fryer basket with olive oil and then put the slices there in a single layer.

Cook zucchini slices in batches, tossing halfway through, until crispy – about 8 minutes.

Serve and enjoy!
Nutrition/Macros
Nutrition Facts
Air Fryer Zucchini Fries
Amount Per Serving
Calories 114
Calories from Fat 99
% Daily Value*
Fat 11g17%
Sodium 593mg25%
Potassium 284mg8%
Carbohydrates 4g1%
Protein 1g2%
Vitamin A 497IU10%
Vitamin C 18mg22%
Calcium 23mg2%
Iron 1mg6%
* Percent Daily Values are based on a 2000 calorie diet.
Pin To Save This Recipe