Keto Lemon Cheesecake
Today we want to share with you our simple low carb baked lemon cheesecake recipe. This dessert recipe is very simple and delicious. Your friends and family will definitely love it. They won't even know that it's low carb!
Instead of using a 10-inch pan to make 1 large cake, we decided to make 2 smaller and different cakes using two 4-inch spring forms. The first cake has almond flour crust and the other one doesn't have a crust. The filling is the same for both cakes.
For the filling, we use cream cheese, egg, sour cream, and xanthan gum. To add more flavor, we use vanilla extract, lemon juice, lemon zest, and sweetener.
Make sure the cream cheese is soft, not right out of the fridge. It's better to take it out of the fridge an hour before you start making the cake.
To decorate, we whipped heavy cream with lemon juice and sweetener on the top of the cake.
If you don't want to make 2 separate cakes like we did, feel free to make 1 whole large cake using the same ingredients for this recipe.
Feel free to save this recipe by pinning this picture to your Pinterest board for later use!
Related: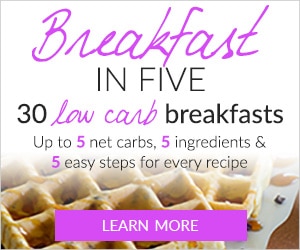 Receive Our Free 7-Day Keto Meal Plans + Weekly Recipes
For the Crust (for the 1st cake)
For the Filling (for both cakes)
For the Crust (for the 1st cake)

For the Filling (for both cakes)
To make the crust for the first cake, melt butter and combine it with almond flour, vanilla, xanthan gum and sweetener. Mix well.

Cover your form with parchment paper and distribute crust mix on the bottom of your form. Poke it with a fork.

Bake 10-15 min in a preheated 300F oven then remove and set aside.

In a bowl combine soft cream cheese, sour cream, sweetener, vanilla and lemon juice. Mix it well with a mixer.

Add eggs one at a time and blend till fully incorporated.

Add lemon zest and xanthan gum, mix well.

Pour 1/3 of the filling on top of the crust to make the first cake

Pour 2/3 of the filling in the second form to make the second crustless cake.

To bake a cheesecake, you would need a pan/form bigger than the one you are using for the cake, Ex: roast pan. Cover bottom of your cake form with foil and put it inside a bigger form filled with boiled water till it reached the middle of the cake form. This way the sides will not get burned, and cake is evenly cooked and comes out creamy. If this method is too complicated for you, just simply bake the cake the way you would normally do it.

Put it in a preheated 300F oven. Bake it till edges are set, the middle might be a bit jiggly.

Take it out and let it cool then refrigerate for at least 4 hours. It's better to keep it in a fridge overnight to let it fully set.
The first cake with almond flour crust will make 4 servings, here is the nutrional information per serving:
Macros (per serving): Calories: 172 – Fat: 16.2 g – Net carbs: 1.6 g (total carbs: 2.9 g, fiber: 1.3 g) – Protein: 3.5 g
The second crustless cake will make 4 servings, here is the nutrional information per serving:
Macros (per serving): Calories: 190 – Fat: 17.5 g – Net carbs: 2 g (total carbs: 3.2 g, fiber: 1.2 g) – Protein: 5.4 g