Keto offers incredible food combinations. Some of them are surprising. Some are unexpected. Some are predictable and some are familiar.
The result is always the same – they are extremely delicious. It is high time that chicken and pork rind were combined. They will result in Keto Pork Rind Chicken Schnitzel.
There are so many ways to make chicken. Chances are you've already tried them all. That's why we like this recipe. It shakes things up a bit to keep your keto diet interesting!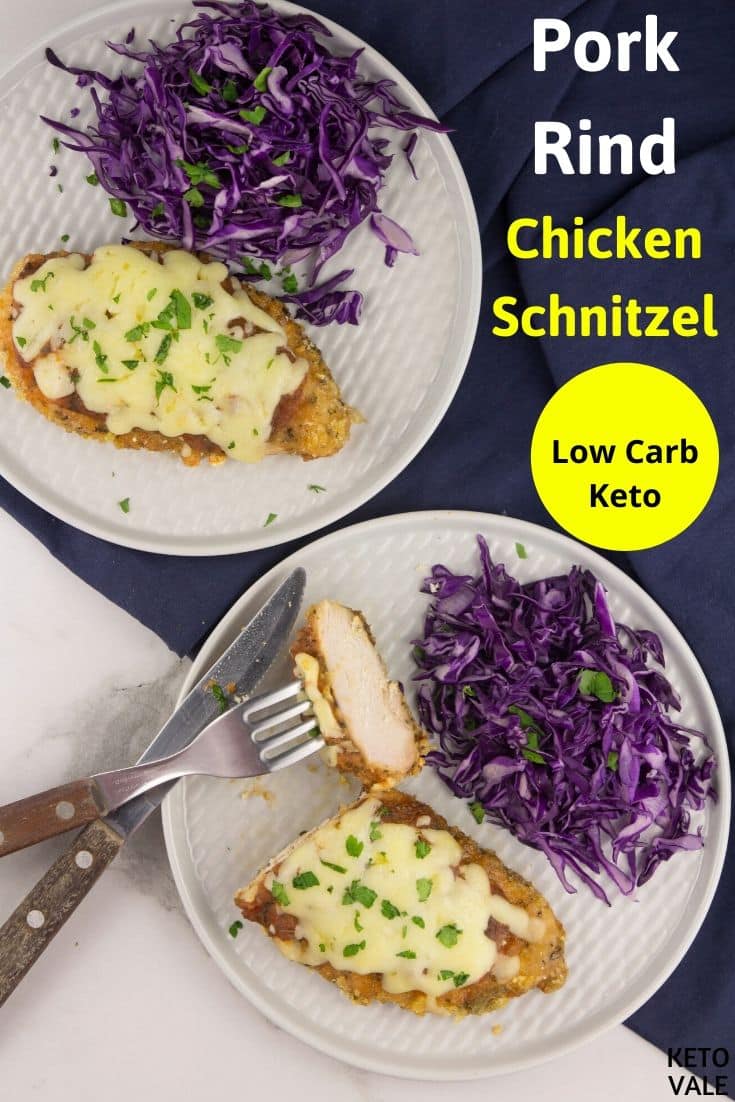 Pork rinds are a great keto snack because they contain lots of fats and no carbs. You will want to make sure your pork rinds come from clean sources. This includes pig skins from animals that have been raised with no hormones, antibiotics, or other harmful chemicals.
You can find pork rinds in the snack section of your local grocery store along with chips, pretzels and other processed snacks. Make sure your pork rinds do not have added sugars, chemicals, or vegetable oils in them. Pork rinds can be a great keto breading for chicken.
We encourage you to make your own pork rind at home so that you have some on hand to make this delicious recipe anytime you need a low-carb "breading" for your meat.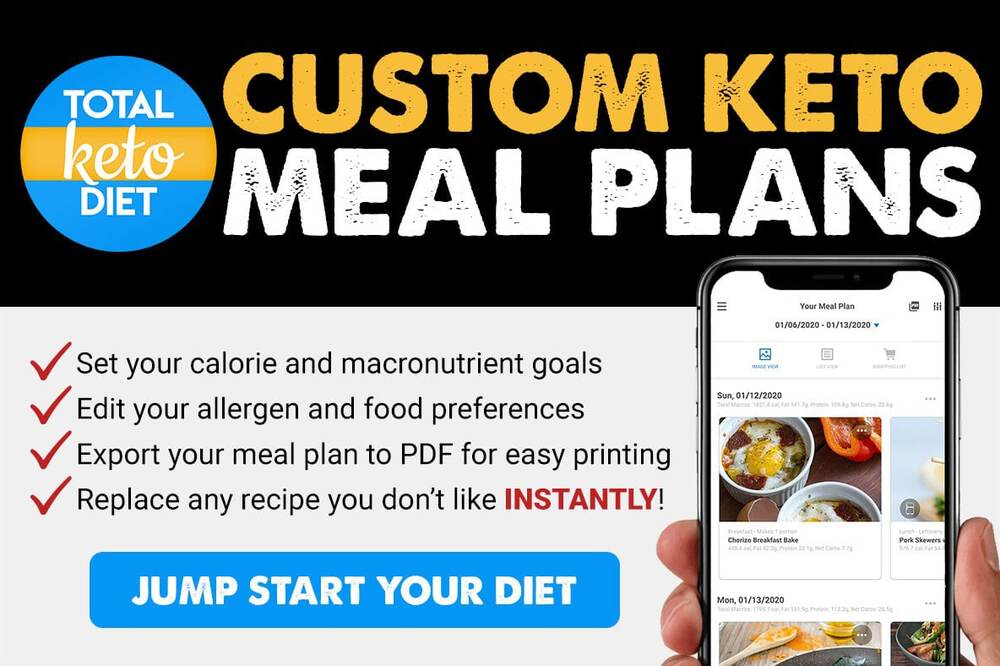 Chicken is an excellent source of protein. Go with an organic brand that is free from antibiotics. We like that chicken tends to have a mild flavor and the pork rinds add a salty crunch.
You can use just about any cheese you have on hand. Your marinara sauce should contain organic tomatoes, olive oil, and spices with no added sugars or preservatives.
When topped with cheese and a bit of marinara sauce, this chicken recipe will be your new favorite! Serve with a crisp side salad to get some greens in and balance the flavor in the pork and chicken.
---
Let's Do It!
Combine the seasonings (garlic, oregano, salt and pepper) and use them to marinate the chicken breast.
Beat two eggs in a bowl and set aside. Spread the pork rind grounds on a plate.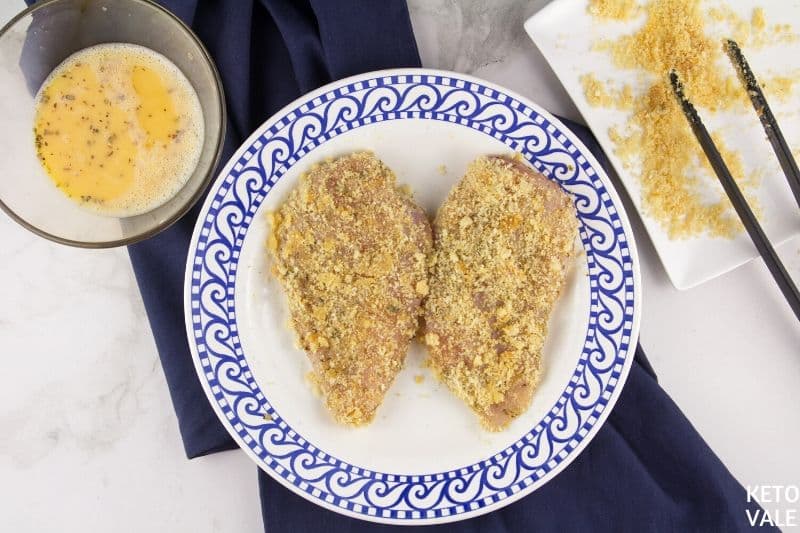 Dip the chicken in the beaten eggs. Roll the breast on the crumbs. Arrange on a baking sheet and transfer to the oven. Bake for 20 minutes.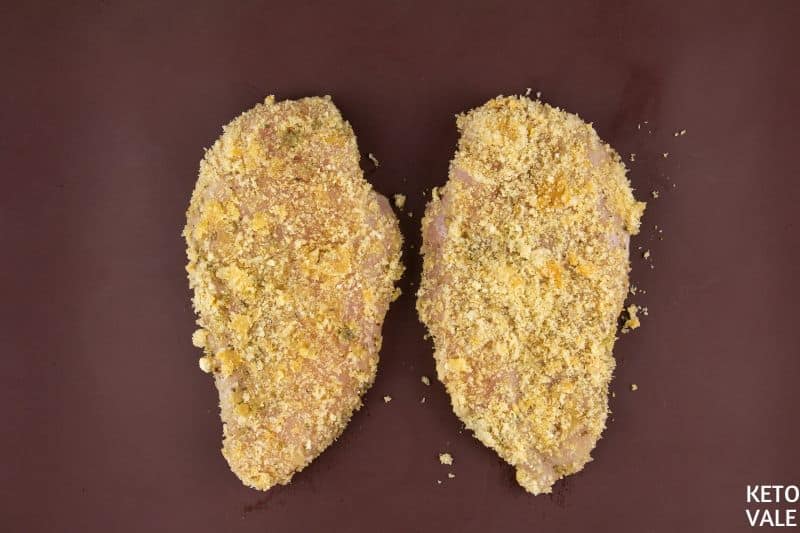 When ready, spread the marinara sauce on top and sprinkle with mozzarella cheese. Bake for another 5 minutes. Serve with a salad on the side.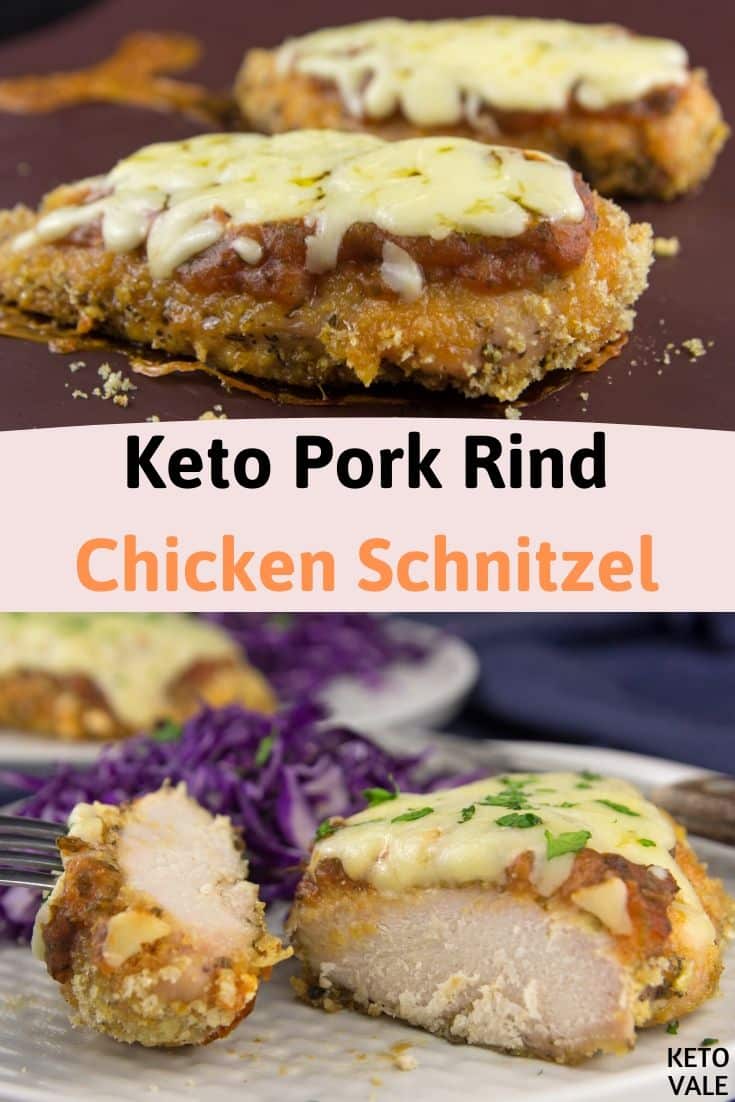 More similar low-carb chicken recipes you can try:
Pork Rind Chicken Schnitzel
This low-carb and keto-friendly chicken schnitzel coated with pork rinds will be an amazing dinner for your keto diet.
Instructions
Preheat the oven to 375°F.

Place the oregano, salt, and pepper in a mortar. Crush the garlic in and mix the spices. Season the chicken with the mixed condiments, enough to marinate the chicken breast.

Crack and beat the eggs in the bowl for the batter.

Spread the pork rind crumbs on a flat plate.

Dip the seasoned chicken in the beaten egg to coat and remove any excess liquid by shaking. Roll the breast on the crumbs to cover the whole piece. Repeat the same for the other chicken breasts.

Arrange the chicken on a baking sheet or silicone mat. Bake for 20 minutes or until the meat is cooked entirely. Optionally, pan sear the chicken breast if you don't prefer it baked.

Take out from the oven when ready. Evenly spread the marinara sauce on top and sprinkle generous amounts of cheese as well. Rebake for another 5 minutes. Remove once the cheese melts and turns golden.

Serve garnished with chopped parsley (optional). Enjoy in a platter with a salad on the side.
Nutrition/Macros
Nutrition Facts
Pork Rind Chicken Schnitzel
Amount Per Serving
Calories 301
Calories from Fat 117
% Daily Value*
Fat 13g20%
Cholesterol 198mg66%
Sodium 778mg32%
Potassium 546mg16%
Carbohydrates 4g1%
Protein 39g78%
Vitamin A 428IU9%
Vitamin C 5mg6%
Calcium 94mg9%
Iron 2mg11%
* Percent Daily Values are based on a 2000 calorie diet.
Pin To Save This Recipe