Keto Raspberry Cheesecake is a dish that everyone will appreciate. First, it tastes great. But most importantly, it won't send your blood sugar levels soaring, which means you'll still feel good after you eat it.

If you have to bring a dessert to your next holiday party, then bring this one. It pairs well with every occasion and everyone can enjoy it, from low-carb dieters to people with diabetes and everyone in between.

The dough is so tender that we can barely call it a dough! It is rather a fiber-free, low-cholesterol protein outburst, abundant in calcium (to strengthen bones, teeth, and the heart) and potassium (an essential element for the activation of an important enzyme in carbohydrate metabolism).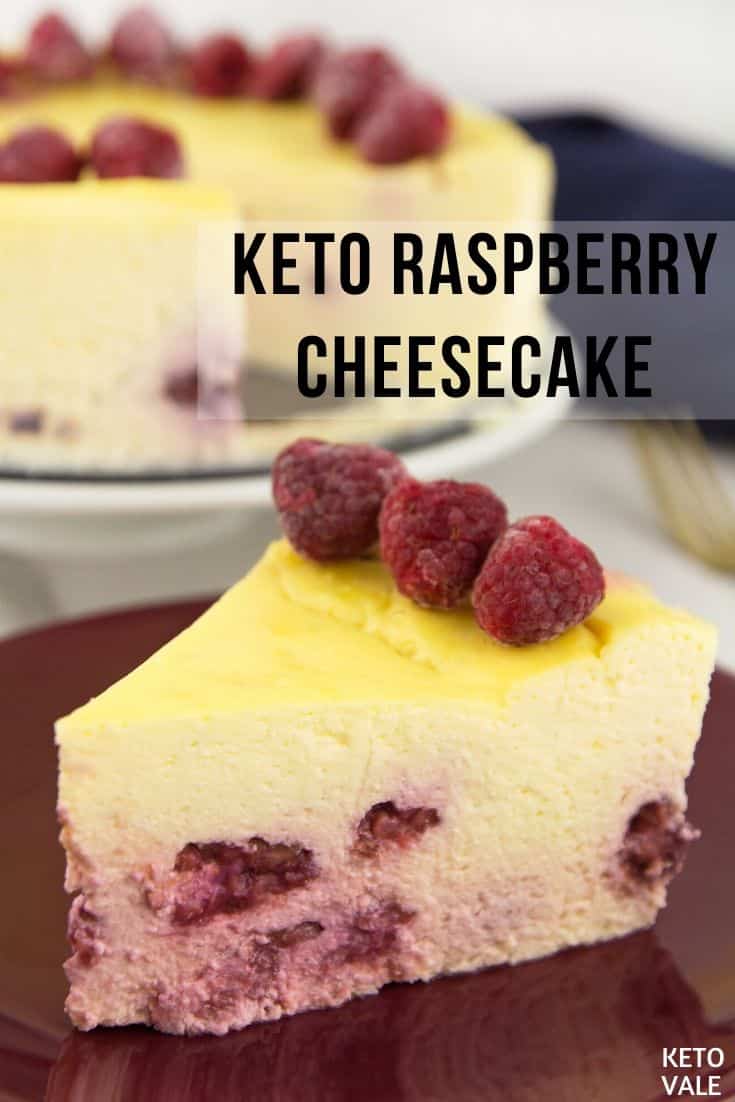 Raspberries are a good source of antioxidants called anthocyanins, which have been shown to possess anticancer, anti-inflammatory, antimicrobial, antidiabetic, and anti-obesity properties. They also help protect against cardiovascular disease (1).

You can use other berries in this recipe as well. Try blueberries, blackberries, or a combination of all three. Just be sure to keep your portions in check if you're keto.

The filling for cheesecake is naturally high in healthy fats from cream cheese, butter, and sour cream. It's also a good source of calcium and several other nutrients.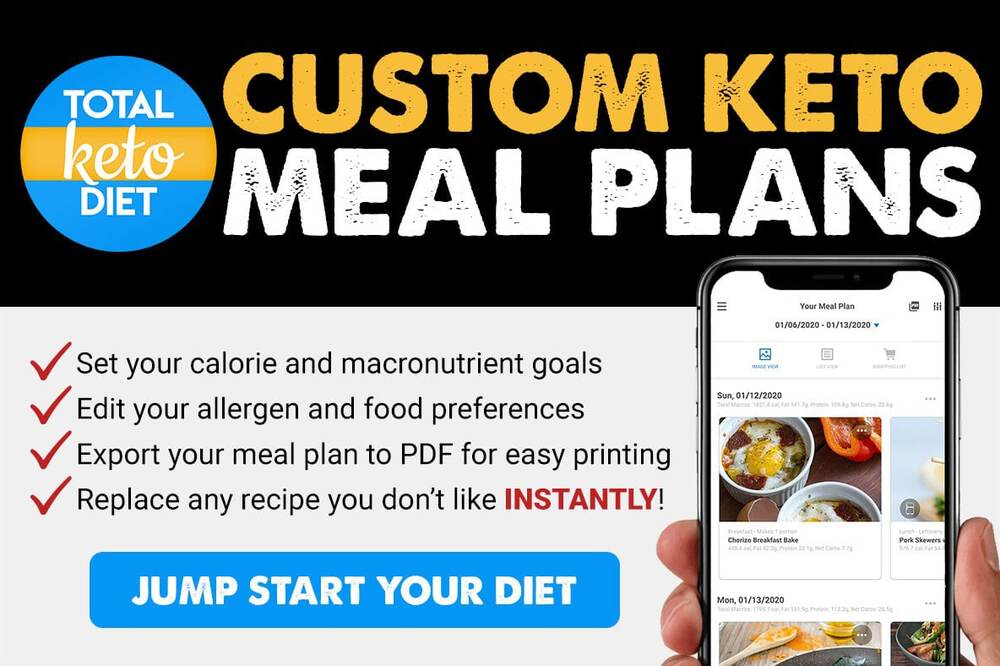 Sour cream alone contains over 20 different vitamins and minerals. It also contains healthy bacteria to boost digestive and immune health.

You can use the keto sweetener of your choice in this recipe, but we find that erythritol works well in many baked goods.

This recipe needs four to six hours in the fridge to chill. Make it in the morning and serve it after dinner for the perfect way to end the day!

---
Let's Do It!

Start by allowing your cream cheese and butter to soften at room temperature. Combine cream cheese with sweetener and sour cream. Mix well.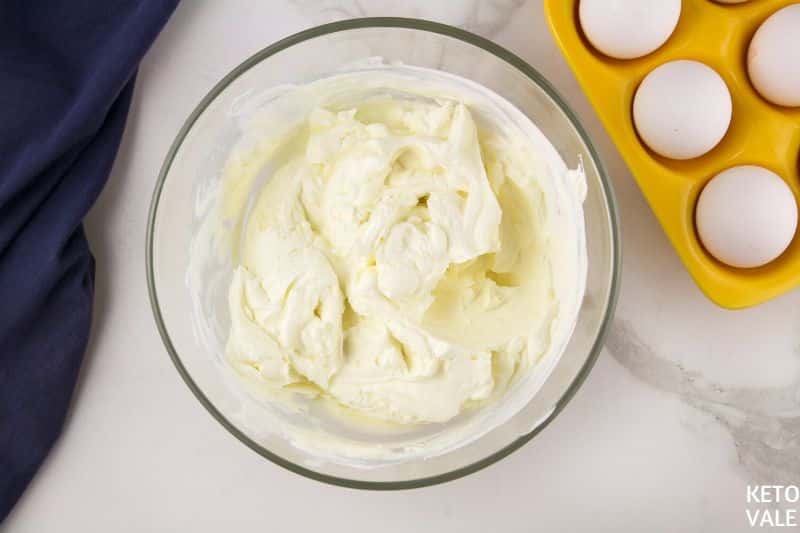 Crack eggs into mixture, one by one. Fold to combine. Add melted butter and combine again.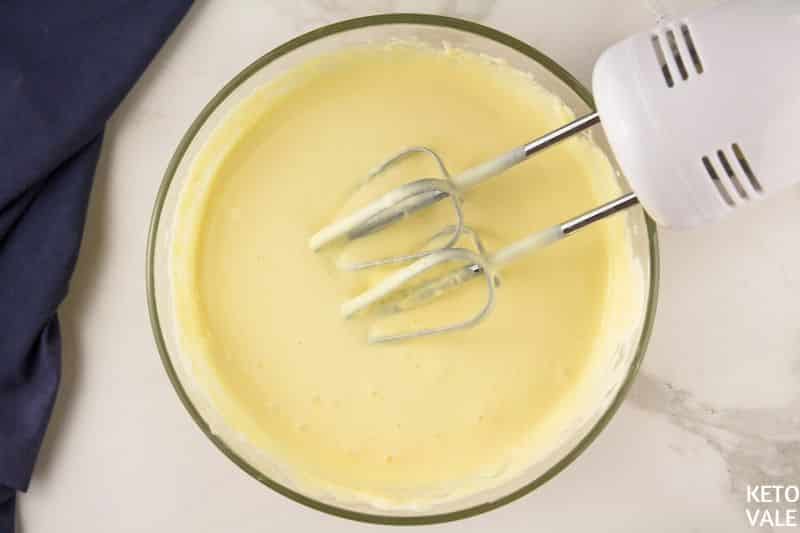 Add xanthan gum and baking powder and mix well. Pour batter into baking pan covered with parchment paper. Drop the raspberries on top of the mixture, one by one.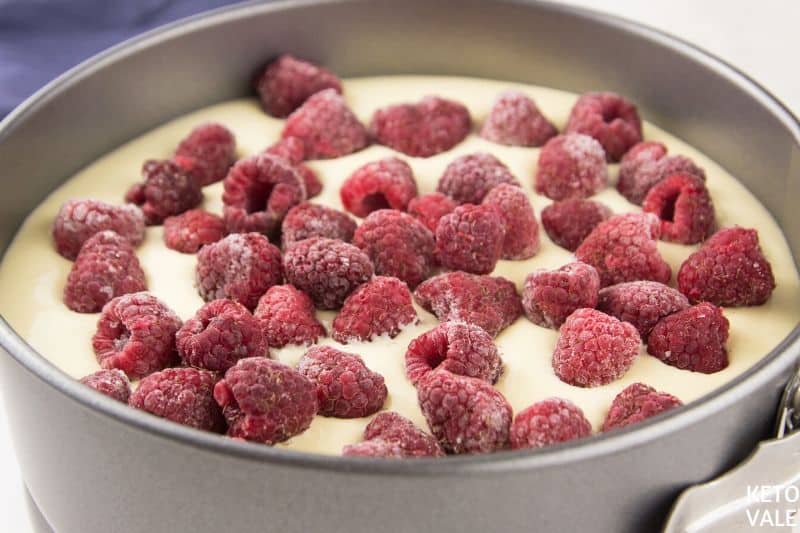 Bake for 45 minutes to one hour and let cool.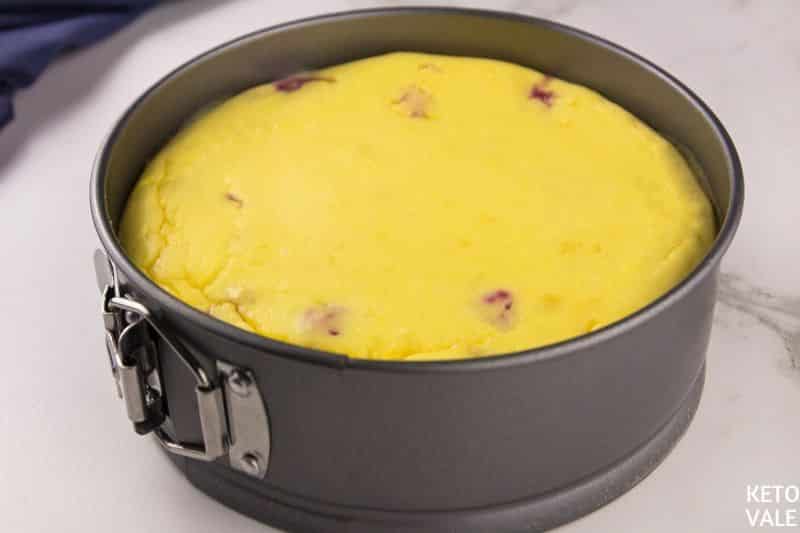 Chill in the fridge for four to six hours before serving.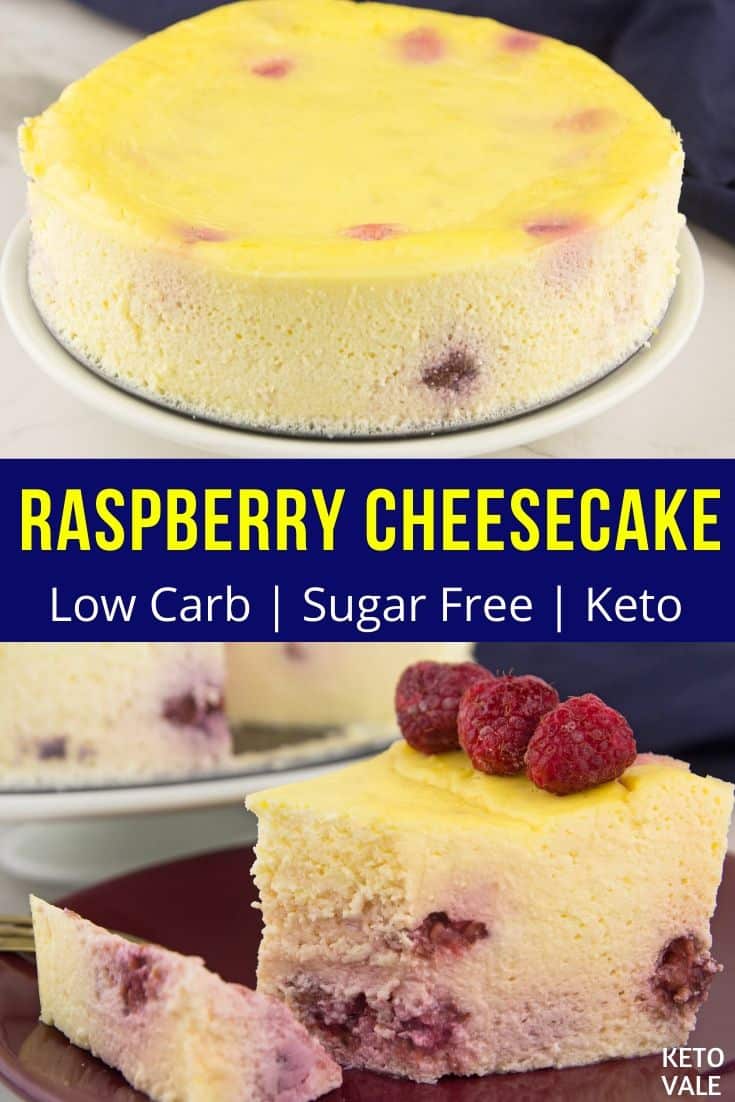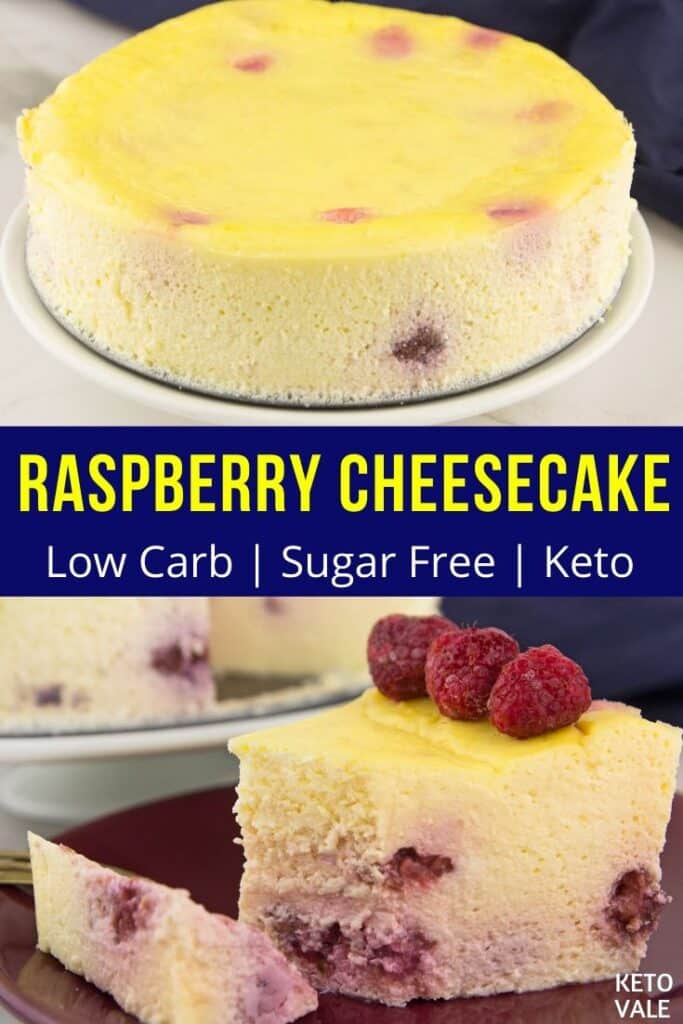 More low-carb cheesecake recipes you can try:
Keto Raspberry Cheesecake
This low-carb and sugar-free raspberry cheesecake makes a perfect keto dessert for special occasions.
Instructions
If you store your cream cheese in the fridge, take it out and allow it to sit at room temperature for an hour.

When the cream cheese is softened, combine it with sweetener and sour cream. Fold the ingredients thoroughly to mix well.

Crack the eggs into this mixture one by one then stir again to incorporate.

Add melted butter into the mix, but make sure it is cooled to room temperature.

Incorporate the xanthan gum and baking powder into the batter as well. Blend with a handheld mixer.

Pour batter into a baking pan covered with parchment paper or silicone cake form.

Gently drop a cup of berries into the mix, plopping them one by one. Distribute them evenly on all sides.

Bake in the oven (preheated at 350°F) for 45 minutes to an hour. Wait until it sets.

Allow cooling for a couple of minutes after removing from the oven. Chill it in the fridge for 4-6 hours until it sets completely or leave it overnight if possible.

Slice into wedges and enjoy!
Nutrition/Macros
Nutrition Facts
Keto Raspberry Cheesecake
Amount Per Serving
Calories 259
Calories from Fat 216
% Daily Value*
Fat 24g37%
Cholesterol 152mg51%
Sodium 237mg10%
Potassium 171mg5%
Carbohydrates 4g1%
Protein 6g12%
Vitamin A 969IU19%
Vitamin C 3mg4%
Calcium 95mg10%
Iron 1mg6%
* Percent Daily Values are based on a 2000 calorie diet.
Pin To Save This Recipe