There is always something to make your diet delicious. Don't worry about the calories. Our low carb lemon mousse is a low-calorie delightful treat. It takes some time and effort to make it, but your diet is worth it, isn't it?
Heavy cream is the thickest cream of all and has a minimum of 36% milk fat. It's deliciously rich and creamy and adds instant flavor to any dish. Plus, it's virtually carb-free.
Research shows that modest portions of a high-fat option like cream can have a place in a healthy eating plan, especially the keto diet!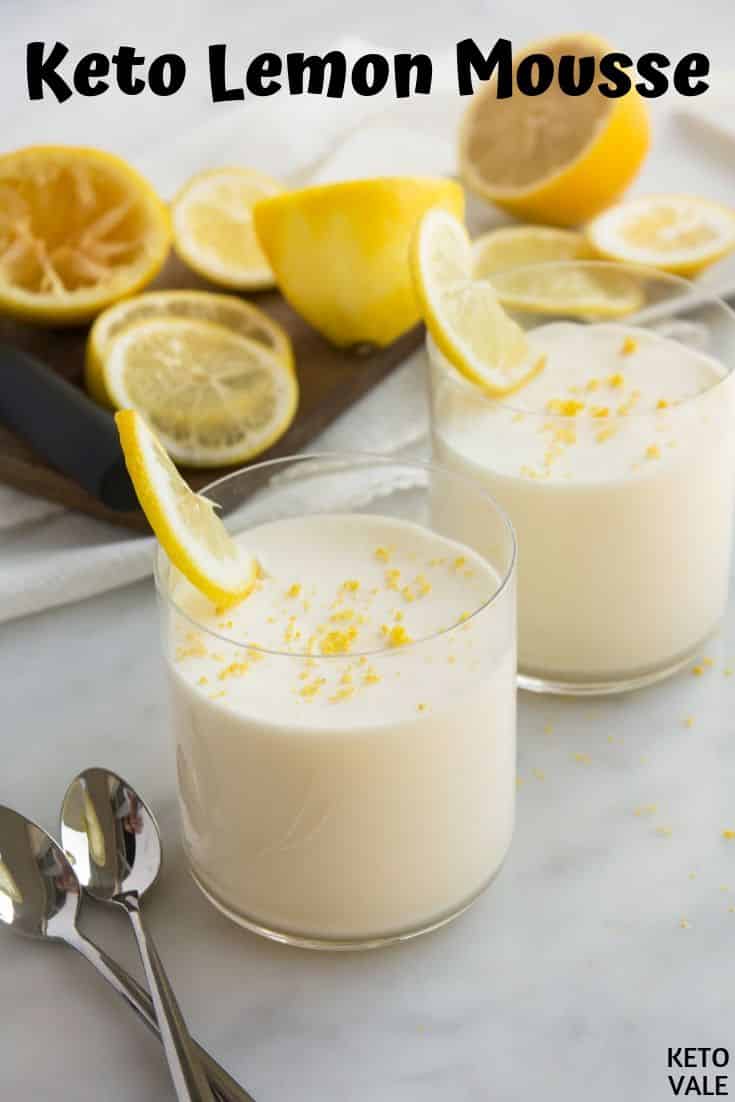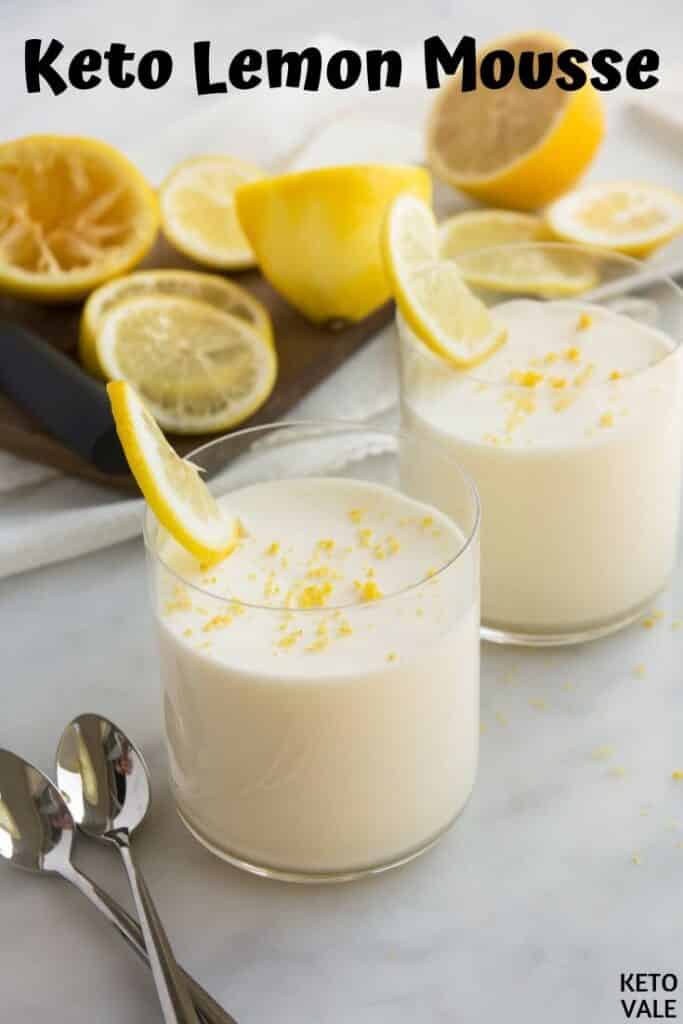 Adding more fat to your diet while restricting carbs enables your body to enter ketosis where it burns fat as fuel. You'll enjoy a healthier heart, better brain power, less fatigue, and a thinner waistline.

Studies have determined that lemon zest is full of bioactive compounds that may provide numerous health benefits. It has a high nutritional value, supports oral health, boosts your immune system, promotes heart health, possesses anti-cancer properties, may treat gallstones, is high in antioxidants, and has no reported side effects (1, 2, 3).

Plus, lemon is naturally sweet so that you don't have to use as much sweetener in your recipe! You'll need both fresh squeezed lemon juice and fresh grated lemon peel for this recipe.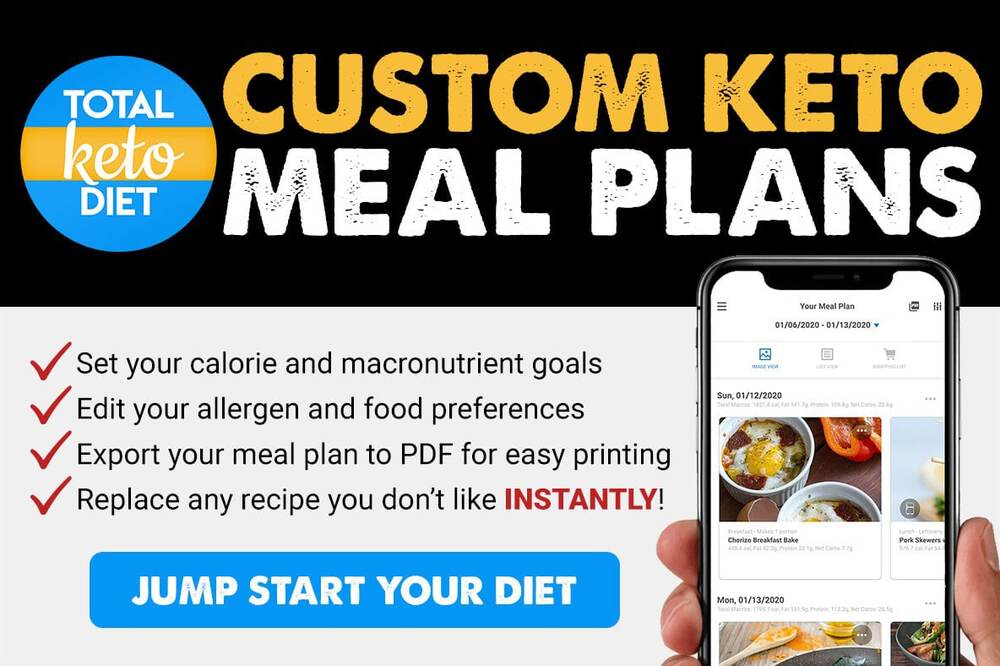 We recommend picking a gelatin powder that is sugar-free. Your gelatin should also come from clean sources, if possible.
Look for an unsweetened gelatin powder that comes from organic, grass-fed beef that has not been treated with antibiotics or hormones.
Don't worry about buying beef gelatin! If it's unsweetened, it won't taste like beef in your dessert recipes.
You'll also need a keto-approved sweetener of your choice. Try stevia or erythritol.
Remember that these sweeteners tend to be much sweeter than real sugar, so you might not need to add as much to your recipe to get the desired sweetness.

The trick to making this recipe thick and creamy is to whip the heavy cream until soft peaks form. From here, you can gently incorporate all other ingredients in. Keeping the mousse cold also helps it retain its shape and texture.

---
Let's Do it!

To make, start by whisking heavy cream until firm peaks form.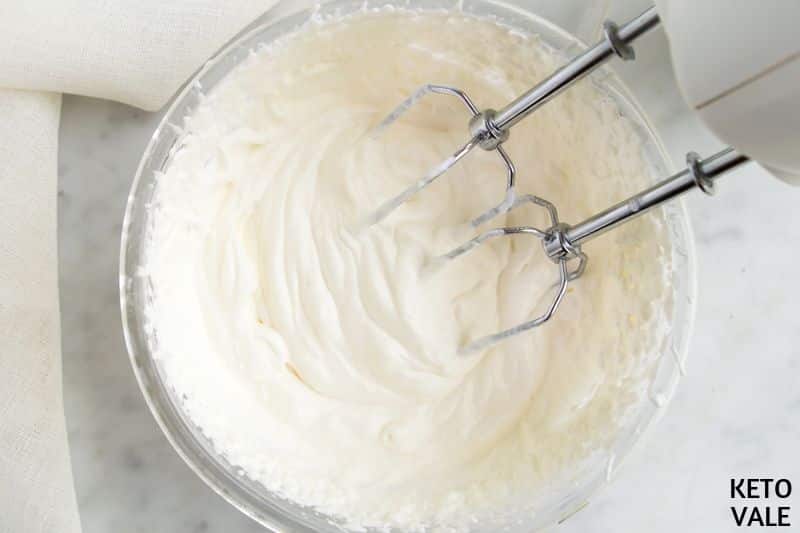 Dissolve the gelatin powder in hot water. Add the erythritol and lemon juice.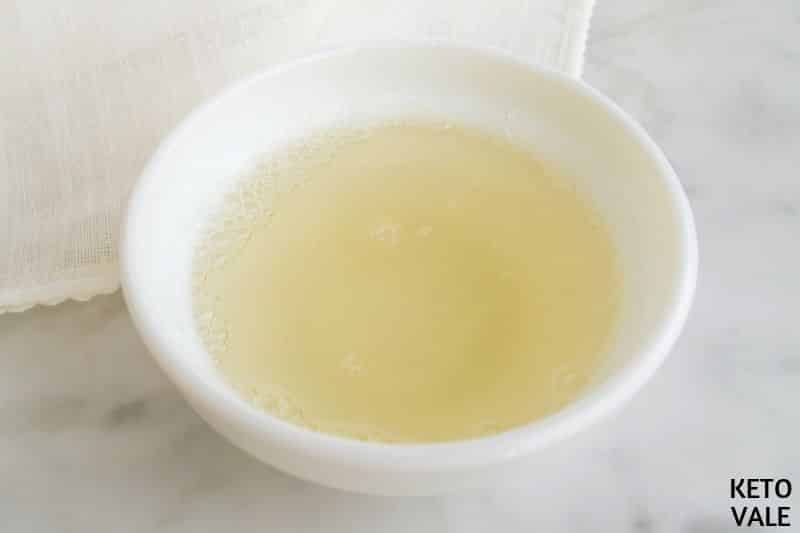 Incorporate the gelatin into the whipped cream and blend the mix together. Add lemon zest and go on mixing until fully combined.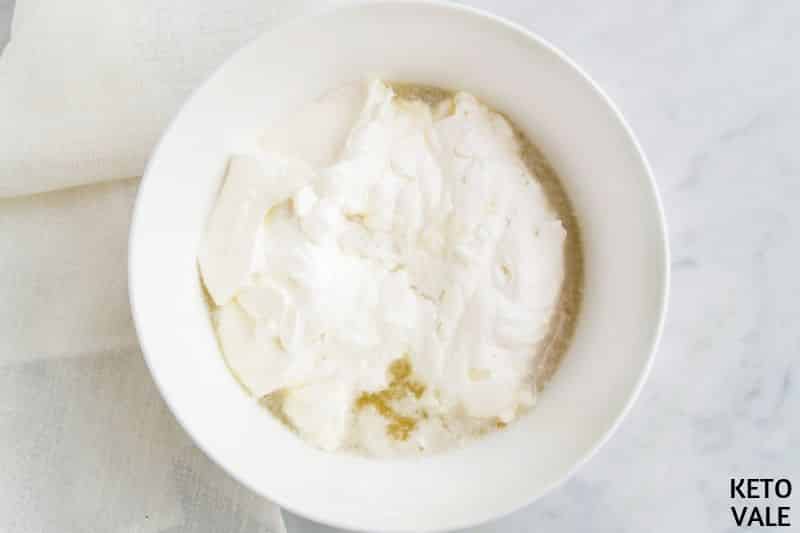 Pour mixture into glasses and let it sit in the refrigerator for about two to three hours to firm. Serve cold!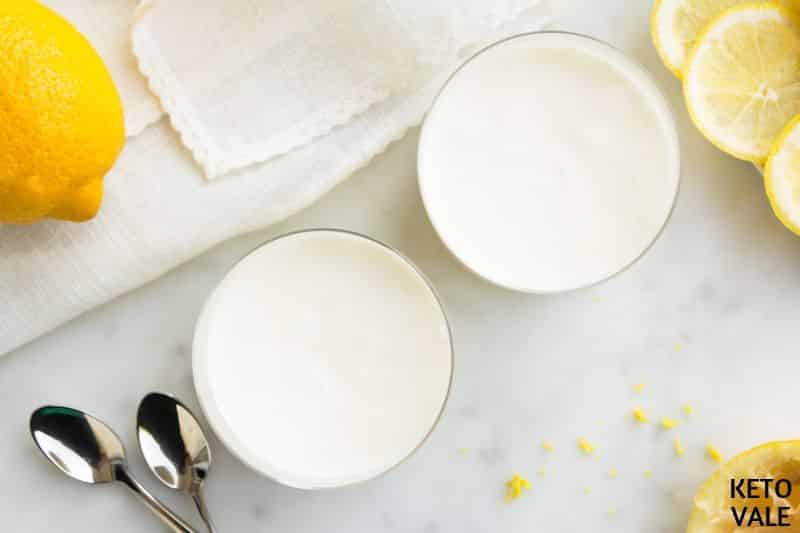 Side note: Some people might be comfortable to use sugar-free Jell-O for this recipe. However, if you are diabetic or doing strict keto, you might not want to use Jell-O because it contains maltodextrin, which is high on the glycemic index (GI), and aspartame, which might not be ideal because it's highly inflammatory and may cause digestive upset, even though they are FDA-approved.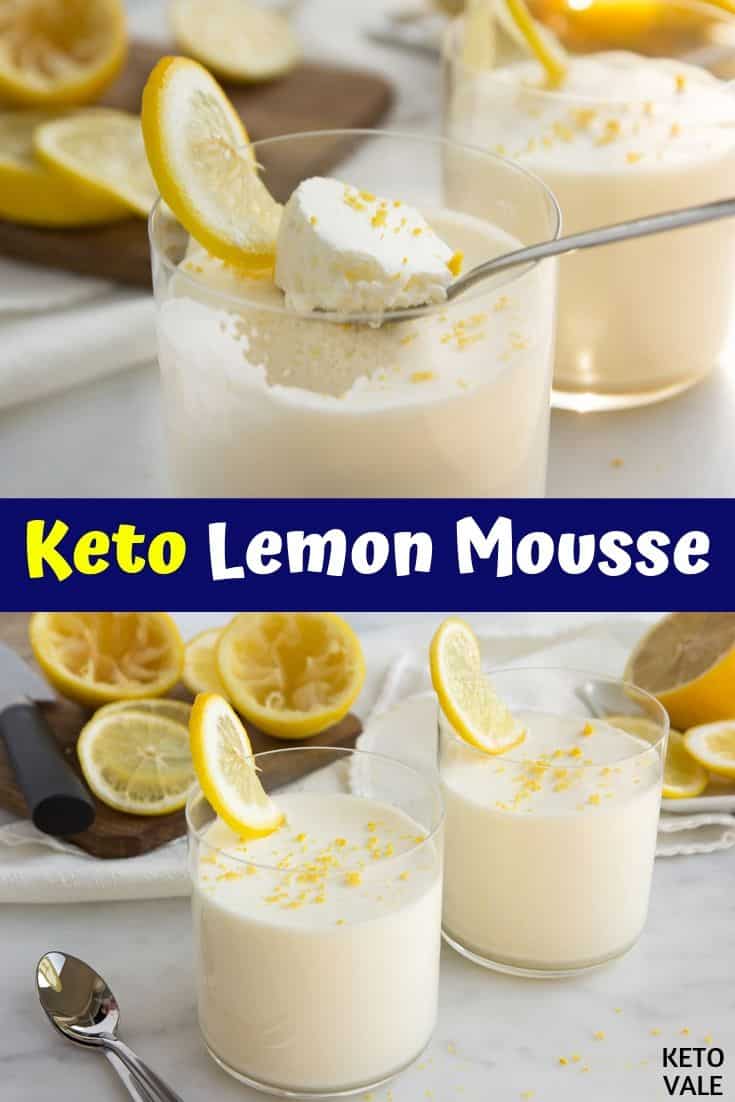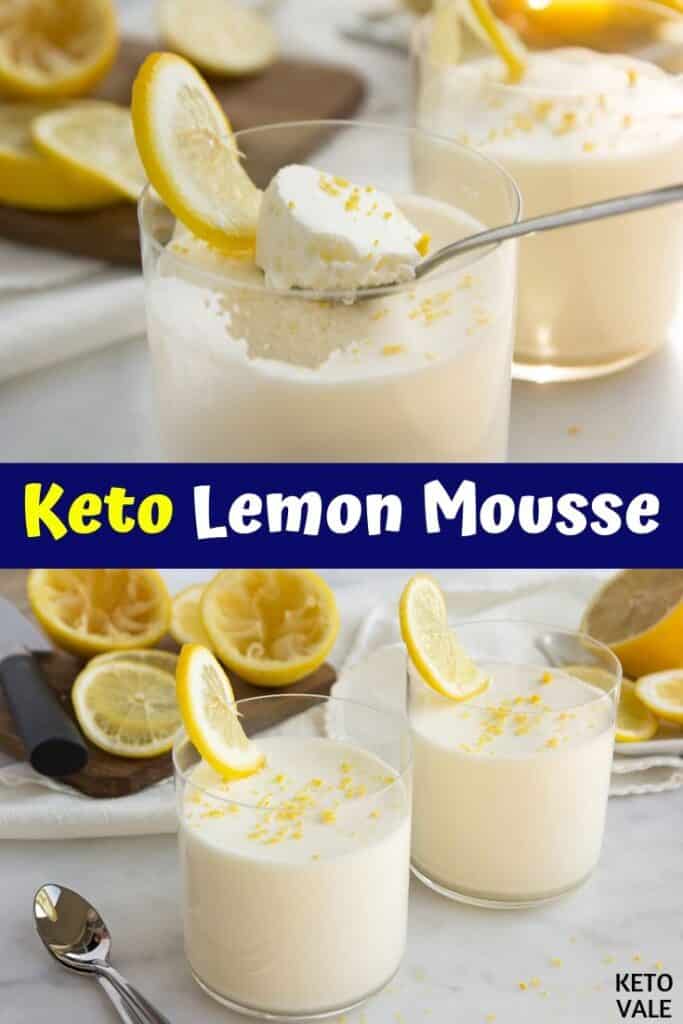 You might also love these desserts:
Keto Lemon Mousse
An easy sugar-free and low-carb lemon mousse made with gelatin and heavy cream for your keto dessert.
Ingredients
1

cup

heavy cream

½

cup

hot water

1 ½

tbsp

Gelatin

powder

⅓

cup

lemon juice

1

tsp

lemon zest

1

tbsp

erythritol

or any sweetener of your choice
Instructions
Place a cup of heavy cream in a bowl. Whisk until firm peaks form.

In a bowl, combine the hot water, gelatine powder and erythritol. Stir to dissolve and let cool for 10-15 minutes and add lemon juice.

Incorporate the gelatin into the whipped cream using an electric mixer to blend the mix together. Add lemon zest and continue mixing for an additional three minutes until fully combined.

Pour the mixture into forms or glasses. Chill in the refrigerator for two to three hours to firm.

Enjoy while cold.
Notes
*You can add more keto sweetener if you want to.
Nutrition/Macros
Nutrition Facts
Keto Lemon Mousse
Amount Per Serving
Calories 219
Calories from Fat 198
% Daily Value*
Fat 22g34%
Cholesterol 82mg27%
Sodium 30mg1%
Potassium 66mg2%
Carbohydrates 3g1%
Protein 4g8%
Vitamin A 875IU18%
Vitamin C 9mg11%
Calcium 39mg4%
* Percent Daily Values are based on a 2000 calorie diet.
Pin To Save This Recipe