Today's recipe is a perfect snack or addition to your dinner table. We've made cloud bread and collagen bread before, then we thought, why not combine these 2 together?

This collagen cloud bread has low calorie content and is made with all keto-friendly ingredients only. You can eat this in between meals or during breakfast. Its name actually corresponds to its appearance after baking, cloud-like and light.

One of its important ingredients is the collagen. Collagen is used by our bodies in maintaining the glow and health of our skin.

A study revealed that women taking collagen supplements within 8 weeks experienced less skin dryness and showed better skin elasticity than those who don't. It also helps with our bones as it reduces joint pain and strengthens our bones in general (1). 

This bread is notably light and low in calories because no flour was used in the recipe. We only used egg yolks and proteins to make the batter, thus creating a loose bread. We also added garlic powder to the mix to add flavor to our bread.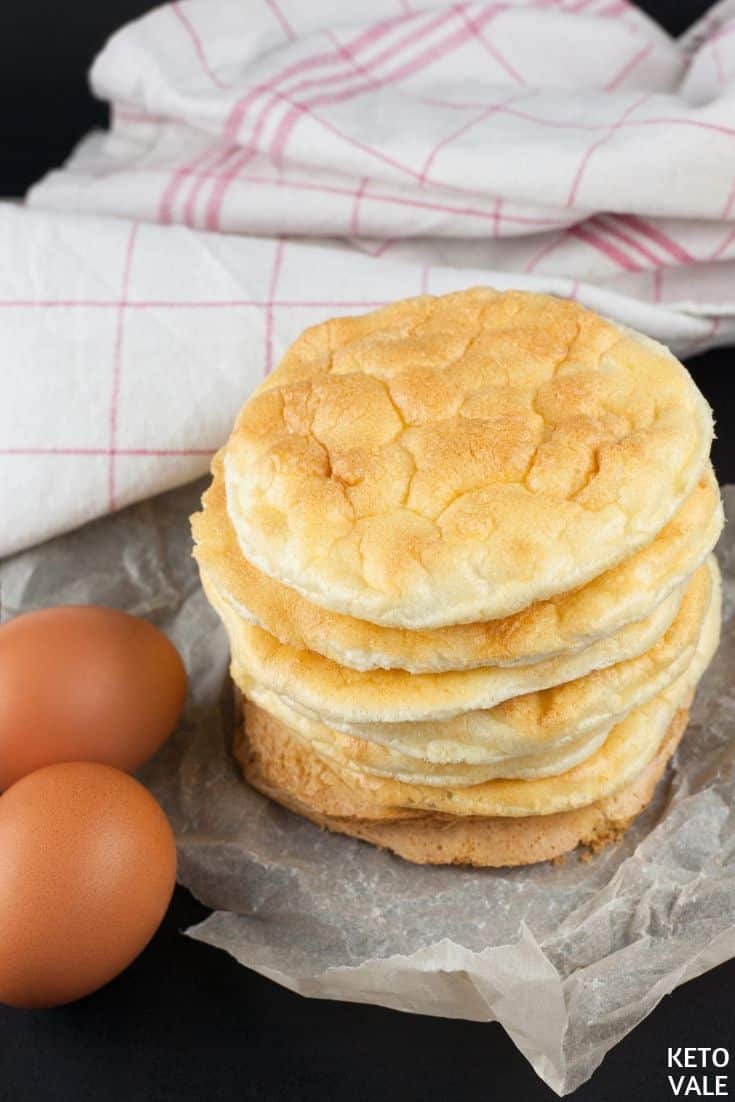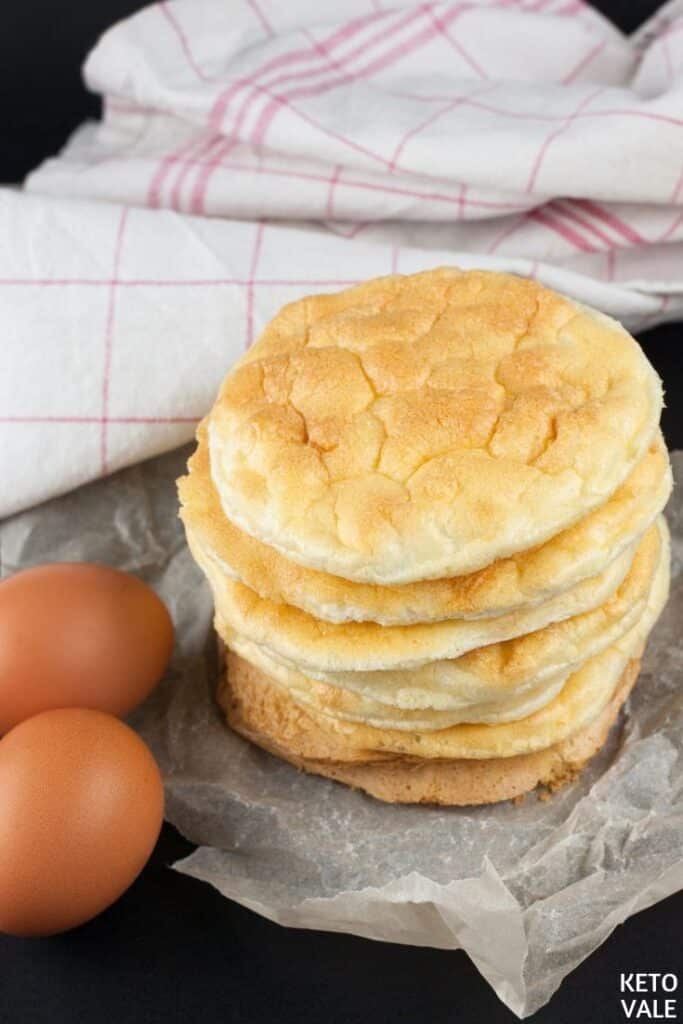 Cream cheese, of course, accounts for the taste and texture of the bread. It provides necessary nutrients to our body such as calcium for our bones, protein, vitamins A and K, phosphorus, and magnesium to name a few.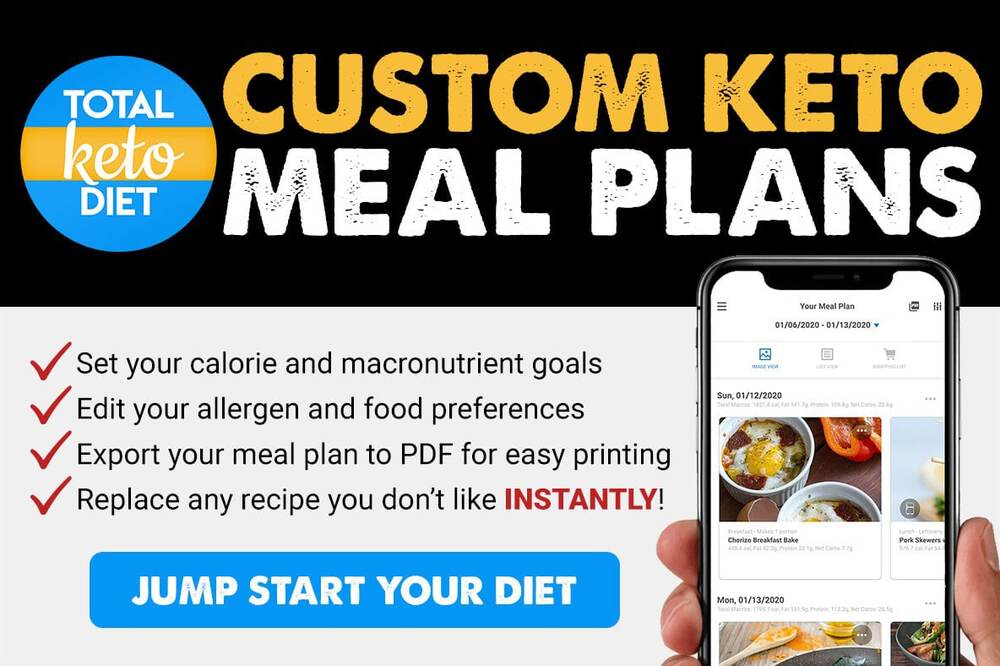 Collagen does not lose its nutrients even during baking because its powder is resistant to heat. This collagen bread is a perfect replacement for your ordinary calorie-filled bread.
It has almost no carbohydrates and its calorie content is significantly lower than that of the regular bread. Prep time for making this bread is only 5 minutes while the baking takes about 30 minutes. 

---
Let's Ketofy It!
Mix the egg yolks in a bowl together with the baking powder, garlic powder, cream cheese, and a scoop of Perfect Keto Unflavored Keto Collagen. Add one pinch of salt.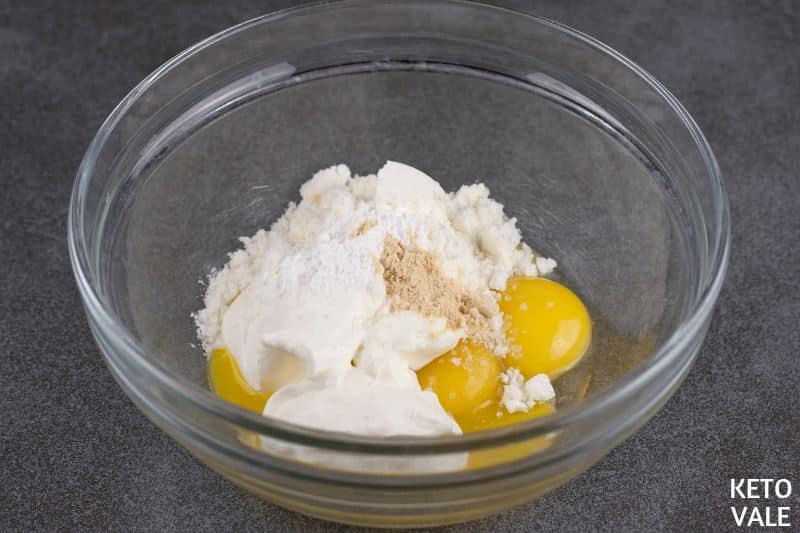 In a separate bowl, whip the egg whites until they become foamy with stiff peaks.

Pour the egg yolk mixture into the egg whites. Whip continuously until homogeneous.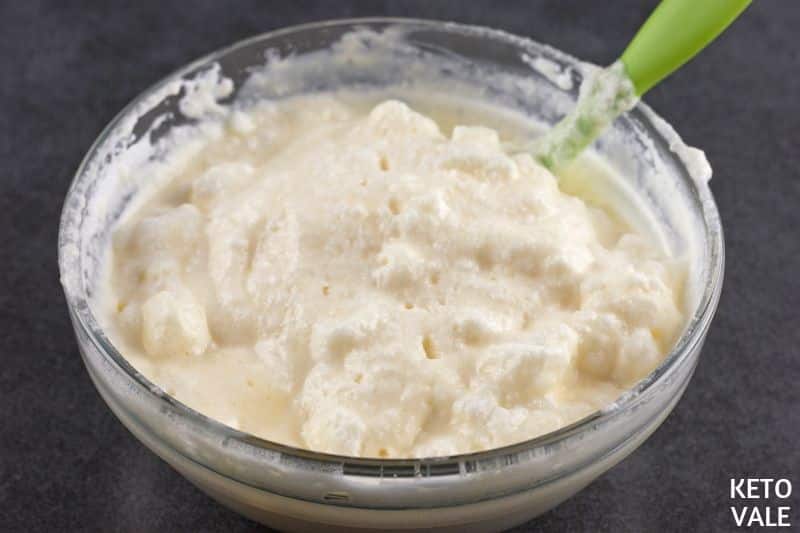 Place some parchment paper in a baking tray. Scoop the batter one by one and transfer to the baking tray.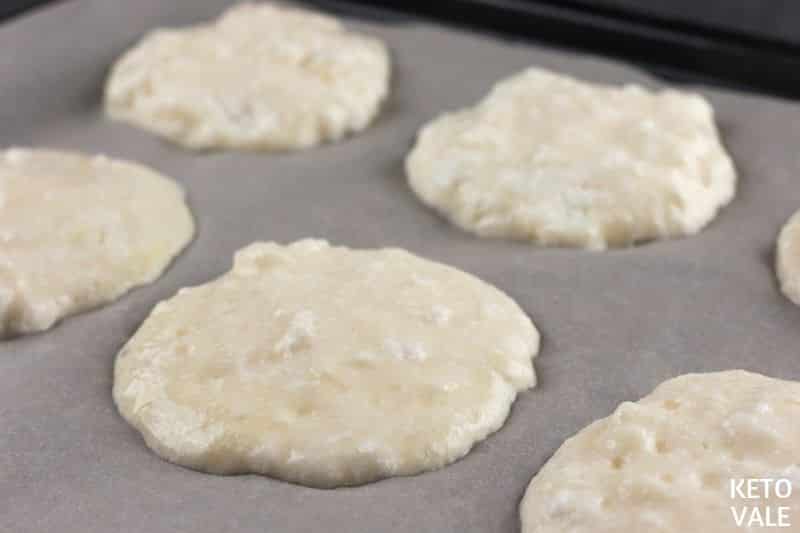 Leave in the oven to bake for 25 to 30 minutes in a preheated 300F oven until the bread turns lightly golden. Make sure to check to avoid the bread gets burnt.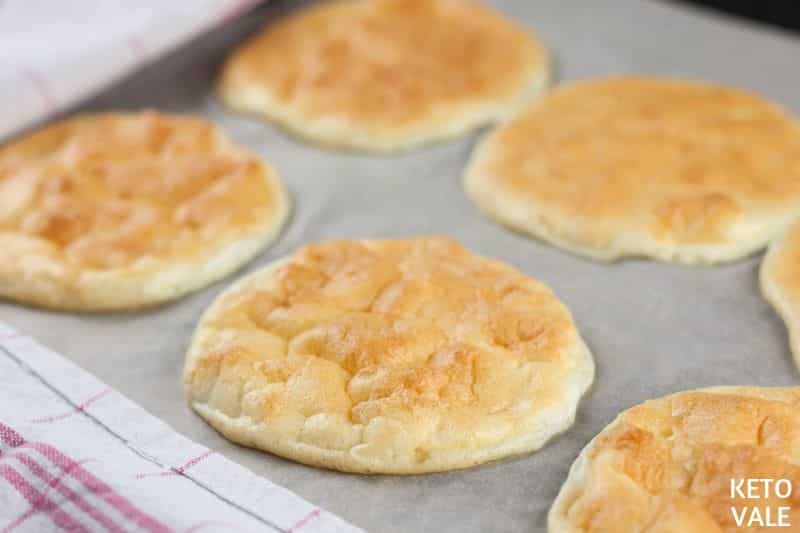 Let sit to cool for a few minutes before serving.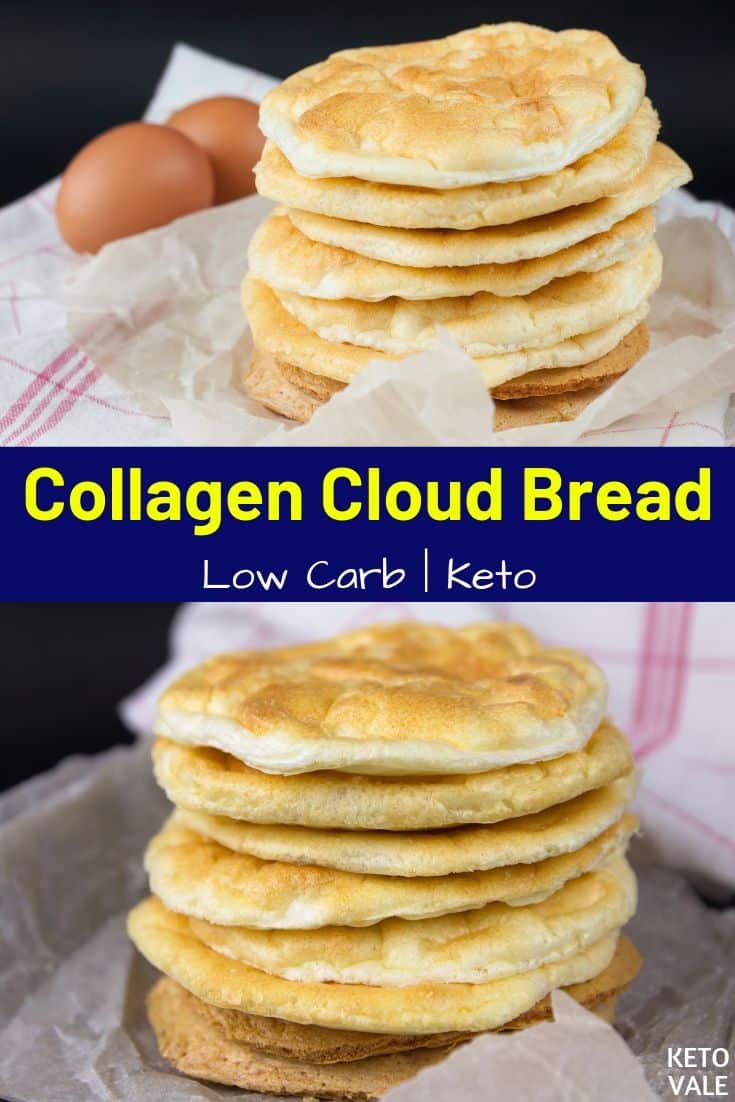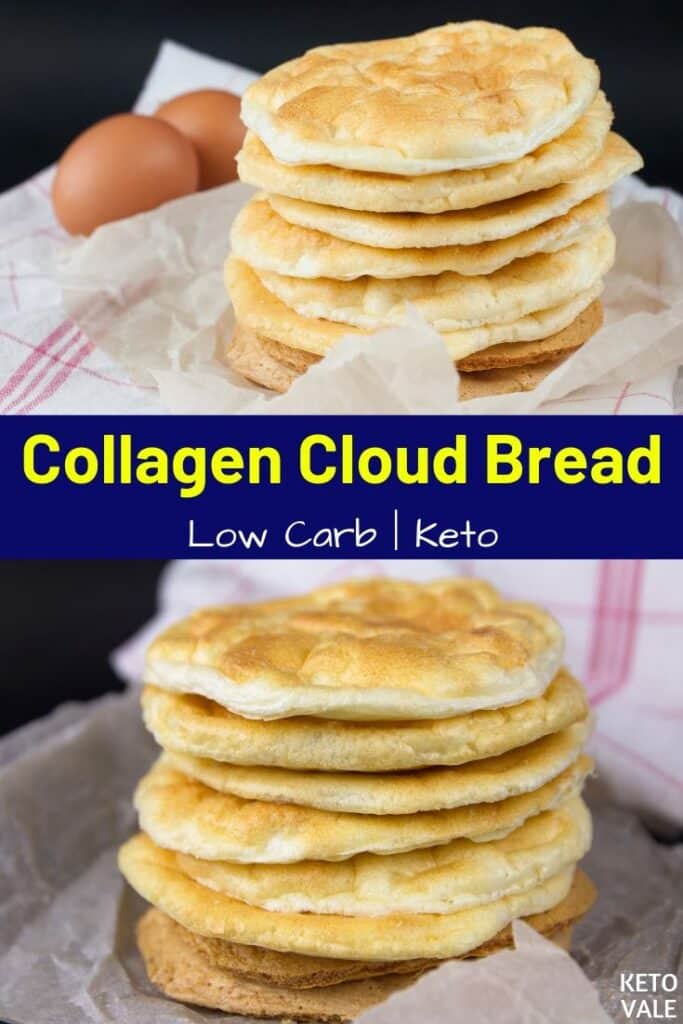 Some other low-carb bread recipes you might like:
Keto Collagen Cloud Bread
An easy, delicious and nutritious low-carb keto bread for breakfast and snack.
Instructions
Preheat the oven to 300 F.

In a bowl beat egg yolks with cream cheese, baking powder, a scoop Perfect Keto Unflavored Keto Collagen, garlic powder and a pinch of salt.

In another bowl beat egg whites until stiff peaks form.

Add egg yolks mixture to the beaten egg whites and mix gently until smooth.

Line a baking tray with parchment paper.

Spoon the batter onto baking tray and bake 25-30 minutes or until lightly golden.

Cool for several minutes and serve!
Nutrition/Macros
Nutrition Facts
Keto Collagen Cloud Bread
Amount Per Serving
Calories 80
Calories from Fat 54
% Daily Value*
Fat 6g9%
Cholesterol 108mg36%
Sodium 69mg3%
Potassium 91mg3%
Carbohydrates 1g0%
Protein 5g10%
Vitamin A 257IU5%
Calcium 34mg3%
Iron 1mg6%
* Percent Daily Values are based on a 2000 calorie diet.
Pin To Save This Recipe