There are healthy dishes that will make every mouth water. They look appetizing and smell amazing. One good example of this is our Parmesan zucchini fries with aioli. It will take you some time to make this recipe but it is worth it.

What we know about zucchini is that it contains a variety of vitamins, minerals, and other beneficial plant compounds such as antioxidants. It may also benefit your heart, eyes, and skin, and has some cancer protective properties such as carotenoids (1).

Zucchini is one of the best low-carb vegetables (see our full list) to have on hand because it can be used in so many ways on the keto diet. They can be turned into low-carb noodles, bread, and other pasta alternatives.

Besides its delicious taste, Parmesan cheese has some unique benefits due to its production process and only has around 30% moisture content, which is much lower than other cheese.

Parmesan is extremely high in protein. It is the most protein-dense among all types of cheese and also has more protein content than any meat on a gram-for-gram basis.

Parmesan offers particularly large amounts of calcium, sodium and phosphorus. On top of that, it tastes delicious and adds a lot of flavor to food.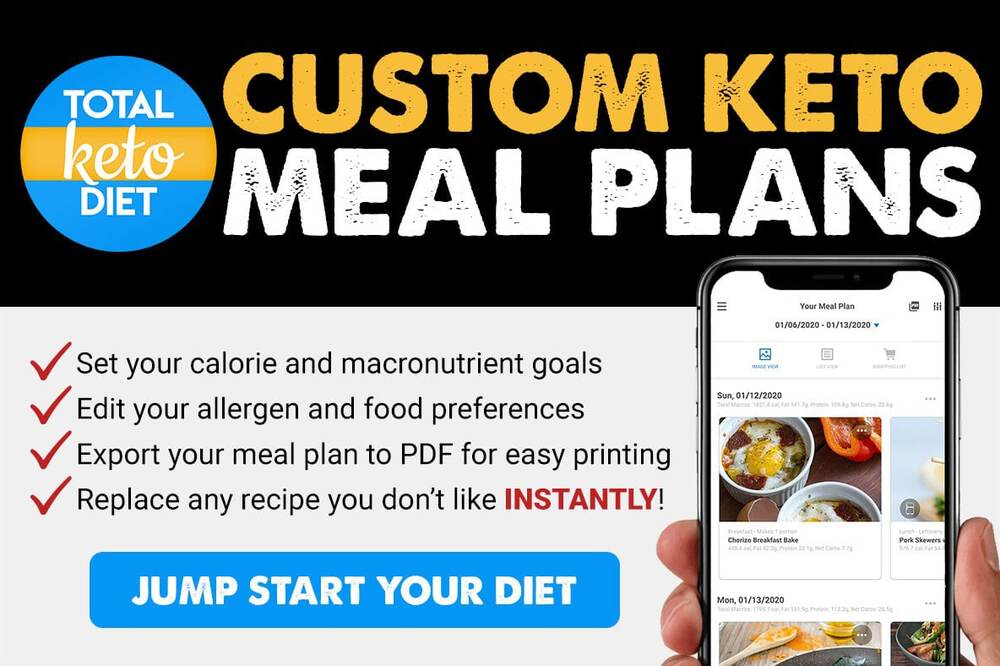 Combining almond flour with Parmesan gives the fries a tasty crunchy coating while keeping it gluten-free. This combination is a good alternative to flour.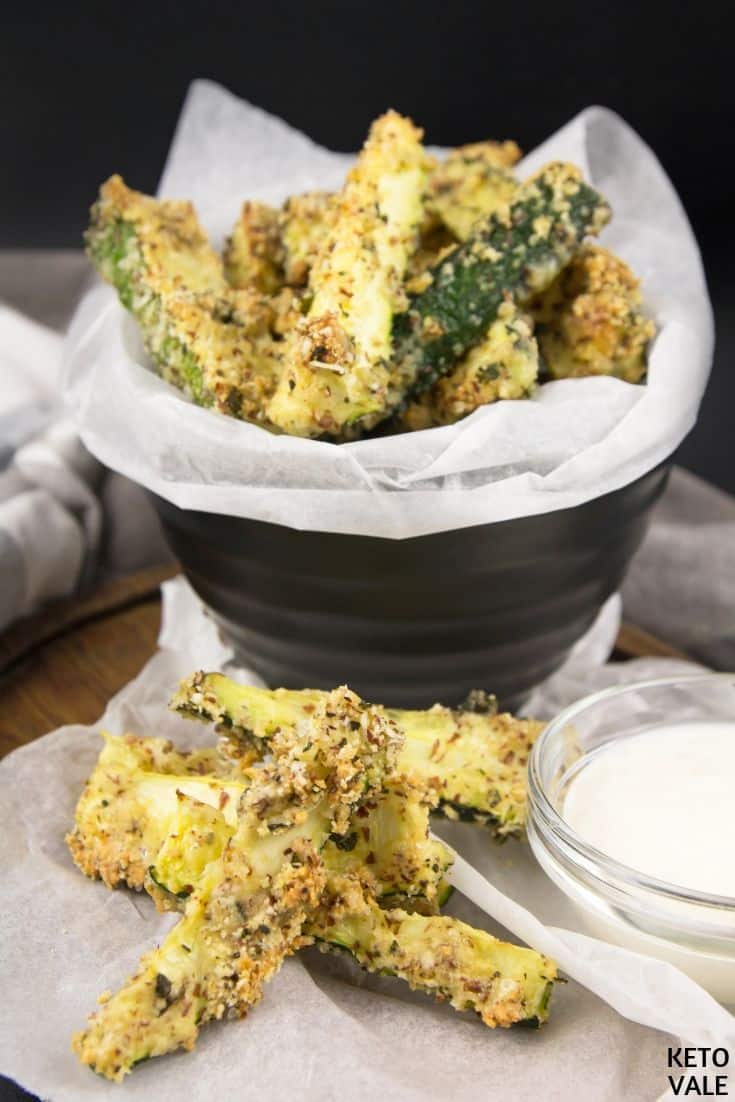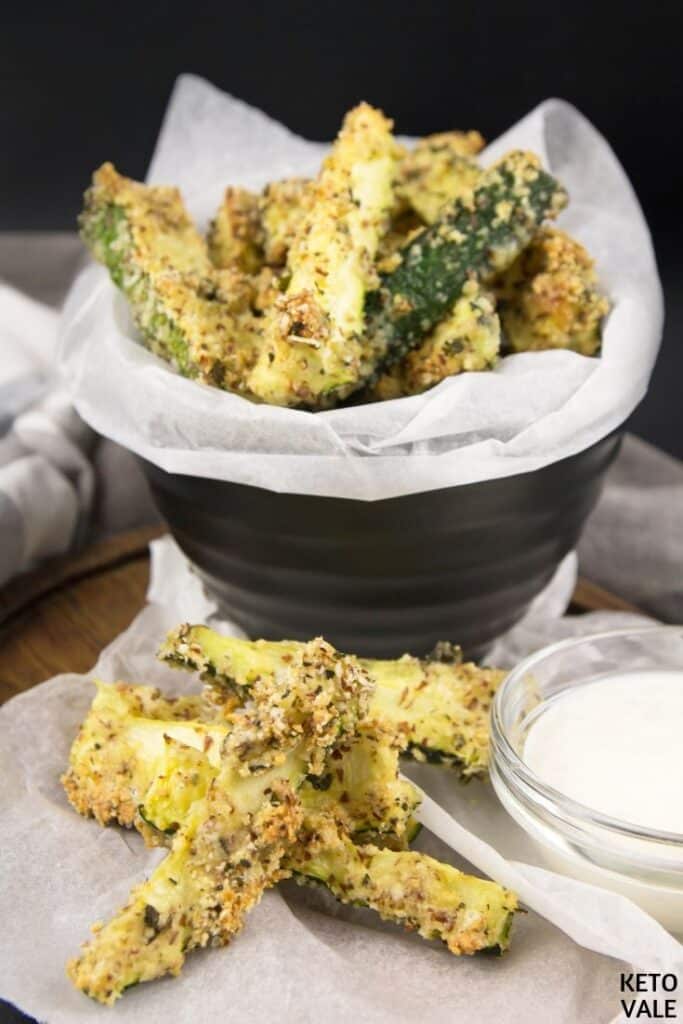 Aioli, or a Mediterranean garlic-based sauce, a lovely fragrant type of mayonnaise that perfectly complements different dishes, accompanies our zucchini fries.

To make, add minced garlic clove, a tablespoon of lemon juice, some black pepper and sea salt to homemade mayo in a bowl and mix. Serve zucchini with aioli and enjoy!

---
Let's Ketofy It!
Start by cutting the zucchini into stripes.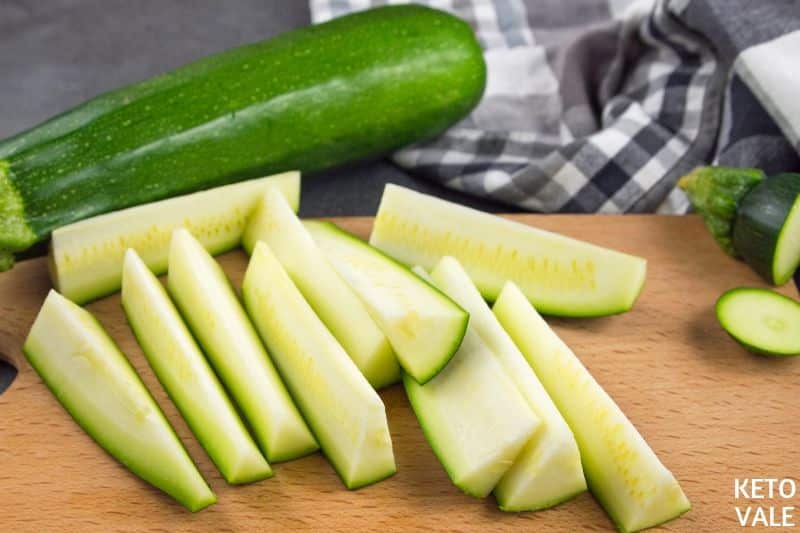 In a bowl, beat the eggs with a fork or whisk. Then, in another bowl, combine the Parmesan cheese, garlic powder, dry parsley, almond flour, sea salt and black pepper.
Dip the zucchini into the egg mixture and then coat with Parmesan cheese mixture.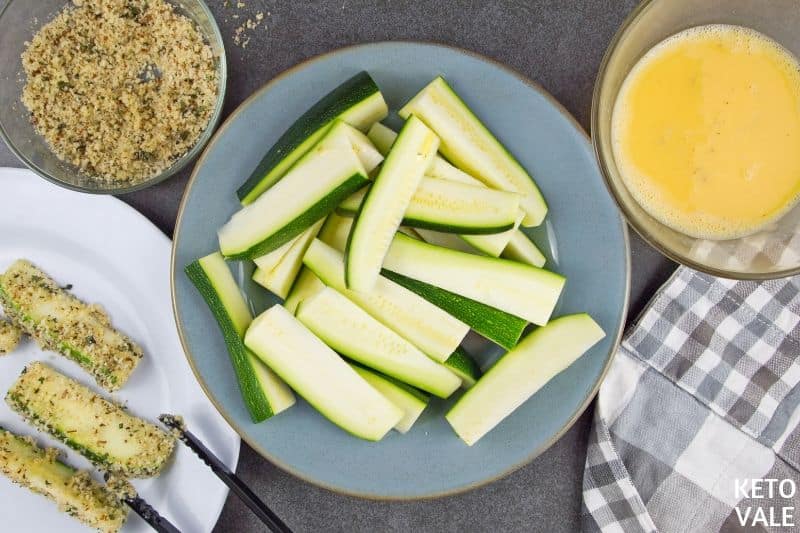 Place the breaded zucchini on a baking tray and cook in the oven until golden brown.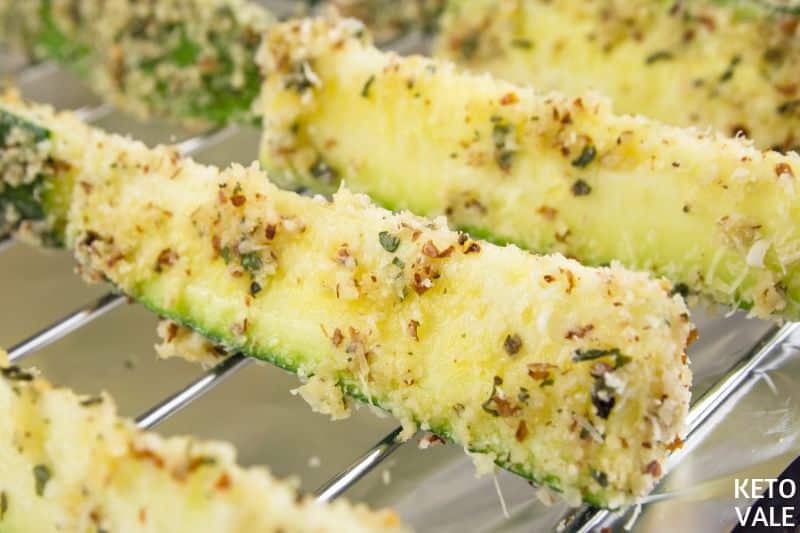 Prepare the aioli ingredients by mixing them together and serve with the cooked zucchini.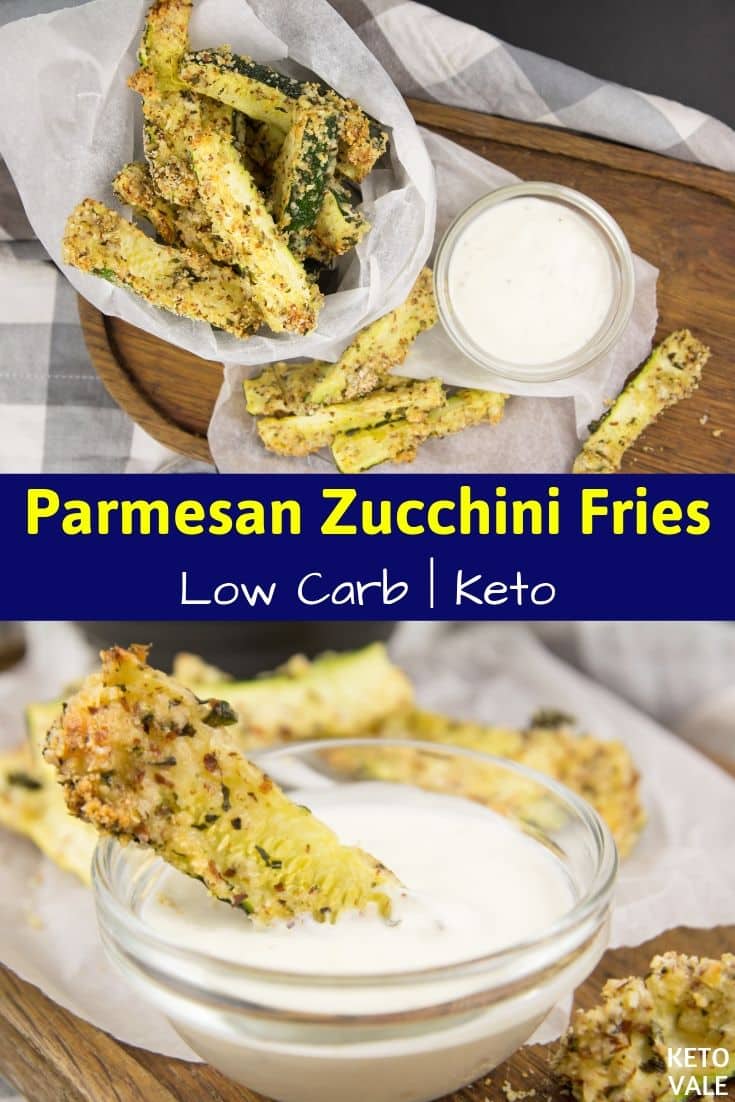 Note: You can also fry these zucchini fries in oil, such as these related recipes below.

Related:

Keto Baked Parmesan Zucchini Fries
A delicious way to enjoy zucchini as a snack or side dish on the low-carb ketogenic diet.
Instructions
Preheat your oven to 400F.

Cut zucchini into stripes.

Beat the eggs in a medium bowl.

In a separate bowl, mix together grated Parmesan, almond flour, garlic powder, dry parsley, sea salt and black pepper.

Dip the zucchini pieces in the beaten eggs and cover it with the Parmesan mixture.

Arrange the coated slices on a wire rack placed on a baking sheet. Leave in the preheated oven for 20 to 25 minutes until they turn golden.

In a small bowl, mix all of the ingredients for the Aioli until well combined.

Take out the zucchini and serve immediately.
Nutrition/Macros
Nutrition Facts
Keto Baked Parmesan Zucchini Fries
Amount Per Serving
Calories 252
Calories from Fat 189
% Daily Value*
Fat 21g32%
Cholesterol 125mg42%
Sodium 737mg31%
Potassium 382mg11%
Carbohydrates 6g2%
Protein 10g20%
Vitamin A 507IU10%
Vitamin C 24mg29%
Calcium 174mg17%
Iron 1mg6%
* Percent Daily Values are based on a 2000 calorie diet.
Pin To Save This Recipe