Our Instant Pot Jerk Pork Roast recipe is a firework of tastes. The taste of good pork shoulder is enriched with a mosaic combination of spices.
This recipe calls for garlic and onion powder, which are known for their high content of antioxidants and sulfur-containing compounds.
Research shows that sulfur-containing compounds help support the synthesis of the body's natural detox enzymes in the liver to flush chemicals out of your system (1).
Sulfur-containing compounds have also been shown to help fight cancer and inhibit the growth of cancerous cells (2).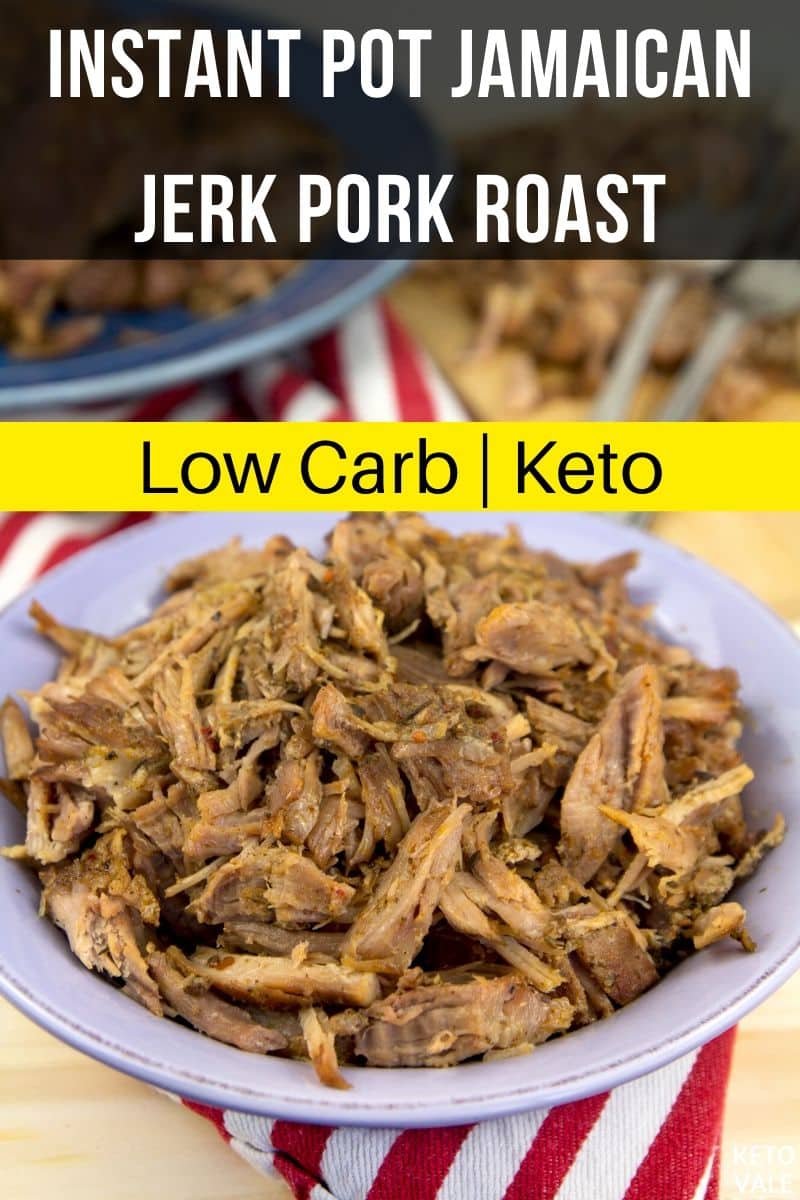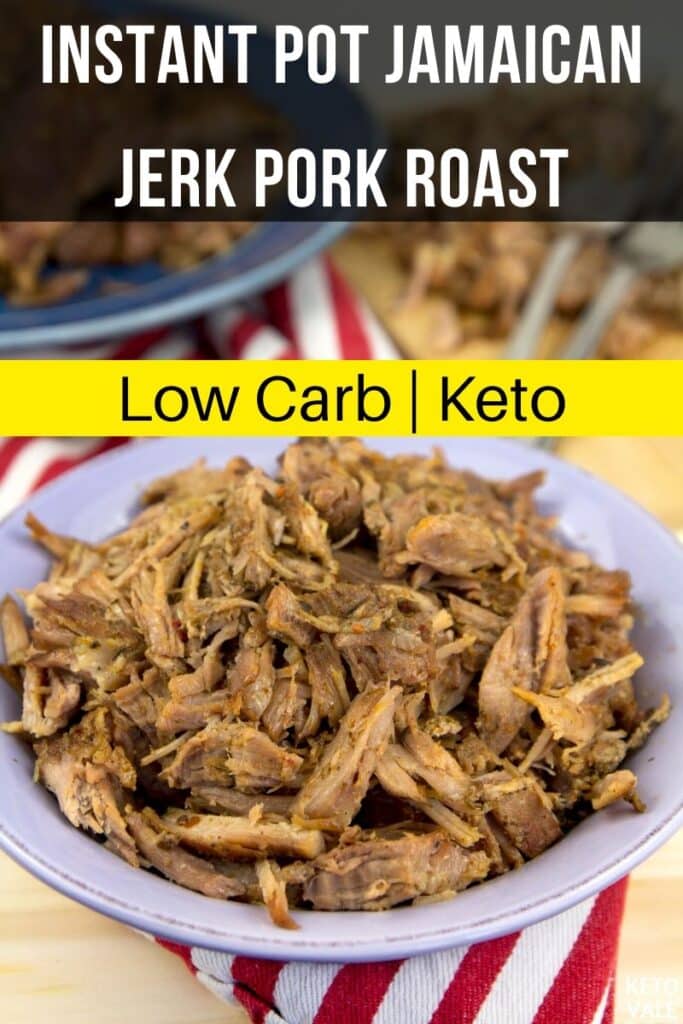 Cayenne pepper boasts an impressive nutrition profile, which includes a variety of antioxidants that are beneficial for your health.
Cayenne pepper also contains the active ingredient capsaicin, which has thermogenic properties that help "heat up" your metabolism so that you burn more calories (3).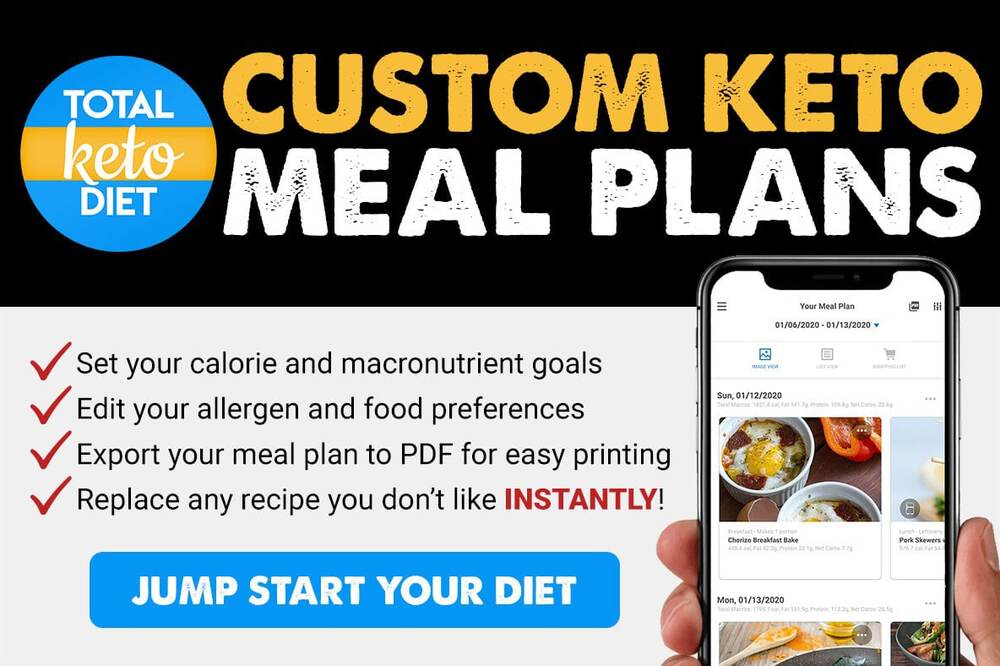 Dried thyme and parsley provide good sources of vitamin C, vitamin A, iron, manganese, copper, and dietary fiber while ground allspice, nutmeg, cinnamon and cumin all have aromatic, aphrodisiac, and curative properties.
You'll also need a high-quality beef stock for this recipe. You can use beef bone broth, which is a good source of collagen to support gut, joint, hair, and nail health.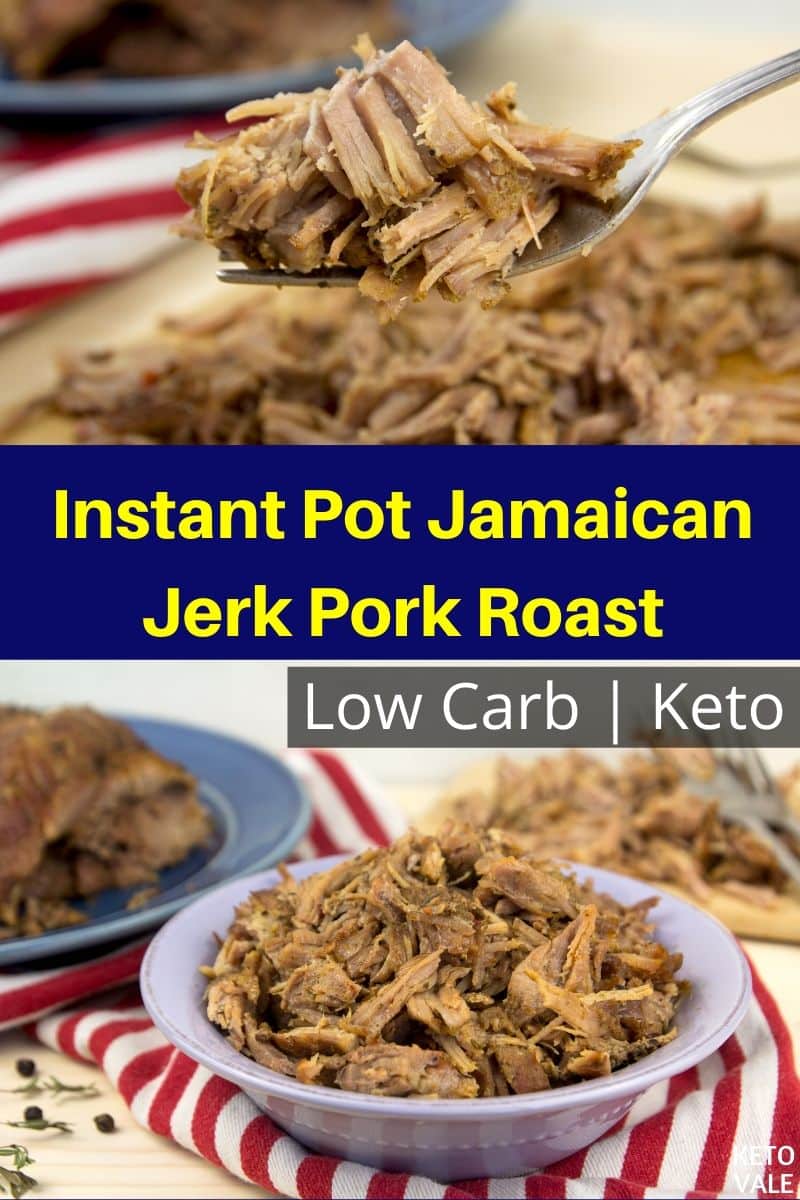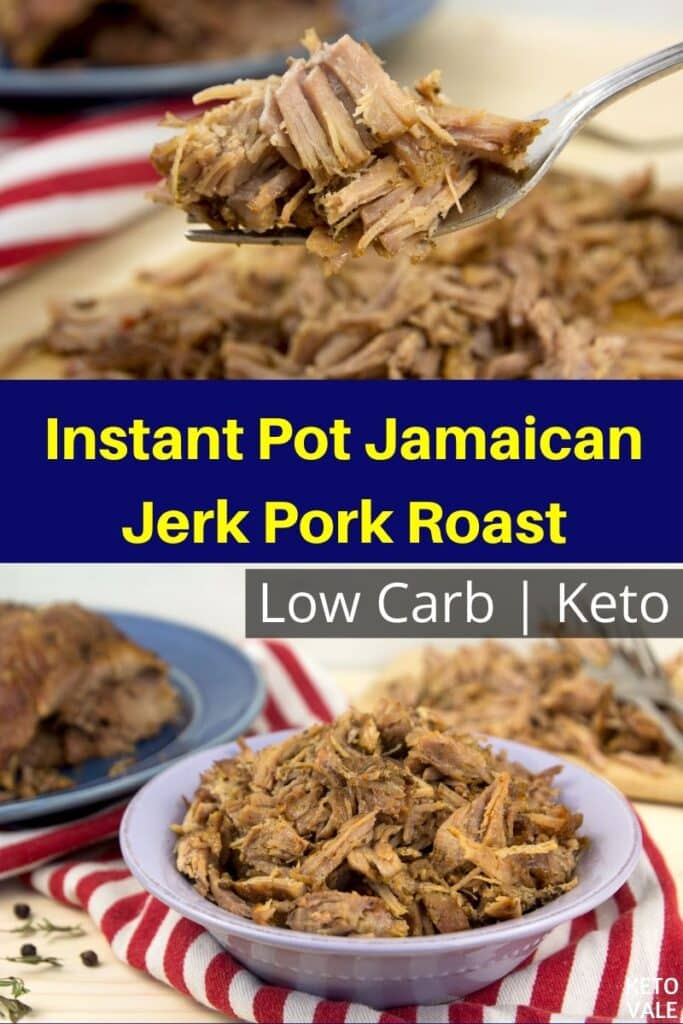 Be sure your bone broth comes from clean, organic and grass-fed sources of bovine to reduce exposure to chemicals, antibiotics, and hormones. Check our best keto bone broth review for more details.
You'll also want to make sure your pork shoulder is from organic, pasture-raised meat for the same reasons. You can also buy meat online, as long as you choose the right butcher.
For this recipe, we recommend using an instant pot 3-quart duo mini 7-in-1 to save time and effort.
---
Let's Do It!
Combine the spices in a bowl and mix well.
Rub the olive oil and the spice mixture into the pork shoulder.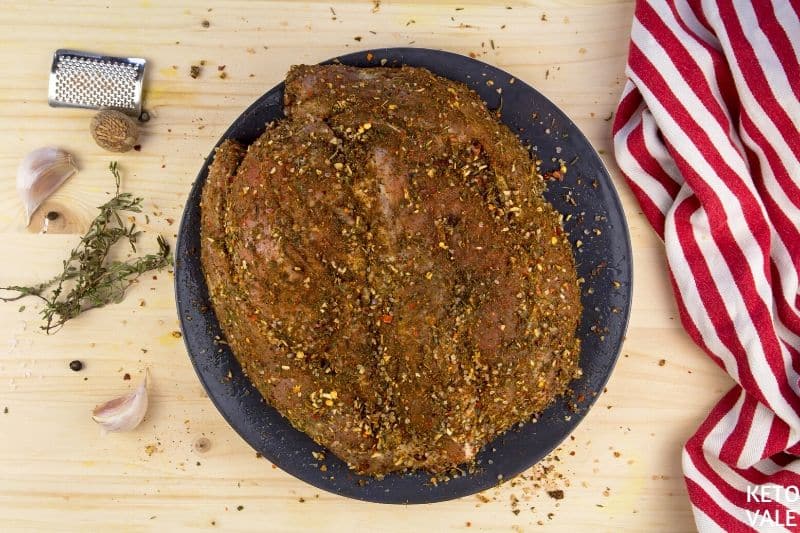 Press the "saute" button on your instant pot and add the meat. Cook on all sides until browned and then press "cancel."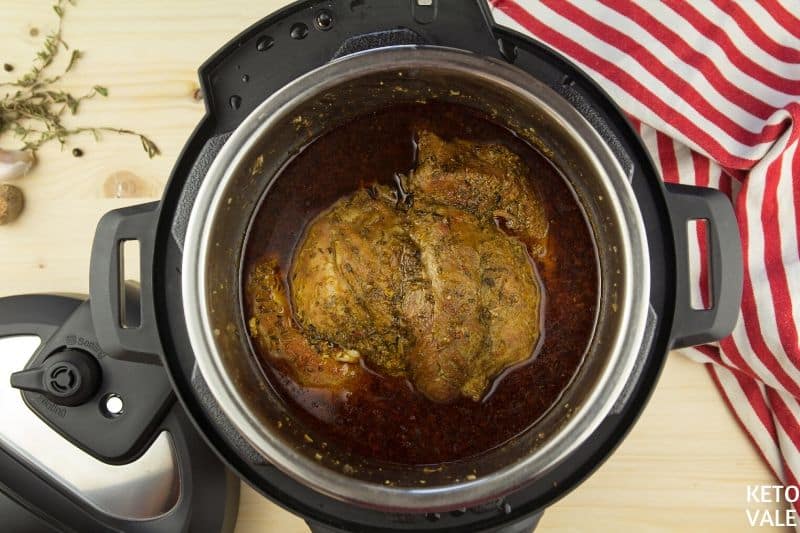 Pour the beef broth into the pot and put the lid on. Press the "seal" button and cook for 40 minutes on "manual" high pressure.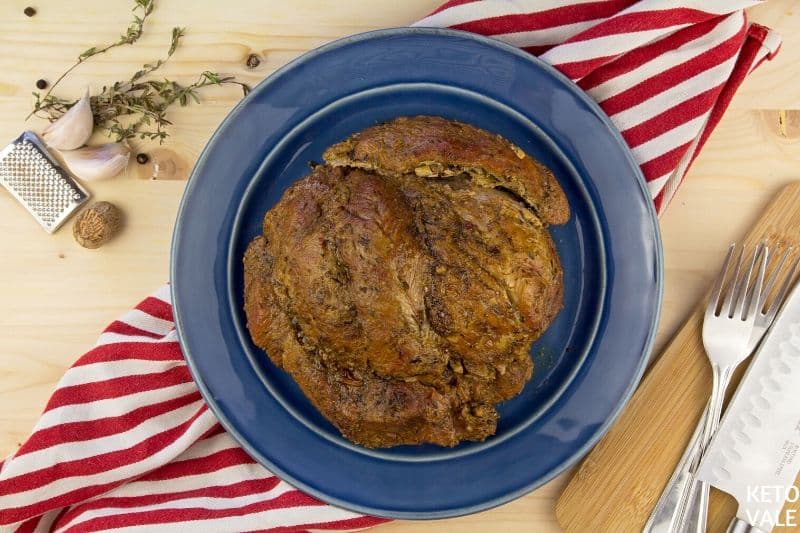 When finished cooking, release the lid, shred the pork, and serve with your favorite low-carb vegetables or cauliflower rice.
More Keto Pork Recipes You Can Try:
Instant Pot Jamaican Jerk Pork Roast
A low-carb and keto-friendly roast pork shoulder dish cooked using an Instant Pot. It's a perfect family dinner.
Instructions
In a small bowl, combine all spices and mix well

Rub pork shoulder with olive oil and coat with the prepared spice mix.

Hit "saute" on your instant pot. Add the meat and cook on all sides until browned. Press "cancel."

Pour beef broth in and close the lid. Set the valve to "seal" and cook for 40 minutes on "manual" high pressure.

When finished cooking, release the pressure for 10 minutes (natural pressure release) and make quick release of the remaining pressure.

Open the lid, shred the pork roast, and serve!
Nutrition/Macros
Nutrition Facts
Instant Pot Jamaican Jerk Pork Roast
Amount Per Serving
Calories 179
Calories from Fat 81
% Daily Value*
Fat 9g14%
Cholesterol 70mg23%
Sodium 718mg30%
Potassium 394mg11%
Carbohydrates 2g1%
Protein 21g42%
Vitamin A 264IU5%
Vitamin C 2mg2%
Calcium 20mg2%
Iron 2mg11%
* Percent Daily Values are based on a 2000 calorie diet.
Pin To Save This Recipe