Easy to make, instant pot pork is something that will never let you down in terms of taste expectation. It's one of those recipes that you can add to your keto menu to make it again and again.
If your instant pot has a timer, you can even fill it with meat and your favorite seasoning and set it to cook overnight and woke up to a delicious smell of freshly cooked ketogenic meat.
Usually, we have various meat choices but in this case, thick and juicy medium sized chops of grass-fed pork are the best and only option that guarantees a high result, especially if you just beginning your keto lifestyle and don't know which recipes are hard to make and which ones you can handle.
[one_half_first]
We will be using an Instant Pot to prepare this meal. Just in case you're not familiar with it, an Instant Pot is a electronically controlled multi-functional cooker that is combined pressure cooker and slow cooker together.
You can use it for many purposes such as soup, stew, sauté, steam, slow cook, keep-warm, etc… It's such a convenient piece of cookware that you should own for your convenience.
If you have a busy life, a cooker like this will save you a lot of time. Just simply choose the meat you want to eat (beef, pork, chicken, lamb) then season it whichever way you like and add it in this instant pot and let it do all the work. You don't have to be there to cook it like other methods.
It's such a time saver and will make your keto way of eating easier!
[/one_half_first][one_half_last]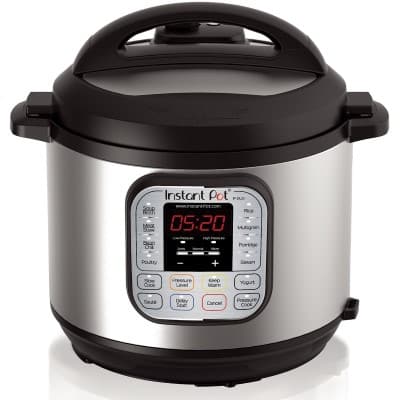 [thrive_link color='red' link='https://amzn.to/2LUE6eC' target='_blank' rel="nofollow noopener" size='medium' align='aligncenter']See Details![/thrive_link]
[/one_half_last]
Extra tip: before cooking, let the meat to juice up a little bit in dressing or rub flavorings into meat, with a sharp knife make little cuts in pork and put whole cloves of garlic in those gashes.
Remember to take away those cloves before serving meat on plates to reduce the carbs. You don't need to eat the whole garlic cloves.
You can also sear the pork before cooking in the instant pot. This will give you a beautiful flavor and texture.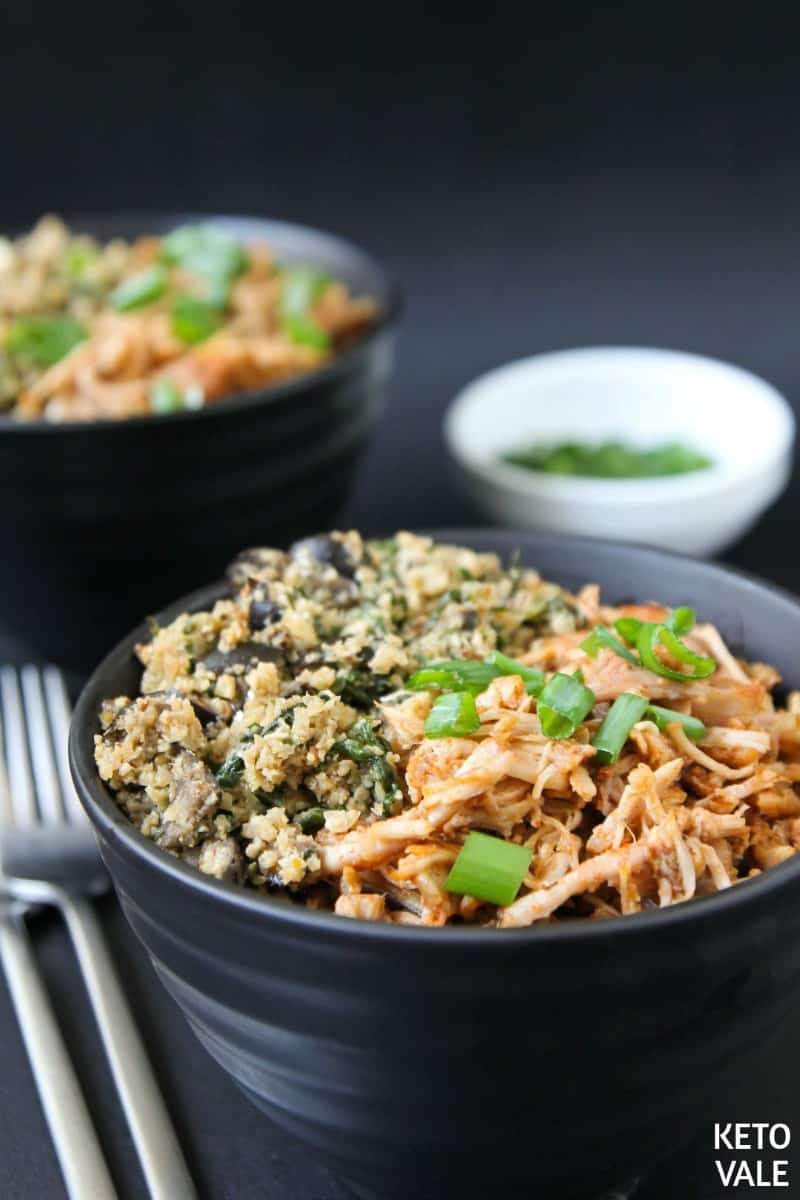 [page_section color='#2c3e50′ textstyle='light' position='default'] [/page_section]
[thrive_headline_focus title="Let's Ketofy It!" orientation="center"]
If you buy a large piece of pork shoulder (or pork butt), cut it into medium-size pieces then place them inside an instant pot.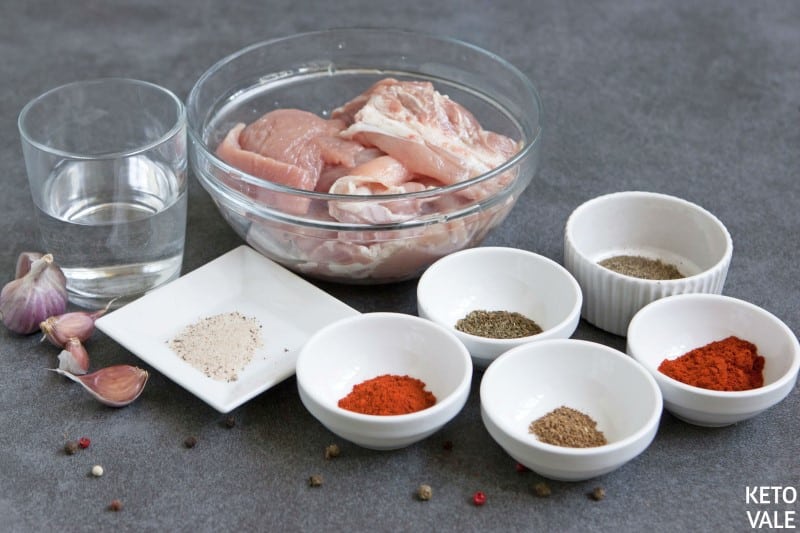 In a small bowl, add paprika, cumin, oregano, cayenne pepper, black pepper, and salt in. Mix together then pour it over the pork and rub the meat well on all sides.
Add water and minced garlic in. Turn on your instant pot and cook between 3 – 3.5 hours.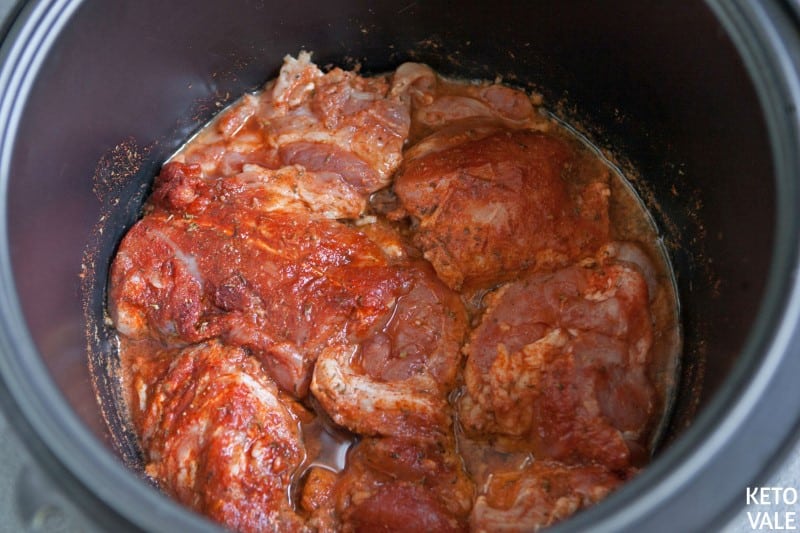 Optionally, instead of water, you can use bone broth. Don't be shy with garlic, oregano, and other seasonings – they only will add more taste to your dish, also try to experiment by adding some minced ginger, or any other of your favorite herbs.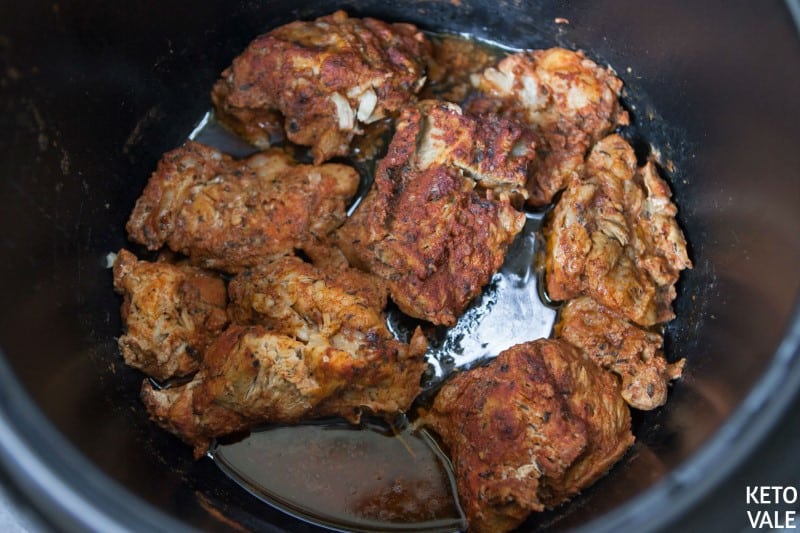 Once cooked, remove the meat out and shred it using your hands or two forks. Put the shredded meat on a plate and top with chopped green onion.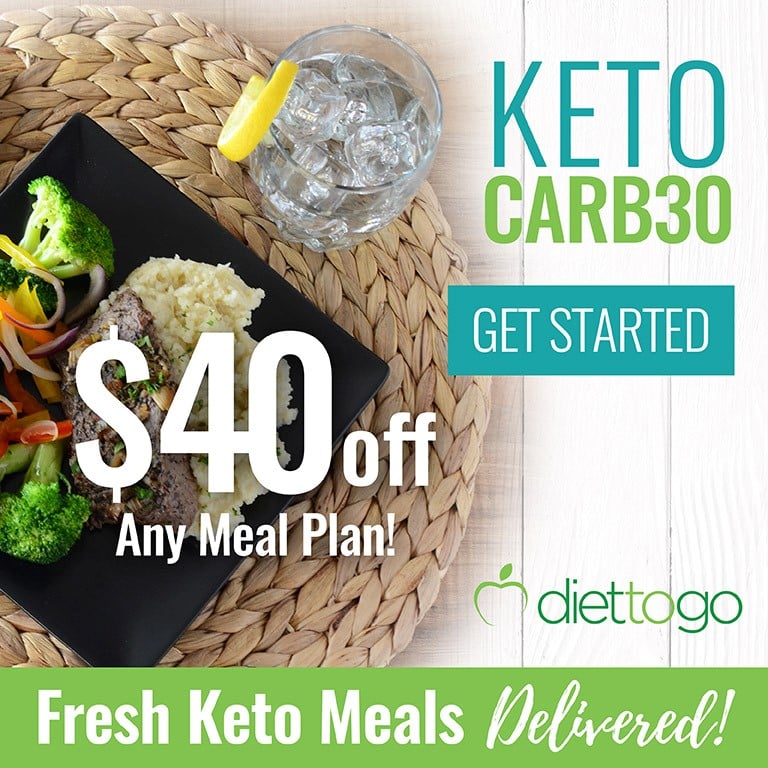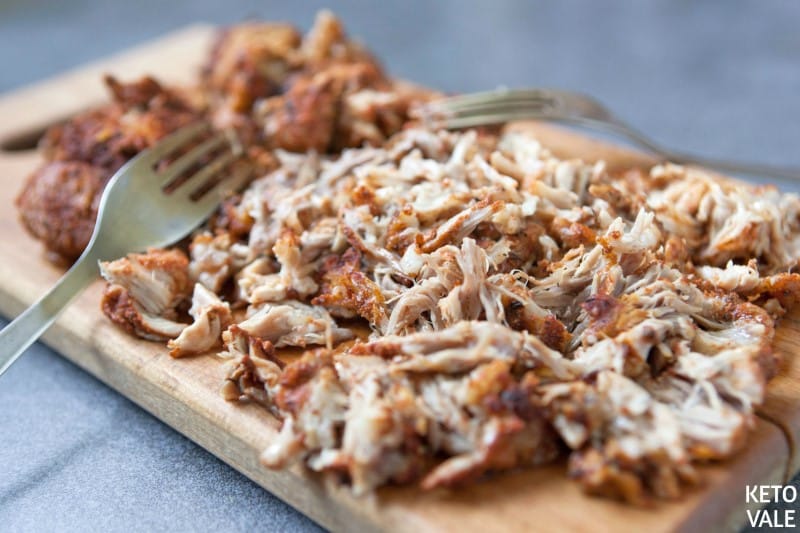 You can serve pulled pork with cauliflower rice, a low carb salad, sandwich or burger. You can also use lettuce leaves to make Pulled Pork Lettuce Wraps.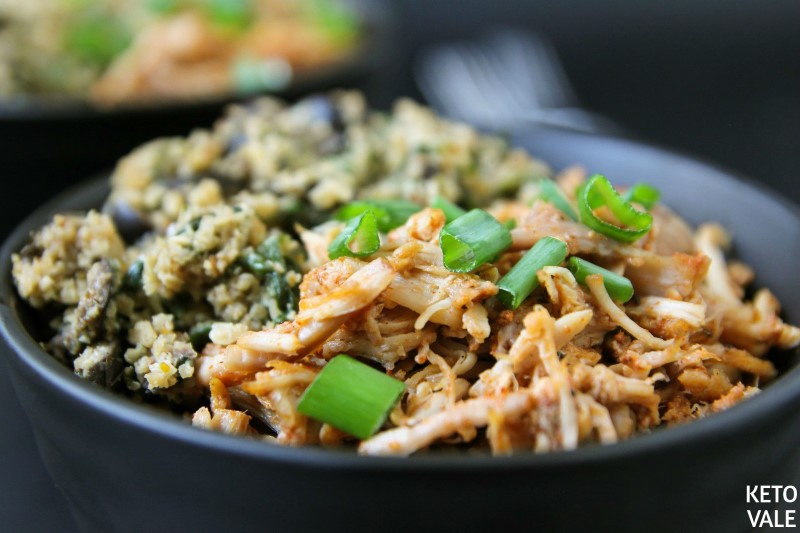 Store the unused pork in the fridge for up to 1 week.
Watch how we made this here:
Save this recipe by pinning this picture to your Pinterest board for later use!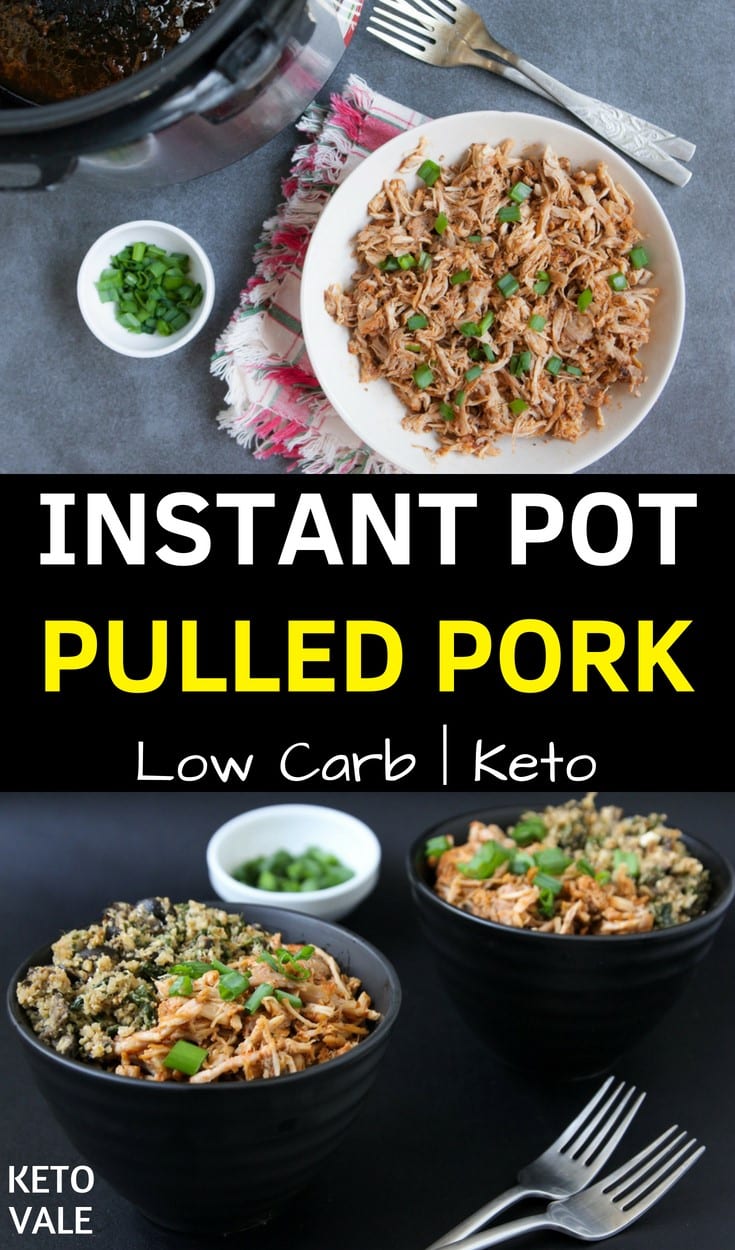 Related: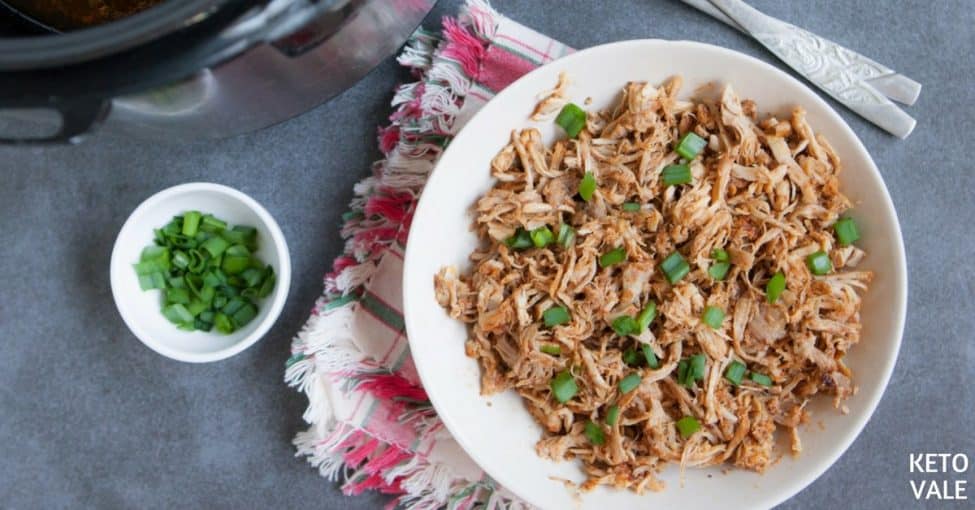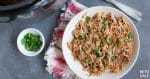 Keto Instant Pot Pulled Pork
Total Time:
3
hours
5
minutes
With an instant pot, every dish becomes much easier to make, especially this keto-friendly pulled pork.
Print Recipe
Pin Recipe
Instructions
Chop the meat into medium-size pieces and put into the instant pot.

Mix all spices together in a small bowl, sprinkle over the pork and mix well.

Add minced garlic and 1/3 cup water.

Turn the instant pot on, click "saute" and cook for 3-3,5 hours.

When done cooking, take the meat out and shred well, transfer to a plate and garnish with chopped green onion.

Serve with a low carb salad, cauliflower rice or lettuce leaves.
Notes
Chicken is also a good replacement for pork.
Macros
Nutrition Facts
Keto Instant Pot Pulled Pork
Amount Per Serving
Calories 205
Calories from Fat 81
% Daily Value*
Fat 9g14%
Cholesterol 91mg30%
Sodium 488mg20%
Potassium 529mg15%
Carbohydrates 1g0%
Protein 29g58%
Vitamin A 395IU8%
Vitamin C 0.5mg1%
Calcium 26mg3%
Iron 2.1mg12%
* Percent Daily Values are based on a 2000 calorie diet.