Today we want to share with you one fantastic and very simple recipe. It's called Chicharron Fried Pork Belly. Who doesn't love a piece of tasty and crispy fried pork belly?
Keto is probably the most delicious and satisfying diet in the world. You don't need to starve yourself since there are many foods that you can have, as long as you know how to cook them the keto-way.
It takes two hours to prepare this dish (mostly just simmering), but the directions are very simple. Don't let the two hour time frame discourage you from trying it! It will be better to leave the meat in the refrigerator for the night.
We use only keto-friendly seasonings in our recipe. Some people like pork belly to have a little sweet taste. If so, you can add erythritol – a sugar substitute, which is optional.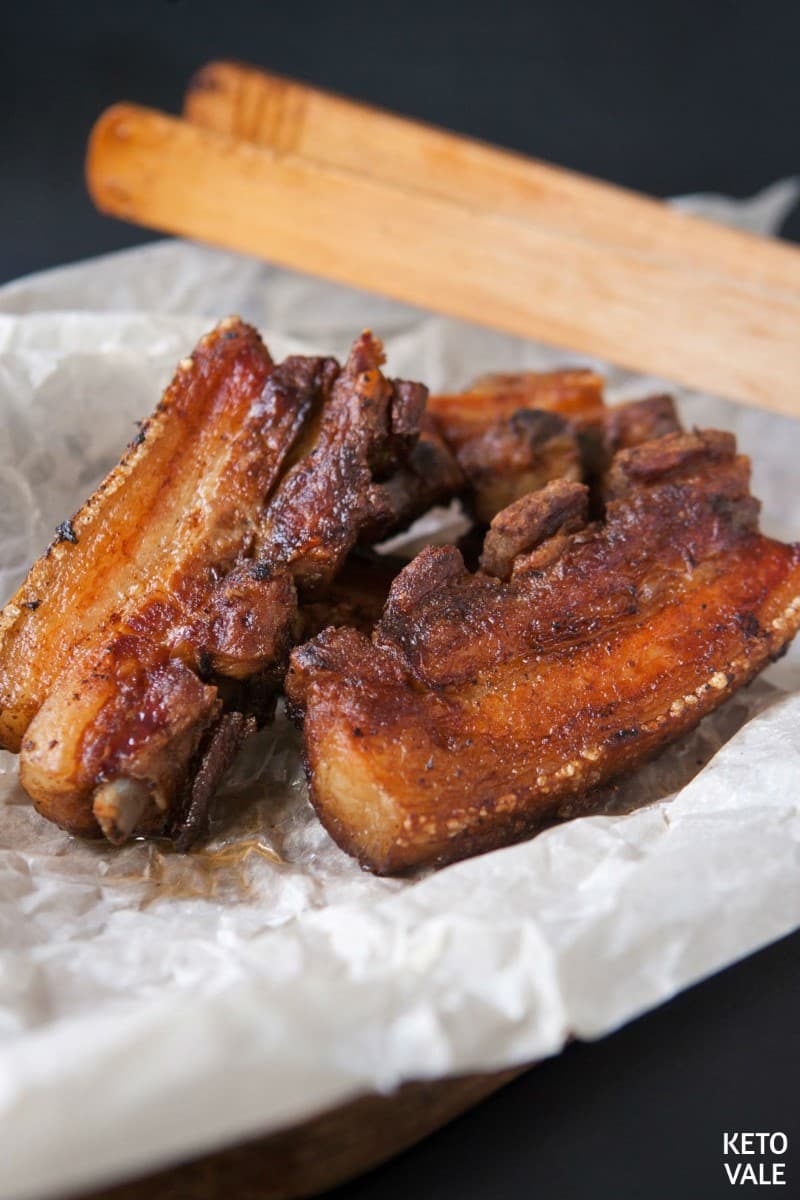 Our recipe uses lemon juice, which provides a brilliant citrus flavor while also speeding up your metabolism and boosting your blood levels of vitamin C.
Vitamin C is needed to help keep your immune system properly functioning. It's also needed to stimulate the production of collagen, which helps keep your hair, skin, nails, and joints healthy.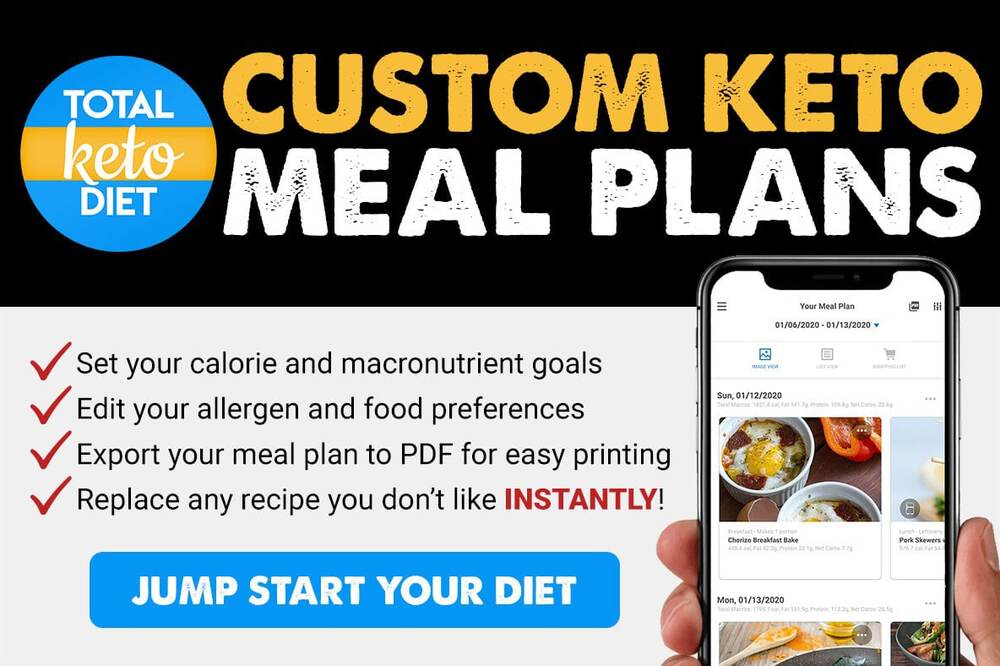 Basic salt and pepper is added to the meat to enhance its taste. You can add other condiments that you like, such as mustard, vinegar, or other spices.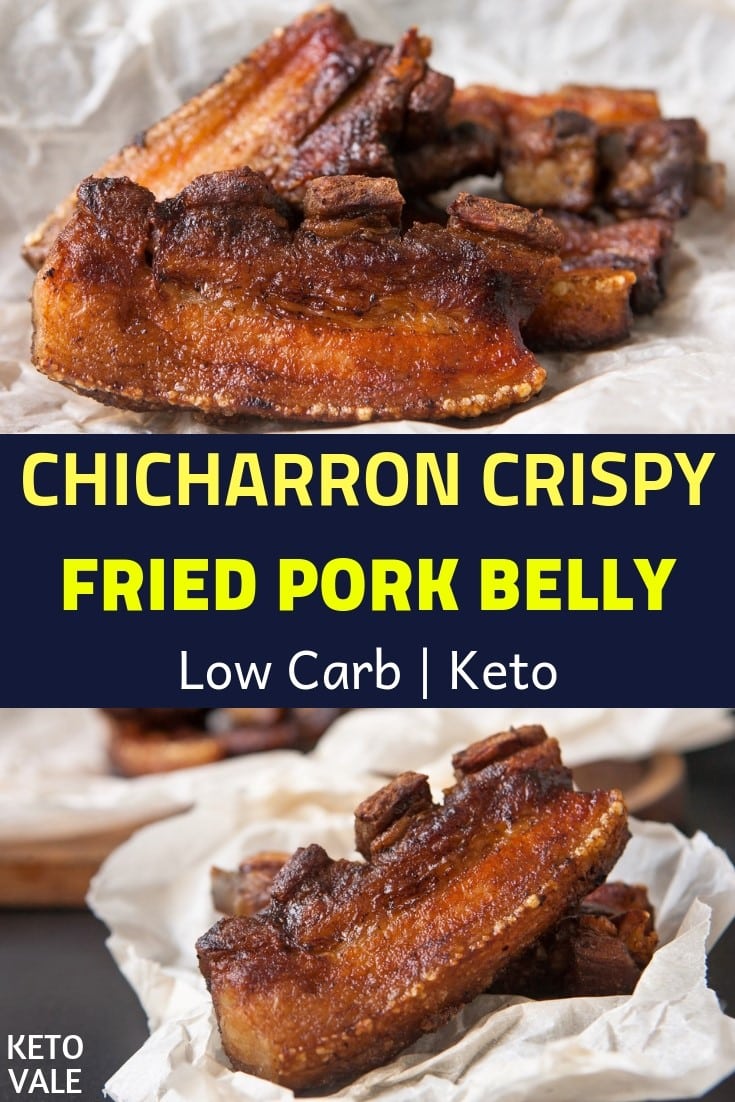 This dish can be made to treat your family and guests. Serve it with your favorite low-carb vegetables or a side salad with low-carb dressing.
---
Let's Do It!
Rub the pork skin with salt and baking soda then chill in the fridge overnight. We recommend rubbing the belly with baking soda overnight.
This trick helps to dehydrate the skin. The skin rubbed with soda browns more quickly and becomes crispy faster.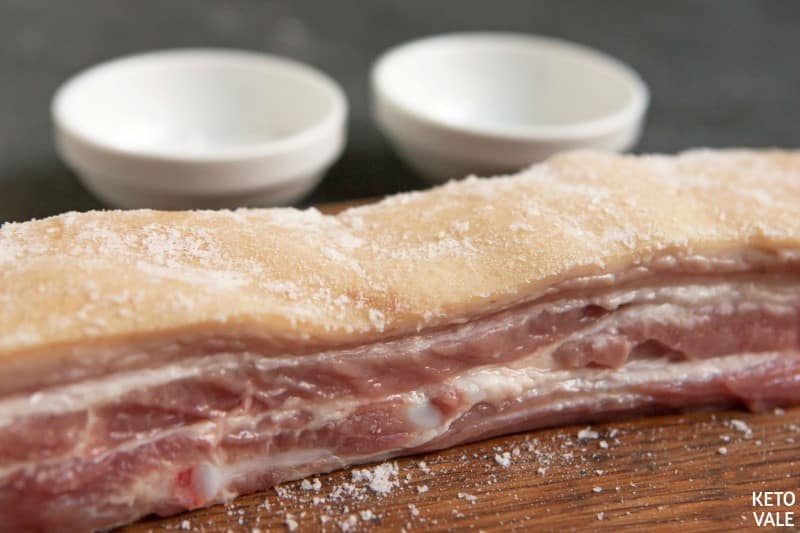 Wash the belly in cold water and pat dry. Use a sharp knife and cut 1 – 1.5 inch deep on each belly strip. Do not cut through the skin.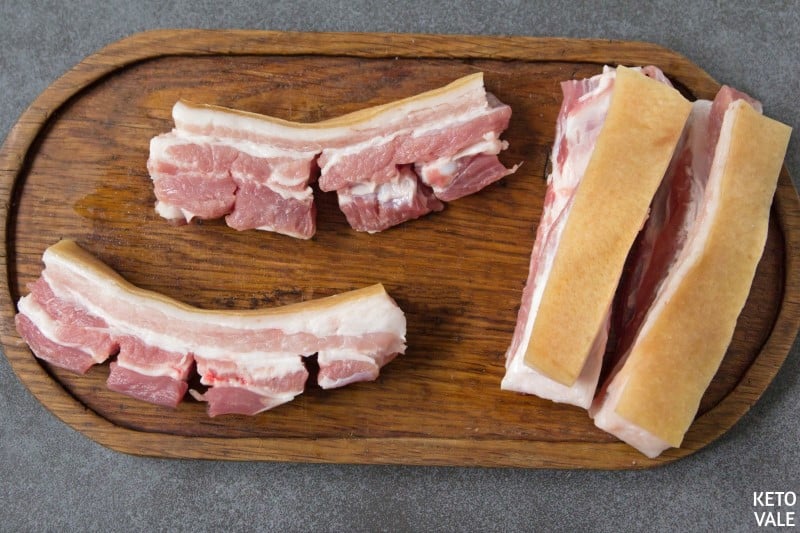 Place the meat into a saucepan. Add water and all the seasonings in then cook on medium-low heat without the lid on the water can evaporate until the cooked meat and pork fat left in the pan.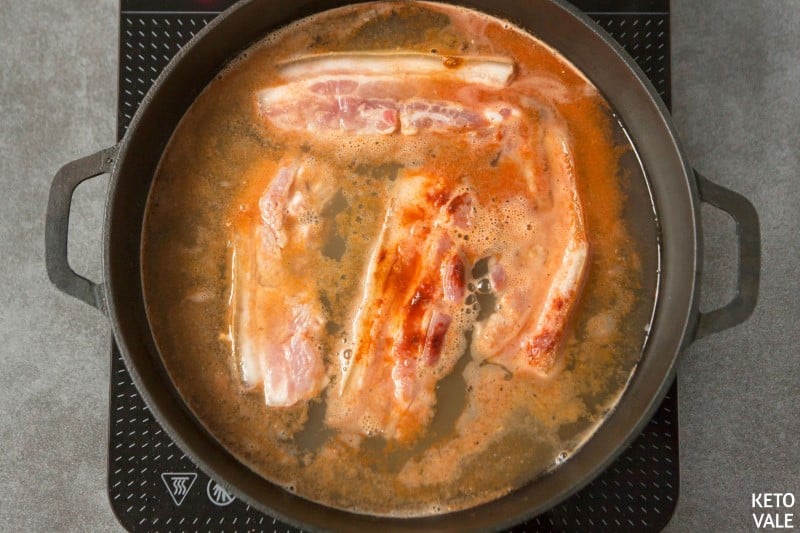 Increase the heat and add more pork fat (lard) if needed. Fry it until a golden and crispy texture is achieved (between 5-10 minutes each side).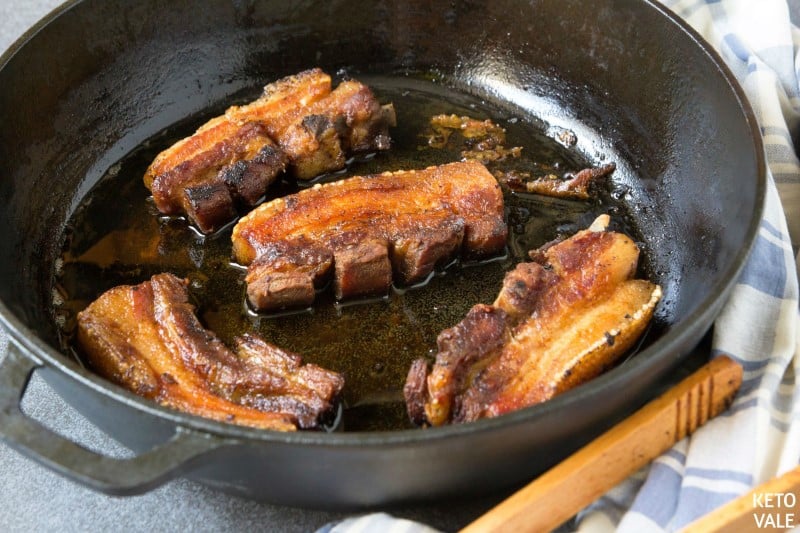 Add more salt and pepper if needed and serve.
Related:
Chicharron Fried Pork Belly
This tasty and crispy fried pork belly made with keto-friendly ingredients will be a lovely meal for all low-carb dieters.
Instructions
Rub the belly skin with baking soda and salt and transfer to the fridge overnight.

Rinse the belly in cold water and pat dry. Cut it into thick stripes and make 1 ½ inch cuts on each stripe. Be careful not to cut the skin.

Place belly pieces into a heavy-bottomed pan. Add water, lemon juice, cayenne pepper, paprika, salt and pepper and cook on medium-low uncovered until water evaporates and only the lard will be left in the pan.

Increase the heat to medium, add ½ tbsp lard if needed and fry chicharron for 5-10 minutes or until golden and crispy.

Add more seasonings if needed and serve.
Notes
*The actual macros of the final cooked meat is very hard to calculate because it depends on the type of pork belly you choose (a leaner or fattier cut) and how crispy you make it. The crispier you make it, the less fat is left in the meat. So the actual macros of your final dish will have a lot less fat and calories.
Nutrition/Macros
Nutrition Facts
Chicharron Fried Pork Belly
Amount Per Serving
Calories 590
Calories from Fat 540
% Daily Value*
Fat 60g92%
Cholesterol 82mg27%
Sodium 1171mg49%
Potassium 226mg6%
Carbohydrates 1g0%
Protein 11g22%
Vitamin A 187IU4%
Vitamin C 3mg4%
Calcium 11mg1%
Iron 1mg6%
* Percent Daily Values are based on a 2000 calorie diet.
Pin To Save This Recipe