Cupcakes are normally off limits on a keto or low-carb diet. But as long as you use low-carb ingredients, you can still enjoy them as a healthy snack or treat. 
This Keto Strawberry Cupcakes recipe is not only low carb and sugar-free, it also packs a powerful nutritional punch! I used almond flour as the base crust in place of traditional enriched flour, which means you get the added benefit of healthy fats.
This Keto Yogurt Cupcakes recipe also calls for butter. You can give your butter a boost by purchasing butter from grass-fed and pasture-raised cows. Research shows that grass-fed products have higher amounts of certain nutrients, including healthy fatty acids.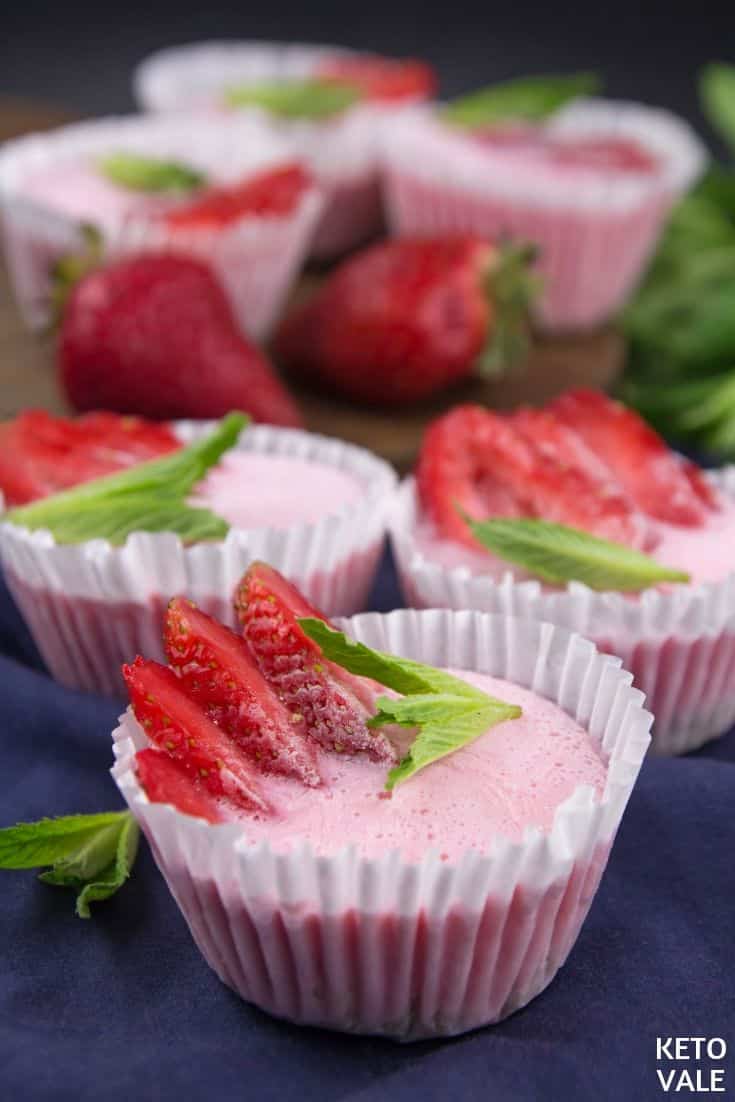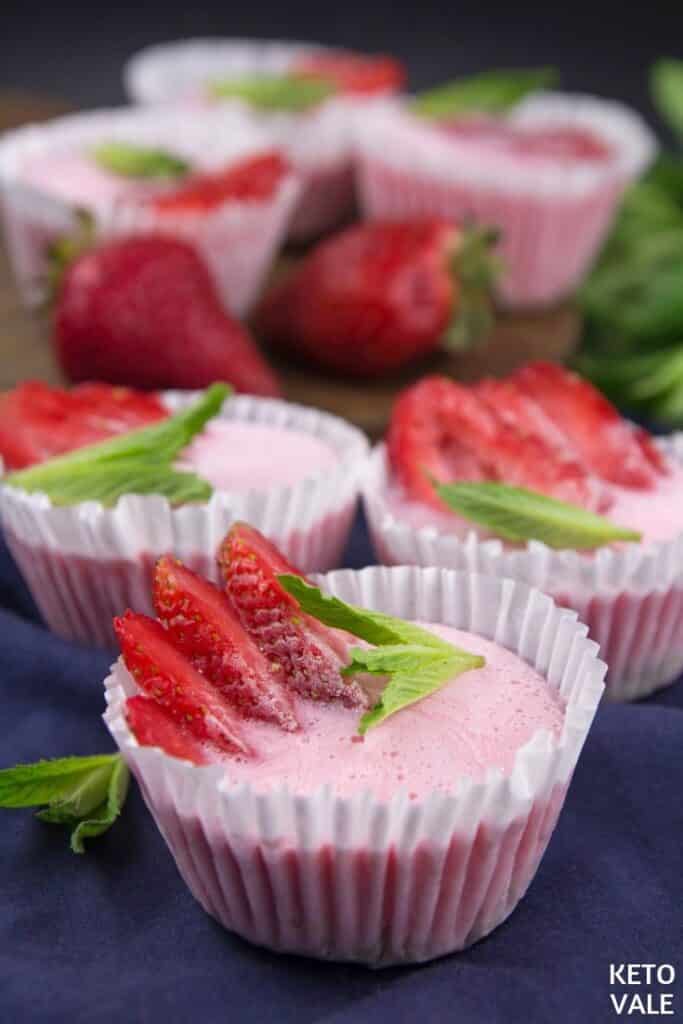 Feel the flavor of strawberry, a fruit packed with vitamins and antioxidants. The smooth texture of yogurt and butter makes the dessert both light and exquisite. Add some mint leaves to increase the delight of aroma. Be sure to use yogurt that is unsweetened and also comes from grass-fed cows.

These Frozen Yogurt Cupcakes are super easy to prepare and you will need to spend only 10 minutes to get this delicious dessert done.

These muffins are a delightful treat after dinner. You can also enjoy them for breakfast in place of your traditional avocado egg boat. It calls for erythritol, which you can omit if you want. The strawberries provide enough sweetness for most people.
How to Make Sugar Free Strawberry Cupcakes
First, line the muffin tin with parchment cupcake liners.
Combine the melted butter, almond flour, and half of erythritol in a bowl. This will be your cupcake crust.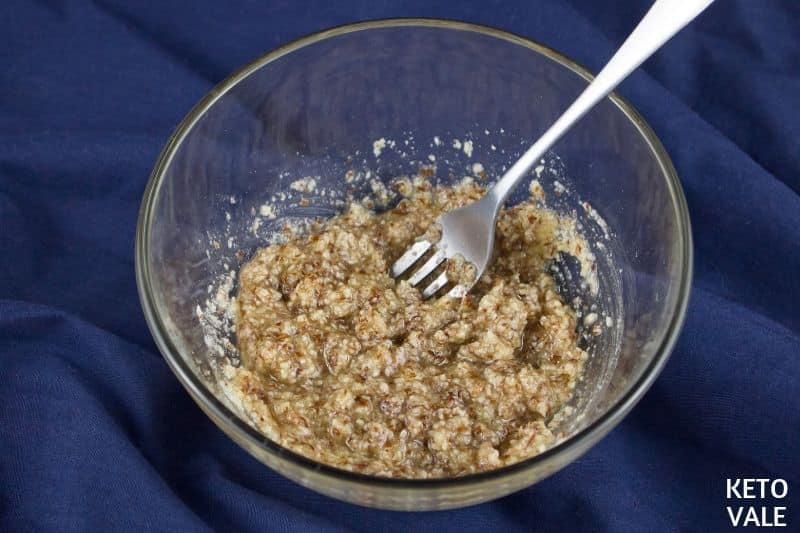 Divide this crust mixture between muffin cups and gently press it.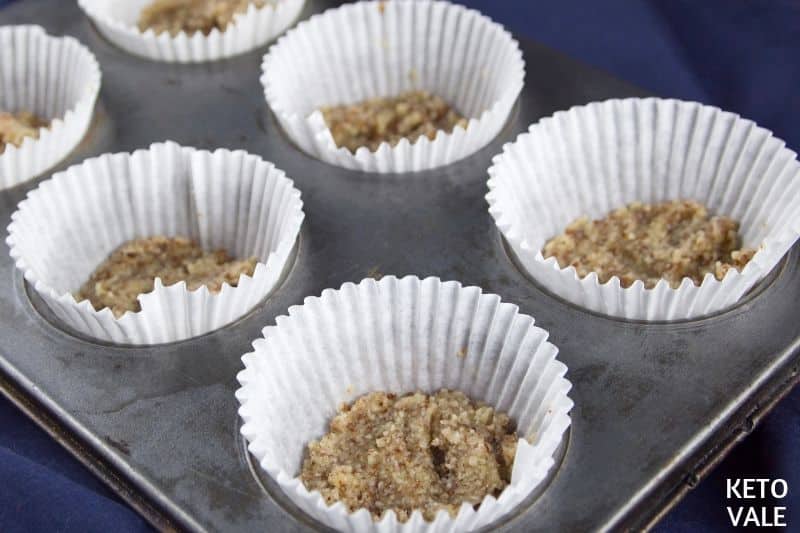 Next, blend together the yogurt, sweetener and strawberries in a high speed blender until the batter is smooth then use a spoon or a cup to transfer over the almond flour base.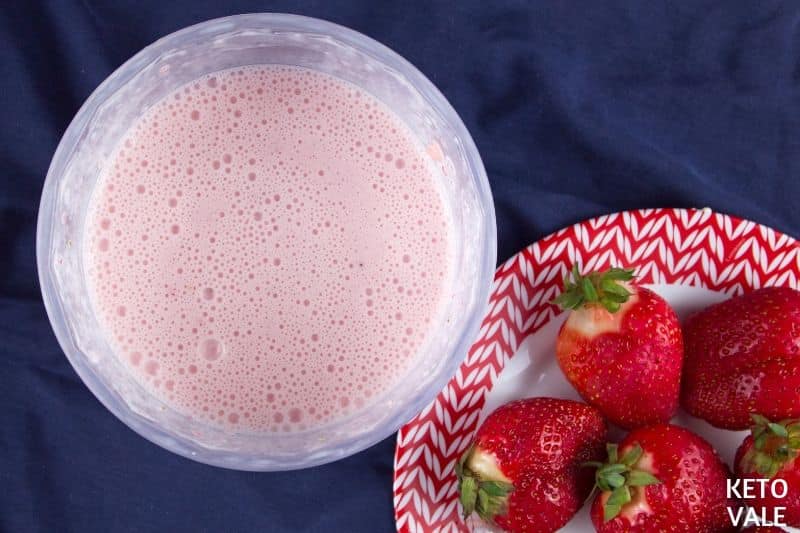 Decorate each cupcake with sliced strawberries and transfer them to the freezer. All you have to do is to wait until firm.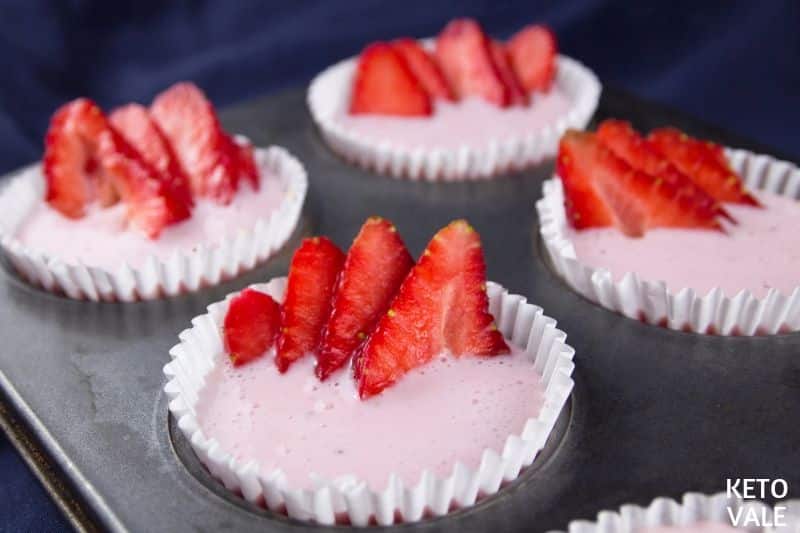 There is no baking required, which makes these an excellent hot summer day treat. Let sit 10 minutes before serving. Enjoy!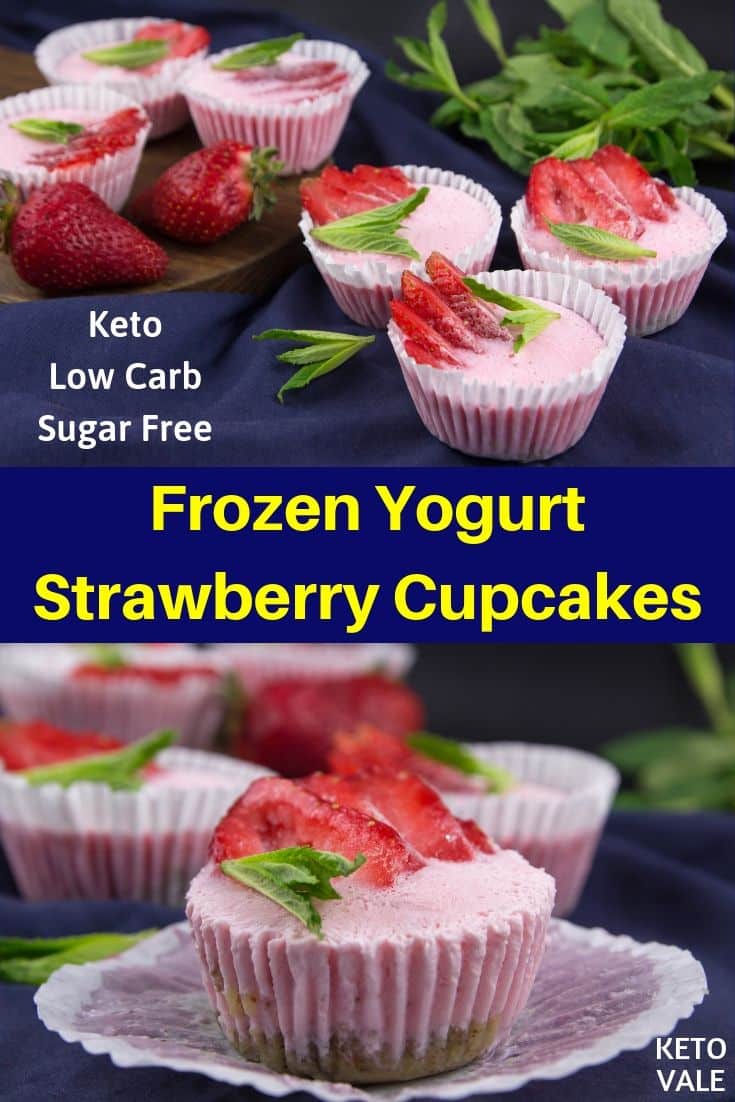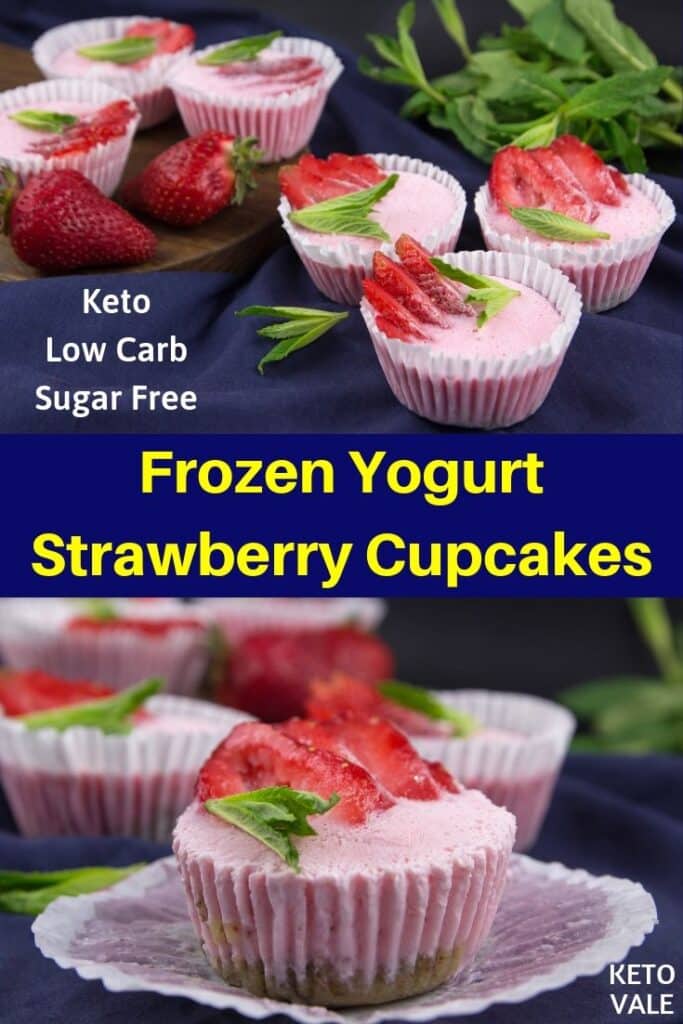 You can also try:
Keto Frozen Yogurt Strawberry Cupcakes
A low-carb and sugar-free yogurt cupcake with strawberry dessert, which is also a perfect substitute for ice-cream on the keto diet.
Instructions
Line a 6-cup muffin tin with parchment cupcake liners.

In a bowl combine almond flour, melted butter and half of erythritol. Divide between muffin cups and press slightly.

Put ½ cup strawberries, yogurt and remaining erythritol in a food processor and blend until homogeneous. Spoon into the muffin cups.

Slice the remaining strawberries, and put on top of each cupcake.

Transfer cupcakes to the freezer for 5-6 hours or until firm.

Let sit 10 minutes. Serve garnished with mint leaves.
Nutrition/Macros
Nutrition Facts
Keto Frozen Yogurt Strawberry Cupcakes
Amount Per Serving
Calories 96
Calories from Fat 63
% Daily Value*
Fat 7g11%
Cholesterol 12mg4%
Sodium 46mg2%
Potassium 84mg2%
Carbohydrates 4g1%
Protein 5g10%
Vitamin A 118IU2%
Vitamin C 14mg17%
Calcium 54mg5%
Iron 1mg6%
* Percent Daily Values are based on a 2000 calorie diet.
Pin To Save This Recipe