One of the best things about the keto diet is that you can still have dessert. Everyone has a sweet tooth, and I know you have one too! With this Sugar-free and Keto-friendly Baked Ricotta Pudding with Raspberries, you will satisfy your cravings.
This Keto Ricotta Puddings originally comes from Italy, but I changed some of the ingredients in the recipe to make it keto friendly.
The primary ingredient needed in this dish is the ricotta. This cheese is a cut above the rest because of the plethora of vitamins and minerals it contains. It is rich in protein and contains vitamins A, B, calcium, zinc, a high concentration of phosphorus, and low amounts of sodium.

I also eliminated sugar from the ingredients and replaced it with erythritol instead. This sweetener does not have carbohydrates and calories, perfect for your keto diet.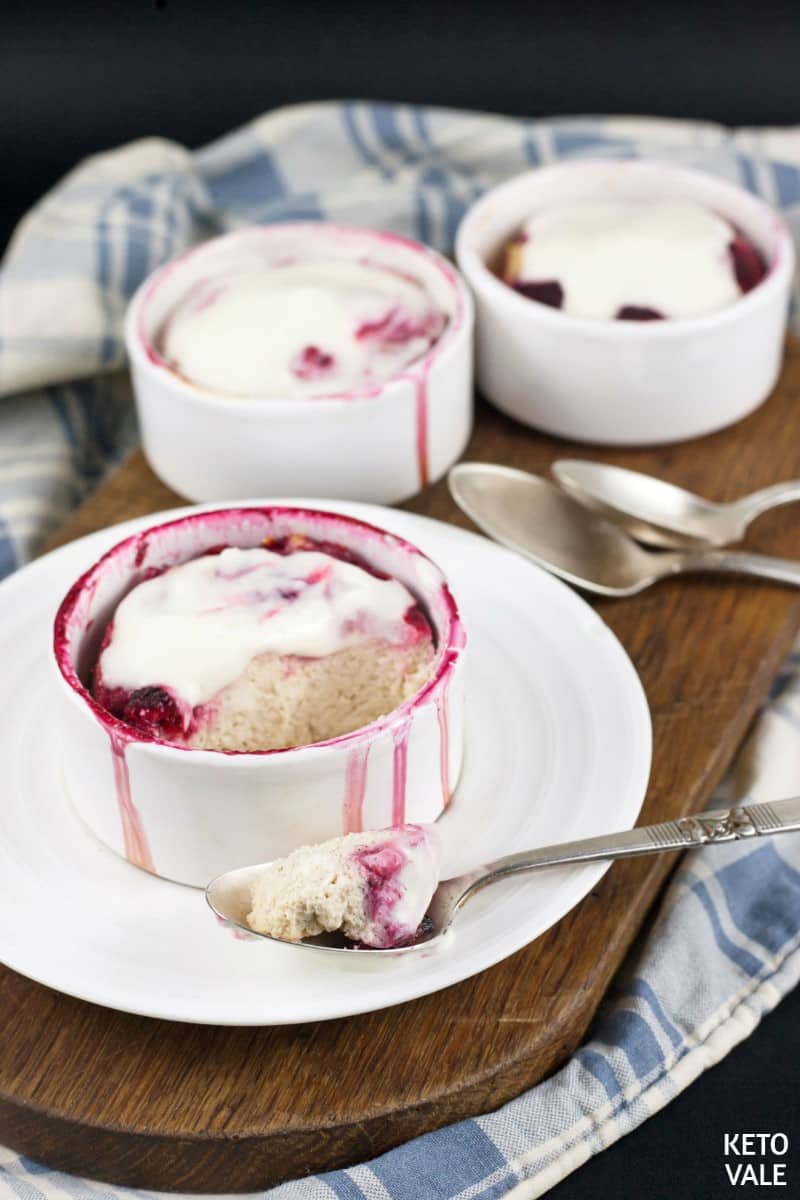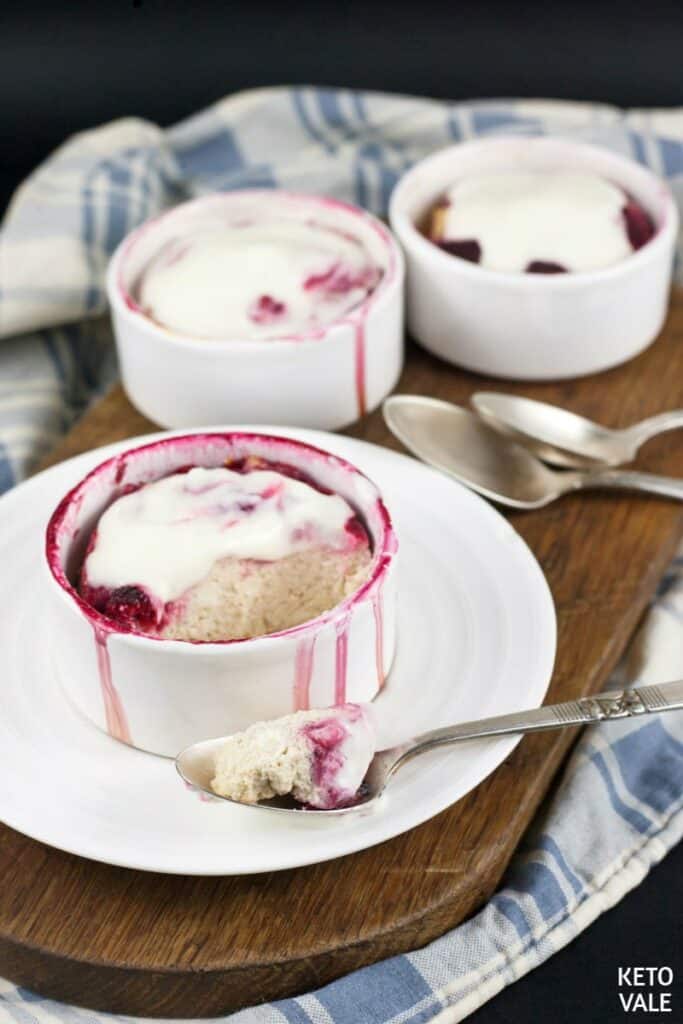 If erythritol is not available, you can always substitute it with stevia sweetener or experiment with no sweetener at all.

To make the dish extra special, add in various kinds of berries available in your kitchen if you like.
You can customize this dessert to suit your non-keto friends and family too. This dish is perfect for any occasion in your home. I'm sure you're going to have fun making this dish just like how you enjoy eating it.

---
How to Make Low Carb Vanilla Ricotta Puddings with Raspberry
Set the oven to 350 F to preheat.
In a large bowl, add the lemon zest, cinnamon, vanilla extract, ricotta, cheese, and 1 ½ tbsp of erythritol. Whip everything together to create a homogeneous mixture.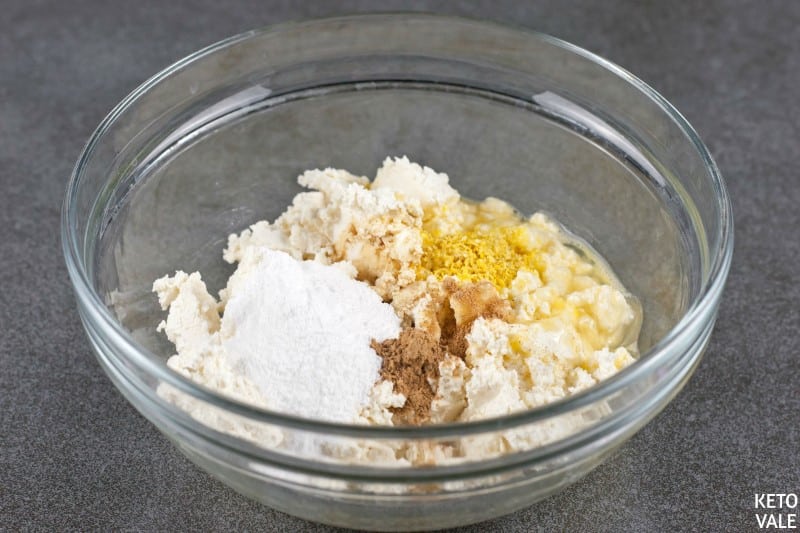 Distribute this mixture evenly into souffle cups or ramekins, whichever is available. Fill only ¾ of the cup then garnish with raspberries on top.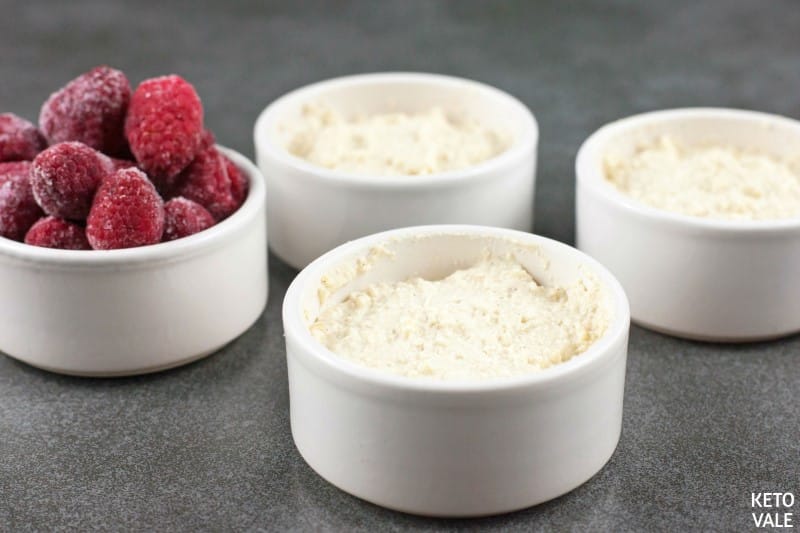 Place the cups in the oven and leave it for 25 minutes or wait til the cupcakes turn lightly golden.
While waiting for the cupcakes, mix the remaining erythritol with the whipping cream until smooth.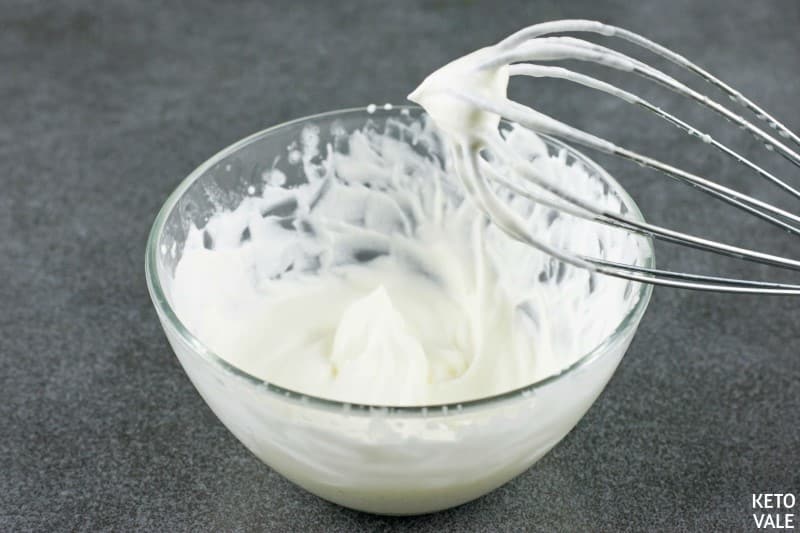 Remove the cups from the oven and let stand to cool for 5 minutes or so.
Squeeze some whipped cream on top of the cupcakes before serving.
Save this recipe by pinning this picture to your Pinterest board for later use!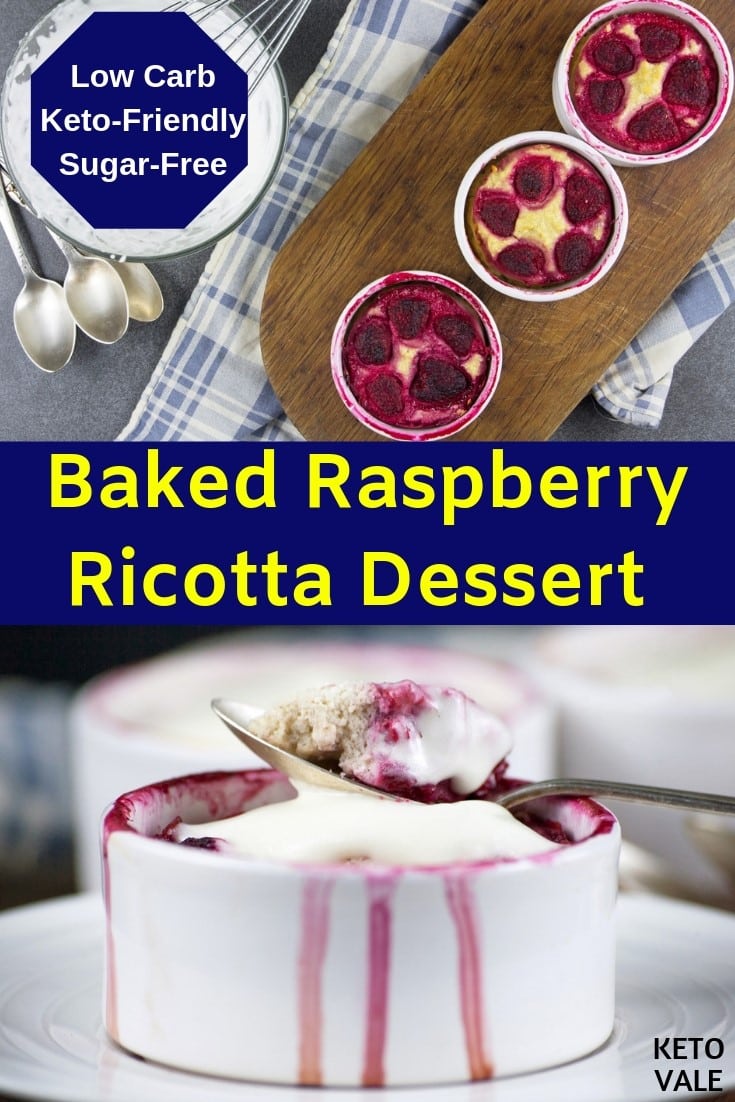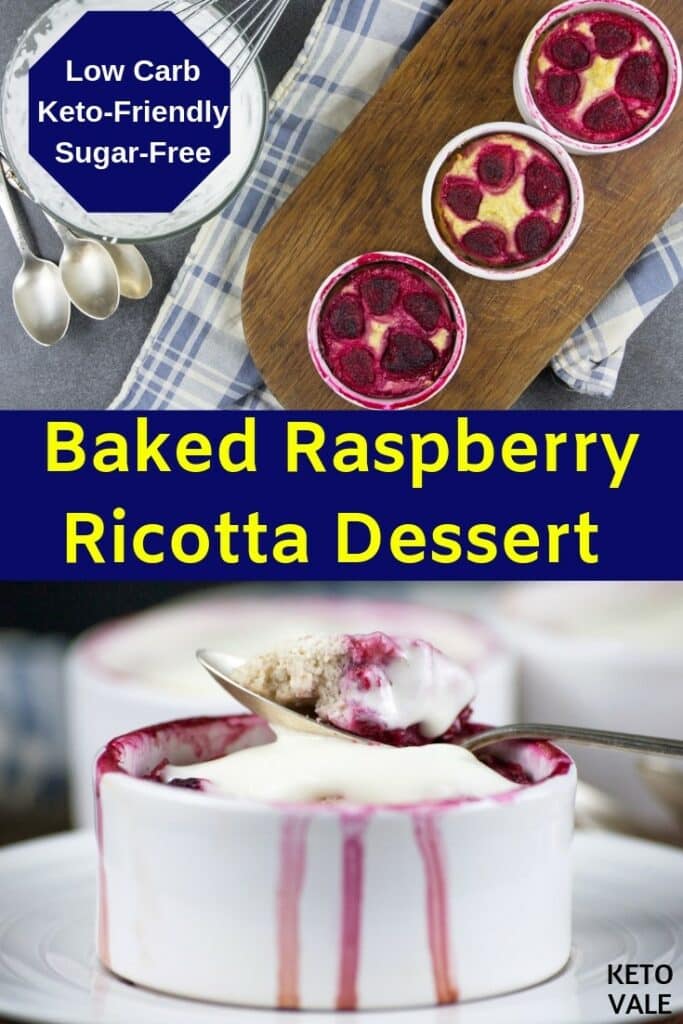 Related:
Keto Baked Ricotta Raspberry Puddings
This sugar-free baked ricotta with raspberries will satisfy your cravings on a low carb and keto diet.

Instructions
In a bowl, combine ricotta, egg, cinnamon, lemon zest, vanilla extract and 1 ½ tbsp erythritol, mix until smooth.

Divide the mixture between souffle cups or ramekins. Cups should be 3/4 full. Top with raspberries.

Transfer to the oven and bake for 25 minutes or until lightly golden.

Meanwhile, whip the cream with ½ tablespoon of erythritol.

Remove desserts from the oven and allow to cool for 5 minutes.

Serve topped with whipped cream.
Nutrition/Macros
Nutrition Facts
Keto Baked Ricotta Raspberry Puddings
Amount Per Serving
Calories 210
Calories from Fat 153
% Daily Value*
Fat 17g26%
Cholesterol 110mg37%
Sodium 89mg4%
Potassium 131mg4%
Carbohydrates 4g1%
Protein 11g22%
Vitamin A 640IU13%
Vitamin C 3mg4%
Calcium 179mg18%
Iron 1mg6%
* Percent Daily Values are based on a 2000 calorie diet.
Pin To Save This Recipe
FAQ
Is ricotta cheese keto-friendly?
Yes, ricotta cheese is keto-friendly as it is relatively low in carbs and can be included in moderate amounts on the keto diet. 100 gram serving of ricotta has 7 grams of net carbs. There are other ricotta cheese alternatives for keto you can try. (*)
How to store baked vanilla ricotta pudding
You can store baked vanilla ricotta pudding in an airtight container in the refrigerator for up to 3-4 days. Before serving, allow it to come to room temperature or gently reheat if desired.
Which ricotta is best for baking?
For baking, it's best to use whole milk ricotta cheese because it has a richer flavor and creamier texture compared to part-skim or low-fat varieties. Make sure the ricotta is well-drained to prevent excess moisture in baked dishes.