The dish that you will learn to make today is a very famous Indian dish full of flavors. If you love Indian cuisine, you'll definitely want to try this one. I am talking about Chicken Tikka Masala.
Of course, as you probably know, this Indian dish is always served along with rice. You might be wondering how you are going to avoid all those carbs. Well, don't worry at all! Because we will be eating this delicious keto tikka masala dish with cauliflower rice.
The cauliflower rice is super easy to make. Simply place a cup of cauliflower florets in a food processor and process it until you get grain-size pieces. After that, simply add a little bit of olive oil to a frying pan and stir fry the cauliflower with a pinch of salt until it looks soft.
In addition to being super easy to make, cauliflower rice has tons of health benefits. Research shows that it contains the bioactive compounds sulforaphane and indoles, which have been shown to protect against certain types of cancer (1).
Sulforaphane also helps keep your heart healthy and has been shown to reduce the risk of cardiovascular disease (2).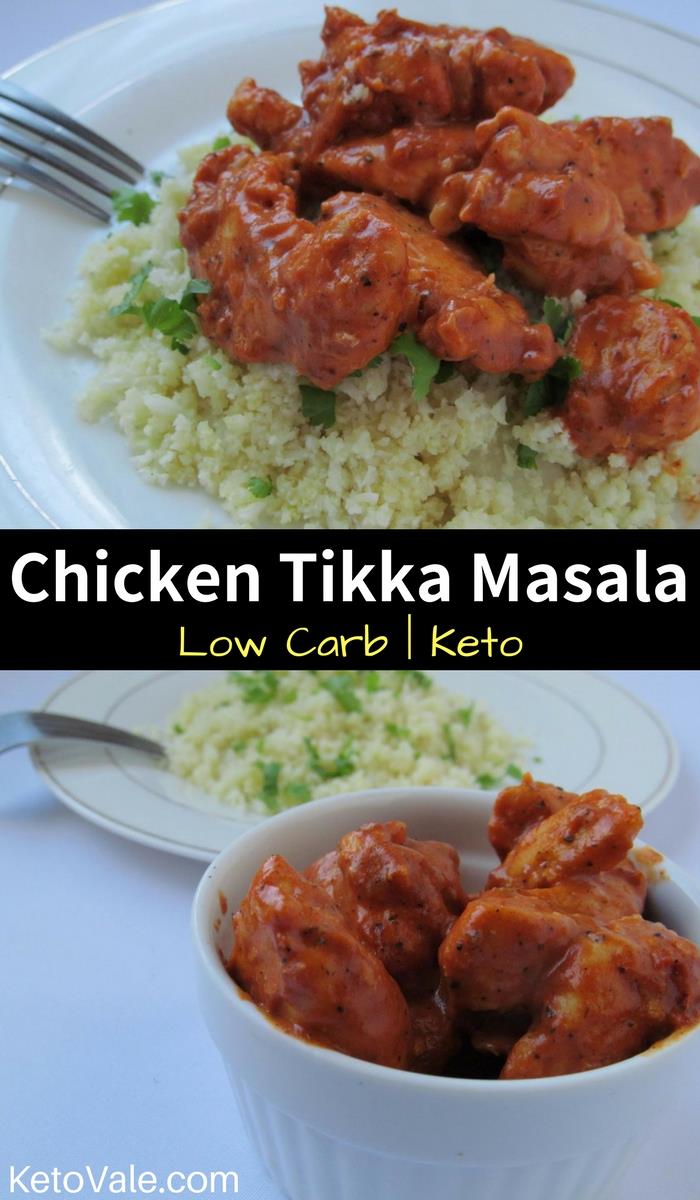 There are many keto dishes with cauliflower rice on our blog which you can try.
This keto tikka masala recipe is full of healthy fats from the coconut cream, heavy cream, and olive oil, which help you absorb the antioxidant nutrients from the cauliflower.
The garlic and ginger provide additional anti-inflammatory and disease-fighting properties. For example, ginger contains gingerols, shogaol, and paradol, which have been shown to protect against cancer (3), while garlic contains antimicrobial properties to help boost immunity (4).
This low carb tikka masala is best enjoyed right away. However, the flavors will marinate together with the chicken to make delicious leftovers for tomorrow's lunch!
How to Make Low Carb Chicken Tikka Masala
Cut the chicken breasts into bite-sized chunks. You can use skinless chicken thighs if you want to.
Cook them in olive oil in a pan over medium heat for five minutes. You can also use butter or ghee.
Add the heavy cream and coconut cream (or coconut milk) to the pan. Simmer for 2 minutes.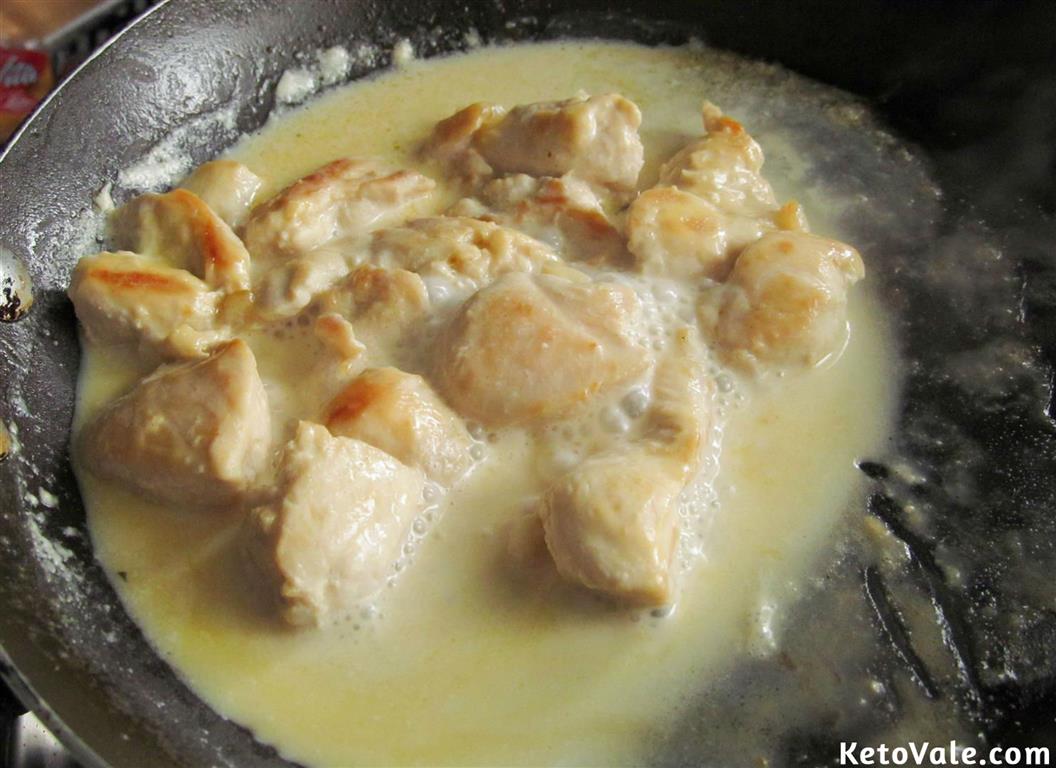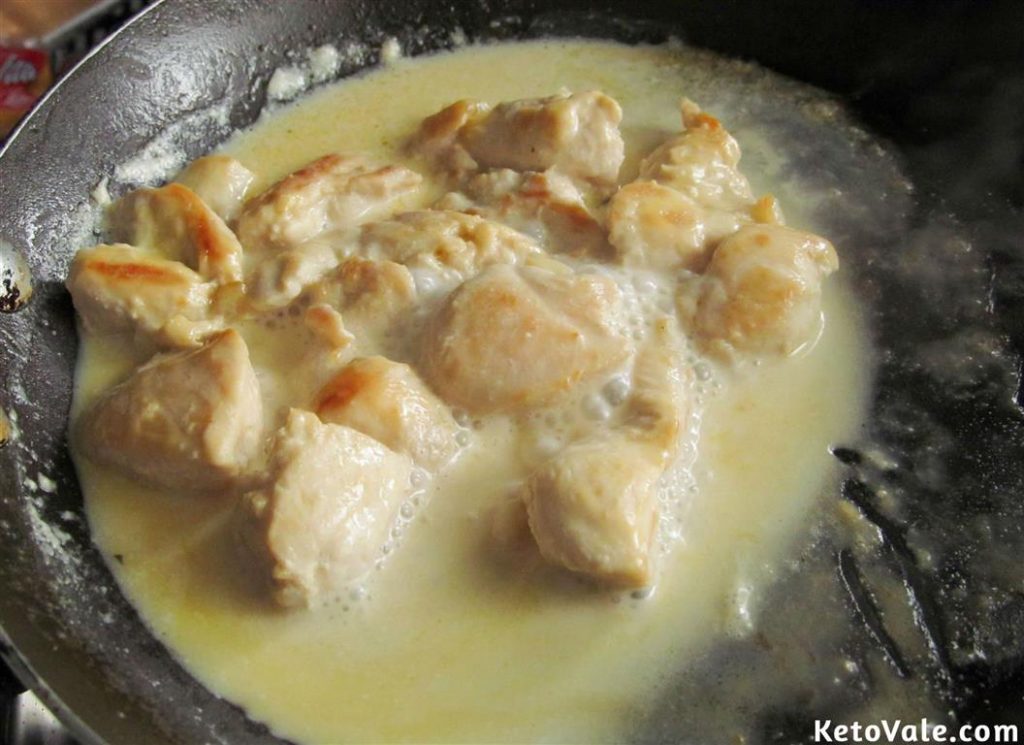 In the pan, mix in the garam masala, garlic powder, minced garlic, tomato paste, ginger, paprika (or cayenne pepper powder), and salt. Ensure the chicken is well-coated with the mixture.
Cook for 5 minutes. Serve with cauliflower rice. Check my Low Carb Cauliflower Rice recipe to learn more!
Note: While the traditional stovetop method is always a classic, this dish can also be adapted for modern cooking appliances. Using an instant pot can significantly speed up the cooking process, infusing the chicken with the aromatic spices in a fraction of the time.
On the other hand, opting for a slow cooker allows the flavors to meld and deepen over several hours, resulting in a Chicken Masala that's incredibly tender and bursting with flavor. Whichever method you choose, you can still use the ingredients in my recipe and adjust the cooking time.
Related:
Save this recipe by pinning this to your Pinterest board for later use!
Keto Chicken Tikka Masala
Chicken Tikka Masala recipe is a famous dish from Indian cuisine matched with cauliflower rice.
Instructions
Cut the chicken breast into bite-sized pieces.

In a pan over medium heat, warm the olive oil and fry the chicken for about 5 minutes.

Pour in the coconut cream and heavy cream, stirring gently. Let it simmer for 2 minutes.

Add the minced garlic, garlic powder, ginger, garam masala, tomato paste, paprika, and salt to the pan. Stir well to coat the chicken.

Let the mixture simmer for another 5 minutes then turn off the heat. Serve over cauliflower rice and garnish with chopped cilantro. Enjoy!
Nutrition/Macros
Nutrition Facts
Keto Chicken Tikka Masala
Amount Per Serving
Calories 359
Calories from Fat 234
% Daily Value*
Fat 26g40%
Cholesterol 89mg30%
Sodium 1364mg57%
Potassium 642mg18%
Carbohydrates 6g2%
Protein 26g52%
Vitamin A 623IU12%
Vitamin C 5mg6%
Calcium 27mg3%
Iron 2mg11%
* Percent Daily Values are based on a 2000 calorie diet.
Pin To Save This Recipe
FAQ
Can I use Greek yogurt instead of heavy cream in tikka masala?
Yes, you can use yogurt as a substitute for heavy cream in tikka masala to achieve a tangy flavor and creamy texture. However, ensure you add it at a lower heat to prevent curdling.
What is the most keto-friendly Indian dish?
The most keto-friendly Indian dish is probably Tandoori chicken and Butter Chicken, as it is rich in fats from butter and heavy cream and has minimal carbs, making it a popular choice for those on a ketogenic diet. But again, I suggest you check the ingredients to make sure they don't have sugar and too much spices, as spices have carbs too!
How to reheat chicken tikka masala
You can reheat Chicken Tikka Masala in a microwave-safe dish for 2-3 minutes, stirring halfway through, or warm it over low heat in a saucepan on the stovetop until heated through.