While alcohol is not a great addition to any diet if you're pursuing health and weight loss, you probably still want to enjoy the social aspect of it and unwind from time to time in the company of your family, friends or colleagues.
This is perfectly normal and we have good news for you: alcohol can be enjoyed in moderation on a low carb ketogenic diet, depending on the type of alcohol.
There are a few things to consider before you order your next drink, so read on.
Feel free to save this article by pinning this picture to read later!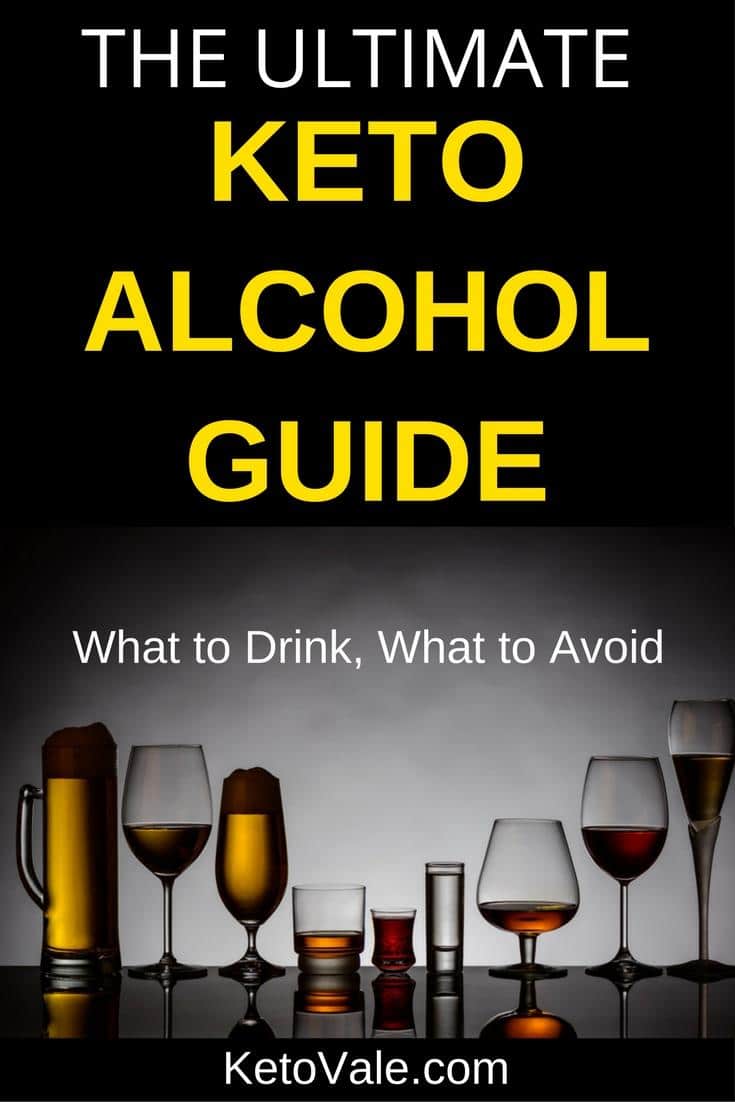 Types of Alcoholic Drinks That Are Keto-friendly
Hard Liquor
There are a few types of alcohol that contain zero carbs and these are the hard liquors, such as:
Vodka
Whiskey
Tequila
Rum
Gin
Brandy
Of course, they are zero carb if they are unsweetened and unflavoured, and you should either consume them pure or with sparkling water or ice.
There is an ongoing debate in the keto community regarding diet sodas, as they contain artificial sweeteners and some people find that these stall them. If you have one or two diet sodas (with 0 sugars and 0 carbs) for the night because you need to mix your hard liquor with something, you should be fine.
Dry Wines
Both red and white, are also rather low in carbs and can be consumed in moderation.
Red wines
The ones that you should opt for are:
Pinot Noir – 3.4 g net carbs per 5 fl oz serving
Cabernet Sauvignon – 3.8 g net carbs per 5 fl oz serving
Merlot – 3.7 g net carbs per 5 fl oz serving
White wines
Some keto-friendly choices are:
Sauvignon Blanc – 2.7 g net carbs per 5 fl oz serving
Chardonnay – 3.1 g net carbs per 5 fl oz serving
Champagne – 2.8 g net carbs per 5 fl oz serving
Pinot Grigio – 3 g net carbs per 5 fl oz serving
Make sure that you're properly measuring and tracking each serving.
Light Beers
There are also some beers that you could fit in your daily macros, and these are the light lagers, such as:
Budweiser Select 55 – 1.9 g net carbs per 12 fl oz serving
Michelob Ultra – 2.6 g net carbs per 12 fl oz serving
Budweiser Select – 3.1 g net carbs per 12 fl oz serving
Busch Light – 3.2 g net carbs per 12 fl oz serving
Beck's Premier Light – 3.8 g net carbs per 12 fl oz serving
Coors Light – 5 g net carbs per 12 fl oz serving
Corona Light – 5 g net carbs per 12 fl oz serving.
Regardless of what you decide to drink, you should plan for it in your daily macros and not have more than one or two drinks for the day.
Regarding the other types of alcohol, anything that tastes sweet is a no-no, and you should avoid sweet wines, mixers, cocktails and flavoured alcohol. If in doubt, skip it and stick to the safe options of beverages listed above.
What You Should Know about Alcohol and Weight Loss
As you can see, there are some types of alcohol that are keto-friendly, and you can still enjoy them from time to time.
However, you should keep in mind that alcohol slows down fat loss. Alcohol comes at 7 calories per gram, which makes it highly caloric, even more than protein and carbs! The excess energy intake can lead to weight gain if not consumed in moderation (1).
Unfortunately, alcohol does not give you any feelings of satiety, which means that you need to make place for it in your daily caloric allowance and not rely on your feelings of fullness.
Alcohol has virtually no nutritional value, which means that you're ingesting empty calories.
In addition to that, your body needs to burn alcohol before any other macronutrient that you might have consumed, and before your own body fat, too. While your liver is busy processing alcohol, you cannot burn fat.
[thrive_text_block color="light" headline="Bottom line:"]When you have alcohol in your body, the first fuel source your body will use is the alcohol. During this time, our fat burning process is disrupted because our body is trying to get rid of that alcohol quickly. Once all the alcohol is metabolized in the liver completely, your body will start burning the carbs that you eat on that day (if any) and then fats. [/thrive_text_block]
When you are fat-adapted, your body will burn fat very efficiently, and if you have a little bit of alcohol, your body will burn this alcohol very quickly and come back to burning fat.
So if you want to drink alcohol on special occasions, it's best to try it after you have successfully transitioned to the fat-adapted phase, not at the beginning of your keto diet.
Read more: Fat Adapted: Signs to Tell and How Long It Takes
Other Things To Consider
While you can still enjoy an occasional glass of wine or some vodka, you should do so with caution and you should take responsibility for your decisions and track what you're consuming in your food diary, in order to maintain a caloric deficit (if your goal is weight loss).
Another thing to consider is that if you're at a social event that involves both drinking and eating, you should be particularly careful. Alcohol will lower your self-control and you might find yourself overeating on food that you shouldn't be eating at all in the first place, such as carb-heavy snacks or sugary desserts.
For some people, alcohol kills hunger, but for others, it can act as a mild appetite stimulant, and late night snacks with your friends are usually not the healthiest ones.
A Winning Strategy: Planning Your Evening Before Going Out
For the reasons listed above, it's always good to plan your evening in advance and stick to your plan as much as you can.
You should decide in advance on a reasonable quantity of alcohol that you will be consuming and stick to it.
Keep in mind that a lot of people report getting drunk much easier when following a keto diet, so always start with drinking less than what you would usually drink and see how you feel.
A good idea would be to not to eat while drinking (unless you're at a family dinner, of course) but to prepare some kind of keto-friendly snack for yourself for when you get home, in case you feel particularly hungry. This might be a few slices of deli meat or a couple of nuts. Plan it and prepare it in advance to avoid accidentally eating too much.
Additionally, you should pay particular attention to keeping yourself well-hydrated. Alcohol causes dehydration on its own, and when combined with a ketogenic diet, which is diuretic too, this can quickly dehydrate you and make you feel weak or sick.
That's why it's essential to drink enough water and to also replenish your electrolytes, namely sodium, potassium, and magnesium. You can do that by adequately supplementing with these during the day (before going out) and especially on the next morning.
A lot of people report getting drunk much easier on a keto diet, which is why you should be particularly cautious the first couple of times you go out.
If your regular consumption is around 2-3 glasses of wine, have just one and see how you feel after that.
Hangovers on a Keto Diet
Hangovers can also be tougher on keto, and this is likely due to the massive dehydration that you might suffer from if you're not careful. The best strategy to avoid that would be to drink enough water before/while/after going out, and to also make sure to replenish your electrolytes.
Pickles and pickle juice can be an excellent snack after a night out!
You should also be careful with the amount of alcohol that you're consuming, as many people are more sensitive to it while in ketosis, and hangovers could be much worse also because of that.
If in doubt, it's always smarter to drink less and feel okay on the day after than drink a little too much and feel horrible.
Of course, if you drink moderate amounts of alcohol, you should be fine on the next day. Just remember that these "moderate amounts" should be lower than usual if you are in ketosis, and that hydration and adequate electrolyte supplementation should be your top priorities.