5-Minute Keto Chocolate Cake in a Mug
Following the keto diet doesn't mean you ignore desserts. If you are looking for a quick and delicious chocolate cake to go with your cup of tea or coffee then this mug cake is the perfect choice for you.
This chocolate cake in a mug tastes amazing! It's just like the 45-minute cake but instead of baking it in the oven, we will use a microwave and the best part is that it only takes 5 minutes. That's right! Five minutes is all you need.
Be sure to save this recipe by pinning this picture to your Pinterest board for later use!
Related: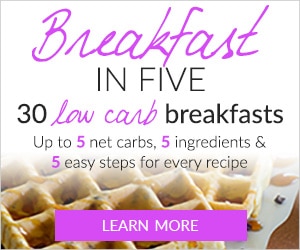 Receive Our Free 7-Day Keto Meal Plans + Weekly Recipes
Prepare the mug and all the ingredients. Place the butter in the mug and microwave for 15 seconds to melt.

Add the cocoa powder in the melted butter. Crack the egg in the mug as well. Stir thoroughly with a fork.

Gradually combine all of the remaining ingredients (exclude the optional walnuts and sour cream) into the mug while stirring. Fold everything together until smooth.

Microwave for another 2 minutes. Remember to fill only ⅔ of the cup to prevent spilling the batter. Leave in the microwave for 1-1.5 minutes if your available microwave has 1,000+ watts. This will prevent a dry cake outcome.

If desired, top with walnuts and sour cream.
Macros (per serving of 1 cake): Calories: 391 kcal – Fat: 36.7 g – Net carbs: 5.7 g (total carbs: 11.4 g, dietary fiber: 5.7 g) – Protein: 11.9 g
Tip: To this mug cake look great, use measuring spoons and do not fill the cup too much.