5-Minute Keto Chocolate Cake in a Mug
Following the keto diet doesn't mean you ignore desserts. If you are looking for a quick and delicious chocolate cake to go with your cup of tea or coffee then this mug cake is the perfect choice for you.
This chocolate cake in a mug tastes amazing! It's just like the 45 minute cake baking it in the oven but instead it only takes 5 minutes. That's right! 5 minutes is all you need.
Be sure to save this recipe by pinning this picture to your Pinterest board for later use!
Related: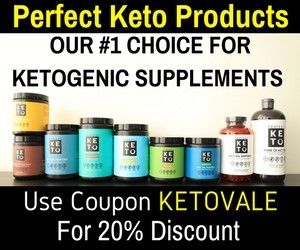 Receive Our Free 7-Day Keto Meal Plans + Weekly Recipes
Put the butter in the mug you will be using and melt in the microwave for 15 sec.

Add in egg and cocoa powder and mix vigorously with a fork.

Slowly add the rest of the ingredients (almond flour, coconut flour, vanilla extract, baking powder and sweetener) and mix until smooth.

Put in the microwave for two minutes. Important: only fill ingredients up to 2/3 of your cup to avoid spills. If your microwave power is 1,000+ watts, you might only need to cook for 1 - 1.5 minutes to avoid making the cake too dry.

You can add some sour cream and walnut chips on top (optional).
Macros (per serving of 1 cake): Calories: 391 kcal – Fat: 36.7 g – Net carbs: 5.7 g (total carbs: 11.4 g, dietary fiber: 5.7 g) – Protein: 11.9 g
Tip: To this mug cake look great, use measuring spoons and do not fill the cup too much.