Grits are a southern comfort food made from cornmeal. You can usually find it accompanied by fried chicken and gravy-smothered vegetables.
Grits are high in carbs, which means that you can't normally have this dish on the keto diet. We use cauliflower rice as a base for a low-carb grit that tastes like the real thing minus the starch!
This Keto Shrimp and Creamy Grits recipe is inspired by Factor 75's Keto Meal Delivery Menu.
Factor 75 is a company that delivers healthy and chef-prepared meals to your door. For the latest list of keto-friendly dishes on their menu, check it here!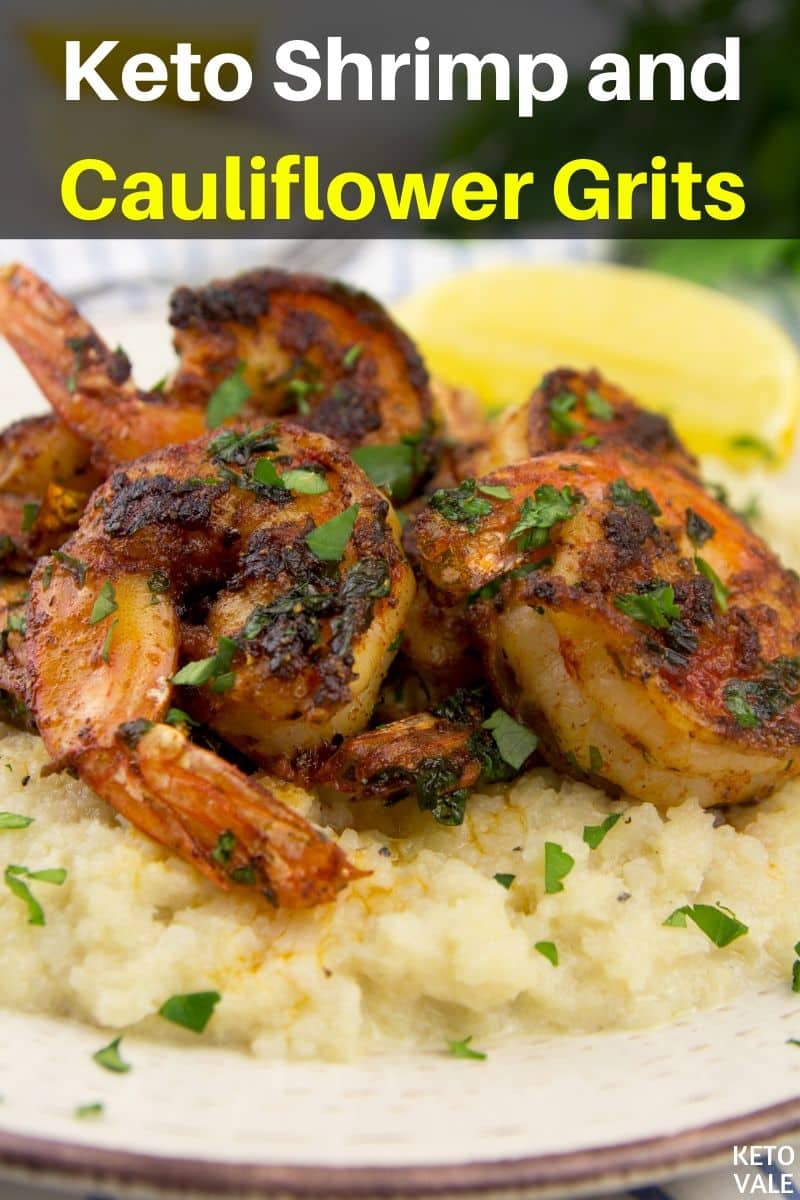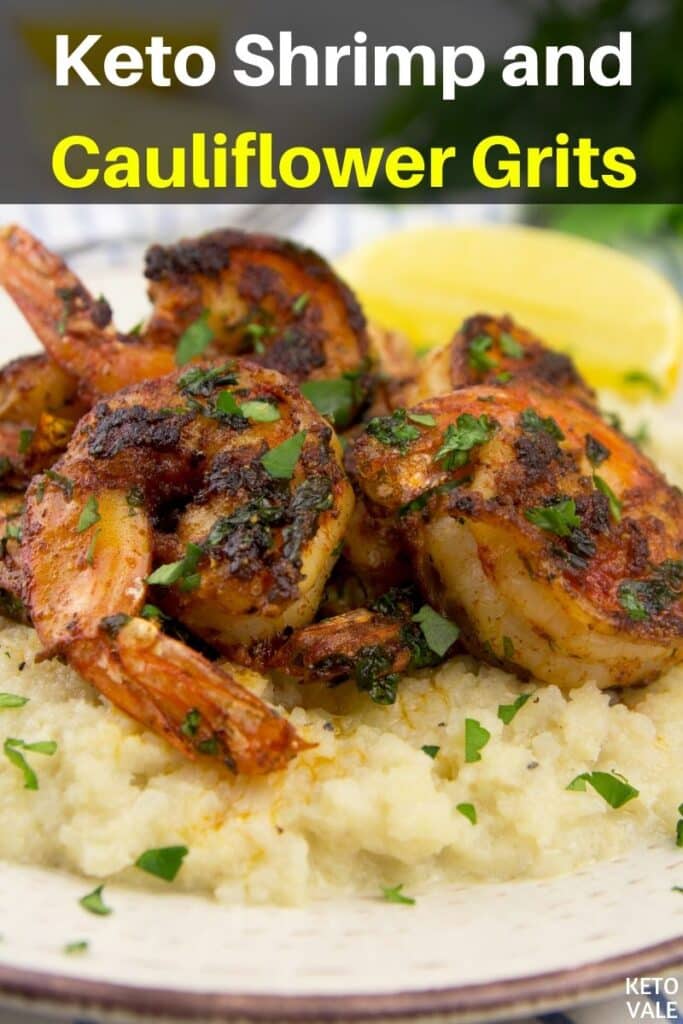 Cauliflower is naturally high in fiber and B vitamins, which are needed for energy. It provides antioxidants and phytonutrients that can protect against cancer (1). It also contains fiber to enhance weight loss and digestion, and choline, which is essential for learning and memory.
Shrimp provide the seafood taste and there are many keto shrimp recipes you can make. They are low in calories yet rich in nutrients. They do not contain any carbs and their main "wealth" is iodine, which is required for proper thyroid function and brain health (2, 3).
Research shows that when you don't get enough iodine, your thyroid may not be able to synthesize thyroid hormone. This can lead to serious problems such as functional and developmental disabilities (4).
Shrimp is also a great source of protein and omega 3 fatty acids to help support heart health. They contain more than 20 different vitamins and minerals, including selenium, which is a mineral that may help reduce inflammation and promote heart health.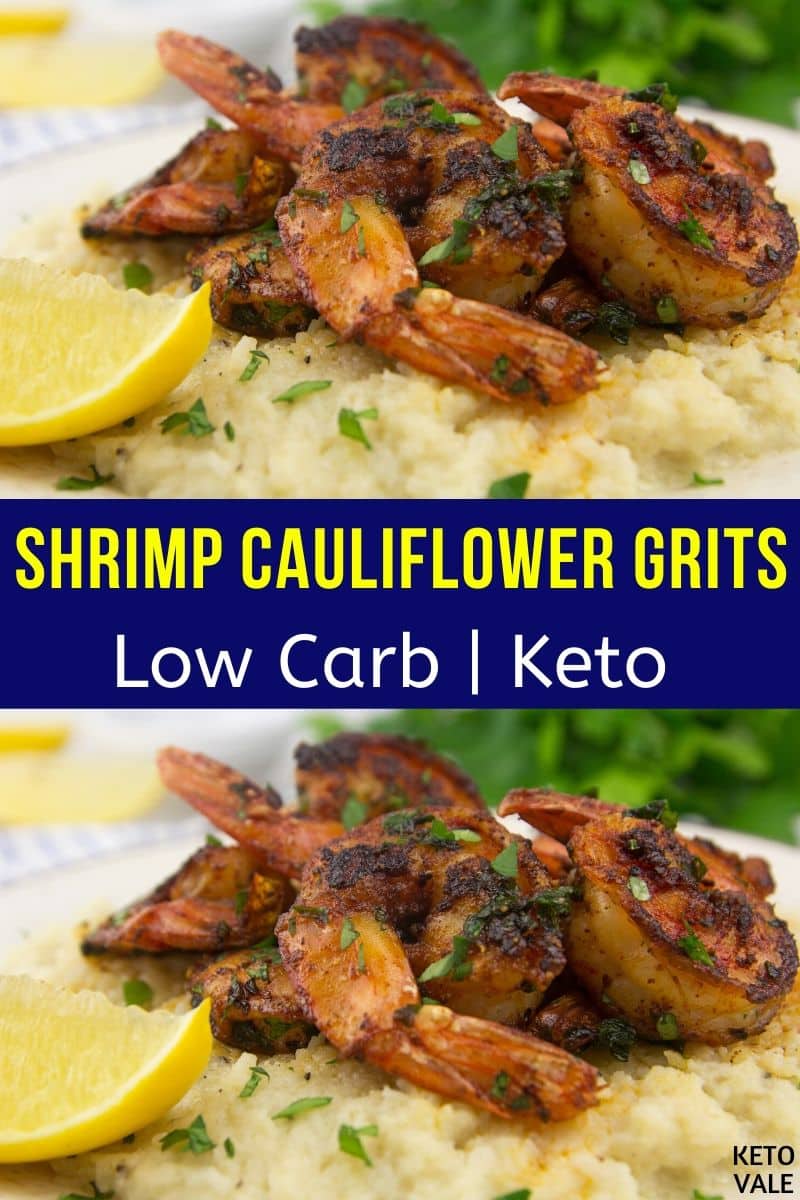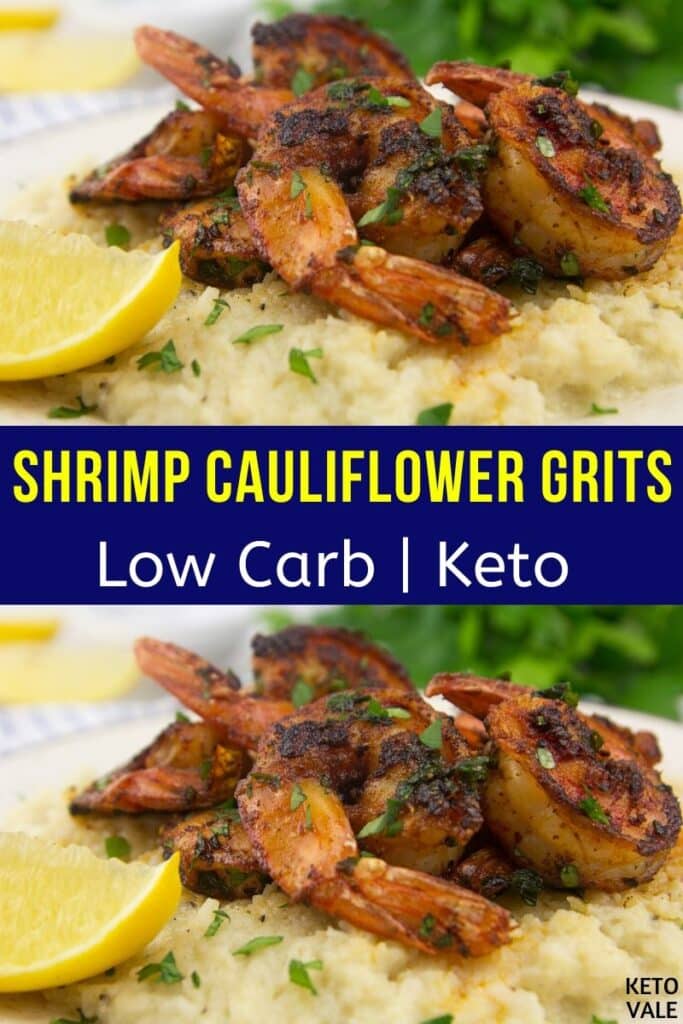 Finally, shrimp contains astaxanthin, which is an antioxidant that has been shown to protect heart health (5). Astaxanthin also helps stimulate the immune system (6).
When combined with cauliflower, our keto shrimp and creamy grits recipe makes an excellent anti-inflammatory dish that can help aid in your weight-loss journey.
We recommend serving this dish with parsley and a drizzle of lemon. The fresh lemon contributes vitamin C and a sweet flavor while the parsley adds antioxidants and a touch of green!
---
Let's Do It!
Add the shrimp to a bowl and season with paprika, salt, and pepper.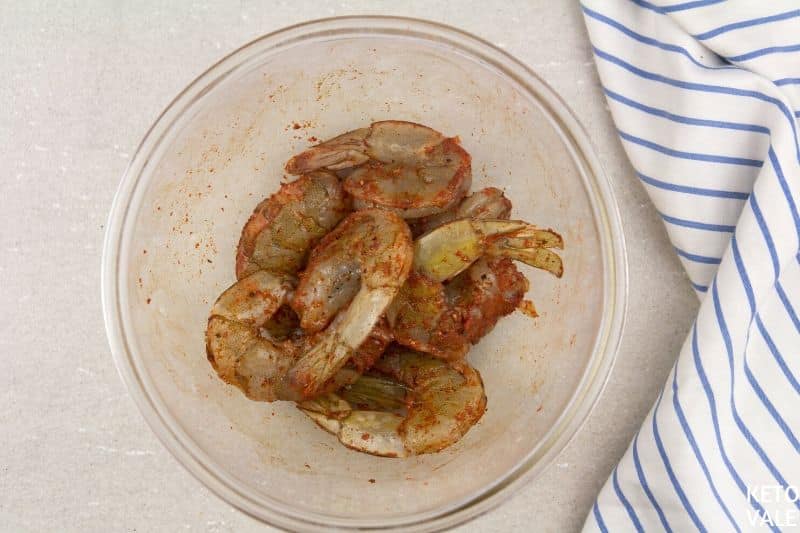 Boil the water. Add the riced cauliflower and cook for up to 10 minutes. Add the butter, heavy cream, shredded cheese, garlic, salt and pepper to the cauliflower.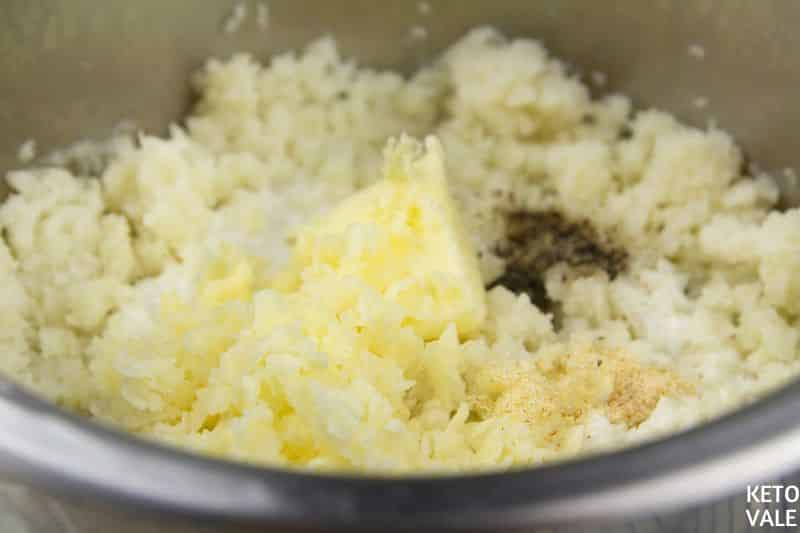 Stir and simmer for about 3 to 4 minutes. Add more water if needed. Once the desired consistency is achieved, remove from heat and set a side.
Melt butter in a frying pan and add shrimp. Cook for about 2 minutes on each side. Add the garlic and parsley.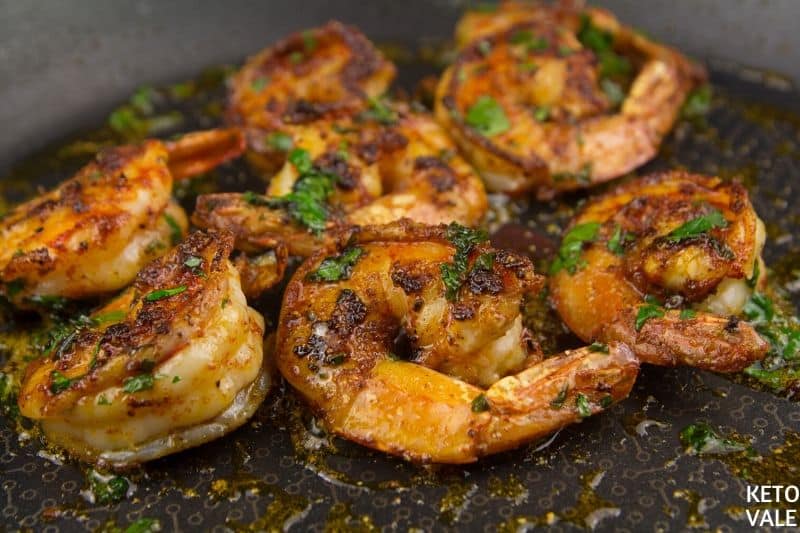 Plate the grits and top with shrimp. Serve warm.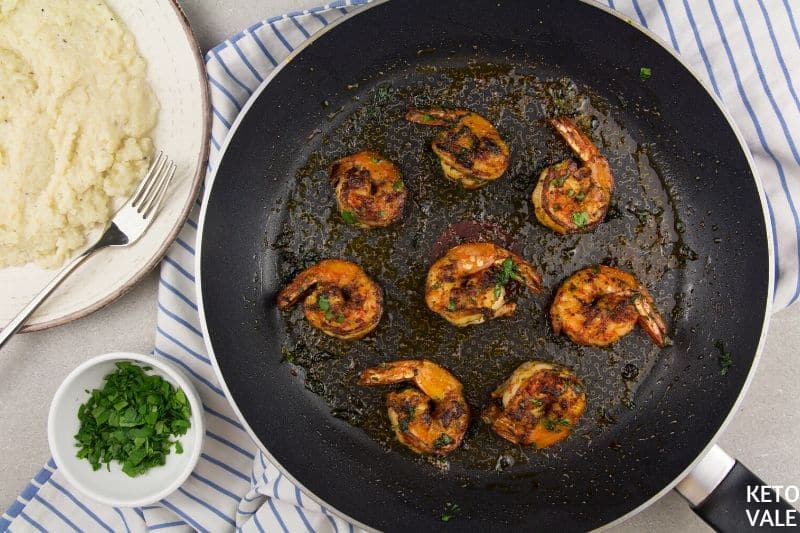 More Low-Carb Shrimp Recipes You Can Try:
Keto Shrimp and Cauliflower Grits
A low-carb and keto-friendly grits recipe made with shrimp, cheese and cauliflower.
Ingredients
For shrimp:
6

oz

shrimp

peeled and deveined

½

tsp

paprika

salt and pepper

to taste

1

tbsp

butter

½

tsp

garlic powder

1

tbsp

parsley

chopped (plus more for serving)
For grits:
1

cup

cauliflower rice

¼

cup

heavy cream

¼

cup

cheddar cheese

shredded

1

tbsp

butter

⅛

tsp

granulated garlic

¼

tsp

salt

⅛

tsp

black pepper

½

cup

water

more, if needed
For serving:
1

tsp

fresh parsley

chopped

lemon wedge

optional
Instructions
Place shrimp into a bowl. Add paprika and season with salt and pepper.

In a saucepan, bring the water to a boil. Add riced cauliflower and cook for 8-10 minutes. When cauliflower starts to soften, add butter, heavy cream, shredded cheese, garlic, salt and pepper and stir well. Simmer for 3-4 minutes or until thickened and cauliflower is tender. Add more water if needed to prevent burning.

Melt a tablespoon of butter in a frying pan over medium heat. Add shrimp and cook for 1.5-2 minutes per side. Add garlic powder and chopped parsley. Give it a good stir and cook for a minute more.

Spoon grits into a plate or bowl. Top with shrimp, sprinkle with chopped parsley, garnish with a lemon wedge and serve immediately.
Nutrition/Macros
Nutrition Facts
Keto Shrimp and Cauliflower Grits
Amount Per Serving
Calories 371
Calories from Fat 261
% Daily Value*
Fat 29g45%
Cholesterol 300mg100%
Sodium 1180mg49%
Potassium 330mg9%
Carbohydrates 6g2%
Protein 23g46%
Vitamin A 1380IU28%
Vitamin C 45mg55%
Calcium 262mg26%
Iron 2mg11%
* Percent Daily Values are based on a 2000 calorie diet.
Pin To Save This Recipe