Factor 75 offers free nutrition coaching, bulk discounts, and affordable meal plans. The meals are delivered to your food freshly prepared by the company's in-house chefs.

All recipes are designed by nutritionists and made from high-quality ingredients, such as grass-fed and pasture-raised meats, non-GMO produce, and antibiotic-free poultry.

The meals are gluten-free, non-GMO, soy-free, and free from refined sugars. Plus, the menu changes weekly, so you aren't stuck eating the same thing every time you order.

Here is everything you need to know about Factor 75 and how their keto meal delivery service ranks among the competition!
Who is Factor 75?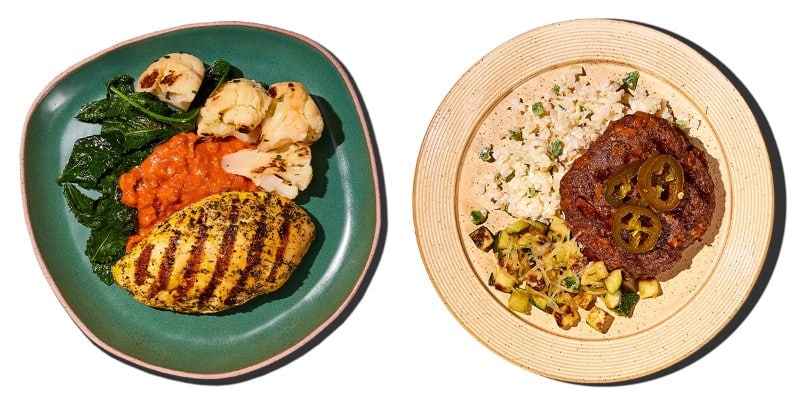 Factor 75, aka Factor_, is a meal delivery service that specializes in nutrient-rich meals. The "performance eating" company strives to help you achieve your fitness goals, which cannot be done without an adequate nutrition program.

Factor serves as your personal chef so that you can reach your goals. Their meals are designed for first-time gym goers, professional athletes, and everyone in between.

The company was founded in 2013 by Nick Wernimont, who believes that 75% of your fitness and performance comes from what you eat. He believes that the proper food can help fuel your day and help you get more done.

All meals use the highest-quality organic ingredients in their most bioavailable form to optimize your mind and body. Factor meals contain:

Pasture-raised and grass-fed meats
Antibiotic-free poultry
Gluten-free and soy-free ingredients
No refined sugars
No GMOs
What Do They Offer?
Factor offers many different meal plans that you can choose from. These include paleo, keto, low-carb, high-protein, and low-calorie.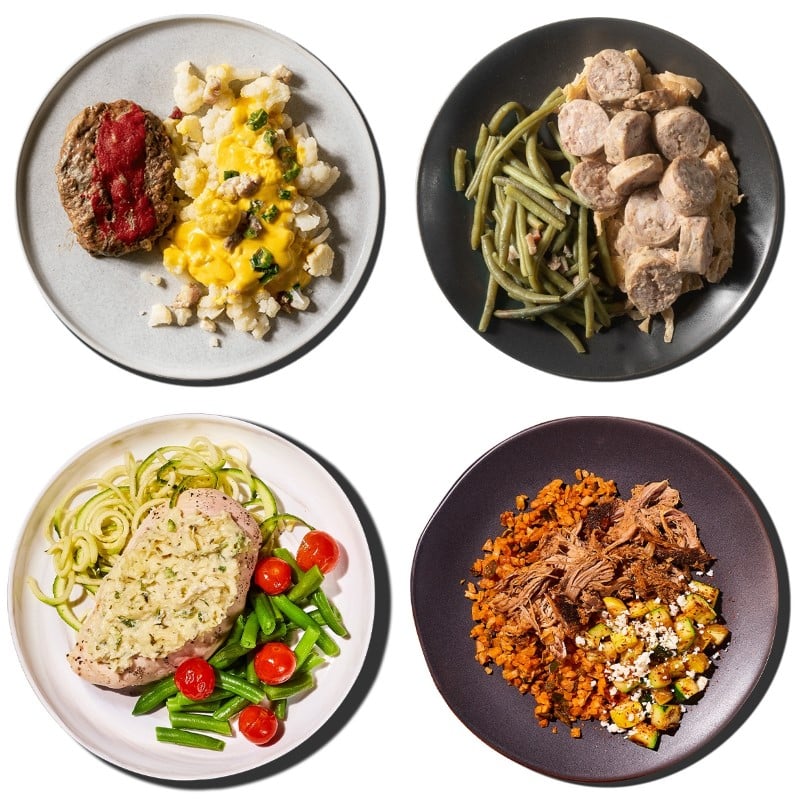 Every meal is prepared fresh and delivered to your door in an insulated package. The menus change weekly so that you are not eating the same thing all the time.

Are Factor meals really keto? According to the company, all keto meals contain the following:

60% to 80% fats
20% to 35% protein
5% to 15% carbs
An average of 10 grams of net carbs per serving
Additionally, Factor offers nutritional counseling to help you with your nutrition goals. You can sign up for a 20 minute chat with a registered dietitian for free on the company's website.

The company does not currently allow you to customize your meals. However, they will work with you if you have allergies, such as dairy, eggs, fish, and nuts.

The meal plans change each week. Factor will pick your meals for you, but you can view your cart and change meals before the cutoff of Wednesday at 11:59 CT.

You can choose from several different pricing options. Here is a breakdown of each meal plan:

4 meals per week
6 meals per week 
8 meals per week
12 meals per week
18 meals per week
The more meals per week you order, the cheaper each meal becomes. If you like a certain meal, you can click on the "heart" button in your account and this will make it a favorite. Favorites will be added to your order anytime they appear on the menu for the week. 

Similarly, you can "dislike" any meal and they will be sure not to include it. The company will automatically ship your orders every week unless you cancel.

They offer discounts if you plan to order a lot! These include free Factor Bucks (store credit), nutritional coaching, and merchandise. Here are some of the discounts you can get:

Rock Your Resolution Savings Package: $300 in Factor Bucks for $265 ($35 in savings)
Kickstart Package: $400 in Factor Bucks and one month of nutritional coaching ($139.99 value) for $340 ($199.99 in savings)
Lifestyle Package: $800 in Factor Bucks, two months of nutritional coaching, and a Factor drawstring bag and workout towel for $640 ($439.98 in savings)
Performance Package: $1200 in Factor Bucks, 3 months of nutritional coaching ($297 value), and a Factor tumbler, drawstring bag and workout towel for $900 ($597 in savings)
How It Works
To start using Factor, you will need to go to the company's website and pick your plan. You will need to decide how many meals you want each week.

Once you choose your meal frequency, you will need to pick what meals you want delivered. Factor lists all their meals on their website. Under each meal, you will see a "K" for keto.

This indicates what meals are keto-friendly. If your meals fall into another category, it will also contain the symbol for that category, too.

In addition to single meals, Factor also has a Factor+ section where you can order extras. Here is a list of items included in this section:

Herb-roasted chicken
Pan-seared salmon
Shrimp
Petite filet
Paleo granola
Brownie energy bites
Keto power pack
Protein power pack
4 pack of cold pressed juice
Keep in mind that not all of the items in this section are keto. Each order is delivered to your weekly unless you pause, skip, or cancel your subscription by managing your account online.

Your meals will be shipped to your door in an insulated container. The meals are fresh, so you will need to put them in the refrigerator (or freezer) as soon as you can.

You do not need to be home to receive the packages. When you're ready to eat them, you can pop them in the microwave. You can also heat them in the oven. Be sure to follow the instructions on your package for each meal as this may vary.

The company delivers within the United States to 48 states, excluding Hawaii and Alaska. Packages will arrive via FedEx or OnTrac. If you live in Chicago, your meals will come via Chicago Messenger Service.

The mail carrier will leave your packages at your door if you are not home. Meals will stay fresh for seven days, but be sure to check the expiration date!

Meals will be delivered on Monday through Wednesday, based on where you live. The company is based in Illinois, so meals delivered here will arrive sooner.
Pros and Cons
Factor appears to be more flexible with meals than other plans. For example, you can order meals from several different genres without being restricted to the keto program.

You can also skip up to four weeks of meals as long as you give them notice. Factor will choose your meals for you, but you can always change these before the cut off on Wednesday night.

The meals tend to be pricier than other delivery services. However, the price per meal drops as you increase the number of meals you order each week. They also offer bulk discounts.

Here are some pros and cons of the delivery service:

Pros
Every meal is chef-prepared and nutritionist-designed
All meals come from organic, non-GMO ingredients from pasture-raised and grass-fed sources
Meals are non-GMO, soy and gluten free, and free from refined sugars
Meals change every week and are delivered right to your door automatically
Choose from a variety of meals, including Paleo, keto, low-calorie, low-carb, and protein
You can request to have certain ingredients removed from your meals
"Favorites" will automatically be added to future orders and "dislikes" will be removed
You don't have to be home to accept your meals
You can get free nutritional advice from a registered dietician to improve your healthy eating
Cons
At the time of this writing, they do not offer family meals. One meal feeds one adult. This can make it hard to feed a family. However, this would be a great service if someone in the family has special needs and cannot eat like the rest of the family!
Our Factor Keto Package Sample Review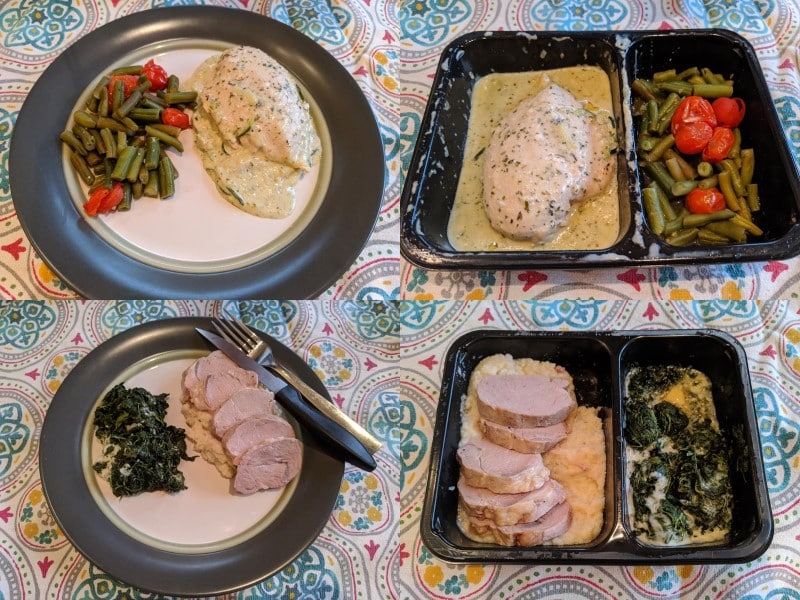 We've had the pleasure of trying several keto meal delivery services. Factor stands out because it has mastered the art of creating the perfect sauce.

Premade foods can sometimes be dry. Because of this, many meal kits use sauces to help ensure that their meals stay fresh and retain moisture/flavor.

We loved the flavor of the sauces that Factor used to flavor their dishes. We particularly loved the garlic butter, which helped give life to otherwise boring vegetables like cauliflower.

All the meat was cooked to perfection. They were juicy and bursting with flavor, and it was easy to see that a professional chef had prepared them.

It was fun to go onto the company's website and pick out our meals for the week. Here is a list of the healthy meals we got:

Tuscan Tomato Chicken
Italian Roasted Pork
Pork tenderloin With Cauliflower Mash
Garlic Parmesan Chicken Breast
Jalapeno Popper Burger
Pumpkin Pancakes
Our package arrived on time and came in an insulated box. We liked that the ingredients and nutrition information was listed right on the package of each meal.

Each meal also came with an expiration date and heating instructions. The meals arrived fresh and it was helpful to know when the ingredients were no longer considered safe to eat.
The meals could be heated in the microwave for 90 seconds, which was a great time saver for a busy family. The portion sizes were hearty and filling, and the macronutrients were ideal for ketosis.

We also liked the inclusion of lots of low-carb veggies as this is often an overlooked component of the keto diet. The kale and cauliflower mash were surprisingly flavorful and not overcooked.

The pancakes were a great addition to our line up because they did not contain added sweeteners, which can be hard to digest for some people. They came with a side of maple syrup, but this could be swapped out for your favorite keto syrup if desired.

The meals were notably bigger than other meal services we have tried. We felt that this service was a great value considering we did not have to shop, cook, or clean up our meals!
Should You Try Factor Meal Delivery Service?
We encourage you to try Factor if you're new to keto or just need a change! These Factor keto meals are ideal for picky eaters who have a hard time getting their vegetables in. 

Prepared meal delivery services seem expensive, but remember that you're saving time by not having to grocery shop, cook your food, or clean up the dishes.

Also, keep in mind that high-quality ingredients are expensive. You can buy these on your own but they might not taste as good as having a professional chef cook them! This service can be a true time and money saver for single people and busy families alike.

Try Factor for meals that you have problems getting in. If you're rushed in the morning, then order your breakfast meals here. Similarly, if your nights are crazy, then make life easier for yourself by ordering Factor 75 dinners.
---
Conclusion
Factor 75 is a meal delivery service based out of Illinois. They specialize in high-quality ingredients that are organic, non-GMO, soy and gluten free, and free from refined sugars.

The company appears to the fitness minded by offering low-carb, Paleo, keto, protein, and low-carb meals. They also offer free nutritional counseling. We tried six of their meals.

Factor75 meals were better prepared than other delivery services we have tried. Their meat was juicy and the vegetables were deliciously flavored with garlic butter.

The meal options were hearty and included all of their ingredients and nutritional information right on the package. Meals could be heated in the microwave for around 90 seconds or cooked in the oven.

We encourage you to try Factor if you're looking for an easy way to eat clean. The more meals you buy per week, the more affordable they are!
For more meal delivery services and read our reviews, check this page.