Today I encourage you to cook Keto Raclette. It is a delicious treat with ancient history and modern flare. This one is perfect for parties and BBQ gatherings.

This dish will remind you of green valleys with Swiss cheese and savory seasonings, and a hint of the sea, thanks to the addition of shrimp.

Raclette is a typical Swiss dish that is served as melted cheese. But to prepare this mouthwatering treat, you will need a raclette grill. 
Raclette is traditionally served by melting the surface of a wheel of raclette cheese and scraping the melted portion onto diners' plates. It is commonly accompanied by small firm potatoes (boiled in their skins), gherkins, pickled onions, cured meats (like ham and prosciutto), and sometimes vegetables.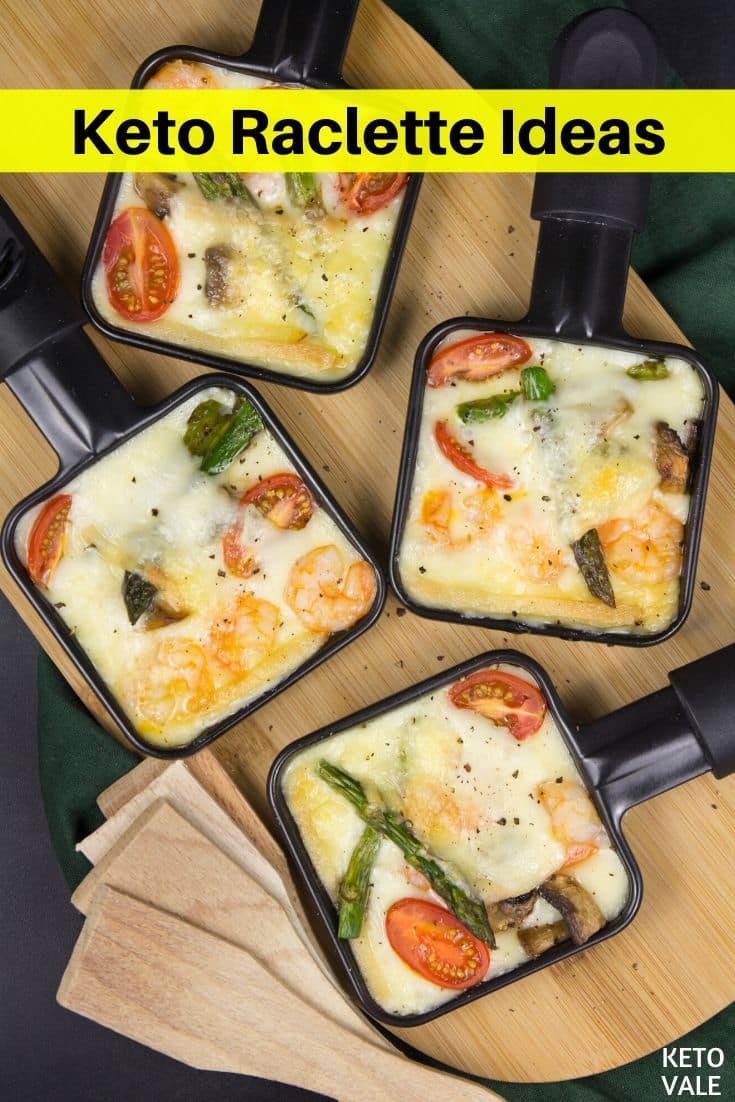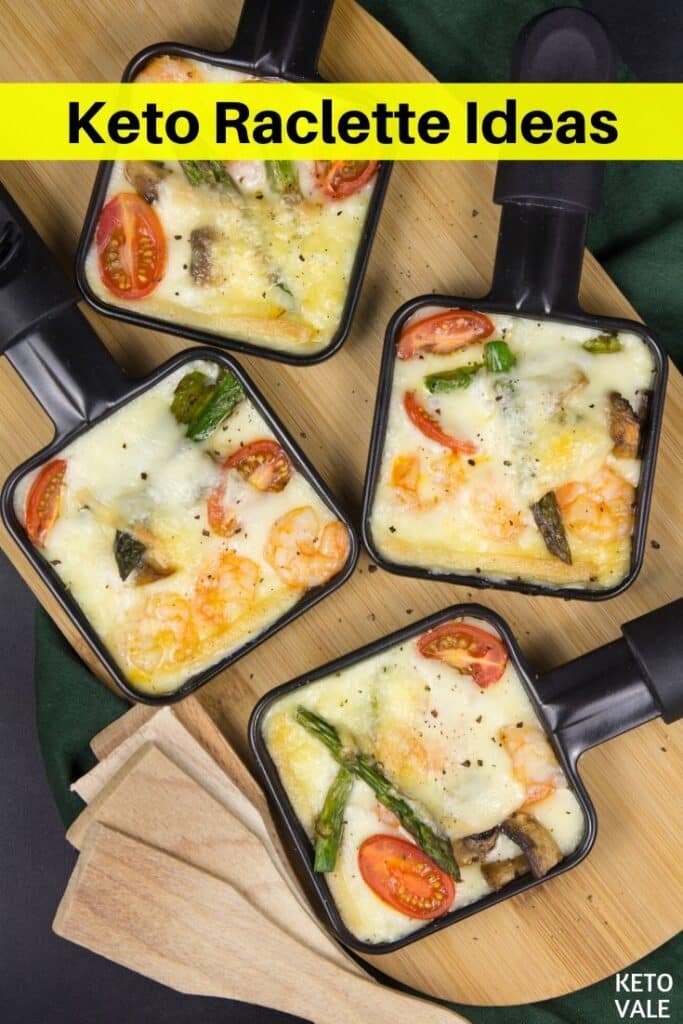 It's a great device to have for parties or family dinners. I encourage you to invest in one if you entertain a lot. 

A raclette grill is handy because everyone can fill their own mini-pan with a variety of their favorite products and all talk together while the cheese melts.

To cook this special dish, you will need white mushrooms, asparagus sticks and shrimp, which should be grilled. Melted raclette cheese slices should cover the grilled ingredients.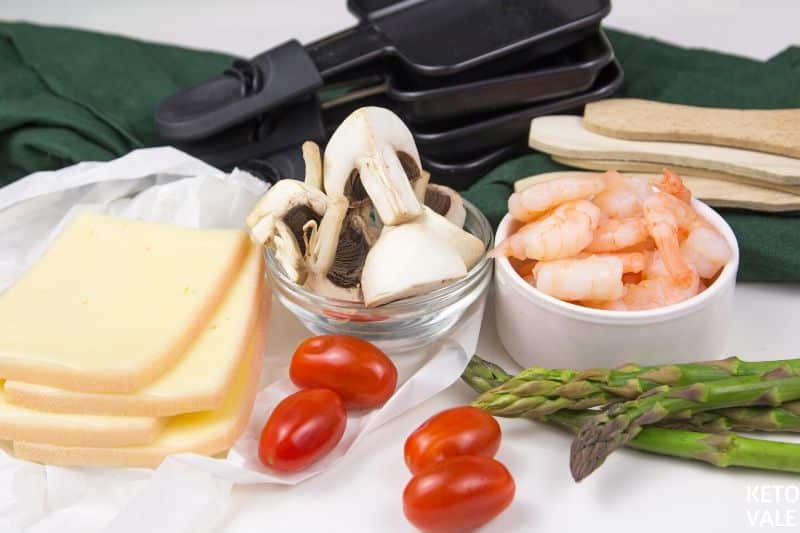 Add some black pepper to make these a bit spicy or leave it off if you're not a fan of spice. It's your call!

Drizzle some olive oil on the grill and you'll get added benefits, such as the addition of healthy fats and antioxidants to your diet.

This recipe also calls for cherry tomatoes. Besides tasting sweet when eaten, cherry tomatoes contain a powerful antioxidant called lycopene with anti-cancer properties (1).
You'll also need asparagus, which is a weight loss vegetable rich in calcium, magnesium, and zinc. It's also a very good source of dietary fiber, plant-based protein, beta-carotene and numerous vitamins.
Asparagus contains a unique type of fiber called prebiotic fiber, which helps feed the good bacteria in your gut. This helps make your gut microflora flourish so that you can be better protected against potentially harmful agents.
The healthy fats in this dish help increase the bioavailable of the nutrients in the vegetables, which makes this dish the perfectly balanced keto meal!
Though this dish is low in calories, you won't be hungry afterwards! Don't miss such a chance! Cook and enjoy! If you're hosting a keto party, this will be a great hit.

---
Low Carb Raclette Ideas
If you don't have a raclette grill, then you can use a regular grill and add the cheese while the food is cooking. You can even make these on a stovetop pan if you're in a pinch!

To make, drizzle your grill or cooking area with olive oil and cook the shrimp, asparagus, and mushrooms.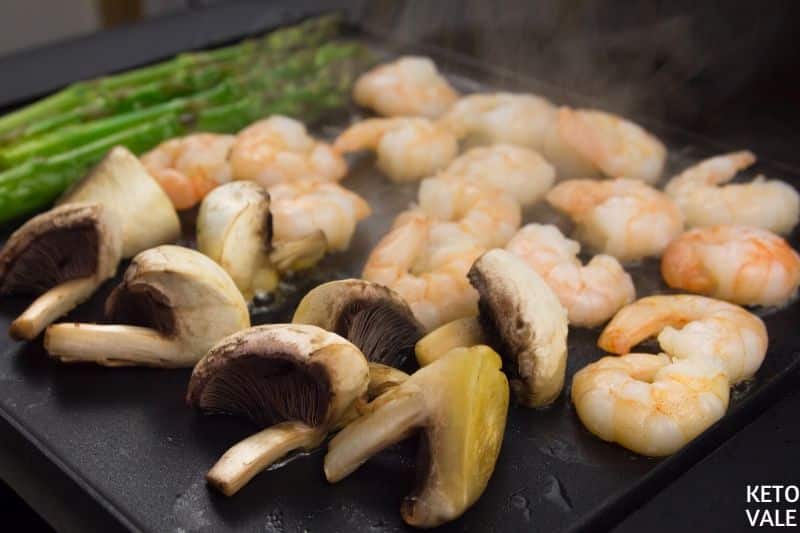 Place cheese on the bottom of your plate and top with the cooked food. Add the cherry tomatoes and another small piece of cheese.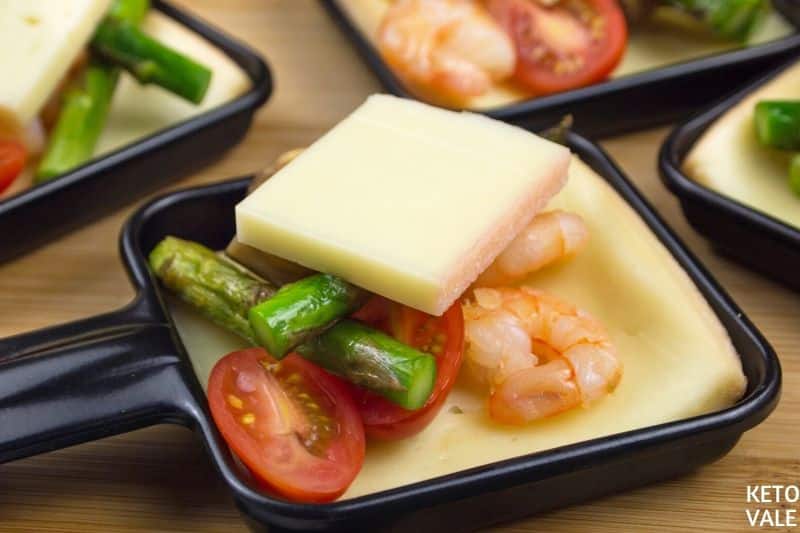 If you're using a raclette grill, slide the cheese and cooked food under the grill until it melts. Season with black pepper if you wish and serve immediately.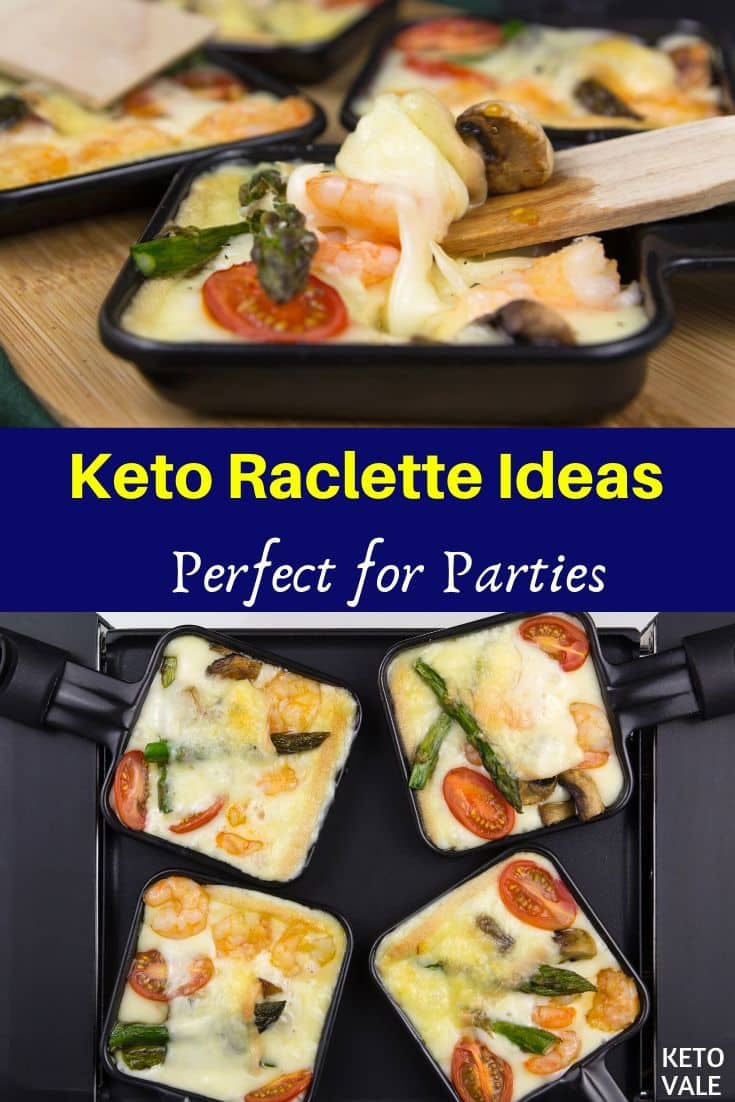 You'll want to try these:
Keto Raclette Grill
An easy and tasty low carb dish, perfect for parties and family gatherings.
Instructions
Turn on the raclette grill and drizzle it with olive oil.

Grill the shrimp, mushrooms and asparagus on the grill plate.

Place a cheese slice in each mini raclette dish and top with grilled shrimp and vegetables. Add cherry tomatoes.

Cut 5th cheese slice in fourths and place one piece on top of each raclette.

Slide under the grill and cook until the cheese melts.

Season with black pepper enjoy!
Notes
*You can use any type of hard cheese instead of raclette cheese if you don't have. You can also grill your favorite choice of low-carb vegetables.
Nutrition/Macros
Nutrition Facts
Keto Raclette Grill
Amount Per Serving
Calories 178
Calories from Fat 108
% Daily Value*
Fat 12g18%
Cholesterol 98mg33%
Sodium 487mg20%
Potassium 124mg4%
Carbohydrates 2g1%
Protein 15g30%
Vitamin A 204IU4%
Vitamin C 6mg7%
Calcium 45mg5%
Iron 1mg6%
* Percent Daily Values are based on a 2000 calorie diet.
Pin To Save This Recipe