These Keto Gummy Bears will make you feel like a kid again. They're fun to make and eat. You can even get your kids involved in the cooking process and hopefully replace their traditional sugar-filled gummy bears with these keto-approved kind!
This recipe calls for blackberries, which are high in unique antioxidants called anthocyanins. These compounds are responsible for giving berries their bright and vibrant colors. You don't even need to use sugar-free jello to make gummy bears.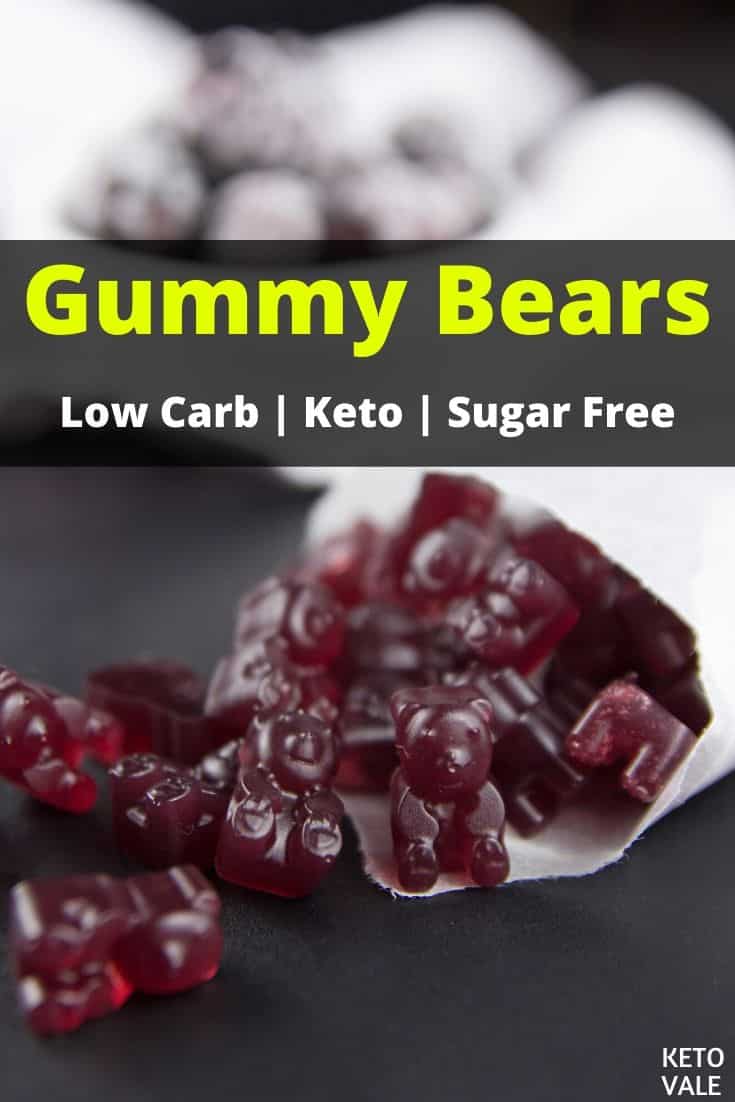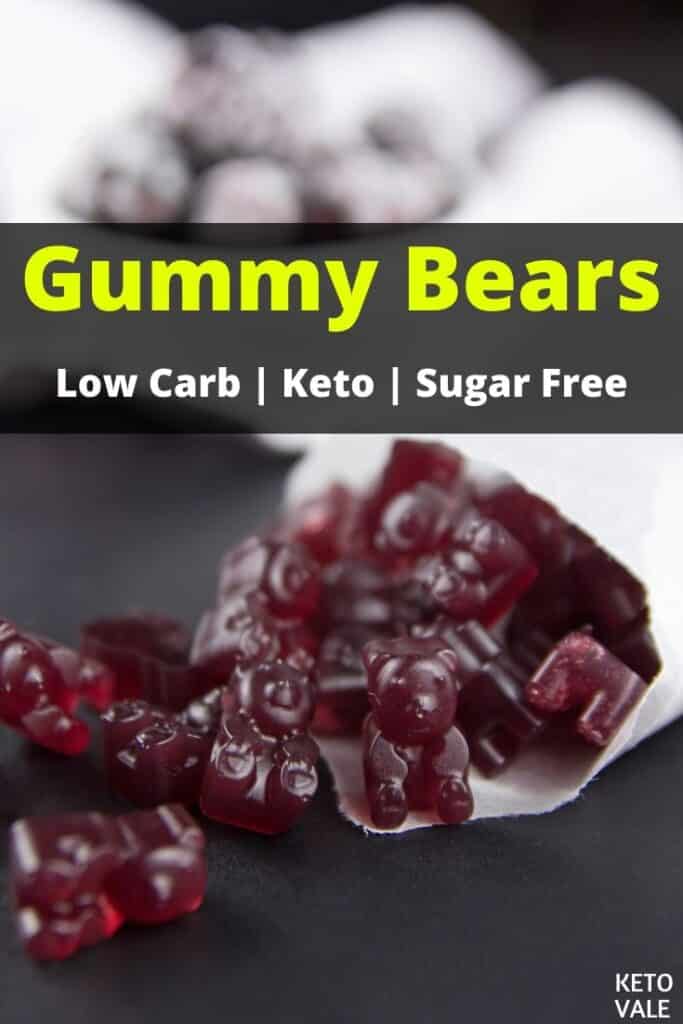 Research shows that anthocyanins have anti-obesity properties. They have also been shown to contain antimicrobial properties, improve neurological health and vision, and protect against several non-communicable diseases  (1, 2).
You can also use other kinds of berries in this recipe to create different flavors of gummy bears. You'll need berries, erythritol, gelatin powder and hot water. That's it! You'll also need to invest in a fun gummy bear shaped silicone mold.
This recipe is free from artificial colors and dyes that are usually found in traditional gummy bears. Studies show that artificial food colors and dyes may cause behavioral problems in children (3).  
Using berries in place of food dyes helps protect your children. It also provides a naturally sweet taste.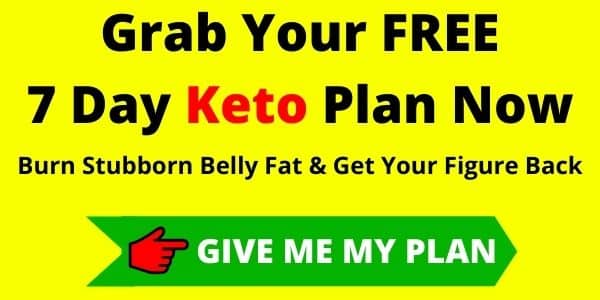 In addition to their antioxidant profile, berries are high in fiber, which can help boost digestive and immune health. The contain a good source of vitamin C to help fuel collagen production, keep your skin wrinkle-free, and fight the length of the common cold.
You can use erythritol or another keto-friendly sugar alternative that you like better if you want. It's a good idea to make sure the gelatin powder comes from high-quality grass-fed sources.
You will need to let these gummies sit in the refrigerator for 30 minutes. So, keep this in mind if you're making them for a crowd as kids can be impatient!
---
Let's Do It!
In a small saucepan, heat the blackberries and erythritol and gently crush to release the juice.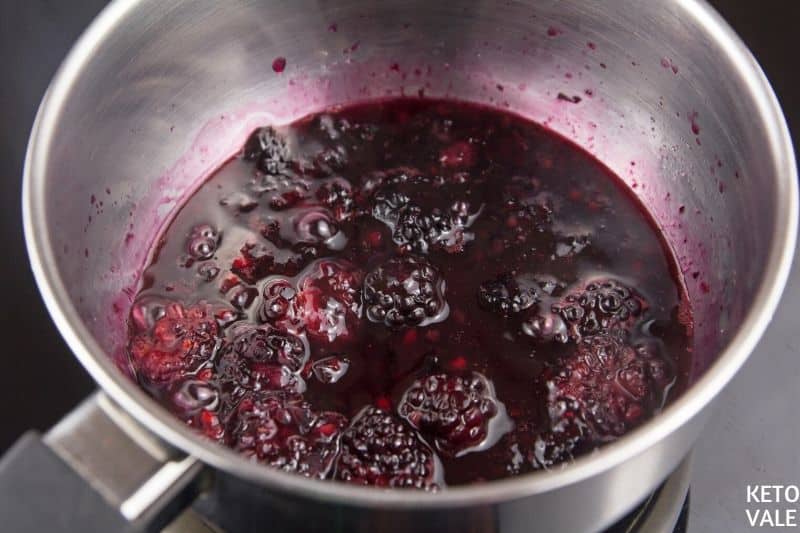 Drain the mixture.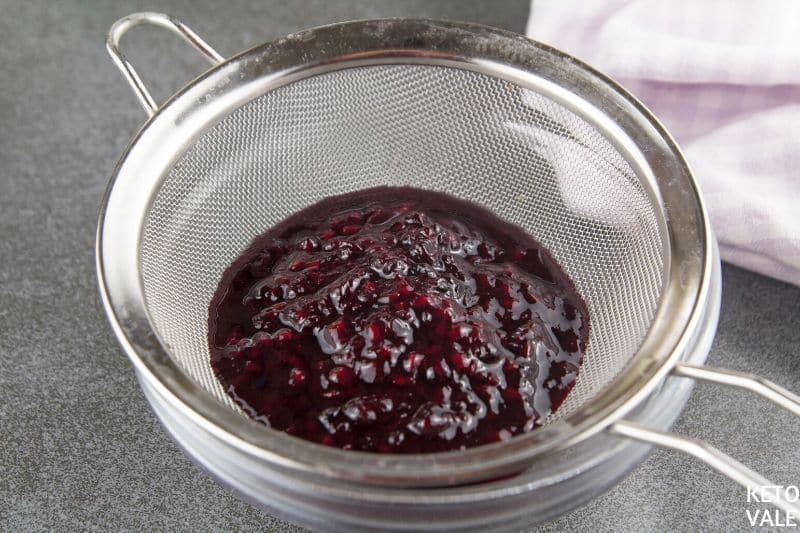 Dissolve the gelatin powder in hot water. Let cool slightly and combine with the blackberry "juice".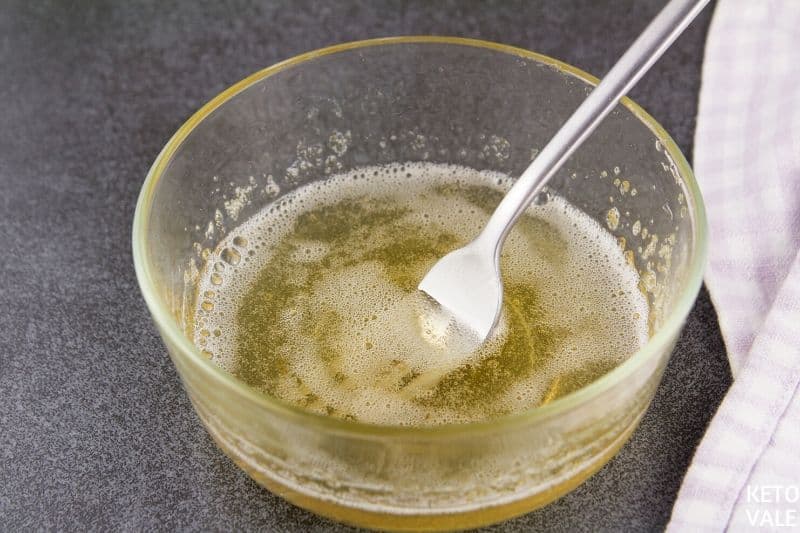 Fill a silicone bear mold with the mixture and transfer to the fridge to set.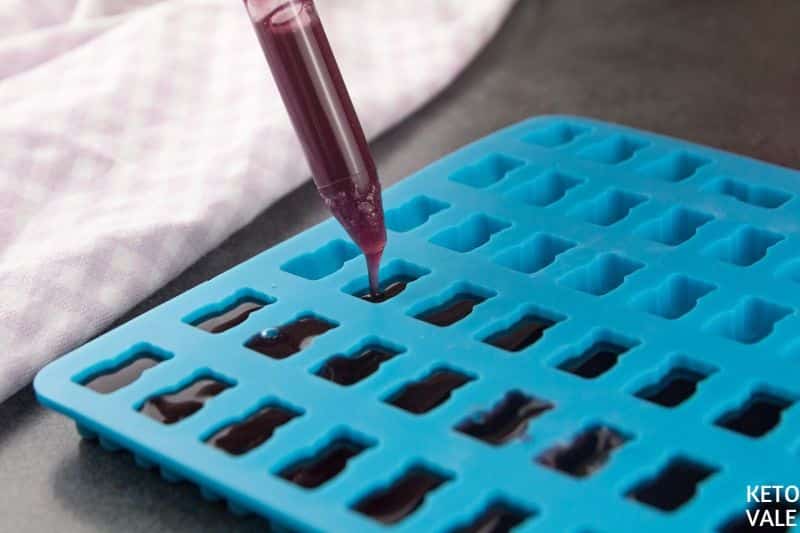 Wait for at least 30 minutes before taking out and serving.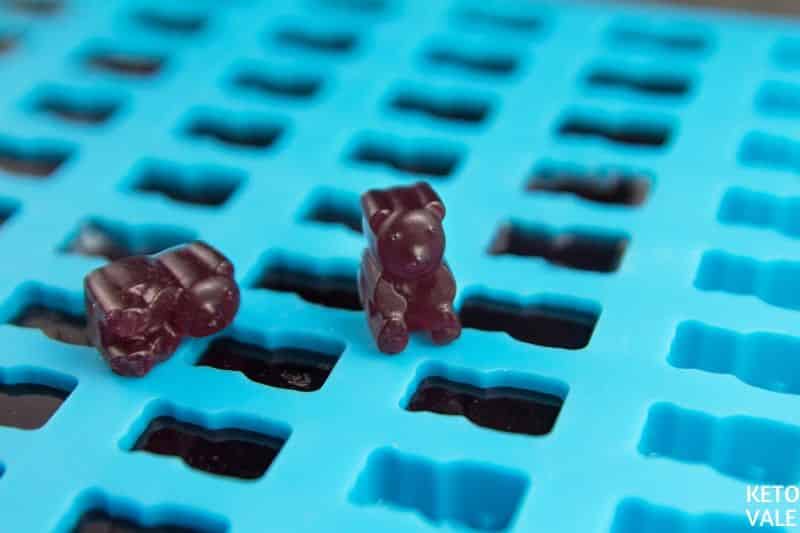 For different color varieties, you can adjust the concentration of the berries, or use other types of low-carb fruits such as blueberries, strawberries, raspberries, etc…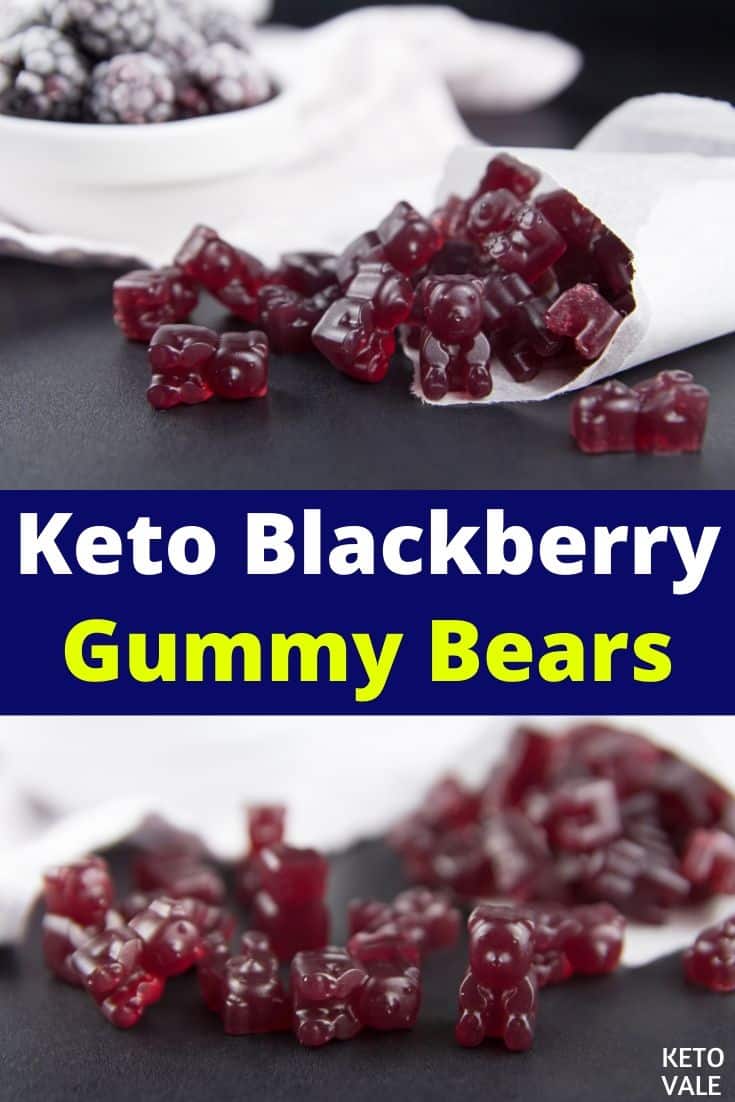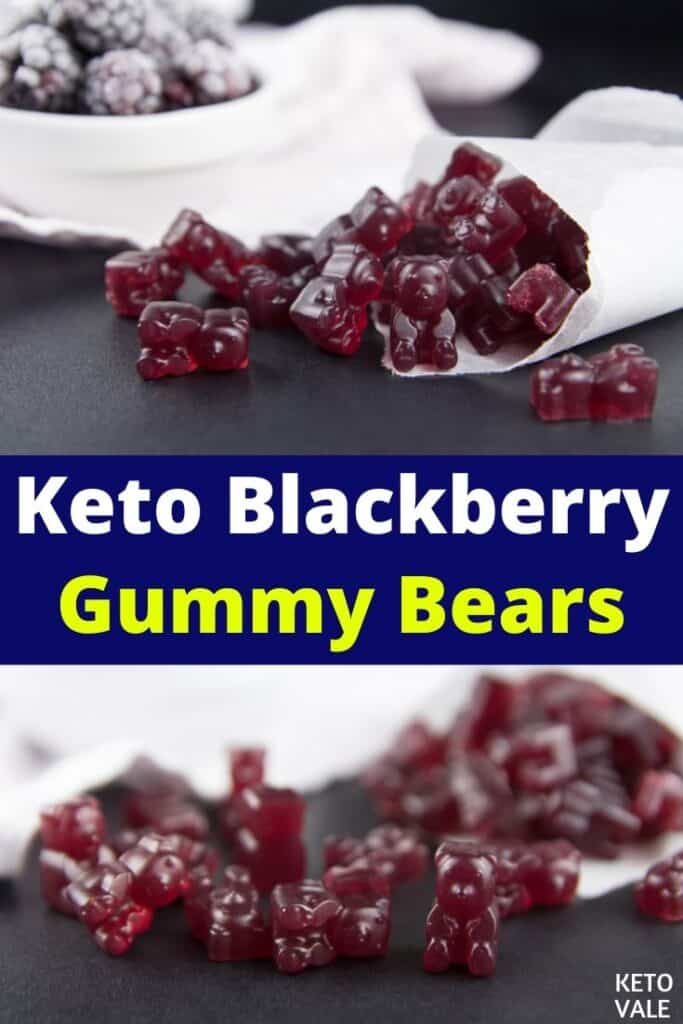 Related:
Keto Gummy Bears
A very easy low-carb, sugar-free and keto-friendly gummy bears recipe anyone can follow.
Instructions
Place blackberries in a small saucepan, add erythritol, heat and gently crush with your spoon to release juices.

Strain the blackberries to receive pure "juice."

In a bowl, combine hot water and gelatine powder. Stir to dissolve and let cool slightly.

Combine received blackberry "juice" with dissolved gelatine.

Fill your silicone bear mold with blackberry-gelatine mixture using a dropper.

Transfer to the fridge for at least 30 minutes or until set.

Pop your bears out of the mold and enjoy!
Notes
*This makes 50 gummy bears. Macros info per serving of 5 pieces.
Nutrition/Macros
Nutrition Facts
Keto Gummy Bears
Amount Per Serving
Calories 6
Calories from Fat 9
% Daily Value*
Fat 1g2%
Sodium 2mg0%
Potassium 8mg0%
Carbohydrates 1g0%
Protein 1g2%
Vitamin A 10IU0%
Vitamin C 1mg1%
Calcium 1mg0%
Iron 1mg6%
* Percent Daily Values are based on a 2000 calorie diet.
Pin To Save This Recipe