An enchilada is basically a corn tortilla filled with some type of meat and covered with hot sauce. Traditional enchiladas are not keto-friendly because the shell contains too many carbs.
When it comes to making low-carb and gluten-free versions of enchiladas, the corn tortilla can be replaced with zucchini slices or cheese shells.
We have made our keto-friendly version of chicken enchiladas using zucchini slices before. You can check our recipe here!
Today, we have made another keto-friendly version of enchiladas using cheese shells as tortillas. This recipe is very versatile. Once you make the shell, you can fill it with any low-carb foods of your choice.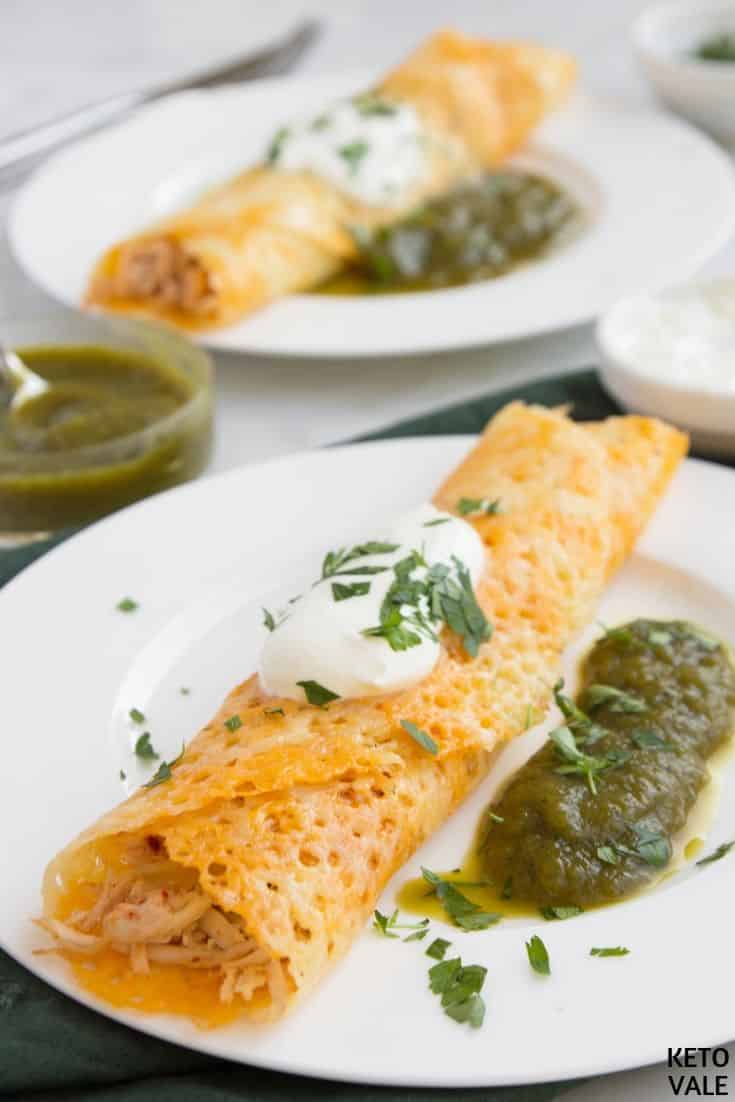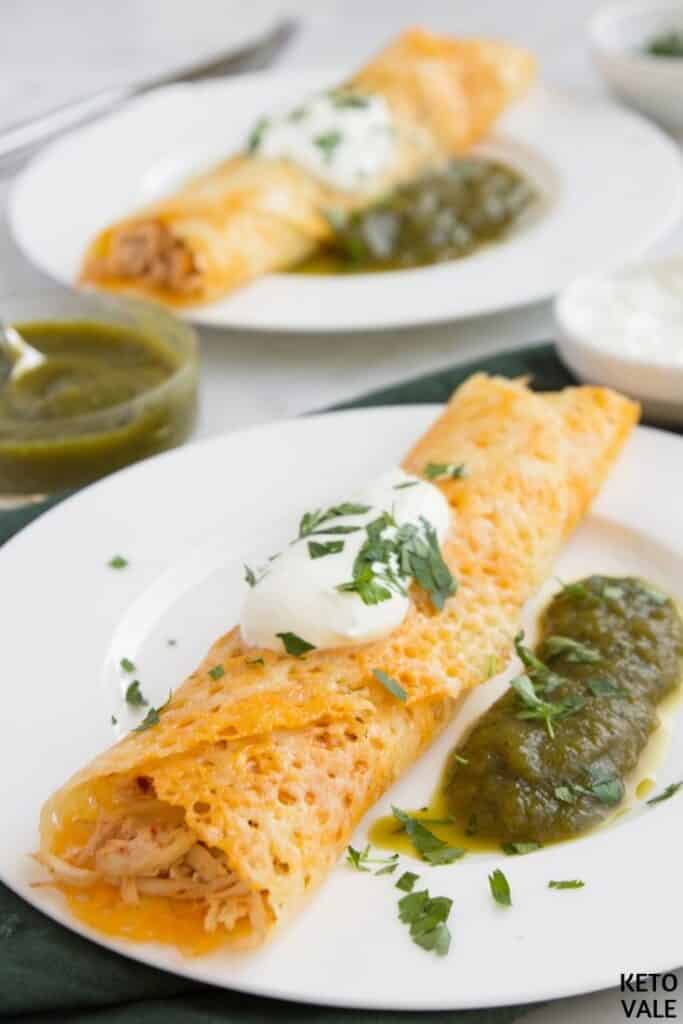 Cheese has always been a favorite food in the keto community. A combination of cheeses is a gourmand's feast. Cheese is low in carbs and a great source of fat and protein. It contains high amounts of calcium, phosphorus, zinc, riboflavin, vitamins A and B12.

Our tortillas are made of cheddar and mozzarella cheese. Yes, they are entirely made of cheese! The filling is made of chicken with sauce. Hot sauce is a good way to flavor your chicken without too many calories or carbs.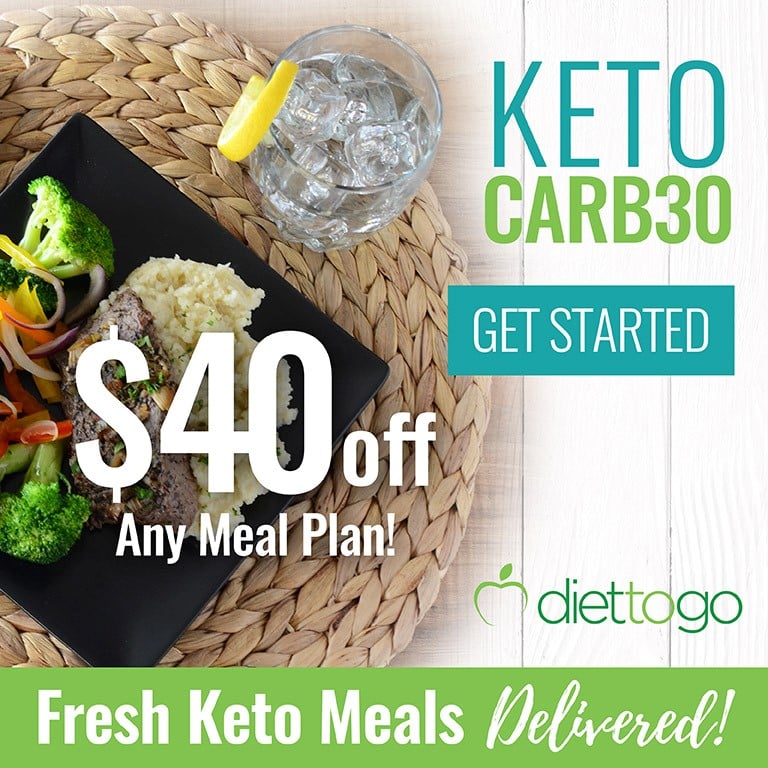 We also top it up with sour cream and the herb cilantro, which possesses good amounts of essential oils, antioxidants, and vitamins. It also gives our enchiladas a beautiful aroma.
You can also use iceberg lettuce, tomatoes, and diced onions as toppings to further enhance the antioxidant and vitamin content. You can't go wrong with these delicious wraps!
---
Let's Do It!
Mix cheddar and mozzarella in a bowl and divide them by 2 for 2 tortillas.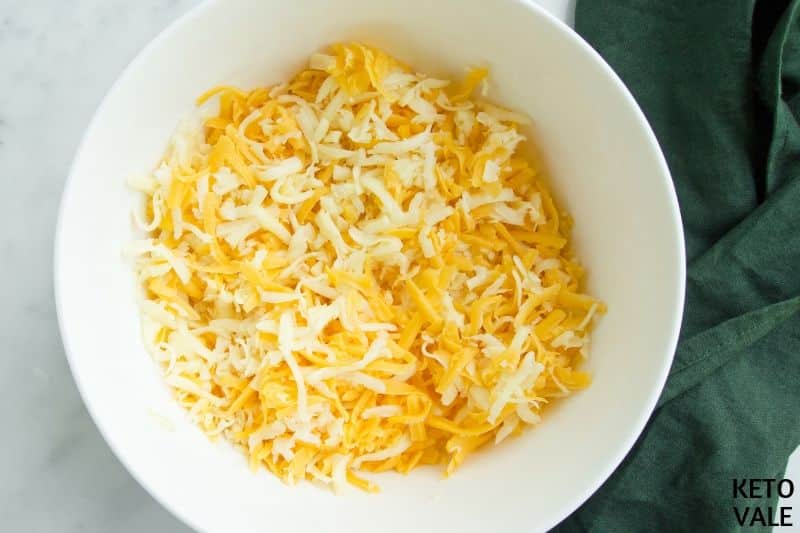 Fry cheese mixture for 2-3 minutes or until the cheese melts (you can also bake it in the oven too). Set aside and let it slightly cool. Meanwhile, enjoy the delicious smell of melted cheese.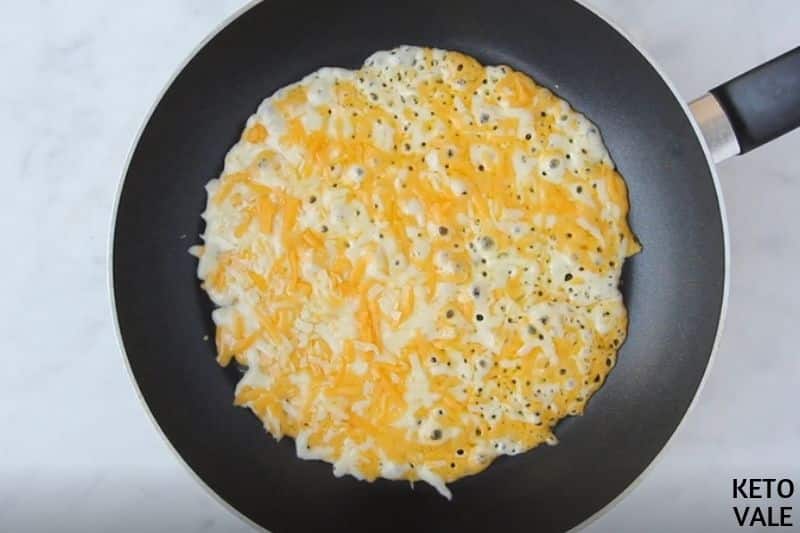 To prepare the fillings, shred cooked chicken meat then season it with hot sauce, chili flakes, salt.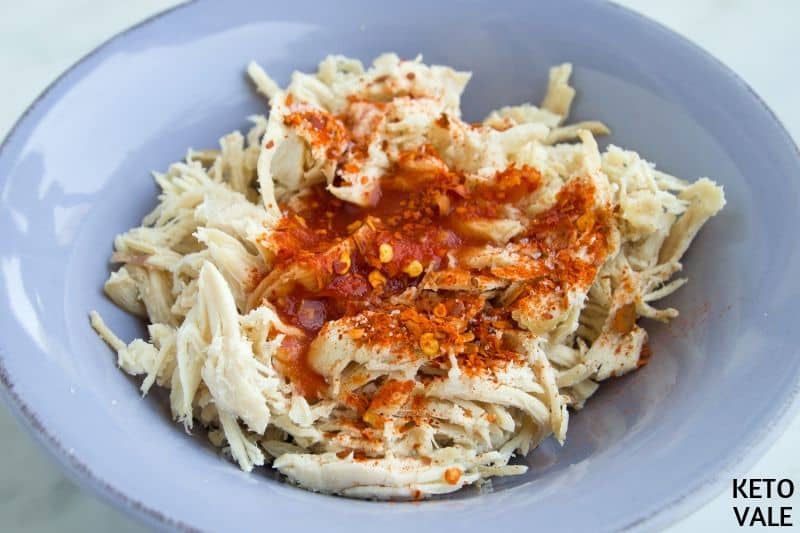 Spoon the chicken fillings into the cheese tortilla. Roll it up.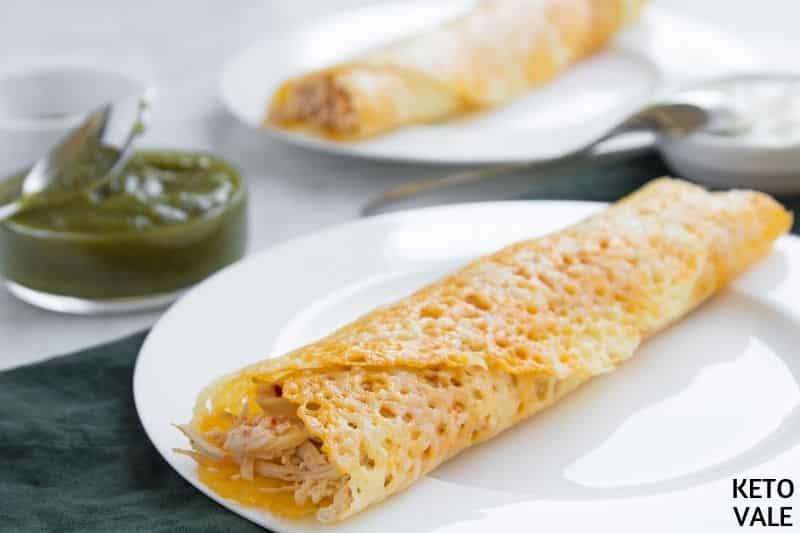 Pour some green enchilada sauce on top (or aside) with sour cream, and sprinkle a little bit of chopped cilantro. You can also make your own enchilada sauce using this recipe.
Serve them immediately and enjoy!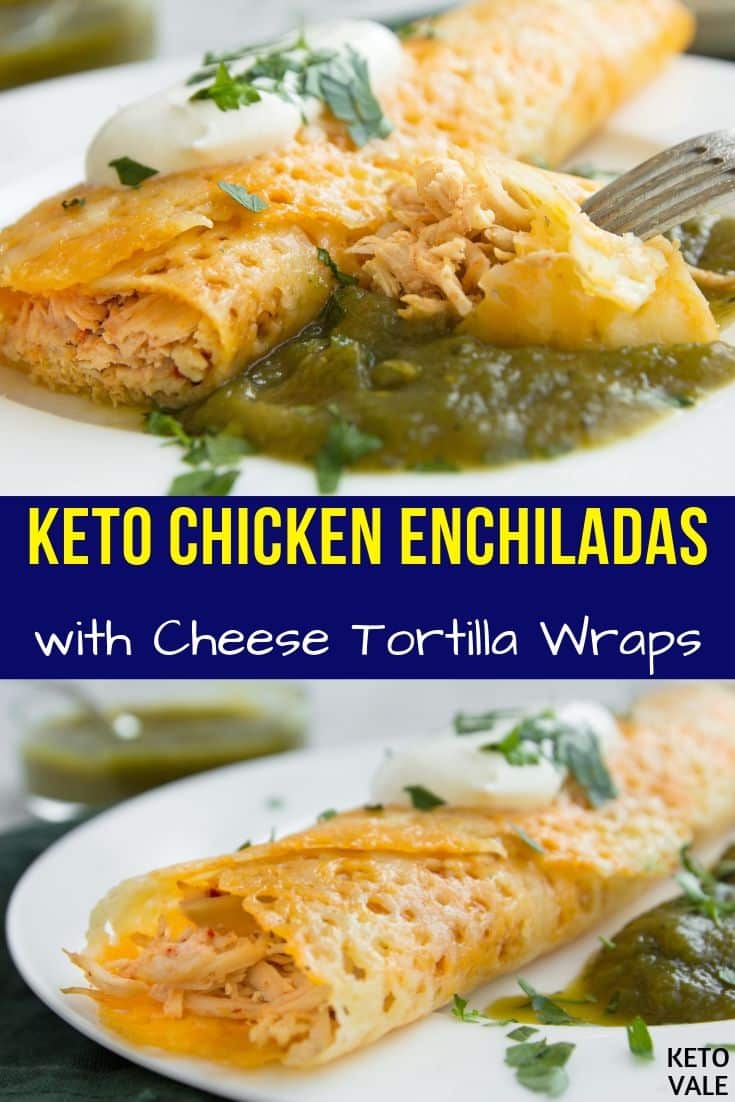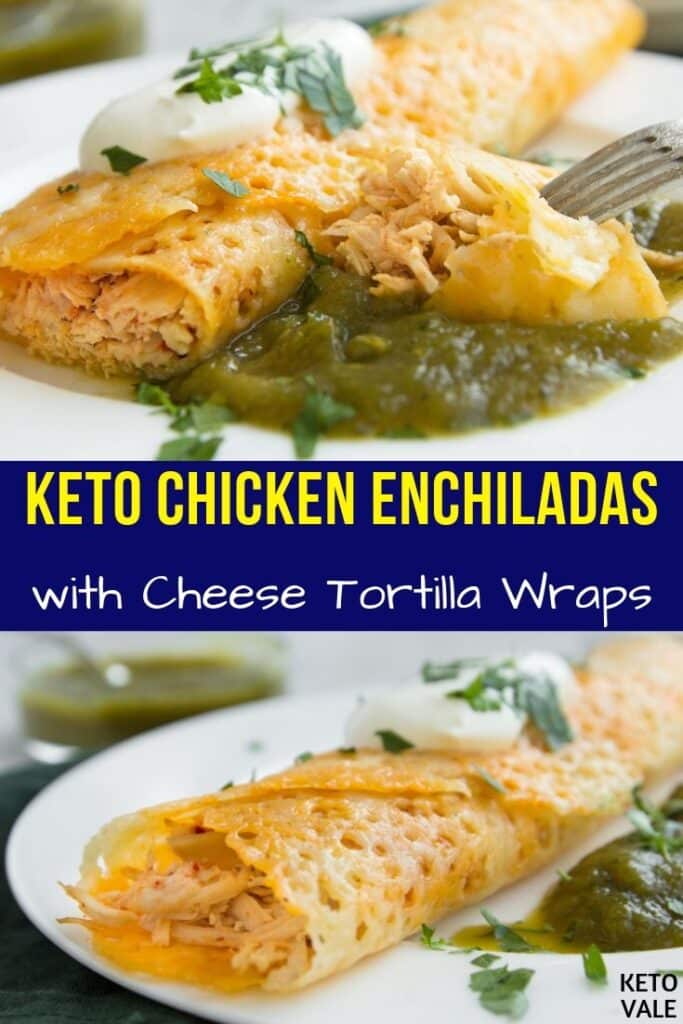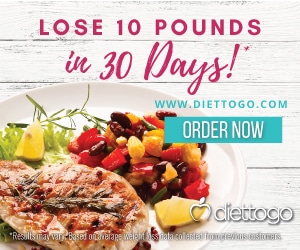 Related:

Keto Cheese Tortilla Enchiladas
This low-carb chicken enchilada recipe with tortilla wraps is made with 100% cheese for a very delicious dish for cheese-lovers!
Ingredients
1

cup

cheddar cheese

shredded

1

cup

mozzarella

shredded

1

cup

chicken meat

cooked, shredded

1

tsp

hot sauce

¼

tsp

chili flakes

¼

tsp

salt

4

tbsp

green enchilada sauce

2

tbsp

sour cream

1

tsp

cilantro

chopped
Instructions
In a bowl, mix shredded cheddar and mozzarella cheese.

In another bowl, combine shredded cooked chicken, hot sauce, chili flakes and salt. Set aside.

Heat a frying pan over a medium-high heat, add ¼ of the shredded cheese mixture and fry for 2-3 minutes or until cheese is melted. Set aside to cool slightly.

Place seasoned chicken into cheese tortilla and roll the cheese like a tortilla-style roll.

Divide rolls between serving plates, pour over with green enchilada sauce, top with sour cream, sprinkle with chopped cilantro and serve immediately.
Notes
*Other toppings you can try are green onions, green or black olives, and jalapenos. Instead of chicken filling, you can try beef or pulled pork.
Nutrition/Macros
Nutrition Facts
Keto Cheese Tortilla Enchiladas
Amount Per Serving
Calories 549
Calories from Fat 342
% Daily Value*
Fat 38g58%
Cholesterol 162mg54%
Sodium 1377mg57%
Potassium 258mg7%
Carbohydrates 5g2%
Protein 45g90%
Vitamin A 1319IU26%
Vitamin C 2mg2%
Calcium 712mg71%
Iron 2mg11%
* Percent Daily Values are based on a 2000 calorie diet.
Pin To Save This Recipe