Making a new dish can help turn an otherwise uneventful day into something special, especially if you're craving something that isn't usually keto-friendly.
Orange chicken is usually made with breaded meat, which contains too many carbs to be eaten on a low-carb diet. It also tends to include sugary sauces to further contribute to the dish's unhealthy and inflammatory properties.
This is why it is very hard to eat low carb at Chinese restaurants. However, if you swap a few ingredients, you can make low carb Chinese dishes at home.
Our Low Carb and Sugar-Free Instant Pot Orange Chicken recipes will satisfy your cravings for traditional orange chicken without kicking you out of ketosis. We swap out inflammatory ingredients for healthy ones, including an easy homemade sauce that contains no refined sugars.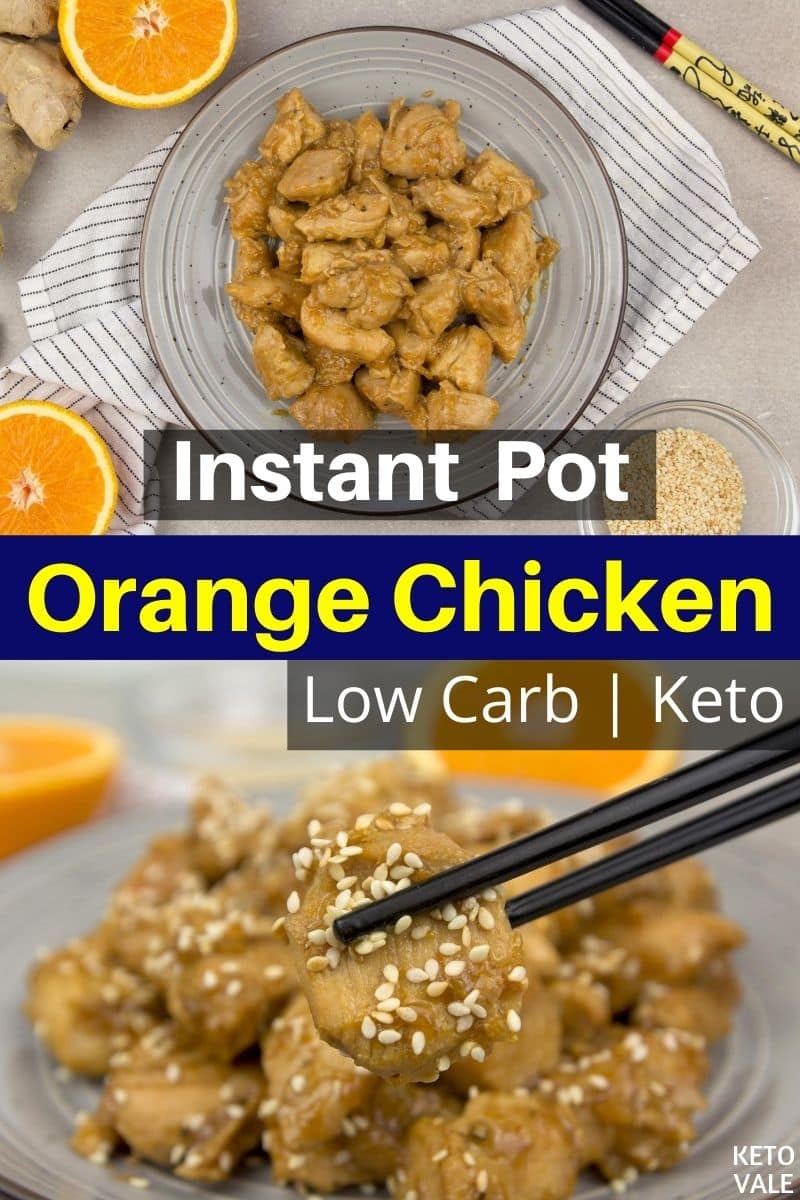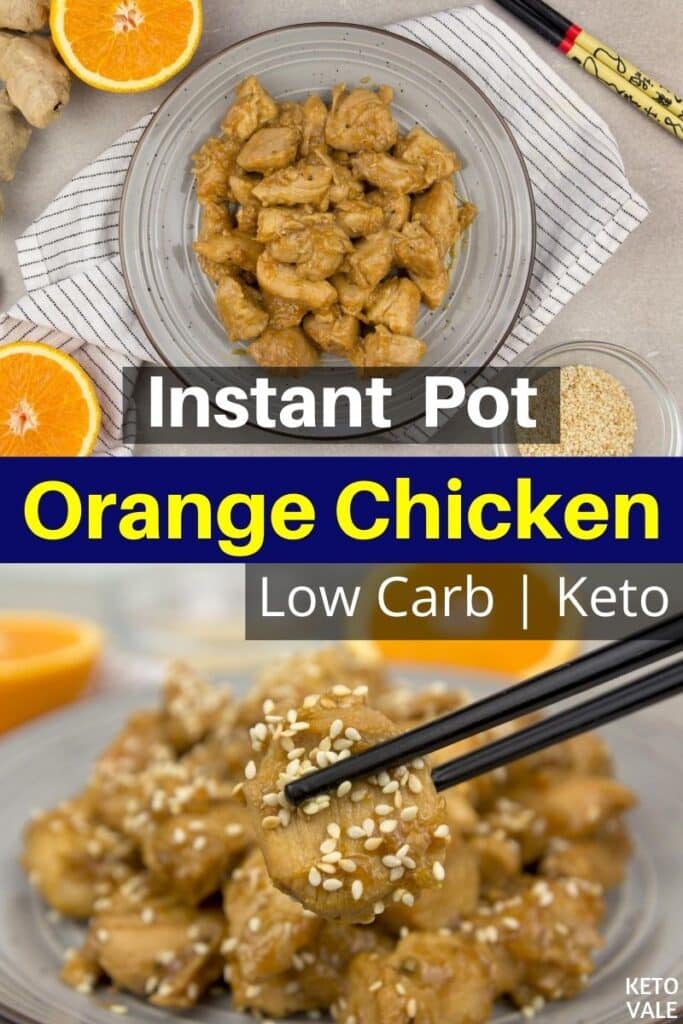 The chicken is flavored with fresh ginger, olive oil, and garlic. These three ingredients alone have enough medical properties to be considered holistic medicine.
For example, ginger has been shown to possess powerful antioxidant and anti-inflammatory properties that can be used to help protect against heart disease, neurodegenerative disease, cancer, and the aging process (1). It also has calming properties to help soothe nausea or an upset stomach.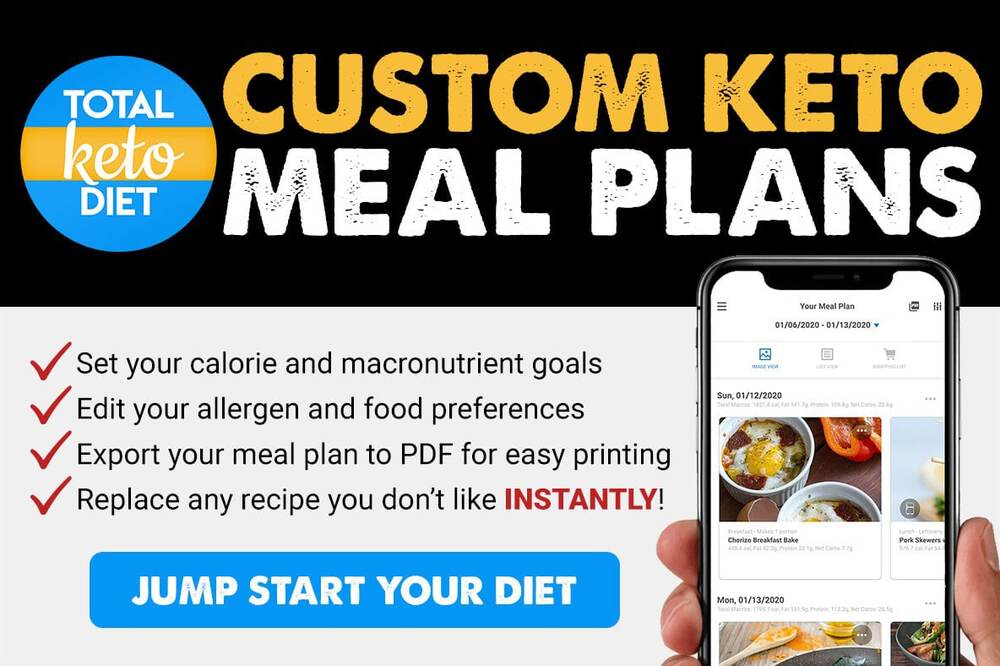 Cooking your vegetables in olive oil has been shown to increase their polyphenol and carotenoid bioavailability, thanks to its healthy fat content. One study found that cooking garlic in olive oil helped boost its absorbable polyphenol concentration (2).
Polyphenols are plant metabolites that have been shown to protect against cancer, neurodegenerative disease, cardiovascular disease, diabetes, and osteoporosis (3).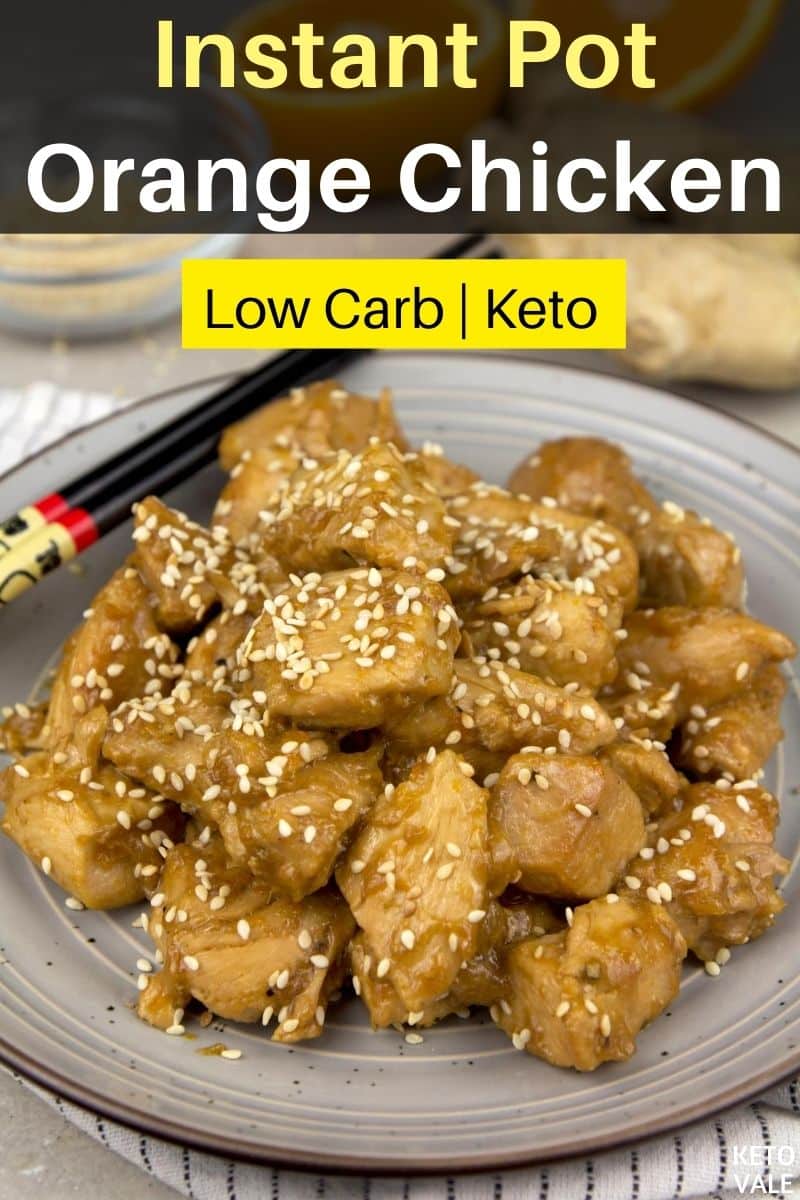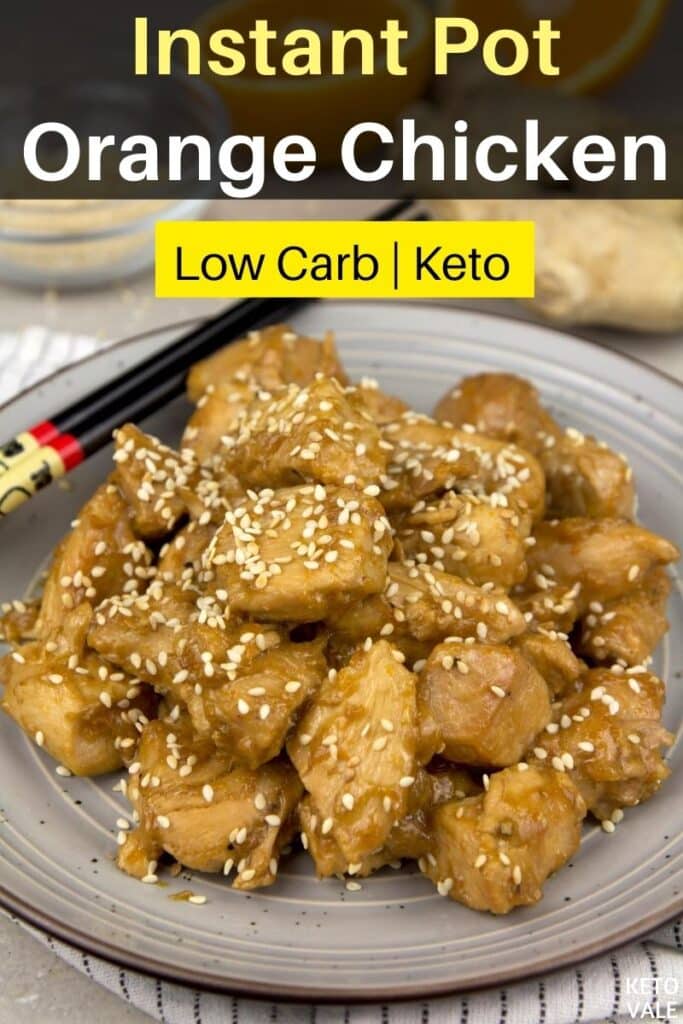 Additionally, garlic has antitumor and anti-microbial properties to further protect against disease (4). It also helps keep blood sugar levels stable.
Our sauce is made with orange zest, which provides a good source of vitamin C. Other ingredients include orange extract, apple cider vinegar, chicken broth, coconut aminos, and the erythritol.
You'll enjoy the taste complexity of this dish (without the carbs) while saving time by preparing it in your instant pot!
In our recipes, we use the instant pot 3-Quart Duo Mini 7-in-1. Just follow our steps below and this will be your favorite keto chicken dinner!
---
Let's Do It!
Mix all the sauce ingredients together in a bowl, except for the xanthan gum. We use xanthan gum for keto because it's a low carb thickener for sauces, unlike cornstarch.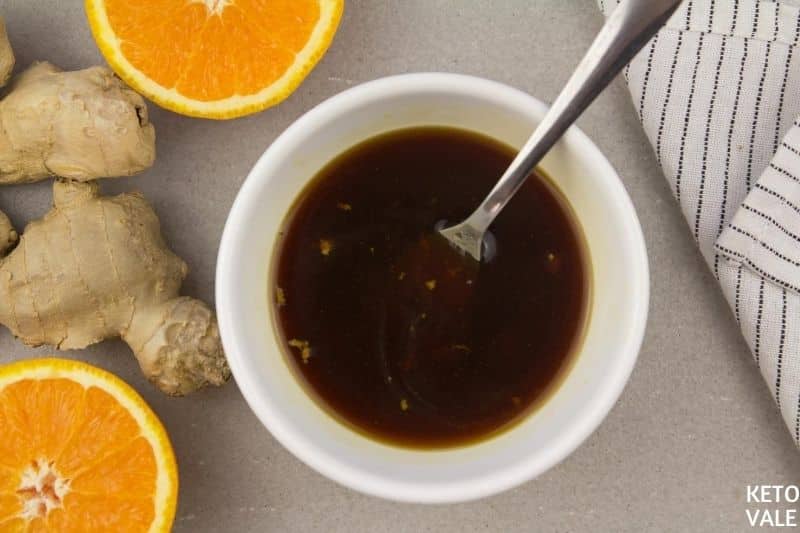 Cut the chicken into bite-sized pieces.
Set your instant pot to "saute" and allow it to heat up. Put the olive oil in and wait until it gets warm. Then add the garlic and ginger and cook for 30 seconds.
Add the chicken and season with salt and pepper. Cook until lightly brown while stirring occasionally. Then turn the "saute" mode off.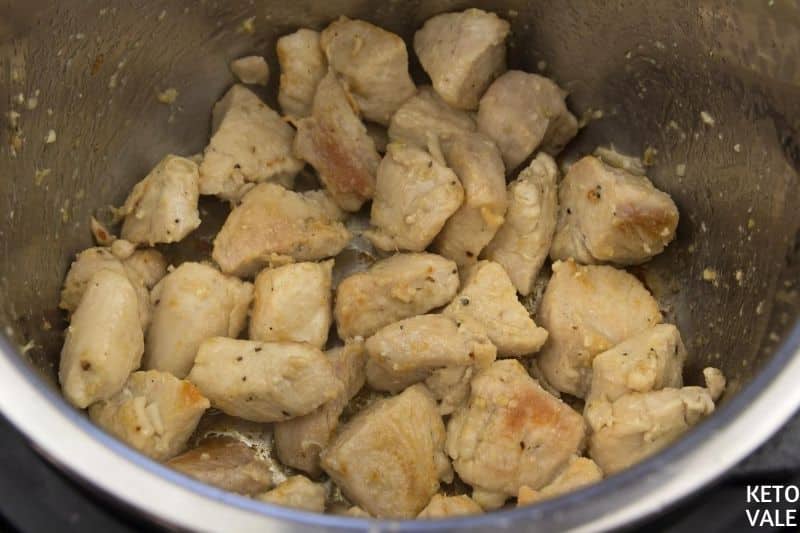 Pour in the sauce and stir. Put the lid on and set the instant pot to "pressure cook" and cook on high for 5 minutes. Make sure the lid is on "sealing."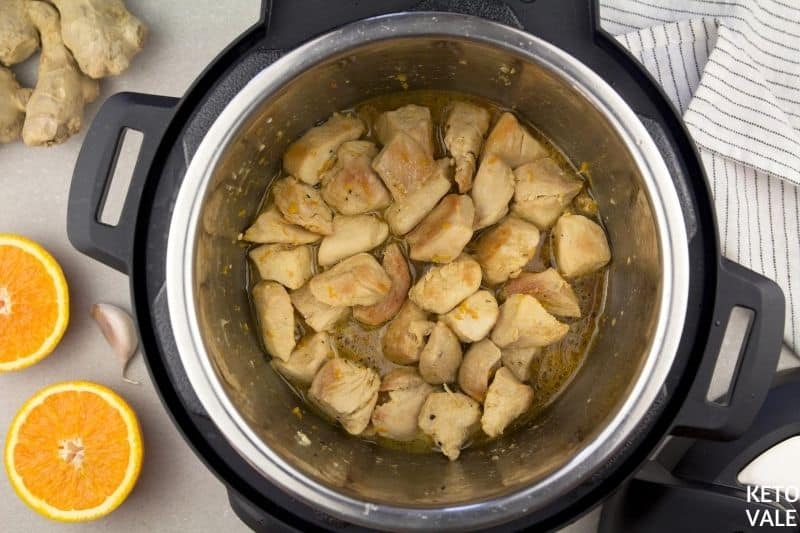 When done, do a quick release and remove the lid. Follow the directions below if you want the sauce to be thicker. Serve warm with steamed vegetables or cauliflower rice (see our recipe how to make cauliflower rice).
More Low Carb Asian Cuisine Inspired Chicken Recipes You Can Try:
Instant Pot Orange Chicken
A low-carb and keto-friendly way to make orange chicken using an Instant Pot. It's so quick and easy, you will enjoy making it more often!
Instructions
In a bowl, mix all sauce ingredients (except xanthan gum).

Cut chicken into bite-sized pieces.

Turn the "saute" mode on your Instant and let it heat up. Pour in olive oil and wait until hot. Then add garlic and ginger. Cook for 30 seconds.

Add chicken pieces, season with salt and pepper, and cook for 3-4 minutes or until lightly browned, stirring occasionally. Turn the "saute" mode off.

Pour in the sauce and give a good stir. Put the lid on, press "pressure cook" (manual), and cook on high pressure for 5 minutes. Make sure you turn the valve to "sealing."

Once the time is up, do a quick release and take the lid off.

If you like the sauce to be thicker, dissolve 1 tsp of xanthan gum in 1 tbsp of water and add this mixture to the instant pot. Turn "saute" mode on again and cook for an additional 5 minutes or until your sauce reaches the desired consistency.

Transfer the chicken to the platter. Sprinkle with sesame seeds (optional) and serve.
Nutrition/Macros
Nutrition Facts
Instant Pot Orange Chicken
Amount Per Serving
Calories 398
Calories from Fat 180
% Daily Value*
Fat 20g31%
Cholesterol 145mg48%
Sodium 541mg23%
Potassium 863mg25%
Carbohydrates 3g1%
Protein 48g96%
Vitamin A 68IU1%
Vitamin C 9mg11%
Calcium 11mg1%
Iron 1mg6%
* Percent Daily Values are based on a 2000 calorie diet.
Pin To Save This Recipe