If you are already running out of ideas on what to prepare for your next keto dinner then this low carb General Tso's chicken would be a delicious meal worth adding to your list.

General Tso's chicken is usually seen in Chinese restaurants in North America.
Basically, it is a sweet version of the fast food fried chicken we are usually accustomed to.

The name of the meal came from a military leader and statesman of the Qing dynasty, Zuo Zongtang.

This dish is best shared with friends and family (even those who are not in the keto diet) because of its delectable taste that every food lover will certainly enjoy.

The original recipe is not keto-friendly, so to make it appropriate for the keto dieters, we changed it up a bit.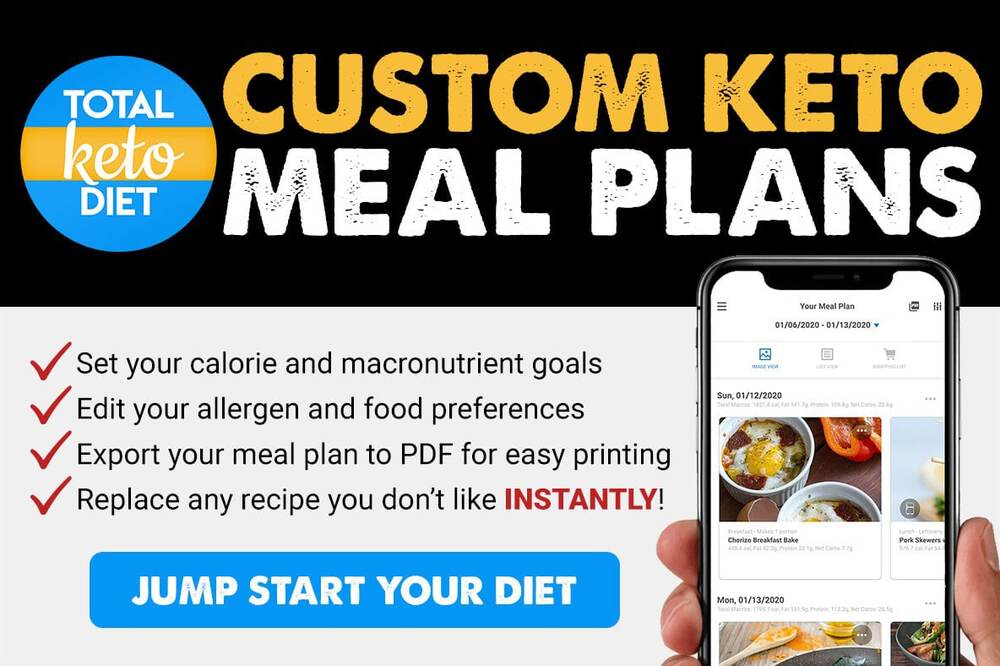 But you don't need to worry about the taste because its spices and marinade are kept the same to preserve its original peculiarity and flavor.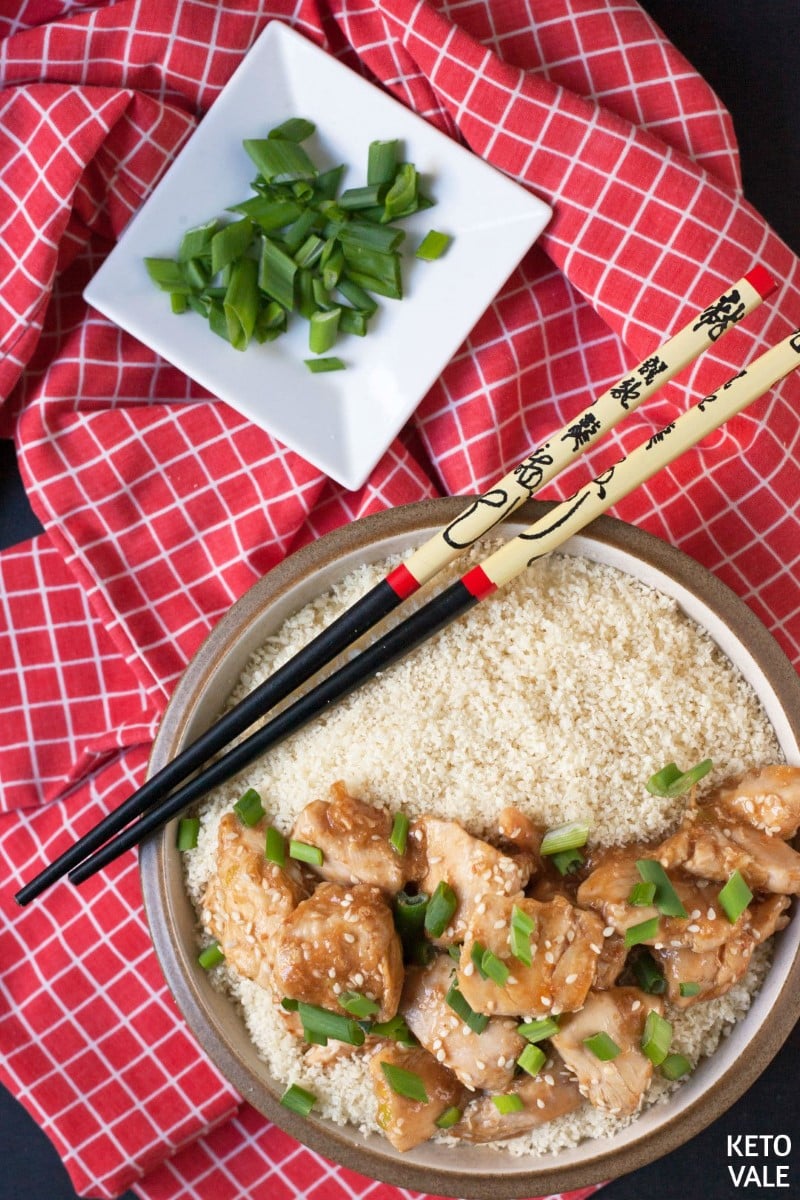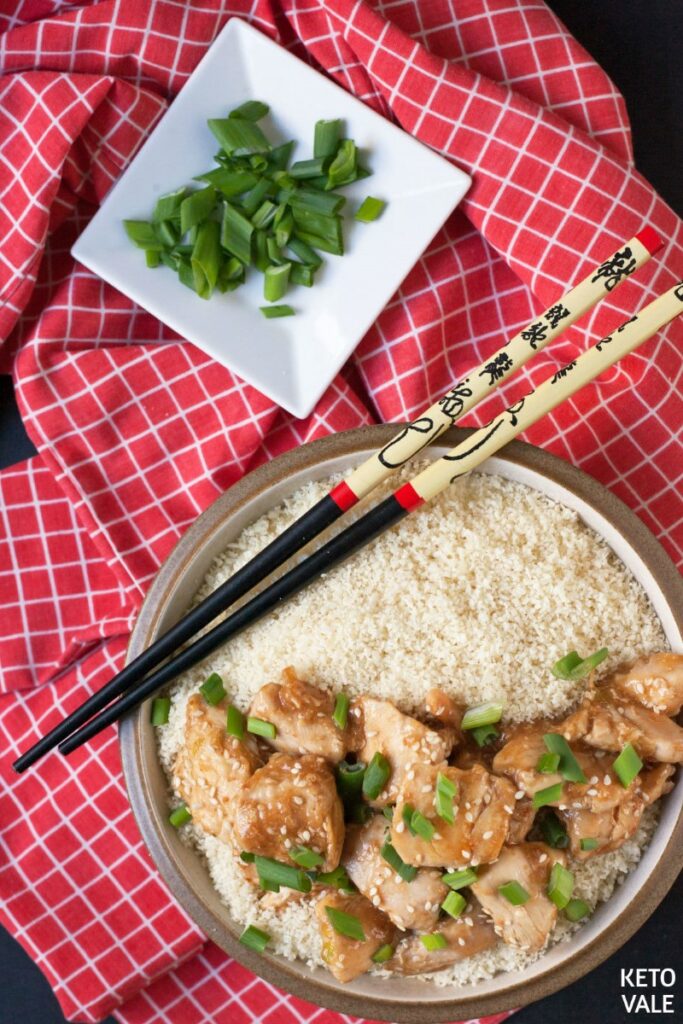 Chicken, being the main ingredient of the dish, is an excellent way to add protein into your diet.
It contains Vitamin B6 that helps boost metabolism and keeps your energy high all throughout the day.

The high-carb regular rice served with this chicken is replaced with low-carb cauliflower rice.

Using cauliflower instead of the regular rice will benefit your diet since it has much fewer calories compared to regular white rice.

Besides being low carb, cauliflower is treated as a nutritional powerhouse. It contains a handful of vitamins and minerals that will benefit your body in the long run.

In fact, studies show that cauliflower and other cruciferous vegetables contain substances known as glucosinolates, which may help protect you against the development of cancer such as colon, ovarian, breast, prostate, and bladder.
In addition, we use erythritol instead of sugar to keep the ingredients sugar-free and low carb.

Stevia or monk fruit is also an option as it is a natural sweetener containing fewer calories and have many health benefits which you can learn more here and here.

Feel free to add spicy seasonings and seed toppings to your dish.

Just because you're on a diet doesn't mean you can't make presentable dishes for you and your family.

Your limit is your imagination! Just let your creative side run loose and we're sure you will prepare the most out of your ingredients at home. Enjoy your meal!

---
Let's Ketofy It!
Mix the chicken pieces well with the egg whites, a tablespoon of coconut aminos (or soy sauce if not strict keto), and half a teaspoon of xanthan gum.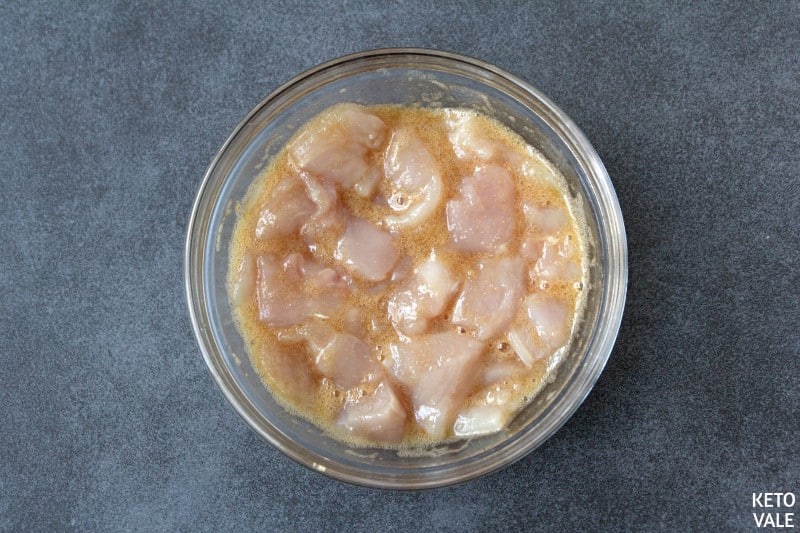 Cut out the green part of the scallion from the white.

In a saucepan, heat 1 tbsp of sesame oil over medium heat. Toss in the scallion whites with the minced garlic and ginger. Whisk for 30 seconds before pouring in the chicken broth.
Mix the ingredients with 1 tbsp of coconut aminos, erythritol, and some hot sauce to taste. Add half a teaspoon of xanthan gum and continue mixing until thick. Wait until cooked.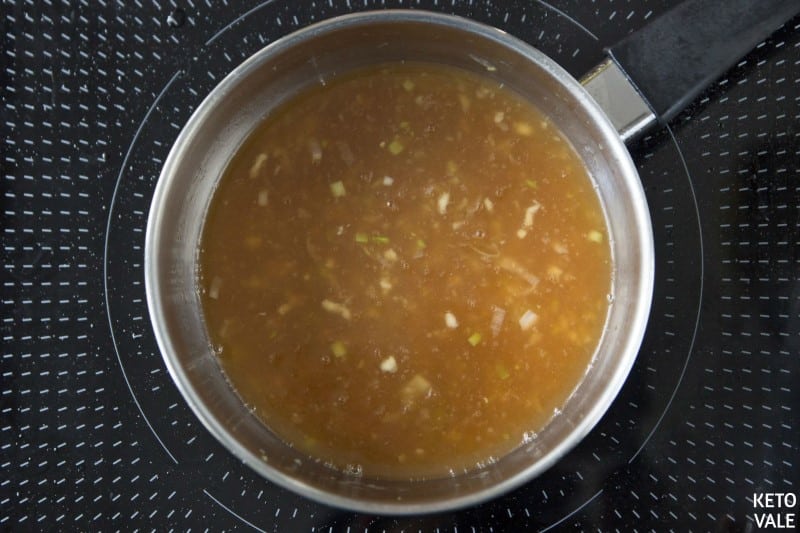 Fry the chicken pieces over medium-high heat. This can take up to 8 minutes. Make sure all sides are cooked through.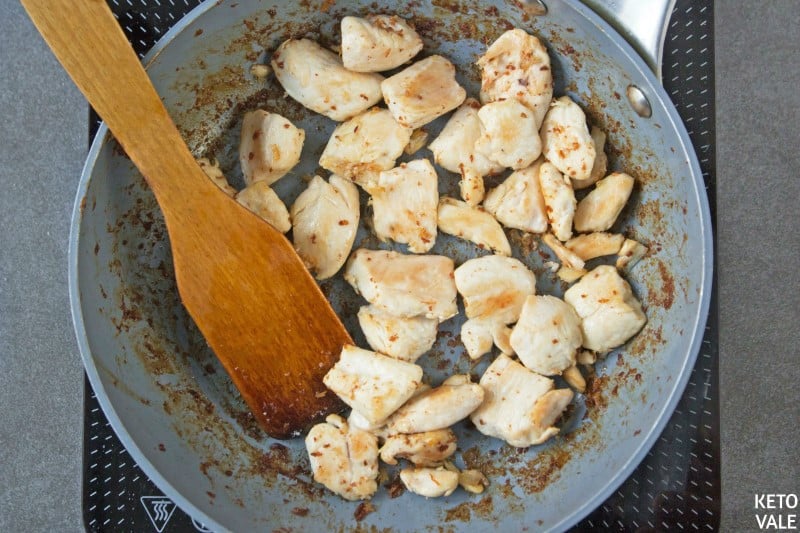 Cover the chicken with the cooked sauce. Mix together over the heat to cook some more until you achieve the desired thickness. Top with sesame seeds.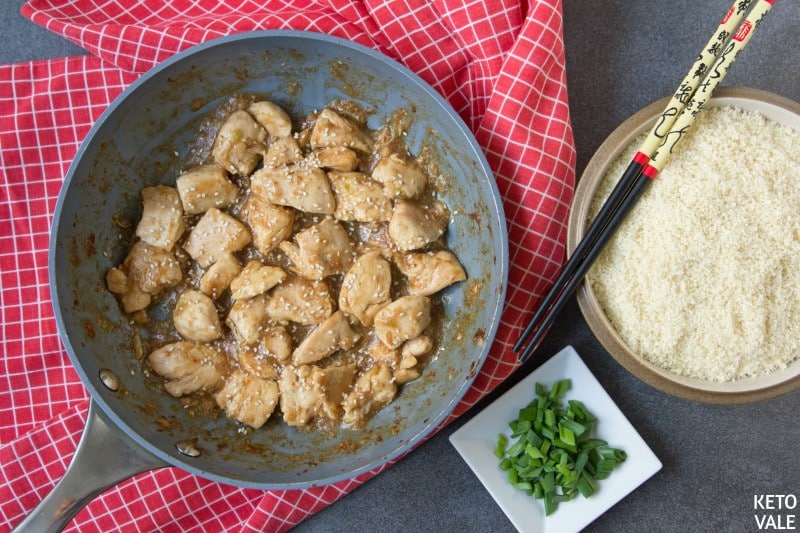 In 2 bowls of cauliflower rice, divide the chicken pieces evenly on top of each bowl. Top with chopped scallion green and enjoy while hot.

Save this recipe by pinning this picture to your Pinterest board for later use!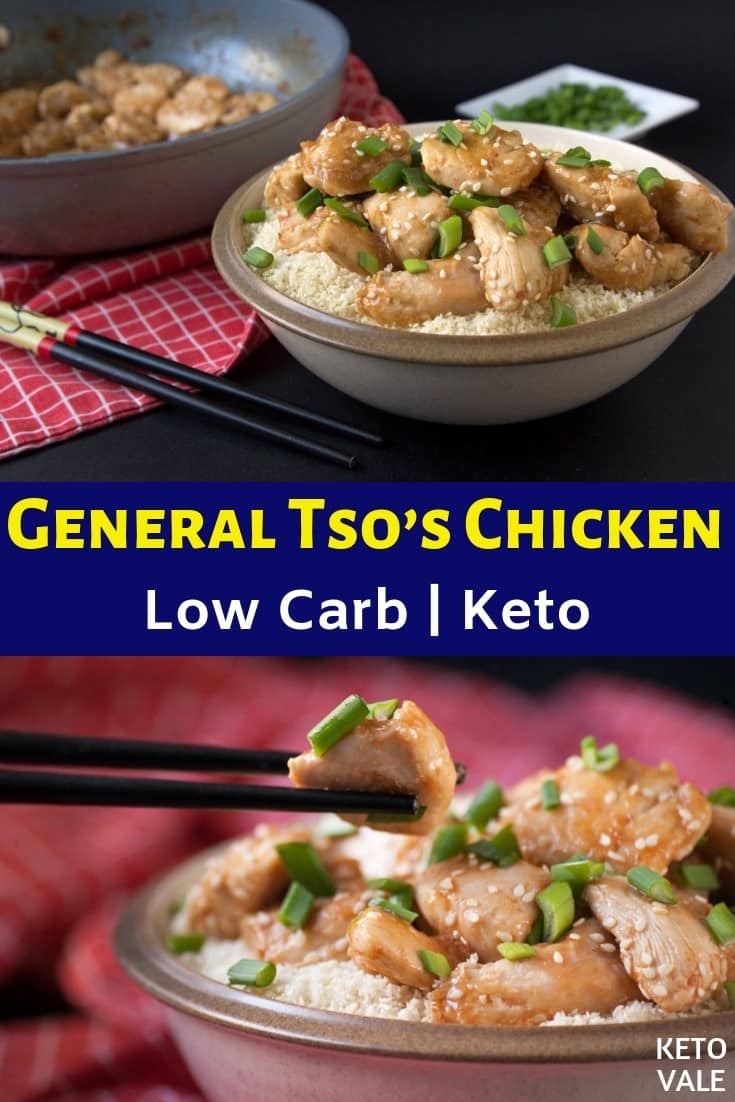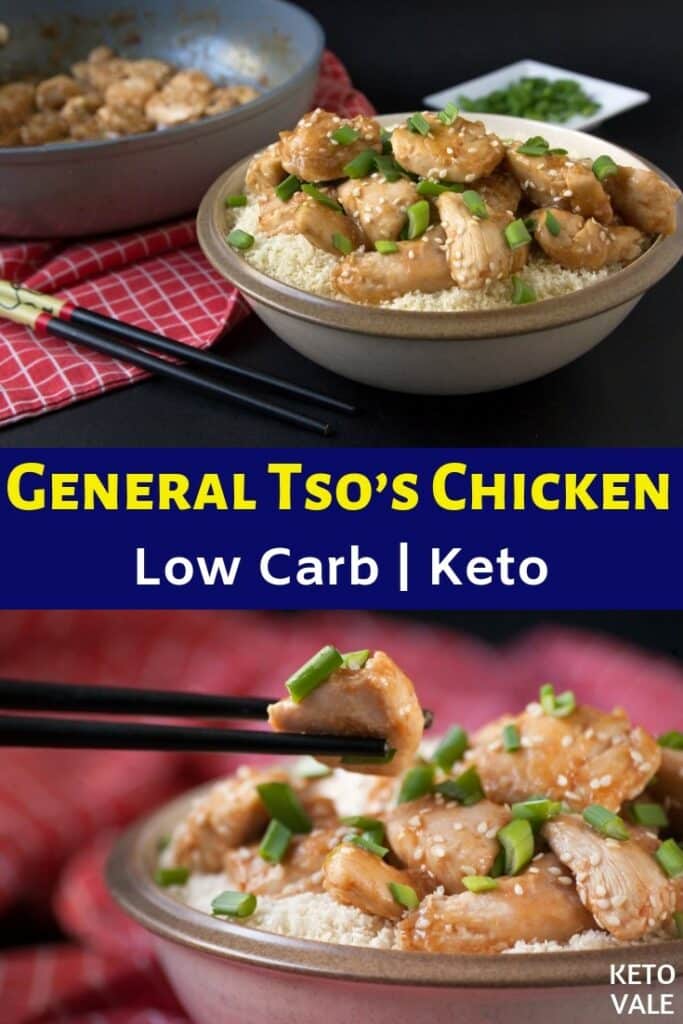 Keto General Tso's Chicken with Cauliflower Rice
This low carb General Tso's chicken would be a great choice for your next keto dinner.
Ingredients
For serving
1

cup

cauliflower rice

cooked
Instructions
Prepare the ingredients first. In a large bowl, season the chicken with ½ tsp of xanthan gum, egg whites, and 1 tbsp coconut aminos.

Place the scallions on a chopping board and cut the pieces, discarding the green pieces from the white.

Heat a tablespoon of sesame oil in a saucepan over medium heat. Saute the ginger and minced garlic together with the scallion whites. Mix for about 30 seconds. Gently pour the chicken broth into the pan. Season with hot sauce, erythritol, and 1 tbsp coconut aminos. Mix the ingredients to combine well. Stir ½ tsp of xanthan gum into the mixture. Whisk until thick. Leave to cook.

In a non-stick frying pan, heat about 2 tablespoons of sesame oil over medium-high heat. Pan fry the chicken for 7 to 8 minutes, making sure all sides are well-cooked.

Add the sauce in the pan and continue cooking for another few minutes. Garnish with sesame seeds.

Prepare 2 bowls of cauliflower rice. Lay the chicken on top of the rice and garnish with chopped green scallions. Serve while hot.
Nutrition/Macros
Nutrition Facts
Keto General Tso's Chicken with Cauliflower Rice
Amount Per Serving
Calories 373
Calories from Fat 216
% Daily Value*
Fat 24g37%
Cholesterol 72mg24%
Sodium 927mg39%
Potassium 779mg22%
Carbohydrates 10g3%
Protein 27g54%
Vitamin A 155IU3%
Vitamin C 48.1mg58%
Calcium 32mg3%
Iron 1.1mg6%
* Percent Daily Values are based on a 2000 calorie diet.
Pin To Save This Recipe
Related: