Just because a recipe is simple doesn't mean it's not good for you! Our herb and camembert omelette roll are nutritious AND easy to make.
Our recipe begins with eggs, which are a perfect source of protein. They also contain a wide range of other nutrients, such as omega-3 fatty acids, vitamins A, D, E, and B12, antioxidants, and choline.
According to one study, the antioxidants found in eggs may help prevent cancer and heart disease (1). Specifically, researchers determined that egg proteins are converted into special peptides in the stomach and small intestines that act similarly to ACE inhibitors, which are prescription drugs that lower blood pressure.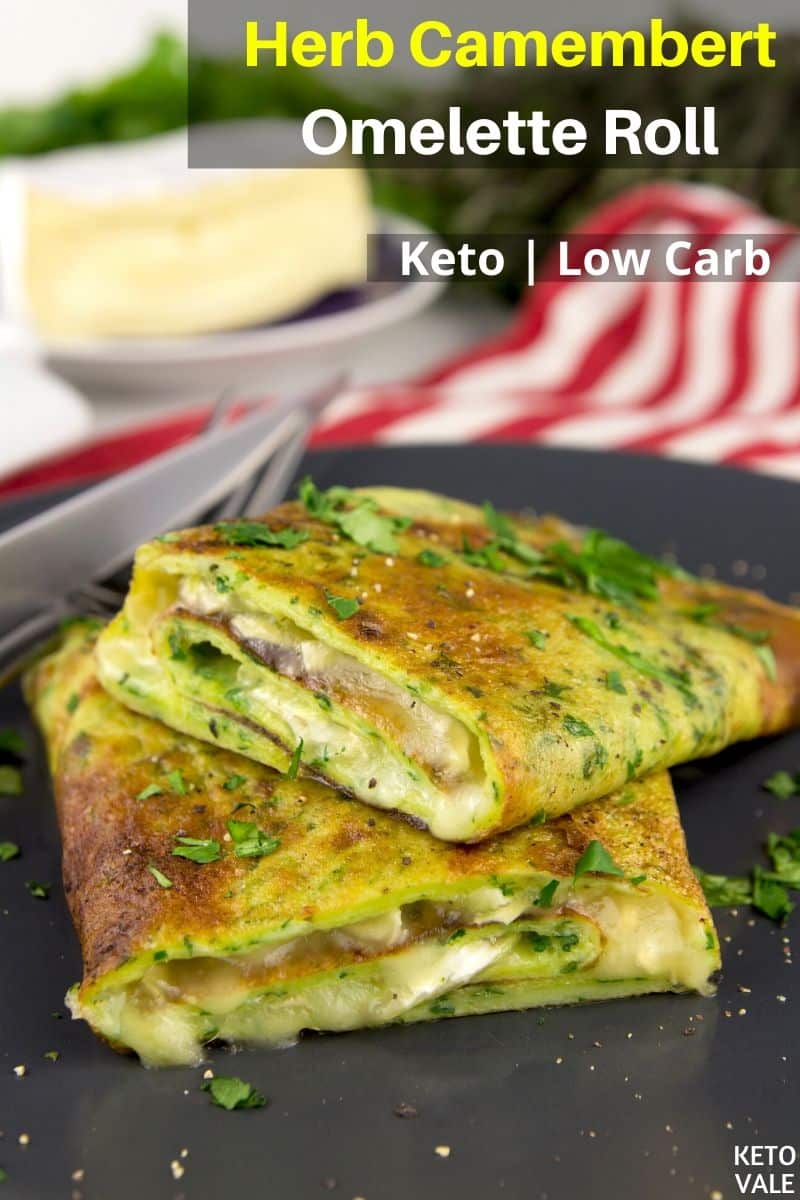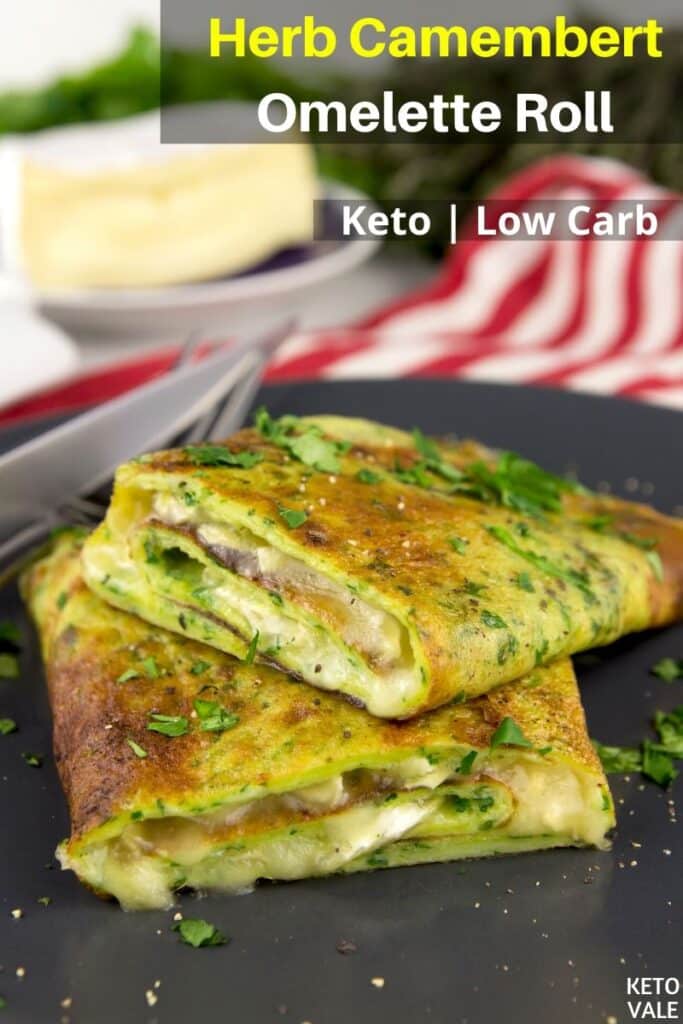 Researchers found that eggs lose some of their antioxidant power when you cook them. In their raw form, eggs contain almost twice as many antioxidants as an apple and about the same amount as a 25 gram serving of cranberries (2).
Frying or boiling your eggs reduces the antioxidant properties by about half and cooking them in the microwave reduces them by more than half. However, even if their reduced state, cooked eggs contain as many nutrients as an apple (3).
When mixed with the components found in the herbs (vitamins A, C, and K, fiber, folate, potassium, calcium, magnesium, phosphorus, choline, thymol, rosmarinic and ursolic acids), our omelette may be described as one of the most powerful disease-fighting foods.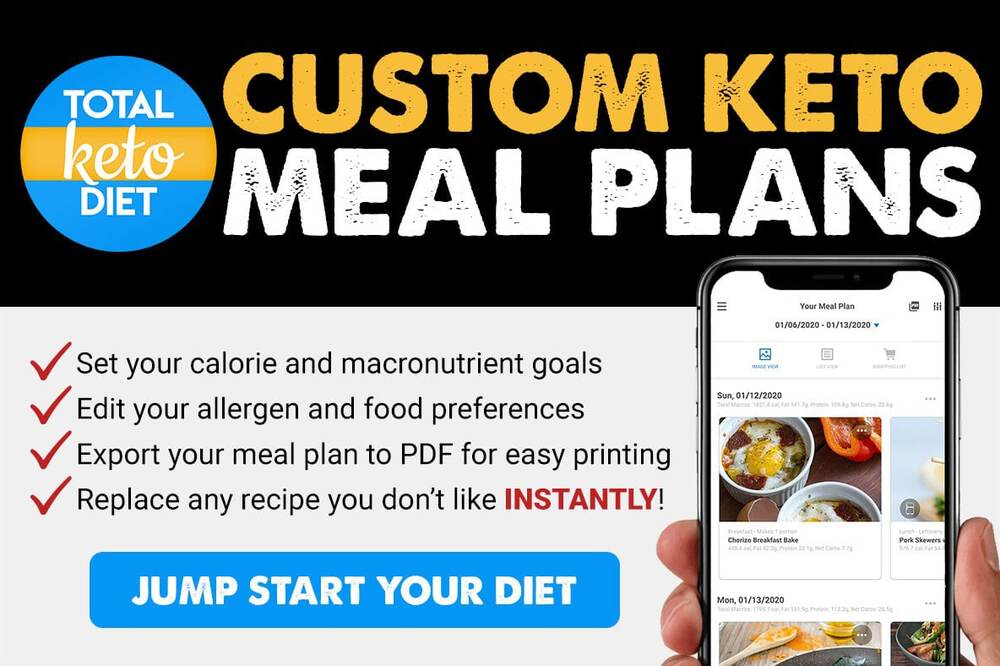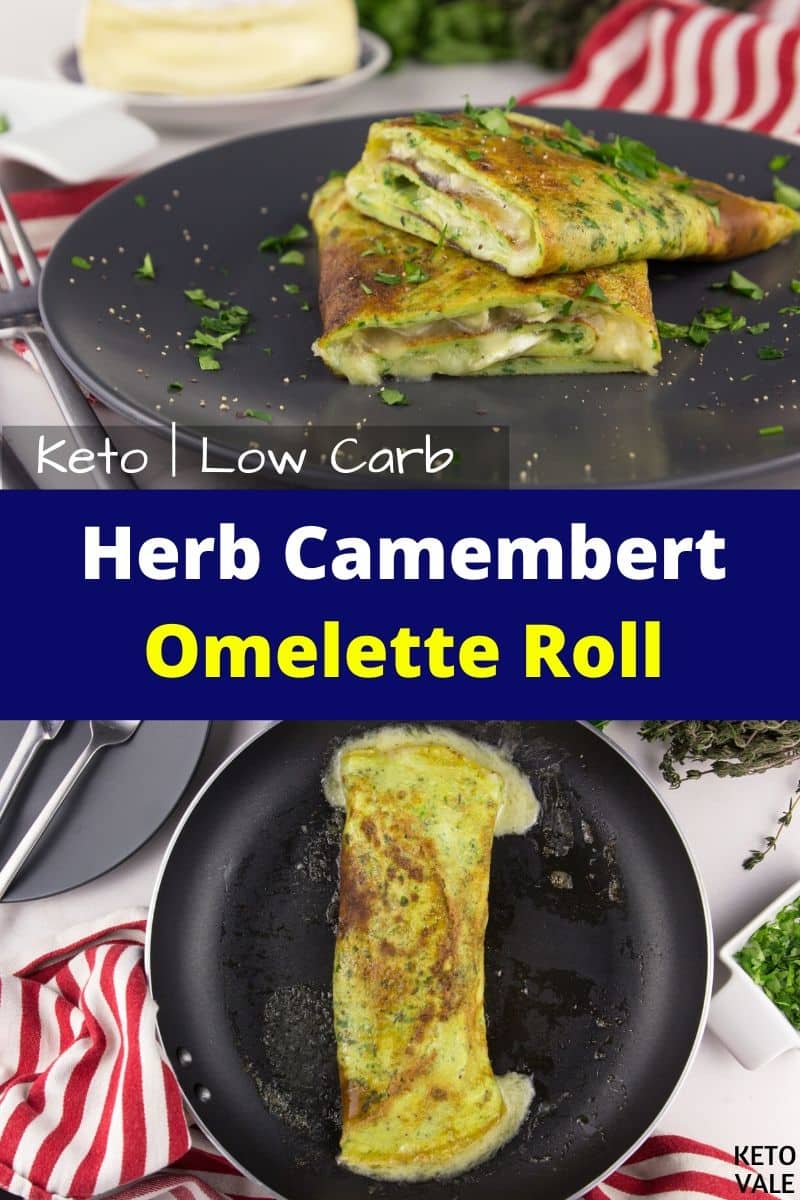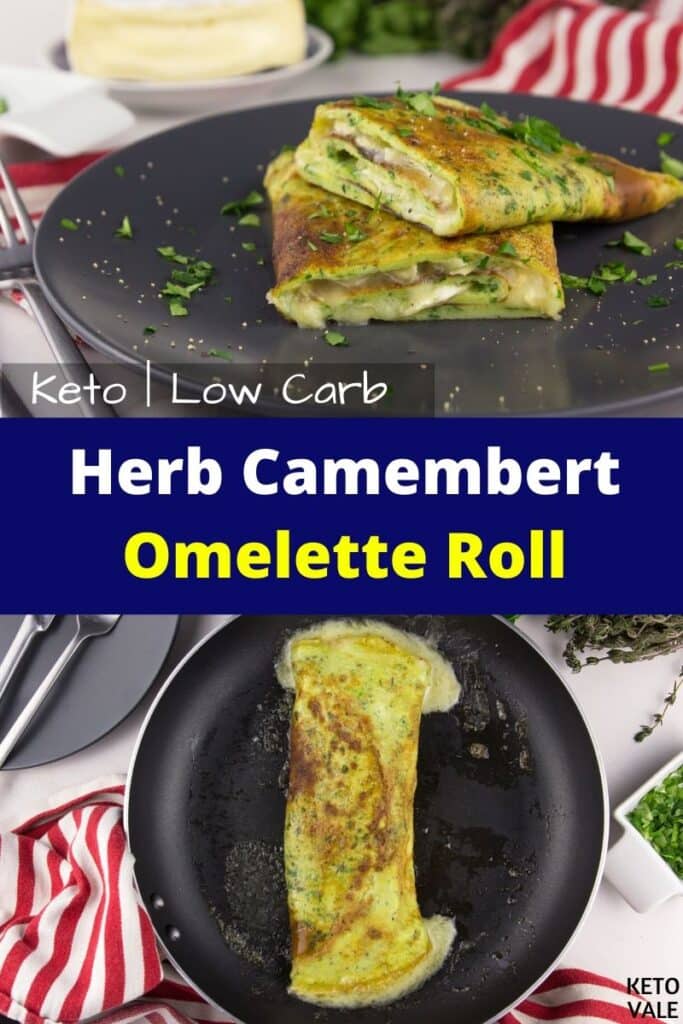 The camembert contributes more protein to this dish. It also contains calcium, phosphorus, riboflavin, pantothenic acid, vitamin B-12, selenium, vitamin A, zinc, folate, and vitamin B-6.
The heavy cream and butter in this dish ensure that you are absorbing all of these healthy nutrients, especially the fat-soluble vitamins A, D, E, and K as well as antioxidant carotenoids and flavonoids!
---
Let's Do It!
Add the eggs to a blender along with the herbs, heavy cream, salt and pepper. Blend until smooth.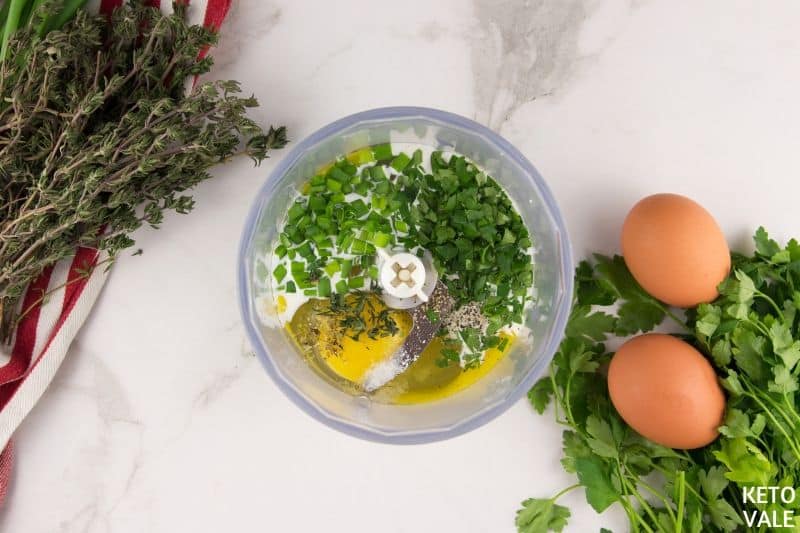 In a saucepan, melt the butter over medium heat. Pour in half the egg mixture and cook until the eggs just begin to set.
Arrange half of the camembert on top and cook a little longer until the cheese begins to melt.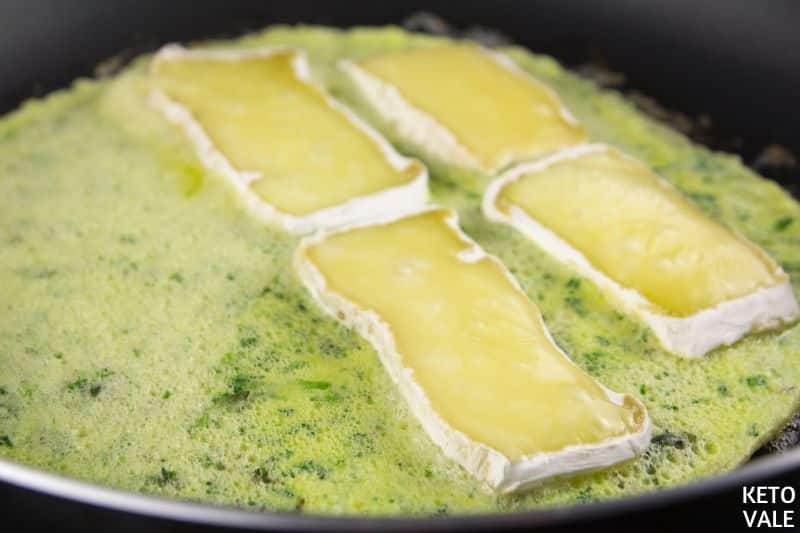 Roll the omelette and place it along the edge of the pan.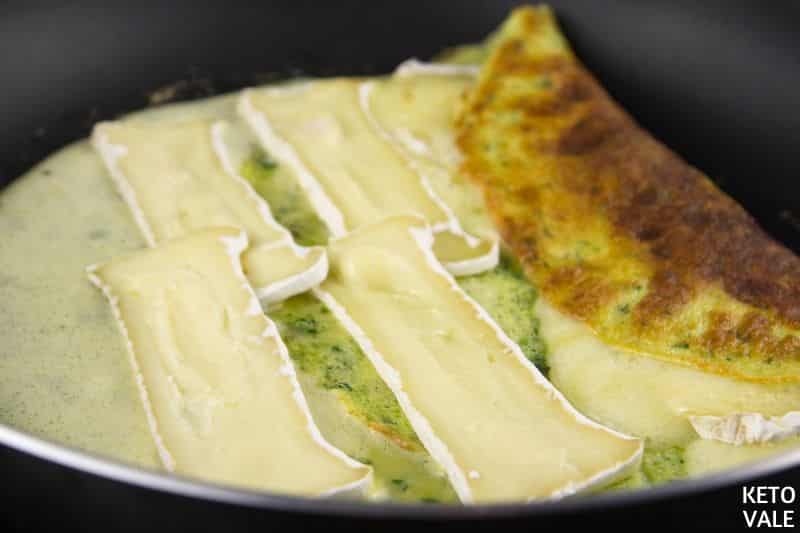 Add the other half of the egg mixture to the pan and repeat the same procedure.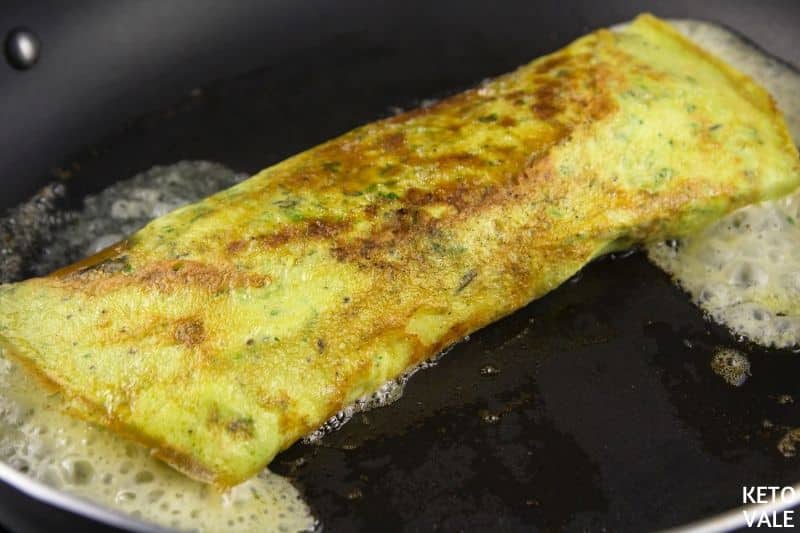 Serve immediately!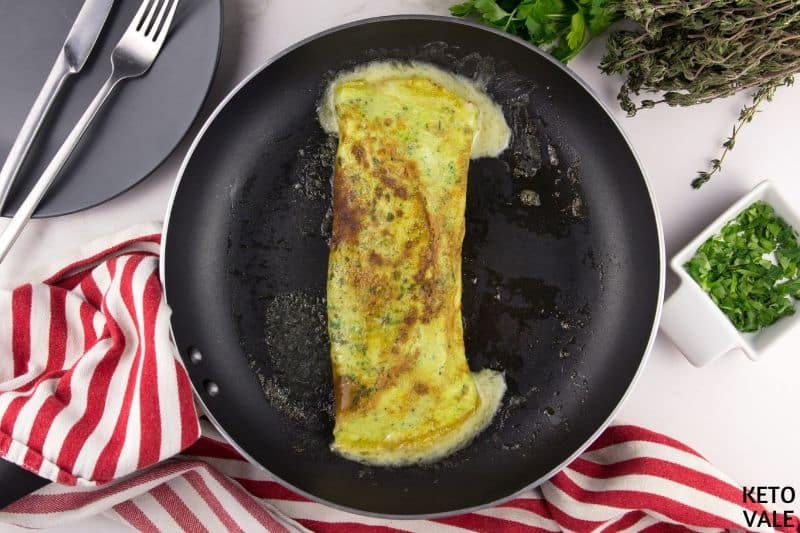 More Omelet Roll Recipes You Can Try:
Keto Herb Camembert Omelette Roll
Prepare this low-carb herb camembert omelette roll that is not only easy and quick to make but also a ketogenic and a super healthy one too.
Ingredients
2

eggs

1

tbsp

heavy cream

3

oz

Camembert cheese

sliced

1

tsp

parsley

chopped

½

tsp

thyme leaves

1

tsp

chives

chopped

sea salt and black pepper

to taste

pinch

of oregano

1

tsp

butter
Instructions
Crack the eggs into a blender. Pour in heavy cream. Add herbs, a pinch of oregano, and season with salt and pepper. Blend everything together until homogeneous.

Melt a teaspoon of butter in a medium skillet. Gently pour half of the beaten eggs into the pan and cook until just beginning to set.

Arrange half of the camembert slices on top. Cook just until the cheese begins to melt.

Carefully begin to roll the omelette. Once you have rolled up the omelette, put it back to the edge of the pan.

Pour the other half of beaten eggs into the pan. Arrange remaining cheese slices on top and roll the omelette when the egg is set.

Transfer to a serving plate and serve immediately sprinkled with black pepper, chopped parsley, or chives.
Nutrition/Macros
Nutrition Facts
Keto Herb Camembert Omelette Roll
Amount Per Serving
Calories 470
Calories from Fat 351
% Daily Value*
Fat 39g60%
Cholesterol 420mg140%
Sodium 883mg37%
Potassium 280mg8%
Carbohydrates 2g1%
Protein 28g56%
Vitamin A 1518IU30%
Vitamin C 2mg2%
Calcium 379mg38%
Iron 2mg11%
* Percent Daily Values are based on a 2000 calorie diet.
Pin To Save This Recipe