Our Green Omelette Roll with Salmon is a unique dish for a special occasion. This head-turning plate looks so appetizing with its green and yellow flare!

You don't need to worry about calories with this dish. Take spinach for example. It can be incorporated into low-carb recipes because of its low-calorie, high fiber food status.

Spinach is an excellent source of vitamin A, B6, C, K, folate, and manganese. It is also stock full of magnesium, potassium, riboflavin, and iron. Lastly, it's a good source of calcium and vitamin E.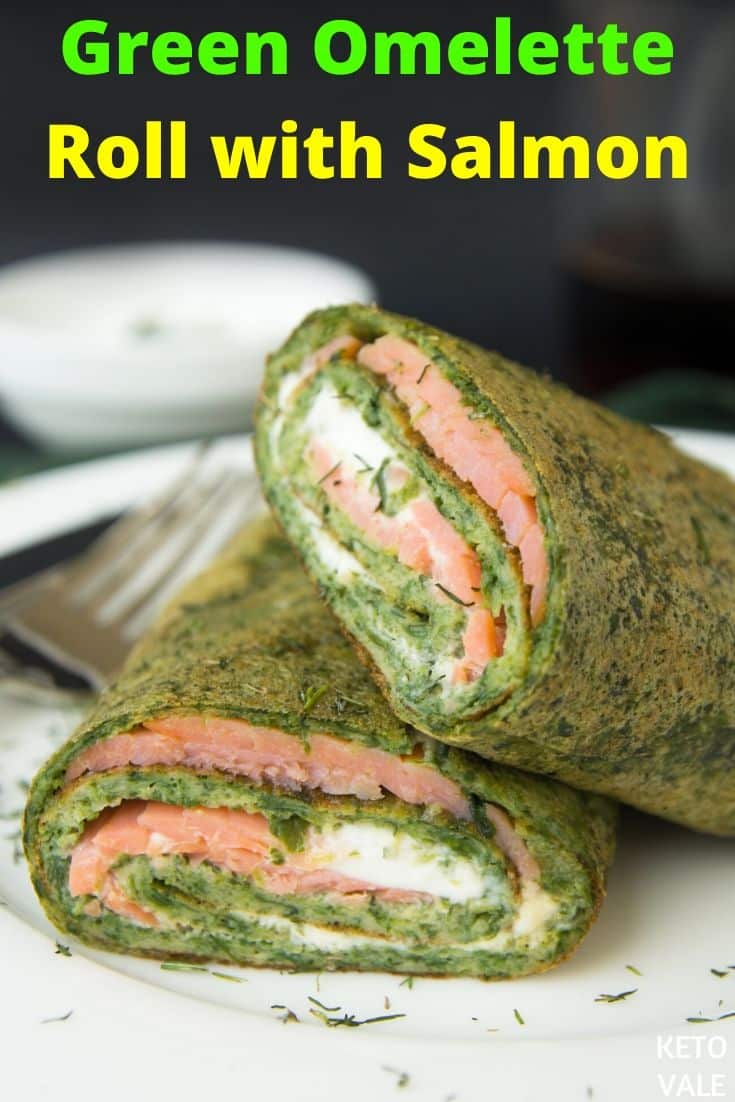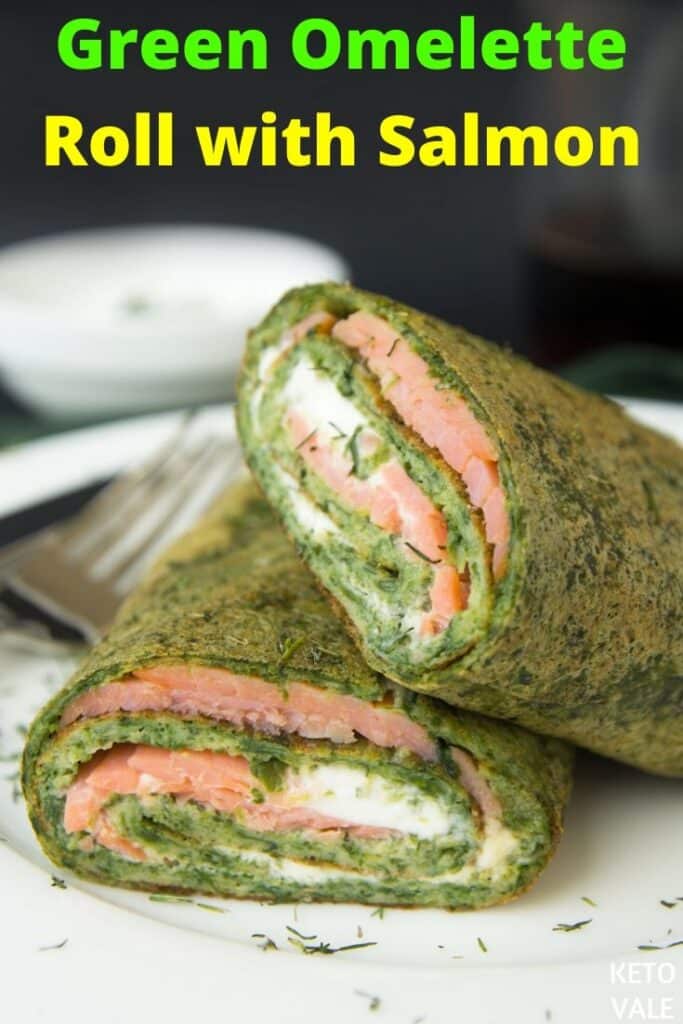 The same goes with dill. It is packed with micronutrients that provide health benefits, including antioxidants that reduce inflammation. Not to mention, dill helps increase the taste of any dish!
Research studies have suggested that dill may have an antidiabetic effect. People use dill for certain medicinal purposes, including loss of appetite, kidney disease, bronchitis, and more. The keto diet is full of foods that heal body and soul! (1, 2)
Be careful when buying smoked salmon or meat. It usually contains nitrates, sugar, and preservatives. Look for a brand of wild-caught salmon that does not contain added sugars or nitrates, which have been linked to certain cancers.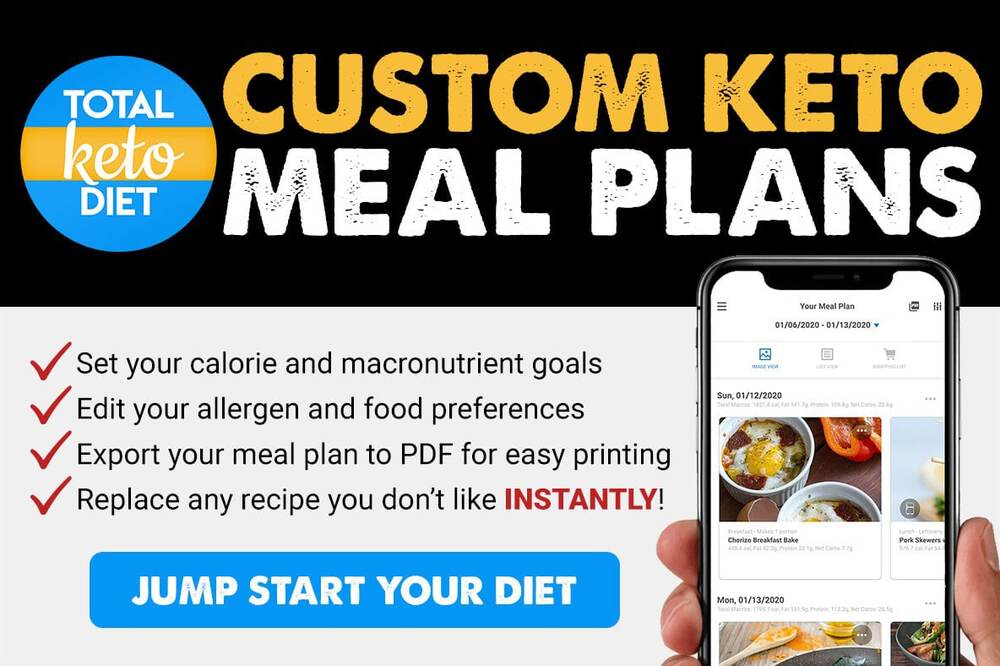 The heavy cream and cream cheese in this dish help make the texture rich and creamy. Additionally, cream cheese and heavy cream contain a good amount of fat to help support your ketogenic goals.
This is a great dish to eat as breakfast or you can serve it for dinner in place of traditional sushi, which can't be eaten on the keto diet because it contains rice and other non keto-friendly ingredients.
Chop these into bite-sized pieces and serve with chopsticks if you're looking for a fun way to serve these rolls! Or let your guests dig in with their fingers and eat like a sandwich. There is no wrong way to eat them.
---
Let's Do It!
To make, you will need eggs, heavy cream, frozen spinach, smoked salmon, cream cheese, butter, dill, salt and pepper to taste. Start by heating the spinach in a microwave for 30 seconds and drain it. If you're using fresh spinach, just simply wash it then put in the blender.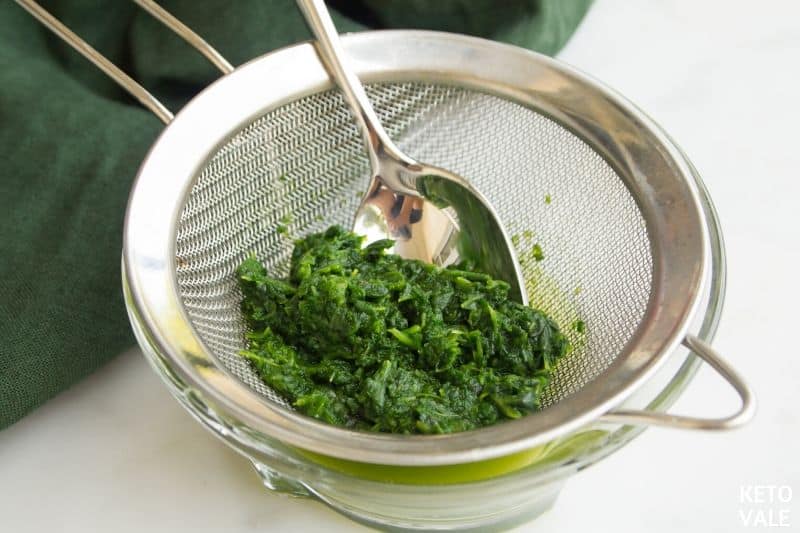 Then, crack an egg into a blender. Add the heavy cream, spinach, sea salt and pepper to the blender and blend until smooth.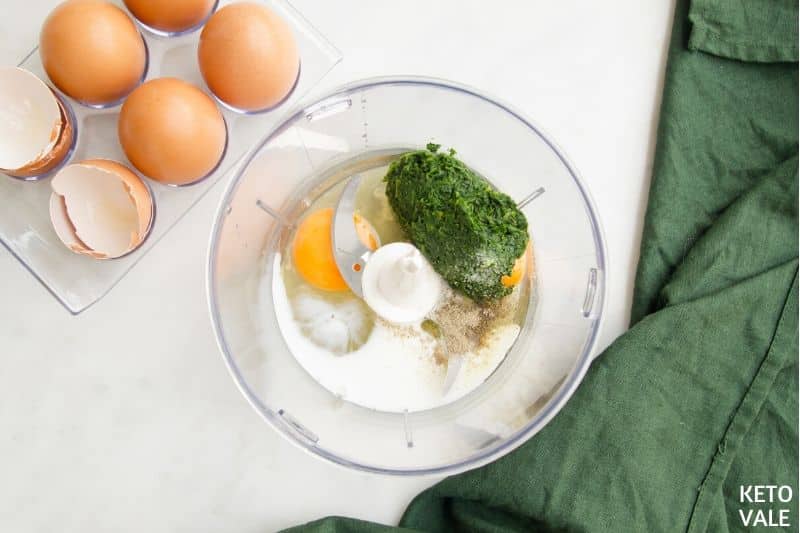 Melt a bit of butter or ghee in a stovetop pan and pour half of the blended mixture in. Cook the mixture until it just begins to set. Then add half of the smoked salmon.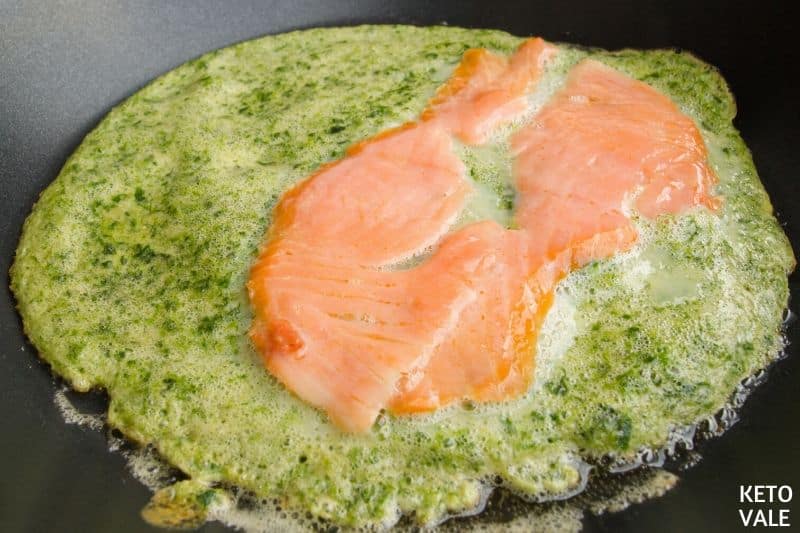 Gently spread the cream cheese on top of the salmon. Add the chopped dill and roll the omelette carefully.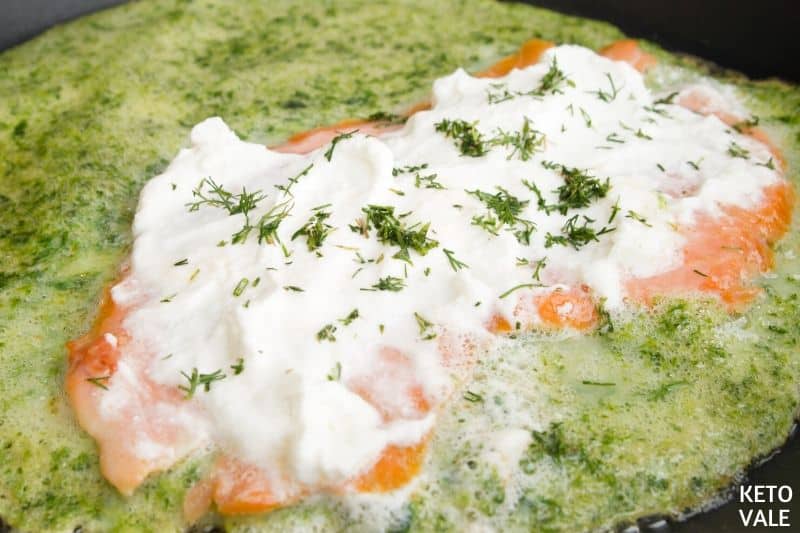 Pour the other half of the egg mixture into the pan and do the same.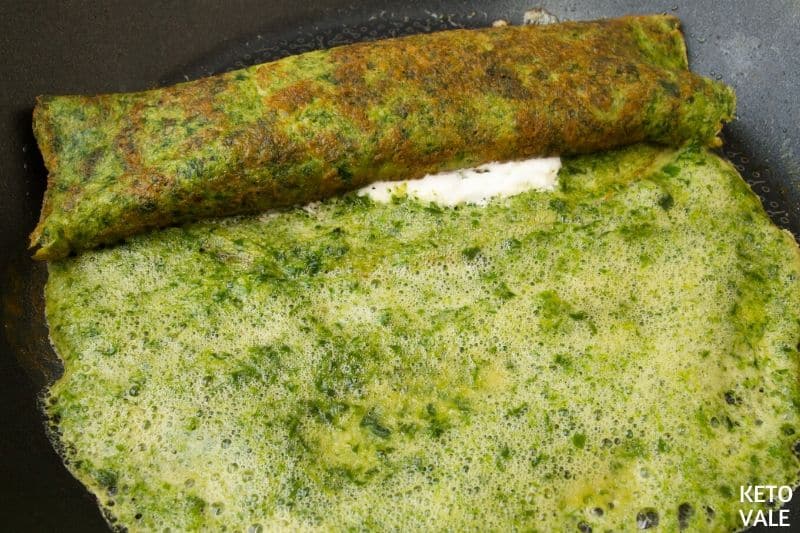 Serve immediately!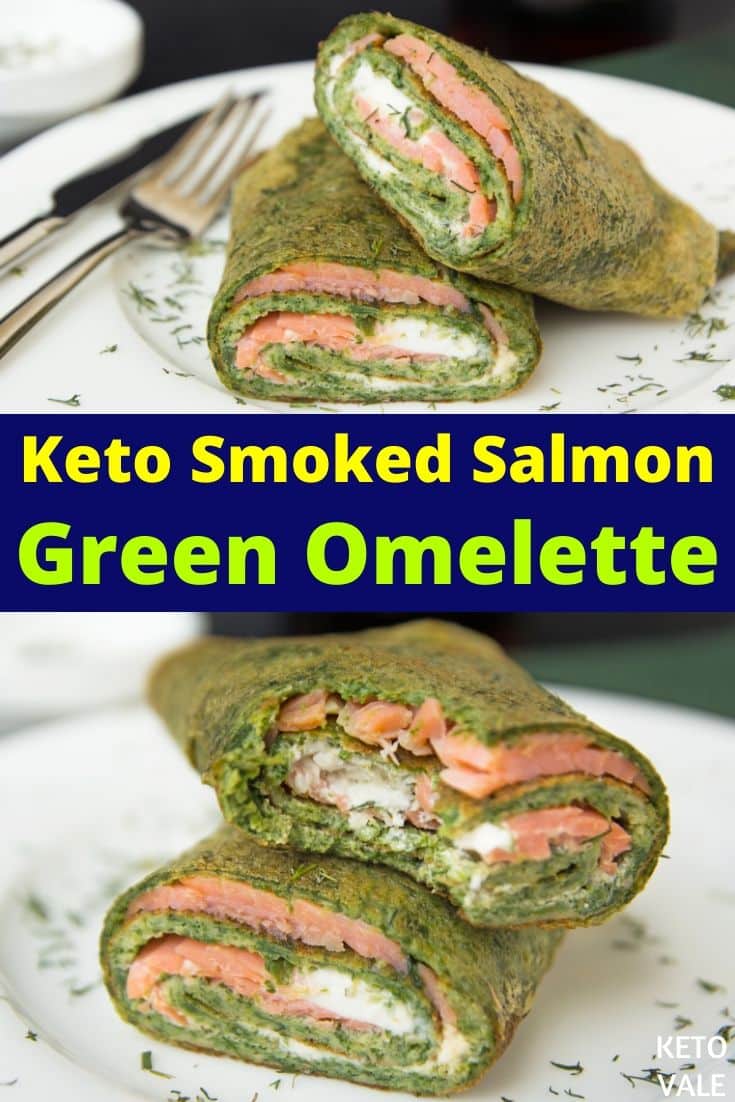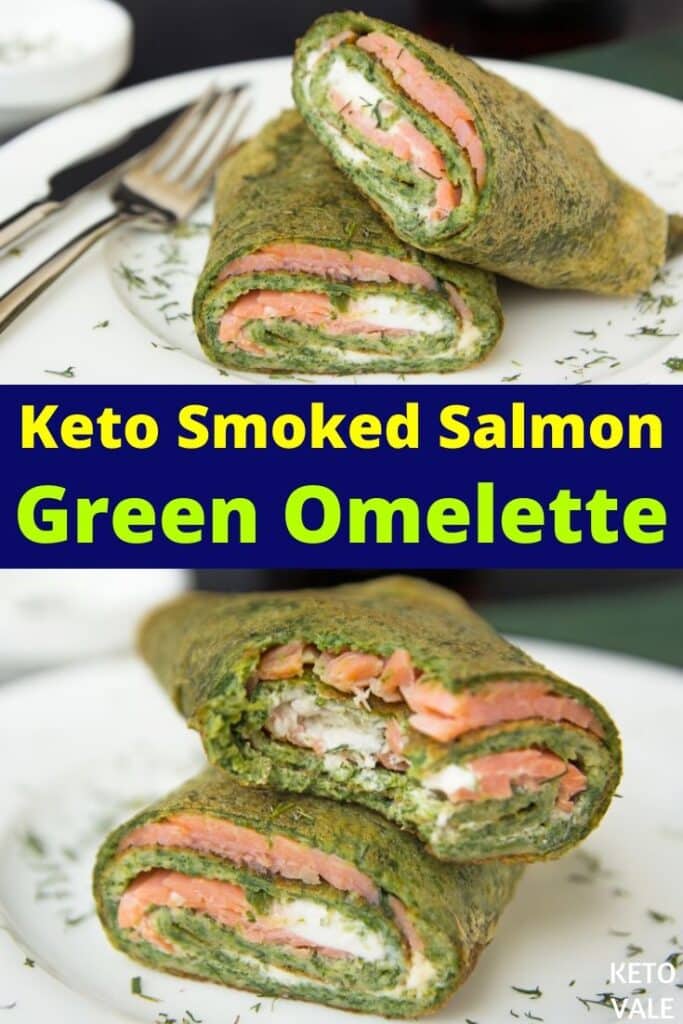 You'll enjoy these:

Smoked Salmon Spinach Omelette Roll
This salmon spinach omelet roll is a low-carb and keto-friendly dish for your breakfast which will keep you full for hours.
Ingredients
2

eggs

1

tbsp

heavy cream

3

cubes

frozen spinach

or 1 cup of fresh spinach

3

oz

smoked salmon

sliced

1

tbsp

cream cheese

sea salt and black pepper

to taste

1

tsp

butter

1

tsp

dill

chopped
Instructions
Place the spinach in a microwave safe bowl and microwave for one minute on high. If the spinach is not completely reheated, stir it and microwave again for 30 seconds. Drain the spinach.

Crack the eggs into a blender. Pour in heavy cream, add spinach and season with salt and pepper. Blend everything together until homogeneous.

Melt a teaspoon of butter in a medium skillet. Gently pour half of spinach-egg mixture into the skillet and cook until just begin to set.

Arrange smoked salmon slices on top, spread with cream cheese, sprinkle with chopped dill and begin to roll the omelette carefully.

Once you have rolled up the omelet, put it back to the edge of the skillet.

Pour the other half of spinach-egg mixture into the skillet, arrange remaining salmon slices on top and roll the omelette when the egg is set.

Transfer to a serving plate and serve immediately sprinkled with more chopped dill.
Nutrition/Macros
Nutrition Facts
Smoked Salmon Spinach Omelette Roll
Amount Per Serving
Calories 407.82
Calories from Fat 248
% Daily Value*
Fat 27.5g42%
Cholesterol 394.17mg131%
Sodium 995.19mg41%
Potassium 810.04mg23%
Carbohydrates 8.22g3%
Protein 33.47g67%
Vitamin A 19381.94IU388%
Vitamin C 8.58mg10%
Calcium 264.73mg26%
Iron 5.21mg29%
* Percent Daily Values are based on a 2000 calorie diet.
Pin To Save This Recipe