How long have you been eating omelettes for? Probably a long time, right? Eggs are the perfect low-carb food, but many people get sick of eating them every day for breakfast. That's why you need to find creative ways to make an omelette.
Our Mortadella omelette roll is exactly what you need. It's low-carb, convenient to eat (it's the perfect thing to grab in the morning on your way out the door), and takes 10 minutes to make.
Our recipe requires you to make a "pancake" out of your eggs. Then you'll roll it in slices of Mortadella, which is a type of thin Italian sausage similar to deli meat. It contains pork fat for a creamy and filling treat that will be sure to get you through until lunch without feeling hungry.
Research shows that eggs are a good source of a variety of minerals, including calcium, magnesium, iron, phosphorus, zinc, and potassium. They also contain most vitamins (except for C), such as niacin, thiamin, riboflavin, vitamin B6 folate, vitamin B12, vitamins A, E, D, and K (1).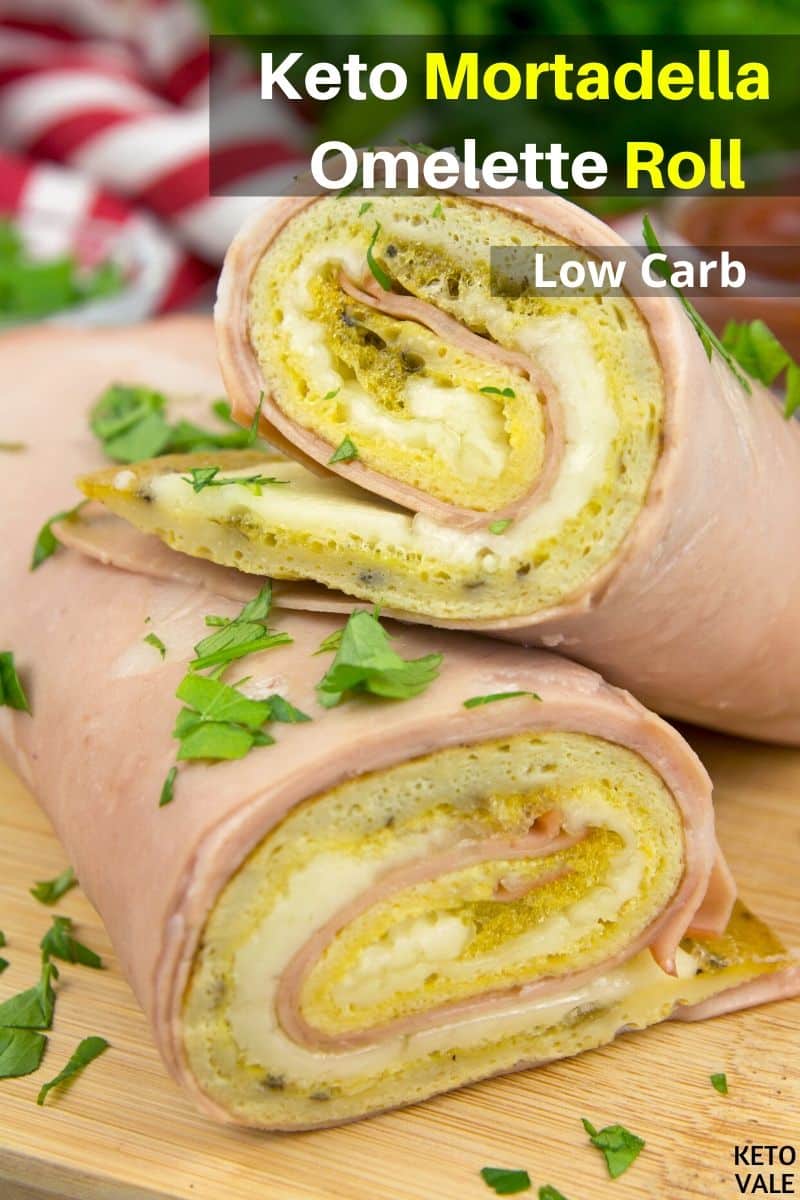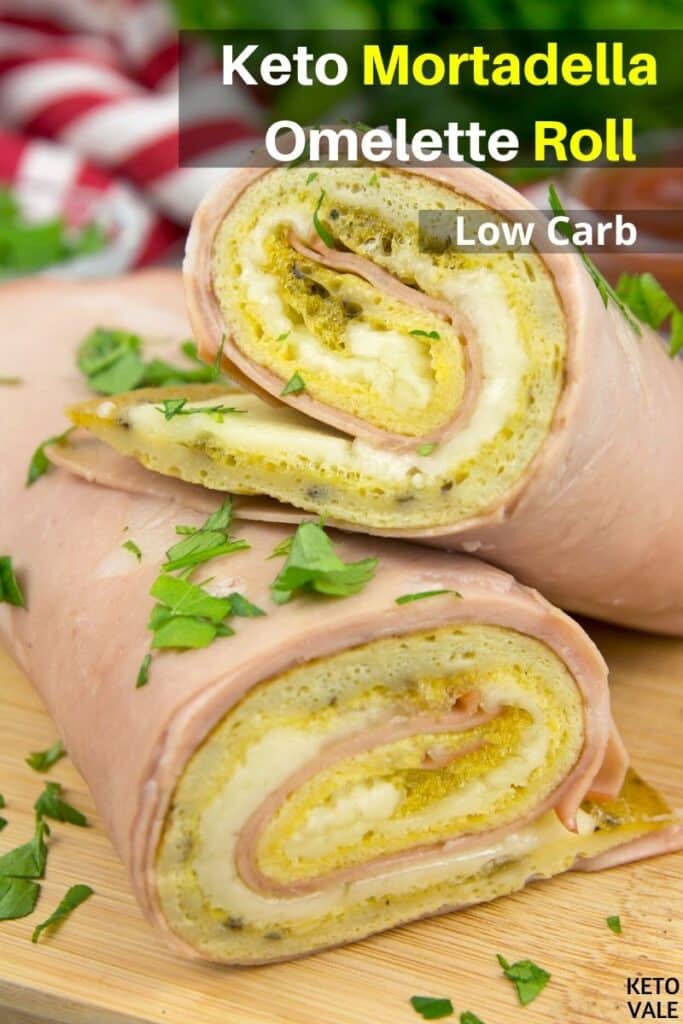 Eggs are also an excellent source of essential proteins, vitamins, minerals, fats, and bioactive compounds. They contain the antioxidants lutein and zeaxanthin, which are especially beneficial for eye health.
Freshly chopped parsley adds vitamins A, C, and K, and the minerals calcium, iron, magnesium, and potassium. Parsley is also a great source of antioxidants that can help fight oxidative damage, which may lead to certain diseases, including cancer (2, 3).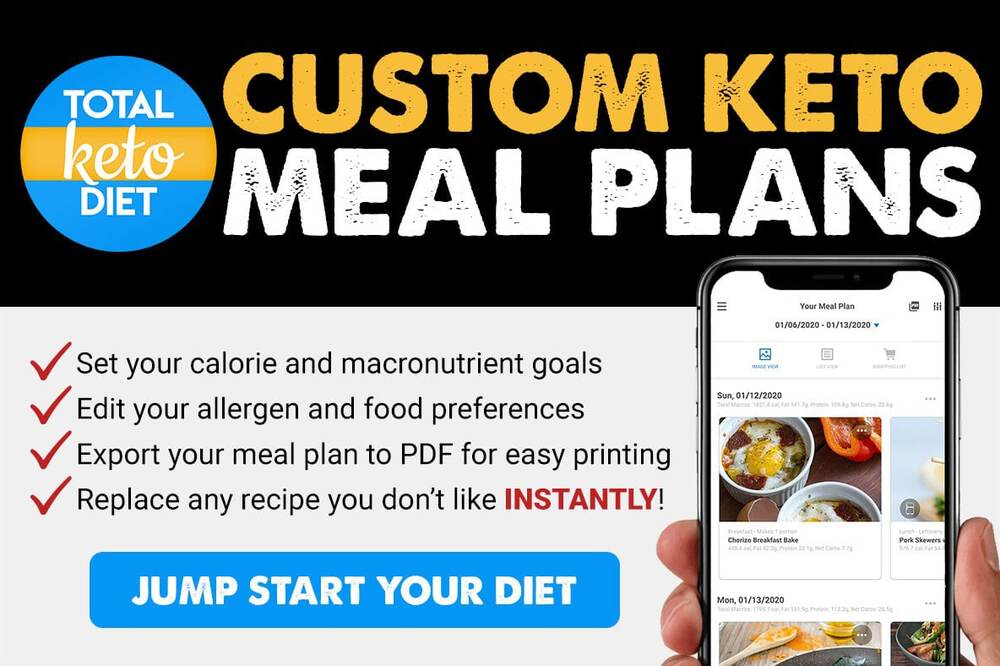 Gouda cheese is also included in our omelette roll. It has a decadent flavor that pairs well with the Mortadella meat and eggs. Plus, it's higher in fat than most cheeses. This can help fuel your body with ketones to help you stay energized (mentally and physically) all day.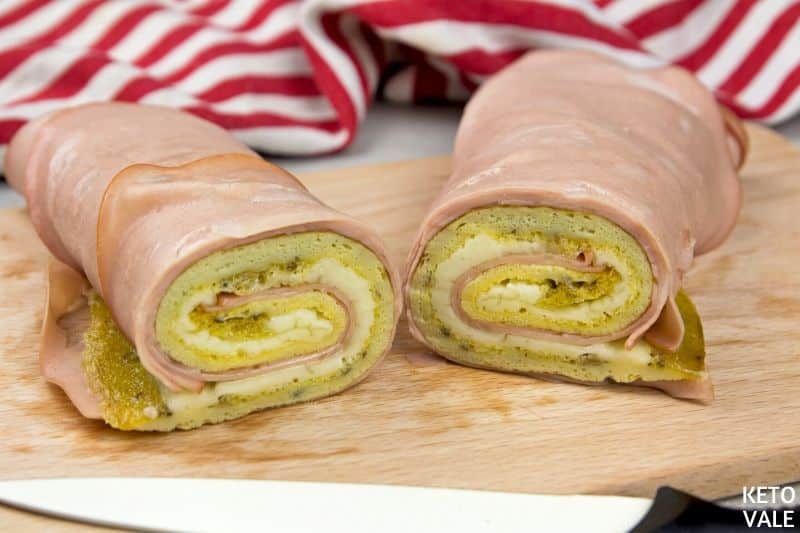 Enjoy this Mortadella omelette roll with a side of low-carbohydrate veggies or berries for a nutrient-dense meal.
---
Let's Do It!
Add the eggs, heavy cream, herbs, salt and pepper into a blender and blend until smooth.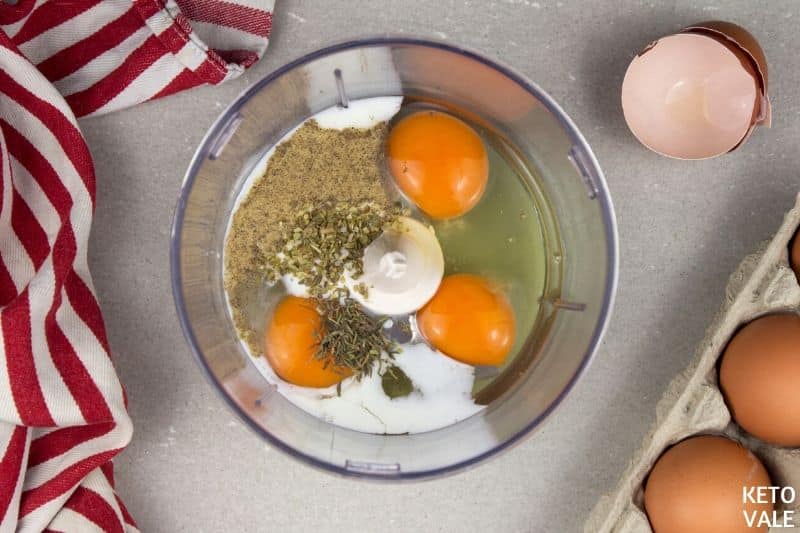 Melt a teaspoon of butter in a saucepan over medium heat and pour in the egg mixture. Cook until the eggs just begin to set.
Lay slices of Gouda cheese over the omelette. Cover the pan with a lid and cook until the cheese is melted and the eggs are set.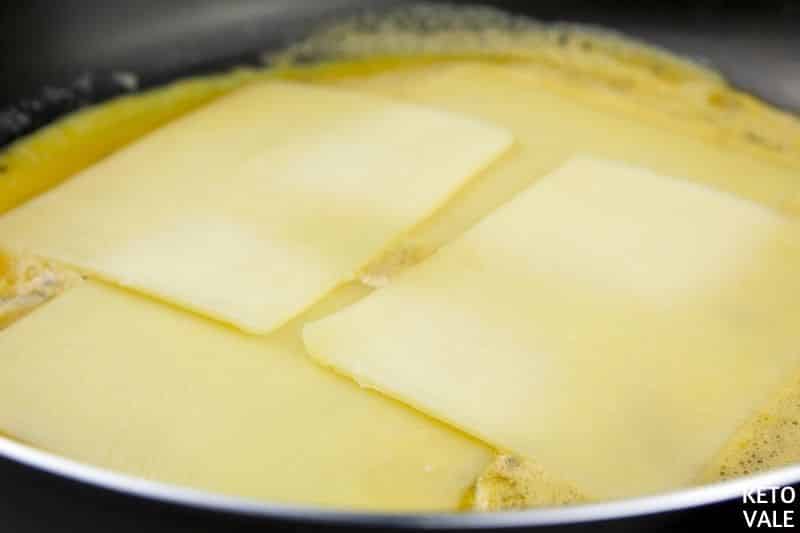 Put a piece of plastic wrap down and lay down a layer of Mortadella. Add your omelette to the top and roll like a wrap. Slice the omelette in bite-sized pieces.
Serve and enjoy!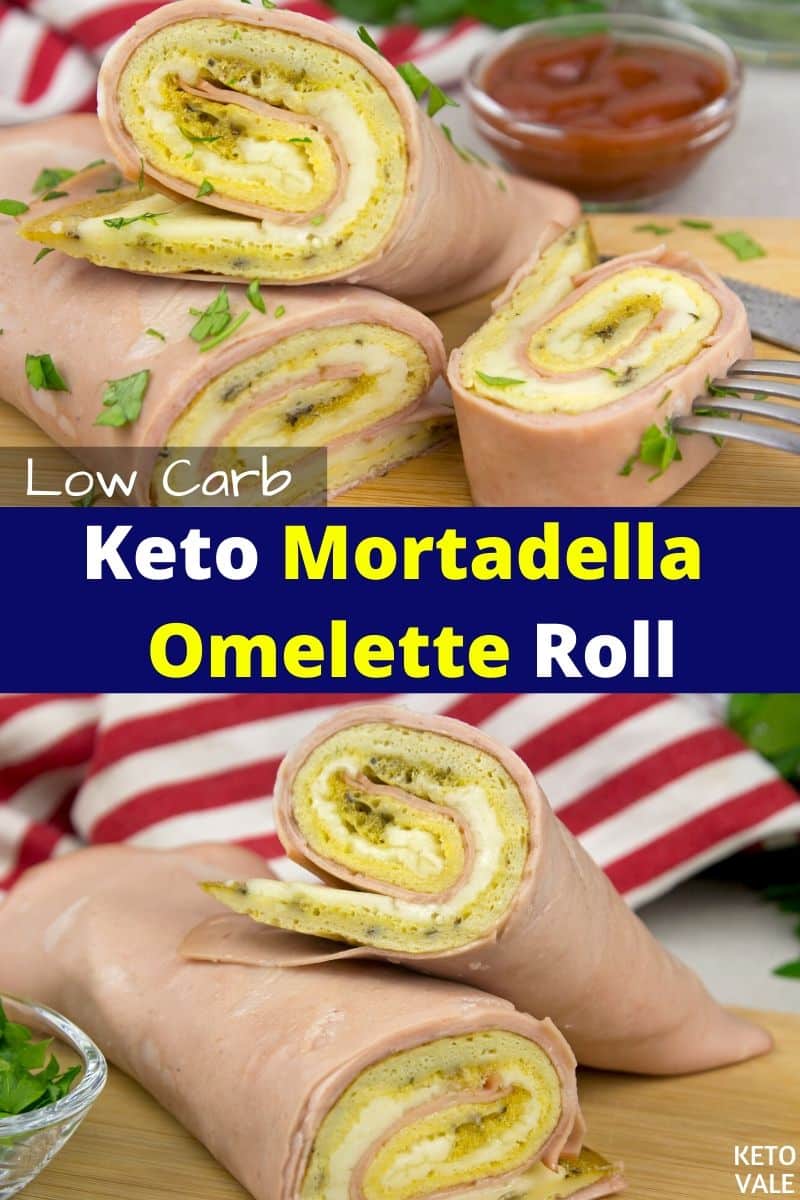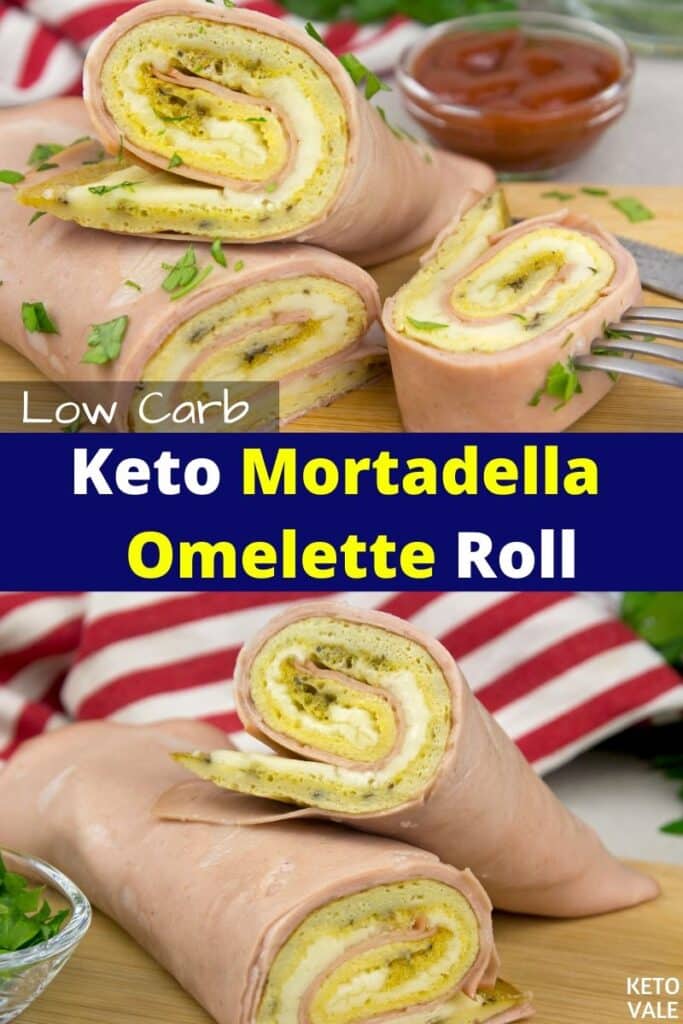 More Keto Omelette Recipes You Can Try:
Keto Mortadella Omelette Roll
Prepare this low-carb mortadella omelette roll recipe that is keto-friendly, convenient to eat as a breakfast when running late and made of heavy cream and Gouda cheese.
Ingredients
3

eggs

1

tbsp

heavy cream

½

tsp

dried basil

½

tsp

dried oregano

4

slices

mortadella

or ham

4

slices

Gouda

sea salt and black pepper

to taste

1

tsp

butter

1

tsp

parsley

chopped (optional)

hot sauce

for serving, optional
Instructions
Crack the eggs into a blender. Pour in heavy cream. Add herbs and season with salt and pepper. Blend everything together until homogeneous.

Melt a teaspoon of butter in a medium skillet. Gently pour beaten eggs into the pan and cook until they just begin to set.

Arrange Gouda slices on top of the omelette. Cover with a lid and continue to cook on low heat approximately 3-5 minutes or until cheese is melted and eggs are set.

Put a piece of plastic wrap onto your working surface. Arrange a layer of Mortadella first and place your omelette on top. Wrap everything together like a roll.

Cut in half and serve immediately sprinkled with freshly chopped parsley.
Nutrition/Macros
Nutrition Facts
Keto Mortadella Omelette Roll
Amount Per Serving
Calories 446
Calories from Fat 315
% Daily Value*
Fat 35g54%
Cholesterol 346mg115%
Sodium 980mg41%
Potassium 213mg6%
Carbohydrates 3g1%
Protein 28g56%
Vitamin A 867IU17%
Calcium 462mg46%
Iron 2mg11%
* Percent Daily Values are based on a 2000 calorie diet.
Pin To Save This Recipe