The ketogenic diet is not about limiting the types of food you eat. It's about finding ways to enjoy the food you love or want to try in a keto-friendly way. Thai restaurants can seem intimidating because most people aren't familiar with the dishes.
While it's true that many Thai dishes contain noodles and sugary sauces that are off-limits on the keto diet, there are plenty of ways to work around this and still enjoy the flavors and traditions of Thai cooking.
Here's how to order low-carb at Thai restaurants.
Can You Eat Thai Food On A Keto Diet?
Like Chinese food, traditional Thai food is very healthy. But it consists of unique aromas and flavors that most Americans aren't used to.
Thai food has adapted to become so westernized in the United States that the food is no longer healthy. This is why it's best to avoid eating out on keto if you can.
Meats and vegetables are coated in flour and sugary sauces to make them taste better. They also tend to include lots of noodles or rice with each meal, which can be very carb-heavy and lead to weight gain.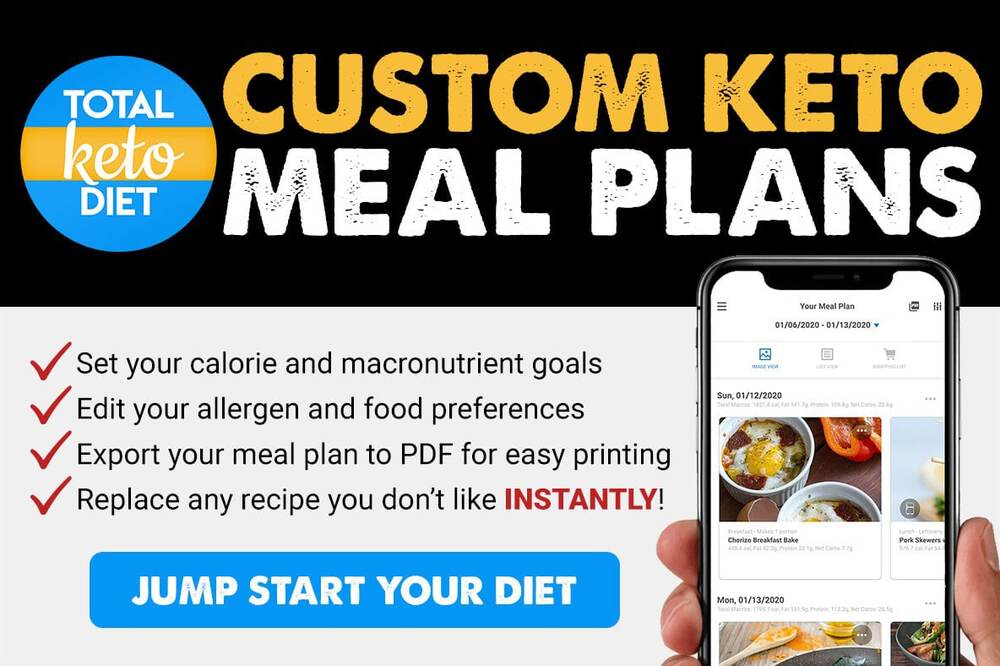 Because of this, it's always best to make your own Thai food at home using keto-friendly recipes. You can start by making your own keto-friendly rice or noodles, adding the meat of your choice, and using Thai-inspired herbs and spices to mimic the flavor.
Here are some Asian dishes you can try:
*We will try to make more Thai-focused recipes to share with you in the near future. Make sure to follow us @KetoVale on social media for updates.
How To Keep It Low-Carb at Thai Restaurants
Follow these tips to make a smart, low-carb choice the next time you visit a Thai restaurant.

#1. Know the staple dishes.

Before you head to a Thai restaurant, it helps to become familiar with some of the most popular Thai dishes so you know how to order them.

Here's a description of each so you know the staple dishes the next time you step foot in a Thai restaurant:

Tom yam goong: a type of hot and sour soup that is cooked with shrimp
Pad thai: a dish that includes stir-fried rice and various vegetables or meats and served with a squeeze of lime juice.
Som tam: a spicy salad dish that contains noodles, vegetables and unripe shredded papaya
Massaman curry: a rich, milk curry that includes flavors such as cardamon, cinnamon, cloves, cumin, anise star, nutmeg, and chili peppers usually served with garlic and shrimp
Green curry: a type of curry made from green chilies, coconut milk and veggies such as bell peppers and broccoli.
Thai fried rice: a fried rice dish that consists of deep-fried Jasmine rice and served with eggs, meat and onions
Mu nam tok: a rice-based dish that includes meat, rice, and chili fruits
Rice and noodles are a staple in many (but not all) Thai dishes. Ask for extra low-carb vegetables instead.
#2. Go with meat-based dishes.

It's always a good idea to go with a meat-based dish as your go-to keto Thai food, such as a stir-fry or Thai BBQ beef. From there, you can customize it as needed.
Look for a pork dish because that contains the highest amount of fat to fuel your ketogenic diet. Ask for an extra serving of low-carbohydrate veggies instead of rice or noodles.
#3. Hold the sauce.
Many Thai dishes include fish, peanut or soy sauce, sweet chili sauce, but these are not allowed on a ketogenic diet because they often contain sugar and sometimes even flour to thicken them up.
Always ask to have your meal prepared dry or without any sauce. If your food is too boring without sauce, ask for a side of oil, lemon or your favorite Thai herbs and dry rub ingredients to enhance the flavor.
You can also ask for vinegar, which is safe to eat on a low-carbohydrate diet. When combined with spices and herbs, vinegar and oil makes a great low-carb sauce. If you're cooking at home, try using coconut or fish aminos instead of fish sauce.
#4. Watch for deep-fried foods.
Deep-fried foods are usually breaded. This is something you'll want to look out for when ordering at any restaurant.
Breaded foods are off-limits on the ketogenic diet unless you use a low-carb flour. Most restaurants don't do this, but you can make a low-carb deep-fried dish at home using almond flour or coconut flour as your "breading."
Watch out for deep-fried meats and even vegetables at Thai restaurants. If you're not sure if a particular dish is deep-fried or breaded, ask your server and request that your food be steamed or grilled instead.
#5. Go with a lettuce wrap.
Many Thai restaurants offer lettuce wraps or spring rolls as an appetizer. Most of the time, these spring rolls and egg rolls are deep-fried in a shell that contains flour.
Instead, you can ask to have your spring roll wrapped in lettuce or cabbage. Lots of Thai restaurants will offer spring rolls in cabbage shells.
Ask to have them filled with meat and low-carb veggies and hold any sauce that comes on it. You can even order these as a main dish. Try dipping these in oil and vinegar or a small amount of gluten-free soy sauce.
Want more lettuce wraps recipes? Check these:
#6. Be wary of coconut milk.
Many Thai dishes (especially curry) include coconut milk in them, which seems like a great keto-friendly ingredient. But keep in mind that some store-bought coconut milk contains added sugar or the restaurant adds sugar when preparing a certain dish with coconut milk.
You can use coconut milk with no sugar added when making Thai dishes at home, but be sure to ask what they add in your dish at any restaurant.
#7. Check the nutrition data online.
While most Thai restaurants don't list the nutrition information of their dishes on their website, you can go online and find the generic information for a particular dish.
For example, there are websites dedicated to calculating the nutrient breakdown of popular foods. MyFitnessPal is a popular one.
According to the MyFitnessPal website, Chicken Pad Thai from a generic restaurant contains the following:
450 calories
70 grams of carbs
10 grams of fat
18 grams of protein
Keep in mind that this information might not reflect the exact preparation of your dish. But you can use it to look up a dish if you're not sure about what's in it.
#8. Order one of these three dishes.
If you're still confused about what to eat at a Thai restaurant on the keto diet, then order one of these top three picks:
Chuchi Chicken
Garlic Prawns
Thai Chicken Satay Skewers
If you're not that hungry, then go with a bowl of Tom Yum soup. You can also ask for a bowl of Tom Yum sour soup instead of rice or noodles. 
Here are some other helpful swaps for common Thai dishes:
Replace Pad Thai with sauteed beef or shrimp with onions and chillies
Replace curry dishes with sauteed shrimp or scallops with mushrooms and zucchini in a chili paste
Replace food cooked in a black bean sauce with sauteed chicken, pork, or shrimp and green beans
What To Order on Keto Diet
Every Thai restaurant is different, so it might be hard to predict what you'll find on all menus. Most Thai menus are even categorized differently than traditional menus.

For example, you'll notice that items are categorized by type of meat, spicy or non-spicy dishes, or noodle dishes. Luckily, there are a few staples on every menu.

Note: Many of the options below are low-carb but not ketogenic. To be safe, you need to ask the waiter/waitress what the ingredients are because each restaurant might prepare the food differently.

Here is a list of the most common Thai dishes and how to order them low-carb:

Spring rolls: Order these with pork and low-carb veggies. Hold the rice and ask for a lettuce or cabbage wrap instead of a dough wrap if possible. Otherwise, avoid this dish.
Wings: Some Thai restaurants will offer chicken wings. Remember that these tend to be breaded, so ask to have your wings naked without any breading or sweet sauce.
Satay: Chicken satay is a great low-carb dish because it contains grilled, marinated chicken on a skewer served with sauce. Make sure to order this without the sauce and hold any rice or noodles that come with it. Ask for extra low carb vegetables instead.
Pad prik or pad pak: This is a stir-fry meat-based dish with green peppers, Thai basil and onions served with garlic sauce. Order this without rice or noodles.
Pad bai gra prow: This is a meat-based stir-fry dish with green peppers, green onion, and white onion in basil and garlic sauce. Again, order this without rice or noodles.
Pad cashew nut or pad almond: This dish includes your choice of meat, ginger, roasted cashews, bamboo shoots and chestnut in sauce. Hold the sauce and corn.
Pad khing: This dish features a meat stir-fry with ginger, mushrooms, chestnut, carrots, and onion. Hold the sauce (and carrots if you're strict keto).
Gai khee mow: This dish is also known as drunken chicken. Order it without the sauce and any rice or noodles that comes with it.
Pad K rati em: This dish contains stir-fried meat, garlic, chestnut, onions, and peppers served on a bed of lettuce with fried garlic.
Pad bell: Choice of meat with broccoli, peppers, and onions. Hold the brown sauce.
Pra ram long song: This dish includes steamed chicken, broccoli, carrots and cabbage with peanut sauce. Hold the peanut sauce.
Flame roasted duck: Order this without the sauce. Hold any starchy veggies and rice or noodles.
Gang pha: This dish contains no curry or coconut milk. It comes with your choice of meat and vegetables. If you're strict keto, you'll need to hold the carrots and eggplant.
Pad broccoli: This dish features chicken and broccoli. Make sure the broccoli is steamed and not fried. Also, hold the sauce.
Thai food tends to be on the spicy side, depending on who you ask. Luckily, most Thai restaurants are happy to adjust the heat to your taste.
Foods To Avoid
Thai restaurants are good at labeling their menu differently so that you can easily find food categories.
For example, many restaurants will put all noodle dishes in one section. So you would just avoid this section and move on to a stir-fry section.
Here is a list of dishes that you should avoid at Thai restaurants on a low-carb diet:
Pad Thai
Pad Thai curry
Pad see ew
Drunken noodles
Lad nar
Chiang mai noodle
Southern Thai noodle
Tom yum noodles
Pad woon sen
Most salad dishes such as Thai peanut salad unless you can get them with meat and low-carb veggies and dressing on the side
All kow pad dishes (fried rice)
All curry dishes
---
Conclusion
You can eat Thai food on a ketogenic diet but you'll need to make some adjustments to your order. Most westernized Thai restaurants coat their food in sweet sauce and deep-fry the meats and vegetables.
Your best bet is to enjoy Thai food at home using one of our keto-friendly recipes. If you decide to go out, then stick with a meat-based stir-fry with low-carb steamed veggies and no sauce.
Most Thai restaurants will have pork, seafood or chicken as your meat options. From here, you can add broccoli, cabbage and cauliflower, green beans, etc… Good sauce options include oil and vinegar or a bit of freshly squeezed lemon.
Also, most Thai dishes are served with noodles or rice. Be sure to hold these on any dish you order. It helps to become familiar with some of the most common types of Thai dishes. We provided a list of some of the staples so that you know what you're ordering.
Always ask your server if you're unsure about a dish. They should be able to help you order a steamed or grilled meat-based dish with low-carb veggies and oil and vinegar as the only sauce.

Enjoy this post? Share to save for later!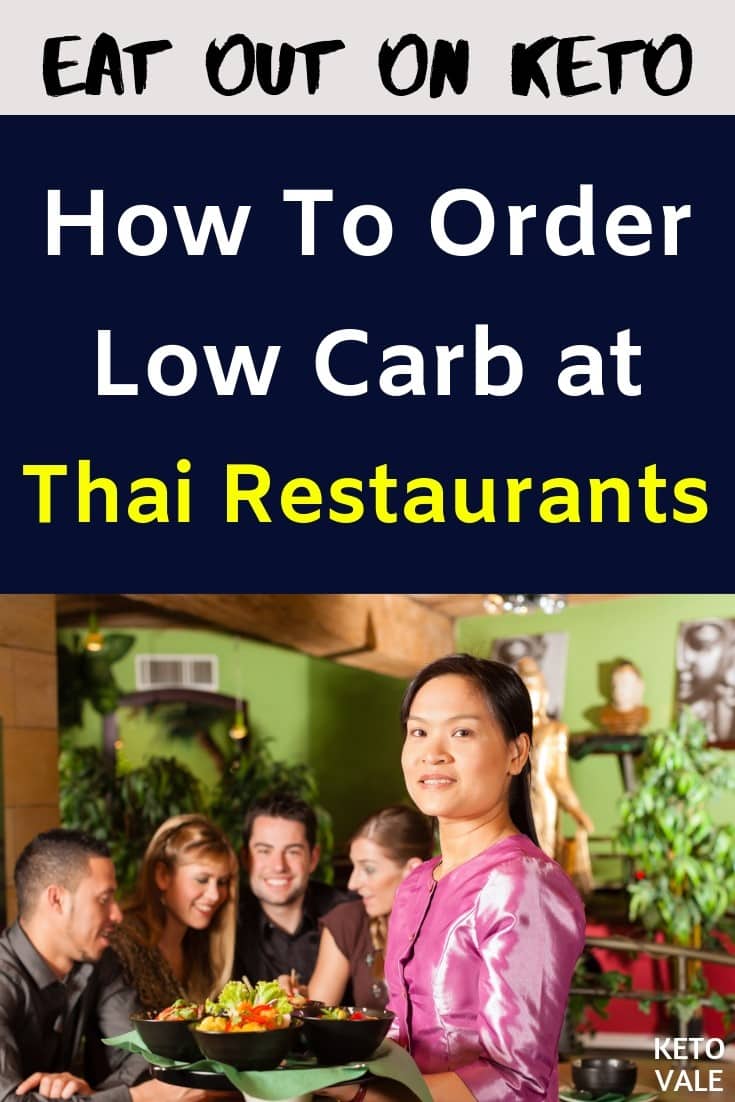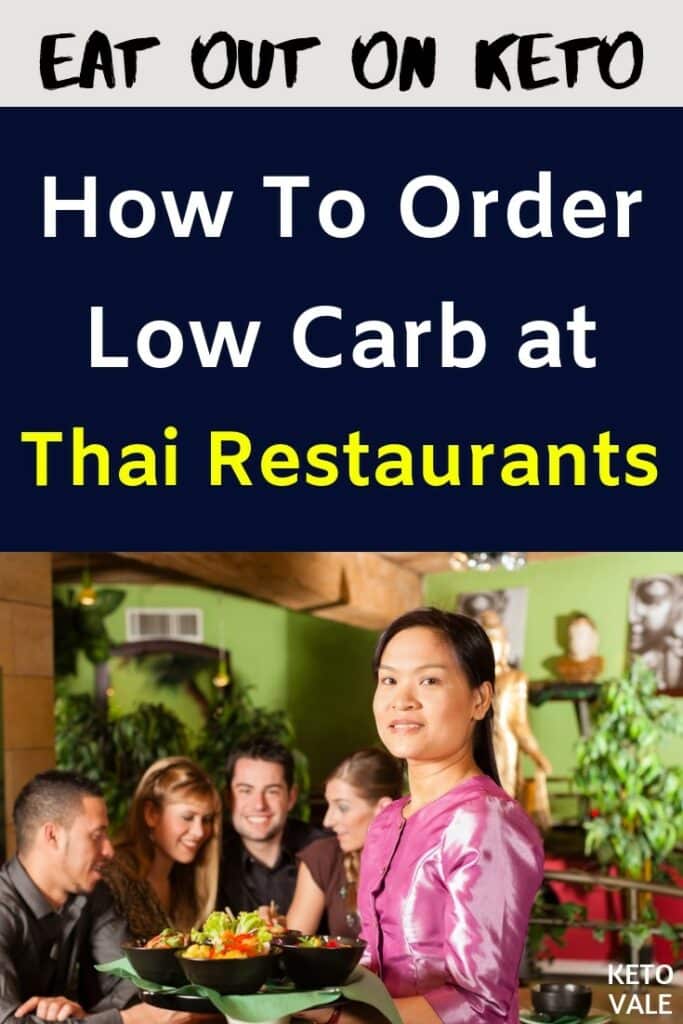 Photo credit: Kzenon/Depositphotos.com