Most people are aware that traditional potato or corn chips are nothing more than empty calories. After all, they're highly refined and processed, which contributes to inflammation levels in the body.

Additionally, they contain vegetable oils, salt, and lack vitamins and minerals. There is really nothing healthy about them at all. But boy, are they tasty!

The truth is that traditional potato and corn chips have no room in any healthy diet, but they are especially bad for keto dieters. This is because they are high in carbs and don't do much to contribute to your health at all.

Despite this, many people are constantly on the lookout for low-carb keto chip options to fill that void at snack time. We'll explain why chips aren't keto-friendly and what you should replace them with on a low-carb diet.
Why Potato and Corn Chips Are Not Keto-Friendly?
Most of the time, regular chips are either made with potatoes or corn. Both of these ingredients are highly inflammatory and not allowed on the keto diet due to their high carb content.

To make it worse, corn and potatoes also tend to be lower in nutrition than other "superfood" vegetables, such as kale, spinach, and asparagus. When you heat them to high temperatures to create a chip, they lose what little nutrition they have to begin with.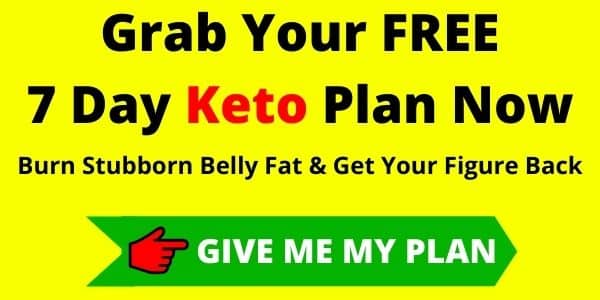 Potato chips are made by slicing potatoes into thin slices, frying them in vegetable oil, and coating them with salt.

Here is the nutritional breakdown of a 37 gram serving of Pringles potato chips, which is a common brand in the US:

200 calories
12 grams of fat
21 grams of carbs
Less than one gram of fiber
2 grams of protein
Ingredients: Dried potatoes, vegetable oil (corn, cottonseed, high oleic soybean oil, and/or sunflower oil), degerminated yellow corn flour, cornstarch, rice flour, maltodextrin, mono and diglycerides, salt, and wheat starch.

As you can see, there are no healthy ingredients in chips at all. The vegetable oil contributes to inflammation and so does the wheat starch.

The process of drying the potatoes kills what little nutrients that potatoes have to begin with. Not to mention, they contain 21 grams of carbs per 37-gram serving!

Corn chips aren't much better. Many people use tortilla chips as a base for nachos or to dip into their favorite dips. They are made with

Here is the nutritional breakdown of a 28 gram serving (13 chips) of the popular Tostitos corn chips found in many restaurants across America:

140 calories
7 grams of fat
19 grams of carbs
1 gram of fiber
2 grams of protein
Ingredients: Corn, vegetable oil (corn, canola and/or sunflower oil), and salt.

Both corn and potatoes are not allowed on a low-carbohydrate diet because they are too high in carbs. They are also highly inflammatory and contain empty calories, which contributes to obesity and type 2 diabetes. They contain no real nutrition and should be removed from anyone's diet, not just low-carb dieters!

The bad news is that chips are a staple of any social gathering. They are also are one of the top-selling snack foods in most grocery stores, which makes them hard to ignore.

However, you can make your own low-carb chips to replace traditional potato and corn chips on the keto diet.
Homemade Keto-friendly Substitutes for Chips
Making your own chips at home is a great idea because you have control over what goes into your food.

Instead of using highly inflammatory corn or potatoes, you can use low-carb flours and anti-inflammatory oils. Here are the top homemade low-carb substitute for chips.

#1. Cheese Chips

If you have shredded cheese, then you can make chips. The best part is that cheese chips go with just about any kind of dip or you can eat them by themselves. Plus, they contain almost no carbs. That's why some people call it carb free chips.
Cheese is high in protein and tasty, and it's one of the most common foods in a keto grocery list.

To make cheese chips, put about 2 tablespoons of shredded cheese into a pile on parchment paper and bake in the oven for 350° for about 8 to 10 minutes. The cheese will melt into the shape of a chip. You can also add your favorite spices to the cheese before baking to enhance the flavor.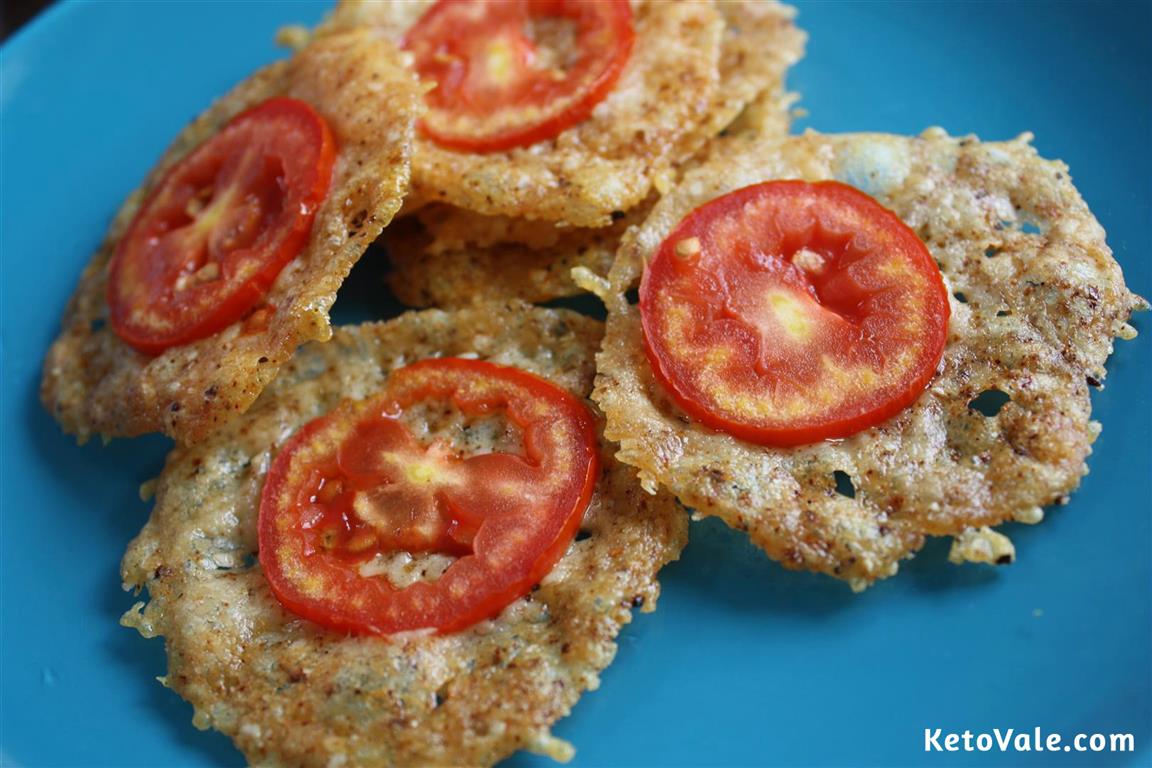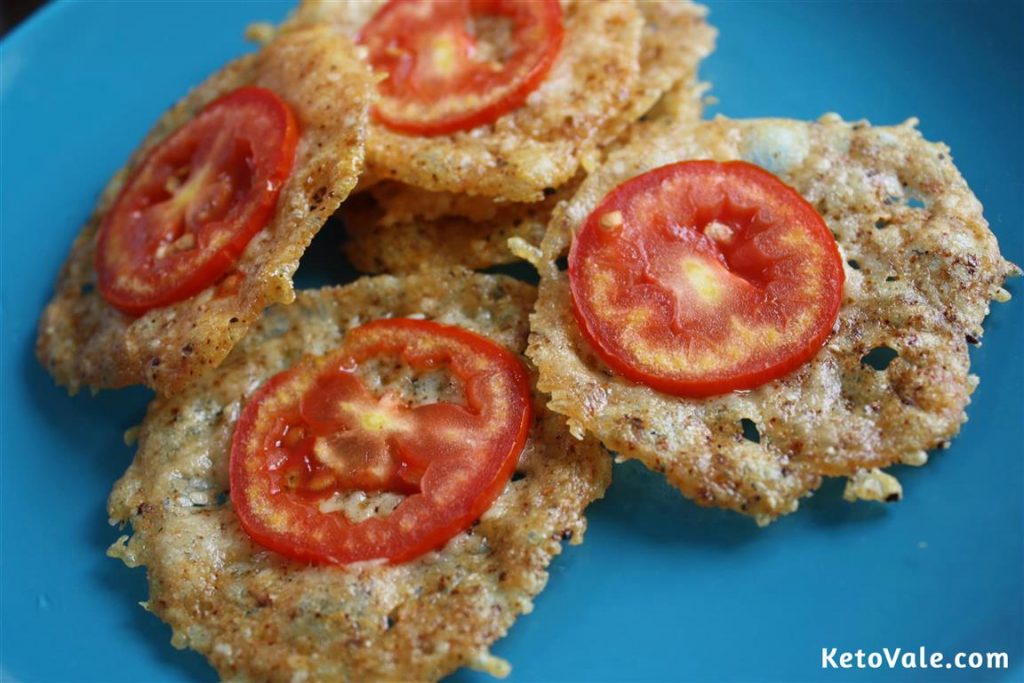 Try this keto parmesan chip recipe with tomatoes here.

#2. Kale chips

Kale chips are a great low-carb chip because they are nutrient-dense and contain few carbs at all. Plus, they are a great way to get your vitamins in.

To make, remove the kale leaves from the stem, toss in olive oil and sea salt, and bake in the oven until they are crispy. You can also sprinkle some parmesan cheese over them for a delicious treat.

#3. Keto Flaxseed chips

If you like a crunchy chip, then these low-carb keto flaxseed chips are for you. Flaxseed is a great low-carb flour to cook with because it contains lots of fiber, which is not always easy to get on a keto diet.

To make, combine flaxseed powder with onion and garlic powder, cayenne pepper, paprika, and water. Roll the dough out into the shape of a chip and bake into the oven until crispy.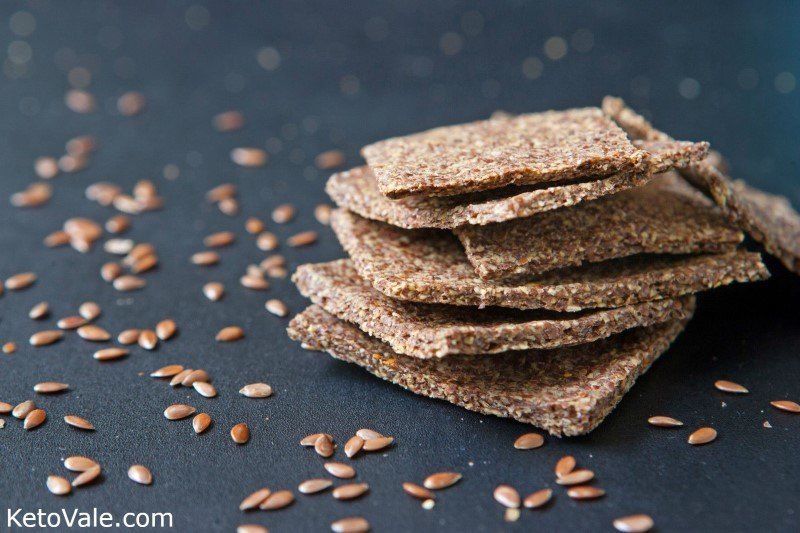 You can view the full recipe here.

#4. Almond flour "tortilla" chips

If you miss the crunchy texture of tortilla chips, then you can recreate it using almond flour.

Try mixing together almond flour with cream cheese, an egg, and your favorite spices, such as paprika, garlic, and parsley. Roll the dough out, cut into the shape of chips and bake in the oven until crispy.

#5. Zucchini chips

Zucchini chips make a great replacement for potato chips. They're lower in calories and carbs than traditional potato chips. Plus, they are easy to make at home.

Slice the zucchini, toss in olive oil and sea salt, and bake in the oven until golden brown. Like the kale chips, you can sprinkle parmesan on top for a treat.

Keep in mind that you can use almost any root vegetable in place of potatoes to make homemade chips, but root vegetables tend to be high in carbs just like regular potatoes. So it's best to stick to kale chips or cheese chips if you're looking for the lowest carb intake.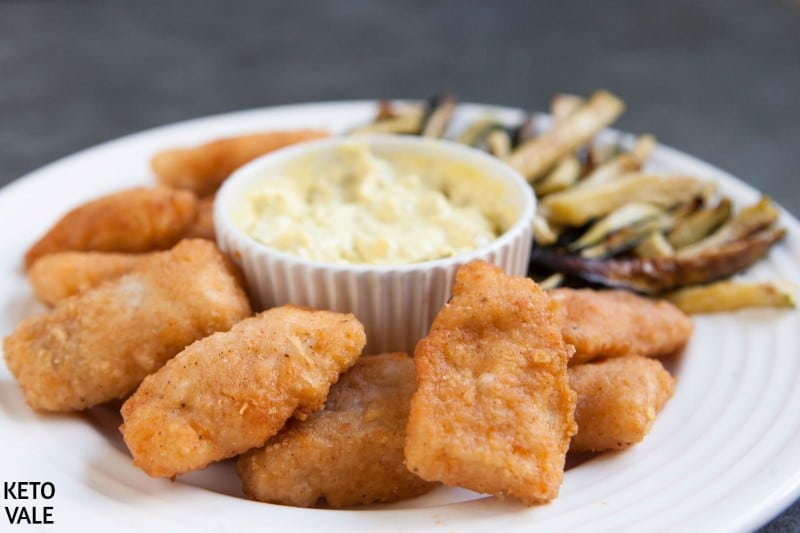 You can use zucchini to replace potato chips in the traditional fish and chips dish. For recipe, go here!
#6. Eggplant Chips
Similar to zucchini, you can make chips using eggplant. Simply cut it into small slices and season them then bake in the oven.
For recipe, go here!
#7. Mixed nuts
Before you write us off as crazy with this suggestion, hear us out. You're looking for a crunchy, salty, delicious snack to replace your potato chips, right? Why not munch on mixed nuts instead?

They're just as tasty. Plus, they're low carb. Find a brand of deluxe nuts made with macadamia nuts, pecans, almonds, and cashews. Be sure they're raw or cooked with high-quality oil. And don't buy any brands with added sugar.

Keto Farm has a good list of cheese & nuts snacks that you can enjoy such as tomato pepperjack, raspberry gouda and strawberry gouda. You can read our review here to learn more!
Low-Carb Chips Brands You Can Buy
If making your own low-carb chips isn't in the cards, then try buying some from Amazon. When you find the brand you like, stock up on it so that you always have them on hand.

You'll be less tempted to indulge in real potato chips if you know that you have a healthy, low-carb snack waiting for you.

Note: When buying low-carb products, even when it's labeled as "keto', make sure to read the ingredients because they might contain some that do not meet strict-keto requirements. They're good for a low carb diet, but if you're doing strict keto, stick to the keto-friendly homemade options above.

Here are our top picks for low-carb chips.

#1. Seaweed chips

Seaweed chips probably aren't something you'd make at home, but you can buy them.

These gimME organic roasted seaweed chips are a number one seller on Amazon. They're also non-GMO. Ingredients include organic seaweed, organic sunflower oil, and salt. That's it!

One pack of these seaweed chips contains the following:

25 calories
2 grams of fat
1 gram of carb
1 gram of fiber
0 grams net carbs
2 grams of fiber
We like that they have a nice crunch to them just like real chips do. Plus, they're salty and you can eat a whole pack without feeling guilty.

Where to buy: Shop now!

#2. Proudly Pure Cheese Crisps

Proudly Pure is a company that makes cheese crisps. You can make these yourself at home, but it's nice to know that you have the option to buy them if you want.

They come in four different flavors:

Rosemary and thyme
Jalapeno peppers
Garlic, onion, sesame and poppy seeds
Original cheesy goodness
Ingredients include cheese and various herbs and spices, depending on the flavor. One serving contains the following:

110 calories
7 grams of fat
1 gram of carbs
9 grams of protein
Where to buy: Shop now!

#3. Utz Pork Rinds

Utz Pork Rinds are a best seller on Amazon. They make a great replacement for potato chips because they're crunchy and salty, just like the real thing.

Ingredients include fried pork skins and salt. They contain no carbs and 8 grams of protein per serving.

Furthermore, pork rinds are one of the best high-protein snacks that you can easily take with you while traveling.

Where to buy: Shop now!

#4. Quest Protein Chips

Quest makes a protein chip that is low-carb, but not exactly keto-friendly. You can eat these if you're low-carb, but you'll want to stick with something lower in carbs if you're strict keto.

Quest makes these chips in three different flavors:

BBQ
Cheddar and sour cream
Sour cream and onion
One bag of the sour cream protein chips includes:

140 calories
4.5 grams of fat
5 grams of carbs
1 gram of fiber
4 grams net carbs
21 grams of protein
The ingredients aren't entirely keto-friendly, which is why we only recommend this product for low-carb diets only and not keto.

Where to buy: Shop now!

---
Conclusion
Traditional chips are not allowed on a ketogenic menu. This is because they tend to be made with potatoes or corn. Both of these ingredients are high in carbs and tend to be highly inflammatory.

Chips are made by frying potato slices in vegetable oil and coating them in salt. They aren't very nutritious and it's easy to eat a lot of them. This makes them problematic for any diet, but especially for low-carb dieters.

Our favorite low-carb chips are kale and cheese chips. You get lots of fiber and antioxidants in the kale. Plus, they are delicious when you add parmesan cheese on top of them. We also recommend eating mixed nuts in place of chips when you need to munch on something.

If you want to buy a low-carb chip, then check out seaweed chips. It sounds strange, but seaweed is full of nutrition and makes a great low-carb snack. Don't knock it until you try it!

Up Next: What Are The Best Low Carb Crackers You Can Eat on Keto?
Enjoy this post? Share to save for later!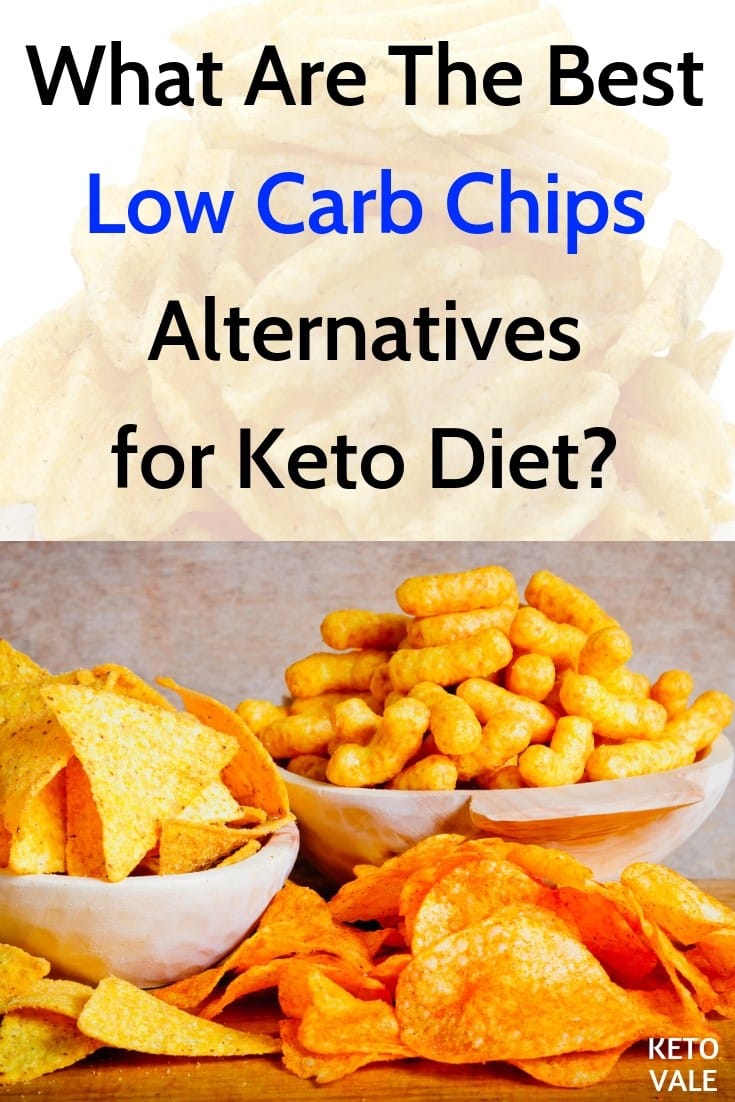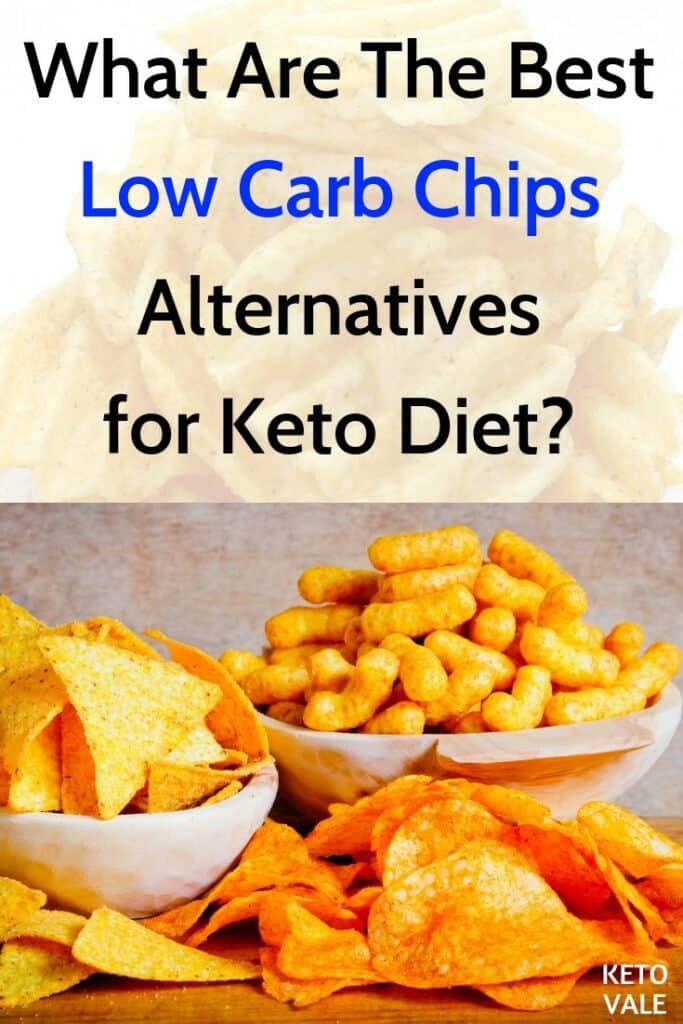 Photo credit: draghicich/Depositphotos.com