One of the most challenging dishes to recreate on a ketogenic diet is a pasta dish.
This is because traditional noodles are so versatile. You can use them in hot or cold dishes. Eat them plain or with nothing more than butter and cheese or incorporate them into a fancy chicken florentine pasta dish.

The good news is that you don't have to give up spaghetti night once you go keto. We've got your work-around noodle and pasta alternatives here. Plus, we'll throw in some great recipes you can use them in.
Why Traditional Noodles and Pasta Are Not Good for Keto?
It breaks our heart to say this, but traditional noodles and pasta are not keto-friendly.
They're just too high in starchy, hard-to-break-down carbs. Not to mention, they contain gluten, and that's a huge problem for lots of people.

The first ingredient in traditional noodles and pasta is flour or some sort of dough that contains gluten. This dough is stretched, rolled, and cut into different shapes and lengths.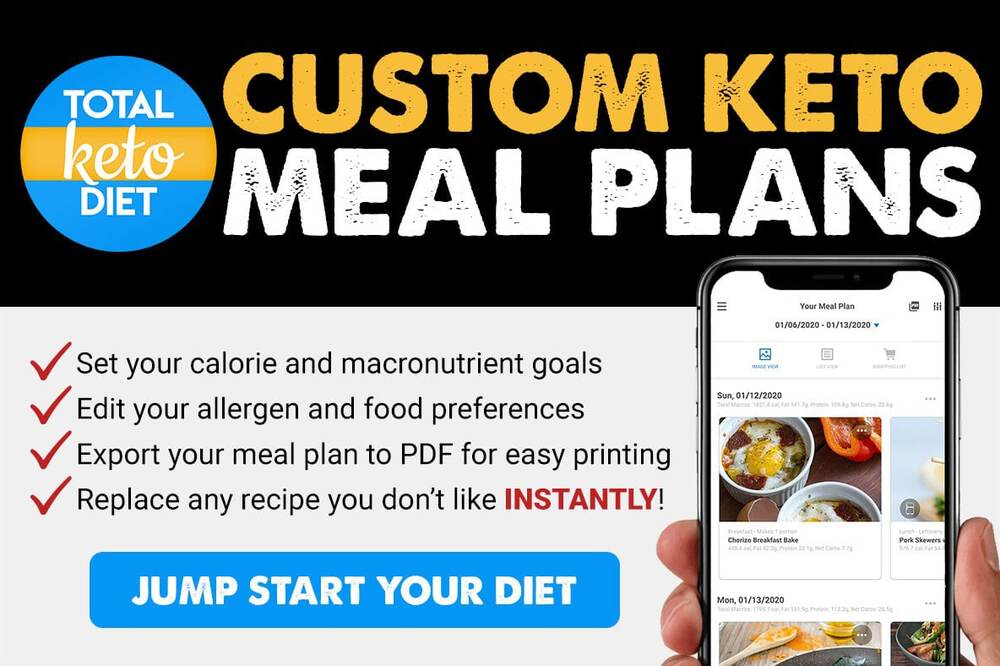 You can buy gluten-free noodles that are made with a blend of corn or rice, but these are still too high in carbs to be eaten on a keto program.

In addition to being high in carbs, most traditional noodles don't contain a lot of vitamins and minerals.

Many pasta brands will use enriched flour to increase its vitamin content, but keep in mind that your body doesn't absorb enriched nutrients as well as it absorbs nutrients from whole food sources, such as the ones found in fruits and vegetables.

Vegetables make a much better choice for your low-carbohydrate diet because they are more nutrient-dense and contain unique plant nutrients such as polyphenols with antioxidant qualities.

Here is the nutritional breakdown of a serving of Barilla spaghetti pasta noodles, which is a common brand found just about anywhere in the US:

200 calories
1 gram of fat
42 grams of carbs
3 grams of fiber
7 grams of protein
Potassium: 2% RDV
Iron: 10 RDV
Thiamin: 40% RDV
Riboflavin: 15% RDV
Niacin: 30% RDV
Folate: 50% RDV
Ingredients: semolina (wheat), durum wheat flour. vitamins/minerals: vitamin B3 (niacin), iron (ferrous sulfate), vitamin B1 (thiamine mononitrate), vitamin B2 (riboflavin), folic acid.

As you can see, pasta noodles are low in fat and high in carbs, which is the opposite of what you want in a a keto meal.

Even a small serving puts you well over your 20 gram allowance of carbs for the day if you're strict keto. This is why you need to look for better alternatives.
Top Keto-friendly Substitutes for Noodles/Pasta You Can Try
If you are craving a giant bowl of spaghetti, then you can use just about any low-carb vegetable in its place. Some vegetables are better suited as a pasta replacement due to their texture, color, and shape.

Vegetables are a great substitute for traditional pasta because they are low in carbs and pair well with many of the things used in traditional pasta dishes.

Try topping your low-carb pasta with meat, tomato sauce, and cheese. You won't even miss the gluttonous traditional pasta!

#1. Zucchini Noodles
Zucchini noodles are a must-have when it comes to making low carb noodles. You can make them by shredding the zucchini squash lengthwise into noodle shaped slices using a knife.

You may want to invest in a vegetable spiralizer if you're serious about your low-carb noodles.

The great thing about zucchini noodles is that you can serve them warm or cold. You can use them in a cold pasta salad on a hot summer day, or boil/fry them in a saucepan with olive oil for a warm spaghetti dish.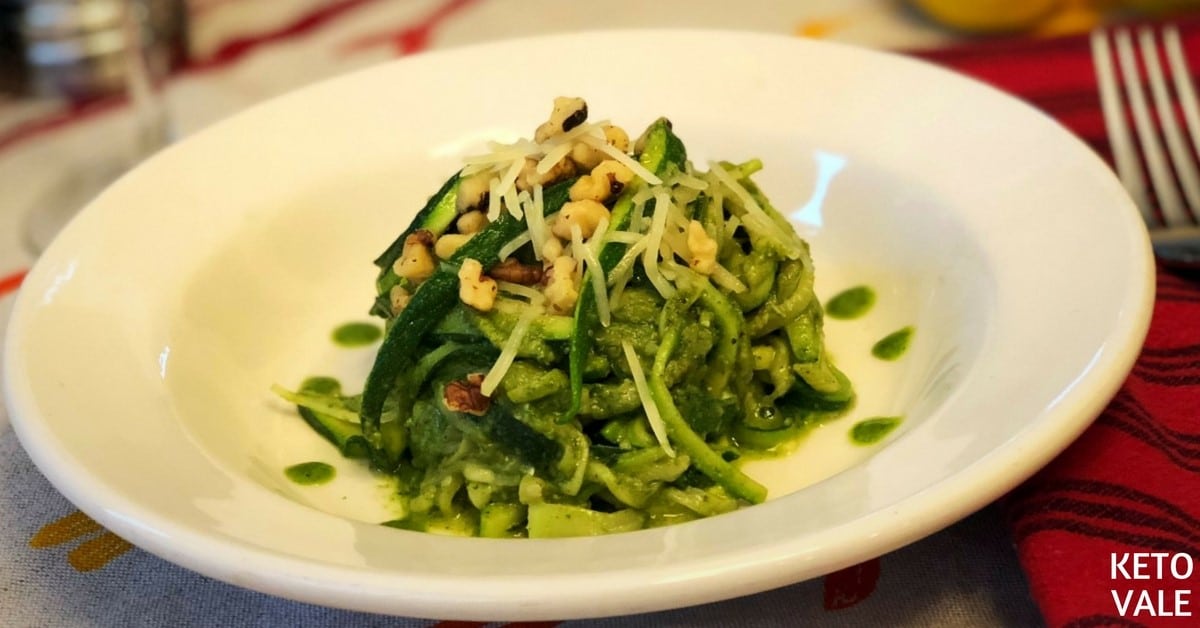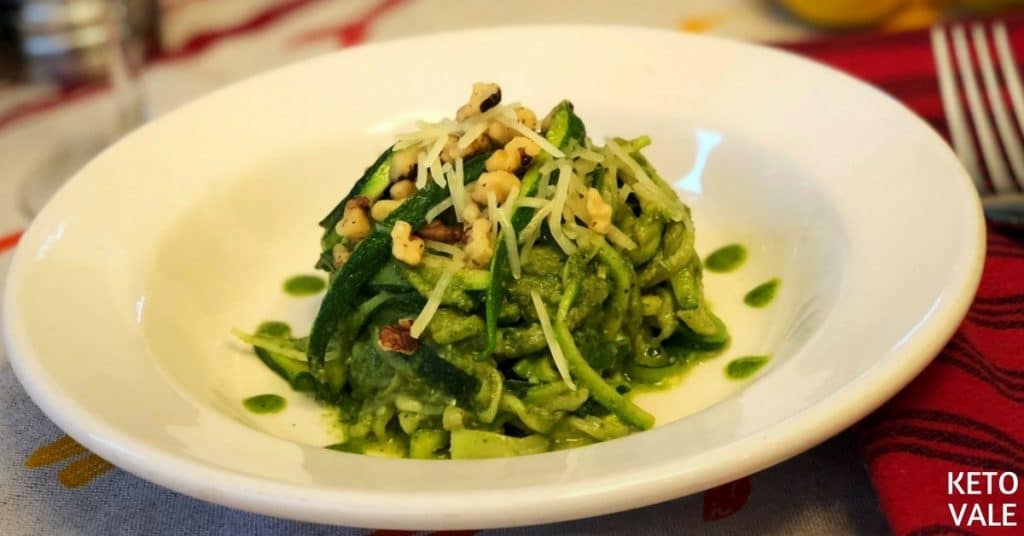 Here are some dishes you can make using zucchini noodles for dinner this week:
#2. Spaghetti Squash
Spaghetti squash may take some prep work, but it's the closest thing you'll find to the real thing in terms of the color, shape and texture of traditional spaghetti pasta.

Keep in mind that squash is higher in carbs than most vegetables, so you'll want to keep your serving size to a minimum if you're on a strict keto diet.

To make spaghetti squash, you want to slice the squash in half using a sharp knife. Brush olive oil on each side of the squash and top with sea salt, pepper and parsley or oregano.

Bake in the oven for about an hour to 90 minutes at 375 degrees Fahrenheit, depending on the size of the squash.

When it's fully cooked, take the squash out of the oven and shred the insides with a fork while throwing away the outer shell. Top with marinara sauce, chicken, and parmesan cheese for the perfect low carb spaghetti dish.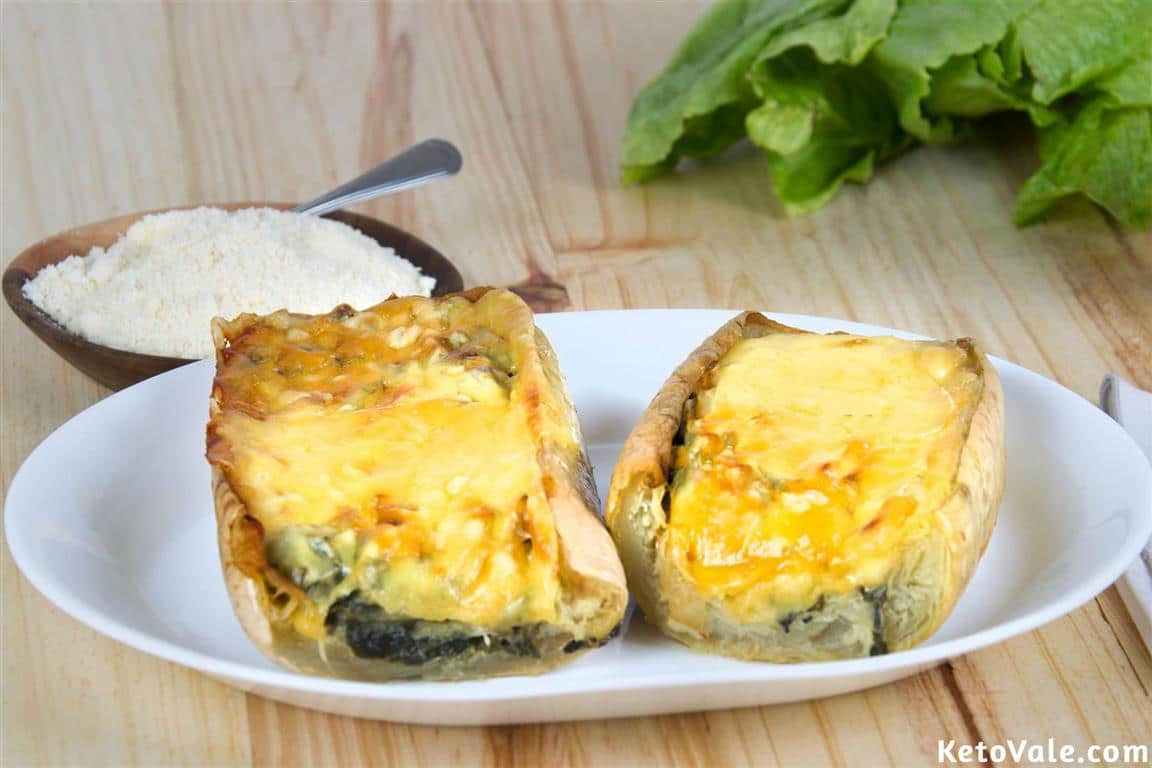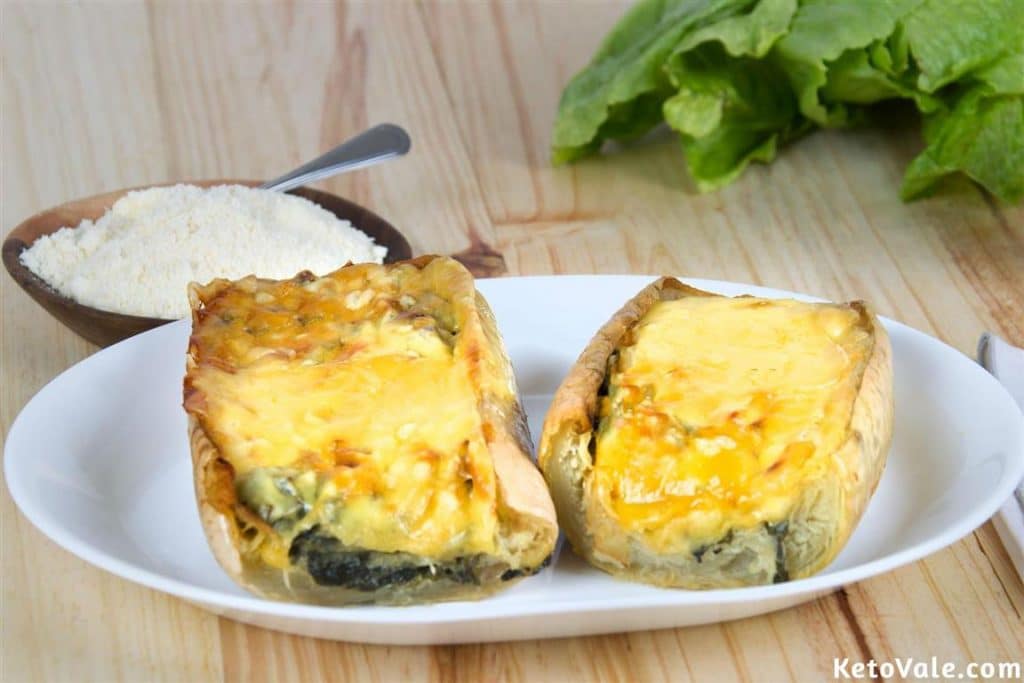 Try this easy spinach stuffed spaghetti squash with cheese recipe here.
#3. Shredded Cabbage
Cabbage is the ideal vegetable to use for low-carb noodles on a ketogenic diet because it is lowest in carbs and calories. As a cruciferous vegetable, cabbage helps fight against chronic diseases and is extremely healthy for you.

Like zucchini noodles, you can serve shredded cabbage noodles hot or cold. Grab a head of cabbage at the grocery store and slice it lengthwise so that it takes the shape of traditional noodles.

From here, you can either serve it cold by tossing it in olive oil and vinegar or you can fry it in a pan with butter and spices before topping it with traditional pasta toppings such as marinara sauce, meat, and cheese.

Here are a few mouth-watering recipes you can try:
#4. Eggplant
If you are looking to make low-carb lasagna, then eggplant is the only way to go. Eggplant has a great meaty texture that becomes soft when you cook it.

It's a very forgiving food to cook with, which means that it will turn out great no matter how bad you think you messed up the recipe.

Like squash and zucchini, eggplant tends to be higher in carbs. Keep an eye on this if you're a strict keto diet.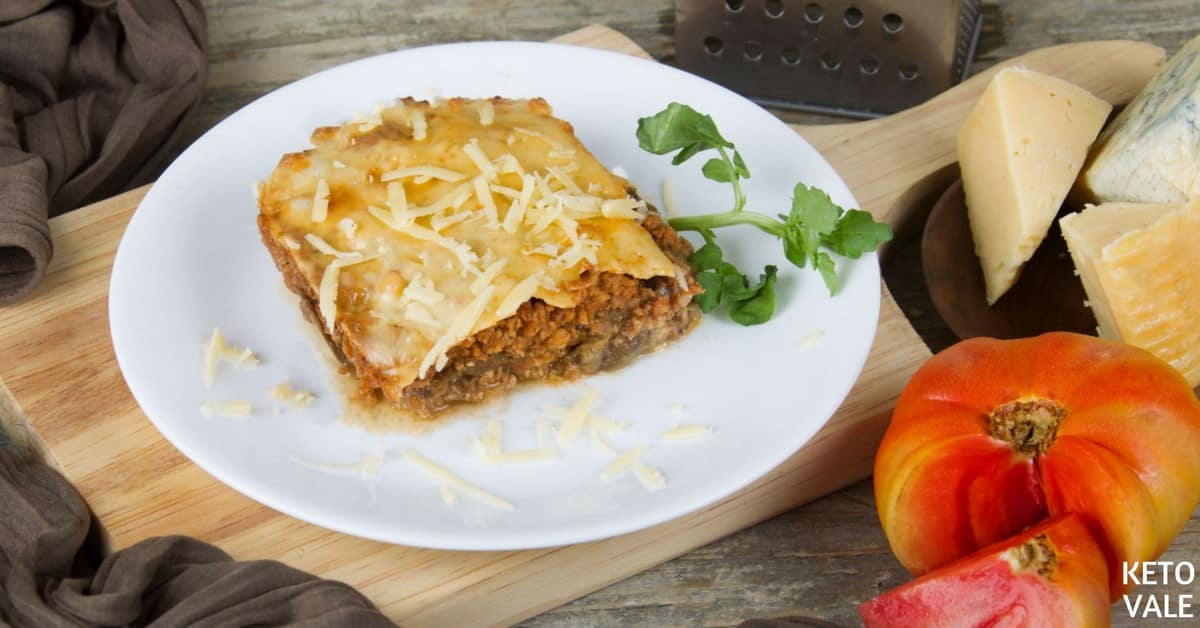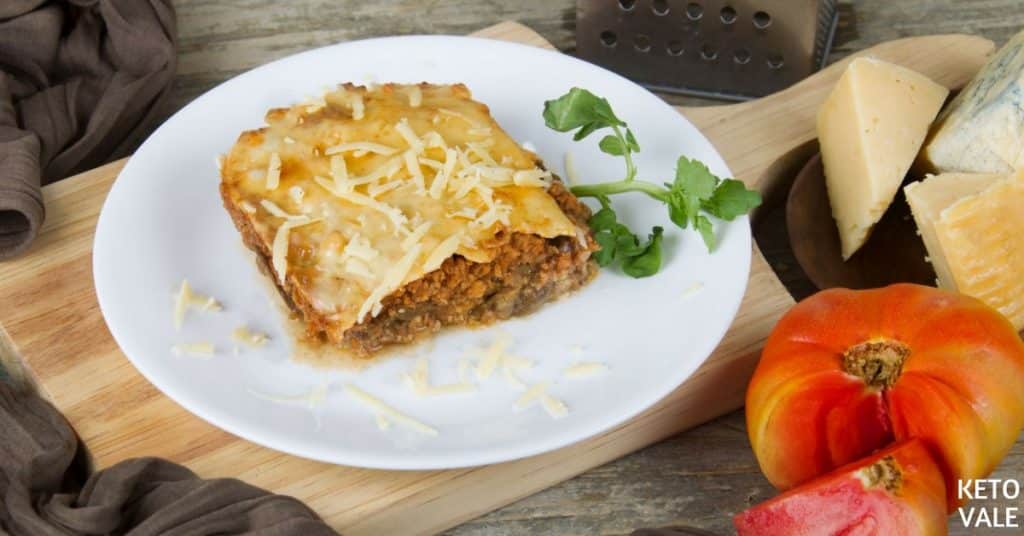 Try our keto beef and eggplant lasagna recipe here.
#5. Almond and Coconut Flour
You can make your own noodles or pasta using a mixture of almond and coconut flours as the base in place of traditional enriched flour.

From here, you'll need to use a few other ingredients that you probably already have on hand in your low-carb kitchen, such as cheese, heavy cream, apple cider vinegar, and xanthan gum.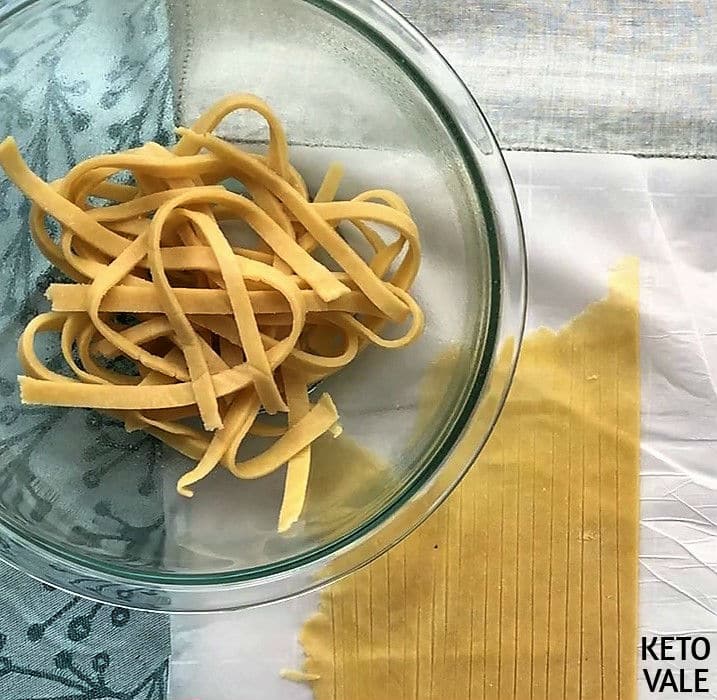 Try our recipe for easy keto alfredo noodles here.
#6. Shirataki (Konjac) Noodles
Shirataki noodles are also known as miracle noodles because they contain very few calories and carbs. Most brands contain 10 to 15 calories per serving.

These noodles are made from a type of Asian yam or root vegetable known as konjac. It is used to make high-fiber flour that can be turned into noodles.

The Miracle Noodle Organic Shirataki Konjac Spaghetti Pasta contains 10 calories per serving and one gram of net carbs. You can shop now at Amazon.com.

We also like NOoodle No Carb Pasta. This company makes a pasta alternative that contains 0 calories and zero net carbs. How do they do it? The carb-free pasta is made out of yam flour, water, and calcium.
---
Other Low-Carb Products and Brands for General Low Carb Eaters
If you're not in the mood to whip up your own low-carb noodles or pasta at home, then you can buy some online.

Important note: Keep in mind that these products below are usually not suitable for a strict ketogenic diet. However, if you're doing vegan or vegetarian keto, this might be okay, depending on what you can tolerate.

These products may be also good for a general low-carb dieter but not necessarily someone on the keto diet.

Zeroodle is a company that makes a low-carb spaghetti pasta with non-GMO, organic soybeans. This product has 5 grams of net carbs per serving.

Where to buy: Shop now!

Palmini Low Carb Pasta is made out of the hearts of palm, which is a vegetable that grows from palm trees. One serving contains 20 grams of calories and 2 grams of net carbs.

Where to buy: Shop now!
---
Conclusion
Pasta and noodles are a fairly easy dish to replicate on a ketogenic diet. Squash and zucchini make a great low-carb substitute because they take on the flavor of whatever you cook them with and then look the most like traditional pasta. You can also use cabbage or eggplant if you are cooking lasagna.

Traditional pasta does not belong to a ketogenic shopping list because it contains flour, which is too high in carbs.
You can make your own vegetable noodles at home using nothing but a sharp knife or a vegetable spiralizer. You can also buy low carb noodles online if you want a more authentic looking alternative to the real thing.
Up Next: Top Low Carb Substitutes for Rice
Enjoy this post? Share to save for later!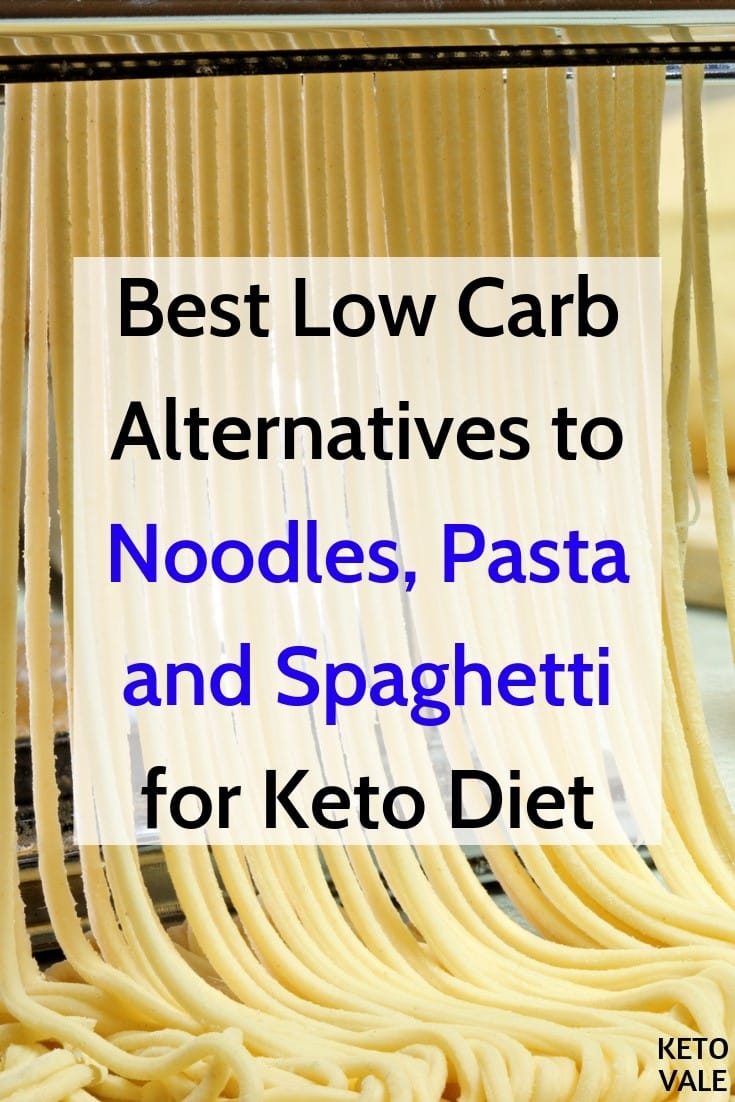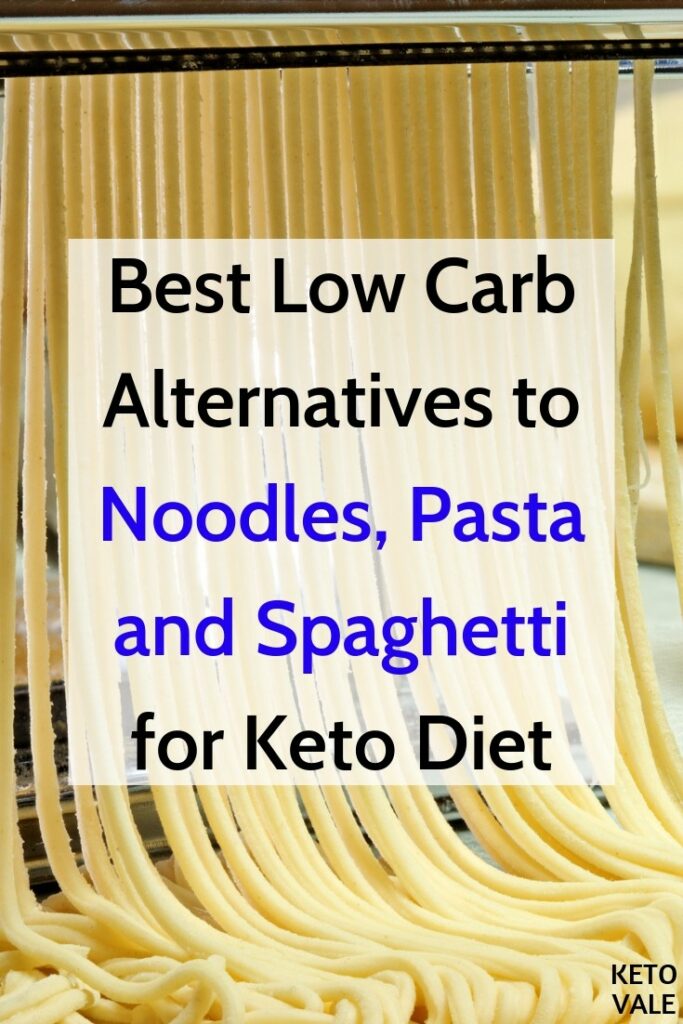 Photo credit: jura13/ depositphotos.com