Ceviche is a popular seafood dish in Latin America cuisine and can be served as a main course or appetizer. It is usually made from fresh raw shrimp, fish or other  seafoods cured in lemon or lime juices.
Traditional food like ceviche over the course of years had many transformations, but still remains one of the easiest, nutritious and beautiful dishes.
We made a similar salad before using cooked shrimp called Avocado Shrimp Salsa. This time, we'll be using fresh raw shrimp without cooking it.
You can stop at the ceviche. However, to make it even more fascinating and nutritious, we'll wrap the ceviche with lettuce leaves. You can also use endive leaves instead of lettuce.
These flavorful and sensational ceviche wraps will make a perfect low carb dish for your diet, especially if you are a vegetable lover.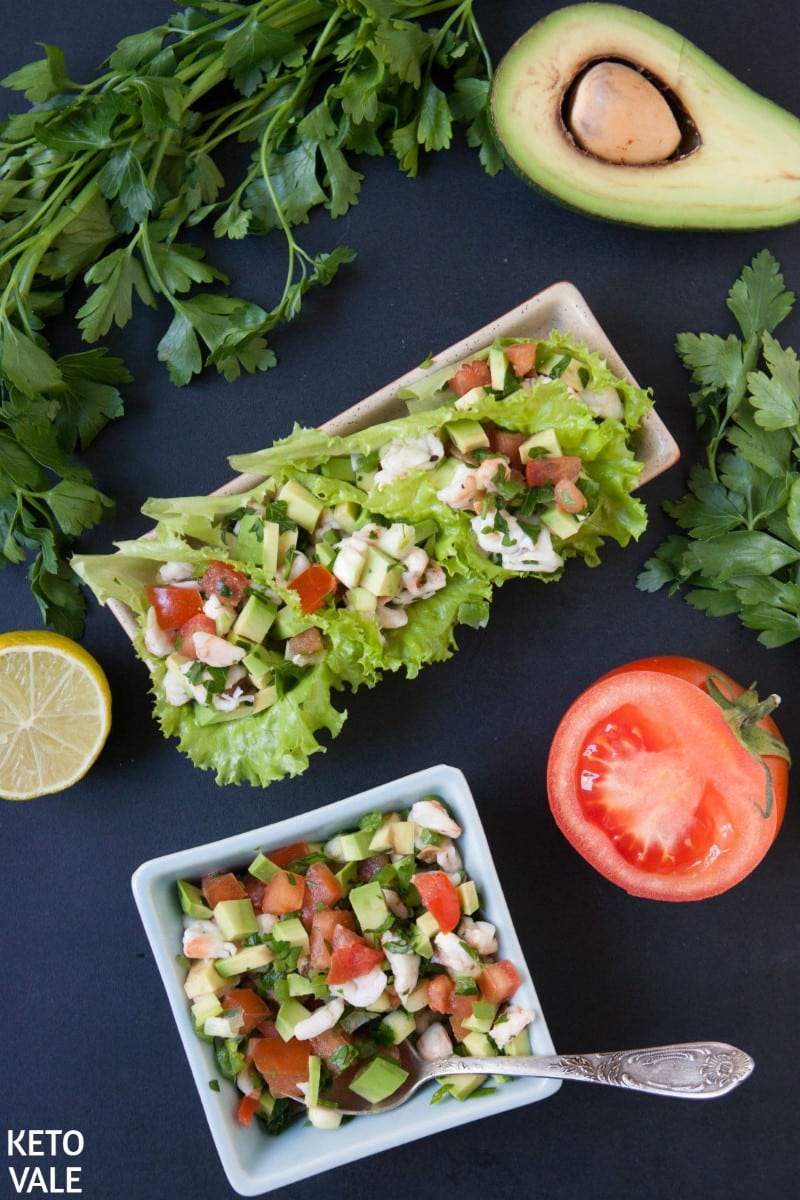 It's a really fast dish to make, just try to keep a few shrimps in your fridge, so that at any time you could enjoy its pescetarian, Caribbean taste.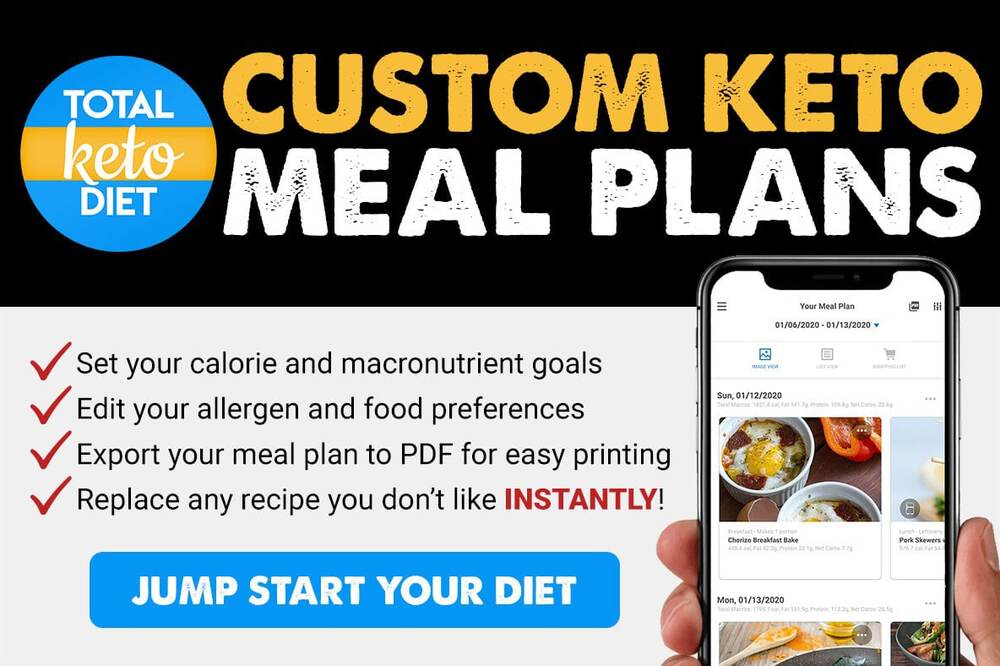 What we like in ceviche is that it's a salad and a main dish all combined together, you will get full just with it on your plate. Thanks to ingredients like avocado, shrimps and jalapeno your daily dosage of vitamins will increase.
While lime and cilantro will fasten digestion and you won't feel stomach heaviness. It's a great and light evening dinner dish for hot summer nights when the weather is so tropical you don't feel like eating at all, but still have to remain your keto plan.
This is one of the low carb salads that you will want to make again and again. It's just so good!
[page_section color='#2c3e50′ textstyle='light' position='default'] [/page_section]
[thrive_headline_focus title="Let's Ketofy It!" orientation="center"]
Halve the shrimp and place them in a bowl. Marinate the shrimp by pouring the lime juice until they are fully covered and floating. Cover the bowl and set in the refrigerator for 4 hours.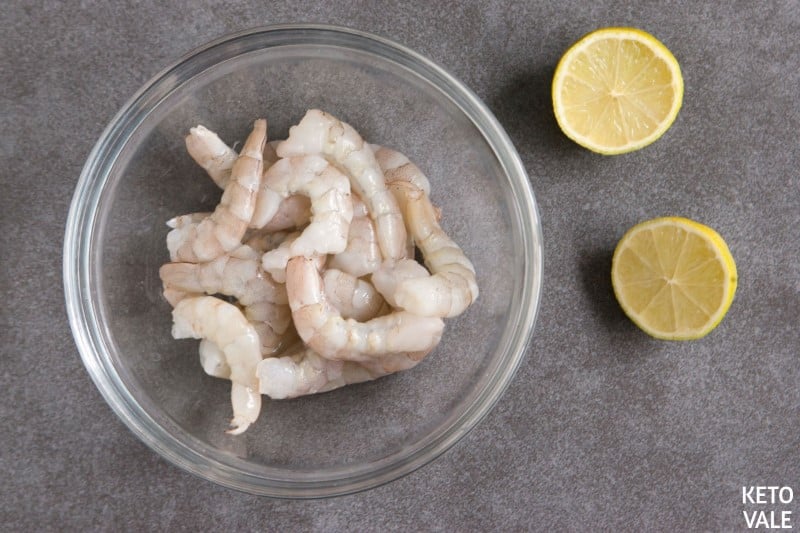 Combine the cilantro, jalapeno, scallions, and chopped tomato in a separate large mixing bowl. Add salt and pepper to taste. Drain the shrimp using a colander or large strainer and add to the bowl. Lightly toss until the ingredients combine. Add the avocado and add some lime juice.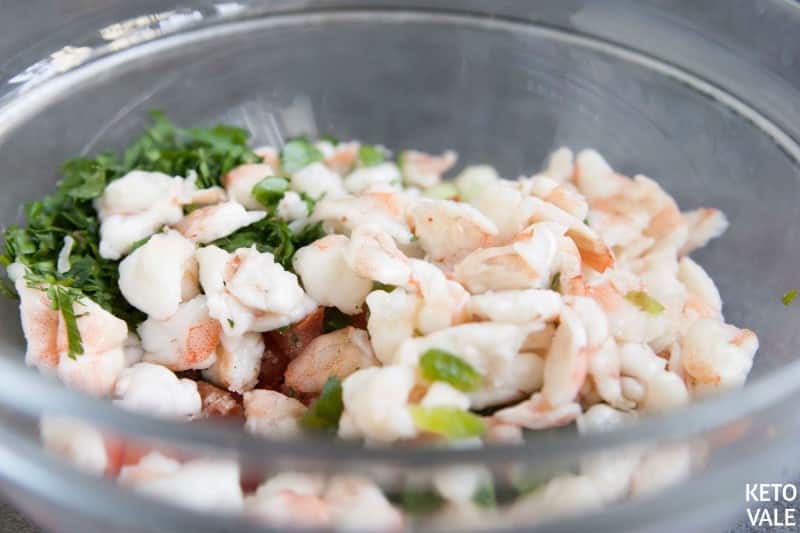 Place the lettuce leaves on a plate and place one or two tablespoons of ceviche in each leaf. Serve. Alternatively, serve the ceviche in a dish with the leaves placed separately so that guests may serve themselves.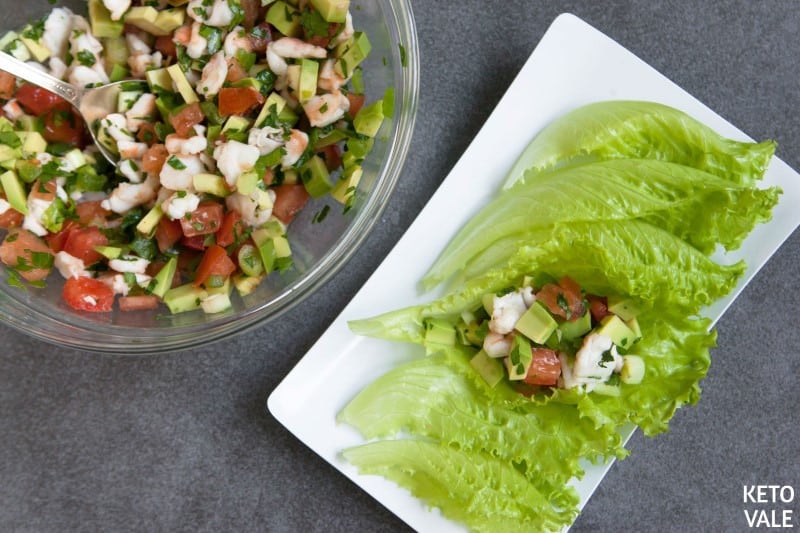 Watch how we made this here:
Save this recipe by pinning this picture to your Pinterest board for later use!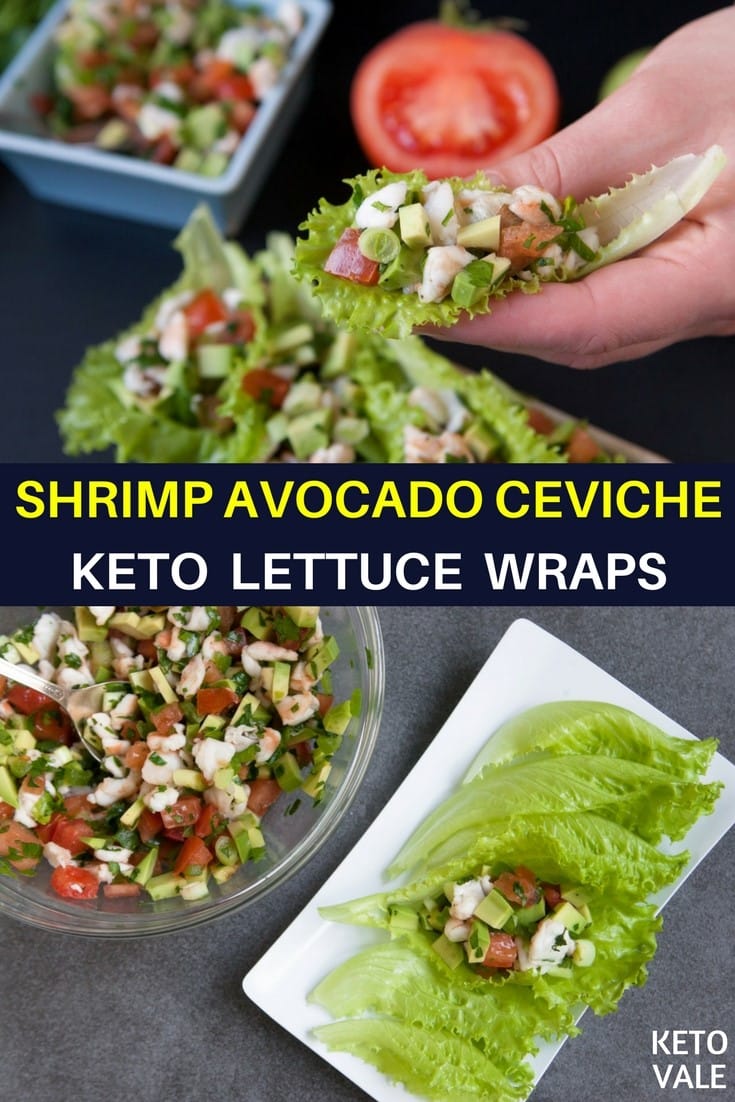 *Credit: Recipe inspired by EatingWell and Health.com
Related:
Shrimp Avocado Ceviche Lettuce Wraps
Ceviche wraps are suitable for a salad or even a main dish. You'll definitely enjoy it!
Ingredients
1/2

lb

fresh shrimp

large size, peeled and deveined

1/2

lime

juiced

1/4

cup

fresh lime juice

to cure shrimp

1/2

large tomato

chopped

1

ripe avocado

chopped

1

Jalapeno

2

scallions

chopped, white and light green parts only

1/8

cup

cilantro leaves

chopped

5

lettuce leaves

separated

salt and pepper to taste
Instructions
Chop the shrimps in half and place in a bowl. Marinate the shrimps by pouring the lime juice in the bowl until they are completely covered and are floating freely. Cover the bowl and place in the fridge for 4 hours for best result (or at least 1 hour).

Mix the cilantro, chopped jalapeno (seed removed),chopped tomato, and scallions in a separate large bowl. Add salt and pepper to taste. Completely drain the shrimps using a colander and add to the large bowl. Gently toss until all the ingredients combine. Add the chopped avocado and squeeze some lime over the mixture.

Prepare lettuce leaves on a plate and transfer one or two tablespoons of ceviche into the leaves. Serve. As an alternative, serve the ceviche in a dish with the lettuce leaves all around so that the guests can serve themselves.
Nutrition/Macros
Nutrition Facts
Shrimp Avocado Ceviche Lettuce Wraps
Amount Per Serving
Calories 205
Calories from Fat 99
% Daily Value*
Fat 11g17%
Cholesterol 191mg64%
Sodium 607mg25%
Potassium 557mg16%
Carbohydrates 12g4%
Protein 18g36%
Vitamin A 3405IU68%
Vitamin C 36.1mg44%
Calcium 142mg14%
Iron 2.5mg14%
* Percent Daily Values are based on a 2000 calorie diet.
Pin To Save This Recipe