There are so many different variations of Asian noodle soups such as Vietnamese Pho, Ramen Noodles, and many more that you probably don't have time to eat them all.
One of the most traditional and everyday soups that created in Asian cuisine is today alternated to your ketogenic diet needs.
Asian cuisine is similar to Italian in terms of having a rich food culture. Some people believe that the process of eating is some sort of art, where cooking and digesting helps to heal the soul and set the right mindset.
Every dish should be as pleasant looking as tasteful, only fresh and seasonal ingredients (here we all can agree that fresh and ecological components are in keto style), a plat that sets you in a zen mood.
Like most of the low-carb Asian noodle soups, it all starts with fresh ingredients. Because Asians enjoy making a new dish from scratch every time they set up a table, that's why all cuisine is freshly made.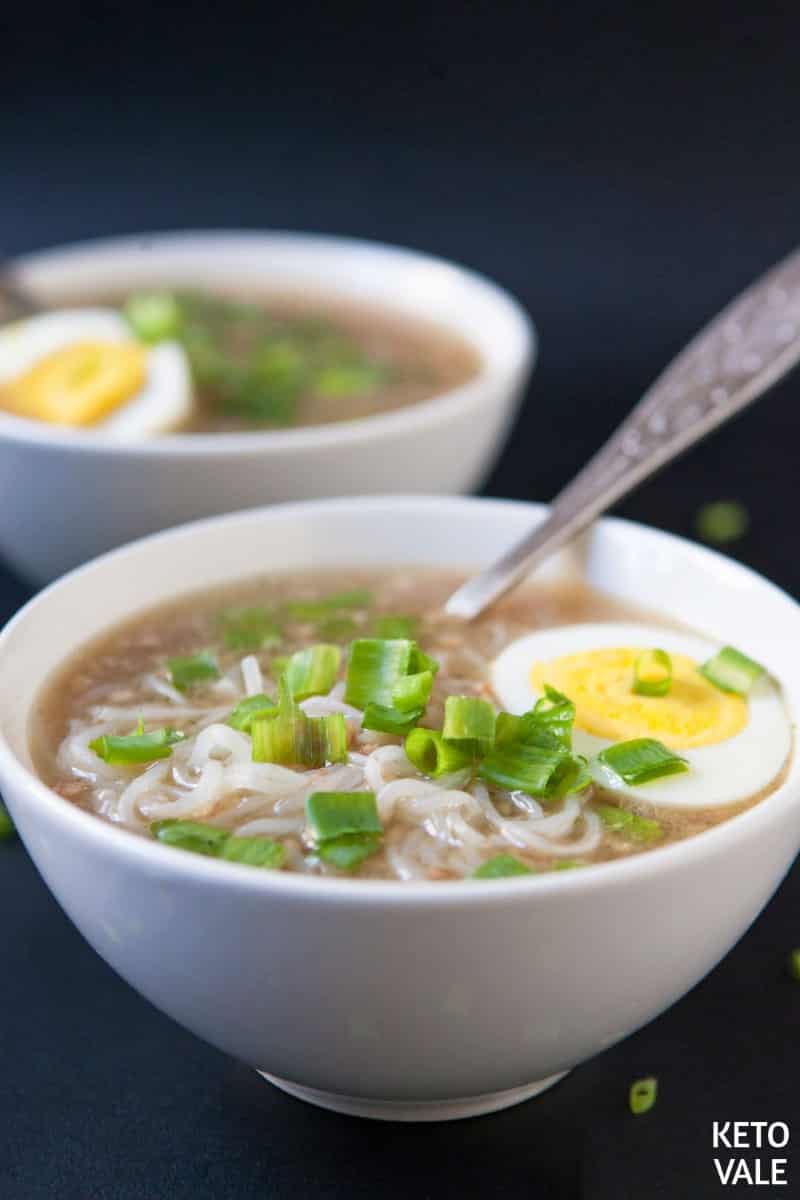 A traditional beef noodle soup saves from hangovers and is a great way to start a productive day, somehow Asians prefer to eat soups for breakfast.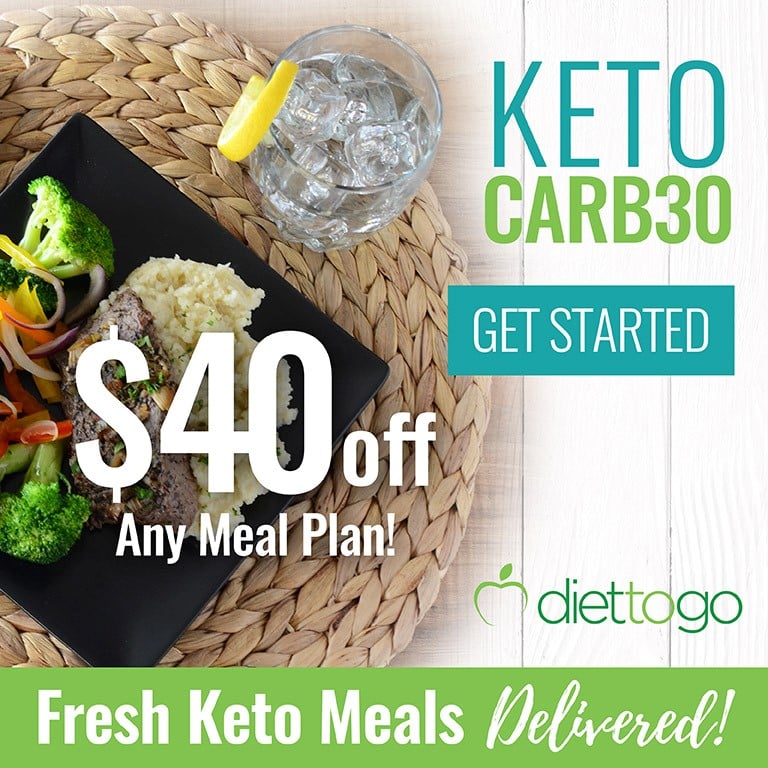 As many people believe it's the most important meal of the day, it makes sense, while we coastally in a rush drinking coffee and maybe putting a few bites of sandwich, they find time to actually cook.
A fresh, warm soup that will set the mood for a whole day ahead and our bodies will get something liquid after waking up.
White noodles, golden broth, yellow egg and green fresh seasonings – your plate was never that colorful!
Unlike Vietnamese Beef Noodle Soup, we use ground beef for this recipe instead of thinly sliced tender beef. We also use bone broth to prepare the soup instead of making the broth from scratch.
Bone broth has so many benefits for your health including gut and digestion health, skin, hair, nails, joints and weight loss. Beef broth has anti-inflammatory amino acids and collagen which is an important type of protein that your body absolutely needs.
When choosing bone broth, make sure it doesn't have any sugar added. A good brand to choose is Kettle & Fire's Beef Bone Broth as it's made of 100% grass-fed beef and organic ingredients.
We use shirataki noodles instead of rice or wheat noodles to keep it keto-friendly and gluten-free. Shirataki (also known as miracle noodles or konjac noodles) are a type of Japanese noodles which is made from the konjac yam.
You can try this Skinny Noodles Shirataki Spaghetti brand. They're made of indigestible dietary fiber which makes them no calorie and no net carb, which is why it's called "miracle" and "skinny" noodles.
This recipe is versatile, you can use minced beef, thin beef slices, beef meatballs, etc… or chicken to make this soup.
[page_section color='#2c3e50′ textstyle='light' position='default'] [/page_section]
[thrive_headline_focus title="Let's Ketofy It!" orientation="center"]
Boil 1 egg.
For the meat: Some people prefer to saute it first before adding to the soup, some people just add raw meat to the boiling soup as this will cook the meat. If you follow this recipe, simply saute ground beef in a pan with salt and pepper for 3 minutes so the salty flavor absorbed inside the meat.
Prepare the soup: In another pot, boil bone broth then add beef, and the herbs in and simmer for 10 minutes.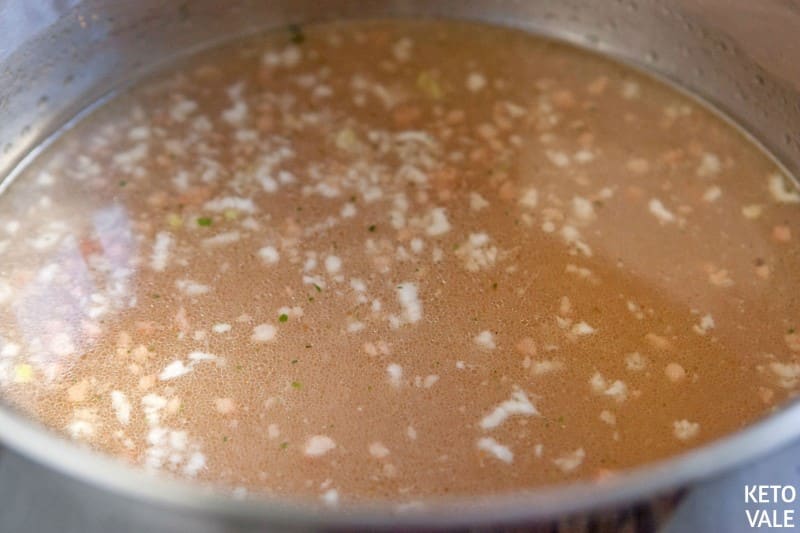 In the meantime, prepare the noodles. Rinse and drain shirataki noodles according to the package then add to the soup. Simmer for another 2-3 minutes and remove from heat. You can add a little bit of sesame oil in for taste. It's optional.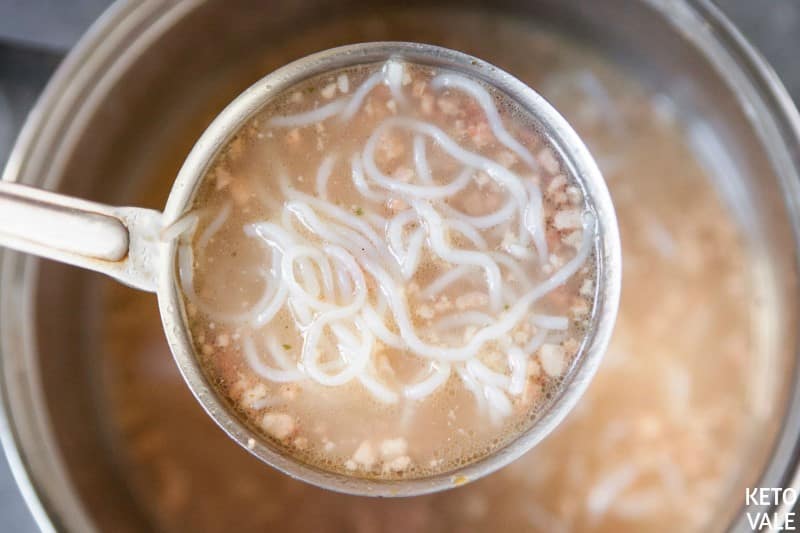 Serve in a bowl with boiled egg halves and scallions while it's still hot. If you love Asian veggies, throw in some Bok Choy leaves.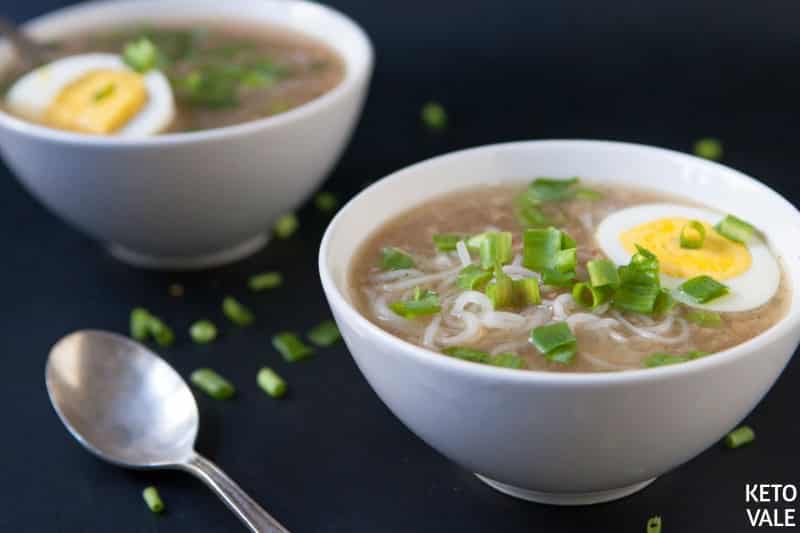 Watch how we made this here:
Save this recipe by pinning this picture to your Pinterest board for later use!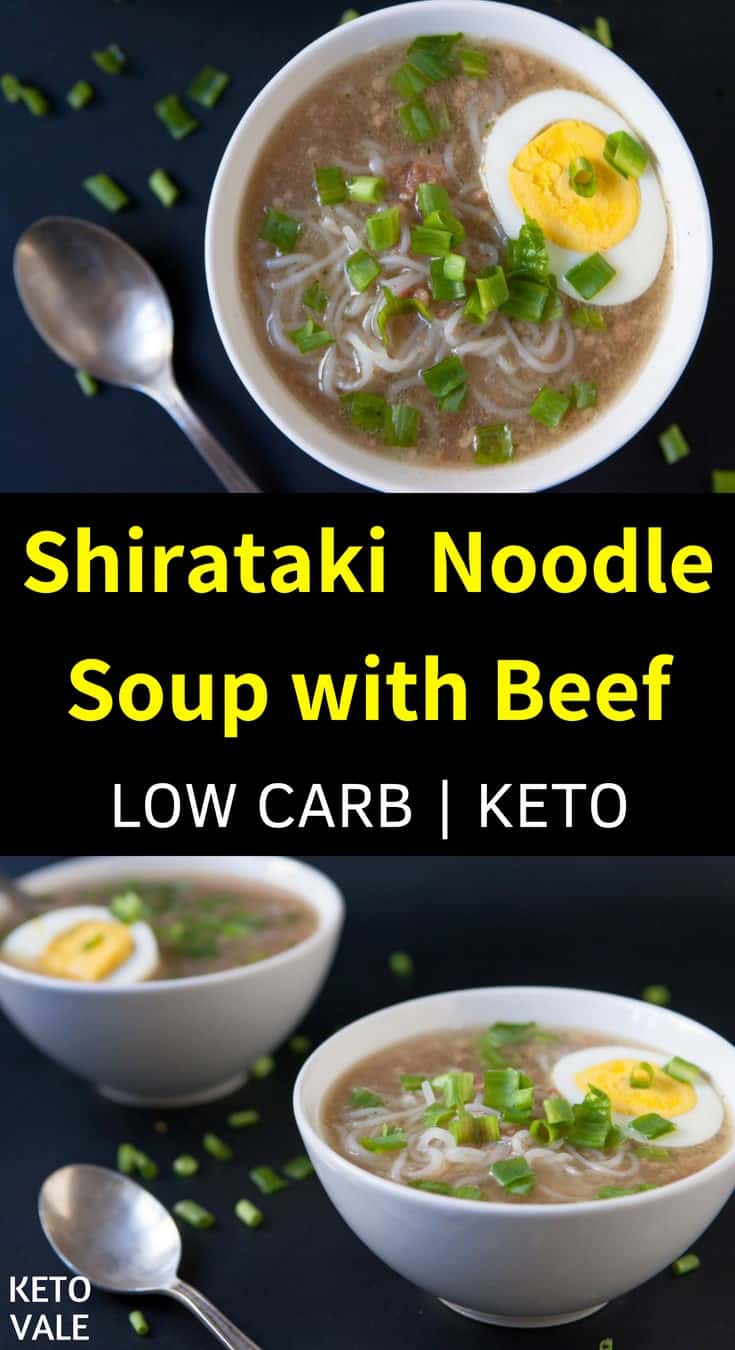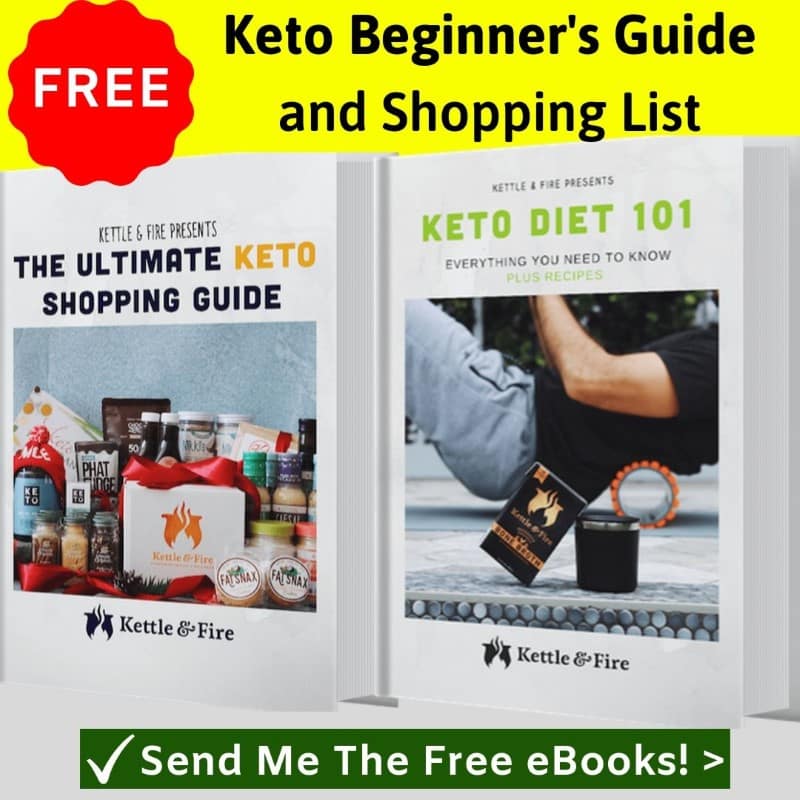 Related:
Keto Beef Shirataki Noodle Soup
A very simple and low-carb beef shirataki noodle soup is keto-friendly and suitable to kick off your day. You'll enjoy it!
Ingredients
For meat
5

oz

Ground beef

(fried minced beef, roast beef, beef meatballs, etc...)

1

tbsp

olive oil

(to saute beef)

salt and pepper to taste
For Soup & Serving
3

cups

beef broth

(or chicken broth)

6

oz

shirataki noodles

2

garlic cloves

minced

1

tbsp

fresh ginger

minced

2

scallions

sliced

1/4

tsp

cardamom

(optional)

1/2

tsp

sesame oil

optional

1

hard boiled egg

halved

4

leaves

Bok Choy

(for serving, optional)

water

(if needed)

Salt and pepper taste
Instructions
Boil one egg in a pot.

In the meantime, cook meat the way you prefer such as sauteing ground beef with salt and pepper.

In another pot, add bone broth and bring to boil. Lower the temperature, add cooked beef meat, garlic, ginger, cardamom and salt and simmer for 10 minutes.

Rinse and drain shirataki noodles and add to the soup. Simmer for another 3 minutes. Add a little bit of sesame oil in for taste (optional). You can also add a few Bok Choy leaves in as well.

Divide the soup between 2 bowls, garnish with egg halves and scallions and serve.
Nutrition/Macros
Nutrition Facts
Keto Beef Shirataki Noodle Soup
Amount Per Serving
Calories 347
Calories from Fat 234
% Daily Value*
Fat 26g40%
Cholesterol 144mg48%
Sodium 1439mg60%
Potassium 521mg15%
Carbohydrates 5g2%
Protein 21g42%
Vitamin A 1500IU30%
Vitamin C 15.8mg19%
Calcium 90mg9%
Iron 2.7mg15%
* Percent Daily Values are based on a 2000 calorie diet.