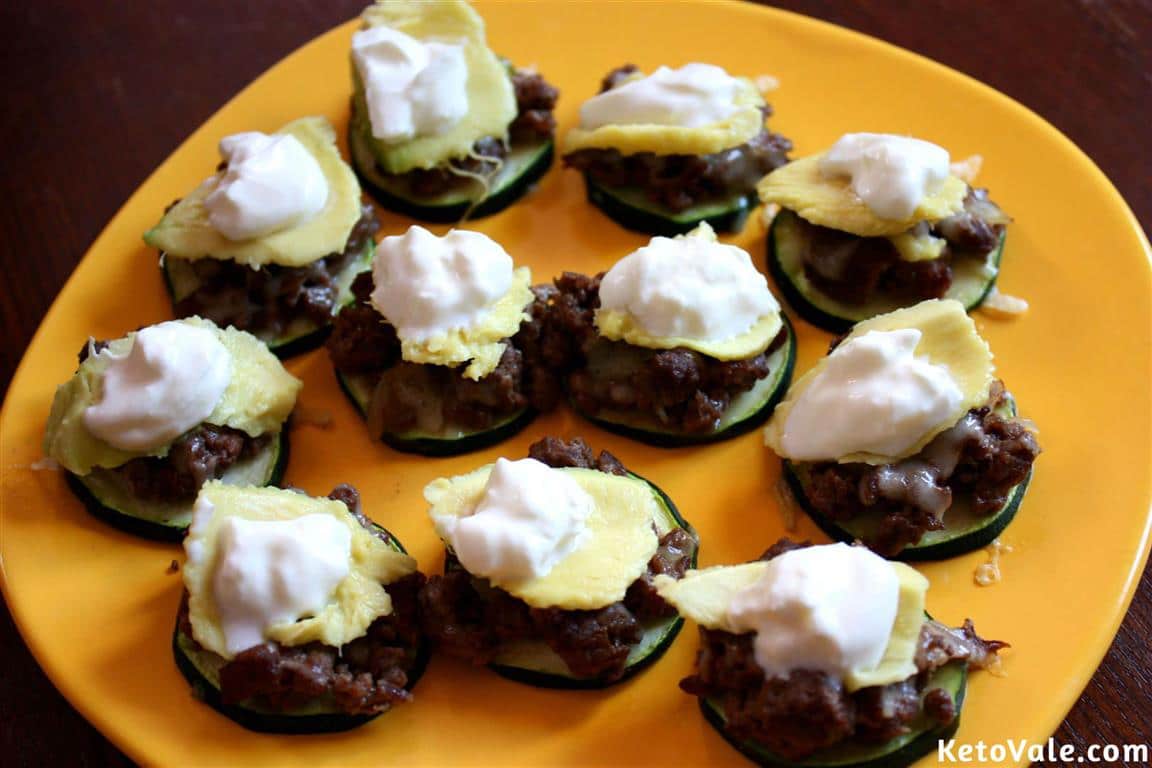 Zucchini Taco Bites
Do you feel like having tacos? Instead of taco shells, you can actually use zucchini slices! It's an unusual solution, but it is very simple and tasty. Try it out, and you won't be disappointed! Zucchini is a great vegetable to have while you're on the keto diet – it contains only 2.1 net grams of carbs while still being very versatile because of its texture and relatively neutral taste.
Receive Our Free 7-Day Keto Meal Plans + Weekly Recipes
Zucchini Taco Bites
Ingredients
120

g

zucchini

cut in 3 mm slices, approx. ½ medium zucchini

1

tsp

ghee

or another type of cooking oil

¼

medium onion

200

g

Ground beef

40

g

cheddar cheese

grated

3

tbsp

sour cream

½

avocado

1

tsp

taco seasoning

pepper and salt to taste
Instructions
While preheating the oven at 200°C, cut the zucchini into thin slices, about 3 mm thick.

Heat the ghee in a pan then sauté the onion in for 2 minutes. Gently throw in the ground beef with the taco seasoning. Cook for 3 more minutes.

Put a scant tablespoonful of the cooked beef on the zucchini slices. Place in the oven to bake for 7 minutes.

Add the grated cheddar cheese on top and rebake for an additional 3 minutes.

Top with some sour cream and a piece of avocado.

Serve and enjoy!
Notes
Macros (per serving): Calories: 504 kcal – Fat: 41.14 g – Net carbs: 5.21 g (total carbs: 9.61 g, dietary fiber: 4.4 g) – Protein: 24.69 g Instead of ghee, you can use butter or another type of cooking oil, according to your preferences. You can also substitute the cheddar for another similar hard cheese, and use slightly less or slightly more, depending on how you prefer your zucchini bites. You can also add salsa when frying the beef (make sure to take it into account when counting your macros). It's important not to bake the bites for too long, as you want to keep the zucchini's naturally crunchy texture.