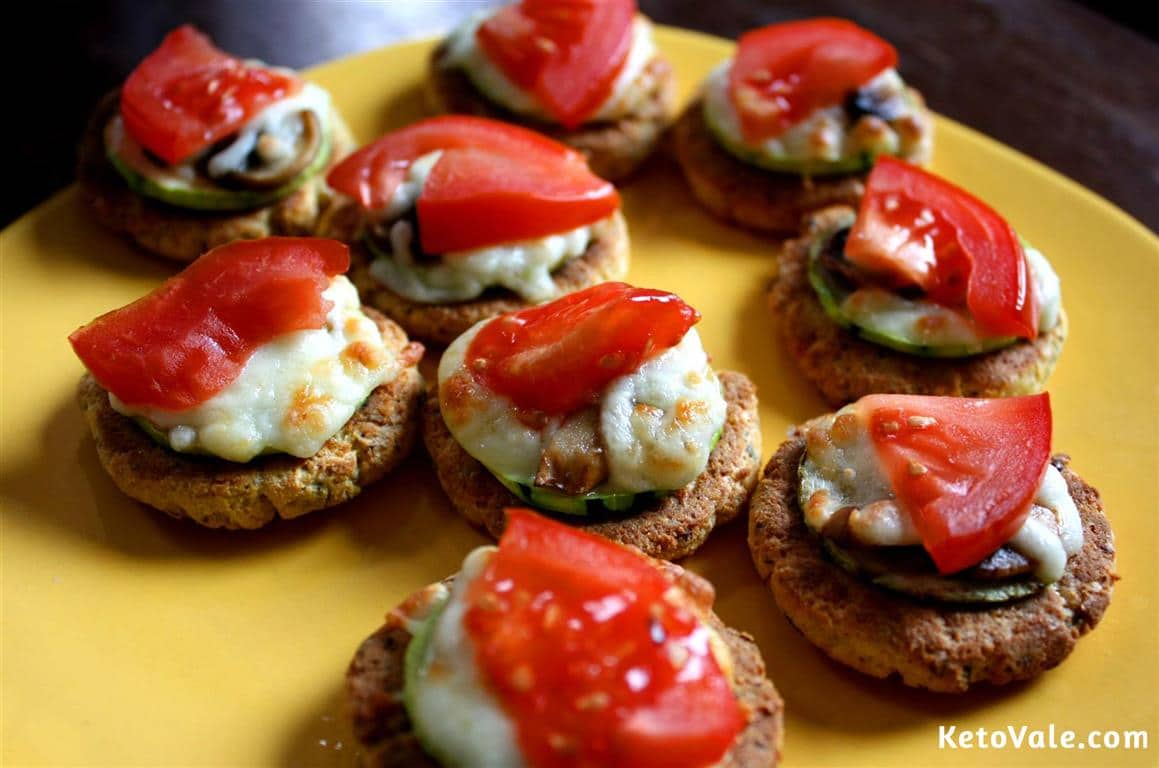 Mini Coconut Flour Pizza Bites – Low-Carb and Vegetarian Friendly
These delicious fathead pizza bites are low-carb, nut-free and vegetarian at the same time. They are easy to make and are excellent for sharing with a friend. In addition to that, they don't require a microwave to prepare, as the cheese for the crust does not need to be melted. You can add a salad on the side for a quick and balanced dinner.
Receive Our Free 7-Day Keto Meal Plans + Weekly Recipes
Coconut Flour Pizza Bites
Ingredients
For the topping:
60

g

zucchini

thinly sliced

1/3

medium tomato

sliced and cut into small pieces

50

g

mozzarella cheese

grated

2

button mushrooms
Instructions
Preheat the oven at 200 degree C

Put the coconut flour, olive oil, flaxseed, and parmesan in a large bowl and whisk the eggs

Mix everything together

Make individual pizza patties of about 4 cm in diameter and place them in an adapted container (greased in advance). You'll have enough dough for approx. 9 to 11 patties.

Cook them for about 15 minutes or until slightly brown

Slice the tomatoes, zucchini and mushrooms and quickly sauté the zucchini and the mushrooms

Put the zucchini, mushrooms and mozzarella on top of the pizza bites and bake for another 5 minutes.

Put the tomato slices on top of each bite and cook for another minute or two.

Enjoy!
Notes
Macros (per serving): Calories: 418 kcal – Fat: 31.36 g – Net carbs: 5.98 g (total carbs: 12.68 g, fiber: 6.7 g) – Protein: 21.2 g These pizza bites are highly versatile and you can experiment with different toppings. You could put chorizo or ham for a non-vegetarian version of the pizza, or substitute the mozzarella with a different kind of cheese, for example emmental, romano or cheddar. Olive oil can be substituted for another kind of oil (avocado oil or coconut oil are excellent alternatives, for example). The cooking time will depend on how thin your pizza patties are, so make sure to check them every 5 minutes or so. Loved this recipe? Please share this post! Have any question or feedback about this recipe? Let us know in the comments below!