Low Carb New York Cheesecake
This is a delicious low carb version of a thick NYC cheesecake style. You can serve with blueberries or strawberries. What a great keto friendly dessert that can be shared with your family and friends!
Related: Low Carb Mousse Cake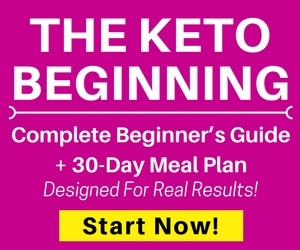 Receive Our Free 7-Day Keto Meal Plans + Weekly Recipes
Grease a deep dish springform pan, or a deep dish pie pan and set aside.

Beat the cream cheese on lowest setting for 5 minutes. Add the Stevia and vanilla flavoring and beat lightly. Add 1 egg at a time and beat lightly, repeat for all eggs one at a time. Next, add the sour cream and beat well.

Bake at 325 °F (160 °C) for 55 minutes. Start checking at 45 minutes. If it's getting brown, turn the oven off.

When the time is up, prop open the oven door, turn off oven and leave the cheesecake in the oven for another hour.

After 1 hour, remove from the oven and allow to cool completely. Chill 12-24 hours before serving. The longer you can chill the firmer it will set.
Note: for a dark, glass or nonstick pan bake at 300 °F (150 °C). You can bake it til the bottom is brown or you can make a crust out of almond flour, coconut flour, crushed pecans and butter. This recipe makes 10 slices (or 10 servings).
Macros (per serving): Calories: 369 kcal – Fat: 33.29 g – Net carbs: 4.51 g – Protein: 9 g
Recipe shared by Mjgh06.