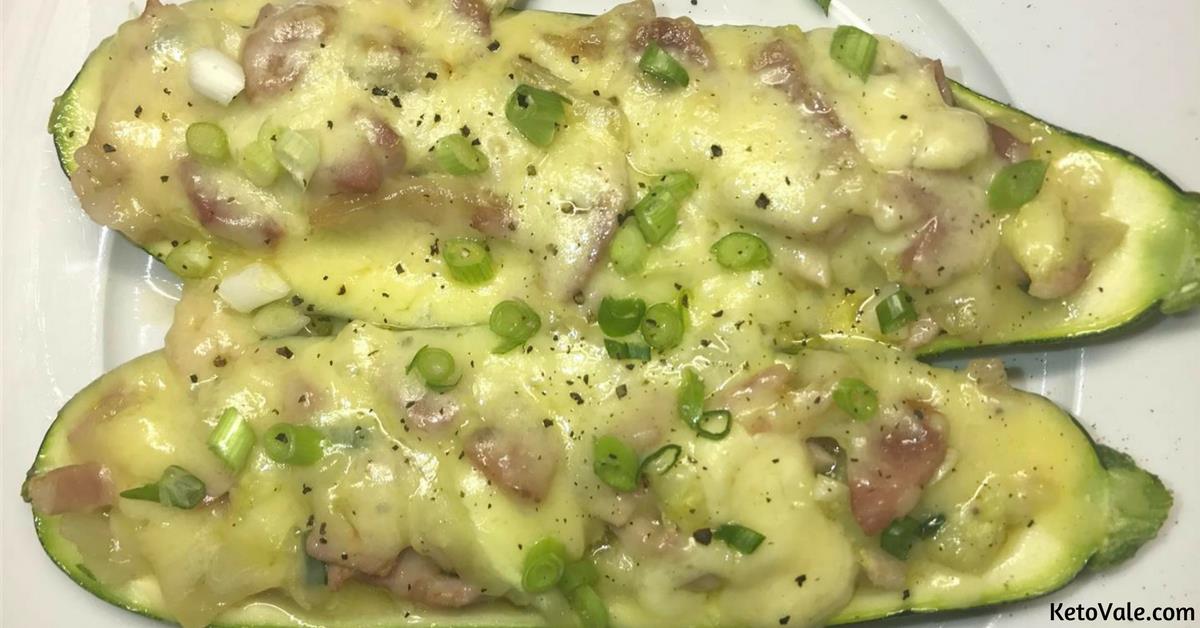 Grilled Stuffed Zucchini with Bacon
Here's another easy, filling and delicious dinner recipe for your family. Even if they're not on keto diet, they would still love this meal. You can grill this or bake it in the oven. You can also add a few mushrooms and red pepper just to give it a little more spice.
Receive Our Free 7-Day Keto Meal Plans + Weekly Recipes
Related: Stuffed Zucchini Boats With Ground Beef
Grilled Stuffed Zucchini with Bacon
Ingredients
4

medium zucchini

5

tsp

olive oil

200

g

bacon

2

clove

garlic

minced

1/2

onion

medium size, chopped

1 tbsp

spring onion

Finely chopped, optional

1

cup

cheddar cheese

shredded

Salt and Pepper

to taste
Instructions
Half the zucchini lengthwise. Empty the insides by scooping out the pulp.

Coat the zucchini with 2 tsp of oil. Put aside for later.

Chop the bacon and the pulp into small bits.

Heat the remaining oil in a large skillet before sautéing the onion, garlic, pulp, and bacon. Pepper to taste.

Stir for about 2 minutes to cook or wait till golden brown.

Remove the pan from the heat.

Add spoonfuls of the cooked mixture into the empty zucchini shells.

Top with chopped spring onion and shredded cheddar cheese.

Set the zucchinis over medium heat. Grill covered for around 8-10 minutes until the zucchini is tender to your liking.

Transfer to a plate and enjoy.
Notes
Note: you can replace bacon with ham or ground beef and can also bake them in the oven. This recipe makes 4 servings. Macros (per serving): Calories: 478 kcal – Fat: 36.5 g – Net carbs: 7.9 g (total carbs: 10.4 g, dietary fiber: 2.5 g) – Protein: 28.4 g