Keto Raspberry Cheesecake
This Raspberry Cheesecake is an incredible dessert for anyone who is on a low-carb, high-fat diet. With this luxurious and elegant low carb cheesecake that is topped with raspberry, you won't believe that you're on a diet. Using simple ingredients, this cake can be made for any special occasion.
You can use a few drops of raspberry flavor extracts to intensify the flavor. To make the abstract design on the top, use a few drops of red food color and swirl it with a fork.
Feel free to save this recipe by pinning this picture to your Pinterest board for later use!
Related: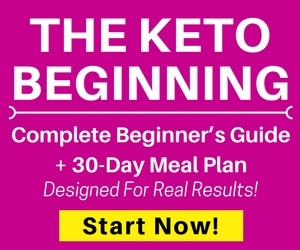 Receive Our Free 7-Day Keto Meal Plans + Weekly Recipes
If you stored your cream cheese in the fridge, take it out and allow it to sit at room temperature for an hour.

When the cream cheese softens, combine it with sweetener and sour cream. Fold the ingredients thoroughly to mix well.

Crack the eggs into this mixture one by one then stir again to incorporate.

Include melted butter into the mix but make sure it is cooled to room temperature.

Incorporate the xanthan gum and baking powder into the batter as well. Blend with a handheld mixer.

Pour the batter into a baking form covered with parchment paper.

Gently drop a cup of berries into the mix, plopping them one by one. Distribute them evenly on all the sides.

Leave in the oven (set and preheated at 350°F) for an hour. Wait until it sets.

Allow cooling for a couple of minutes after removing from the oven. Chill it in the fridge for 4-6 hours until it sets completely or leave it overnight if possible.

Slice into wedges and enjoy!
Macros (per serving): Calories: 266 – Fat: 25 g – Net carbs: 2.8 g (total carbs: 4.1 g, fiber: 1.3 g) – Protein: 7.5 g