There are many variations of low carb cheesecake and today we'd like to show you a perfect cheesecake recipe with almond crust that you can try.
We believe this baked cheesecake is going to become one of your favorite keto dessert recipes because it simply is delicious. The baked cake has a special texture. It's denser and has a lot of flavors.
This cake is actually very simple to make, if not one of the easiest. All you need to do is to bake the crust with almond flour, then whisk all ingredients to make the filling and simply let the oven do all the work.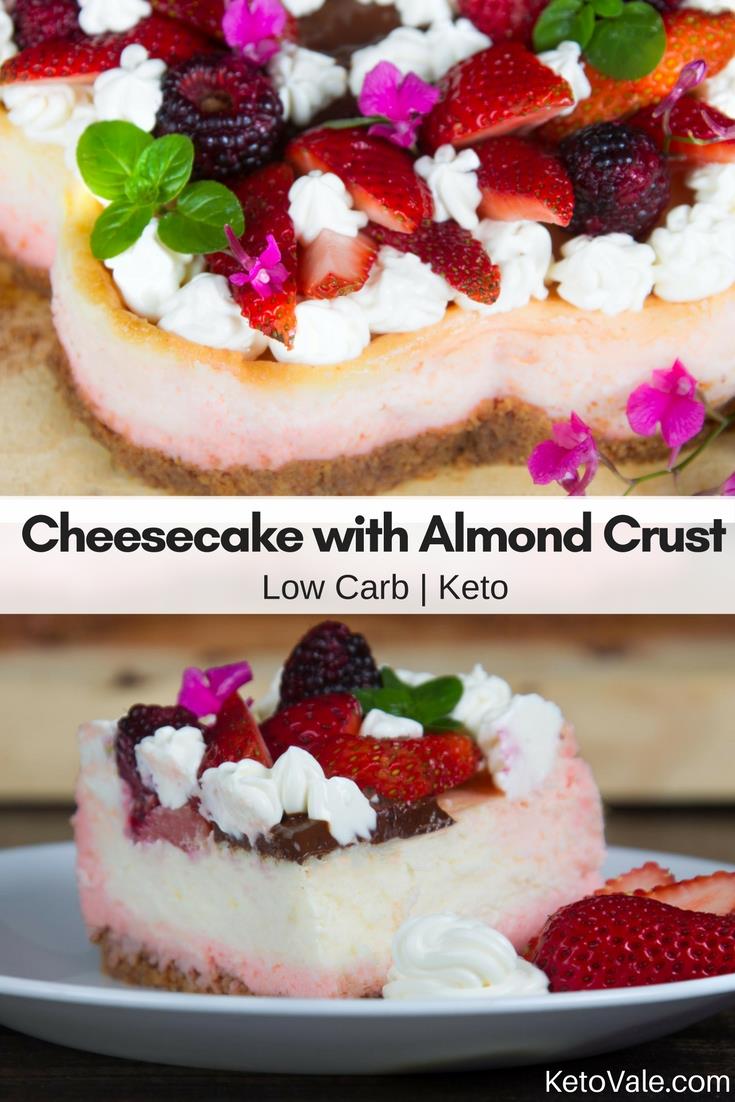 This recipe is very versatile and can be used for special occasions, such as birthdays and parties. You can decorate it with some fresh berries and cream cheese.
Our recipe uses melted coconut oil mixed with cocoa powder. Then cover the center of the cheesecake with the mixture. Add cut berries, mint leaves, and a little bit of cream cheese on top.
Cocoa is an excellent source of antioxidants, which can help reduce inflammation that leads to many chronic conditions, including autoimmunity, heart disease, and cancer.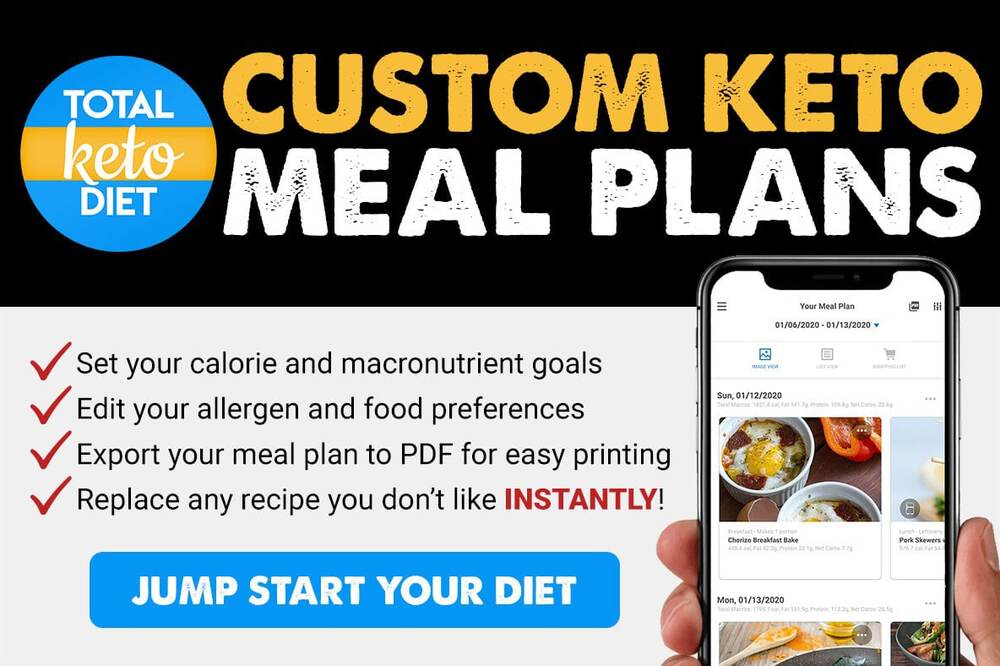 Be sure to purchase raw, unprocessed cocoa that has not been heated to high temperatures as it kills many of these beneficial compounds.
It's also a good idea to make sure your dairy products and eggs come from organic, grass-fed, and pasture-raised sources as these will have fewer toxic chemicals and antibiotics.
---
Let's Do It!
Let the oven preheat at 300F while preparing the cake.
Start by making the crust. Combine all of the crust ingredients in a bowl and stir well with a spoon to obtain a uniform mixture.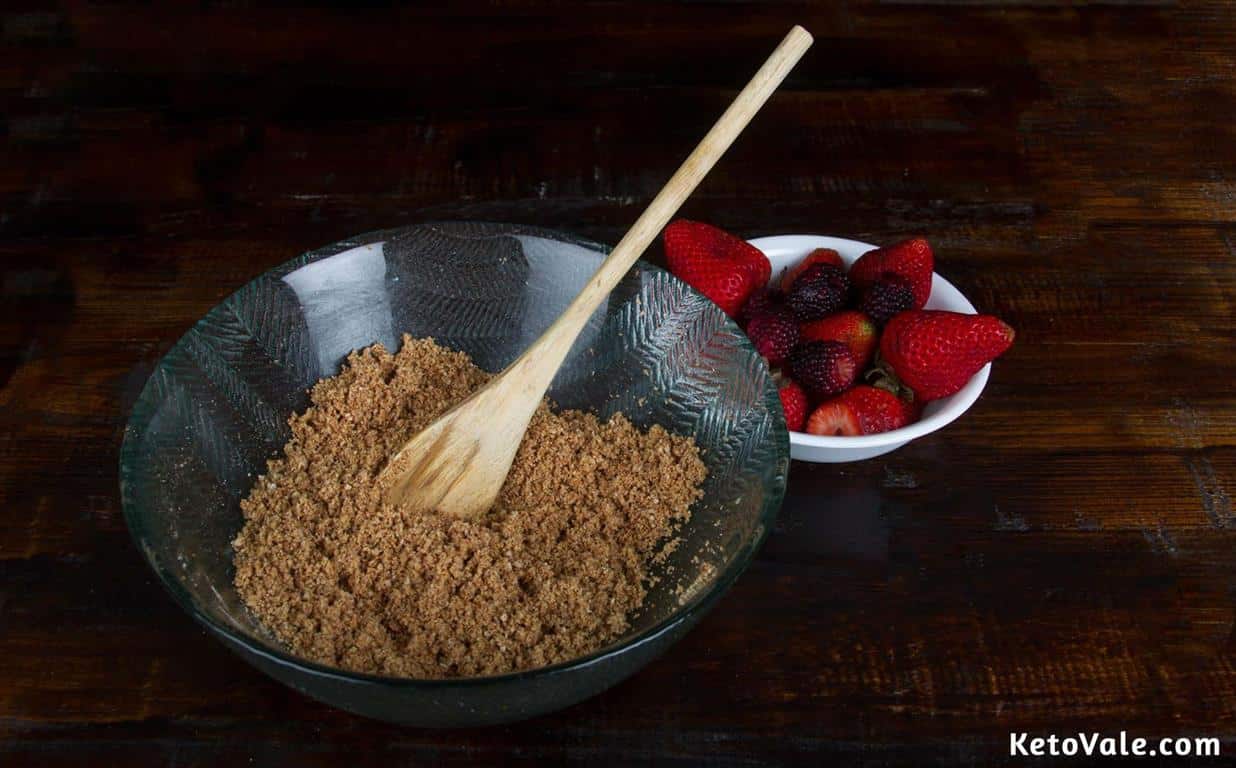 Transfer evenly on all sides of a springform pan. Flatten using a spoon to make the crust of the cake. Let the crust bake in the oven for around 10 minutes. Remove from the oven once the top turns lightly golden brown. Allow to cool.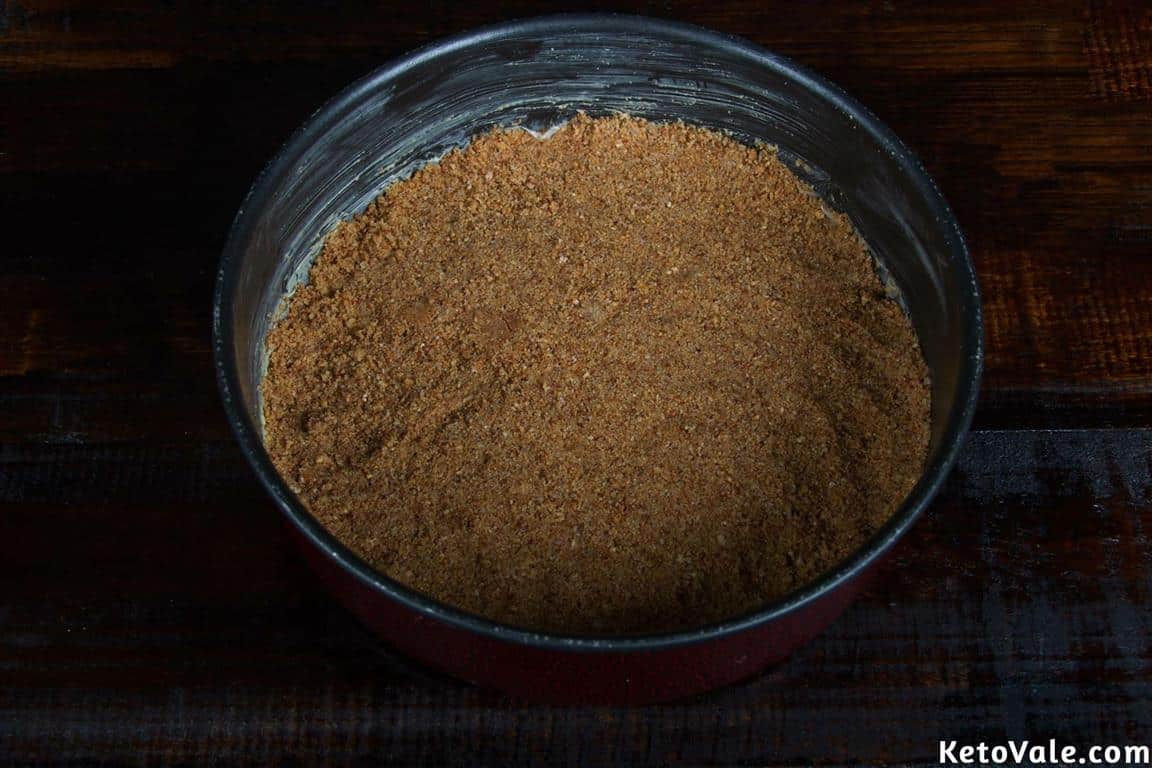 Make the filling for the cake. Whisk all the filling ingredients together to make a soft, creamy mix. You can use a blender or a hand whisk for this.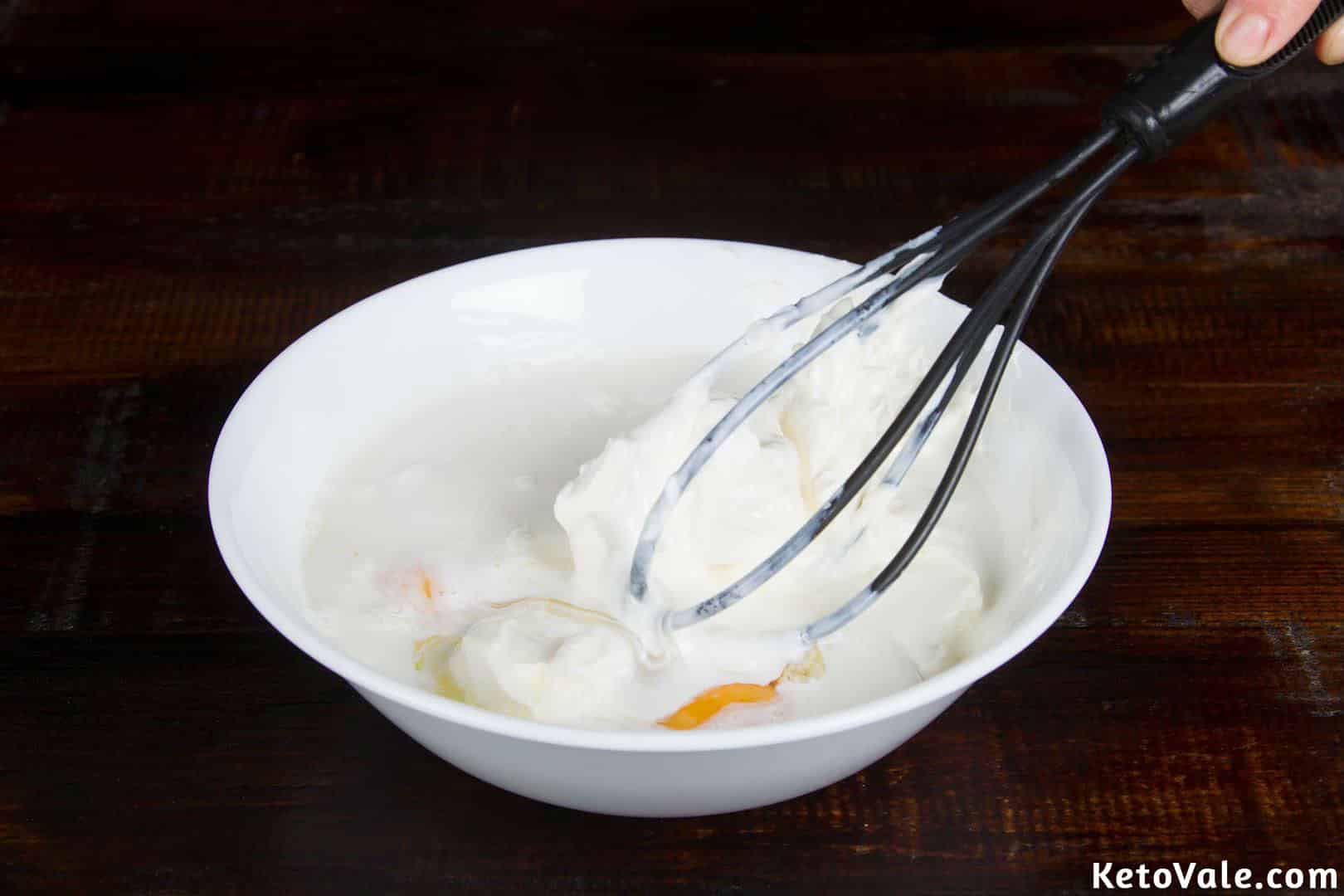 Pour the filling on the baked crust. Rebake for another 30 minutes at 350 F. Once cooked, move the cake to the fridge and chill for 6 hours.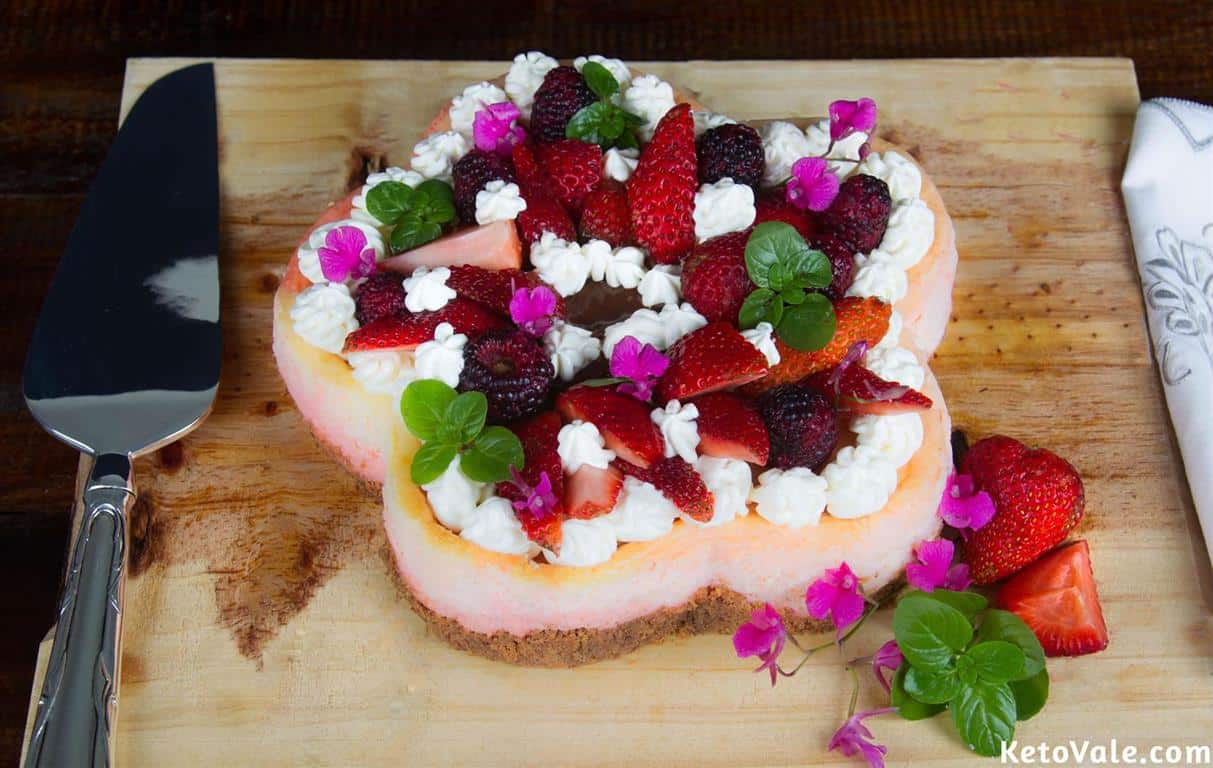 Decorate with berries and the rest of the toppings on the surface if desired. Slice into wedges and enjoy!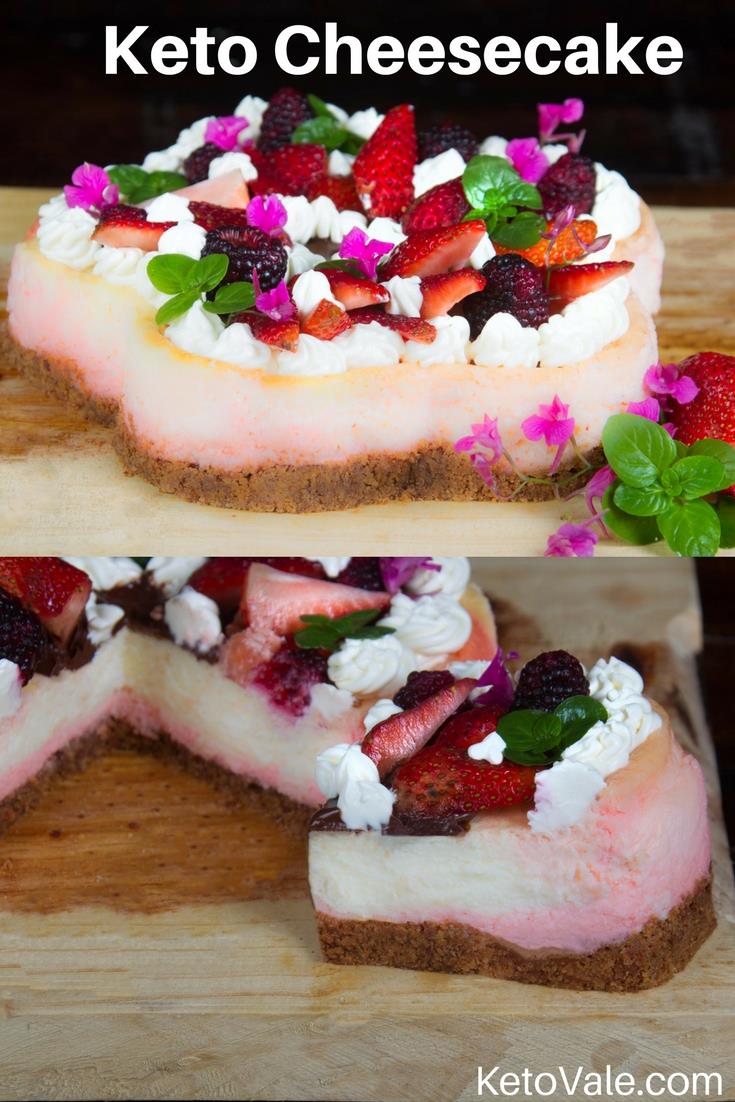 Related:
Keto Cheesecake with Almond Crust
This low-carb and sugar-free cheesecake with crusty almond bottom makes it a perfect keto dessert for special occasions.
Ingredients
Topping (OPTIONAL)
1/4

cup

berries

sliced

1/2

cup

heavy cream

whipped
Instructions
Preheat oven to 300°F

In a large bowl, combine almond flour, melted butter, sweetener, and cinnamon. Mix together using a spoon until the ingredients are homogeneous. Add the mixture into a spring form pan and press this mixture evenly to make the crust firm and tight.

Bake the crust for 10 minutes until it becomes lightly golden browned and remove the crust from the oven. Let it cool while you make the filling.

In a bowl, combine eggs, sweetener, cream cheese, sour cream, and vanilla. Mix thoroughly with a hand whisk or blender until smooth then add this mixture to the crust and bake the cheesecake at 350 F for 30 min.

Remove and refrigerate for six hours. You can add berries and whipping cream on the top to decorate (optional). Enjoy!
Notes
You can cut this cheesecake into 16 pieces. The serving size is 1 piece of cake.
Nutrition/Macros
Nutrition Facts
Keto Cheesecake with Almond Crust
Amount Per Serving
Calories 326
Calories from Fat 288
% Daily Value*
Fat 32g49%
Cholesterol 110mg37%
Sodium 200mg8%
Potassium 116mg3%
Carbohydrates 6g2%
Protein 7g14%
Vitamin A 993IU20%
Vitamin C 1mg1%
Calcium 107mg11%
Iron 1mg6%
* Percent Daily Values are based on a 2000 calorie diet.
Pin To Save This Recipe